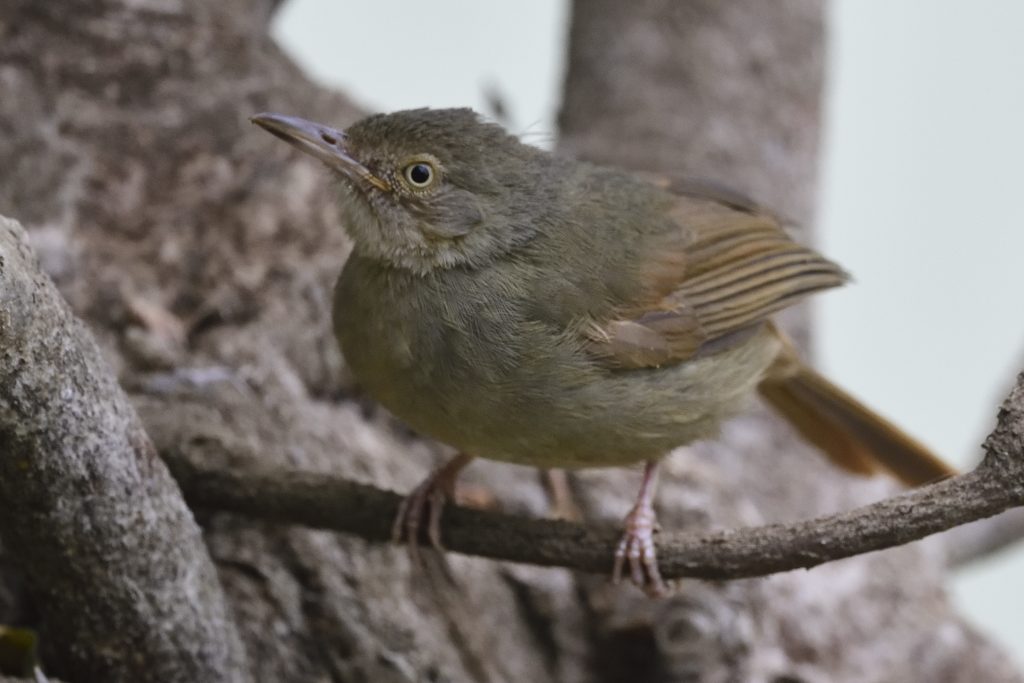 Day 1: October 27 – Kiligolf
On October 27 this year, I got a visit from new friends. This time a South African couple, Martie and Etienne who are currently living in Tanzania. They had contacted me some time ago to do a short birding trip around Arusha. They drove up from West Usambara and arrived at my house just in time for lunch. We had a nice chat and they observed and photographed the regular birds in my garden. My guide Isihaka had arrived and at 16:00 we went for a bird walk on Kiligolf. It was quite hot still and the activity was quite low. Here is some of the birds we recorded this afternoon: Buff-bellied Warbler, Magpie Shrike, Pale White-eye, Gabar Goshawk, Yellow-breasted Apalis, Reichenow´s Seed-eater, Green-winged Pytilia, Squacco Heron, African Fish Eagle, Arrow-marked Babbler, African Yellow Warbler, Thick-billed Weaver, Spotted Flycatcher, Southern Citril, Crimson-rumped Waxbill and to my surprise a few Trumpeter Hornbills. I have seen this species only once before on Kiligolf. As anticipated, it was a rather slow day on Kiligolf due to the heat. We returned home and my maid had made us a nice dinner. We retired early to bed.
A picture from Day 1: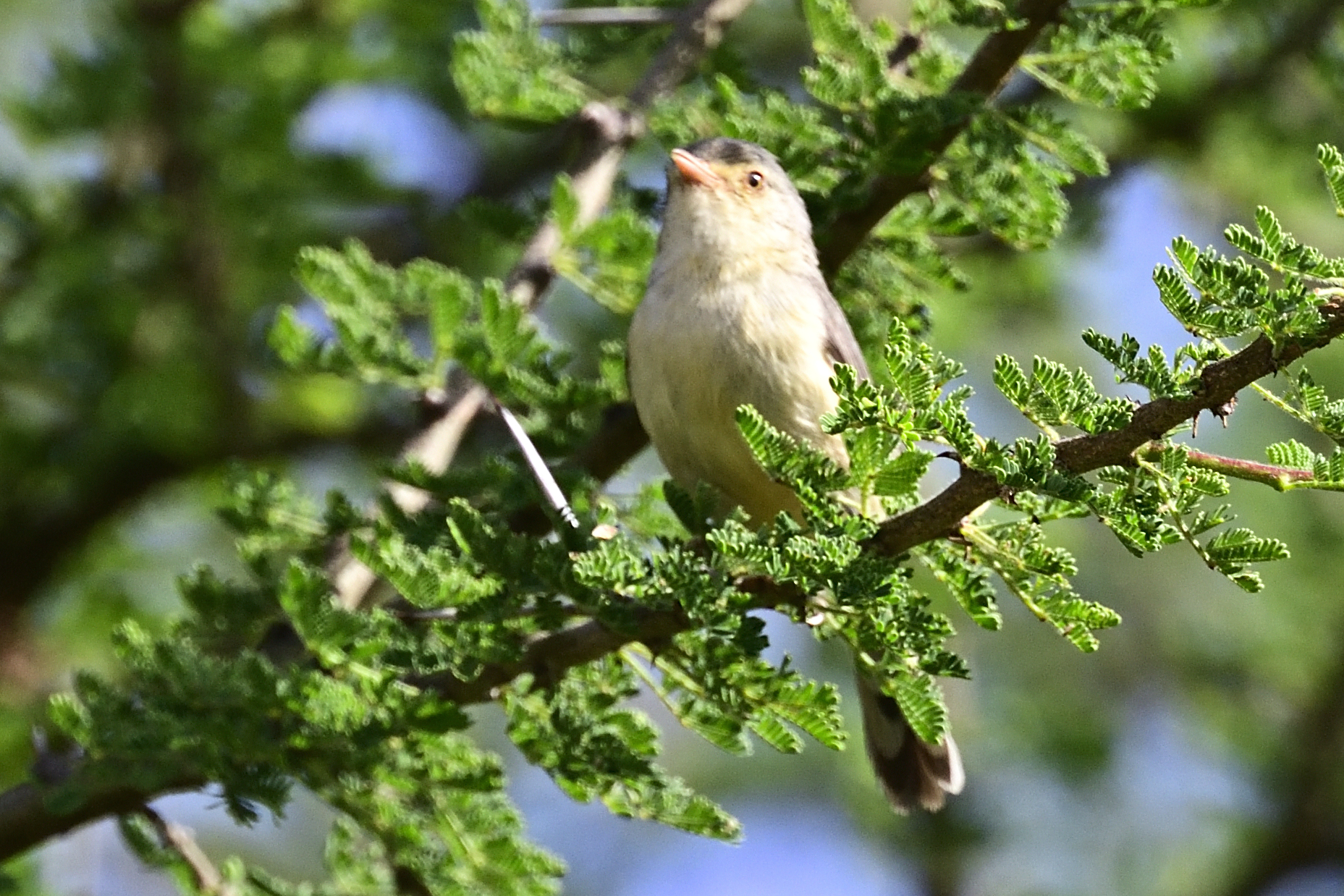 Buff-bellied Warbler, Phyllolais pulchella
Day 2 – October 28 – Lark Plains – Oldonyo Sambu – Monduli Mountains
We had a busy day ahead of us that day so we left early for the famous Lark Plains. My friends also needed Common Kestrel and I knew where to find one on the way. Sure enough, perched on top of a telephone pole we found an Augur Buzzard and a few Common Kestrels. At the entrance to the Lark Plains, we did a stop and popped up the roof. From there, we birded the way to the Beesley´s Lark spot. Along the road, we picked up Taita Fiscal, Red-fronted Prinia and Isabelline Wheatear. Many Chestnut-bellied Sandgrouses were flying over. We parked the car and spotted my Masai friends that had already found the Beesley´s Lark for us. Whilst my friends were getting good looks at the Lark, I sent Isihaka looking for our other target Larks, Short-tailed and Athi Short-toed. We had not seen the latter for a while so I was not optimistic, but he did find the Short-tailed. We also had Red-capped Lark and Capped Wheatear on the plain itself. We walked back to the car and started driving slowly towards my Masai friend, Saruni´s, Boma. On the way we picked up Tawny Eagle, Foxy Lark, Somali Bunting, Tiny Cisticola, Southern Grosbeak Canary, Fischer´s and Hildebrandt´s Starling, Spotted Thick-knee, Yellow-bellied Eremomela, Von der Decken´s Hornbill, Rüppel´s Vulture and Pied Wheatear. We stopped at my normal breakfast spot and had breakfast. After breakfast, we walked the dry Acacia Forest next to Saruni´s Boma. Here are some of the birds we encountered in that forest: White-bellied Canary, Banded Parisoma, Rosy-patched Bushshrike, Grey-capped Social Weaver, White-headed Buffalo Weaver, Pygmy Batis, Chestnut Sparrow, Bare-eyed Thrush, Red-throated Tit, Abyssinian Wheatear, Beautiful Sunbird, Black-necked Weaver and Grey Wren Warbler. We went back to the car and tried for the Ashy Cisticola, but no luck. We drove to our next destination, Oldonyo Sambu. We had a few targets there as well. Here are some of the birds we saw: Eastern Chanting Goshawk, Schalow´s Wheatear, White-fronted Bee-eater, Long-billed Pipit, Red-fronted Tinkerbird, Red-faced Crombec, Red-winged Starling and Kenya Sparrow. Unfortunately we dipped on another target, Little Rock Thrush. We walked back to the car again and headed for our next destination. We had lunch here before we looked for our prime target, Lyne´s Cisticola. A surprise bird at the spot were a Cinnamon-breasted Bunting. After having bagged the Lyne´s, we drove on to our next destination, the Monduli Mountains. It were very dry and a lot of dust in order to get to our spot. Our prime target there were the Golden-winged Sunbird which we dipped on despite Etienne performing a very impressive phishing technology that drew in Variable Sunbirds en mass. Birds we registered at the site included: African Stonechat, Mbulu White-eye, Variable Sunbird, Streaky Seed-eater, Hunter´s Cisticola, White-eyed Slary Flycatcher, Northern Fiscal, Cape Robin-Chat, Thick-billed Seed-eater, Orange-breasted Bushshrike, Tambourine Dove, Black-headed Oriole and Willow Warbler. It were time to drive home. We arrived home, freshened up and had dinner. We were now at 146 species for the trip after only one and a half day of birding. 
Some pictures from day 2: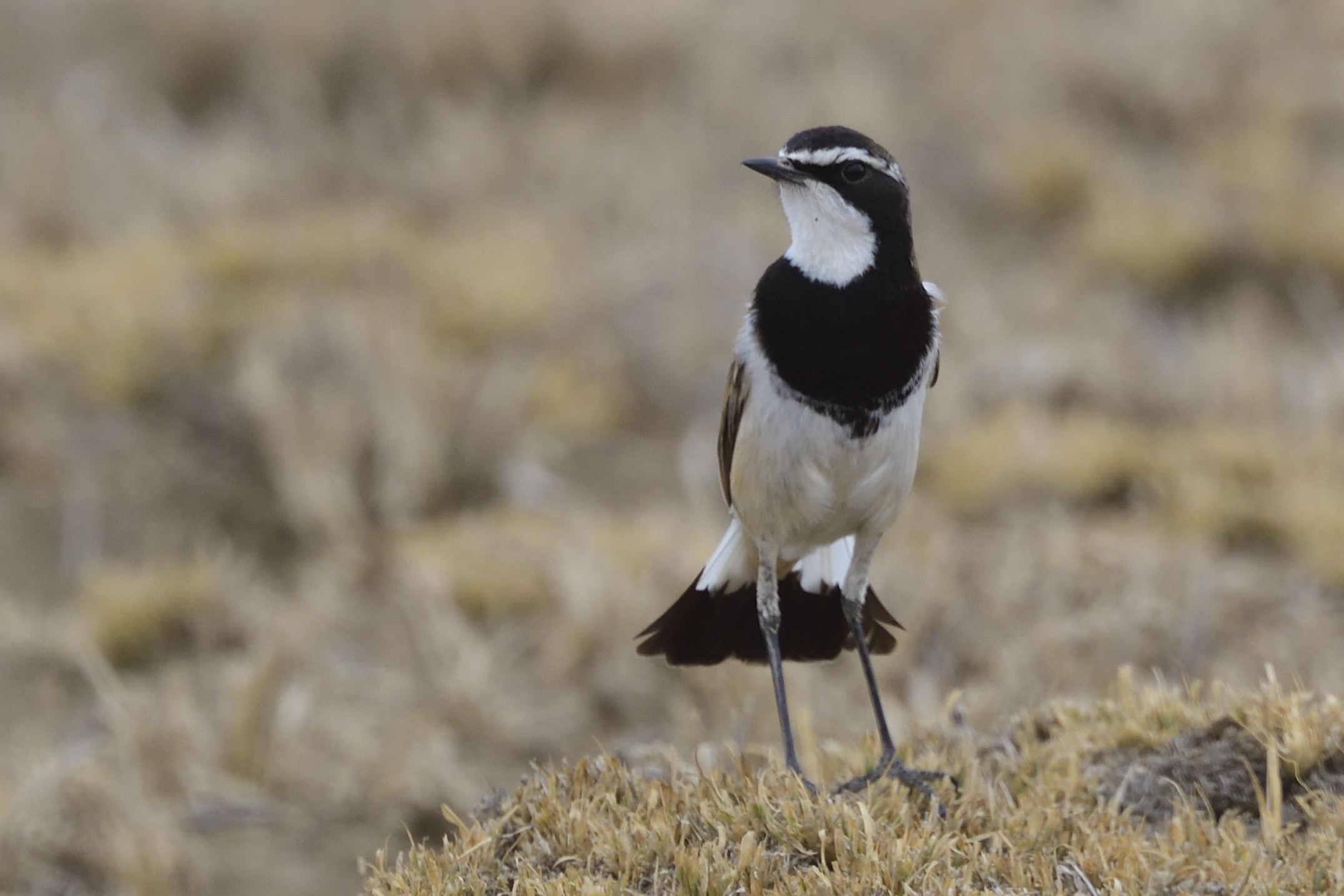 Capped Wheatear, Oenanthe pileata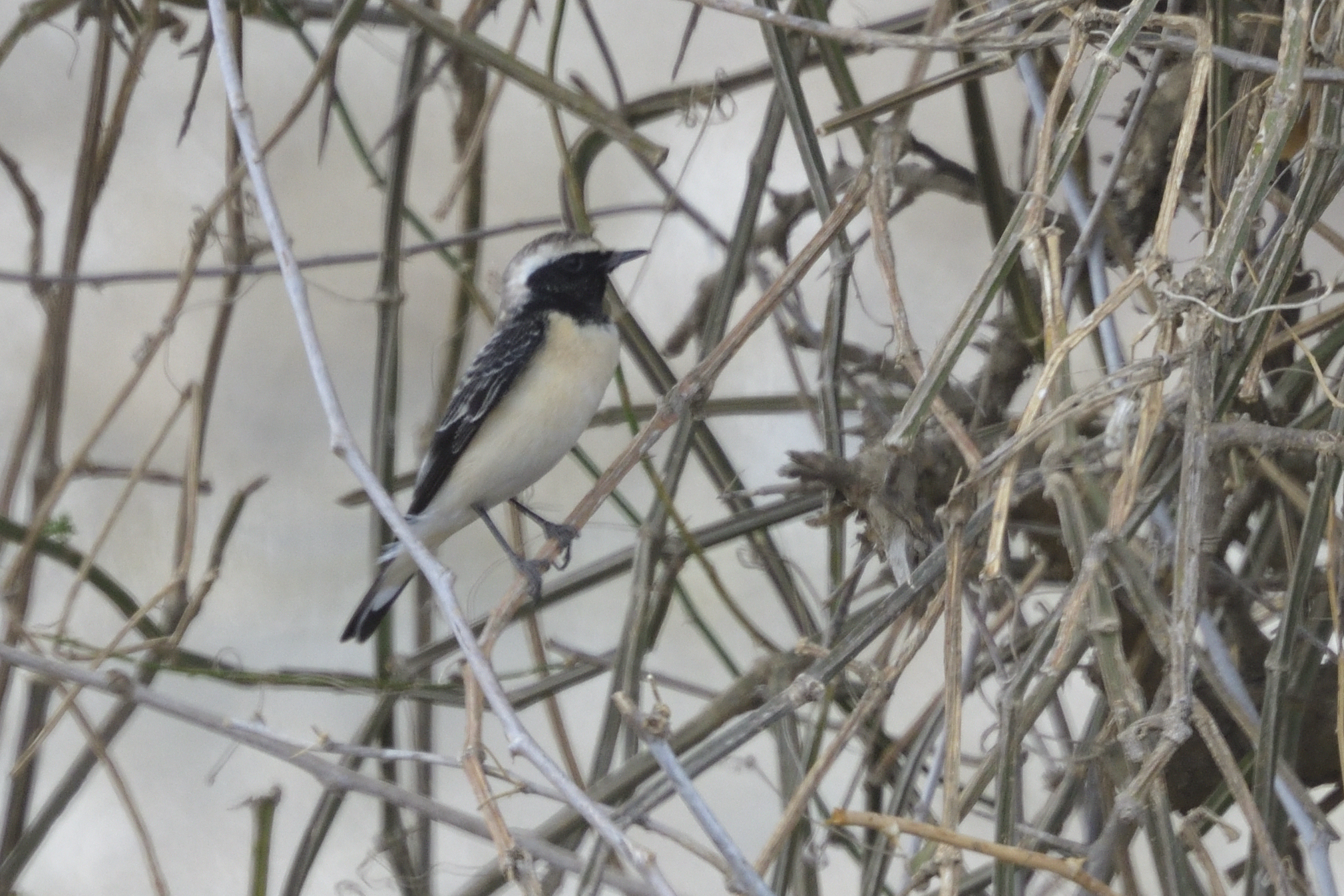 Pied Wheatear, Oenanthe pleschanka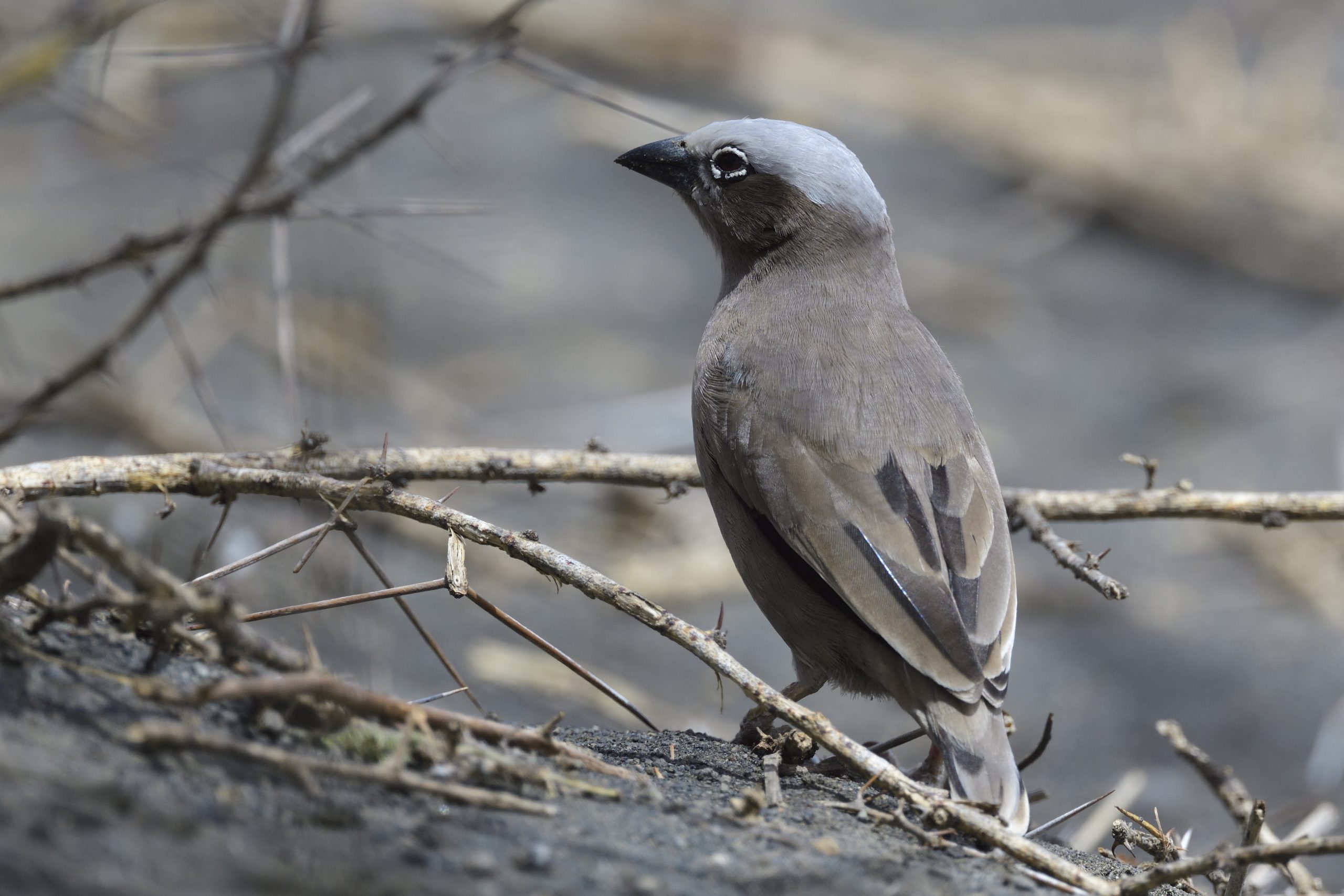 Grey-capped Social Weaver, Pseudonigrita arnaudi, Endemic to NE Africa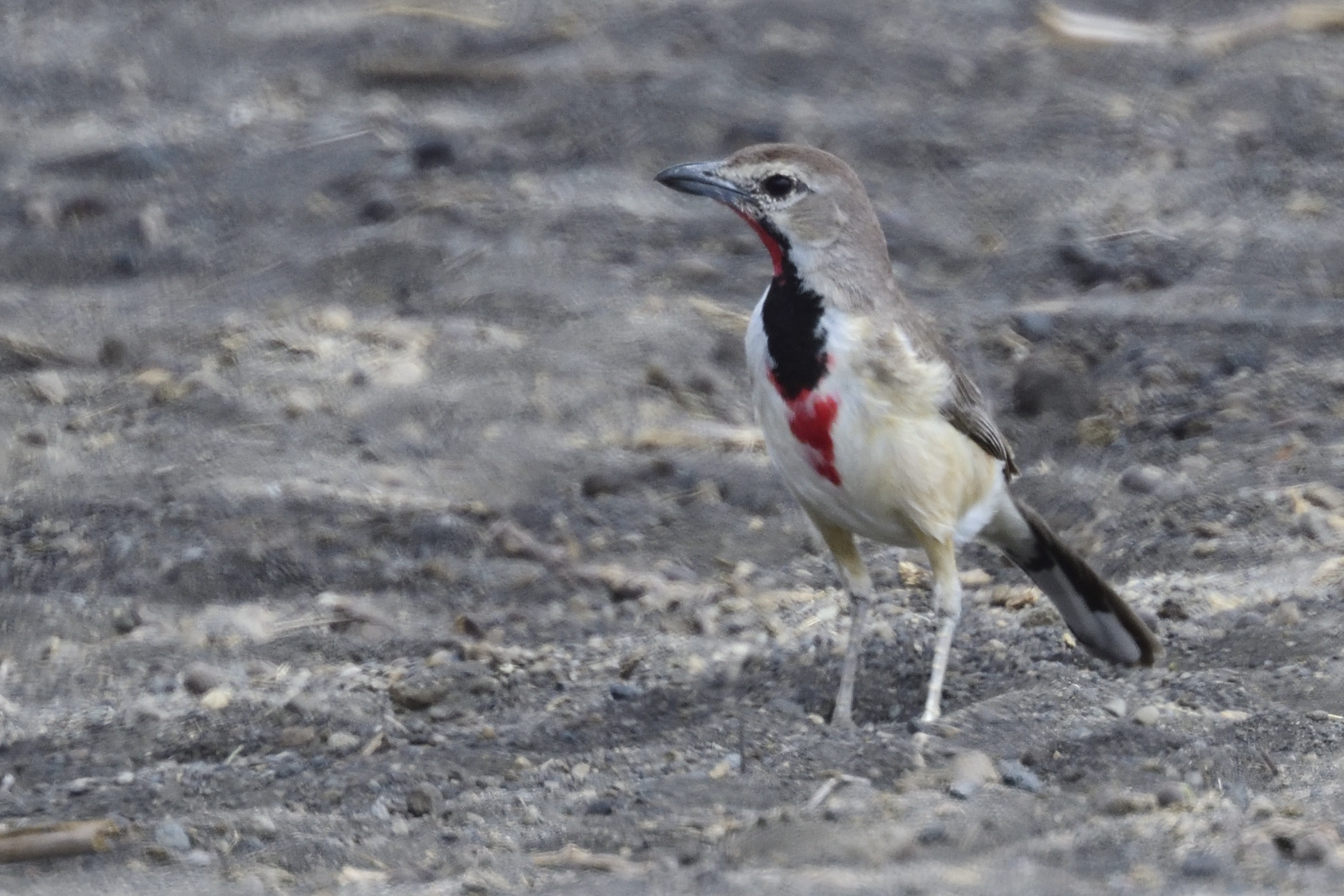 Rosy-patched Bushshrike, Telophorus cruentus, Endemic to NE Africa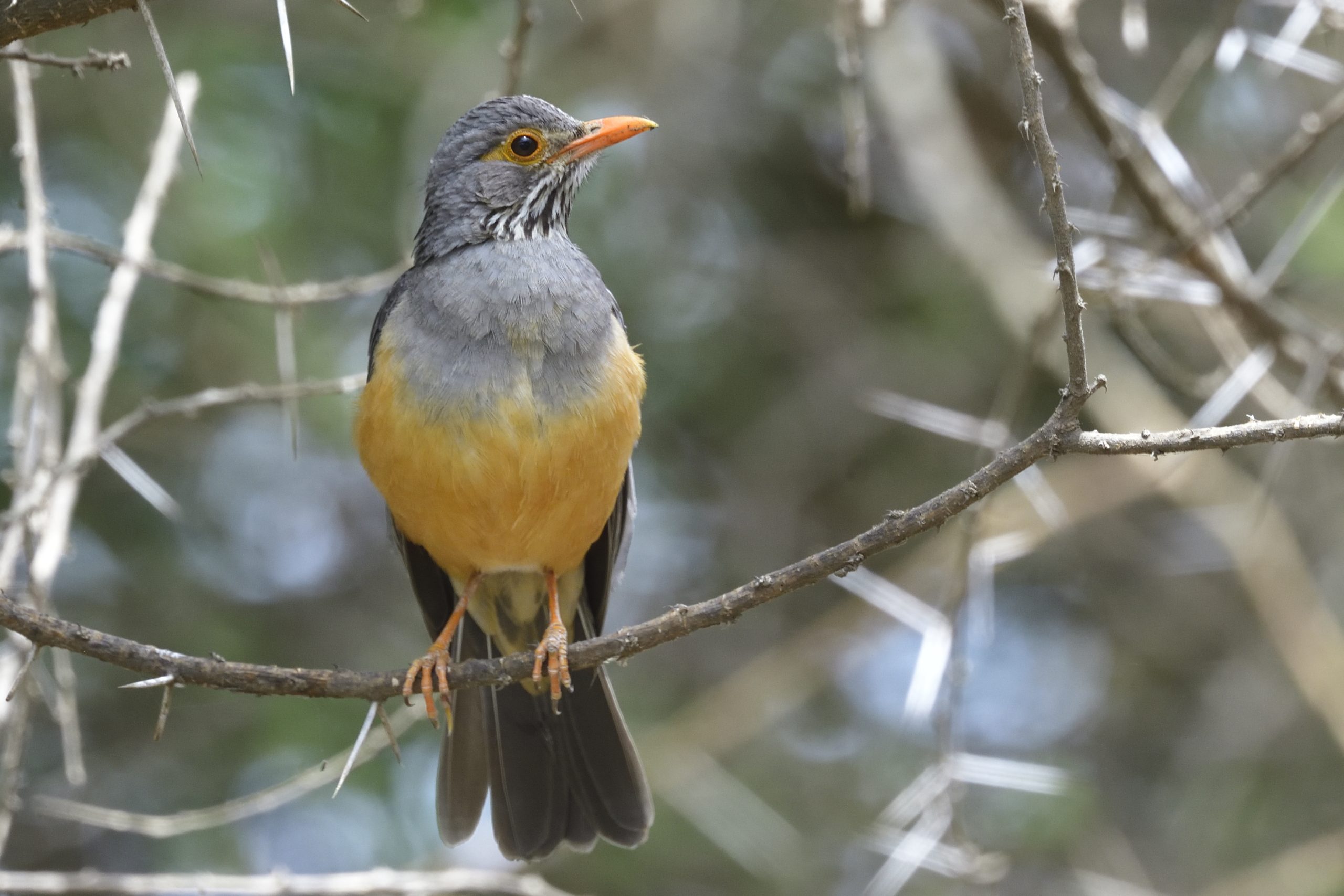 Bare-eyed Thrus, Turdus tephronotus, Endemic to NE Africa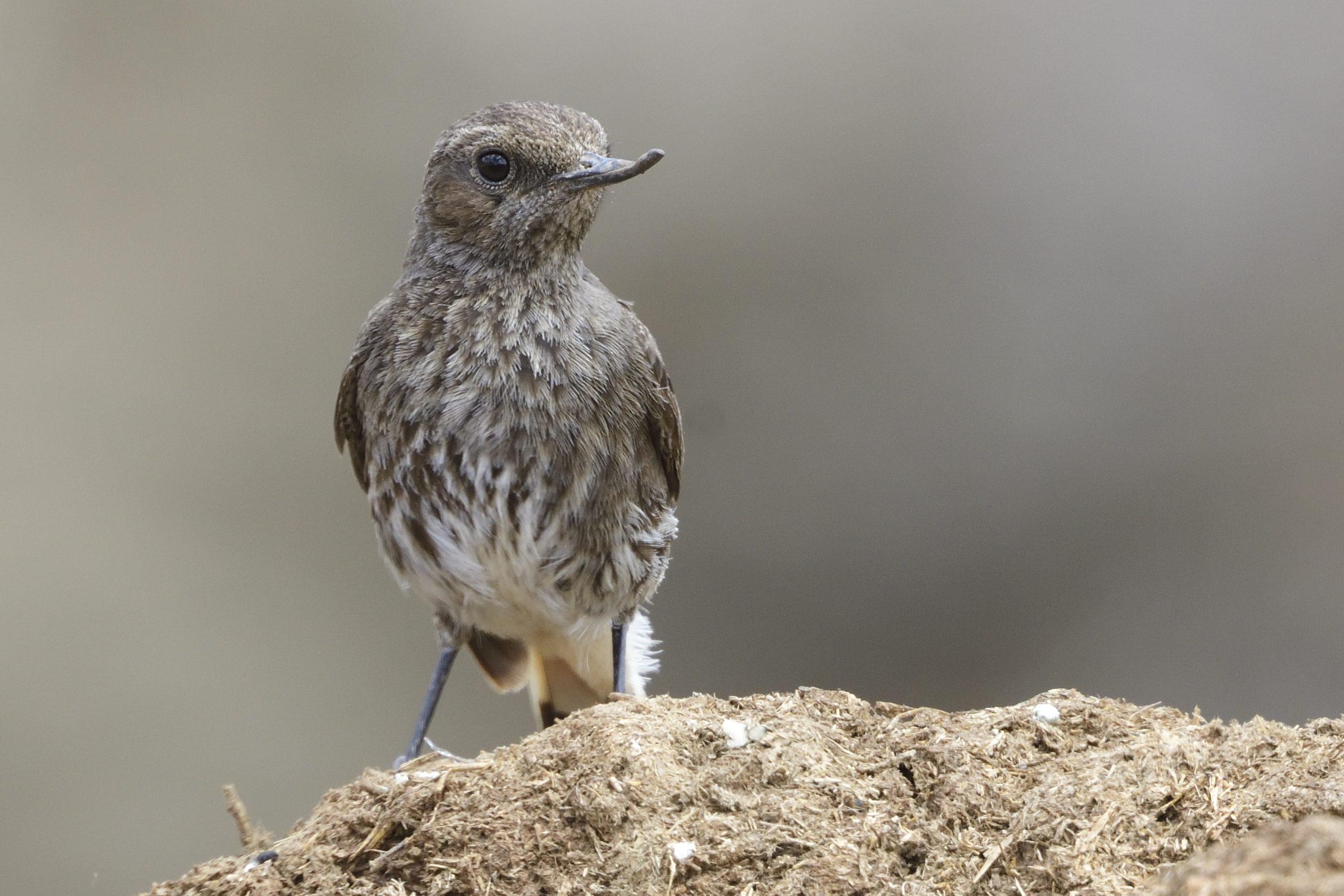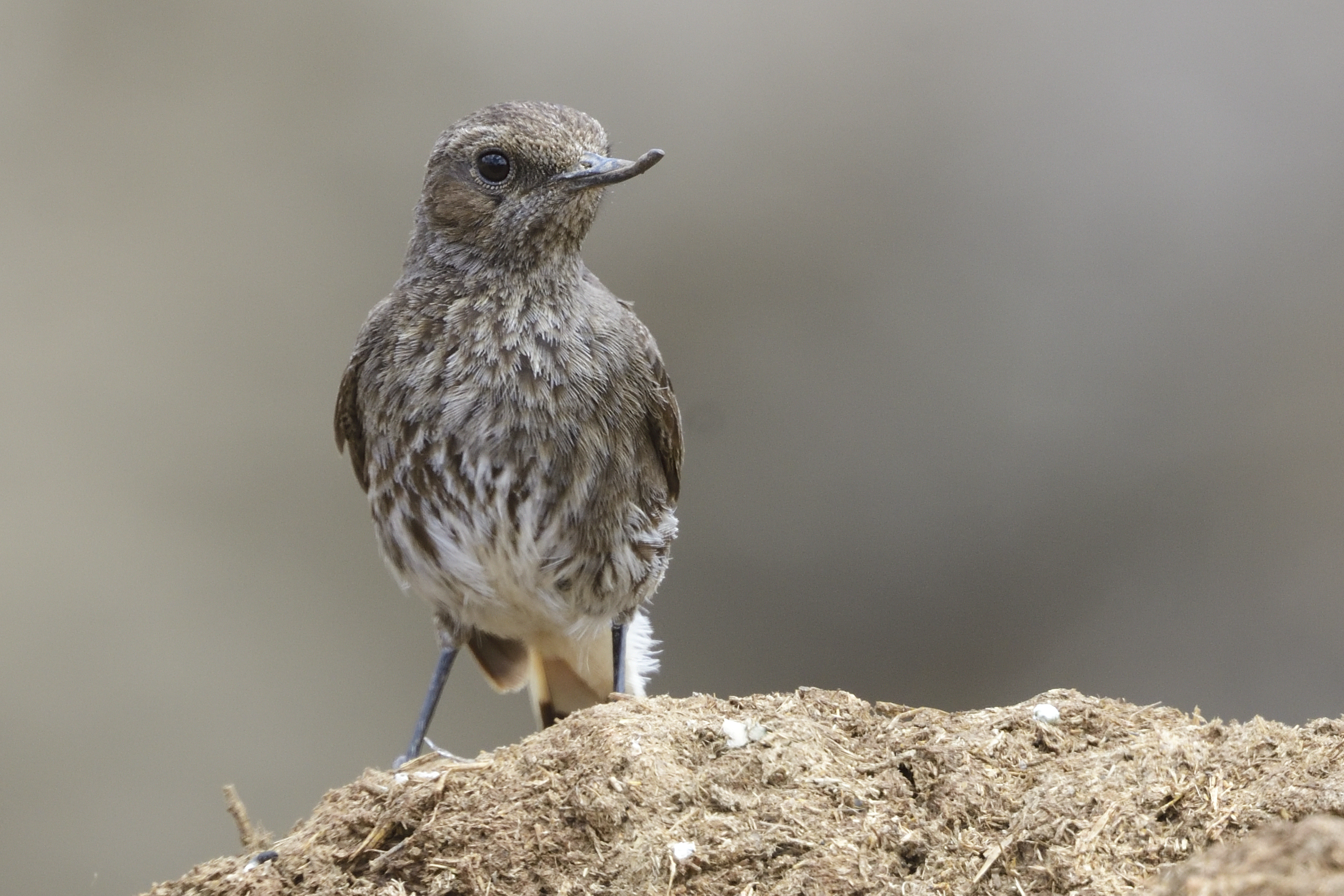 Female, Schalow´s (Abyssinian) Wheatear, Oenanthe schalowi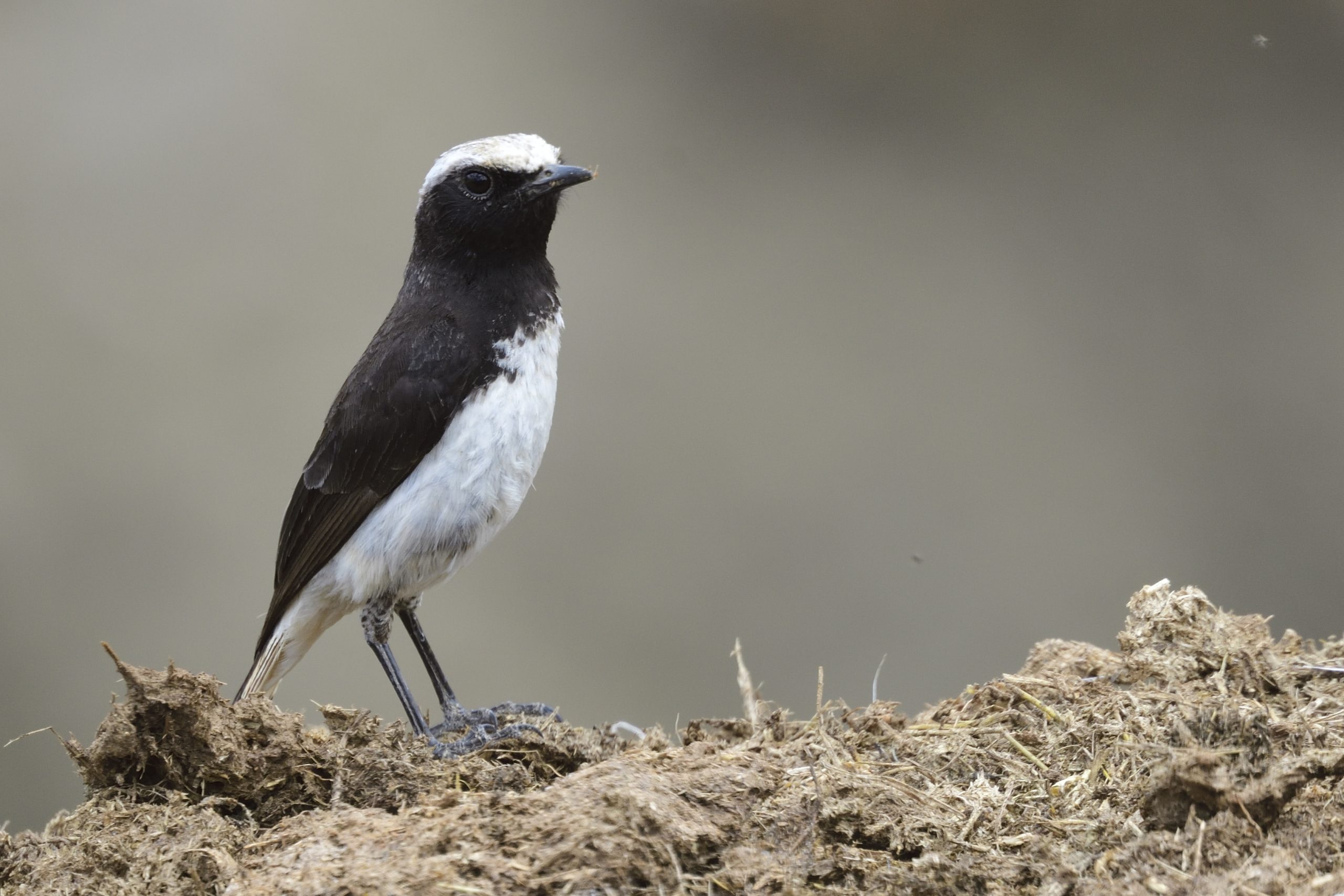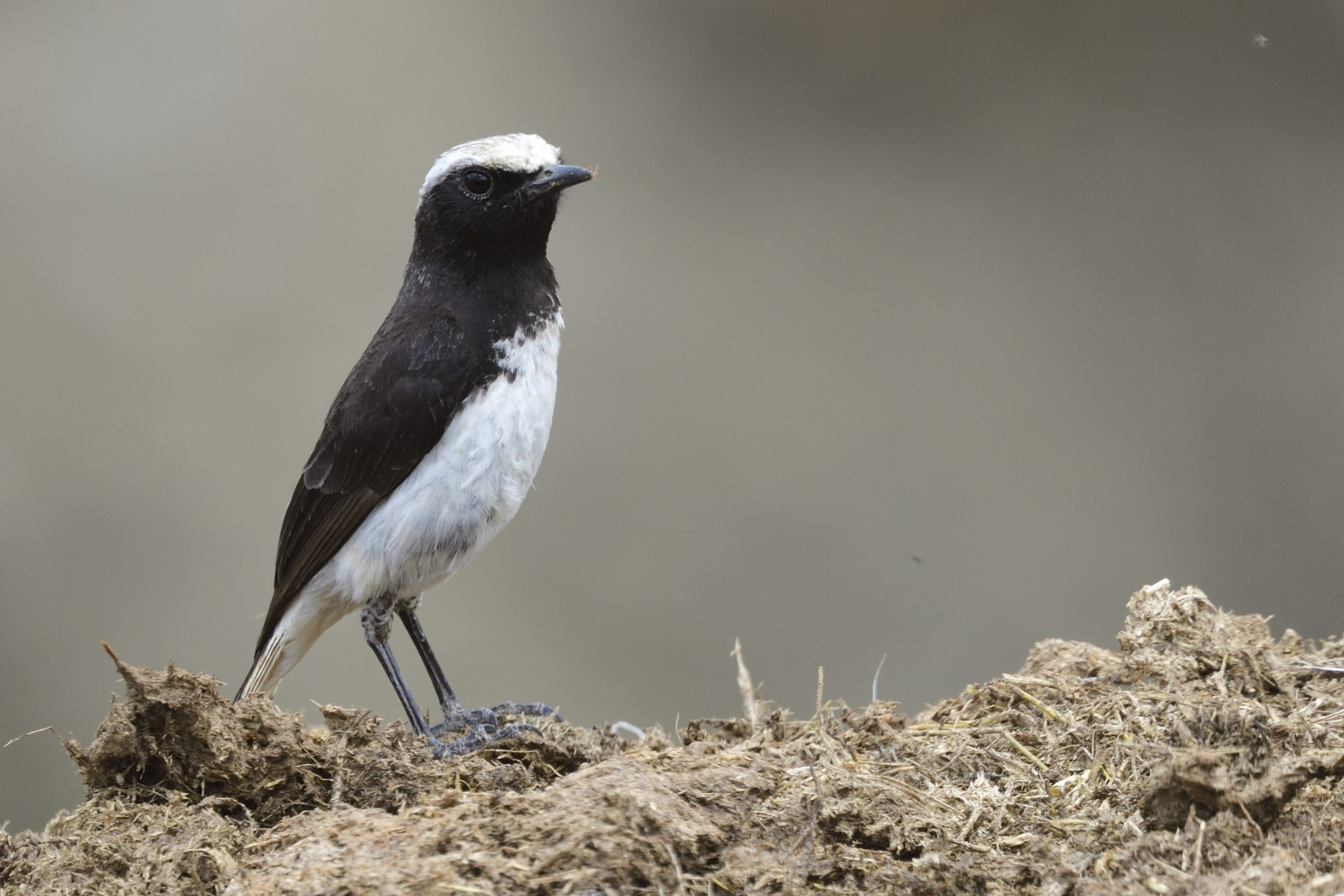 Schalow´s (Abyssinian) Wheatear, Oenanthe schalowi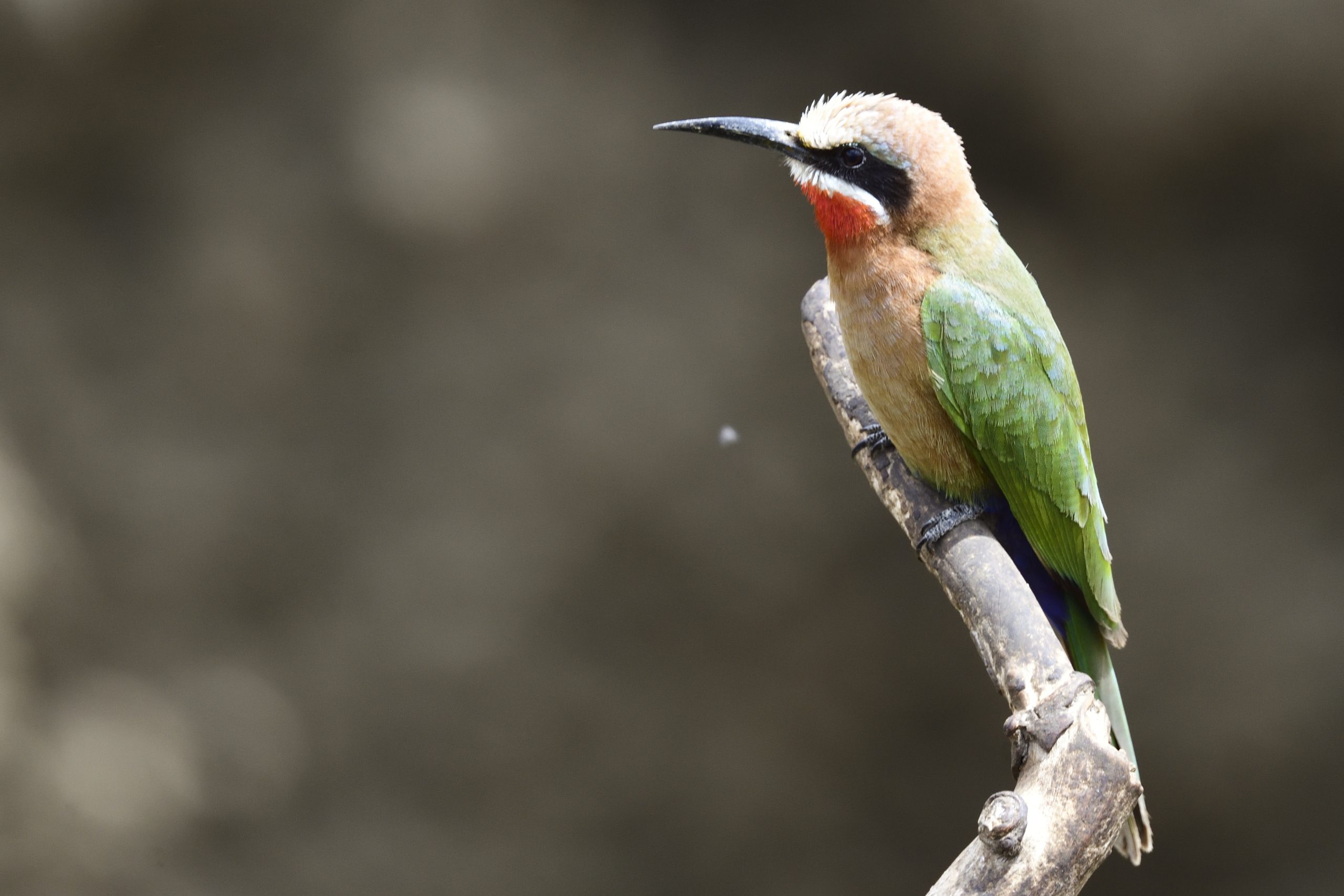 Bee-eater White-fronted, Merops bullockoides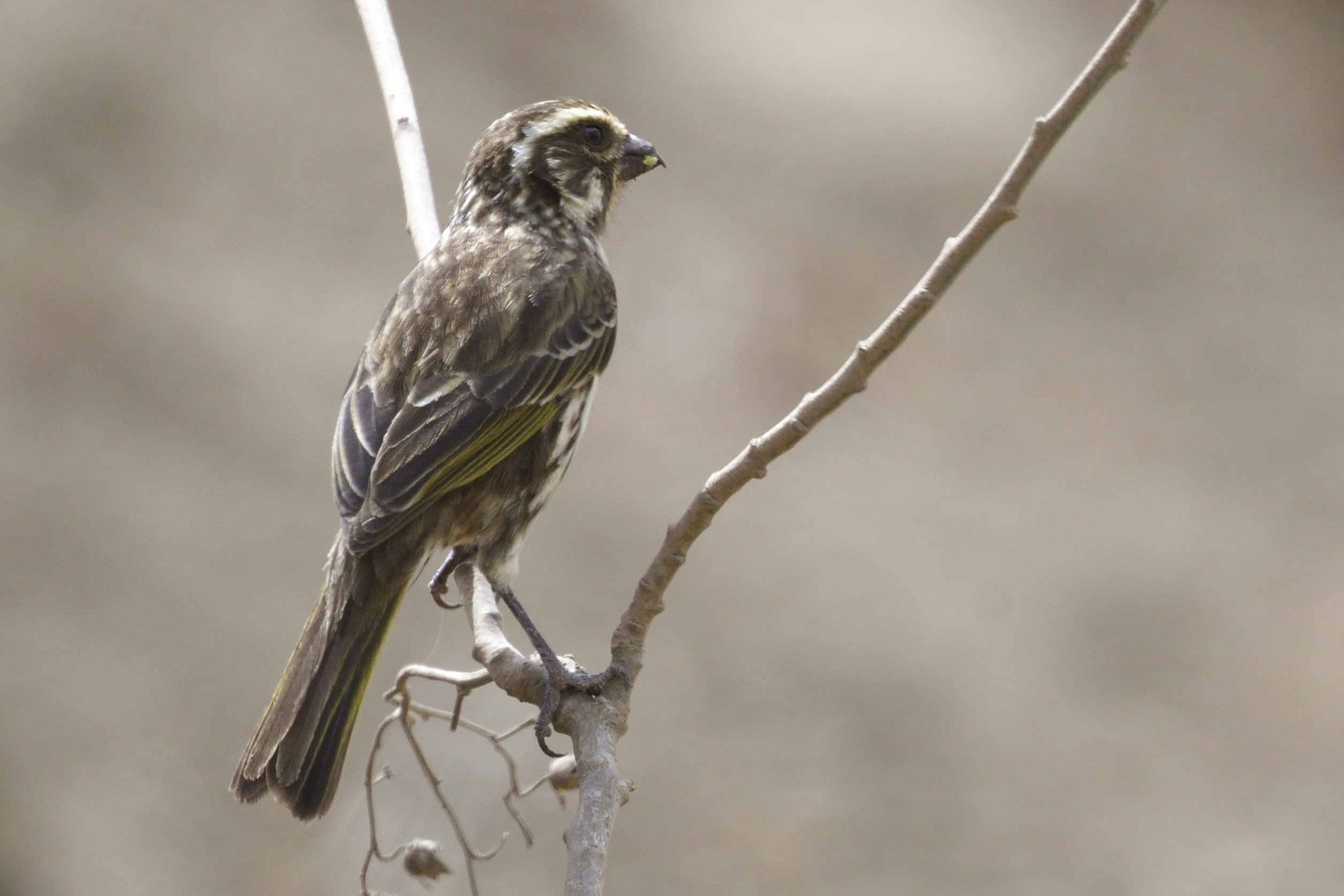 Streaky Seed-eater, Chrithagra striolata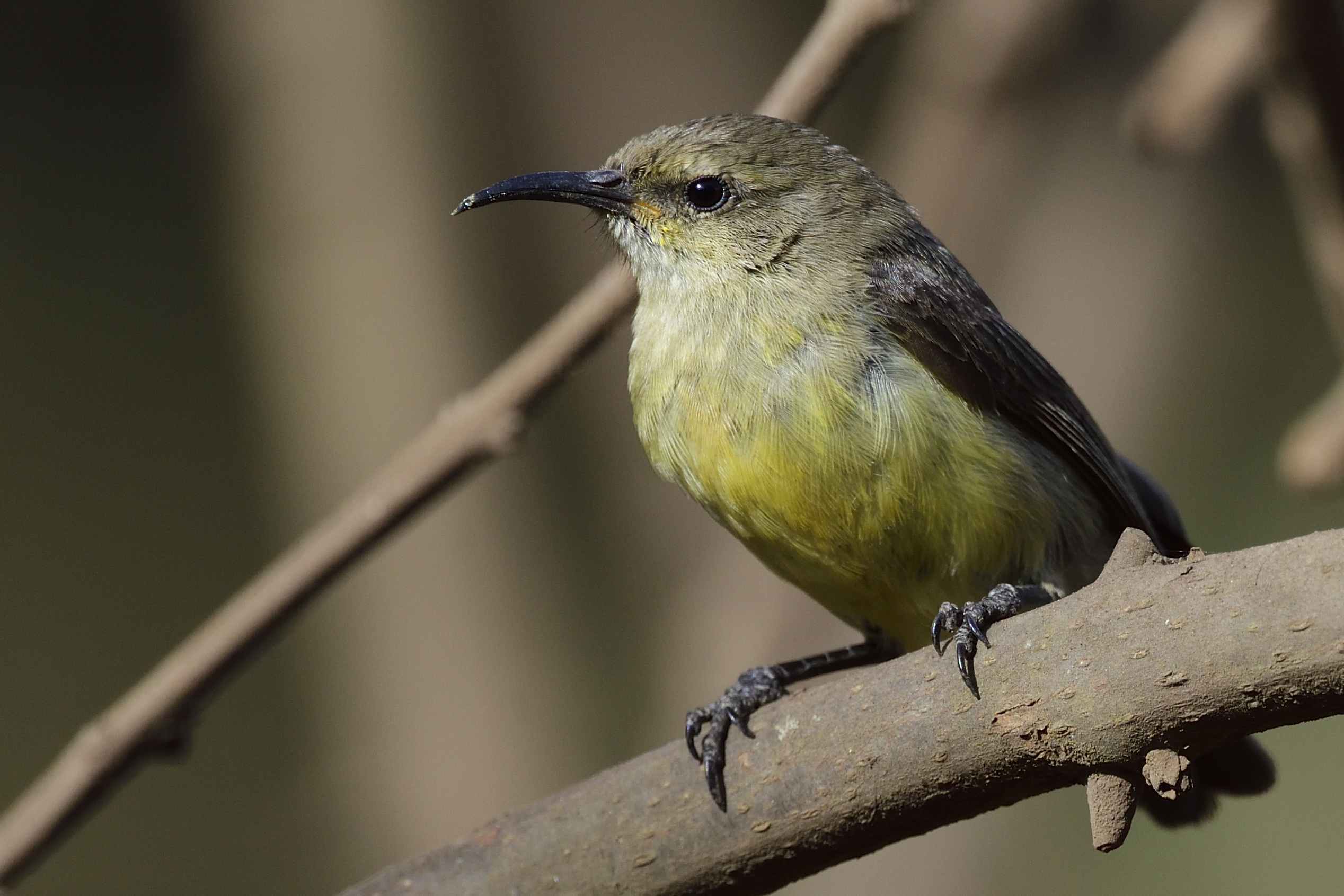 Female, Variable Sunbird, Cinnyris venustus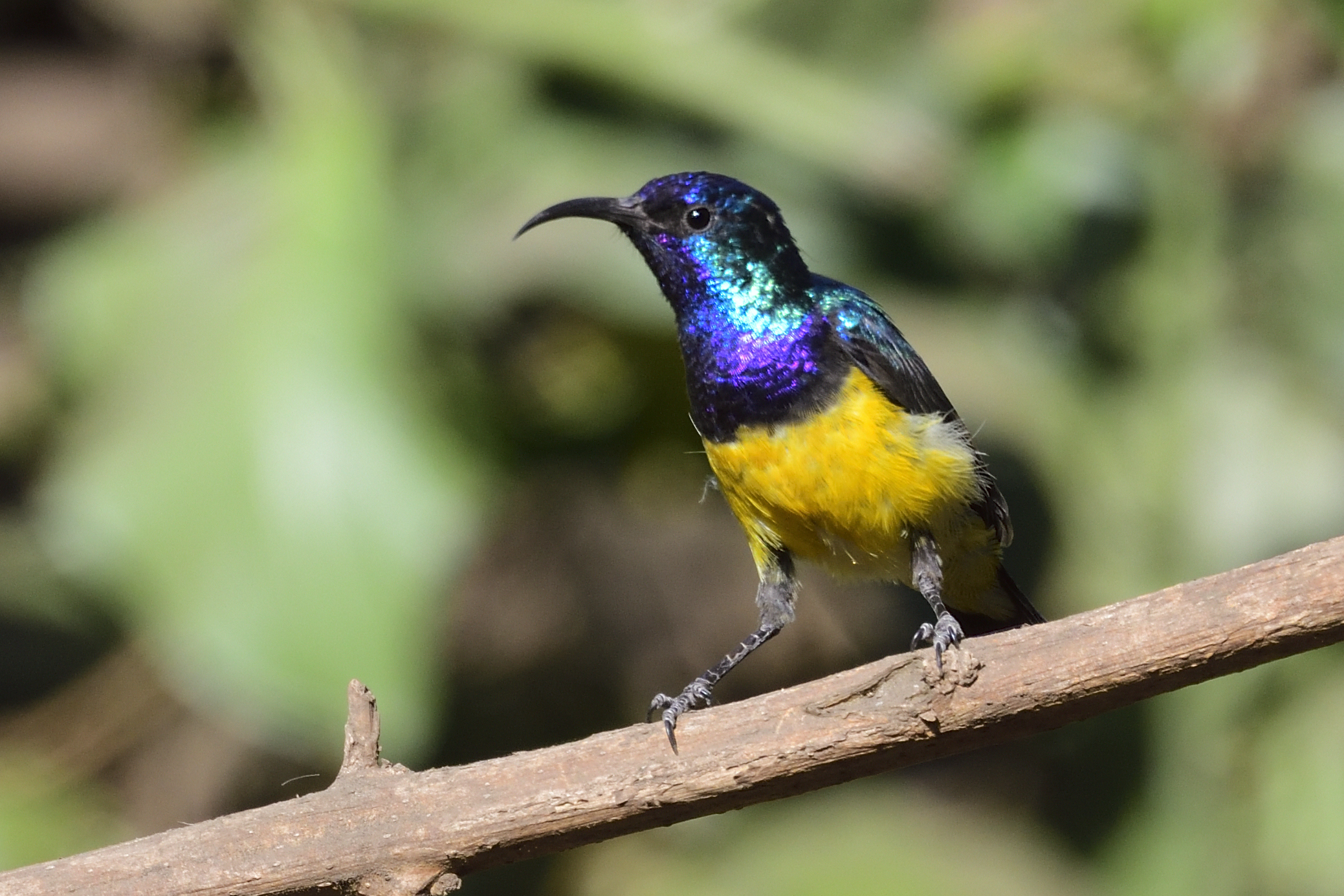 Variable Sunbird, Cinnyris venustus
Day 3, October 29 – Masai Steppes
The Masai Steppes is only an hours drive from my house. We picked up a House Crow in Mererani before we arrived at the birding spot around 07:30. Here are some of the birds we registered before breakfast: Cardinal Woodpecker, White-headed Mousebird, Pink-breasted Lark, Hunter´s Sunbird, White-bellied Go-away Bird, Buff-crested Bustard, Eastern Violet-backed Sunbird, Northern Crombec, Tsavo Sunbird, Northern Red-billed Hornbill, Wattled and Golden-breasted Starling. We reached our breakfast spot at around 10:00. While setting up for breakfast, I saw some birds moving close to our car. Rightly so, Scaly Chatterer. Also nearby Tsavo Sunbird. We had breakfast, it was very quiet, but we managed to find our target bird, Pringle´s Puffback. We got back in the car and picked up Blue-capped Cordonbleu. It was again very quiet until we reached our spot for Black-capped Social Weavers. We turned and headed for the Shambalaya dam. Namaqua Dove, Crimson-rumped Waxbill and Grey-headed Silverbill were picked up before we reached the dam itself. At the dam: African Jacana, Emerald-spotted Wood Dove, White-faced Whistling Duck, Cut-throat Finch, Black-throated Barbet, Long-toed Plover, Northern White-crowned Shrike, Glossy Ibis, Northern Grey-headed Sparrow, African Openbill, Whiskered Tern, Red-billed Oxpecker, Wood Sandpiper, Squacco Heron, Spur-winged Plover, Palm-nut Vulture, Pink-backed Pelican, Common Ringed Plover, Western Yellow Wagtail, African Paradise Flycatcher, Common Greenshank, Little Egret, Knob-billed Duck, African Fish Eagle, Black-winged Stilt, Tree-banded Plover and Yellow-billed Stork were some of the species observed. We had been doing good time and with all our targets in box, we returned home to my house. In the afternoon, we did another short afternoon walk at Kiligolf, the only new bird for Kiligolf of interest were a flock of Grey-headed Silverbills. We added 46 birds to the trip list that day and were now at 192 species.
We freshened up, had dinner and retired early to bed.
Some pictures from Day 3: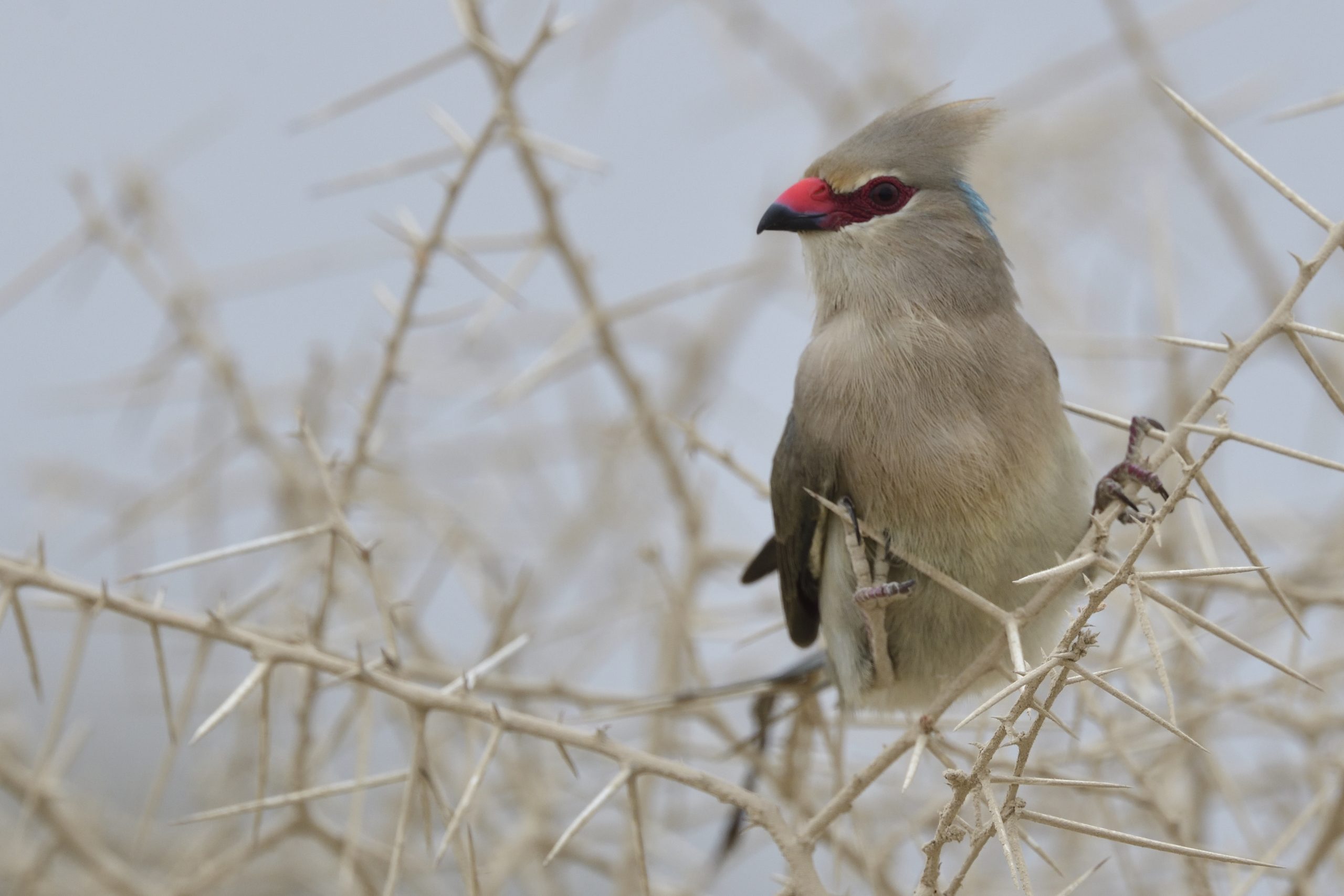 Blue-naped Mousebird, Urocolius macrocourus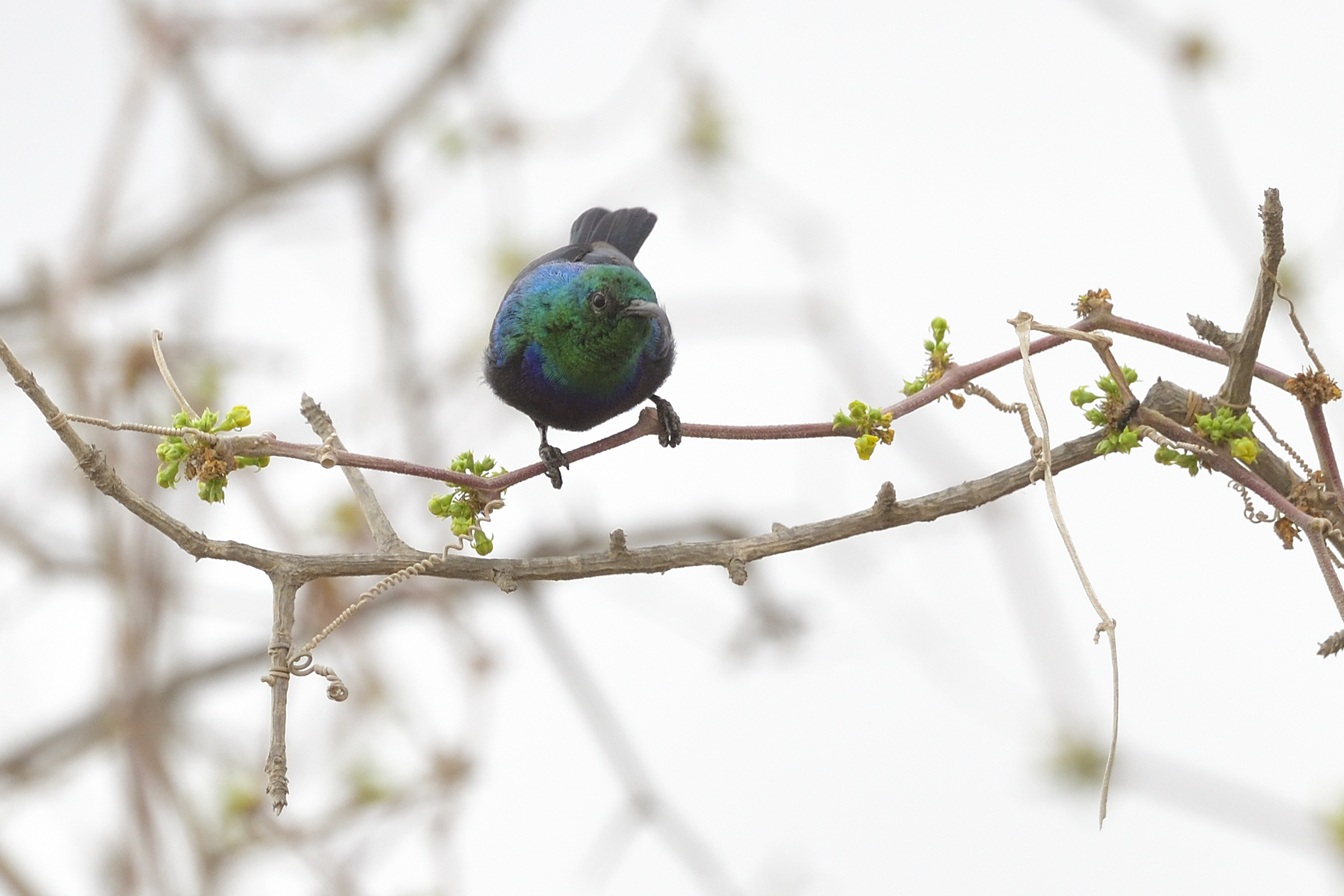 Tsavo Sunbird, Cinnyris tsavoensis, Endemic to E Africa
Scaly Chatterer, Argya aylmeri, Endemic to NE Africa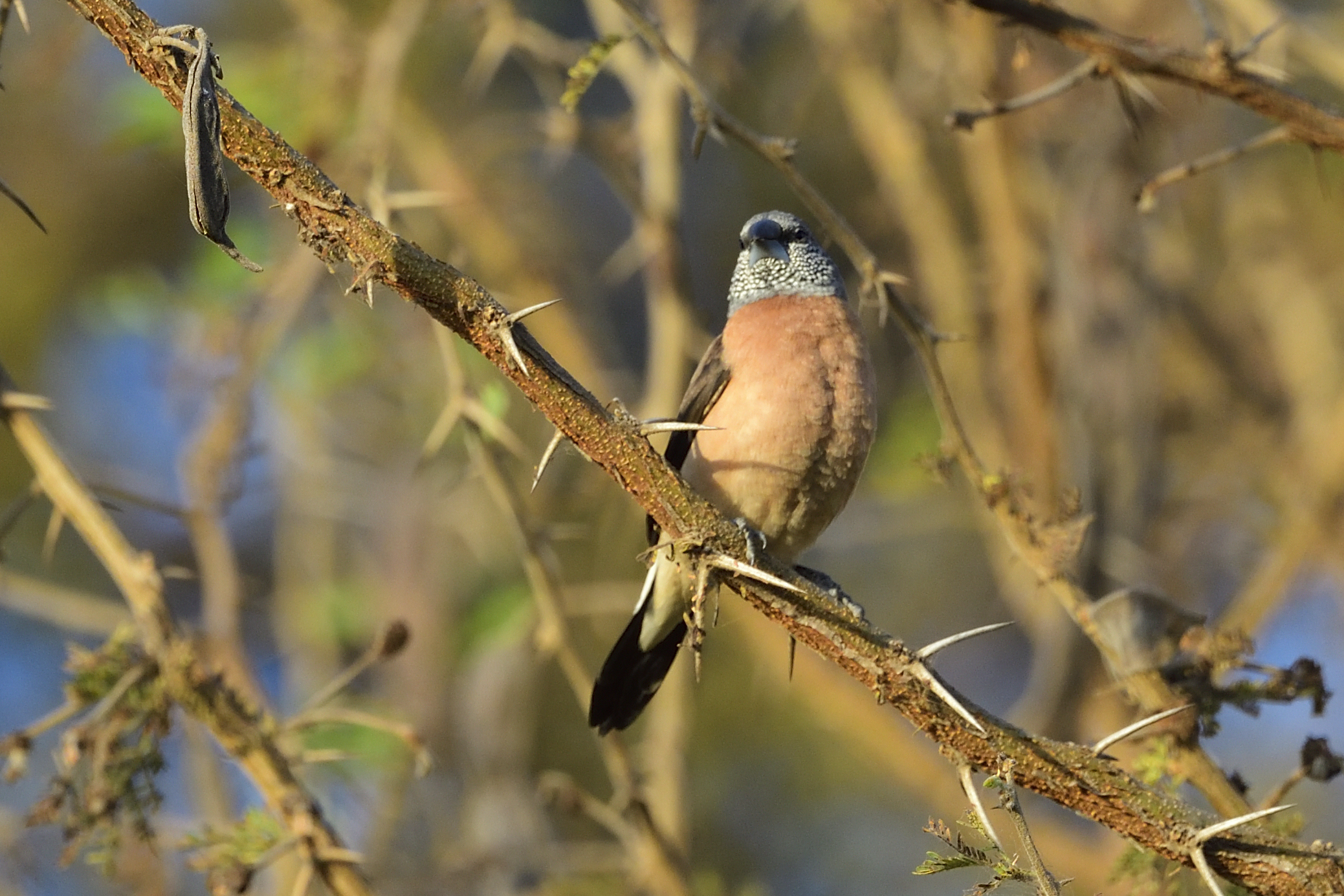 Grey-headed Silverbill, Spermestes griseicapilla, Endemic to NE Africa
Day 4, October 31 – Arusha NP
Arusha NP is only about a 30 minutes drive from my house. We were at the gate around 07:00. We started driving towards the museum and picked up the following species on the way: Singing Cisticola, Taveta Weaver, Yellow Bishop, Lesser Striped Swallow, Spot-flanked Barbet, Red-tailed Shrike, Black-backed Puffback, Broad-billed Roller, Black Cuckooshrike, Black-winged Kite and Trilling Cisticola. We stopped for a little time at the Musum, but it was very quiet. On the way up to our breakfast spot on the rim of the Ngurduto Crater, we registered more birds: Placid Greenbul, Rüppel´s Robin-Chat, Cinnamon-chested Bee-eater, and African Olive Pigeon. At the breakfast spot, we added a pair of Abbott´s Starling and a curious White.necked Raven. After breakfast, we took the other fork up the crater rim. It was very quiet, maybe due to the juvenile Martial Eagle we encountered. We still managed to add White-starred Robin and Broad-ringed White-eye. Martie and Etienne had seen all the water birds in South Africa, so we cut the route short and went straight up Mount Meru. Halfway up, I noticed I had a flat tyre. No problem, I had a spare tyre. The only problem was that my spare tyre was flat as well and I just had my car from service. I was not too happy with my mechanic. He sent people into the park with the spare tyre from my other car. In the meanwhile, we managed to add Crowned Eagle, Mottled Swift, Stripe-faced, Greenbul, Waller´s Starling, House Martin, Forest Batis and Grey-headed Nigrita to our list. We continued up to the Waterfall above the Fig tree and found my first Grey Wagtail for ANP, also Abyssinian Thrush and Red-fronted Parrot. We added 37 new birds to the list in Arusha NP and where standing on a total of 229 before the last days.
Some pictures from Day 4: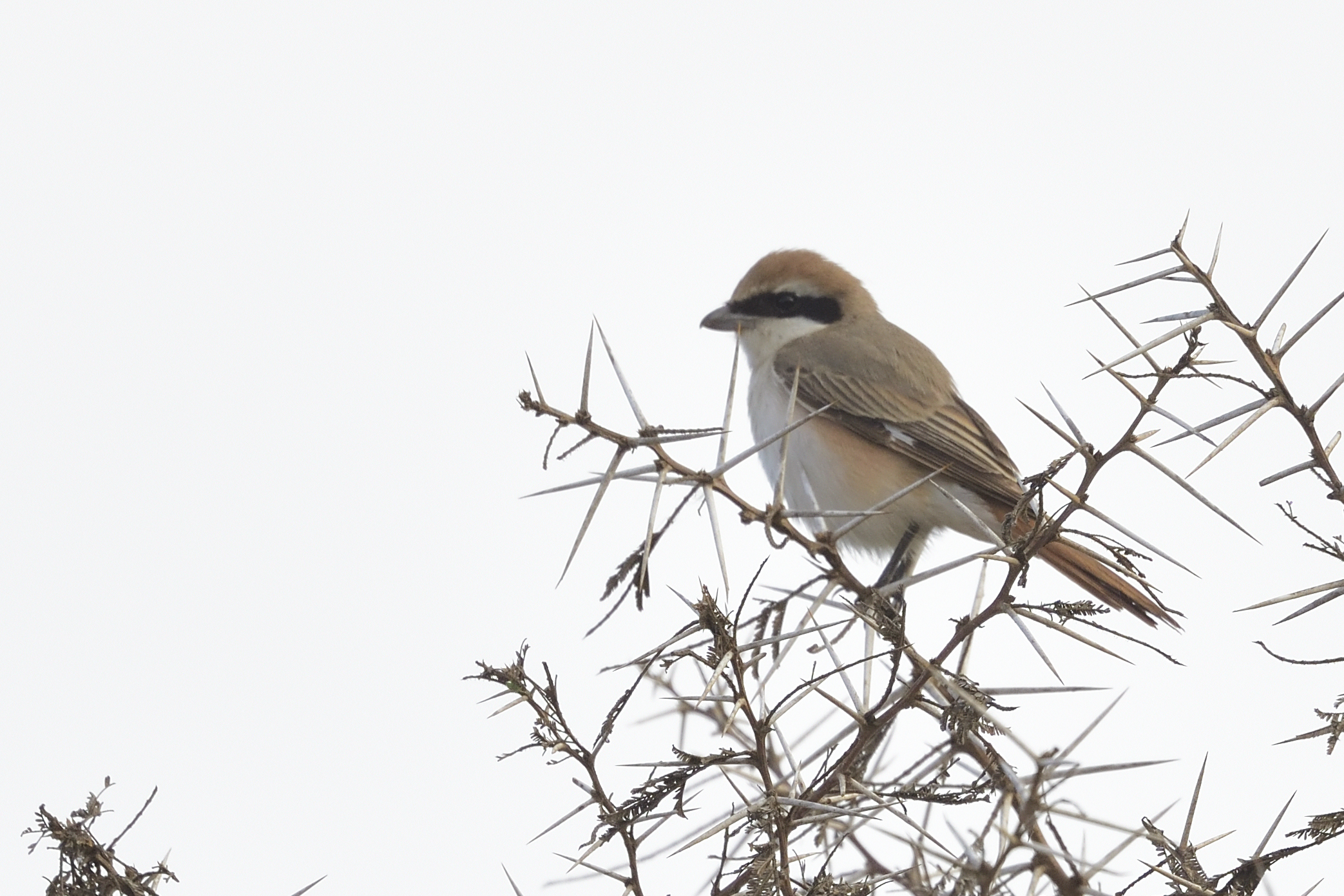 Red-tailed Shrike, Lanius phoenicuroides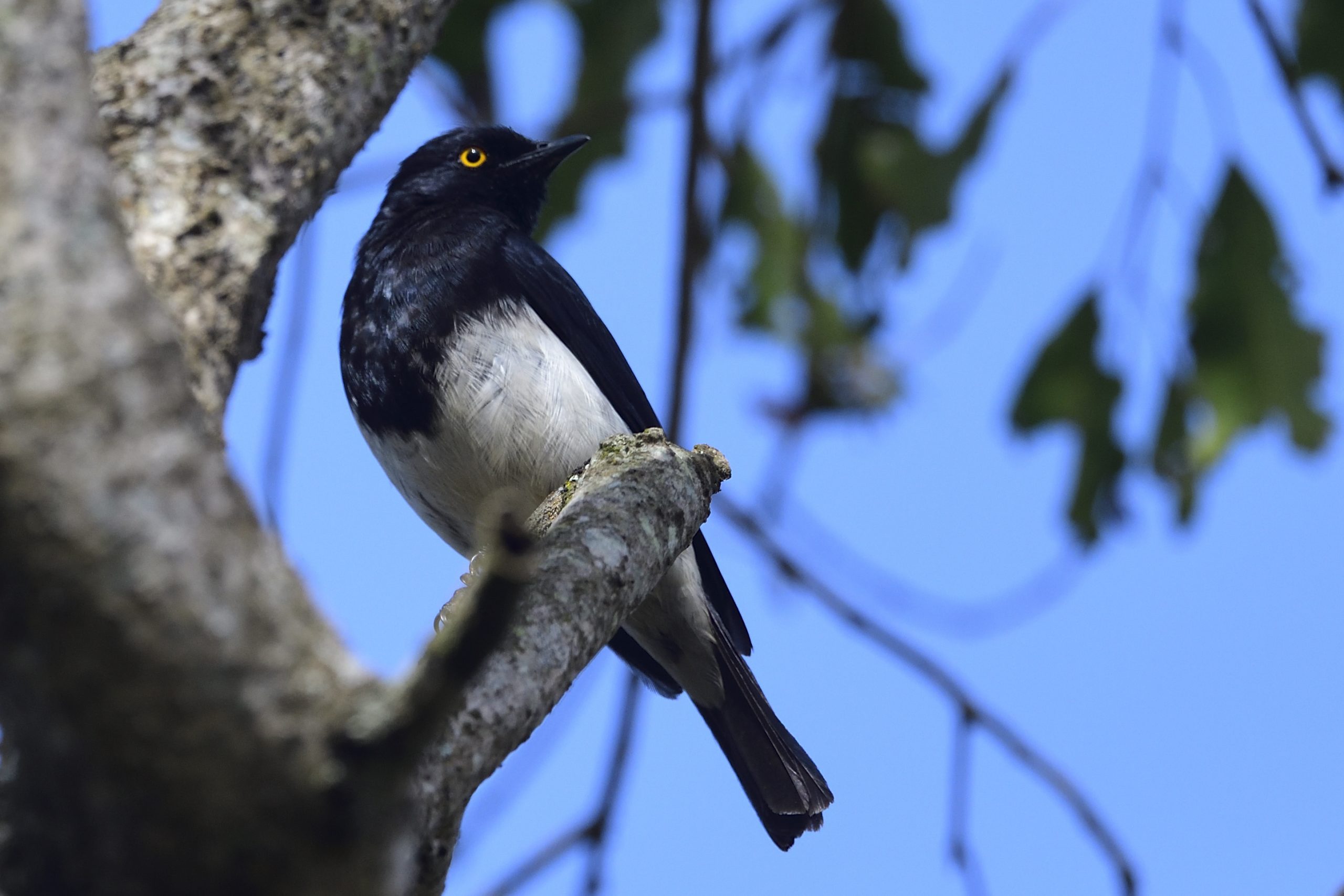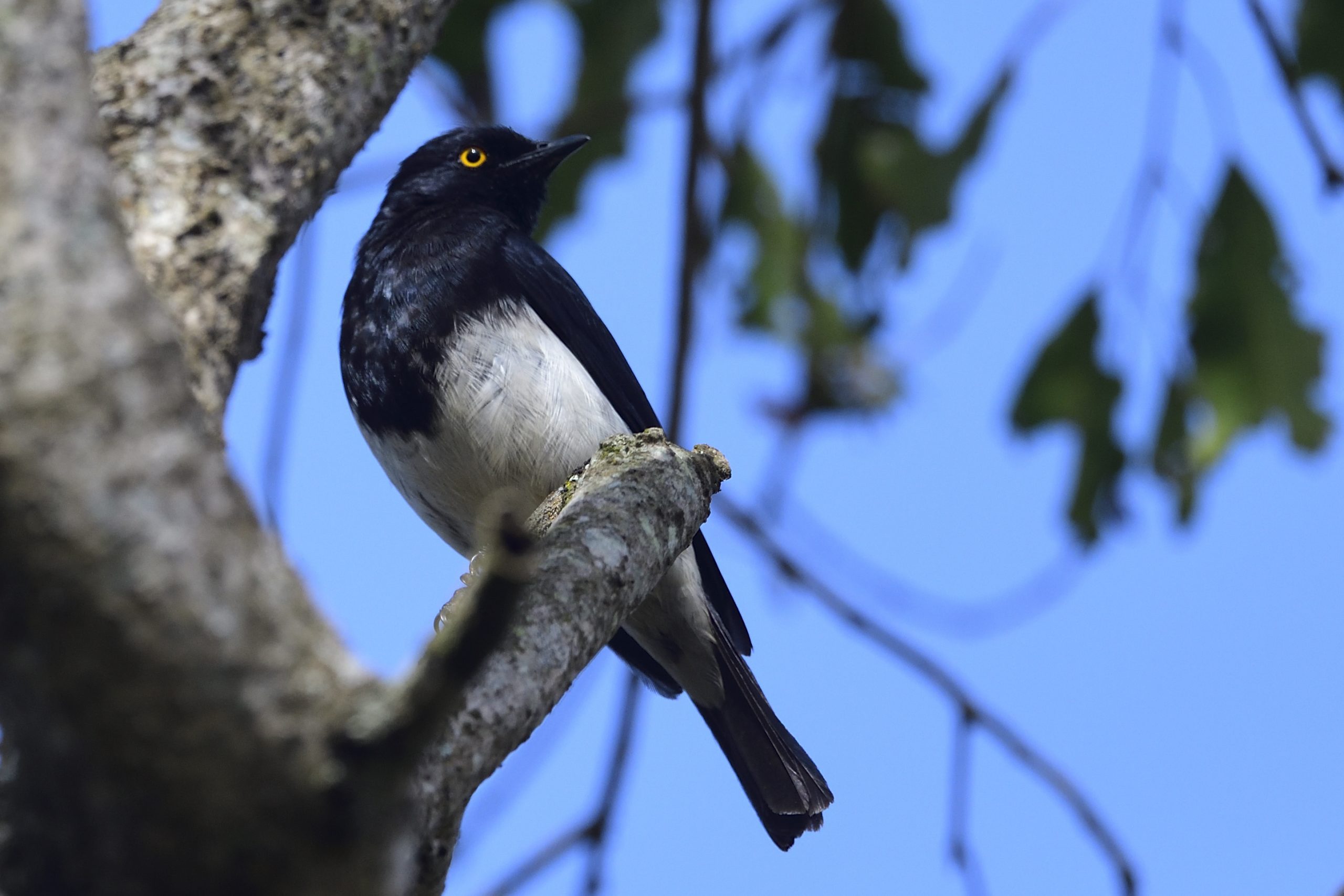 Abbott´s Starling, Poeoptera femoralis, Endemic to E Africa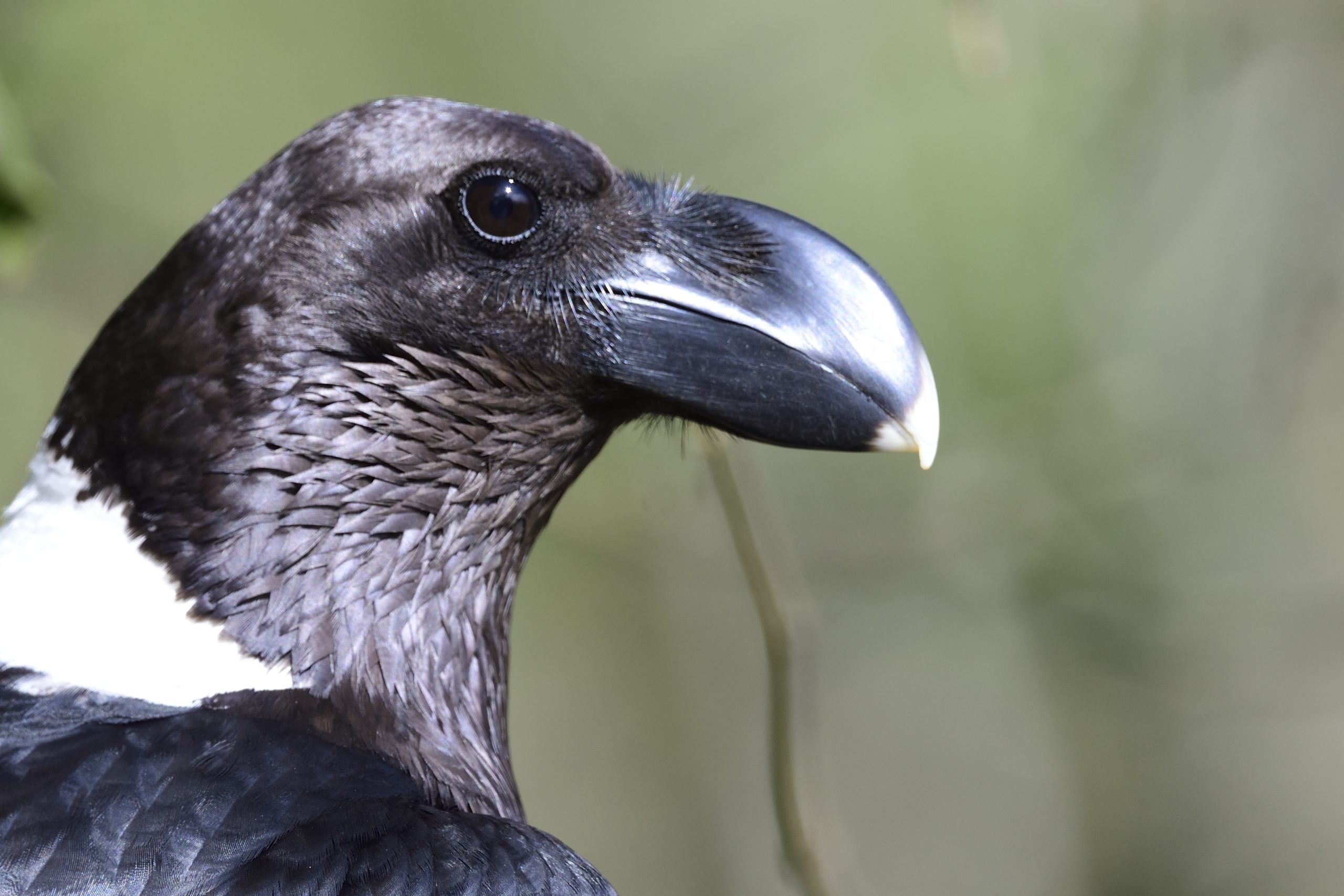 White-necked Raven, Corvus albicollis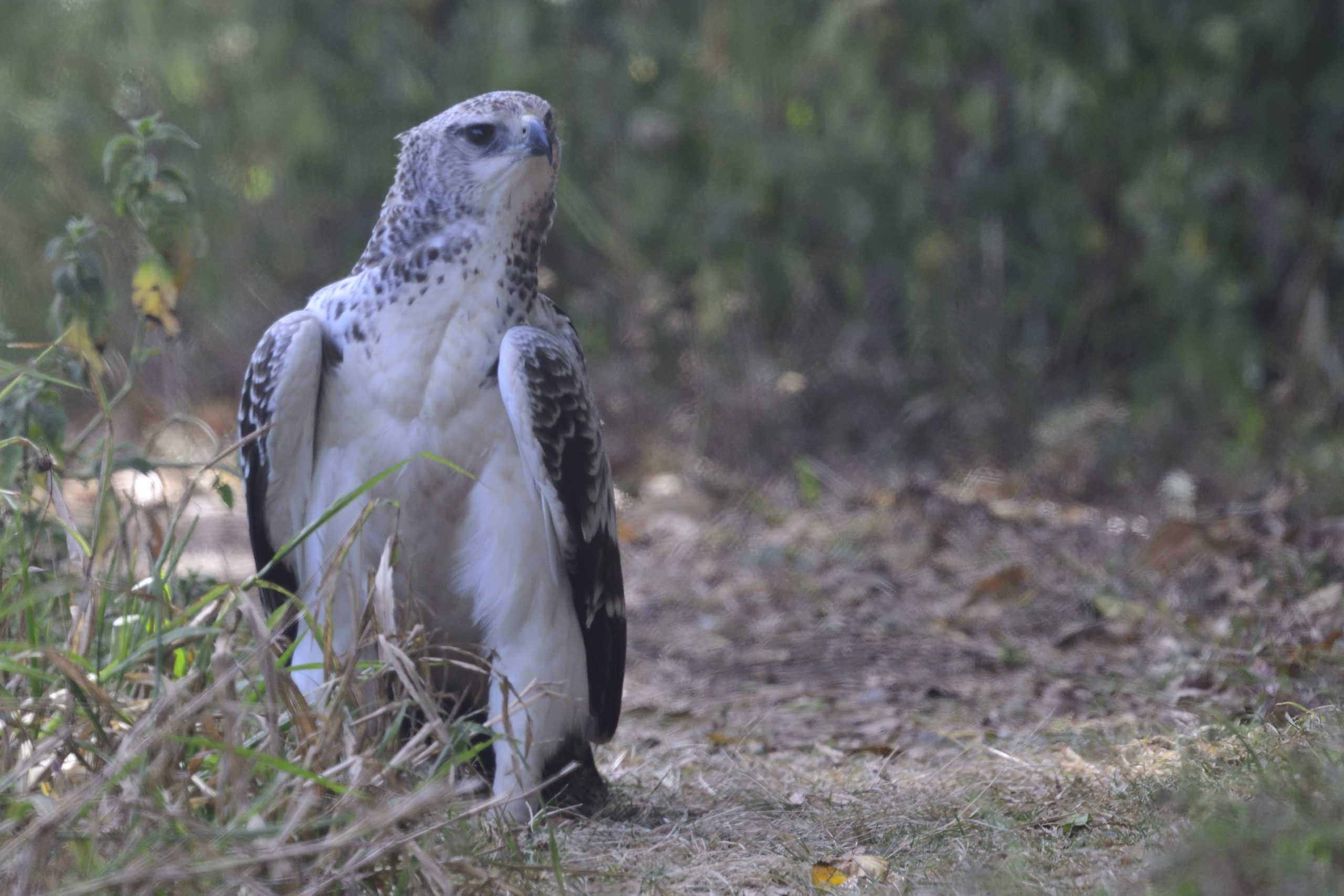 Juvenile Martial Eagle, Polemaetus bellicosus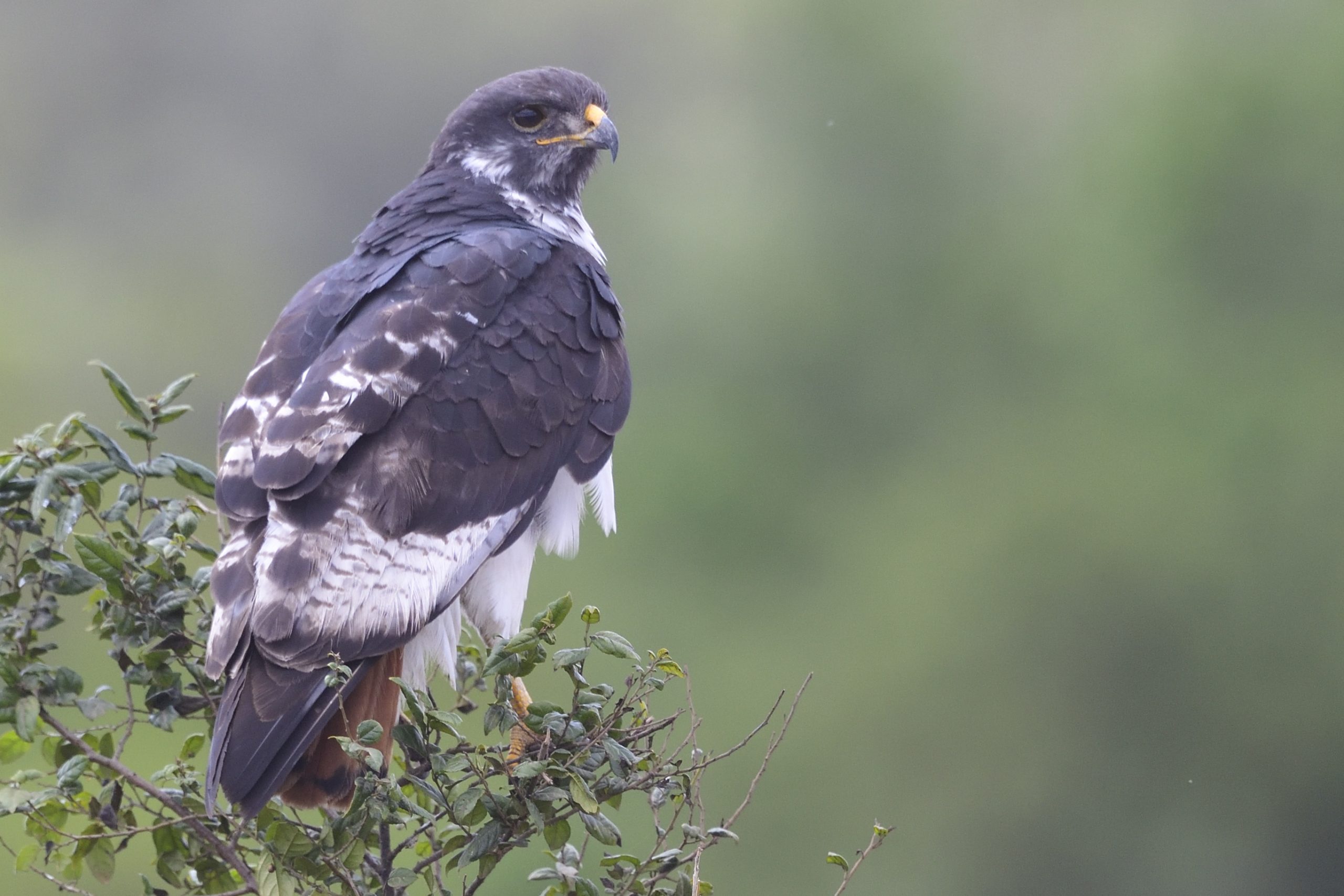 Augur Buzzard, Buteo augur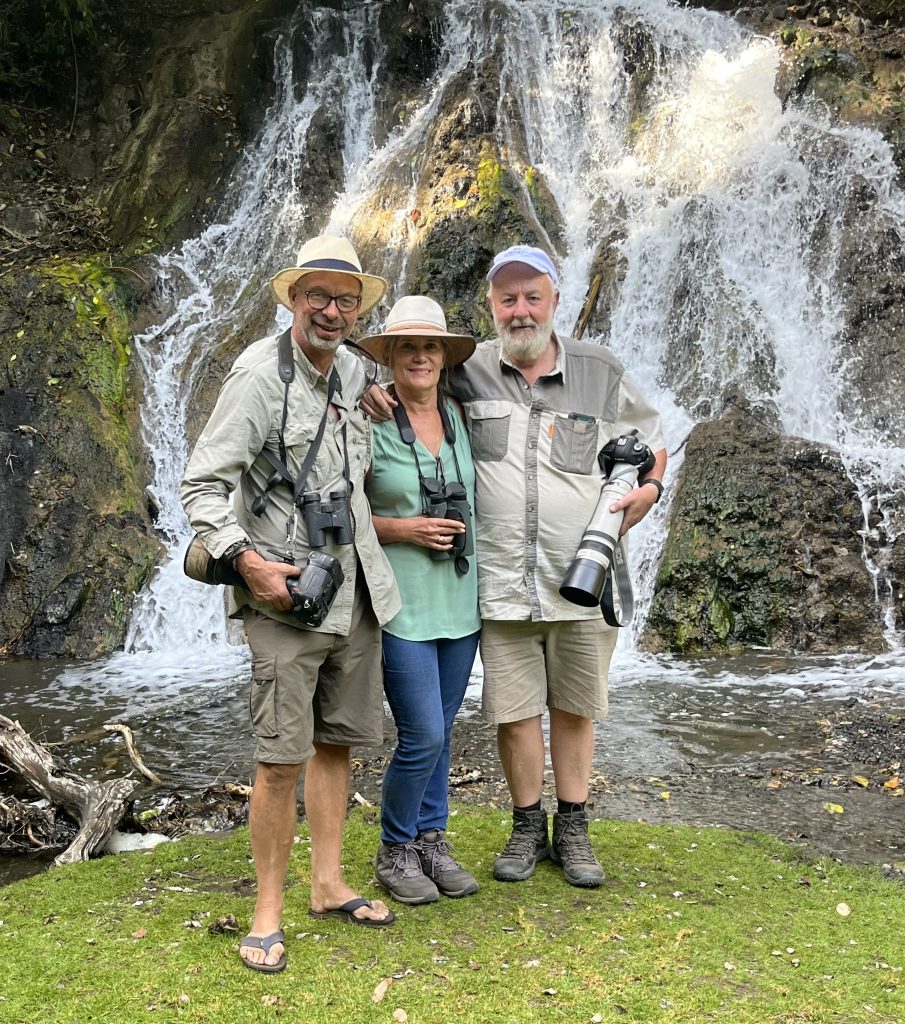 Me, Martie & Etienne at the Waterfalls in Arusha National Park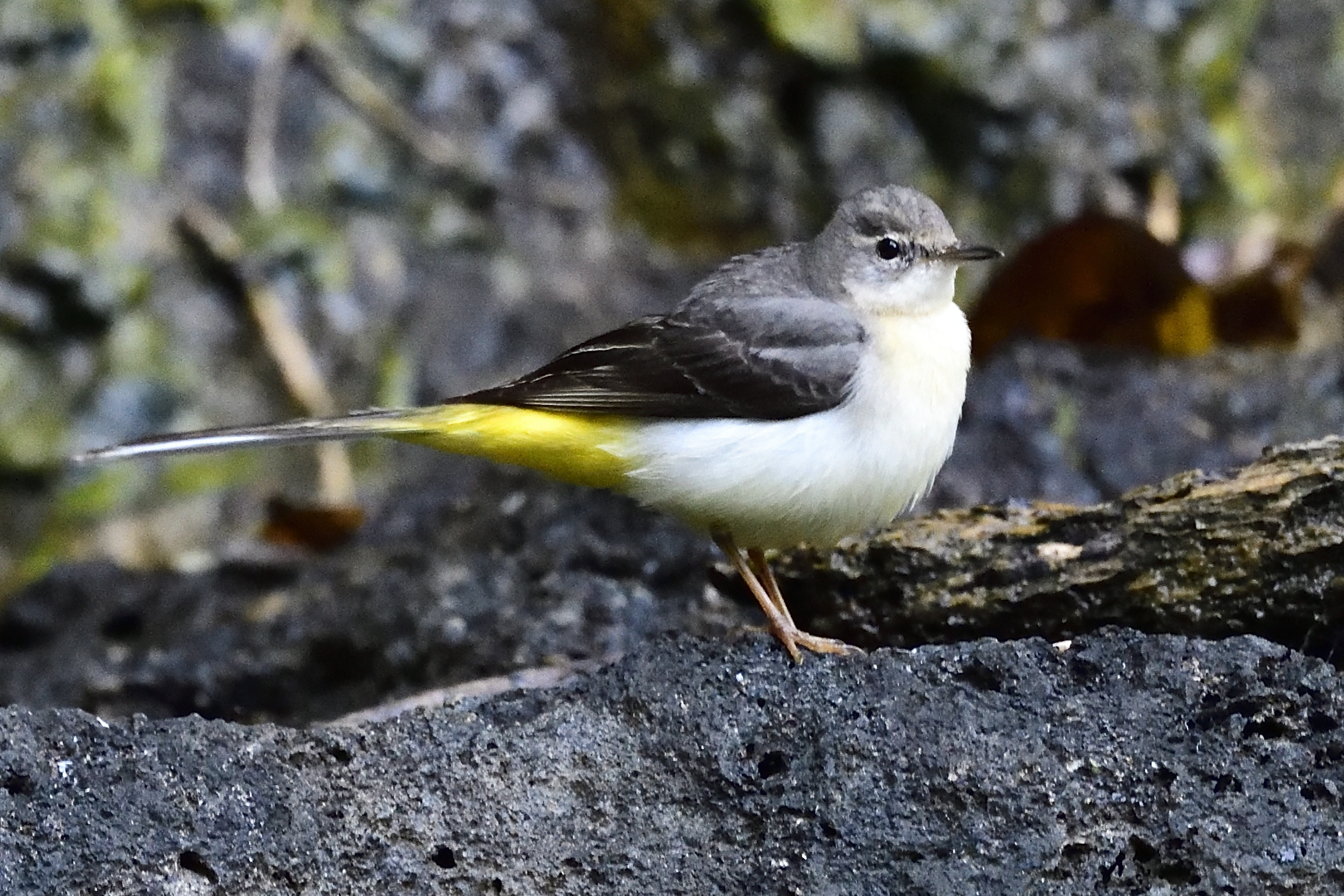 Grey Wagtail, Motacilla cinerea
Day 5, October 31 – Lake Duluti – Meru Forest – Ngarasero
Day 5 was a day to see what we were missing on my friends target list. A certain Grey Olive Greenbul were one of the culprits, but I had a plan. First stop of the morning, Lake Duluti. We only walked for 300 metres before we got beautiful views and pictures of this little skulker. Next on the list: Speke´s Weaver. I knew a nesting colony on the way to Meru Forest and we soon had bagged the Weaver too. The third target for the day were Tacazze Sunbird. It normally hangs around the entrance to Meru Forest. We searched for a long time, but eventually dipped on it. We walked up the forest (on my last trip, after this trip, I found out that this forest is actually part of Arusha National Park!). On the beginning of the path, we found a very young chick of a Broad-ringed White-eye. It looked like it could have fallen out of the nest. The mother were fussing nearby (The chick was gone on our way down). Besides that we encountered many of the birds we had seen before, but in addition: African Emerald Cuckoo, Abyssinian Crimsonwing, Cinnamon Bracken Warbler, Evergreen Forest Warbler, Ashy Flycatcher, Hartlaub´s Turaco and Brown Woodland Warbler. We returned to the car, had lunch at a local restaurant and continued to the Ngarasero lodge. The main target there were Malagasy Pond Heron that we managed to flush, but we still got good views of it. Otherwise, normal waterbirds. We returned home, freshened up and had dinner. We added 21 species to the list that day and now had a total of 250 species for the trip.
Some pictures from Day 5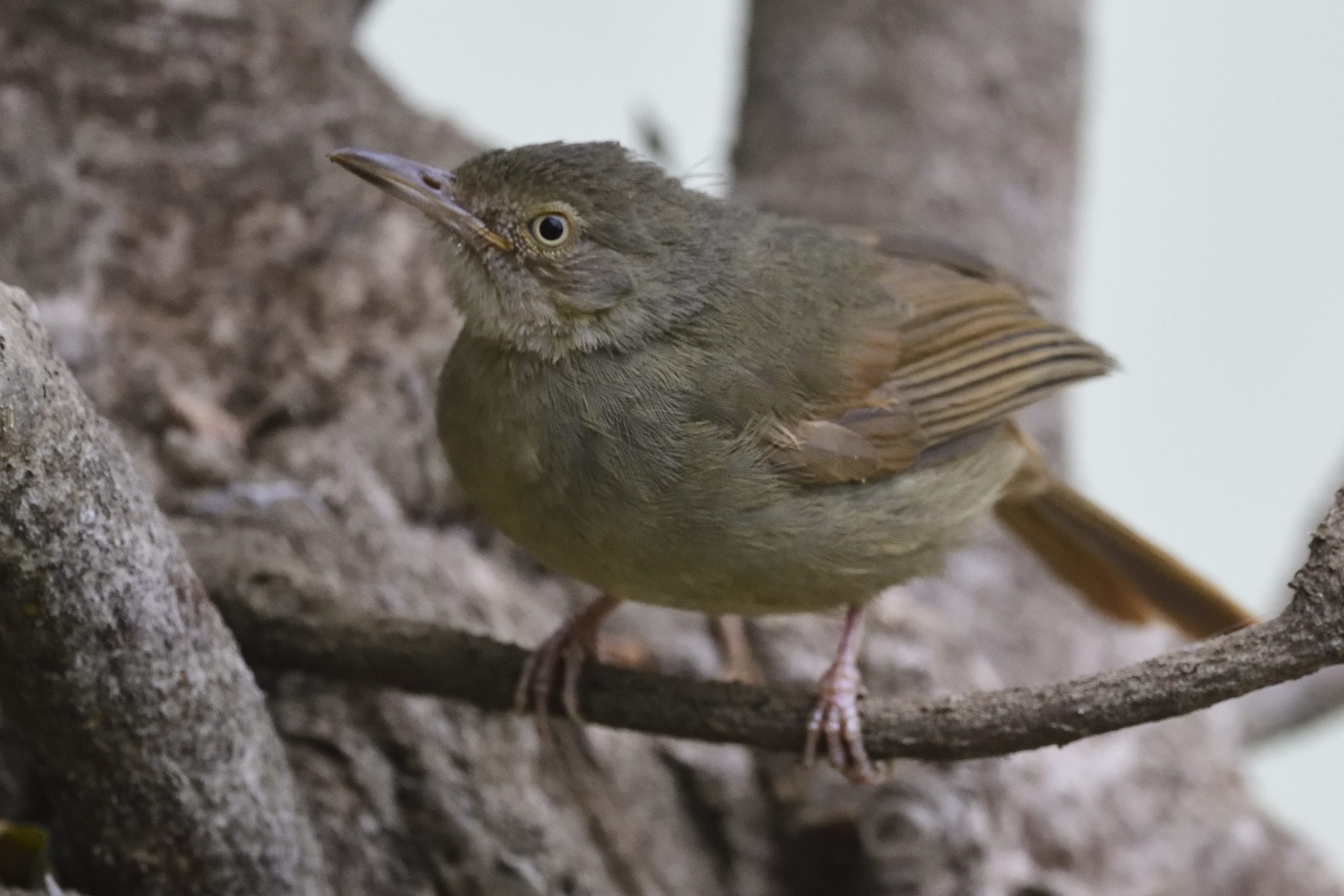 Grey-olive Greenbul, Phyllastrephus cerviniventris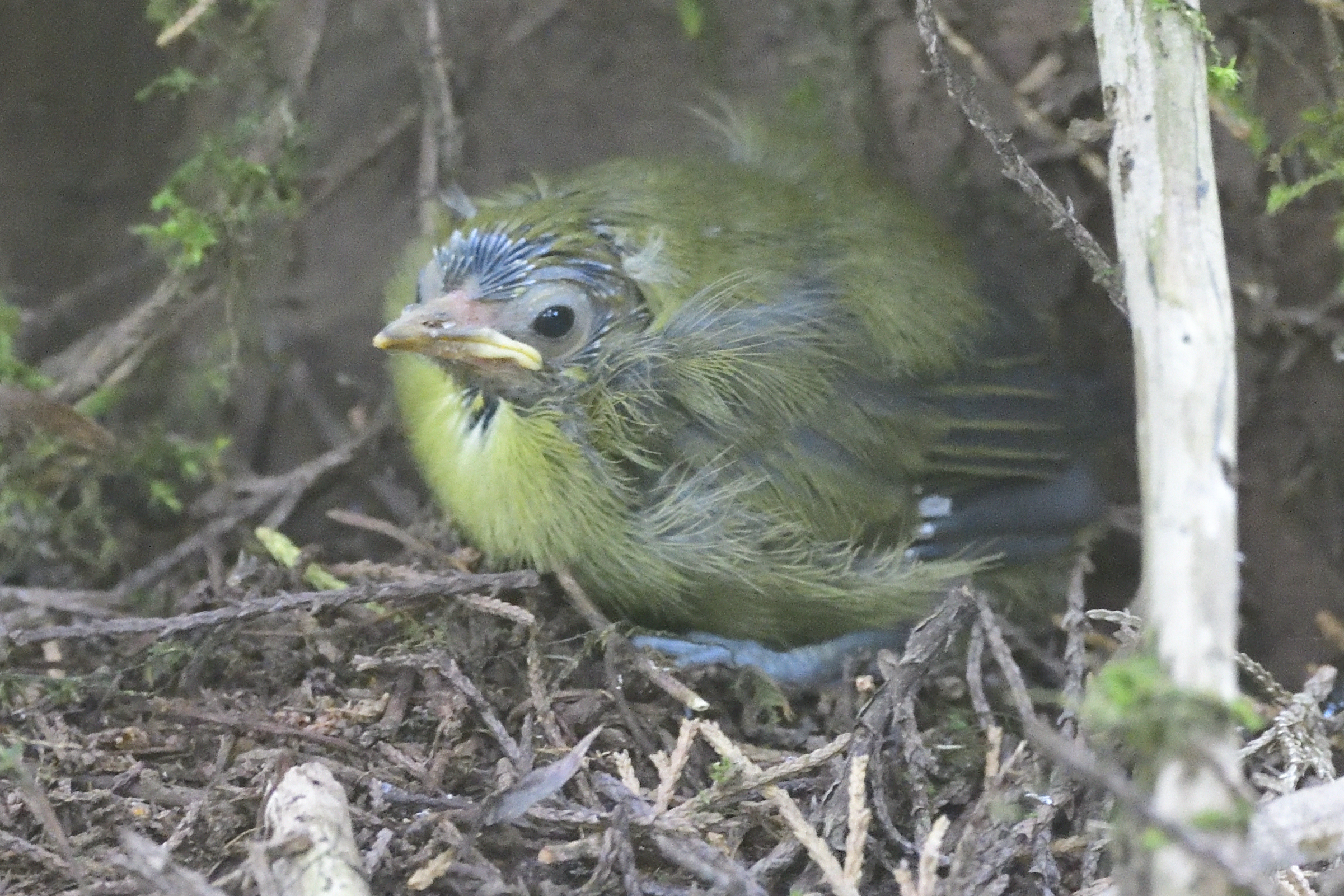 Chick of Broad-ringed White-eye, Zosterops eurycricotis, Endemic to NE Tanzania with a few birds found across the border in Kenya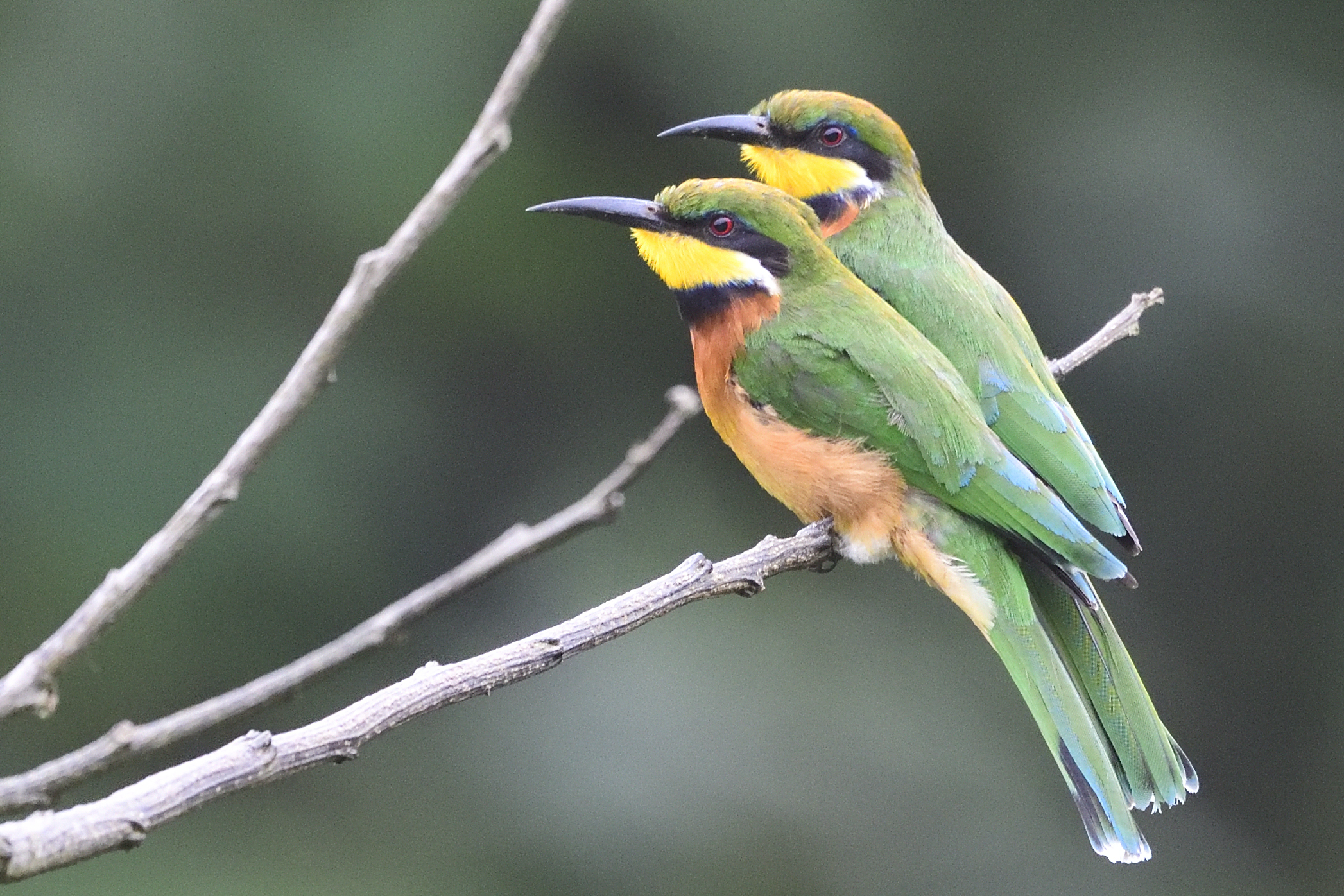 Cinnamon-chested Bee-eater, Merops oreobates, Endemic to E Africa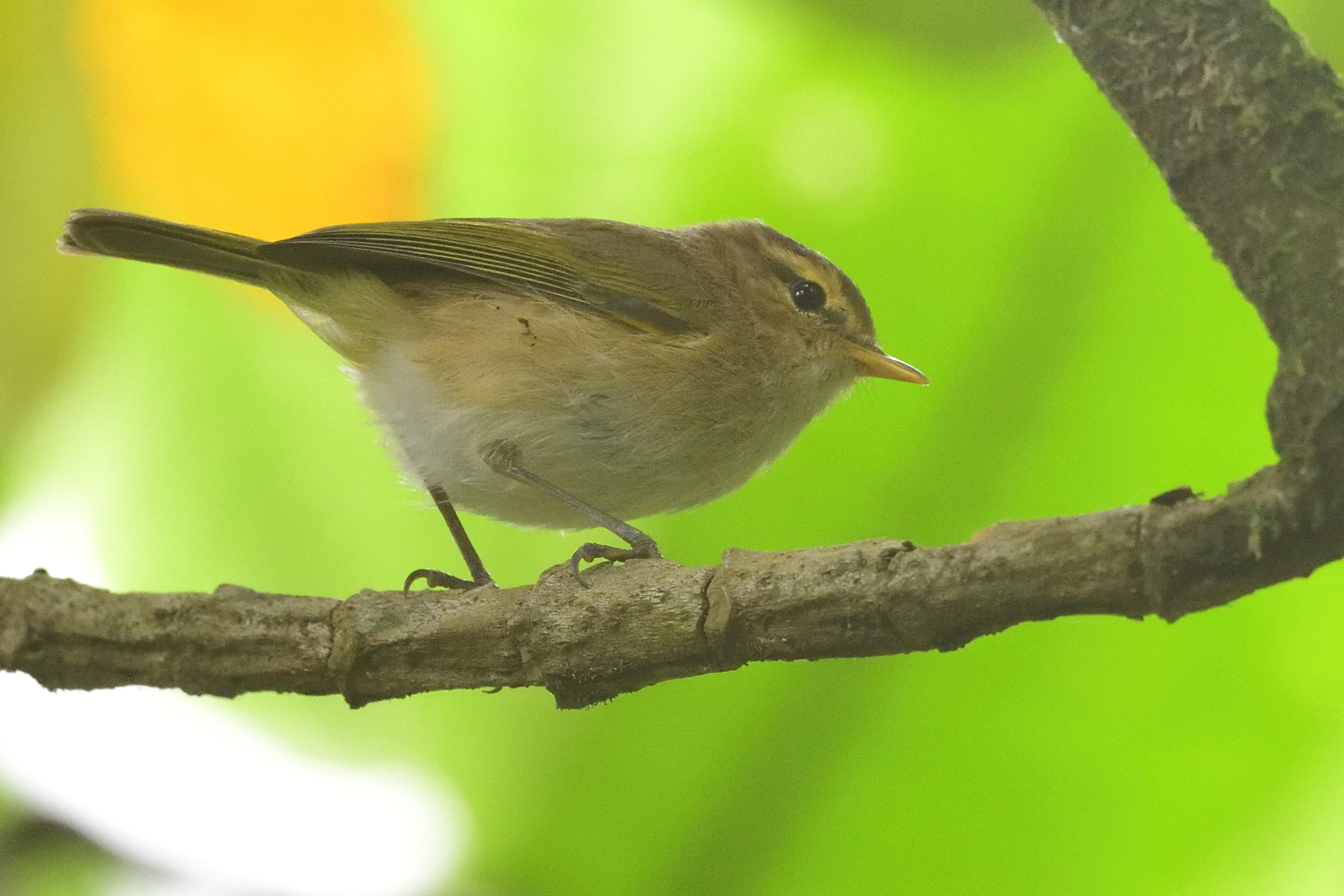 Brown Woodland Warbler, Phylloscopus umbrovirens, Endemic to NE Africa
Day 6, November 1
We were supposed to do a morning walk on Kiligolf that morning, but the Little rains start in November and this year the rain were on time. We just relaxed, had coffee and breakfast and after breakfast Martie and Etienne departed for new adventures. All in all a good 5 day trip with plenty of lifers for my friends.