Day 15, Monday June 10 – Entebbe to Semliki Forest
I picked up Adam at Sherry´s place in the morning and we were soon on our way to new adventures. It was a hefty 6 hour + drive, but we arrived in one peace. We checked in to camp, met up with our guide and was soon out birding. We first went up on the old road to Fort Portal. Nice birds were Red-tailed Leaflove, Northern Crombec, Yellow-bellied Hyliota, Western Black-headed Batis, Copper Sunbird, Cabanis´s Bunting and Gambaga Flycatcher. We drove towards camp and picked up Orange-cheeked Waxbill. On the main road towards camp we added Piping Hornbill and African Pied Hornbill (Congo Pied Hornbill). We settled in for the night and had great expectations for the day after.
Some pictures from Day 15: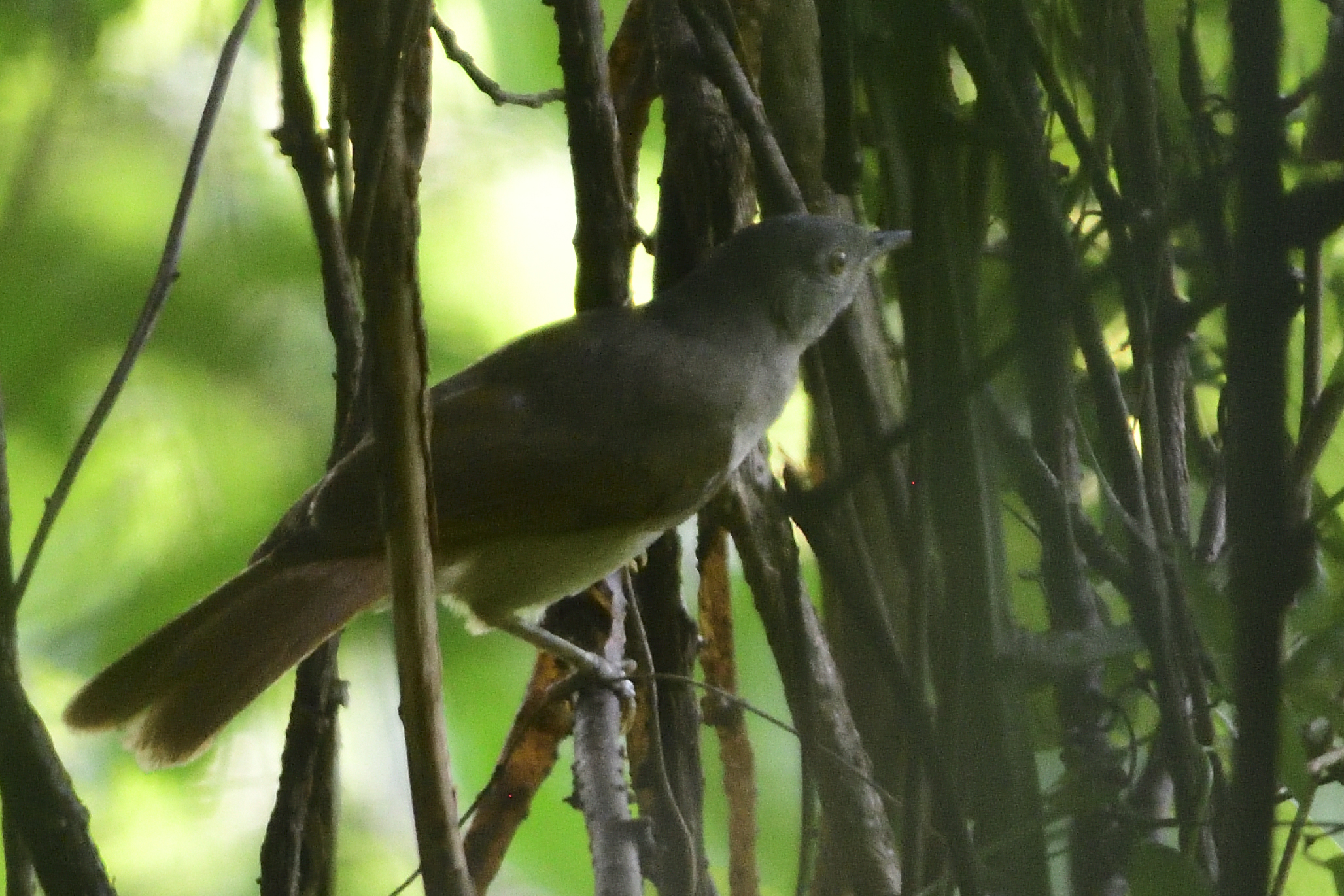 Red-tailed Leaf-Love, Phyllastrephus scandens – Lifer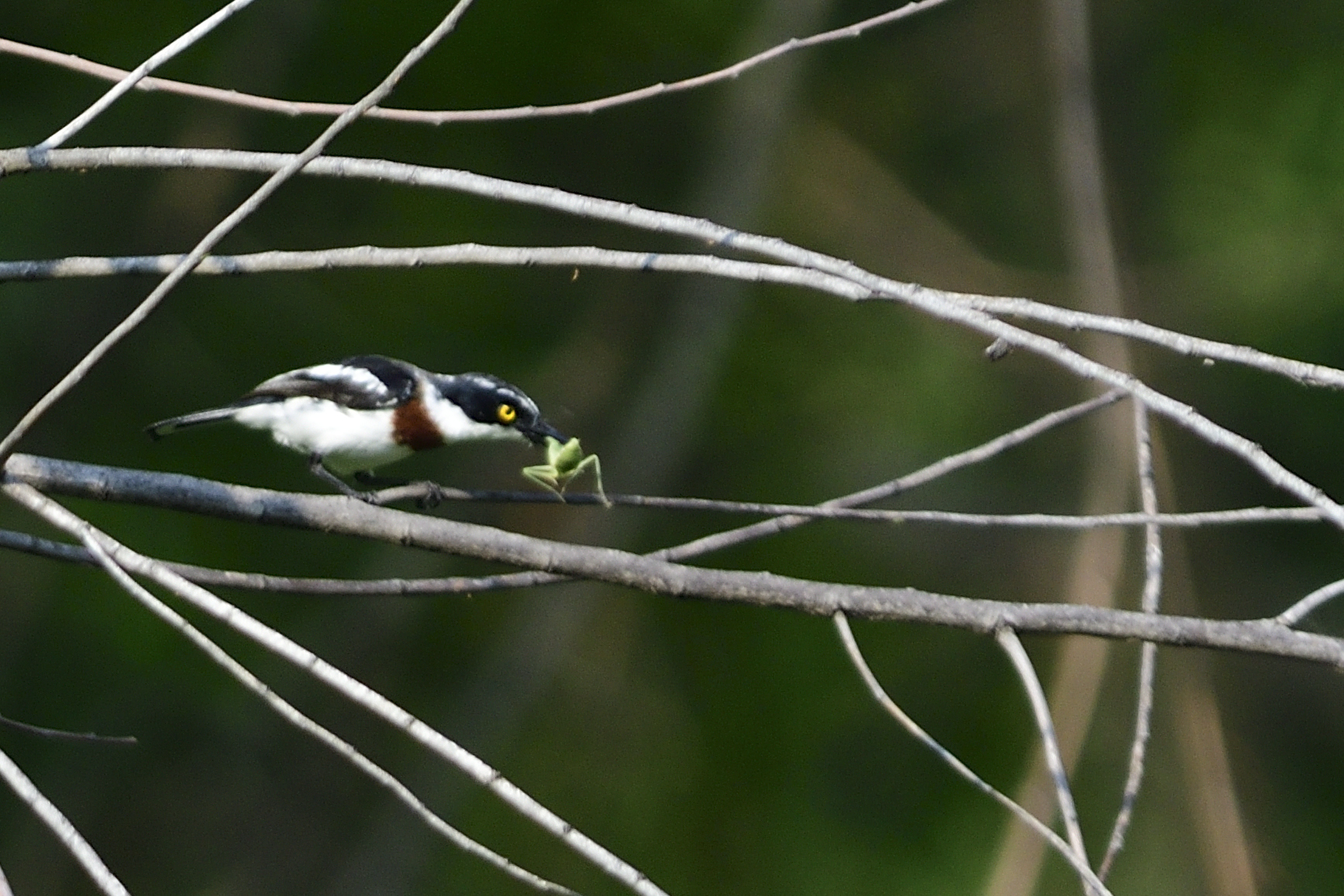 Western Black-headed Batis, Batis erlangeri – Lifer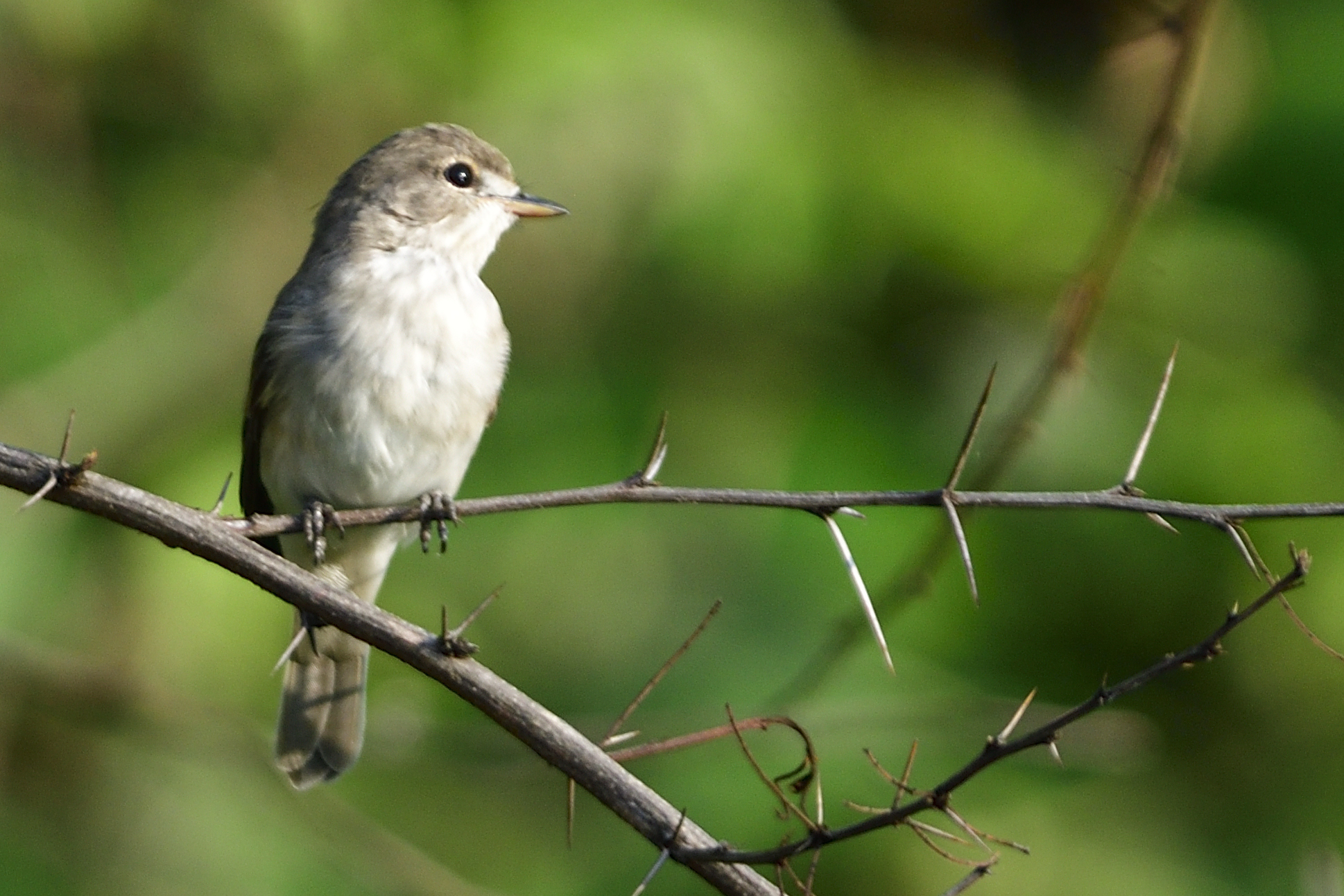 Gambaga Flycatcher, Muscicapa gambagae – Lifer
African (Congo) Pied Hornbill, Tockus fasciatus – Lifer
Day 16, Tuesday, June 11 – Semliki Forest
We started birding along the main road and soon picked up White-crested Hornbill. At 08.30 we were inside the forest, but the birding was a little slow. However, we did get nice birds like Green Crombec, Yellow-throated Nicator, Crested Malimbe and Harltaub´s Duck. We were now deep in the forest and suddenly around 09.30 the forest came alive: Red-tailed Bristlebill, Grey-headed Sunbird, Blue-throated Roller, Chocolate-backed Kingfisher, Black-billed Turaco, Red-billed Dwarf Hornbill, Brown-chested Alethe, Western Oriole, Red-tailed Greenbul and at the turning point African Piculet! On the way back, we added Chestnut-capped Flycatcher, Sooty Lowland Boubou, Red-bellied Paradise Flycatcher and Black-casqued Hornbill. I had so many lifers in the forest, but getting proper pictures proved to be very hard. We went back to camp for lunch. After lunch we staked out a White-bellied Kingfisher nest and had brief views of the bird right in front of us. Perched in a nearby tree was a female Black-casqued Hornbill. On the road we had a soaring Ayre´s Hawk-Eagle high above us and also a couple of Western Bronze-naped Pigeons in a fruiting tree just across the road. We went back to the place we started birding the day before, but it was very quiet. We still added Northern Black Flycatcher, Brown-backed Scrub-Robin and Northern Puffback. We were interested in seeing Nightjars and drove to a spot the guide knew. No Nightjars, but a couple of Chestnut-winged Starlings were the last birds of the day. It was now getting dark and we had quite a drive back to camp, but it had been a very succesfull day albeit the birds proved hard to photograph.
Some Pictures from Day 16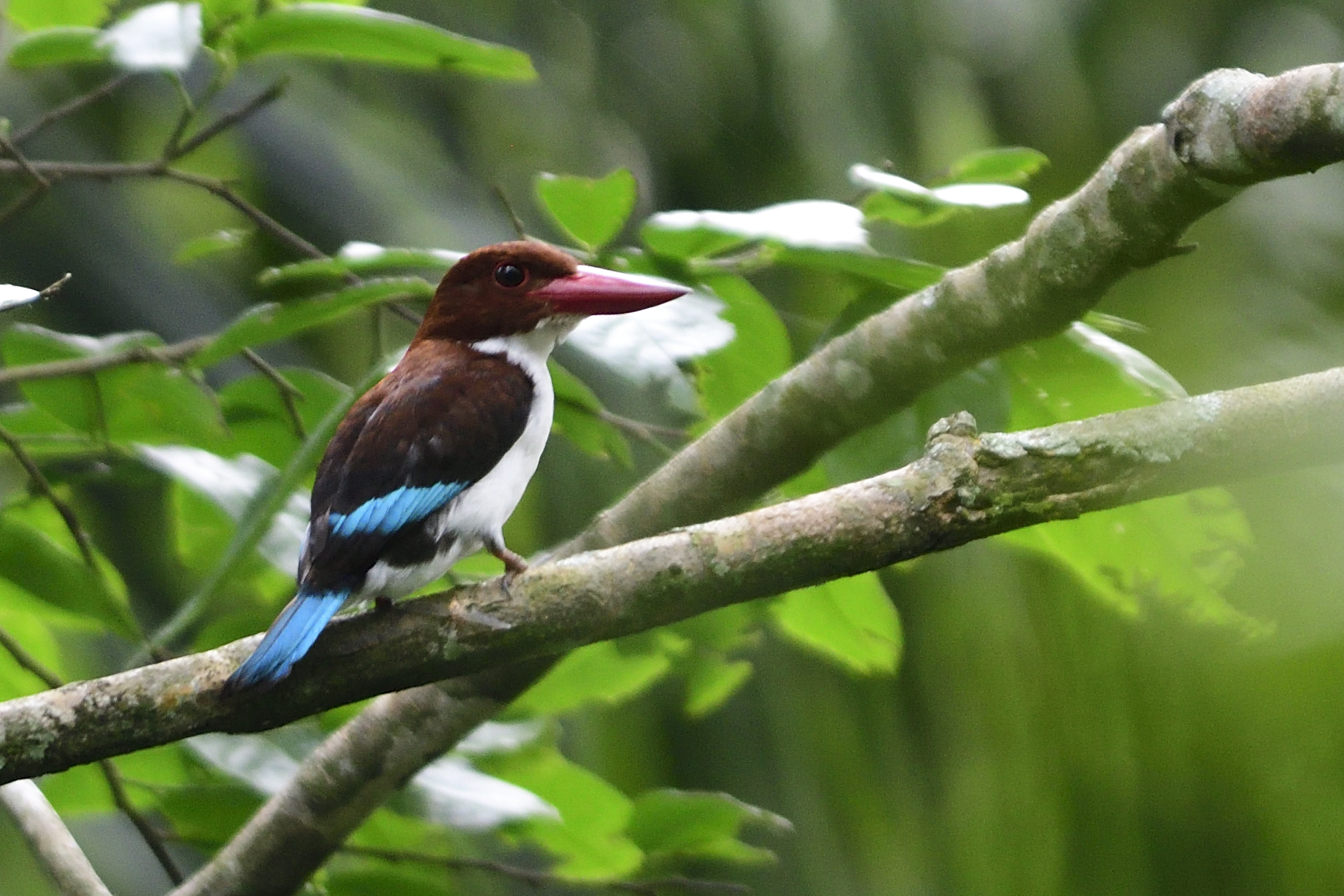 Chocolate-backed Kingfisher, Halcyon badia – Lifer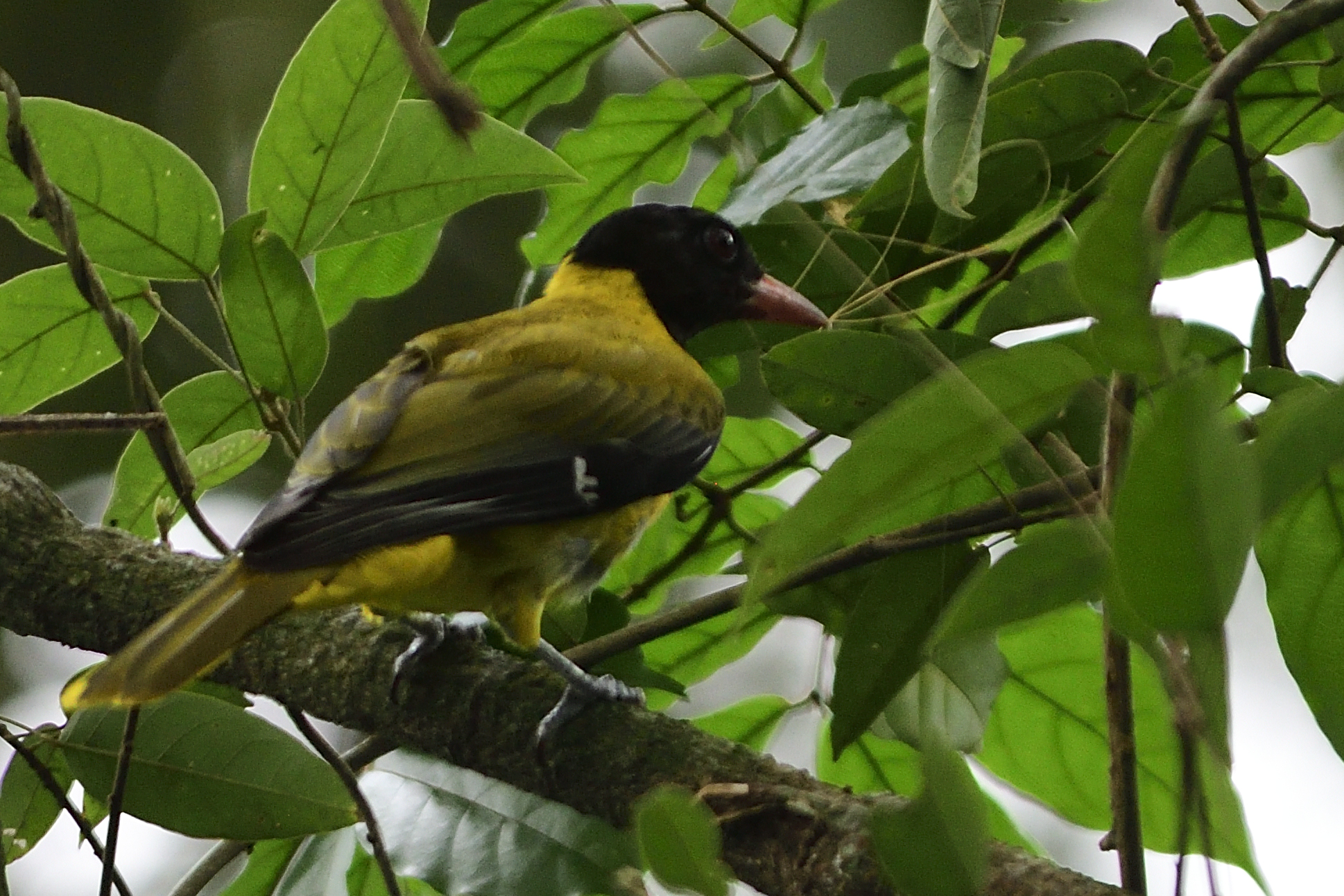 Western Oriole, Oriolus brachyrhyncus – Lifer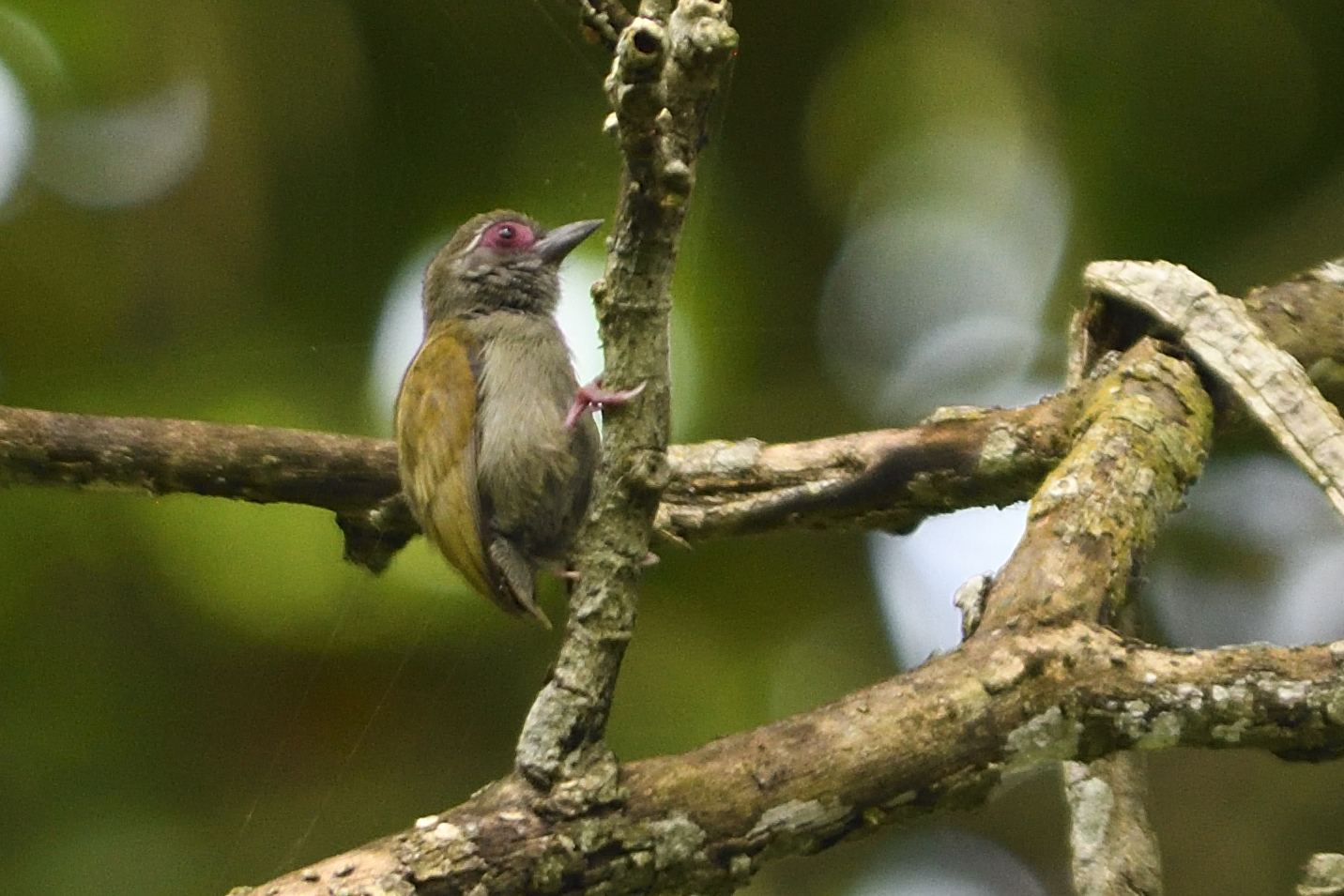 African Piculet, Sasia africana – Lifer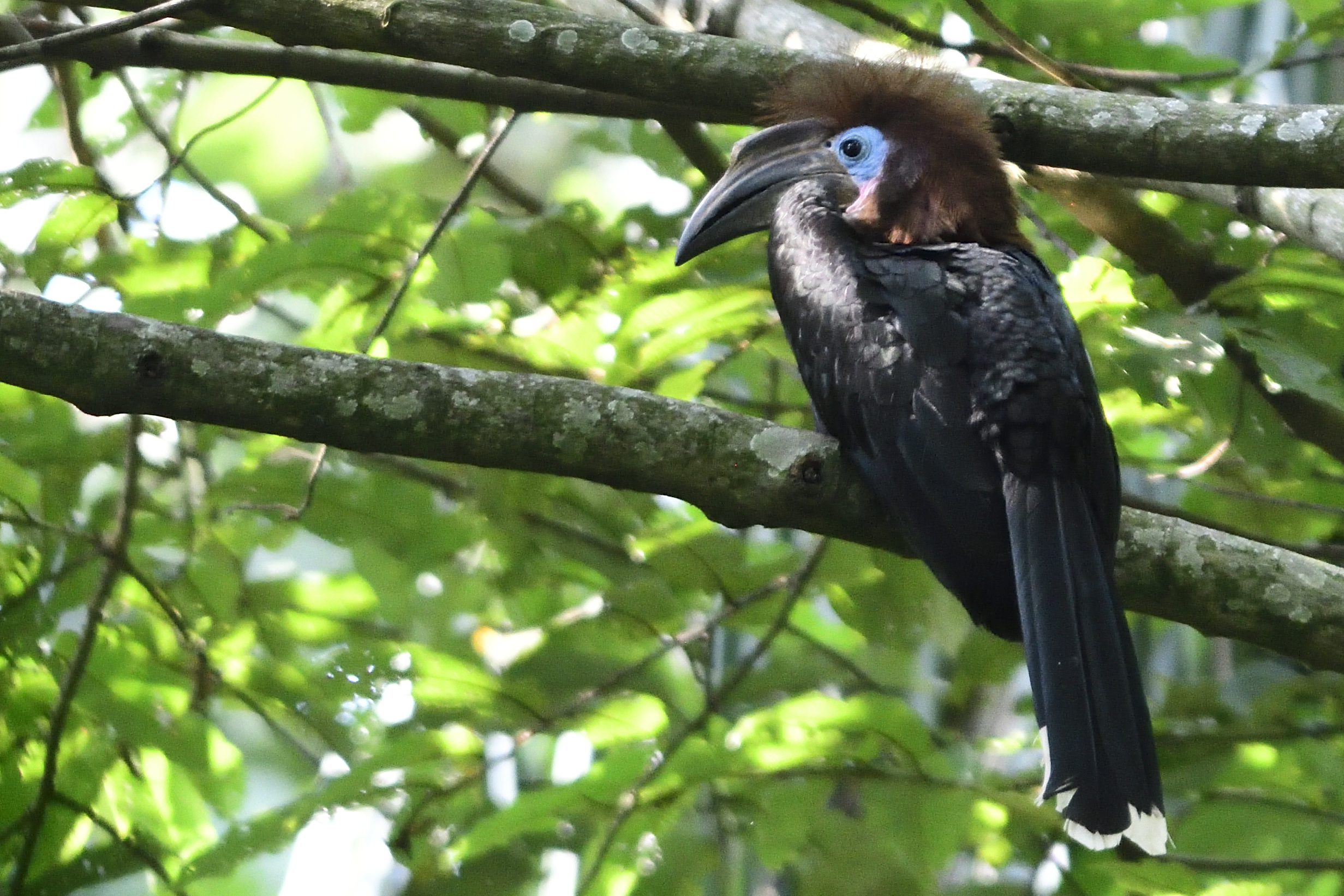 Black-casqued Hornbill (Female), Ceratogymna atrata – Lifer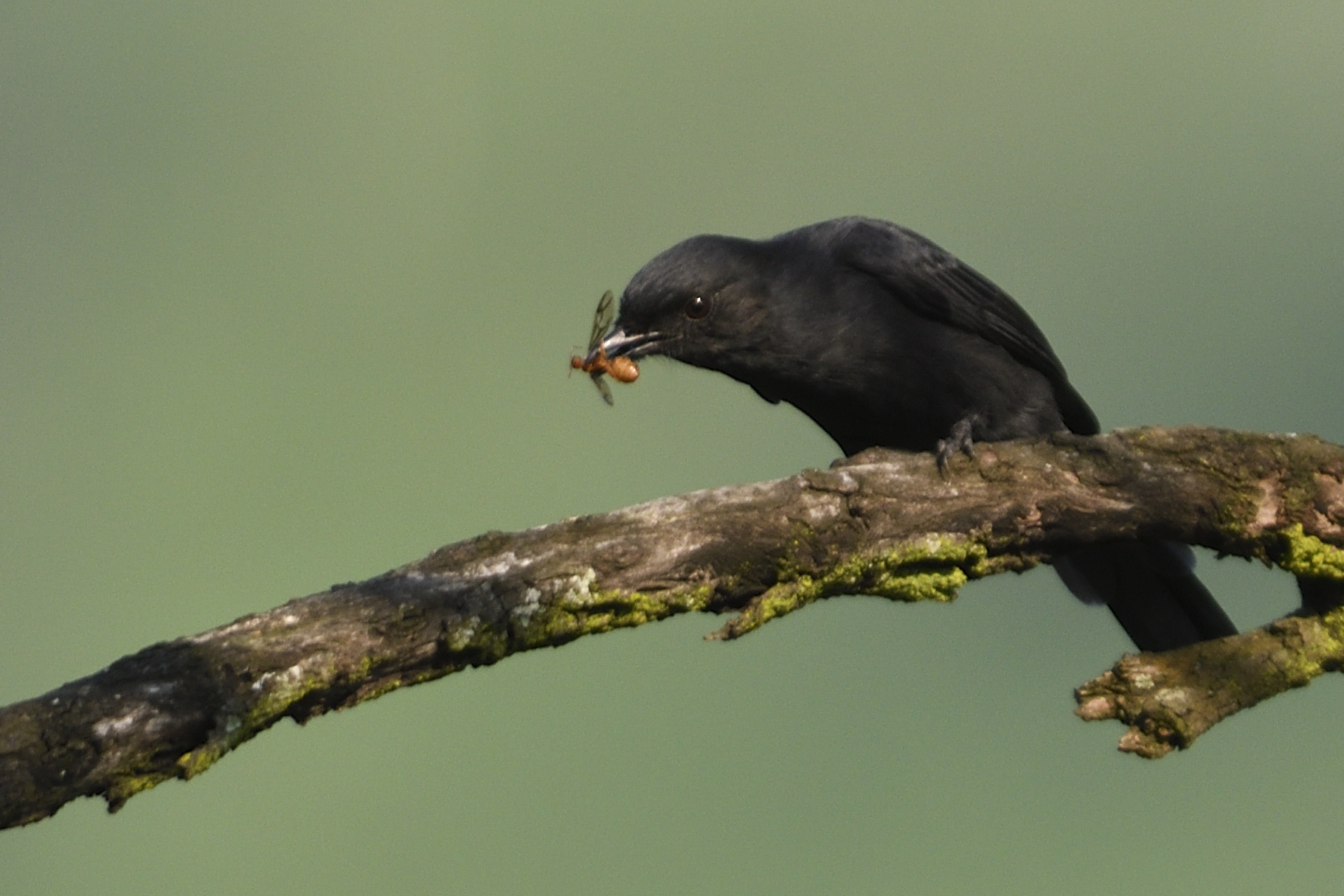 Northern Black Flycatcher, Melaenornis edoloides
Brown-backed Scrub-Robin, Erythropygia hartlaubi – Lifer
Day 17, Wednesday, June 12 – Semliki Forest
We decided to explore the other path in to the forest this day. Just around camp we found Swamp Palm Bulbul, Narrow-tailed Starling and Red-tailed Ant-Thrush. We walked for quite a while without much birdlife to hear or see. In a clearing we had Fawn-breasted Waxbill. Into the forest again, it was very quiet, but we managed to get views of Red-billed Dwarf Hornbill and Grant´s Bluebill. On the way back, we picked up Jameson´s Wattle-eye, and Olive-bellied Sunbird. We went back to the site for the White-bellied Kingfisher and managed to get a good view of the Juvenile. While Adam was busy with the Kingfisher, I managed shots of Western Bronze-naped Pigeon and Yellow-throated Tinkerbird. It became very hot and we relaxed in camp for lunch. In the afternoon we took off again and birded along the main road. We picked up Purple-headed Starling, Piping Hornbill and Velvet-mantled Drongo. All in all a rather slow day.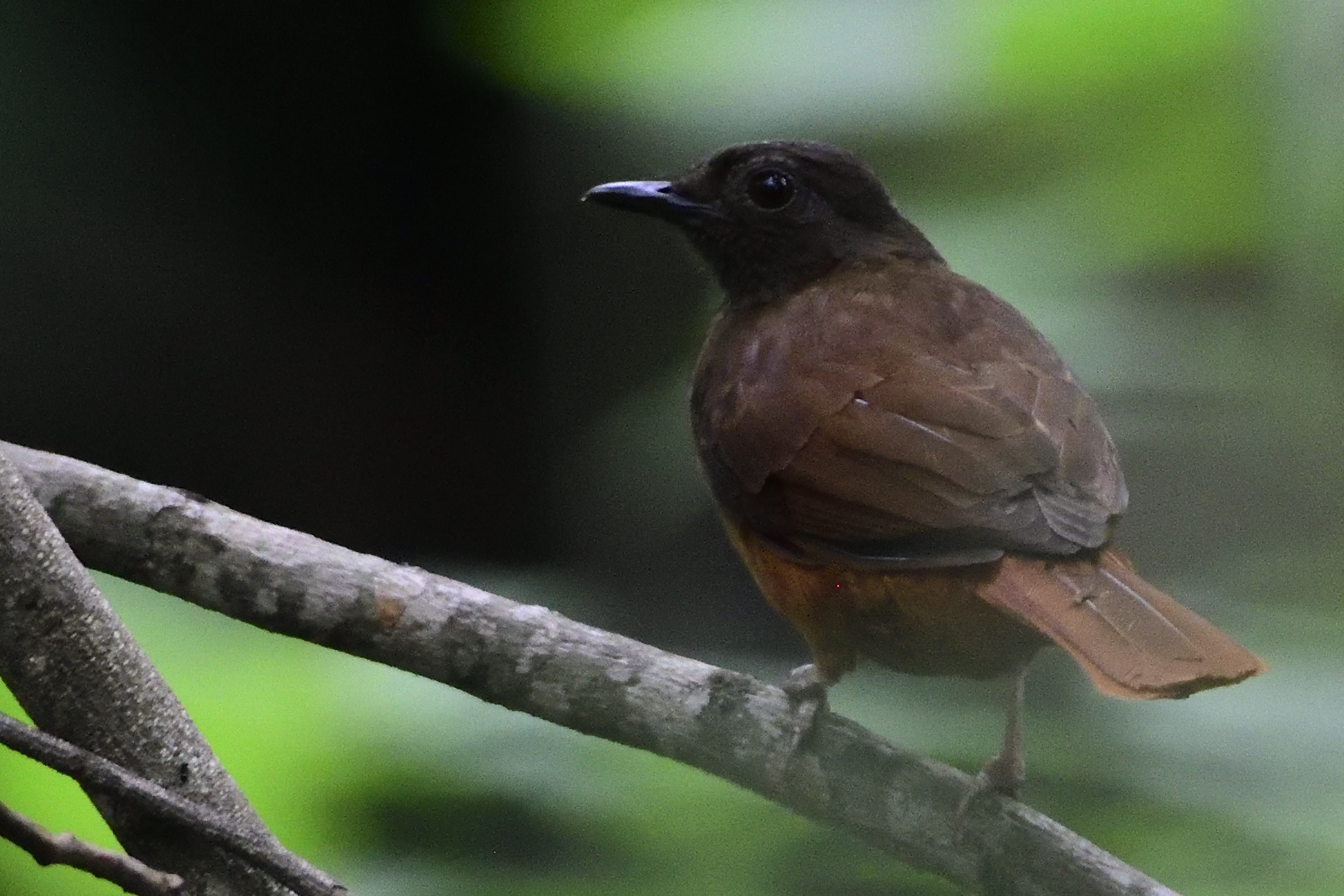 Red-tailed Ant-Thrush, Neocossyphus rufus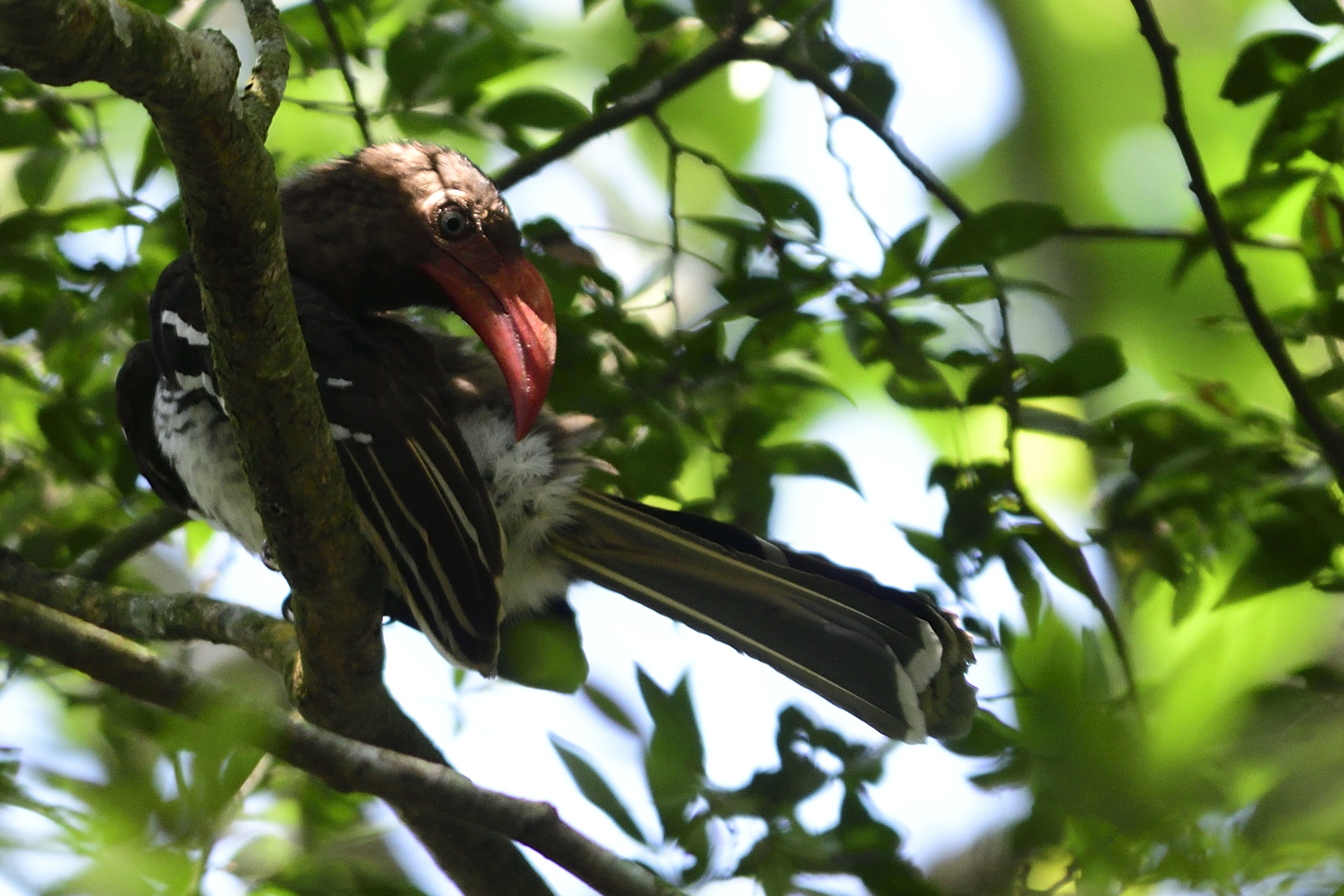 Red-billed Dwarf Hornbill, Tockus camurus – Lifer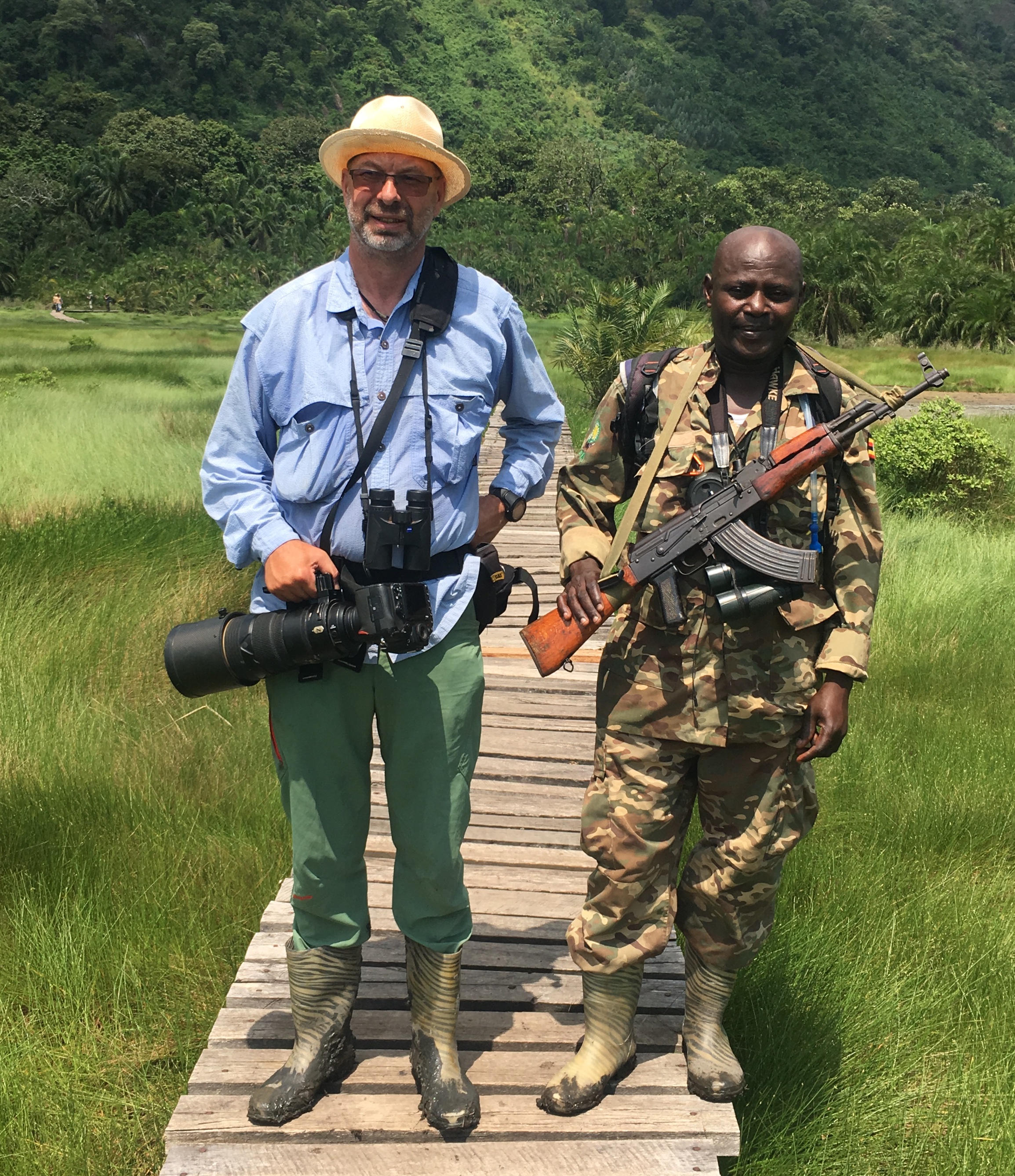 The guide and me on the long dreadful hot walk with little or no birds.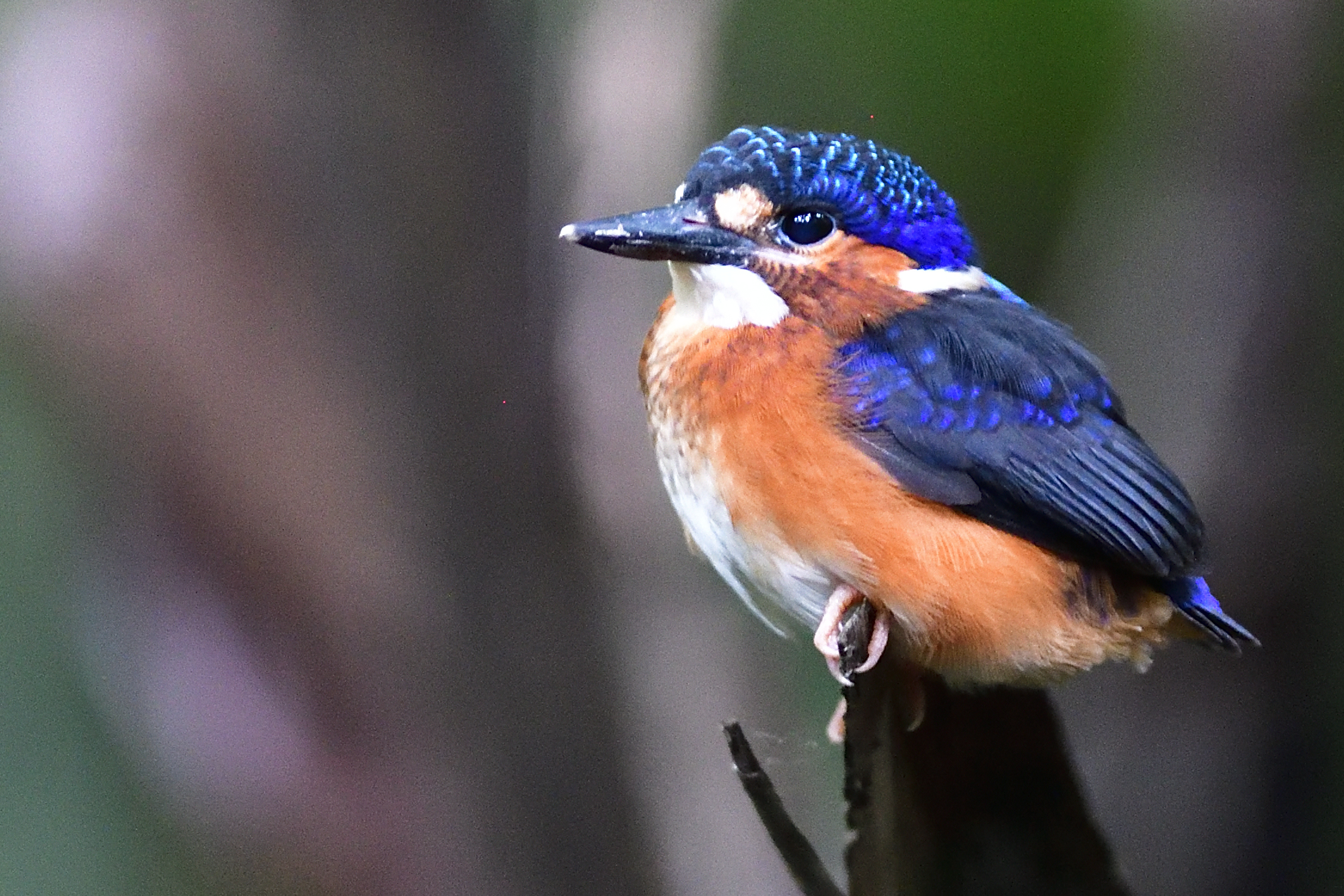 White-bellied Kingfisher (Juvenile), Alcedo leucogaster – Lifer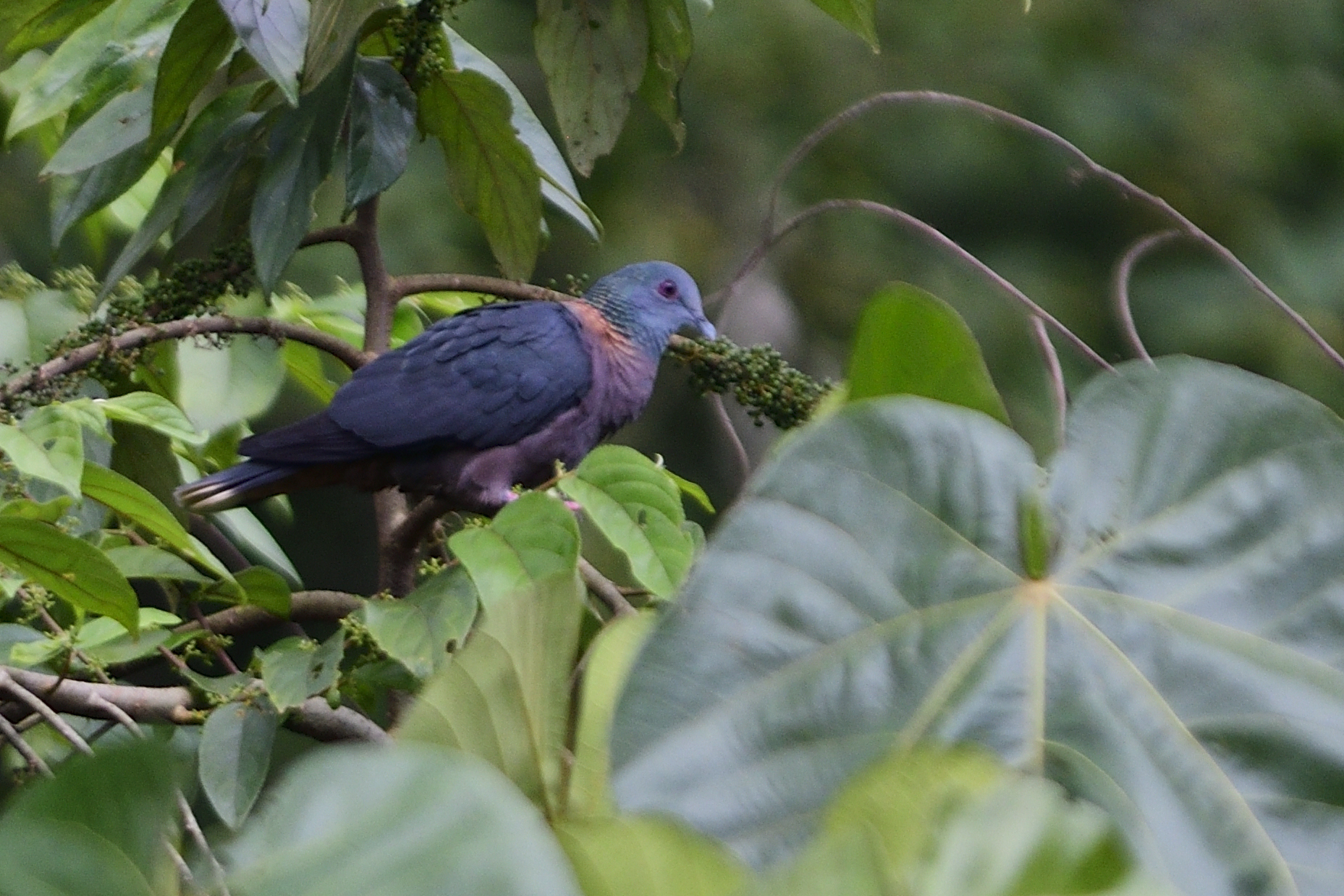 Western Bronze-naped Pigeon, Colomba inditorques – Lifer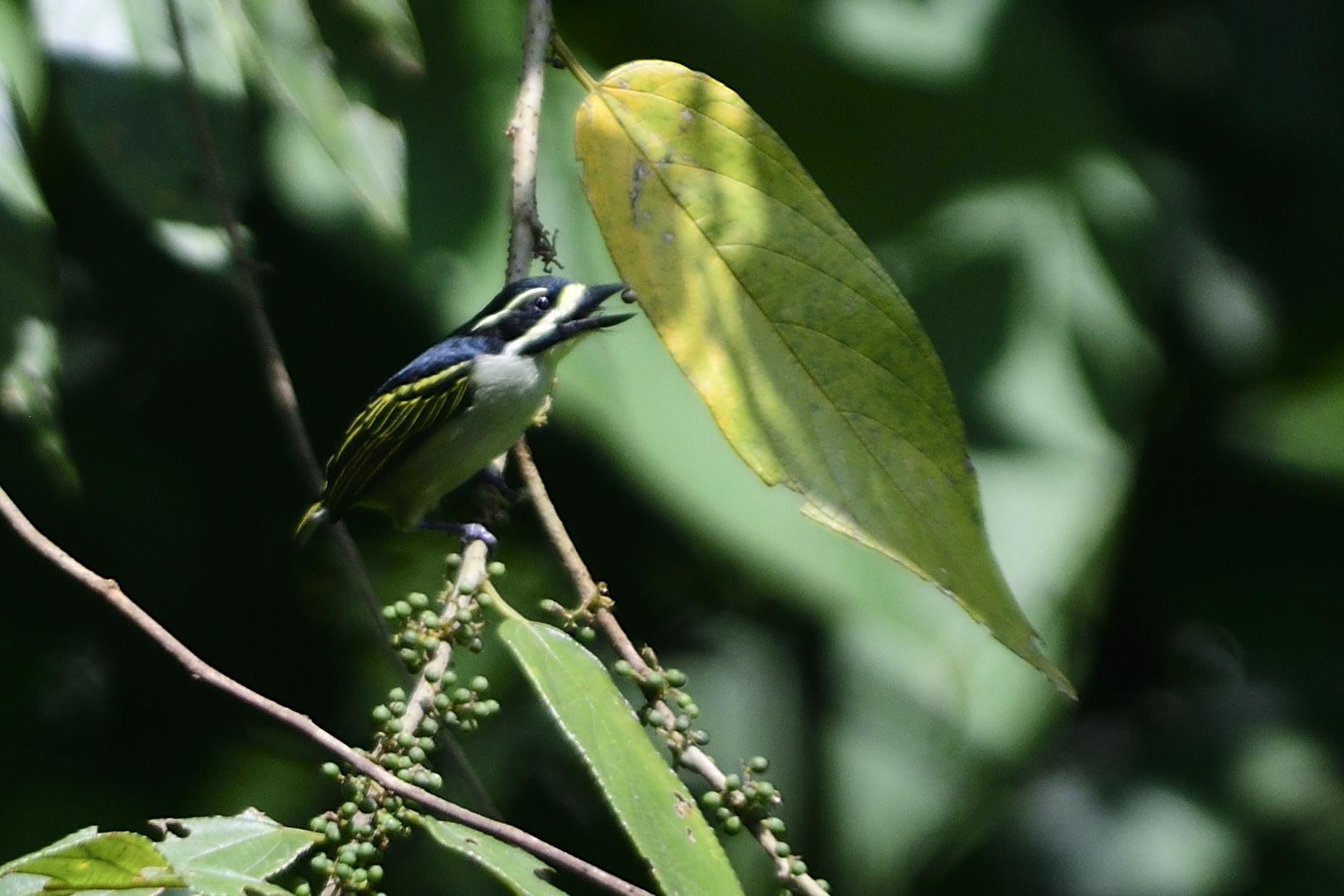 Yellow-throated Tinkerbird, Pogoniulus subsulphereus – Lifer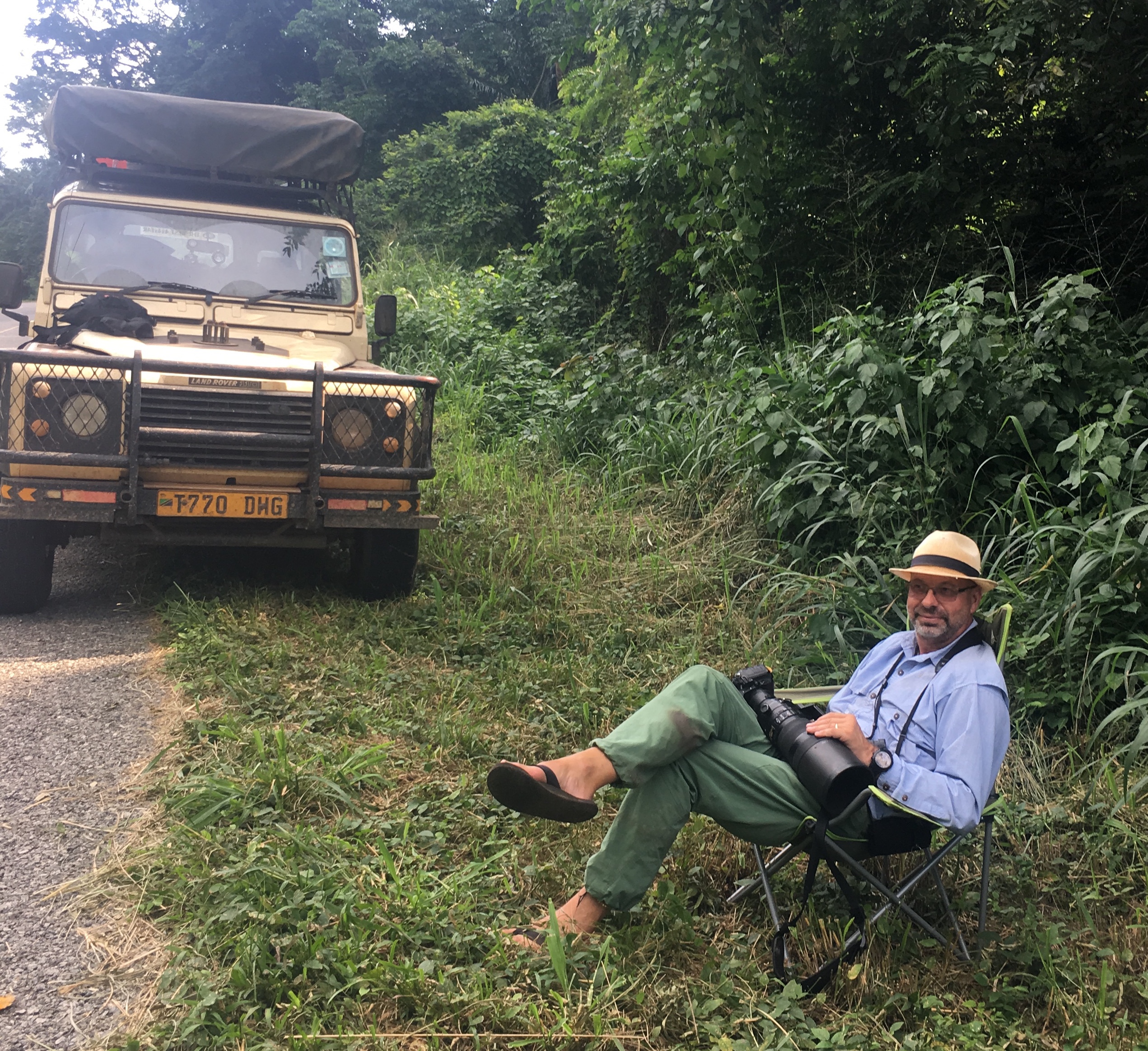 Some lazy roadside birding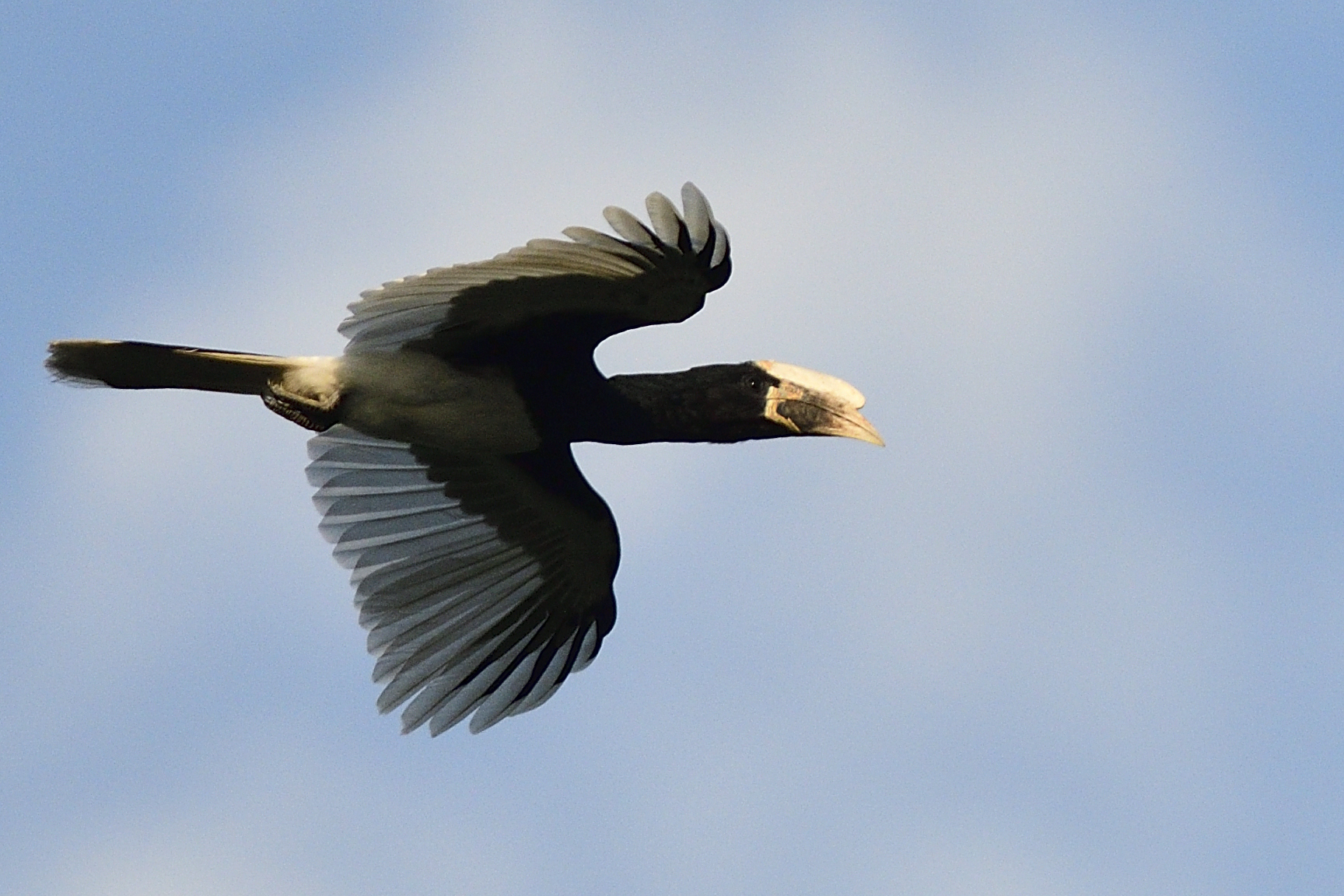 Piping Hornbill, Bycanistes fistulator – Lifer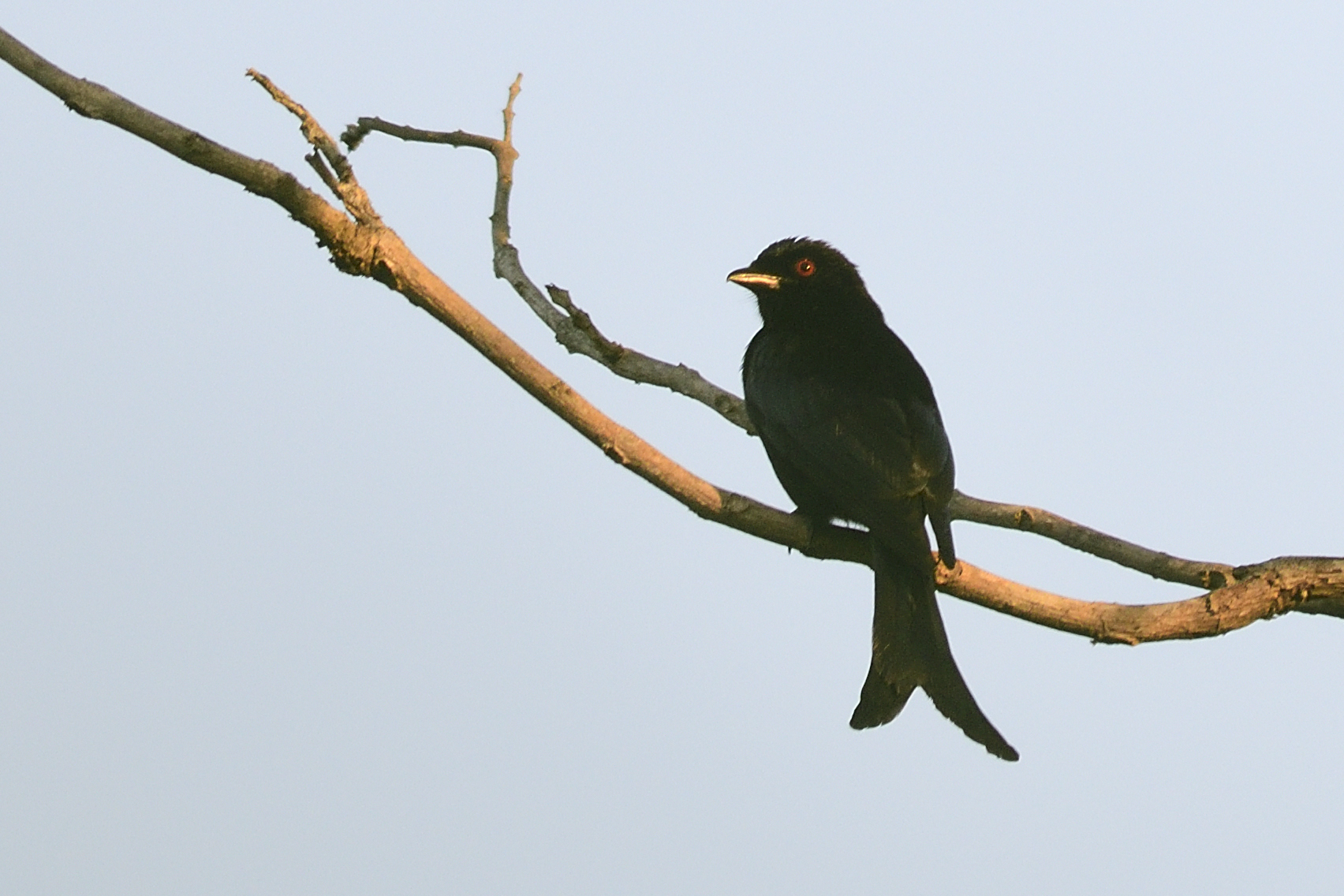 Velvet-mantled Drongo, Dicrurus coracinus – Lifer
Day 18, Thursday, June 13 – Semliki Forest.
This was a very slow day. I was trying to get pictures of birds seen, but no pictures. One of my targets was the Orange-cheeked Waxbill. We saw it many times, but always at a distance. I did manage to get a picture of the elusive White-crested Hornbill though. Other than that, no new birds for the list that day.
Some pictures from Day 18: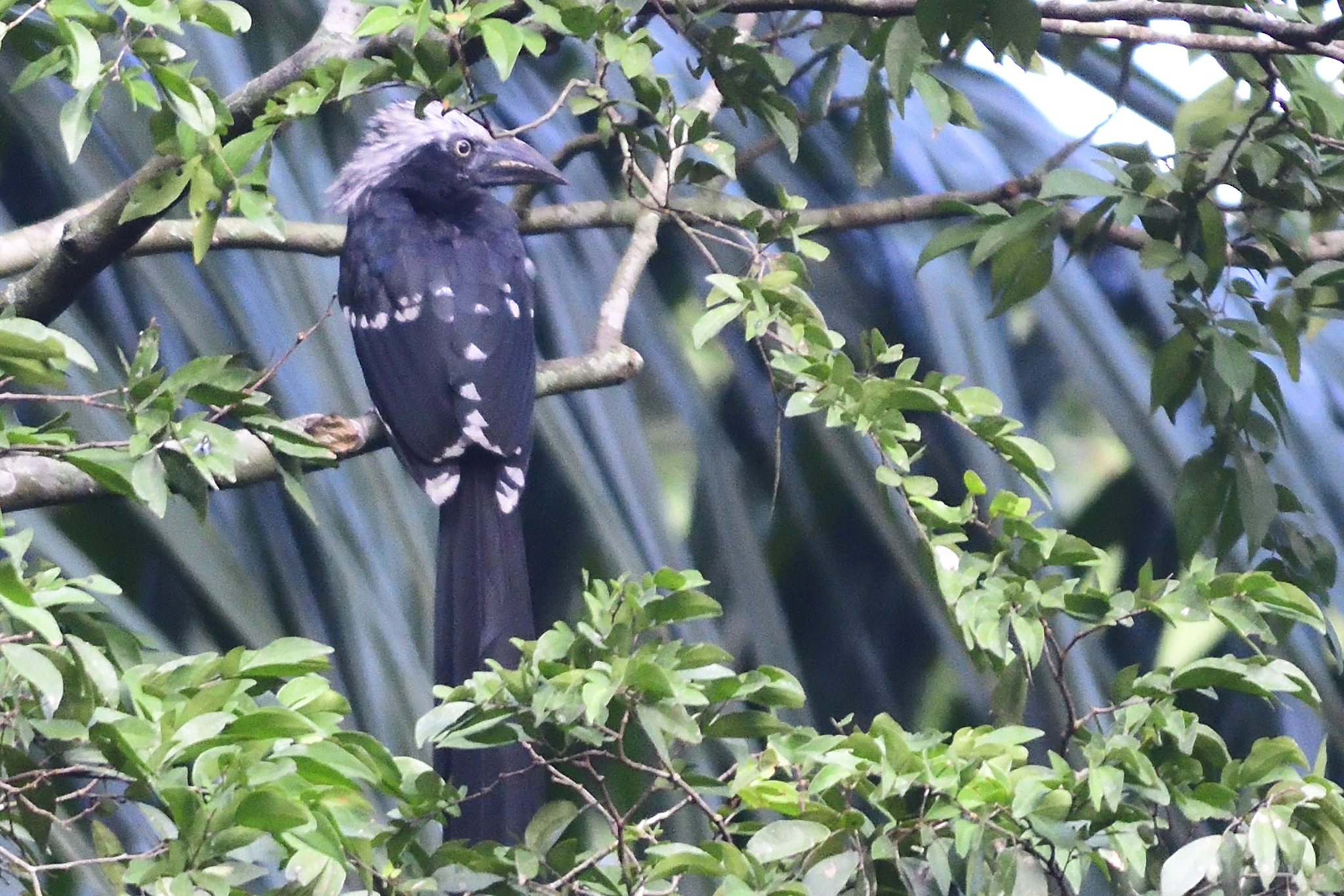 White-crested Hornbill, Tropicranus albocristatus – Lifer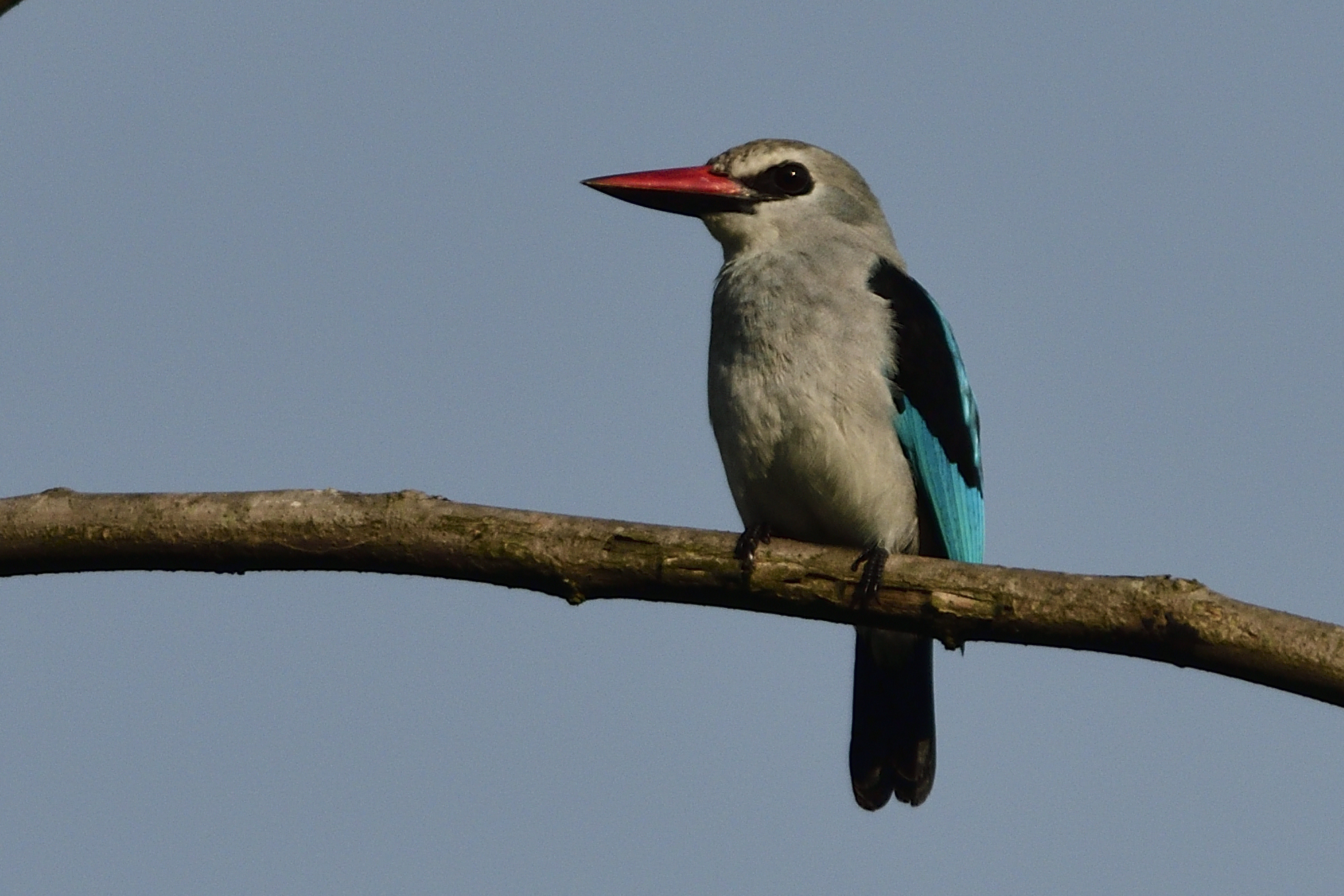 Woodland Kingfisher, Halcyon senegalensis
Day 19, Friday, June 14 – Semliki Forest to Port Natal
Our last morning in Semliki Forest. We decided to try the first Forest patch again. On the road to the path we picked up Willcock´s Honeyguide and Vieillot´s Black Weaver. Inside the forest we started picking up species: Forest Robin, Western Nicator, Xavier´s Greenbul, Crested Malimbe, Grey-headed Sunbird, Plain Greenbul, Red-tailed Greenbul, Blue-headed Crested Flycatcher, Scaly-breasted Illadopsis and in the end a fantastic Rufous-sided Broadbill sitting nicely displayed just by the path. Semliki Forest is truly a birders paradise. It can be very hot and we were there in the coldest month. It is a lot more to explore there and many of the birds I missed pictures of, so I will definitively be back.
After packing, we set off for Fort Portal and our way to Kluges Guest Farm. We stopped in Fort Portal and had a really nice lunch. We arrived at the lodge around 15.00 just in time for the afternoon birding. Just birding around the lodge garden, we picked up amongst others the following species: Olive-bellied, Northern Double-collared and Green-headed Sunbird, White-chinned Prinia, Green White-eye, African Blue Flycatcher, Red-bellied Paradise Flycatcher, Brimstone Canary, Lühder´s Bushshrike and African Thrush.
Some pictures from Day 19: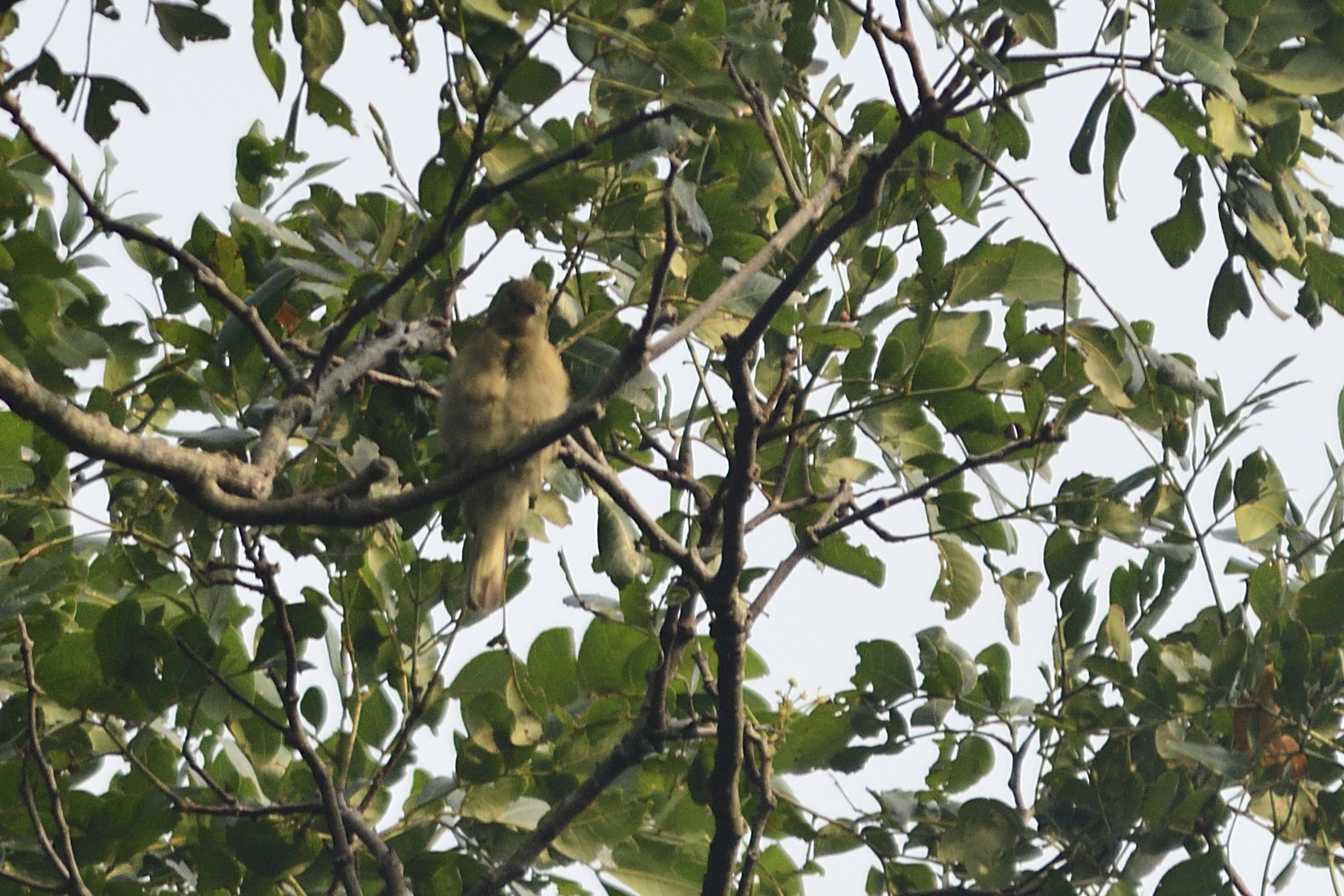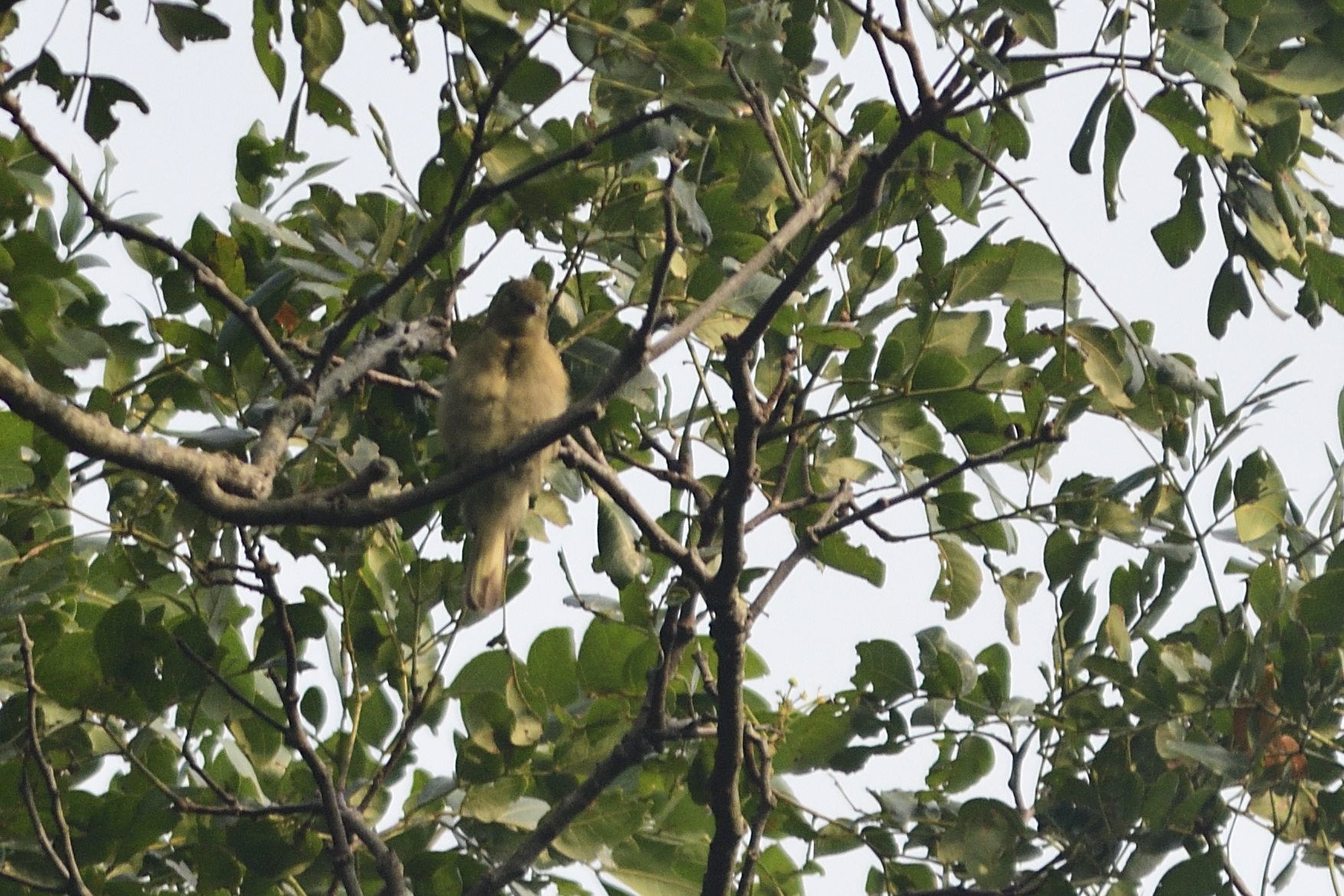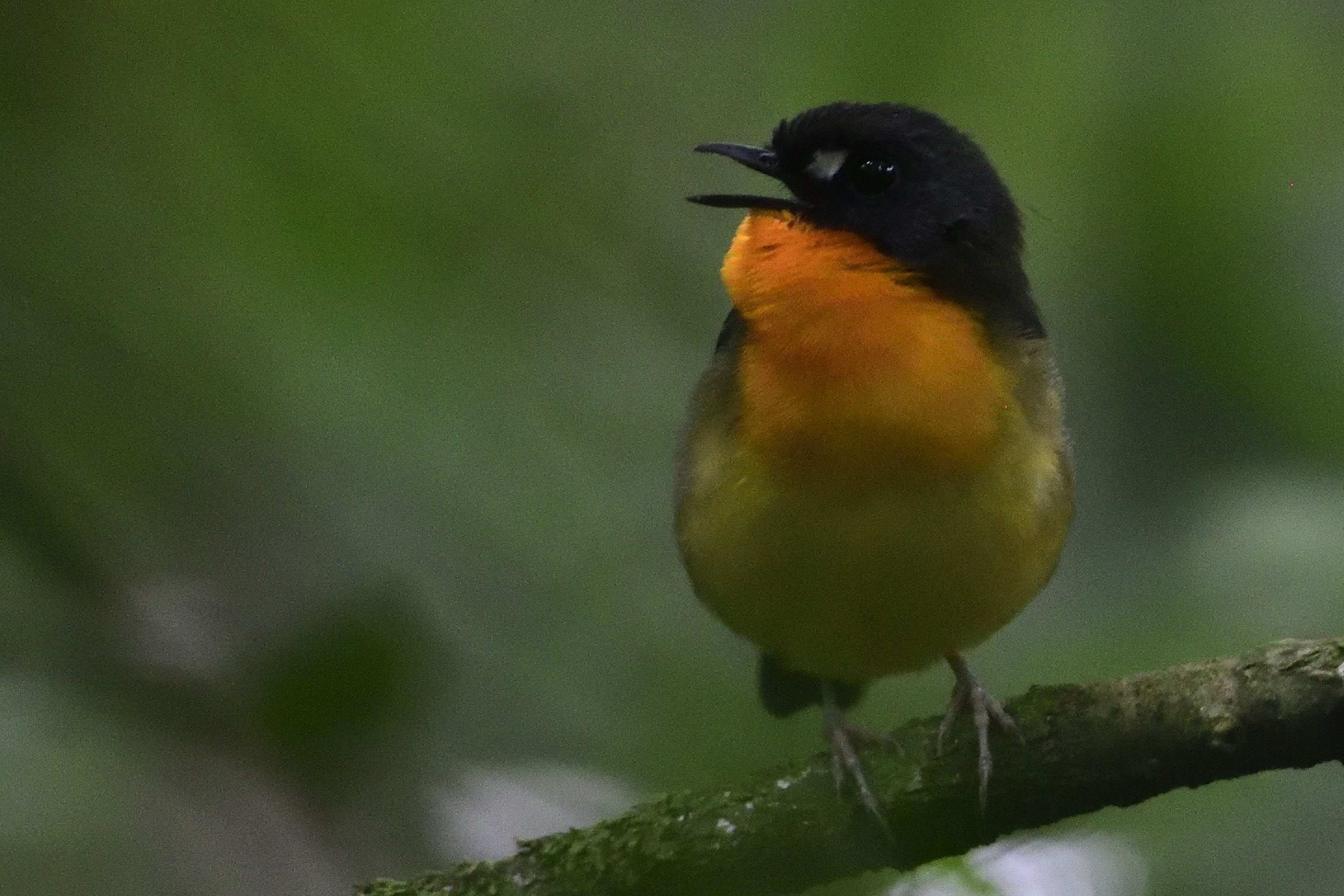 Forest Robin, Stiphrornis erythrothorax – Lifeer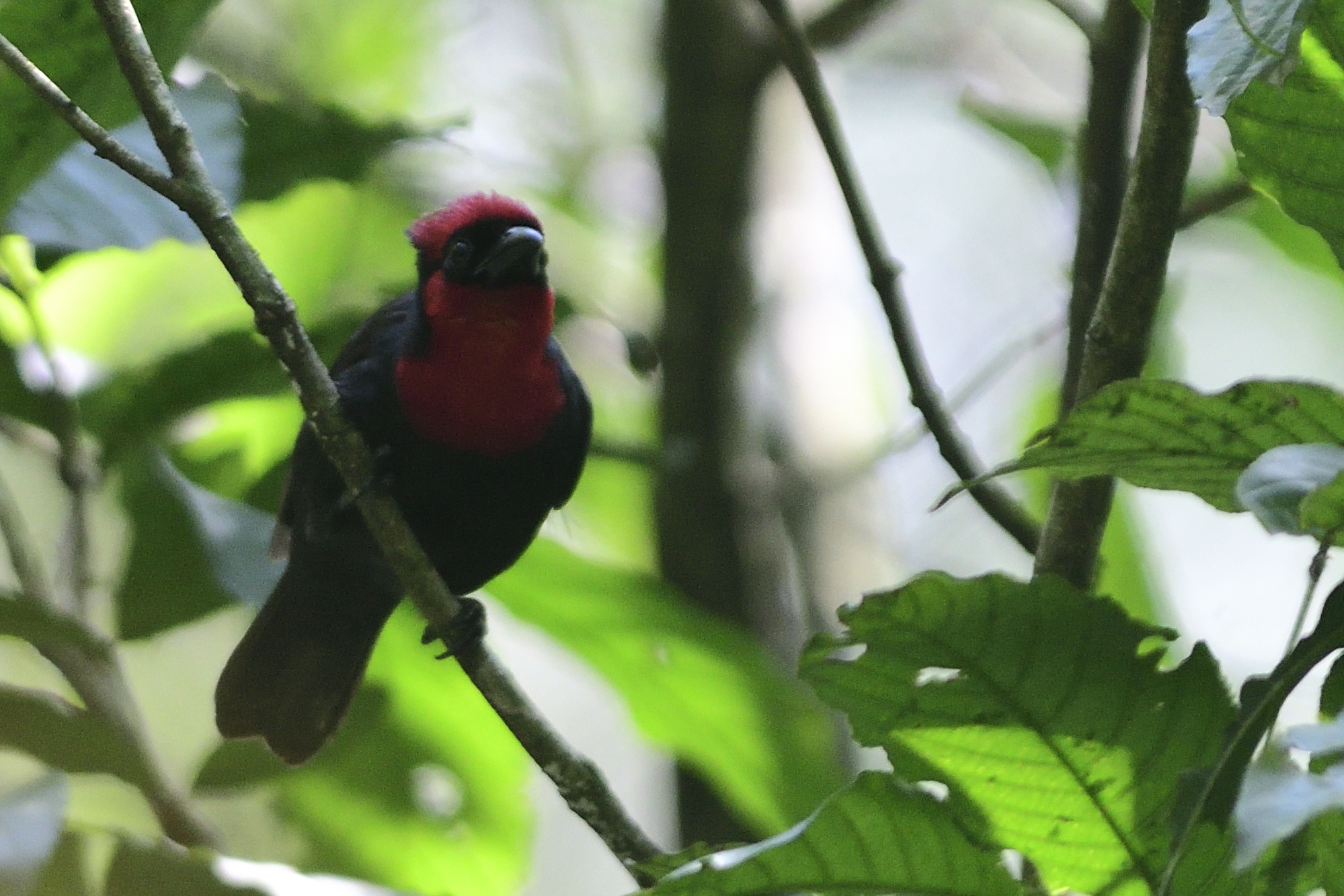 Crested Malimbe, Malimbus malimbicus – Lifer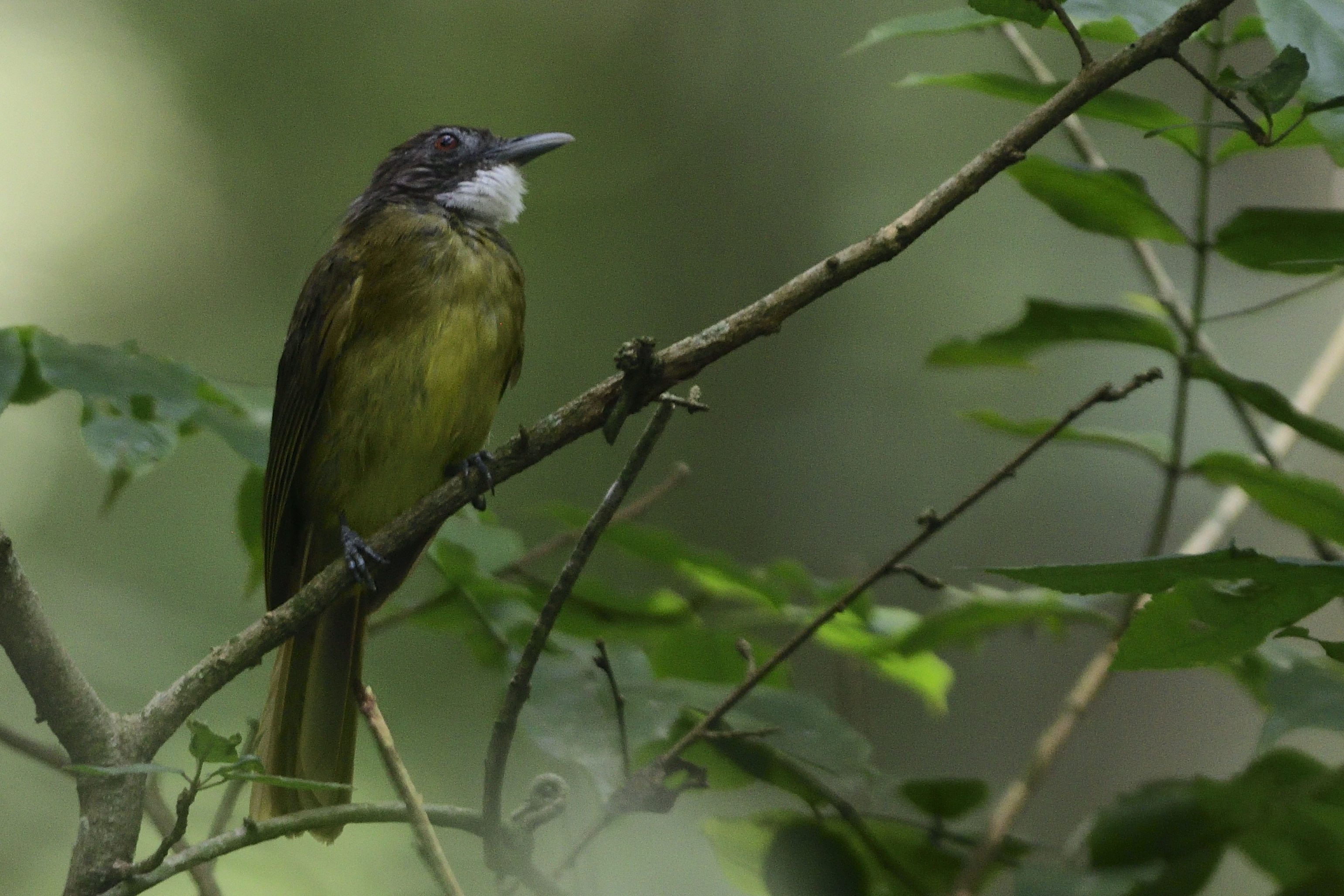 Red-tailed Greenbul, Criniger calurus – Lifer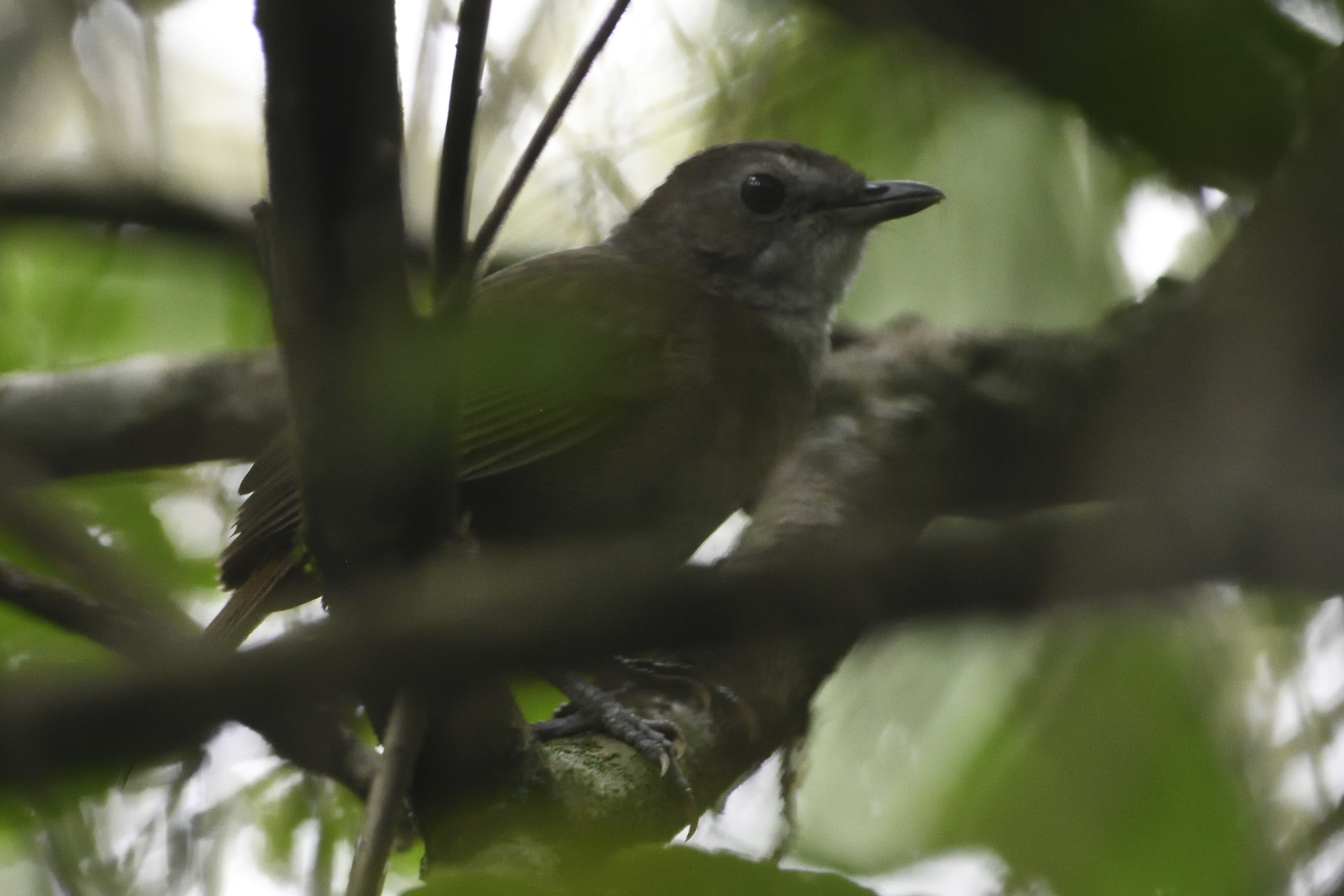 Scaly-breasted Illadopsis, Illadopsis albipectus – Lifer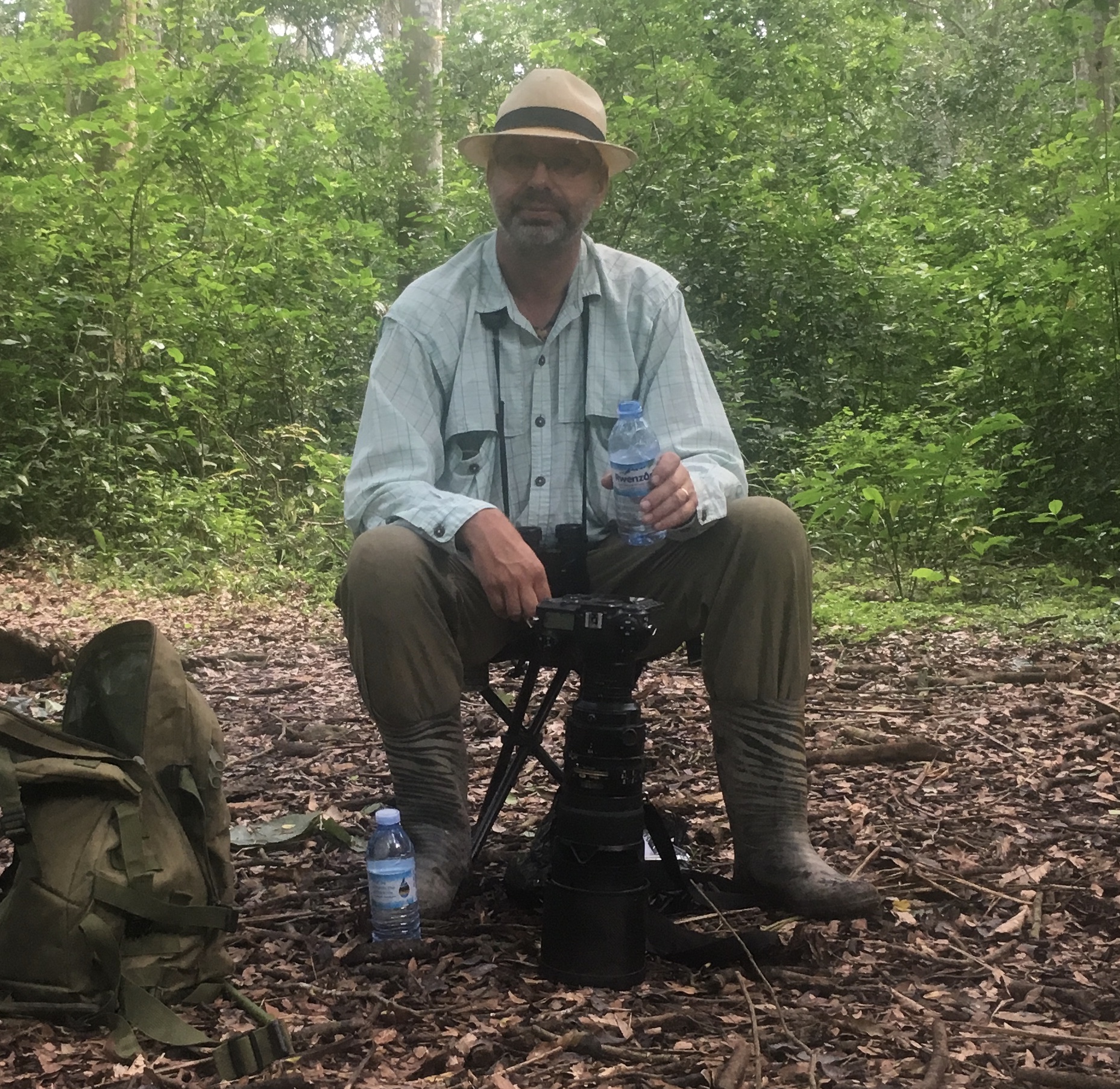 Breakfast in Semliki Forest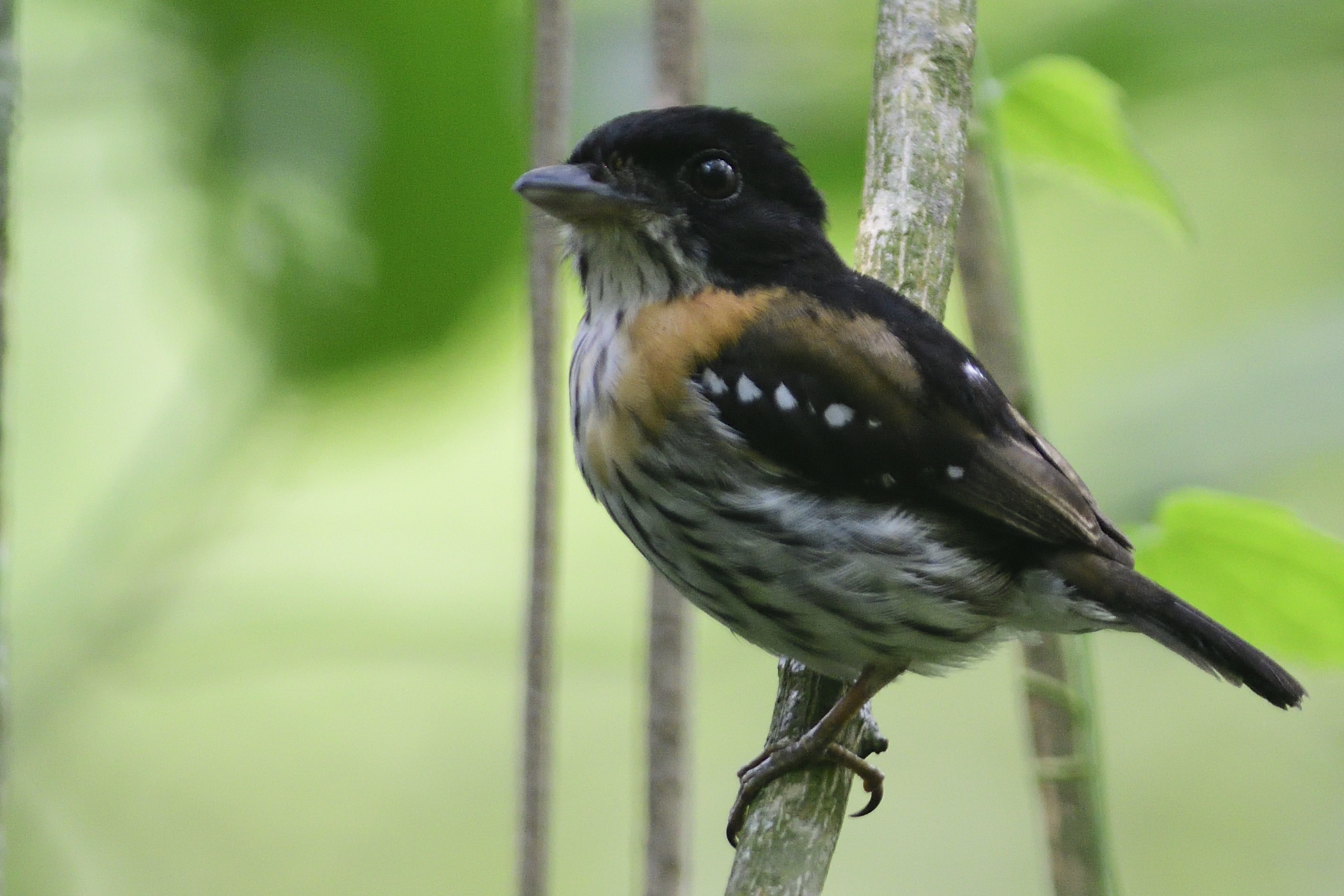 Rufous-sided Broadbill, Smithornis rufolateralis – Lifer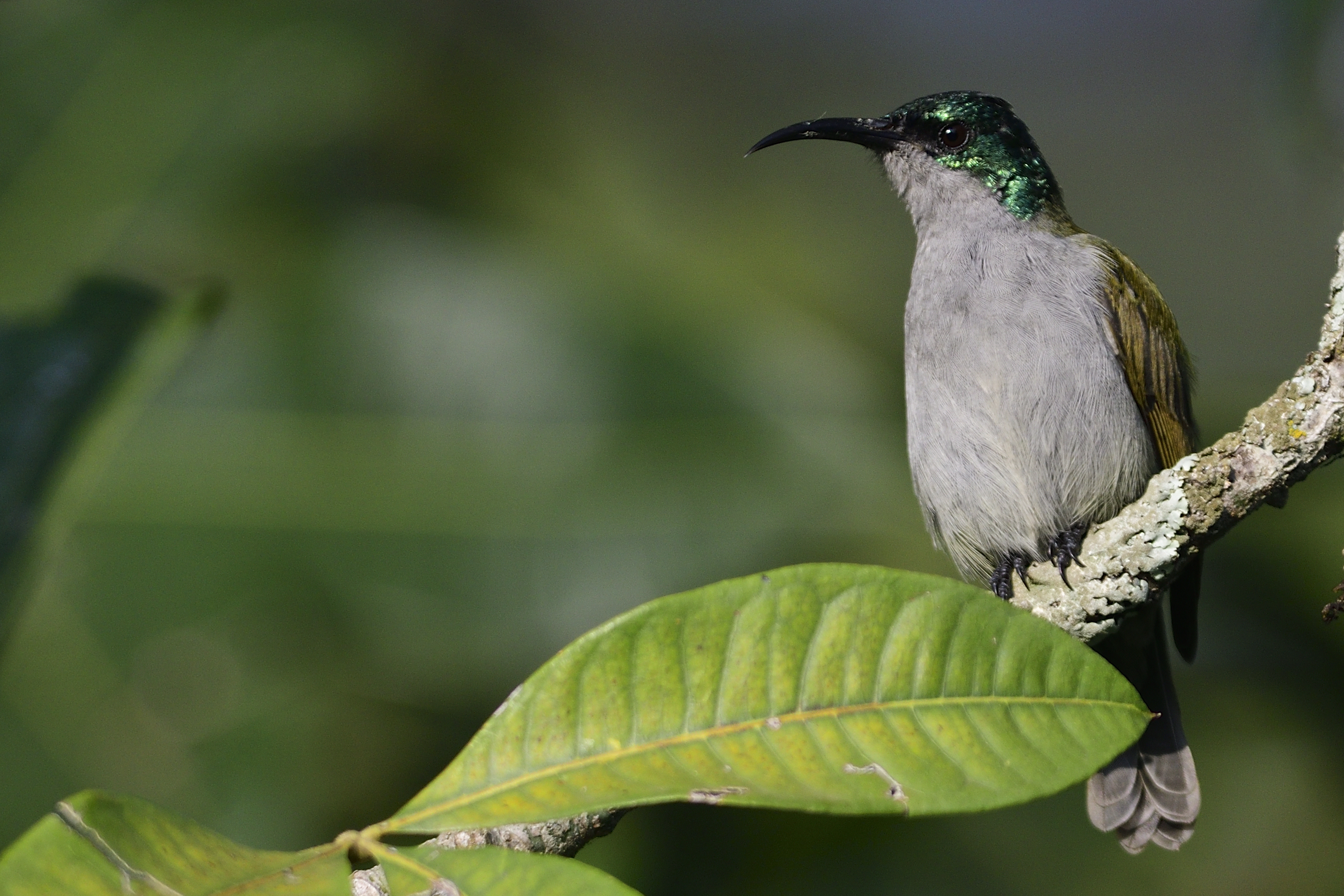 Green-headed Sunbird (Female), Cyanomitra verticalis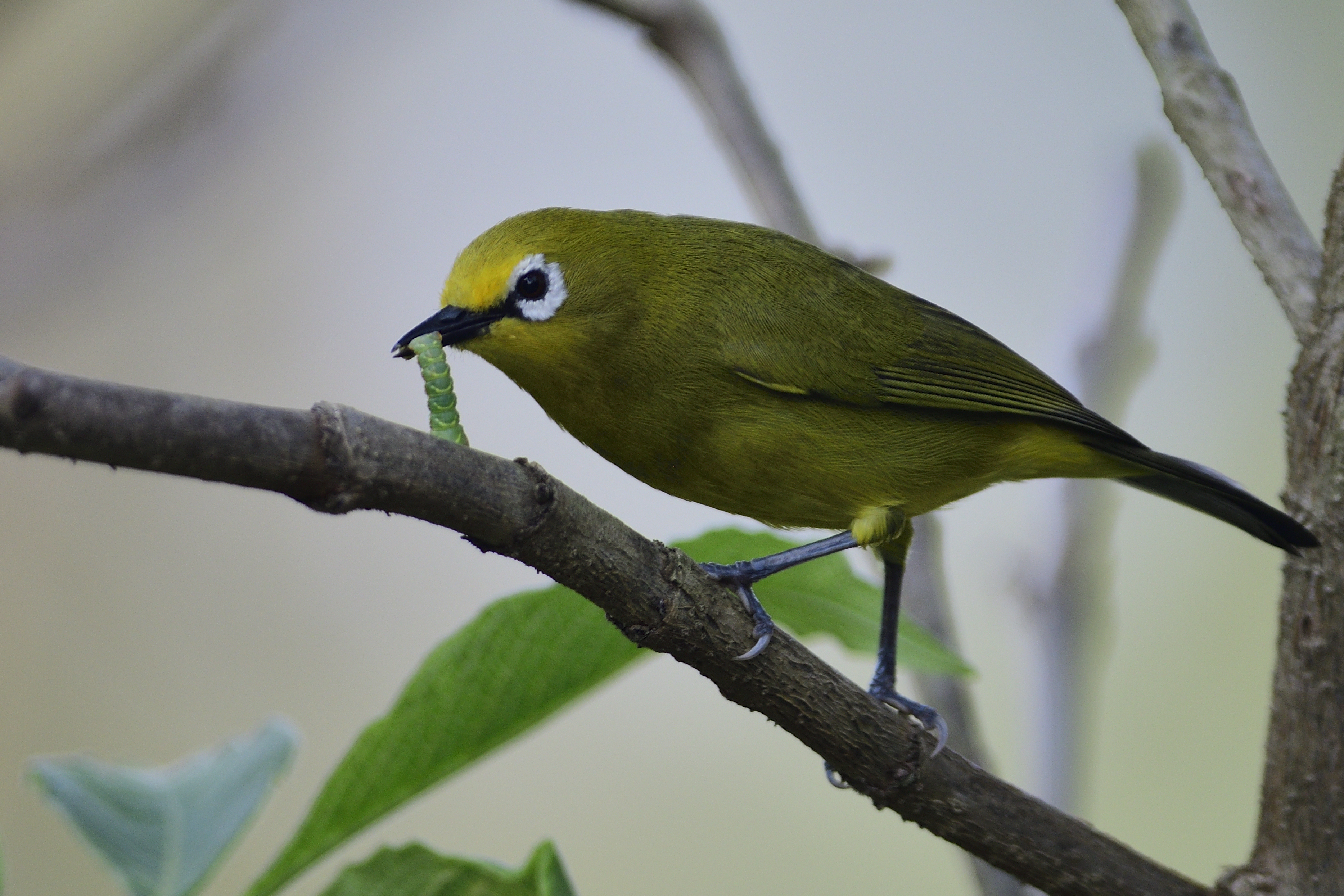 Green White-eye, Zosterops sthulmanni – Lifer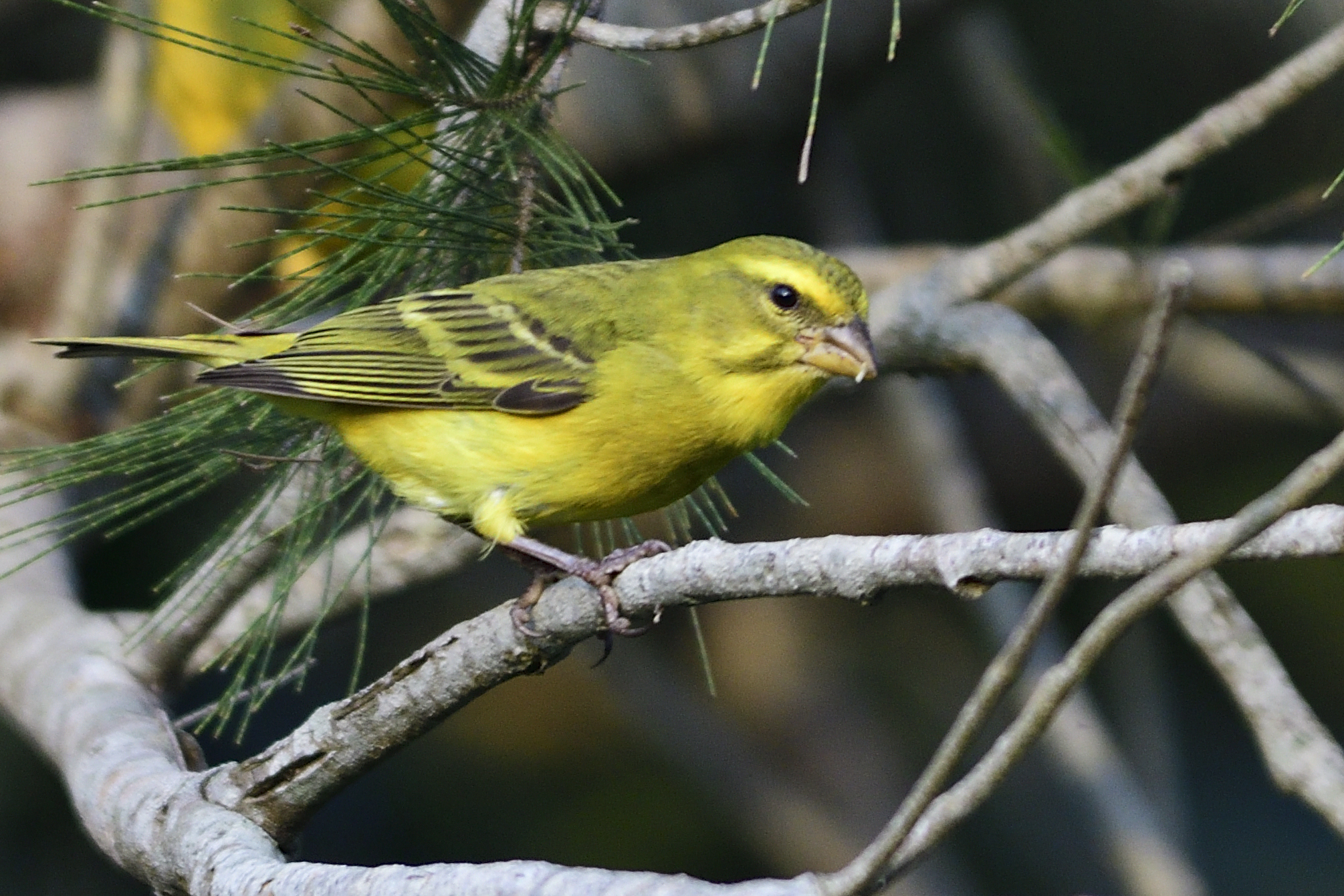 Brimstone Canary, Chritagra sulphurata
Day 20, Saturday, June 15 – Fort Natal – Kibale
We birded a small Forest patch at Kluge in the morning and managed to add Joyful Greenbul and Mountain Illadopsis to our list. Unfortunately, no pictures of the Illadopsis. After breakfast, we headed for Kibale. At the entrance to the park, at a river crossing, we picked up Sooty Flycatcher, Cassin´s Flycatcher and Mountain Wagtail. We were supposed to stay at Sunbird Hill with Julia. We took a wrong turn and ended up far off track, but eventually managed to find the Lodge. It was a fantastic place and it soon got evident that the garden was teaming with birds. We also met up with Byaba Nick, Julia´s young local bird guide. He turned to be a very valuable asset during our stay at Sunbird Hill. I added a picture of Olive-bellied Sunbird from Julia´s garden. We had a nice dinner and settled for the night.
Some pictures from Day 20: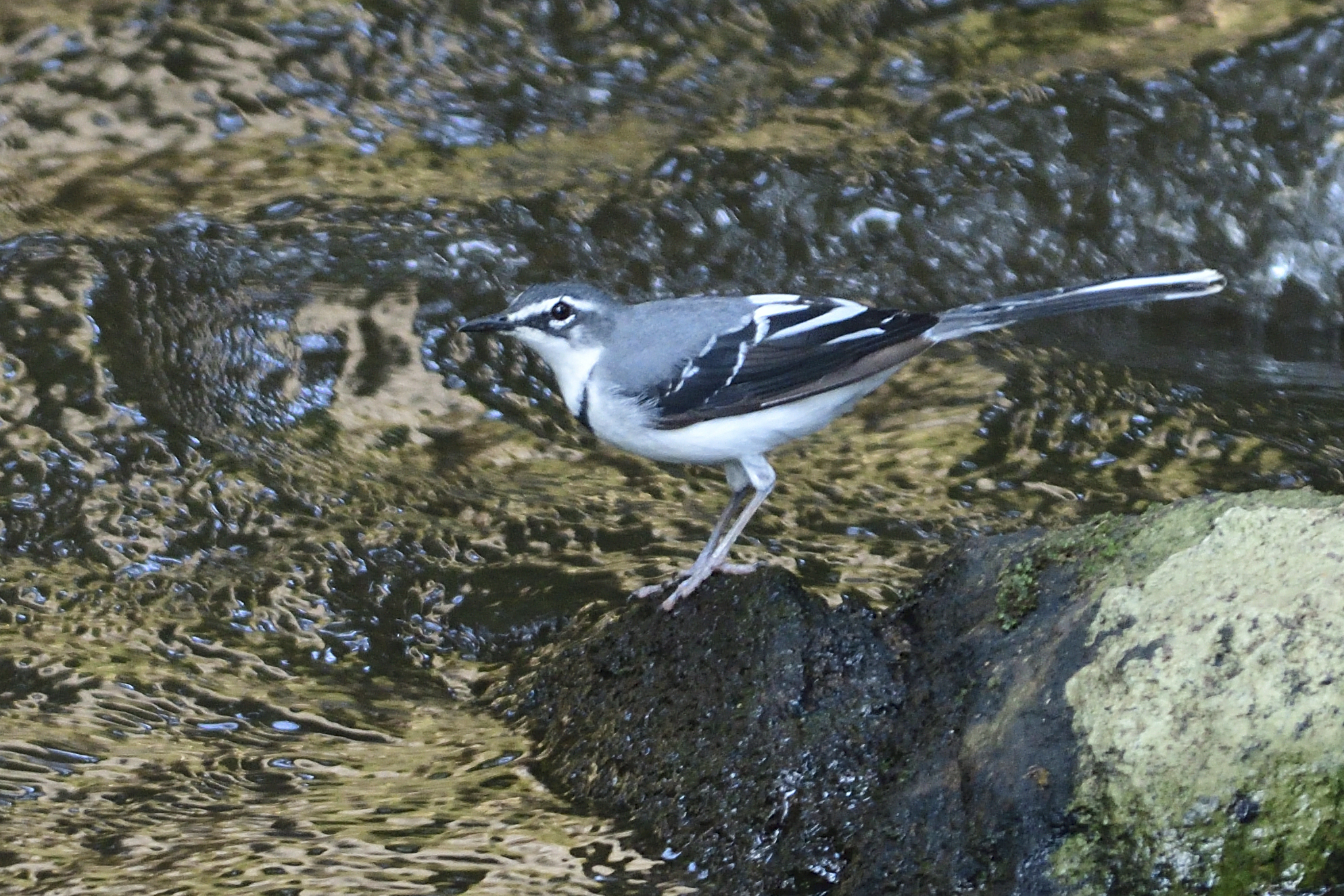 Mountain Wagtail, Motacilla clara
Olive-bellied Sunbird, Cinnyris chloropygius
Day 21, Sunday, June 16 – Kibale
We only had one target bird for the day, the Green-breasted Pitta. We had booked a ranger the day before and showed up with Byaba in the morning. We set out on a grueling walk and after 2 hours we had not seen a sign of the Pitta. It felt like meaningless trashing through the forest. However; Adam picked up the bird and we got some distant shots only to loose it. However by searching the area, we managed to localize a pair that ended up giving us stunning views and pictures.
We returned to the road and stopped to photograph a colony of breeding Vieillot´s Black Weavers at the river crossing we got the Cassin´s Flycatcher. In the garden I photographed Red-bellied Paradise Flycatcher, African Cuckoo Hawk and at dusk the local Verreaux´s Eagle-Owl. We also saw Western Nicator and Hairy-breasted Barbet in the garden. In the afternoon, we visited the local bird club and Adam gave a small speech to incentivise the local kids. All in all a good day.
Some pictures from Day 21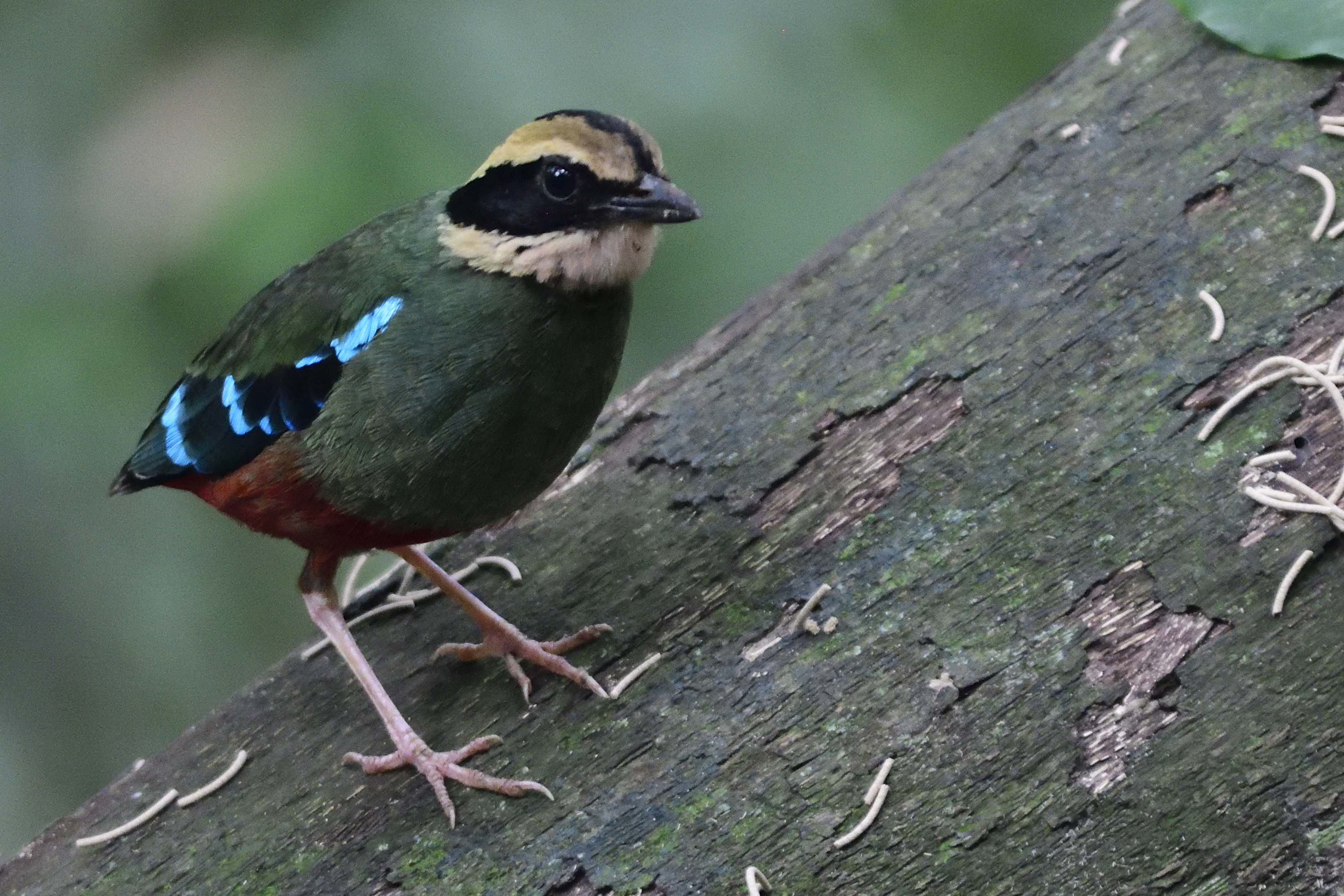 Green-breasted Pitta, Pitta reichenowi – Lifer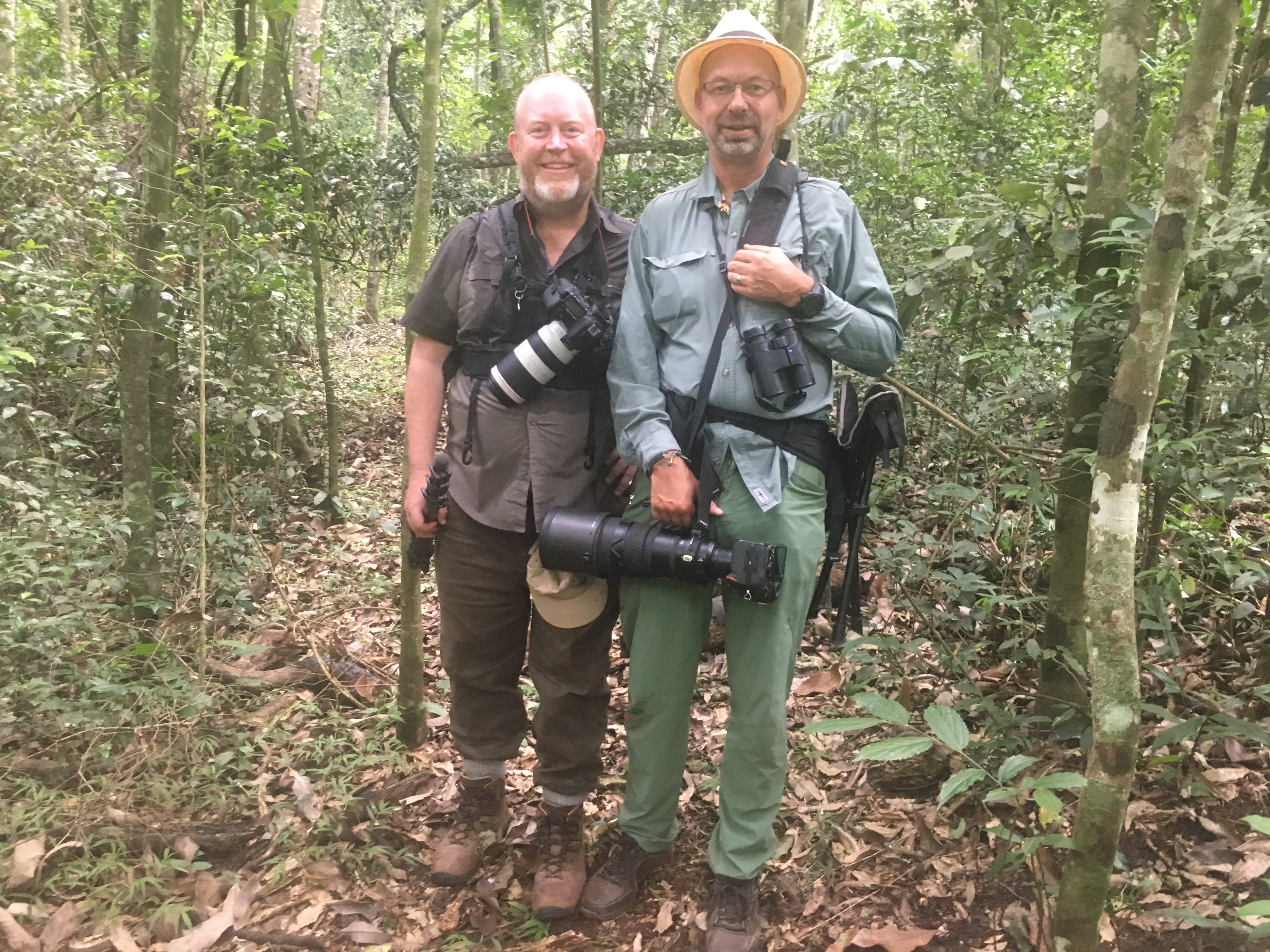 Two happy birders after the succesfull Pitta quest.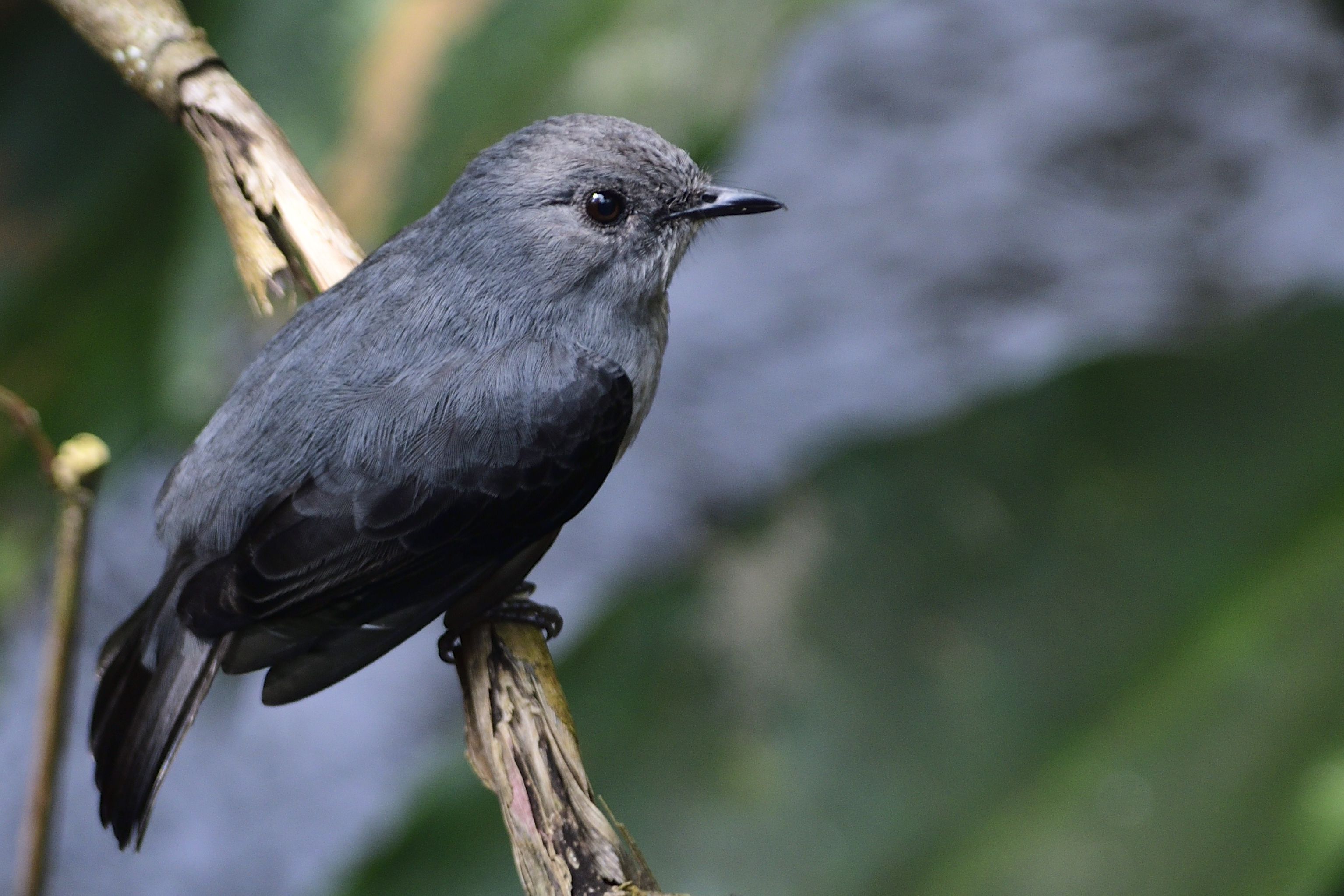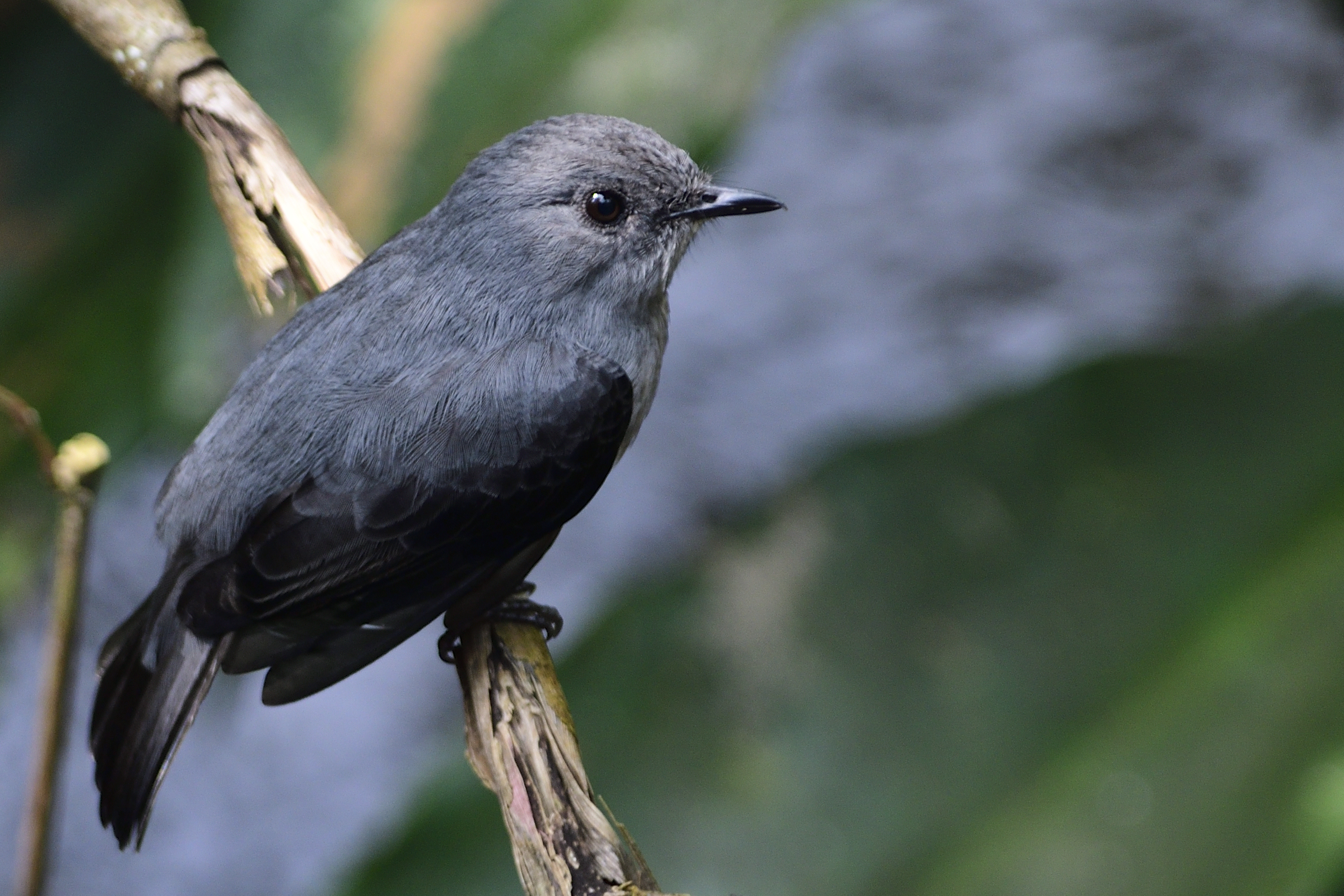 Cassin´s Flycatcher, Muscicapa cassini – Lifer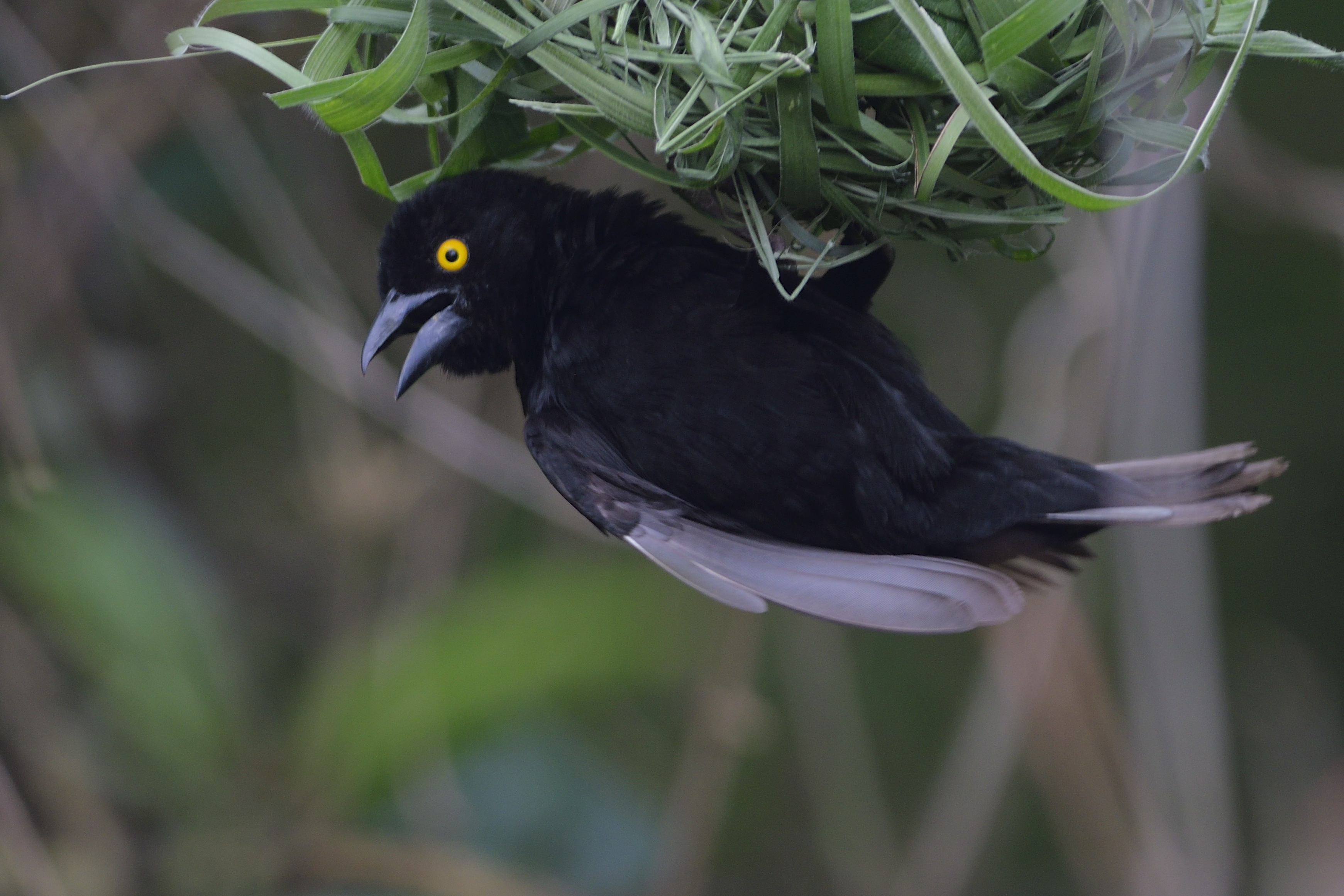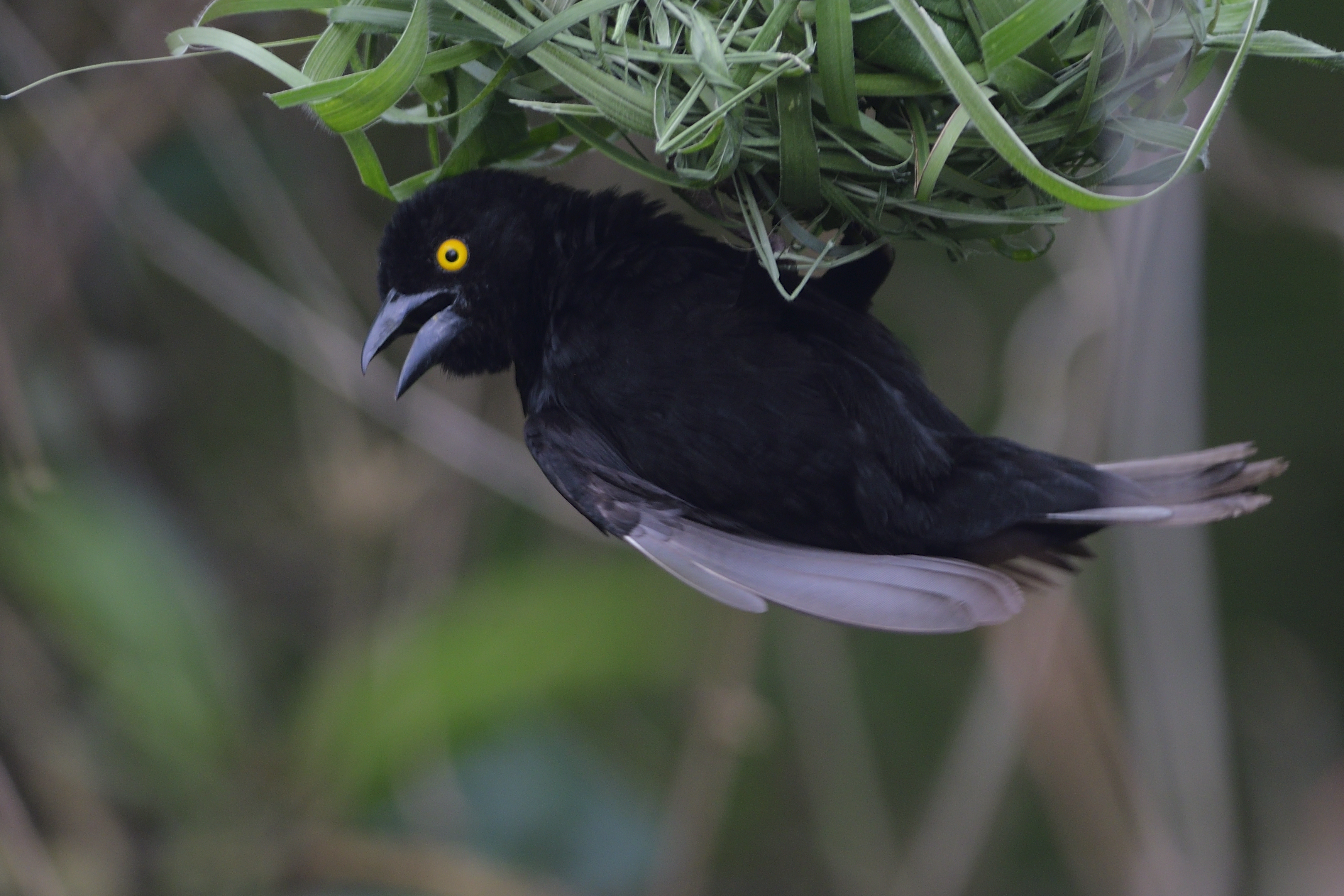 Vieillot´s Black Weaver, Ploceus nigerrimus
African Cuckoo Hawk, Aviceda cuculoides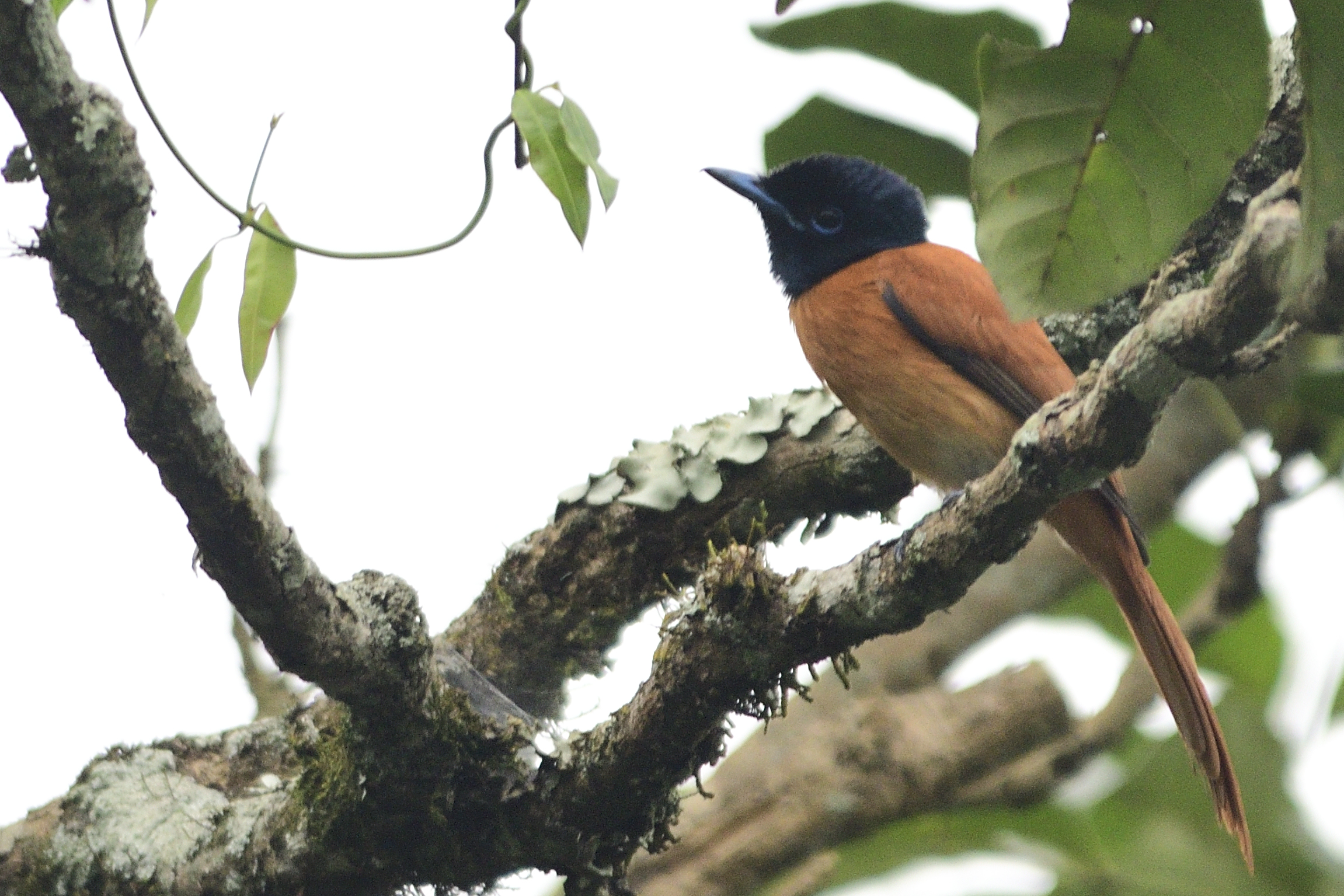 Red-bellied Paradise Flycatcher, Tersiphone rufiventer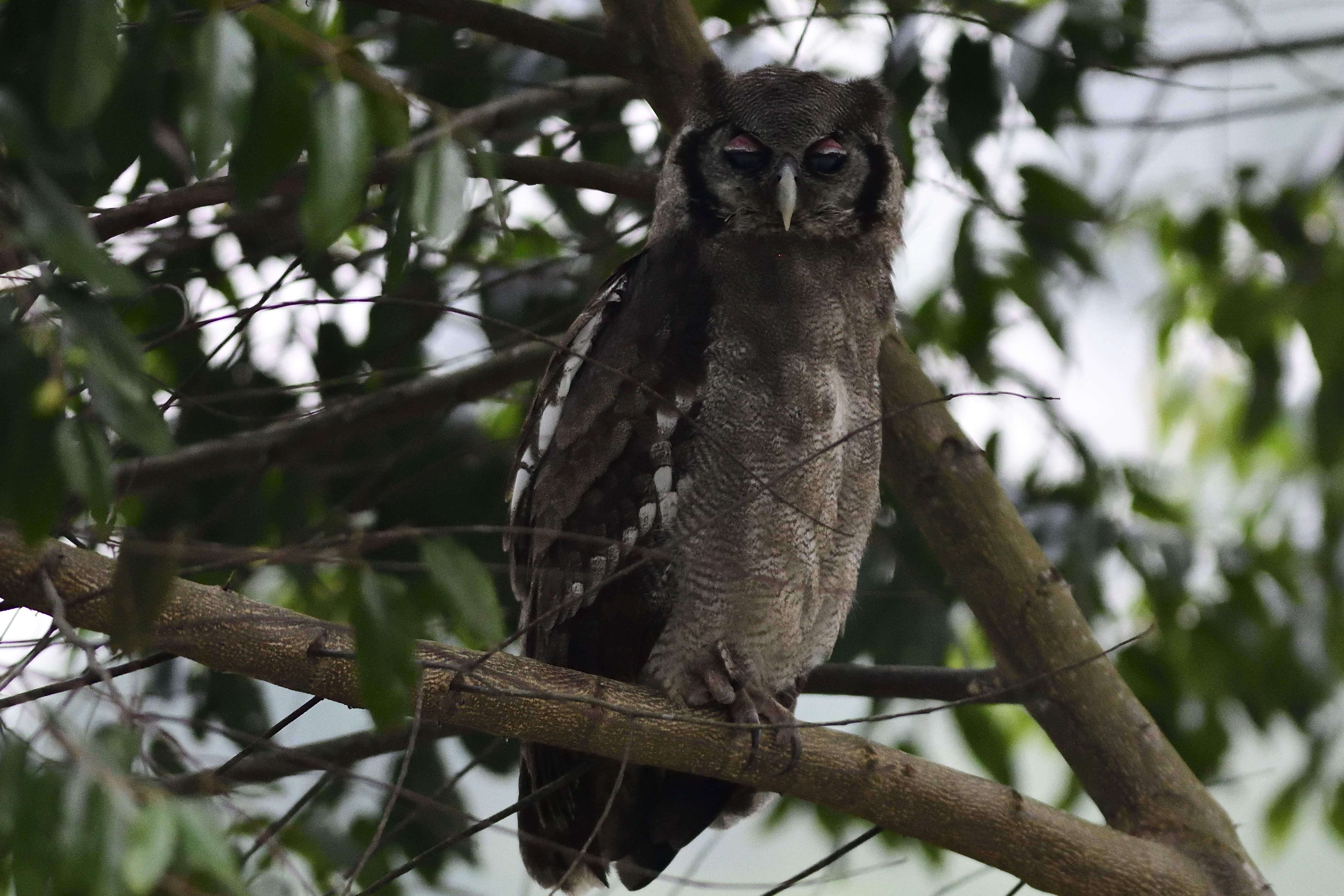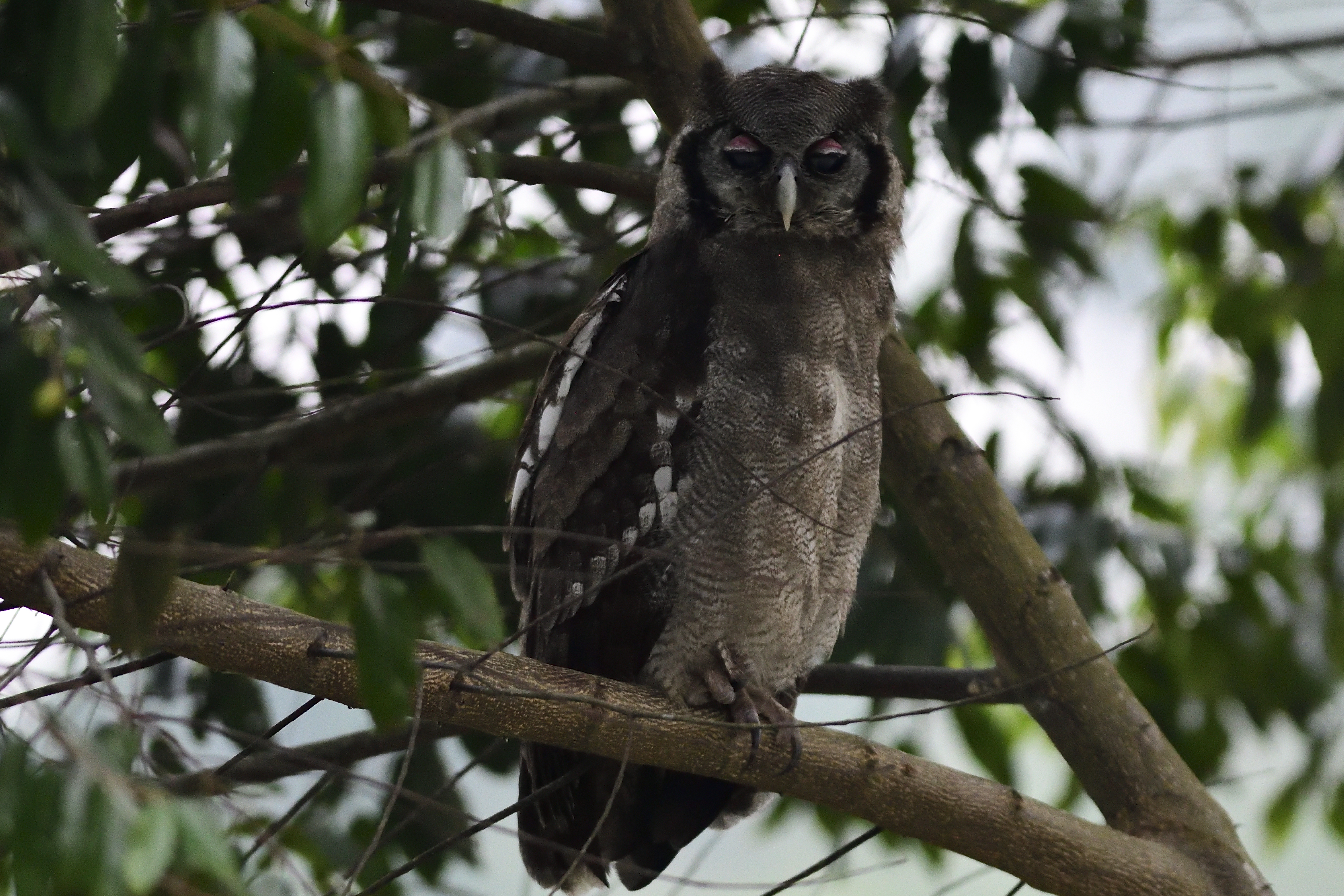 Verreaux´s Eagle-Owl, Bubo lacteus
Day 22, Monday, June 17 – Sunbird Hill – Bigodi Swamp
We were going to visit the Bigodu Swamp today, but we managed to do a little garden birding first. That yielded 2 lifers: Honeyguide Greenbul and Brown Illadopsis.
We were soon on the short drive to Bigodi and when we parked the car, the local guide, Roger, came over and asked if I was Per Holmen. He told me, he had been following us on FB and that he was willing to guide us for free at the swamp. We gladly accepted the offer and soon started the walk. The first good bird was a Dusky-blue Flycatcher, followed quickly by Black-and-white Mannikin, White-chinned Prinia, Blue-spotted Wood-Dove, Western Nicator and a very obliging White-spotted Flufftail. Black Bishop, Snowy-crowned Robin-Chat and 2 overflying Thick-billed Cuckoo´s were added before Roger finally found one of our big targets: Shining Blue Kingfisher. It was a very productive morning birding and of course we paid Robin. We were all happy campers.
We returned to camp and decided to try to get some pictures in the garden of Sunbird Hill. Double-toothed Barbet, African Blue Flycatcher, Black-and-white Shrike Flycatcher, Little Greenbul and Green-headed Sunbird were all photographed in the garden before Byoba and I took a walk. We added Bronze Sunbird and Brown-throated Wattle-eye on our walk.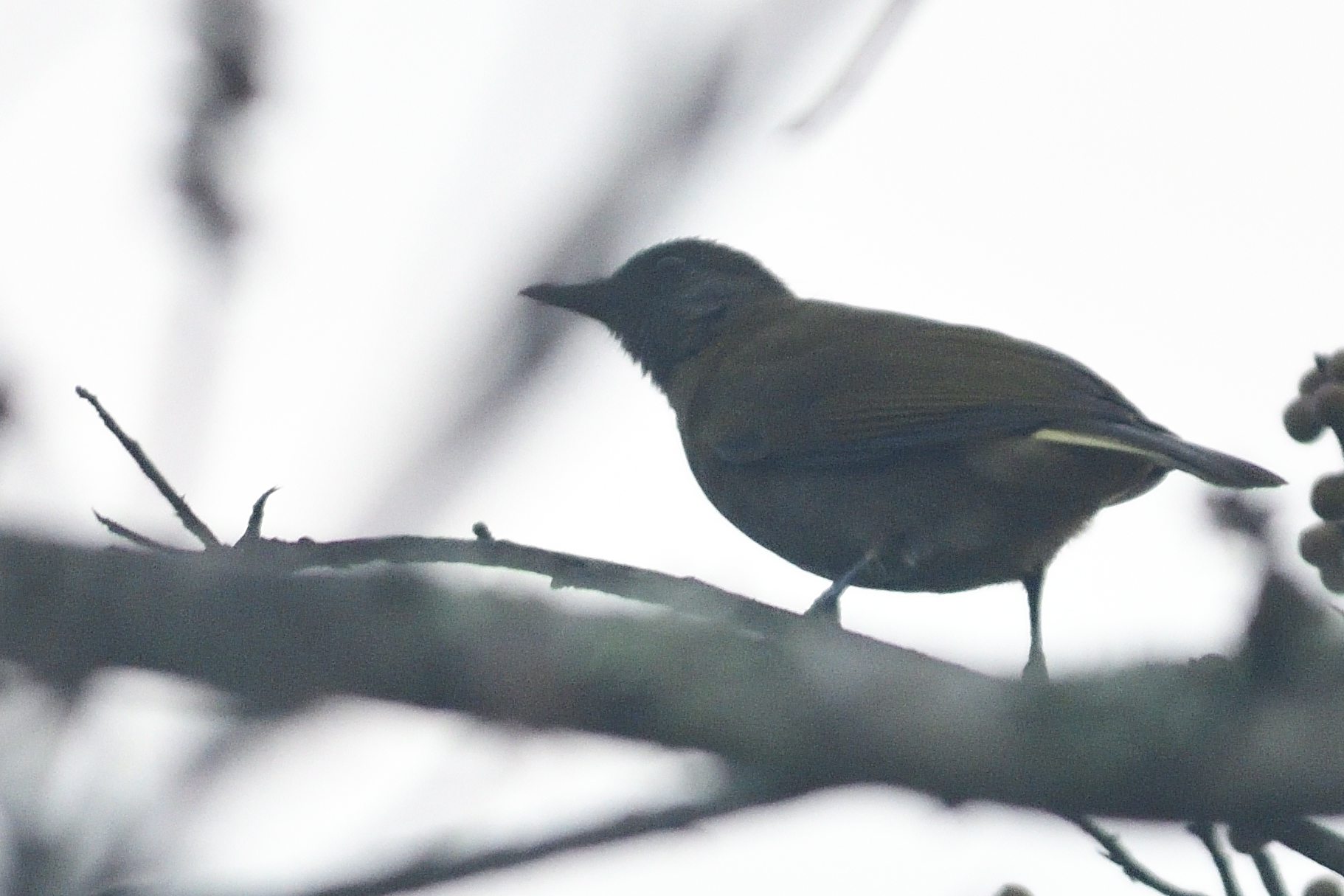 Honeyguide Greenbul, Baeopogon indicator – Lifer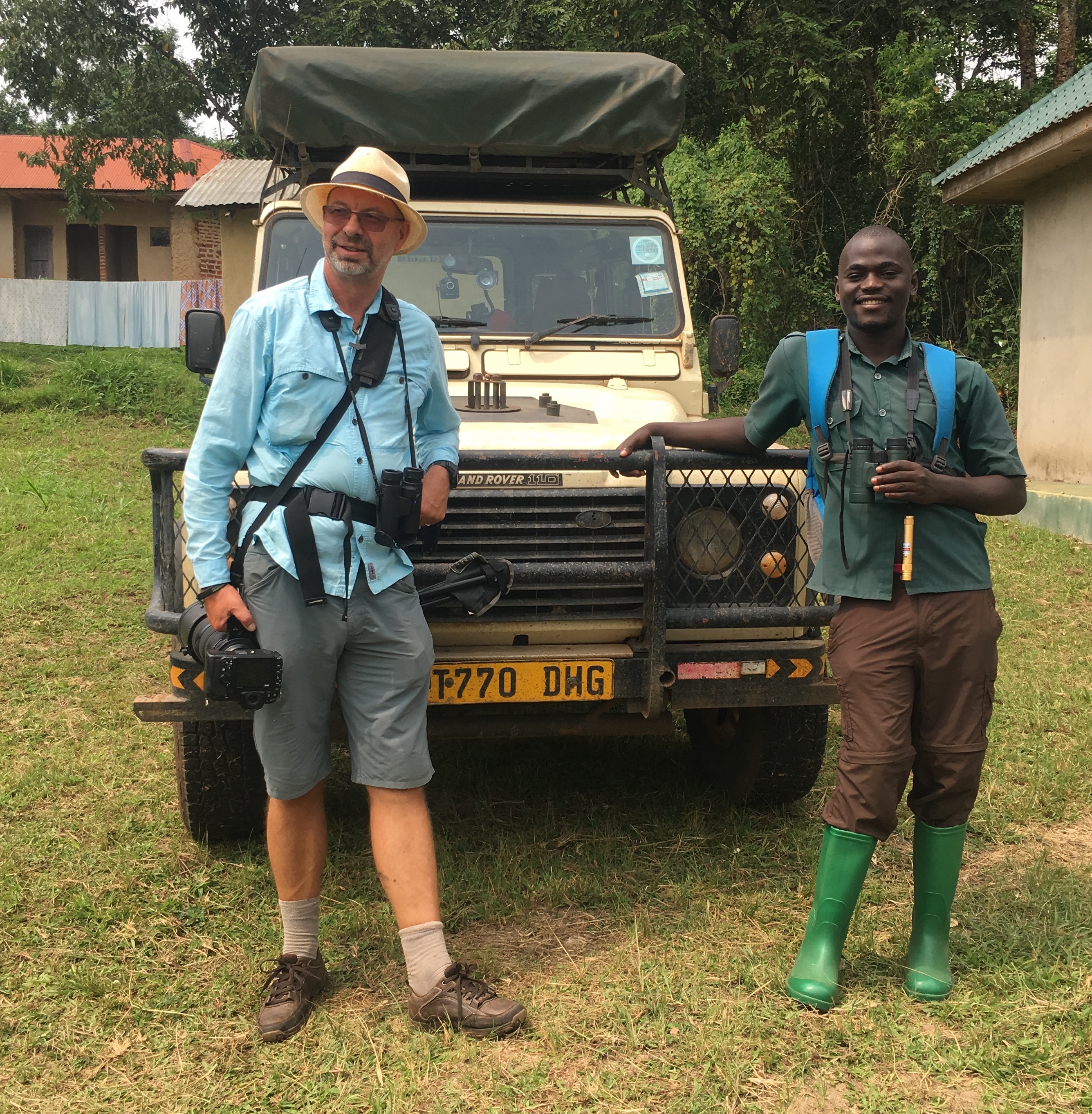 The guide at Bigodi Swamp, Roger and me before the walk.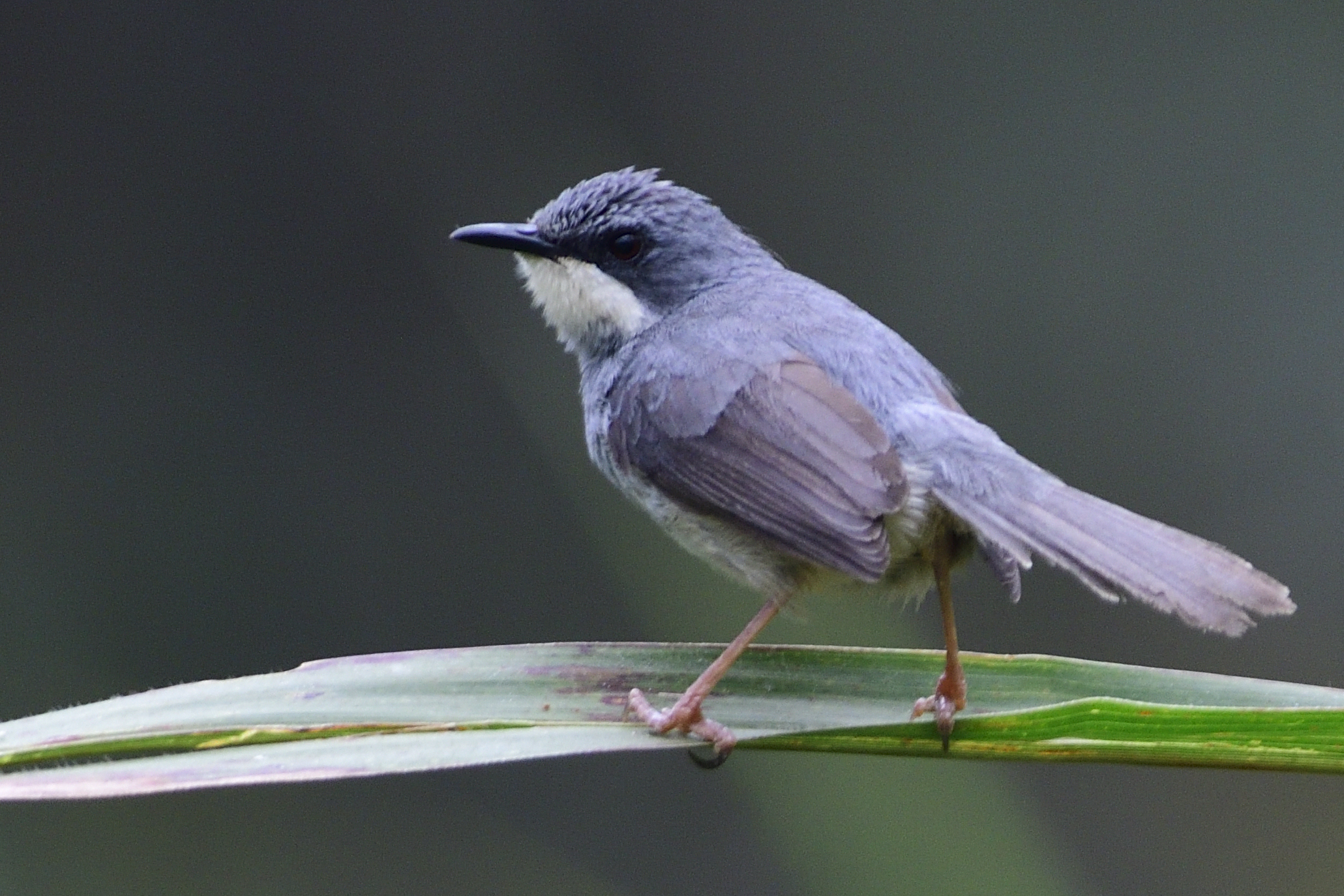 White-chinned Prinia, Schistolais leucopogon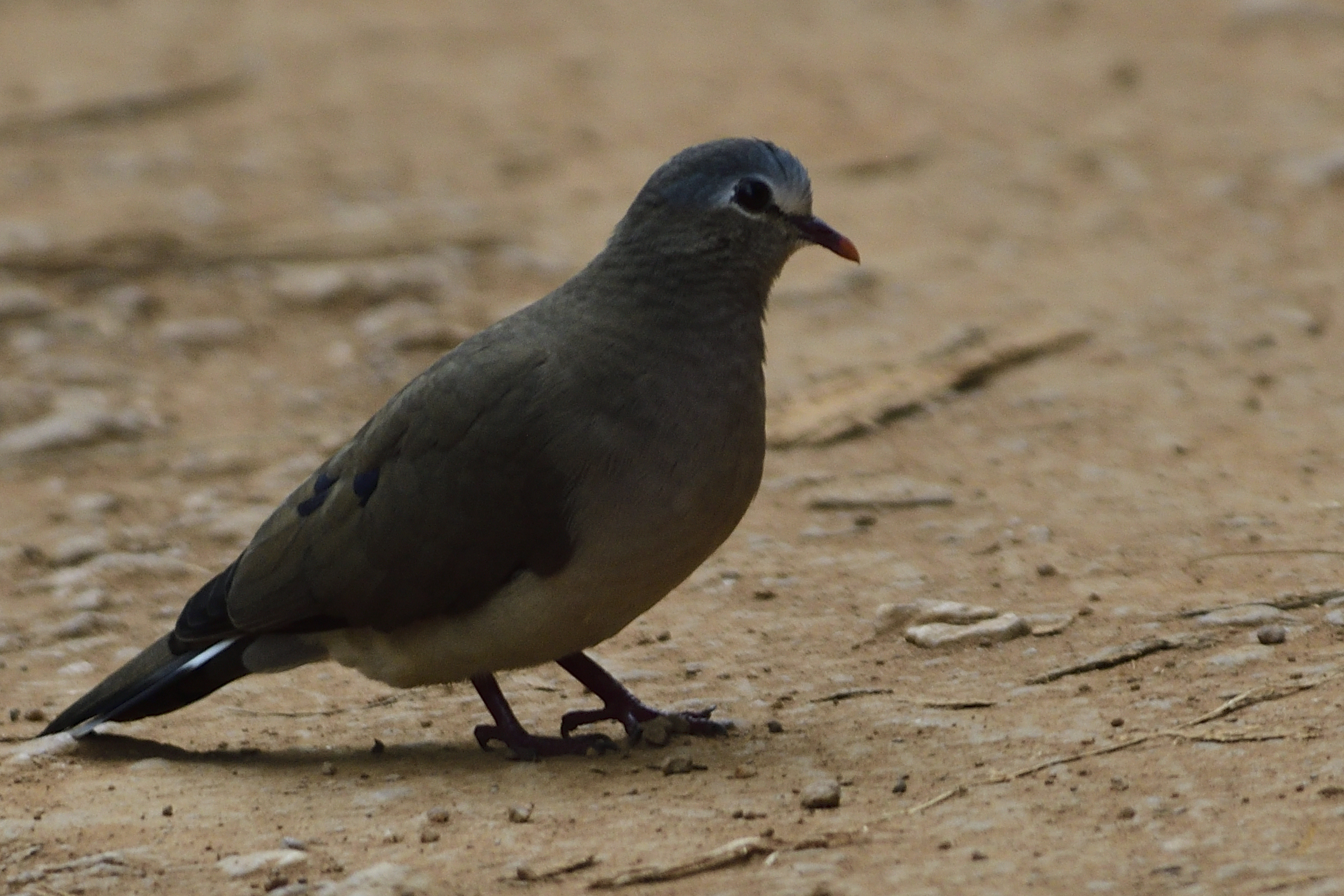 Blue-spotted Wood-Dove, Turtur afer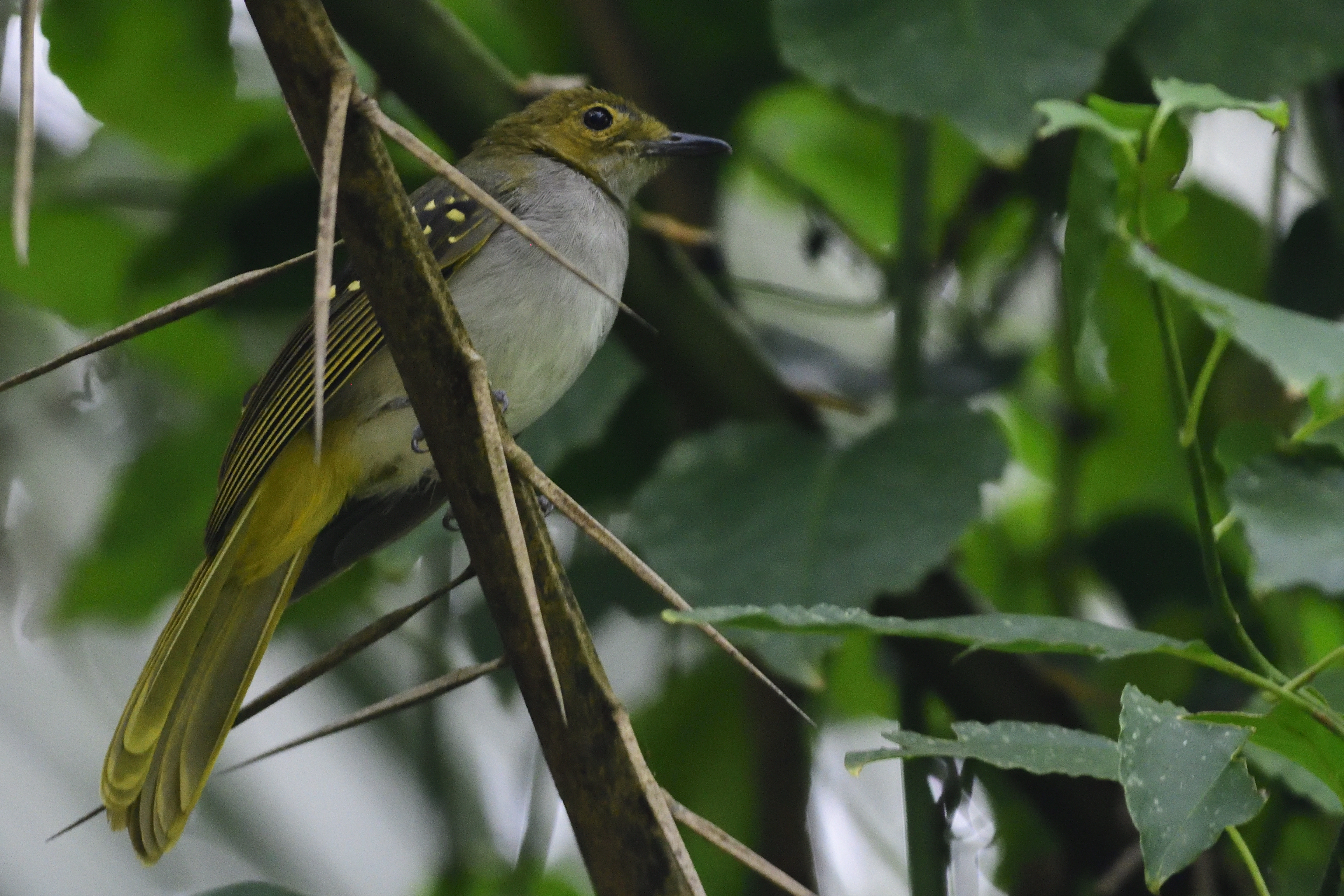 Western Nicator, Nicator chloris – Lifer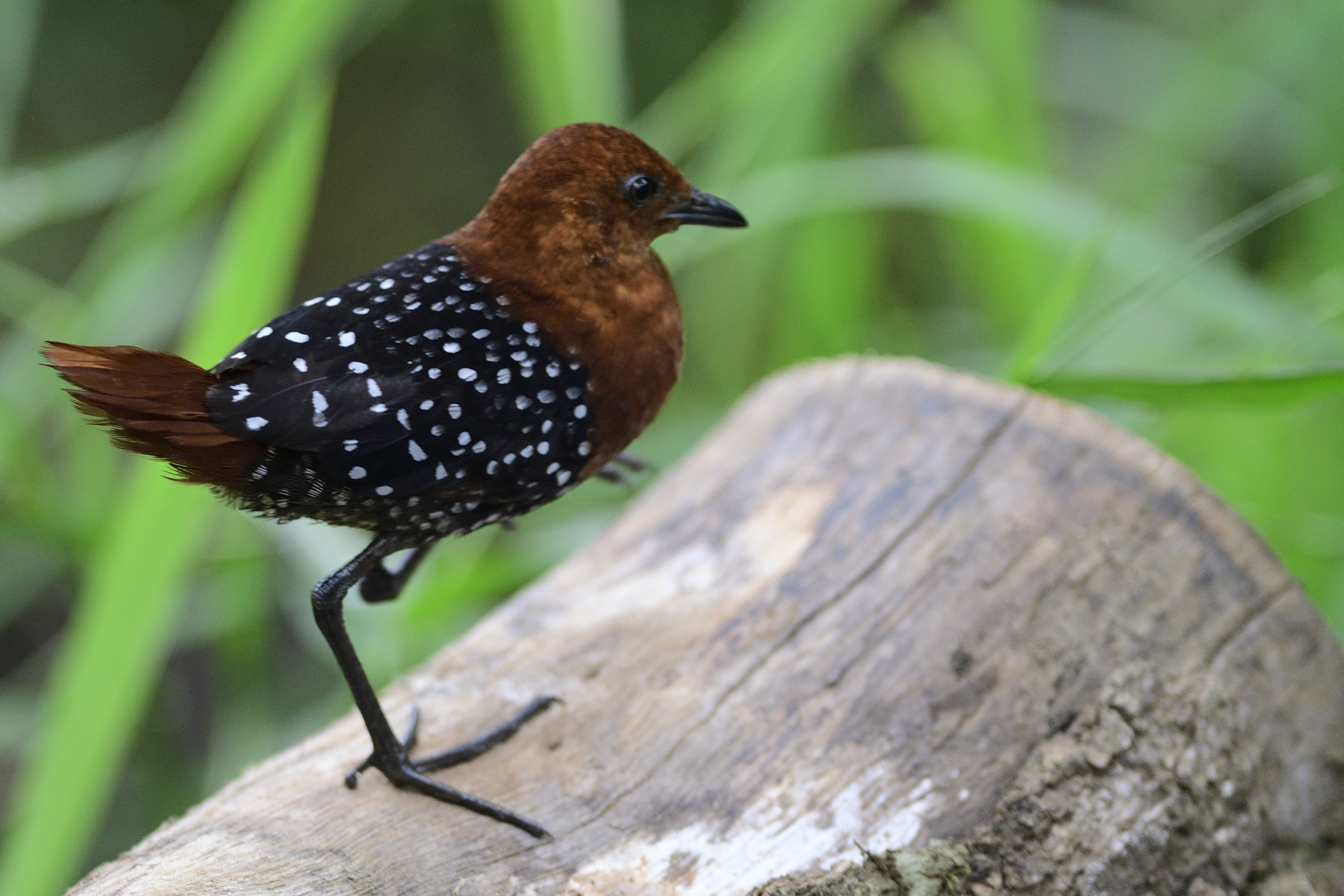 White-spotted Flufftail, Sarothrura pulchra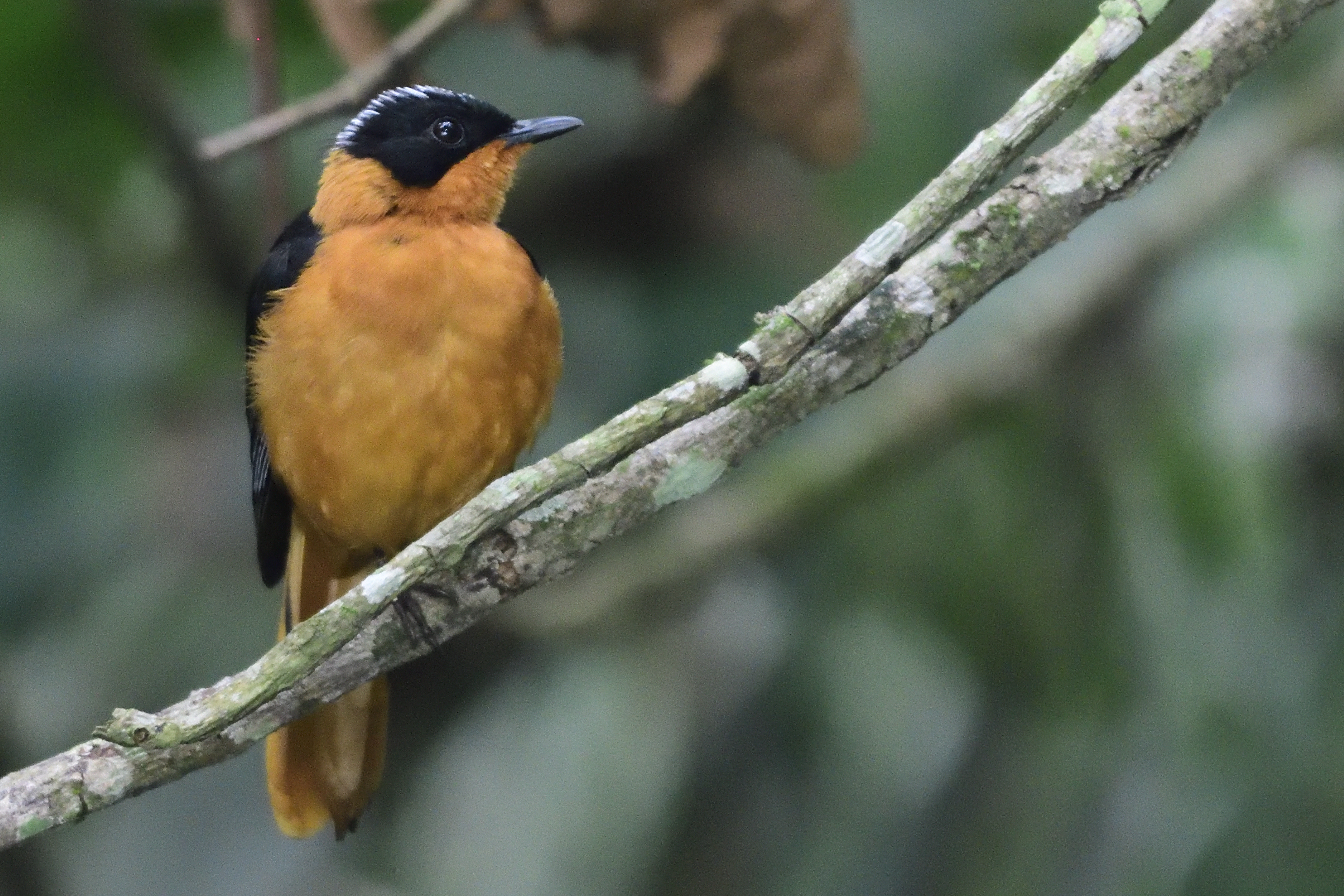 Snowy-crowned Robin-Chat, Cossypha niveicapilla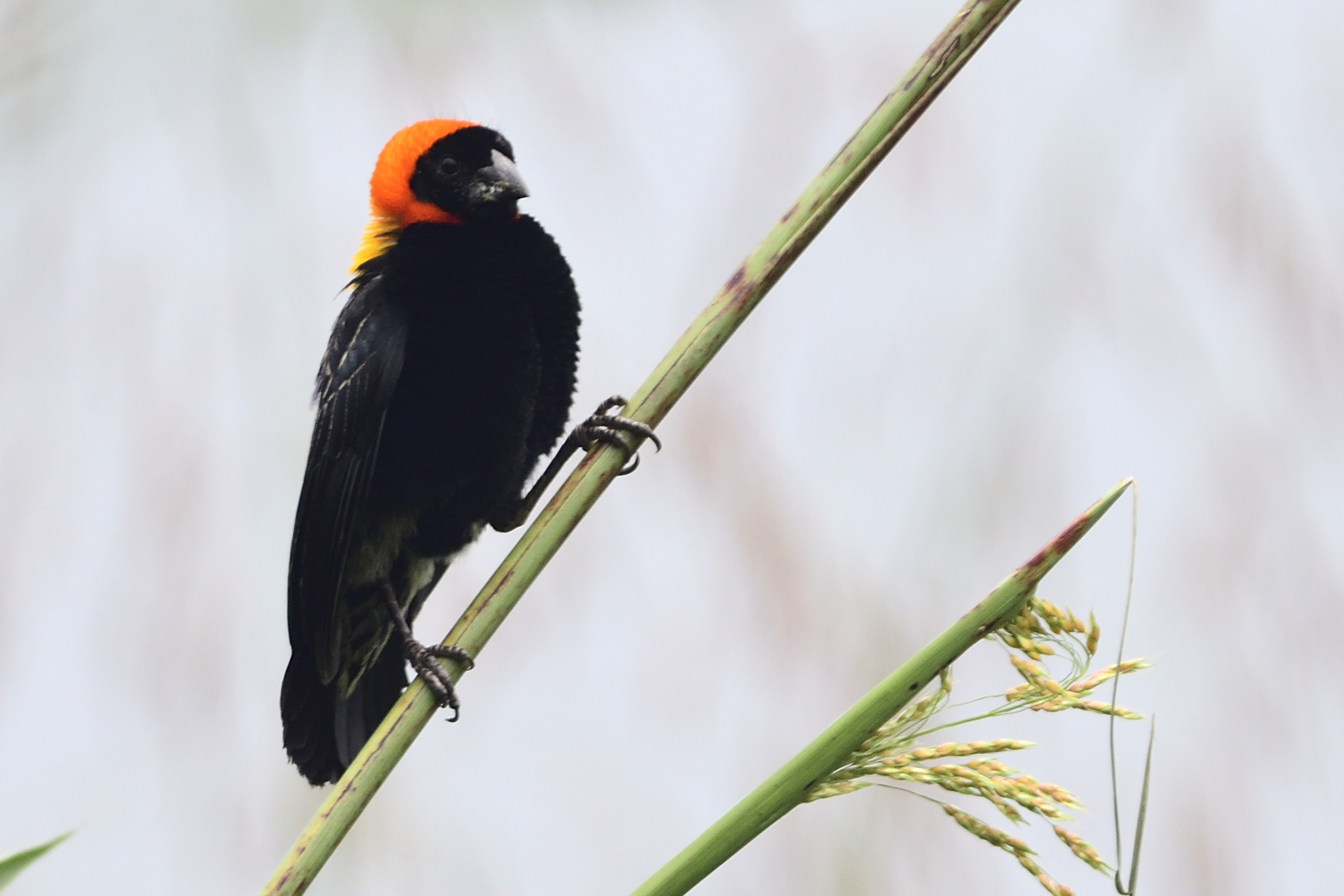 Black Bishop, Euplectes gierowii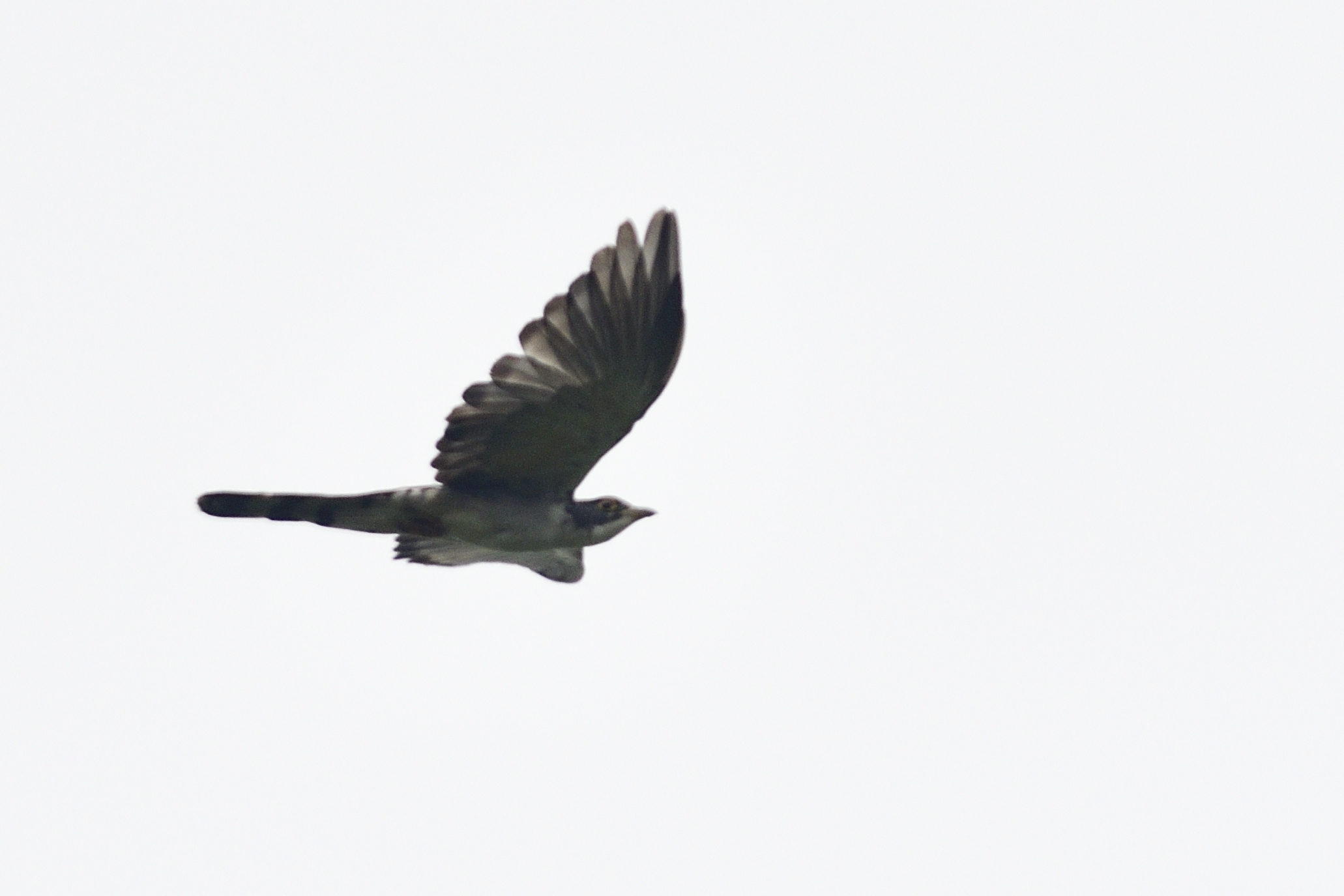 Thick-billed Cuckoo, Pachycoccyx audeberti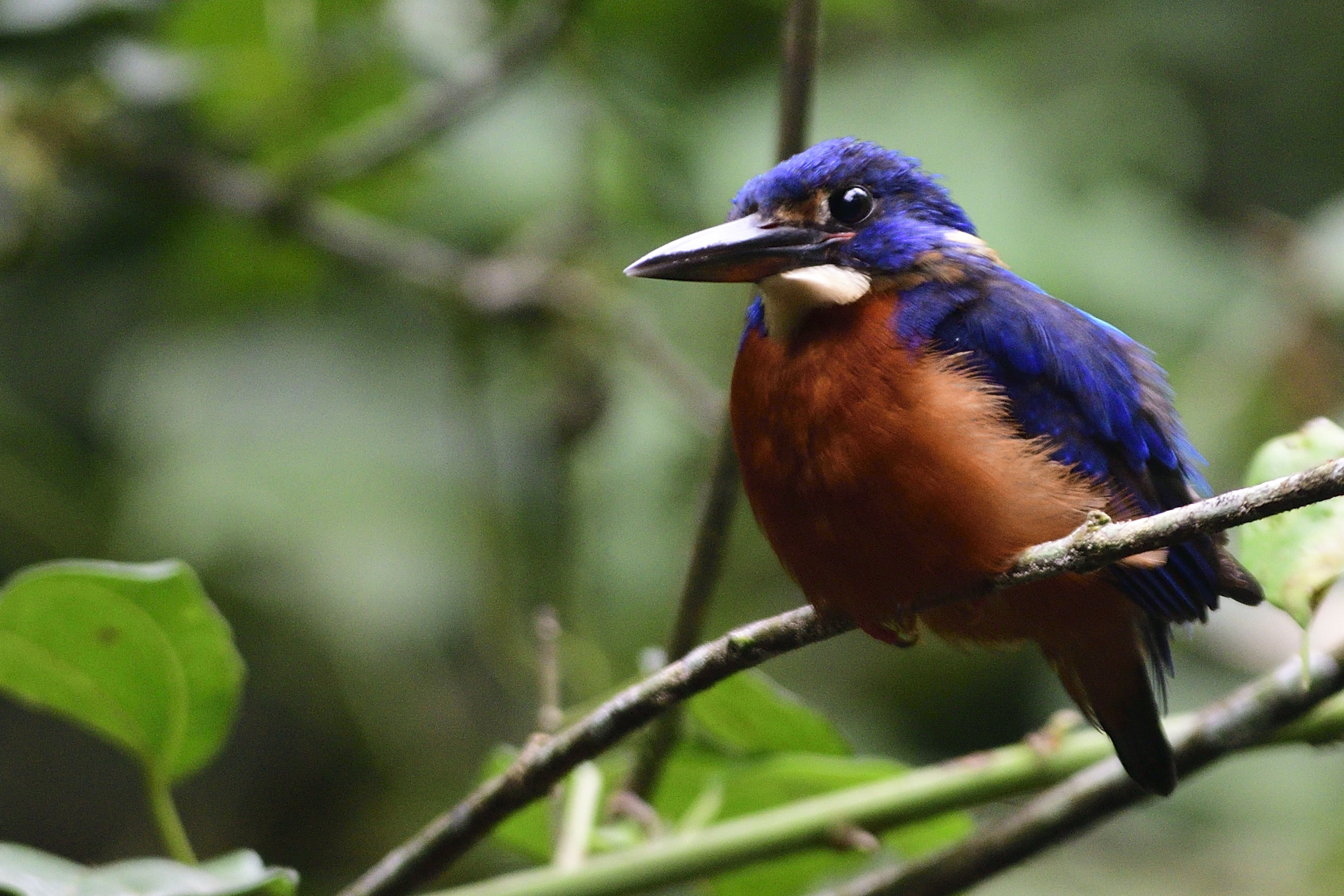 Shining-blue Kingfisher, Alcedo quadribrachys – Lifer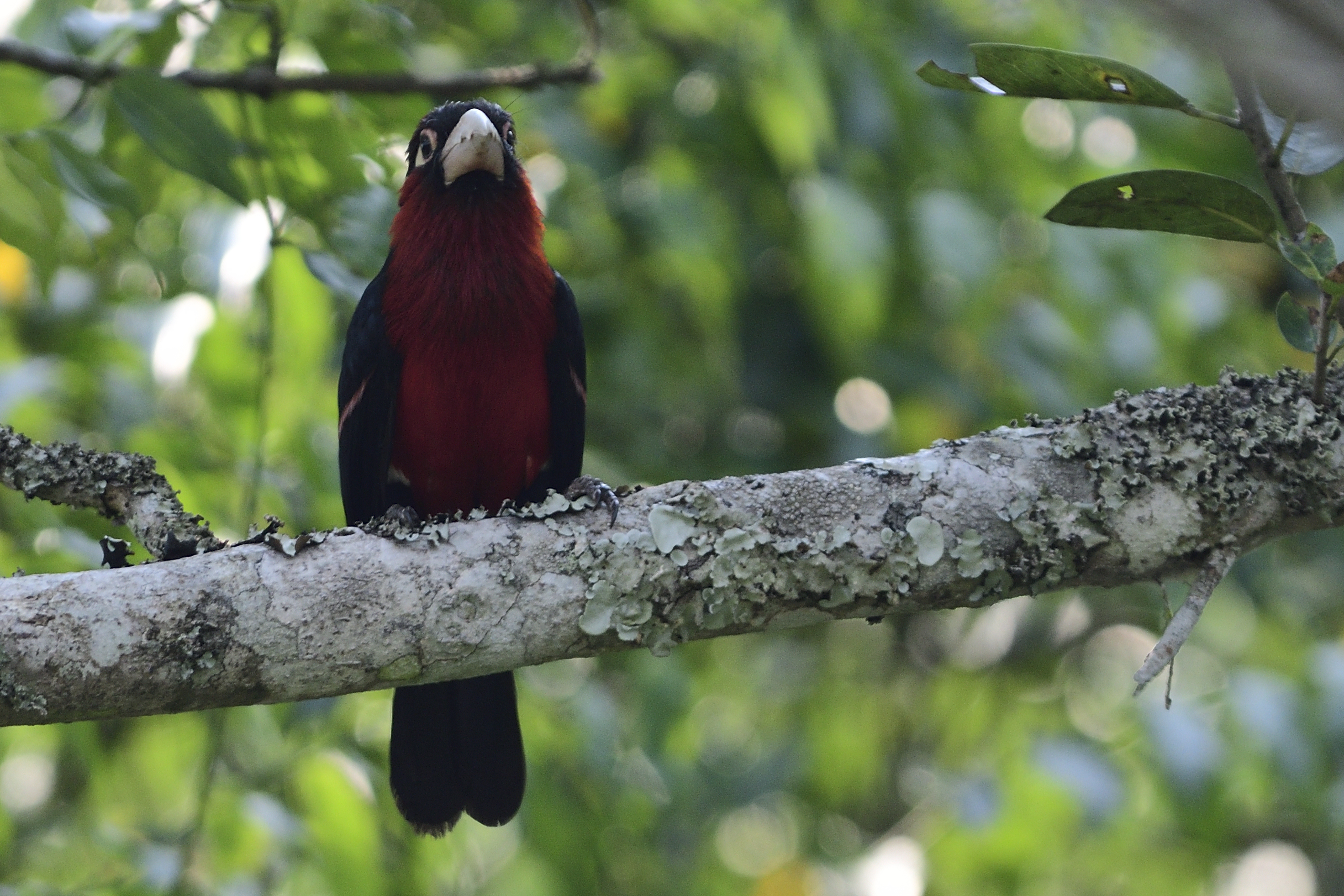 Double-toothed Barbet, Lybius bidenatus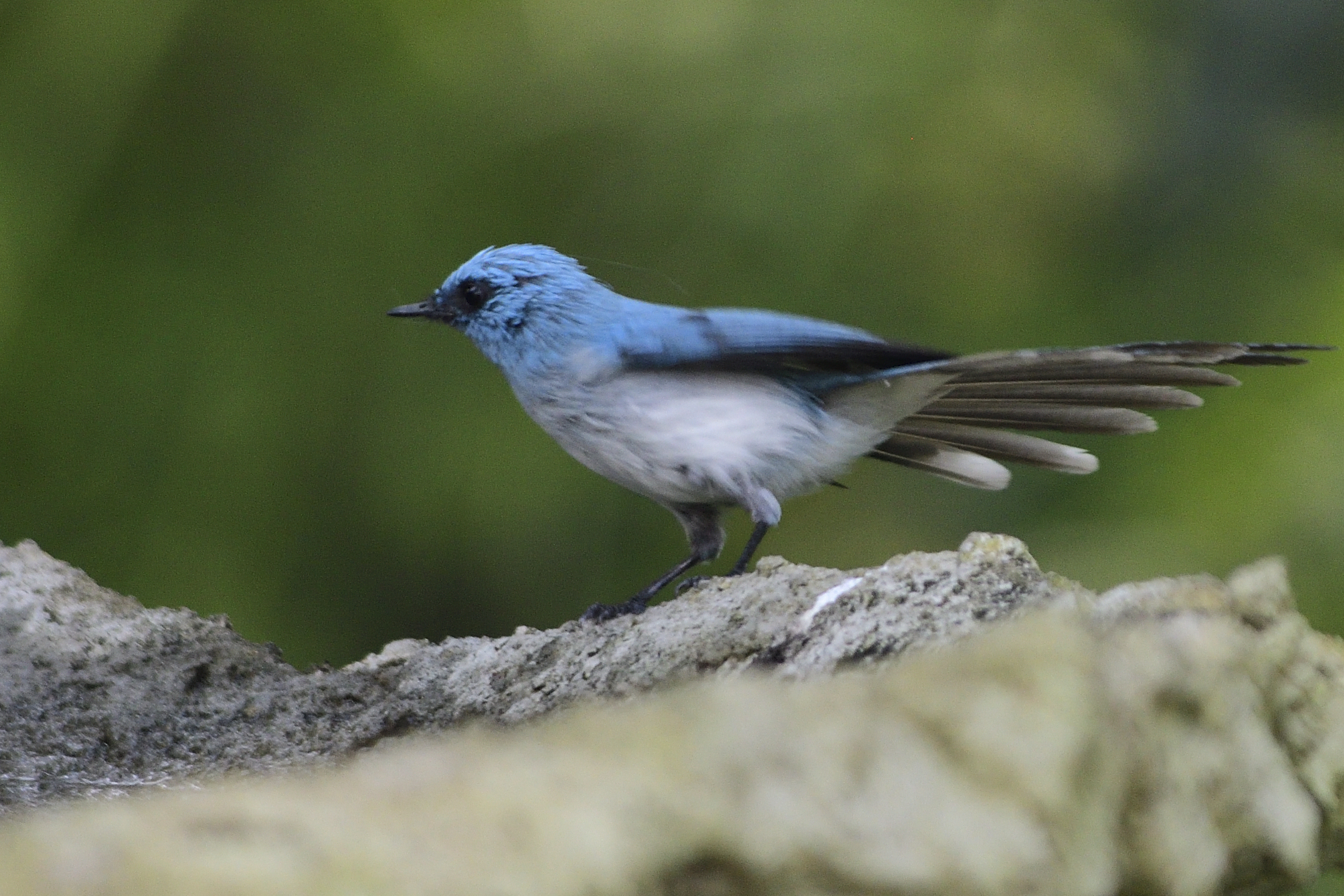 African Blue Flycatcher, Elminia longicauda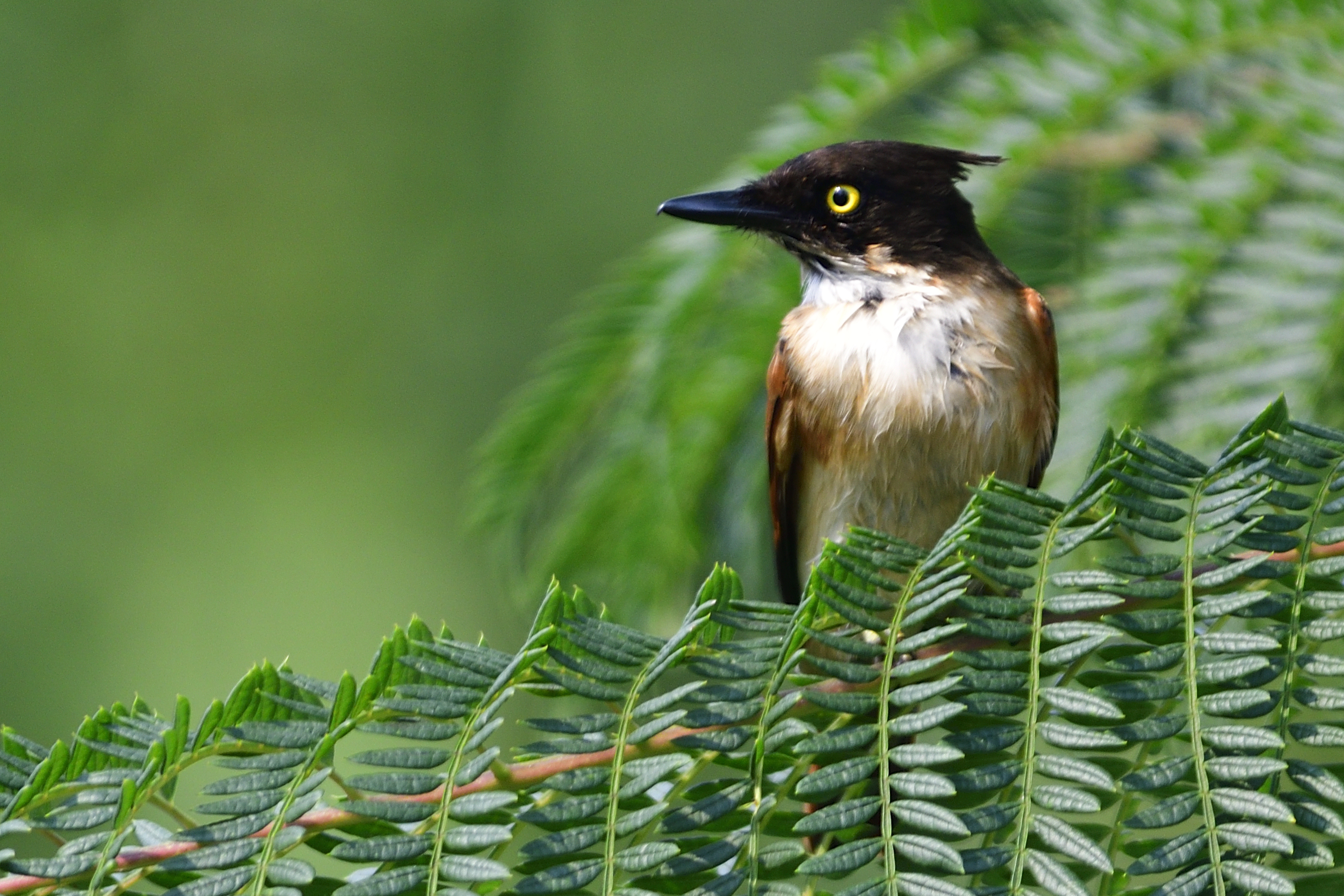 Black-and-white Shrike Flycatcher (Female), Bias musicus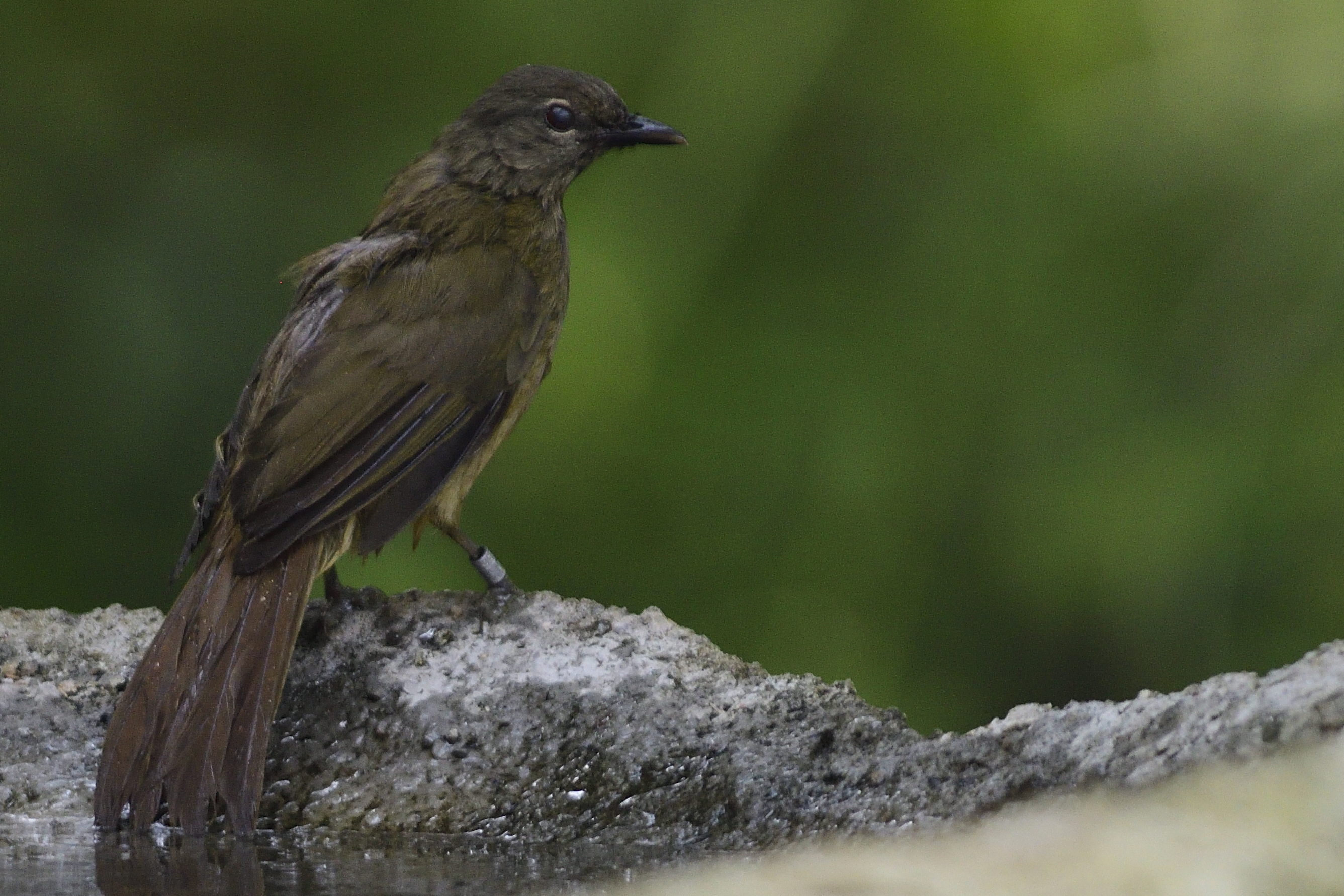 Little Greenbul, Eurilla virens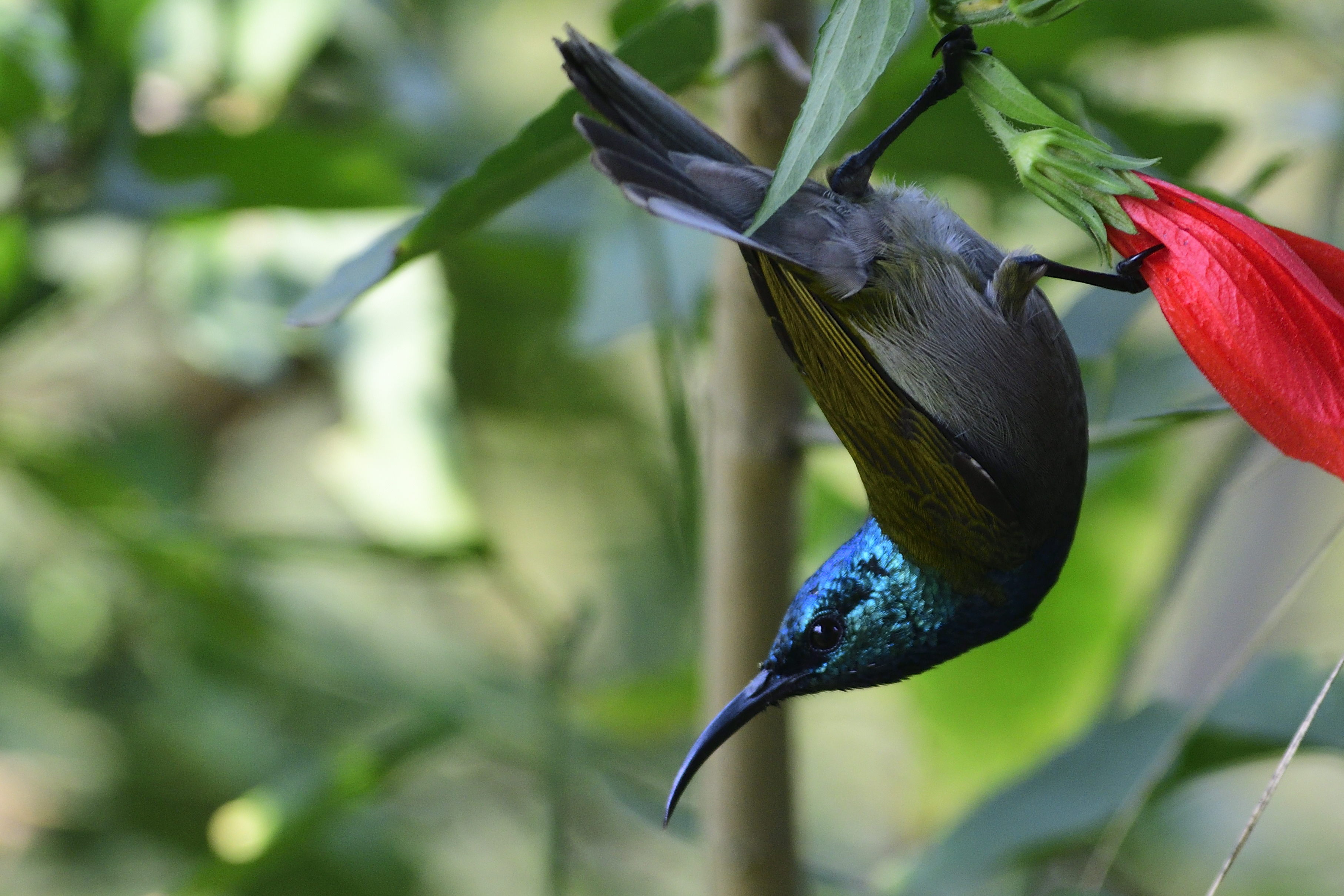 Green-headed Sunbird, Cyanomitra verticalis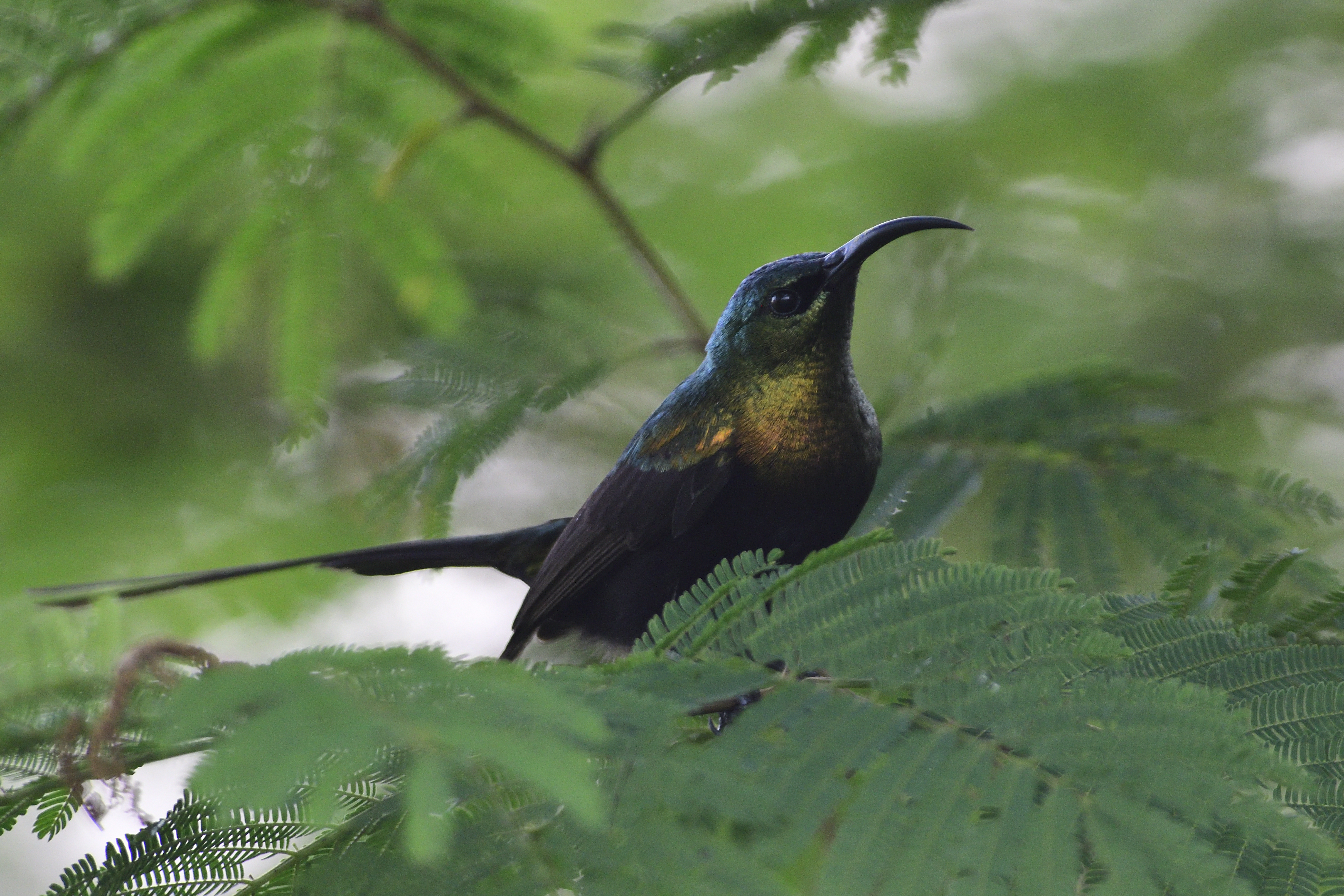 Bronzy Sunbird, Nectarina kilimensis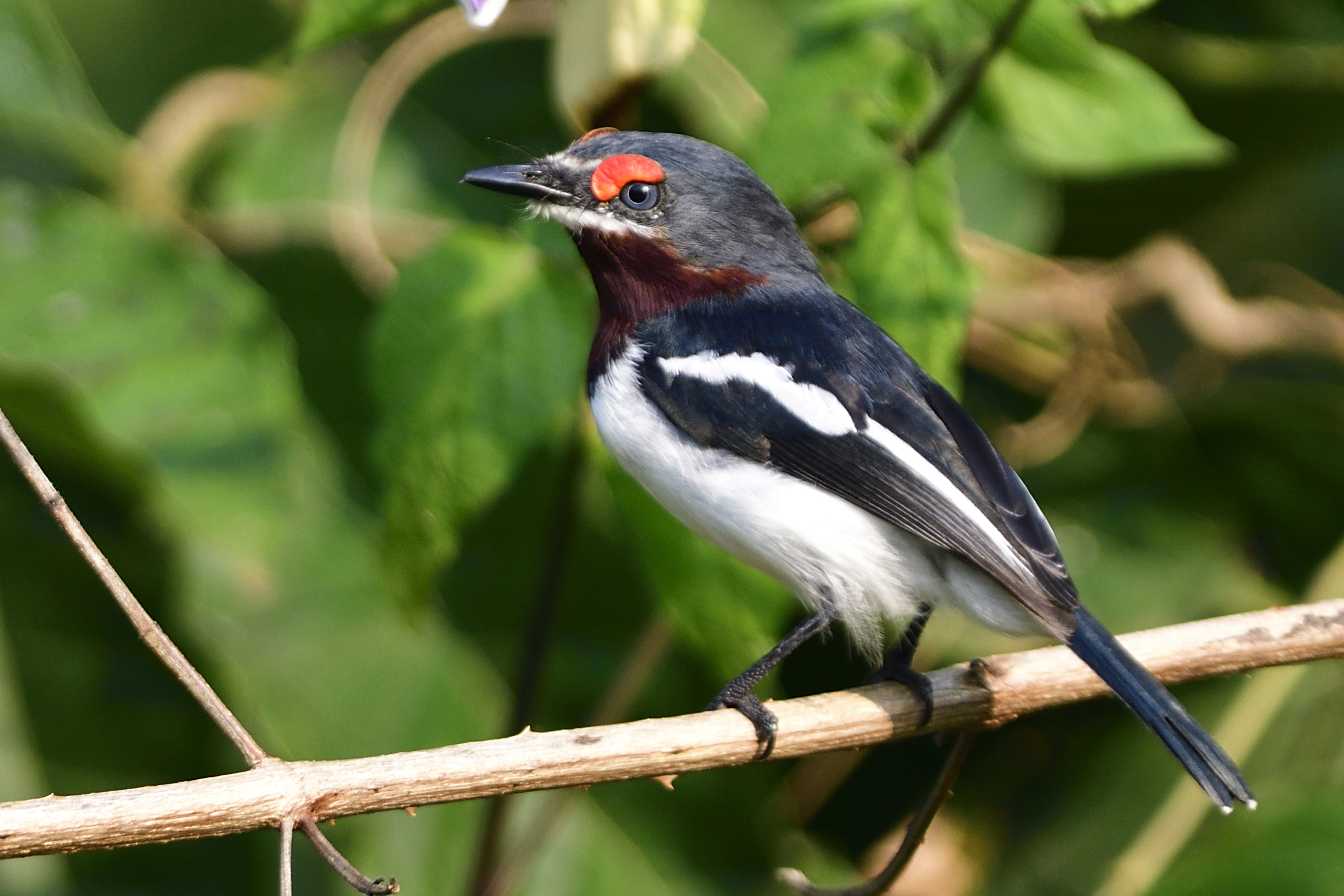 Brown-throated Wattle-eye, Platysteira cyanea
Day 23, Thuesday, June 18 – Kibale
Nothing special on the program today, but a Rufous-crowned Eremomela had been seen in the vicinity of camp. Adam choose to stay at camp and Byaba and I walked to see if we could entice it out for a picture. We did have success albeit not the best picture. I still missed the Black Bee-eater and Byaba and I took a drive to another spot and we also here had success. We also visited another swamp for some of the papyrus specials, but even though we could here some of the targets, they did not want to come out and show themselves. I did photograph Copper Sunbird and  Red-faced Cisticola. We decided to bird the garden in the afternoon. There was a fruiting fig tree there which attracted all kind of species. During the remainder of the day, I photographed the following species: Grey Apalis, Hairy-breasted and Yellow-spotted Barbet, Bocage´s Bushshrike, African Shrike Flycatcher, White-chested Nigrita, Grey-chinned Sunbird, Yellow-rumped Tinkerbird and Grey Tit-Flycatcher. Another fantastic day.
Some pictures from Day 23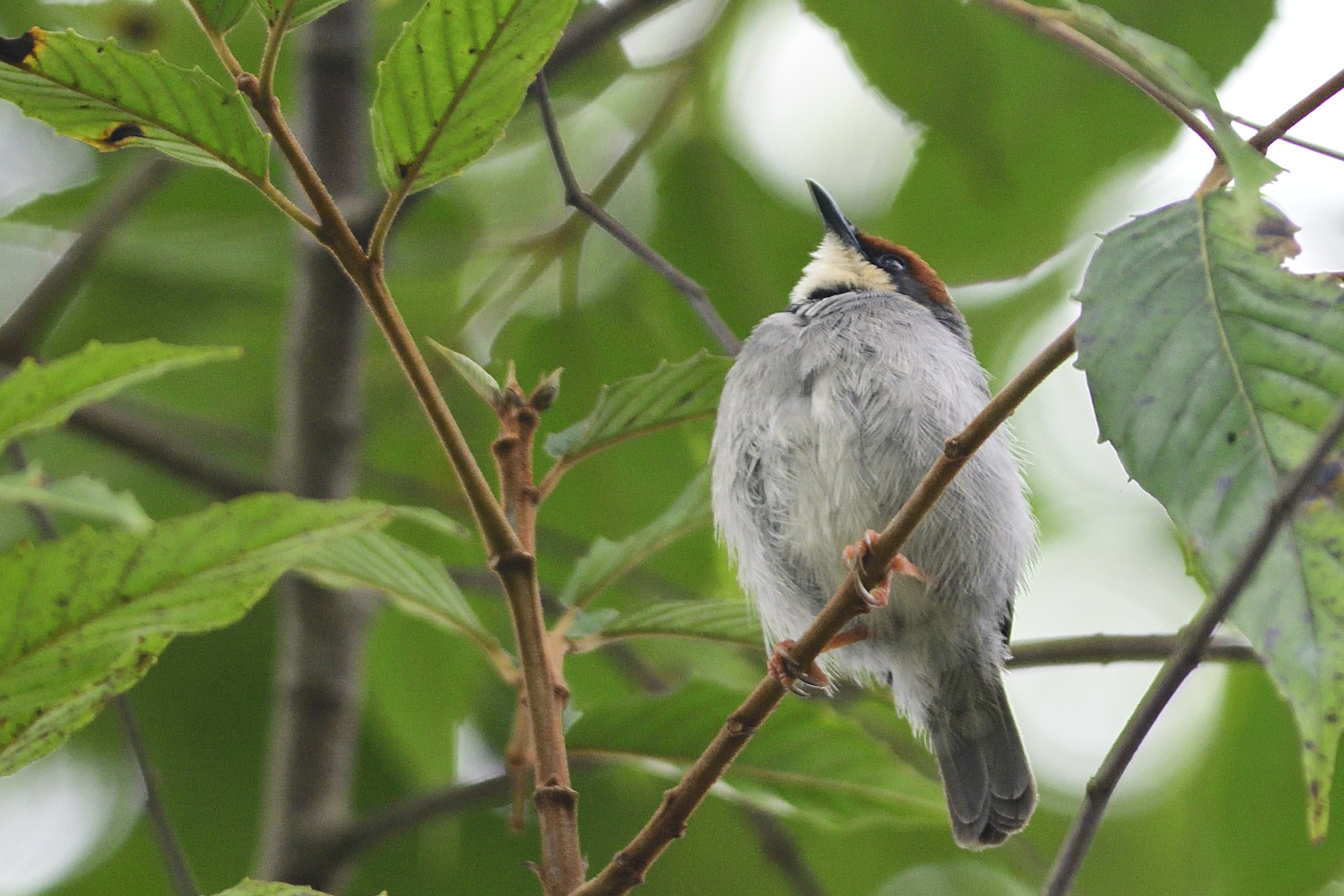 Rufous-crowned Eremomela, Eremomela badiceps – Lifer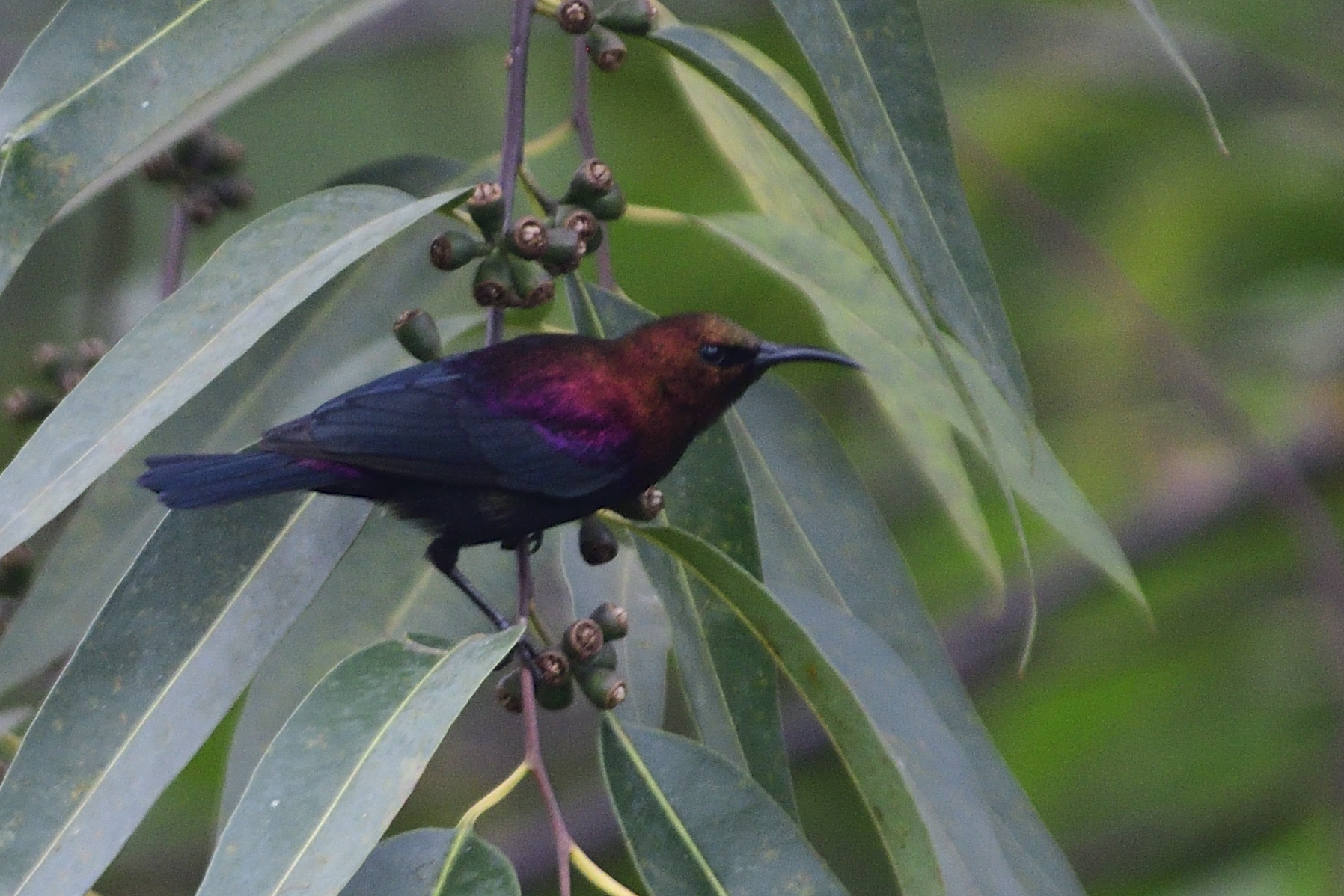 Copper Sunbird, Cinnyris cupreus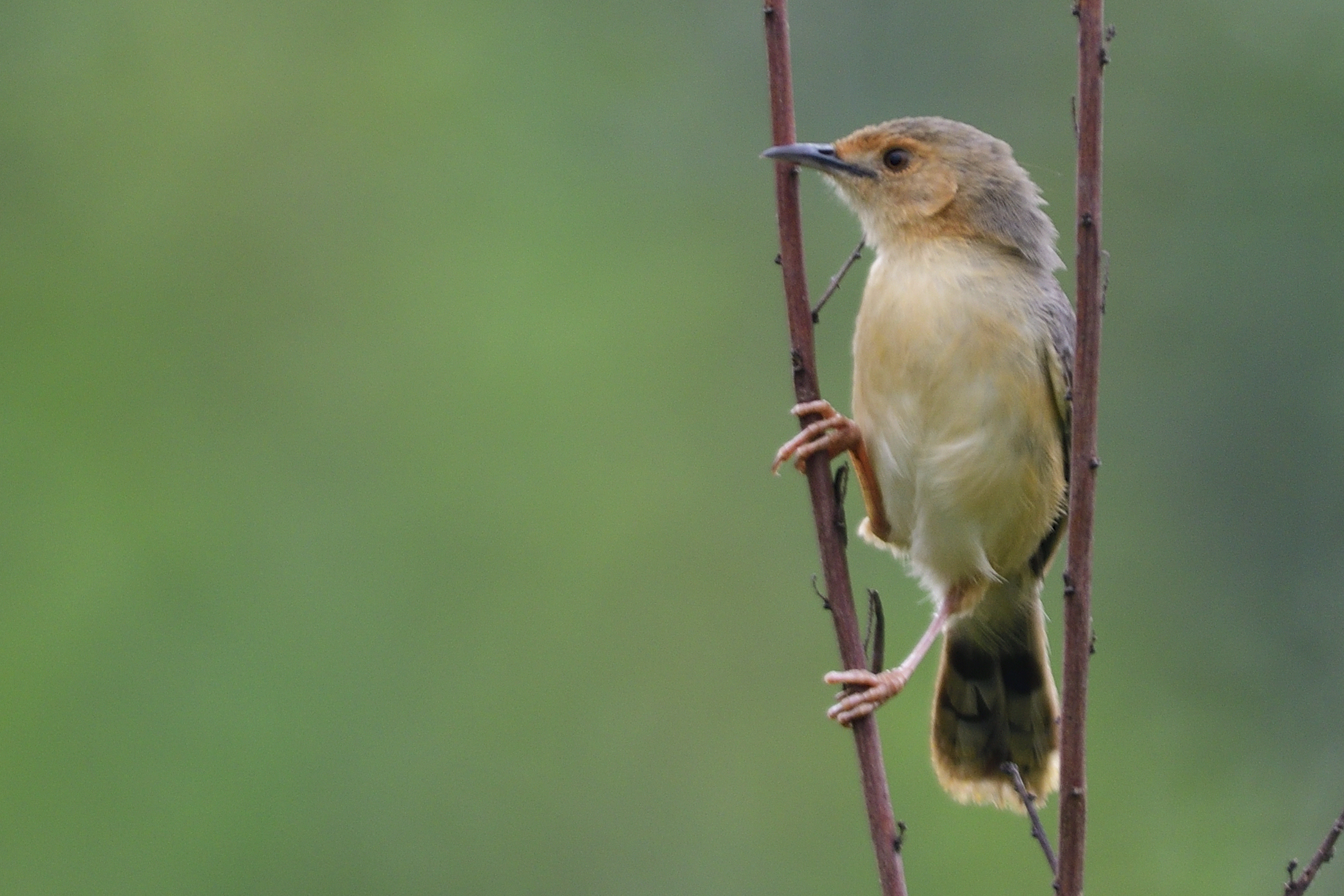 Red-faced Cisticola, Cisticola erythrops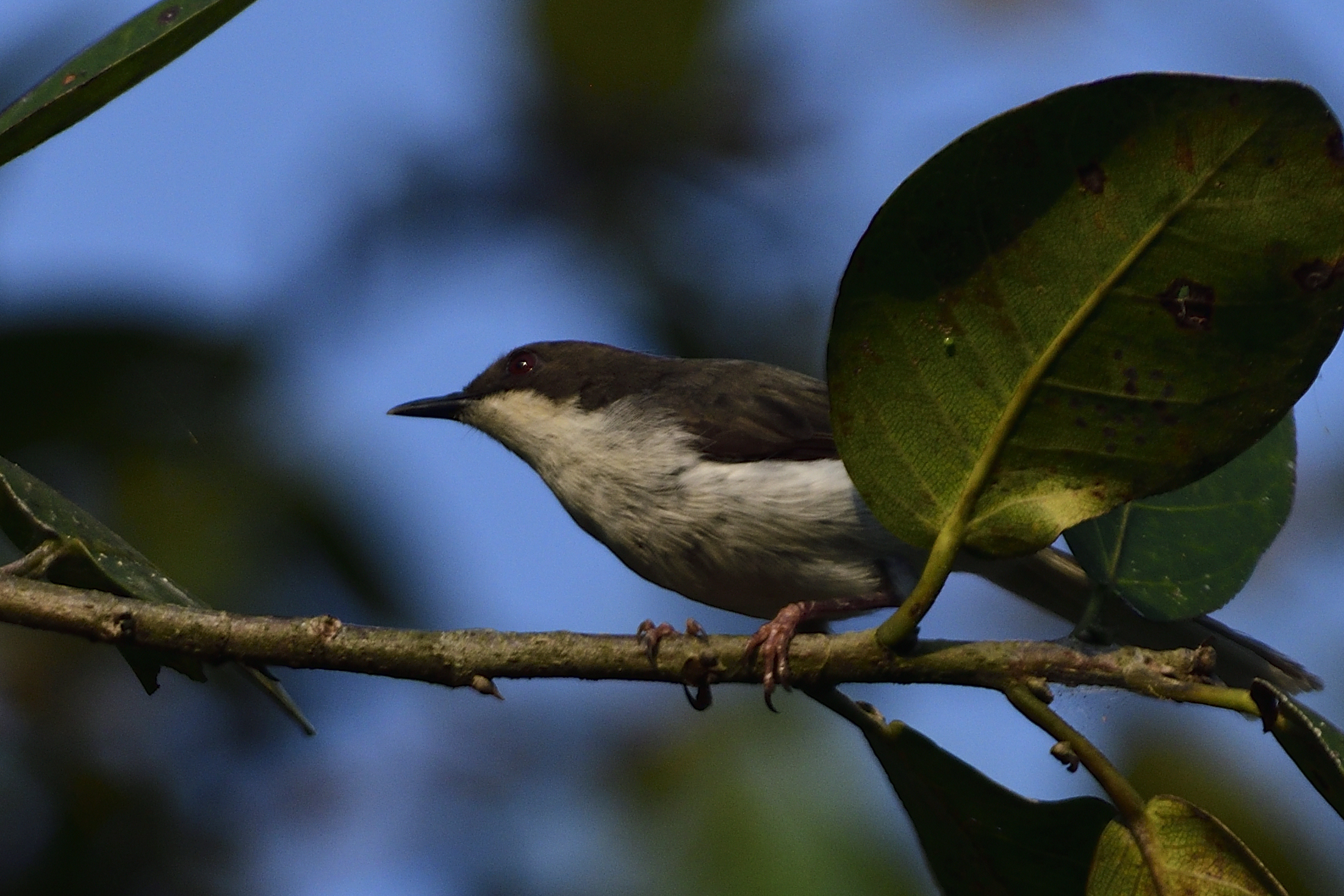 Grey Apalis, Apalis cinerea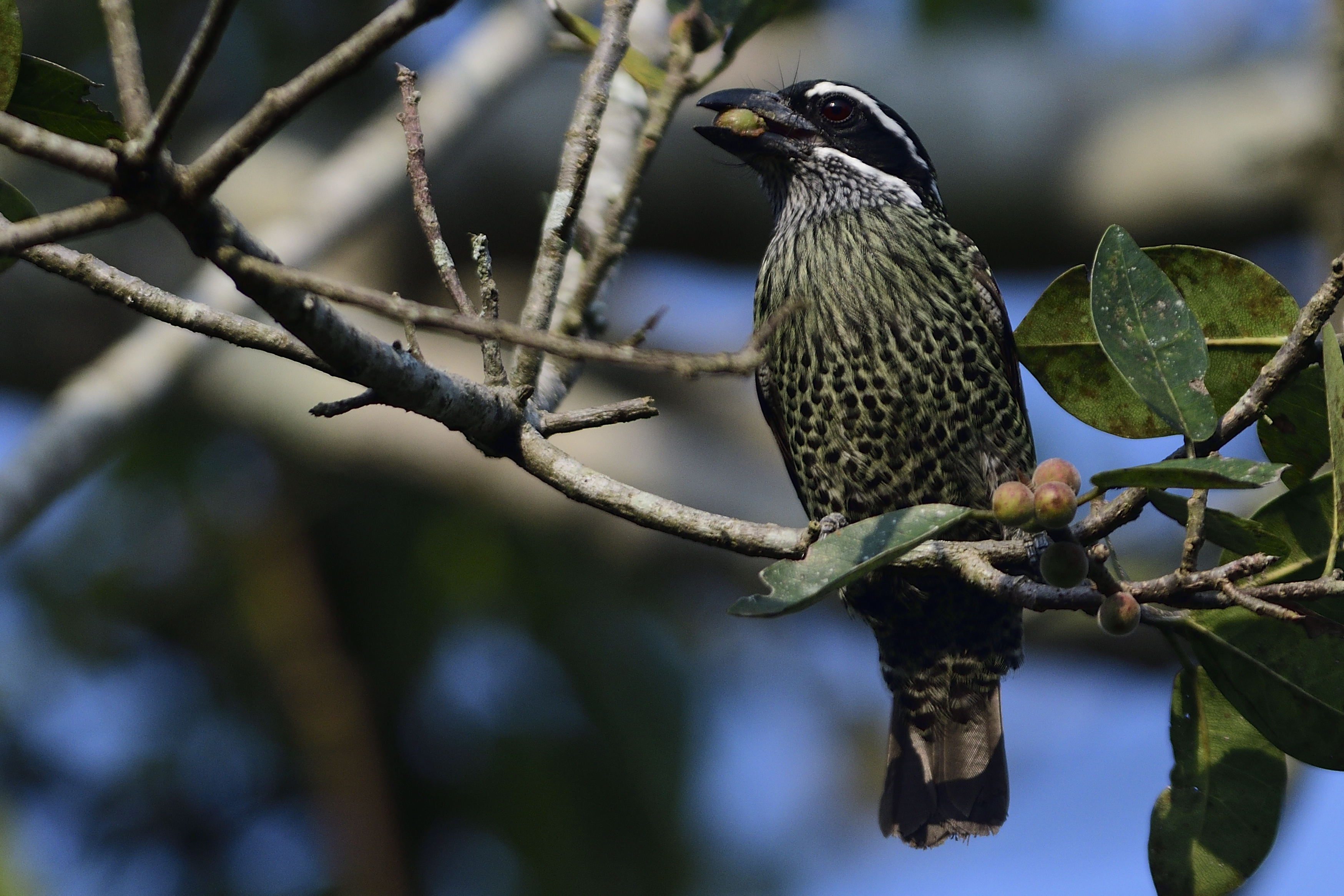 Hairy-breasted Barbet, Tricholaema hirsuta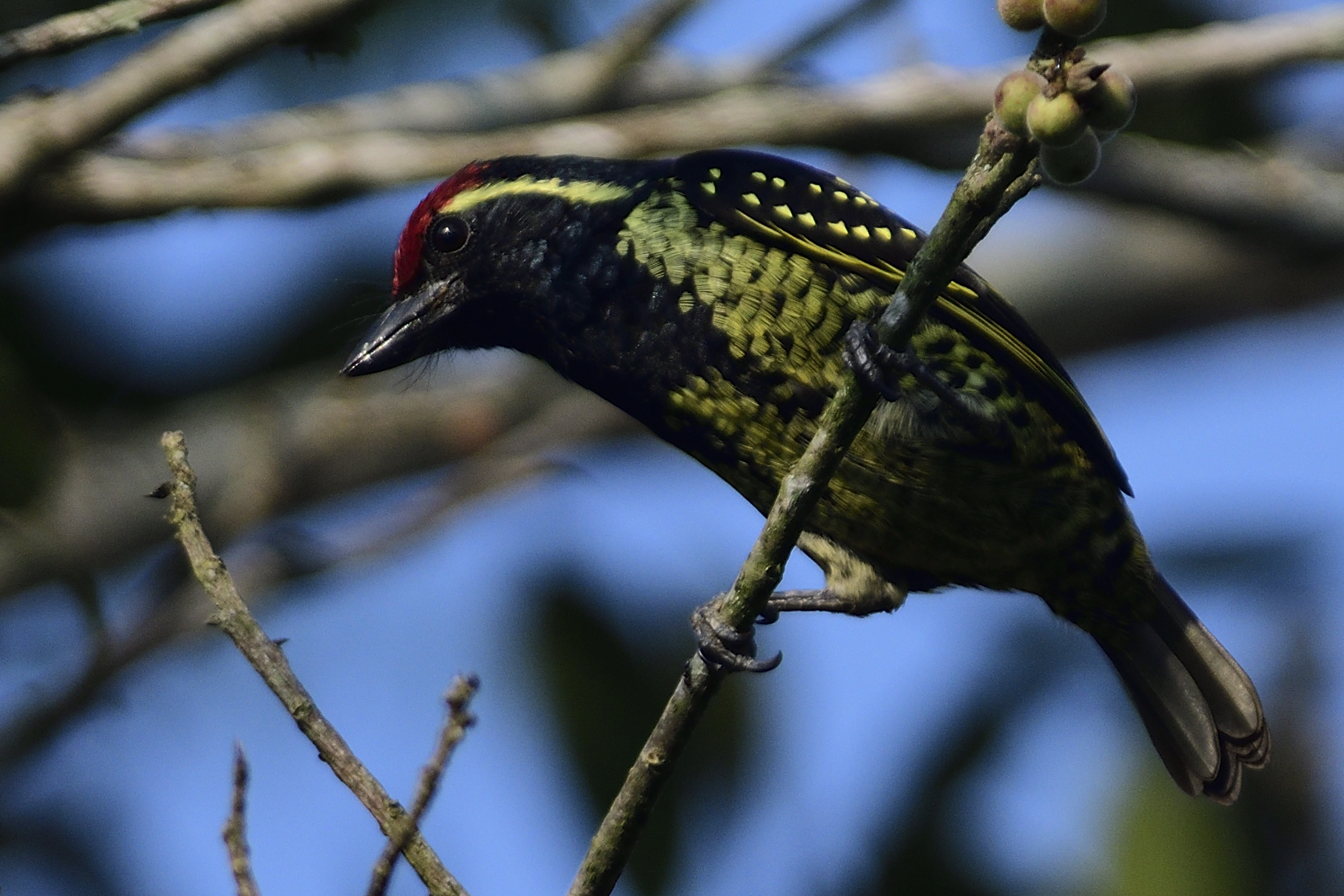 Yellow-spotted Barbet, Buccanodon duchaillui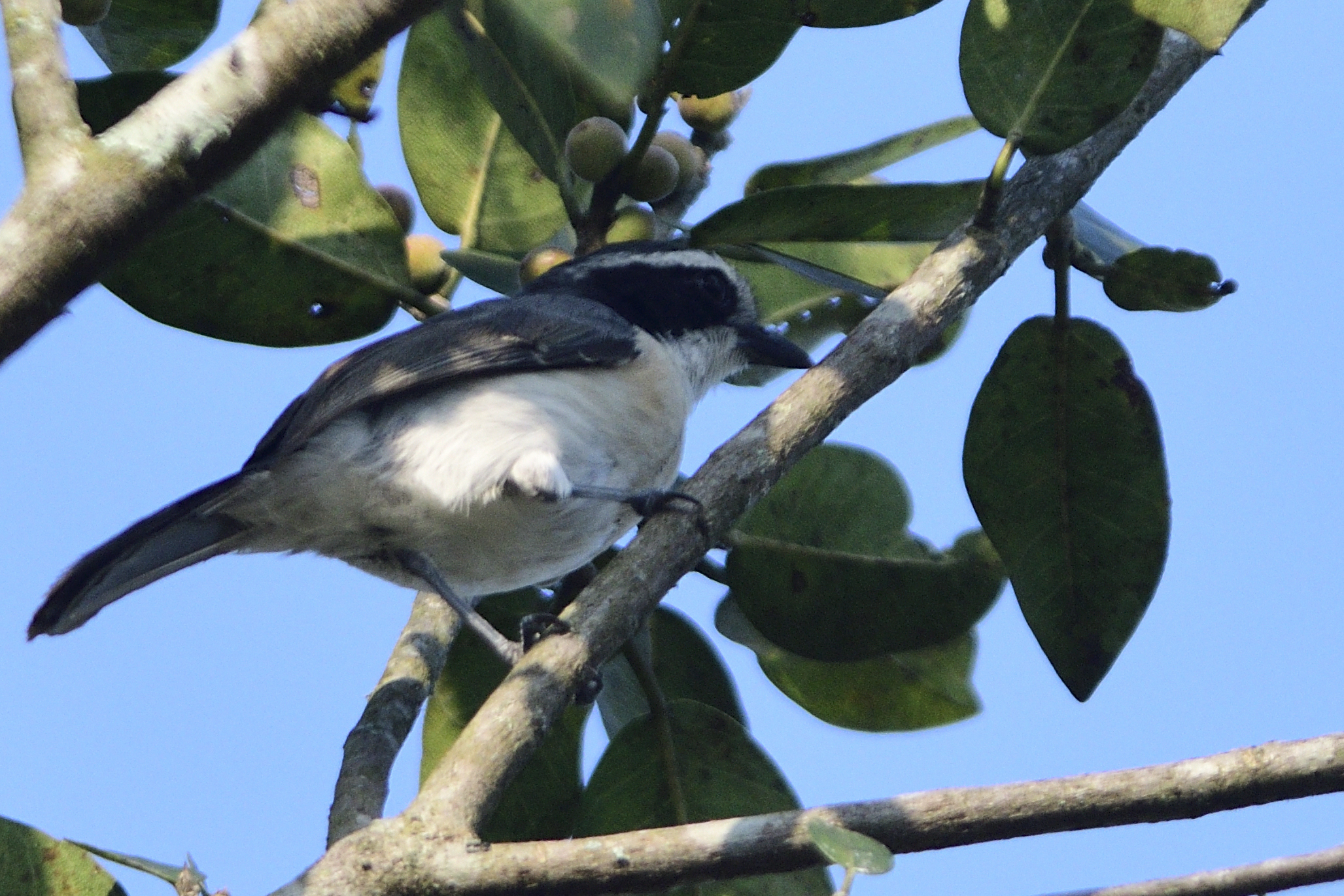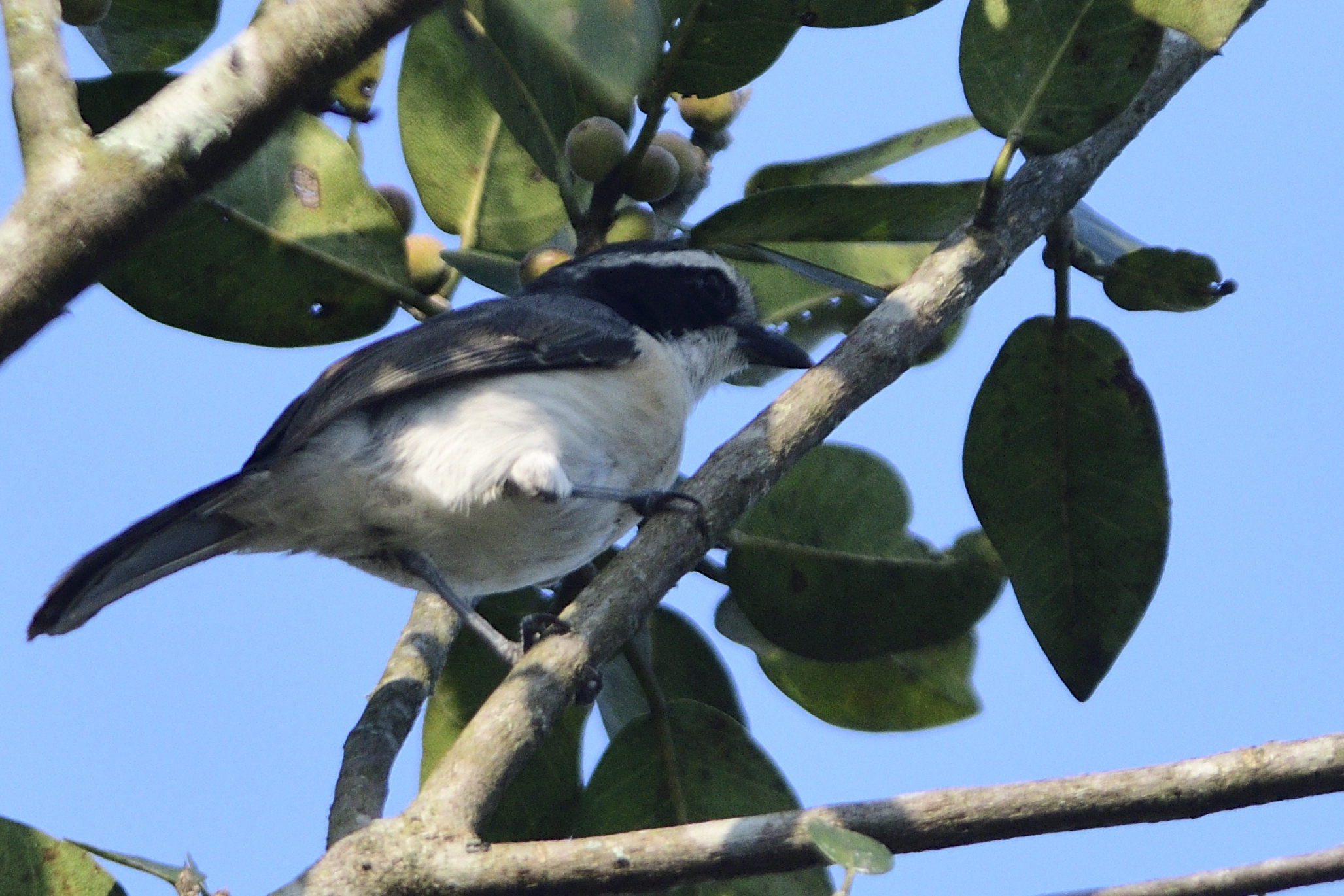 Bocage´s Bushshrike, Chlorophoneus bocagei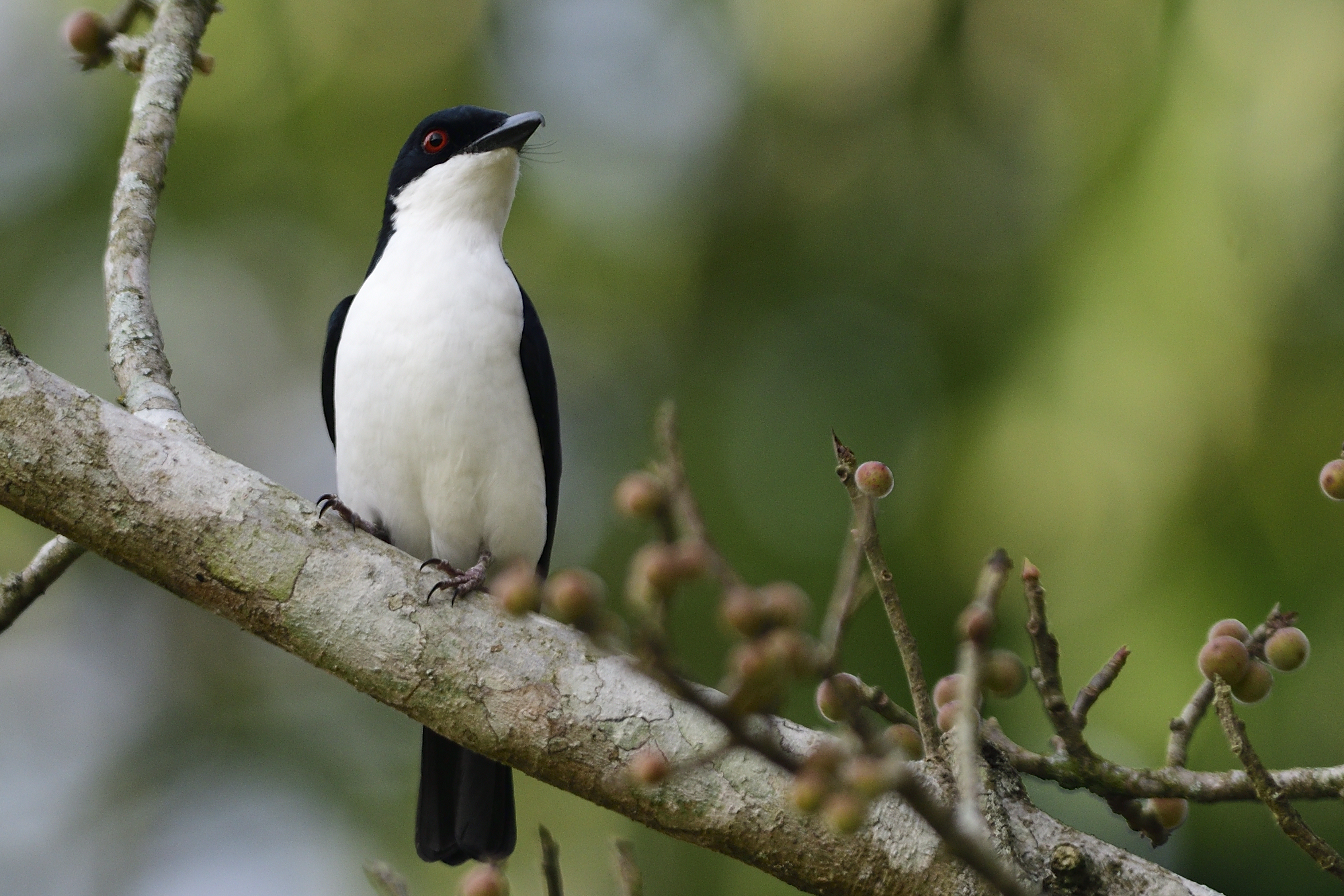 African Shrike Flycatcher, Megabyas flammulatus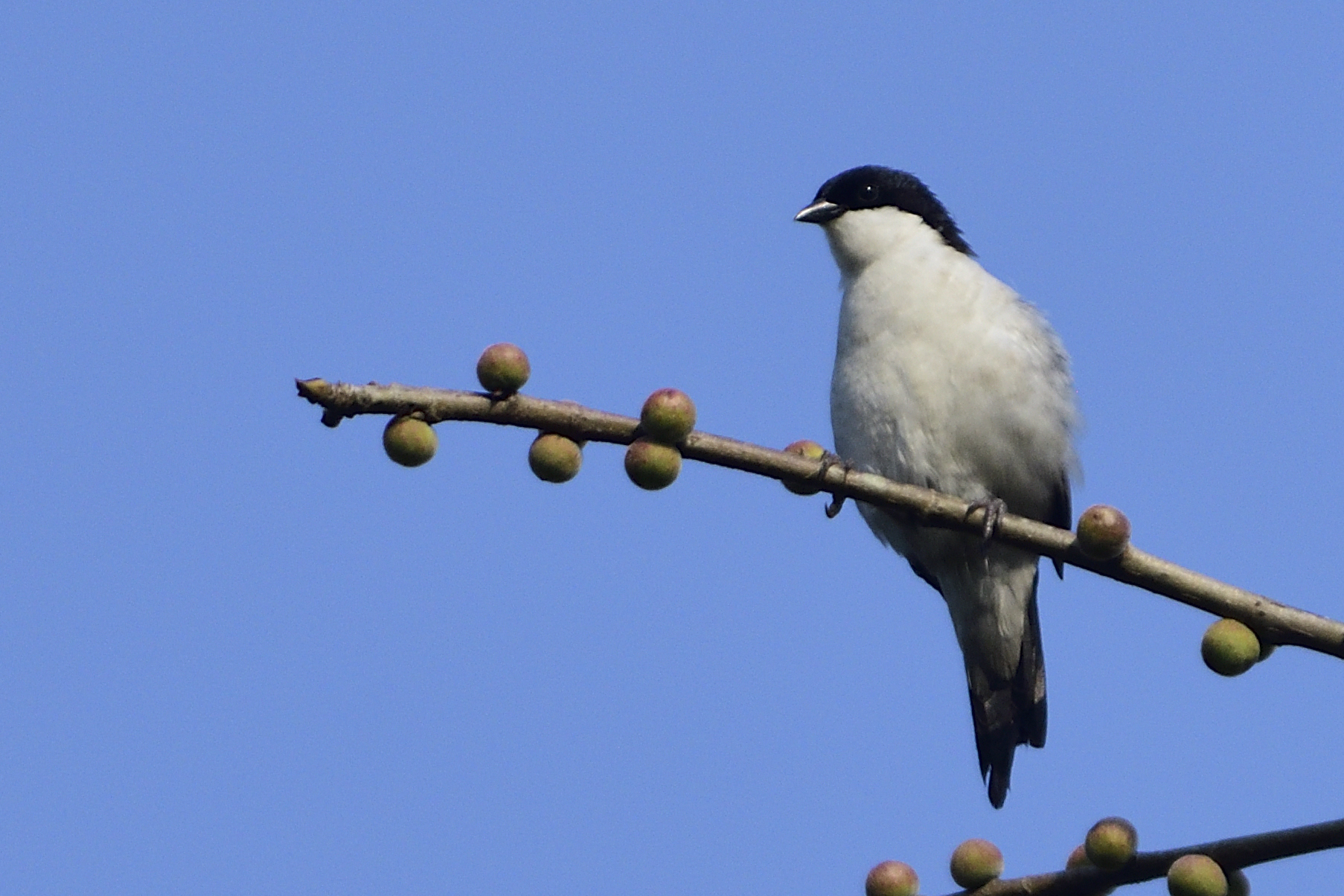 White-breasted Nigrita, Nigrita fusconotus – Lifer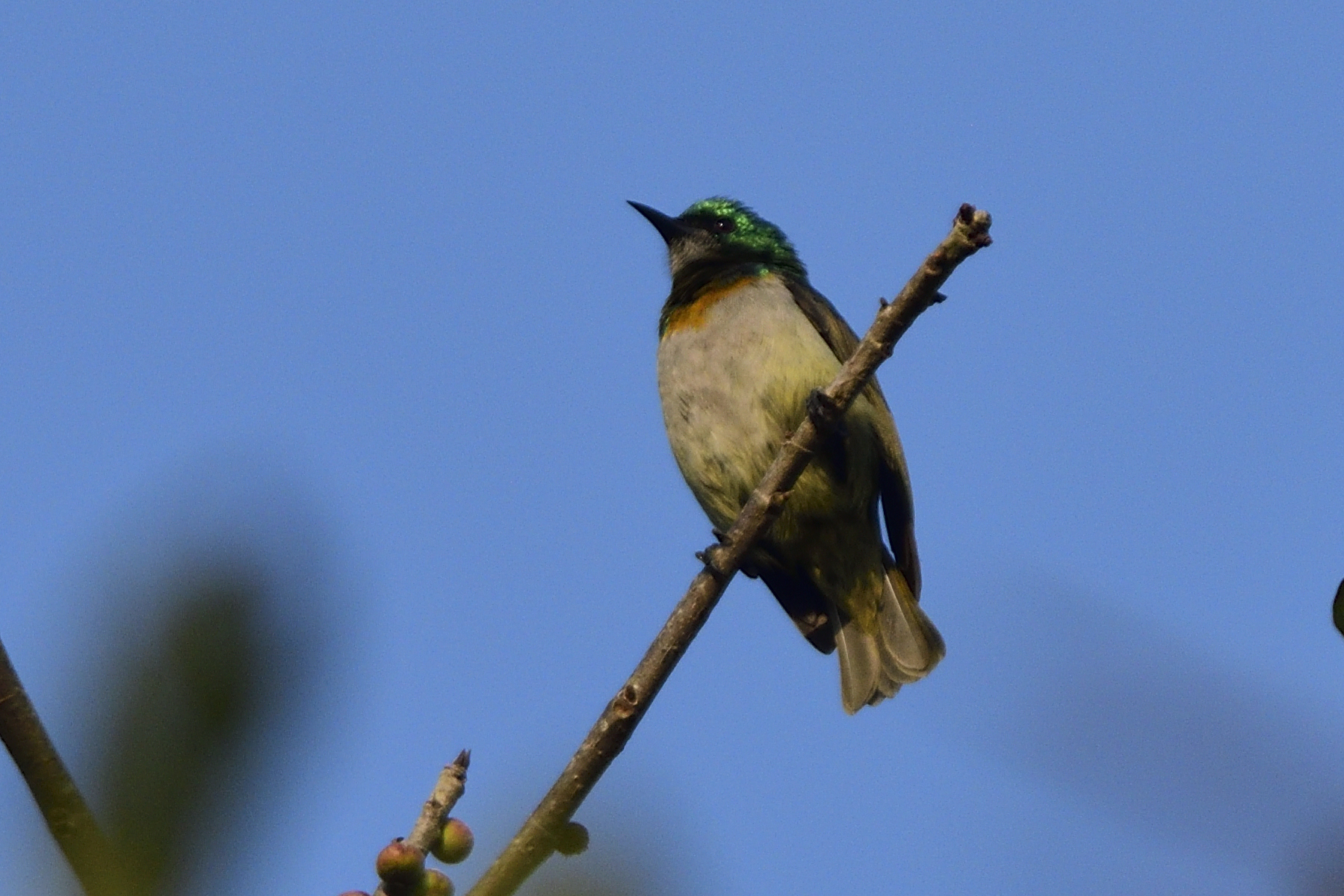 Grey-chinned Sunbird, Anthreptes rectirostris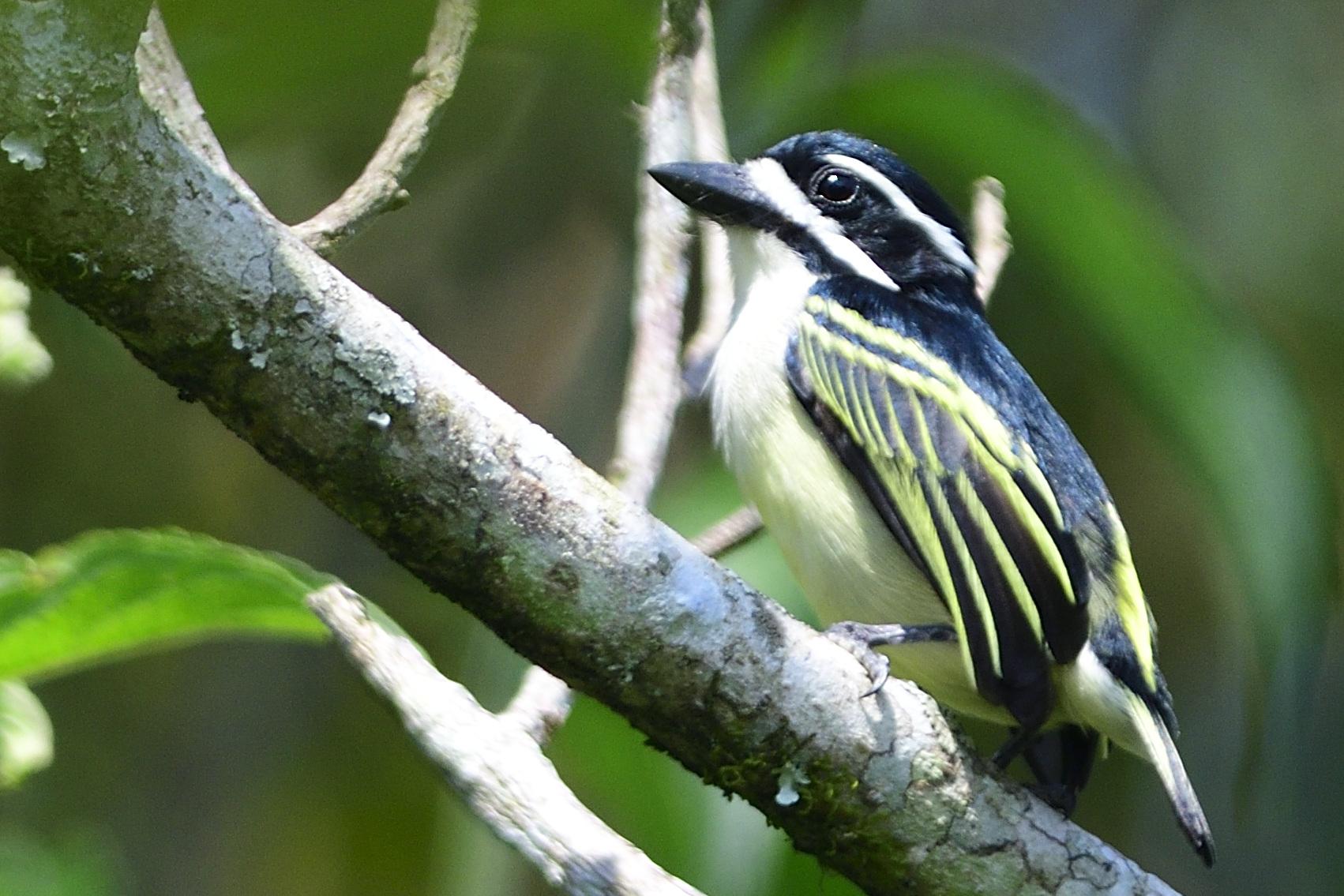 Yellow-rumped Tinkerbird, Pogoniulus bilineatus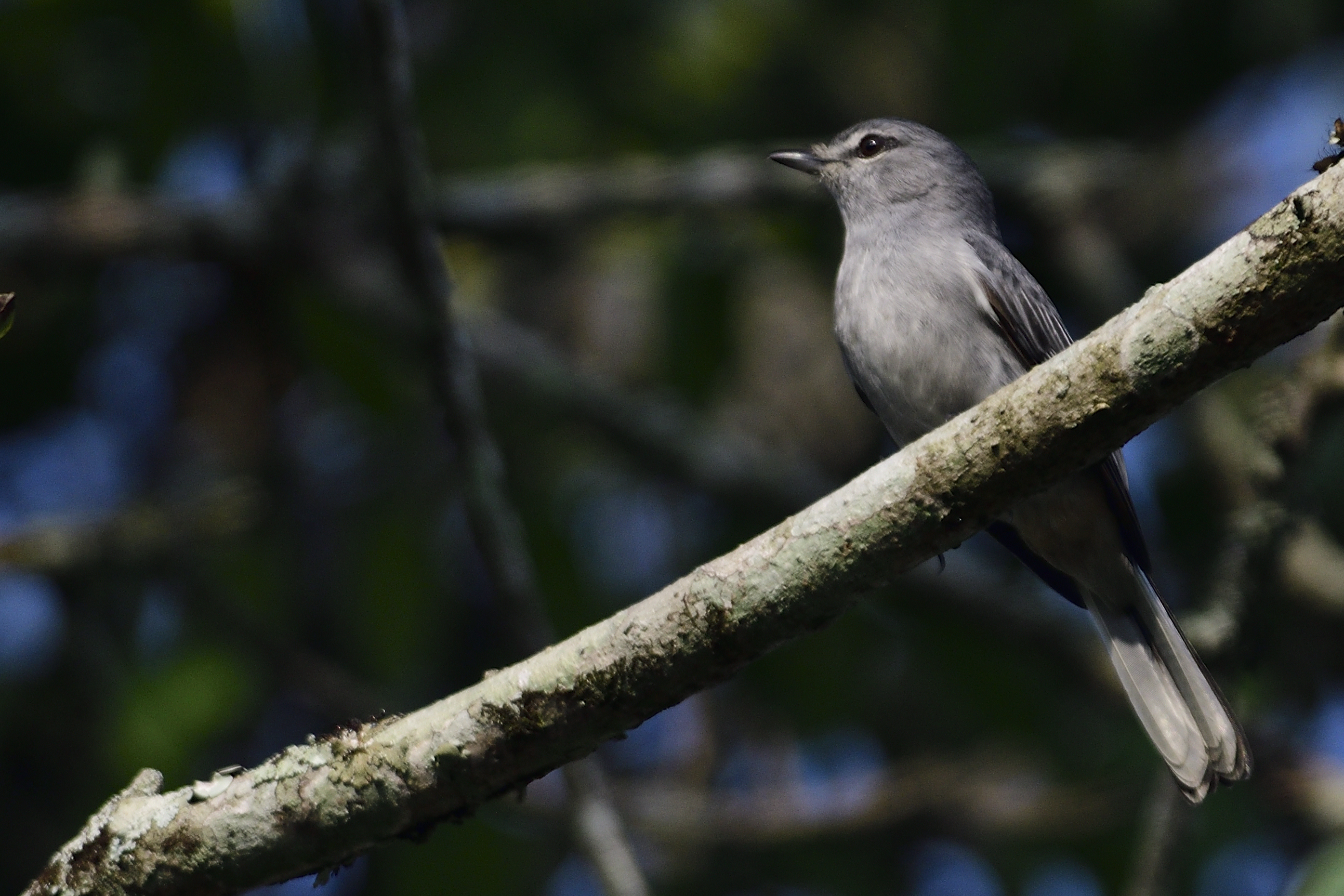 Grey Tit Flycatcher, Myioparus plumbeus
This is the end of part 2 of the epic Uganda/Rwanda trip. Stay tuned for Part 3 where we went to Queen Elisabeth National Park, and Bwindi Imprenetable Forest in Uganda before we crossed the border to Rwanda and birded Nyungwe National Park.