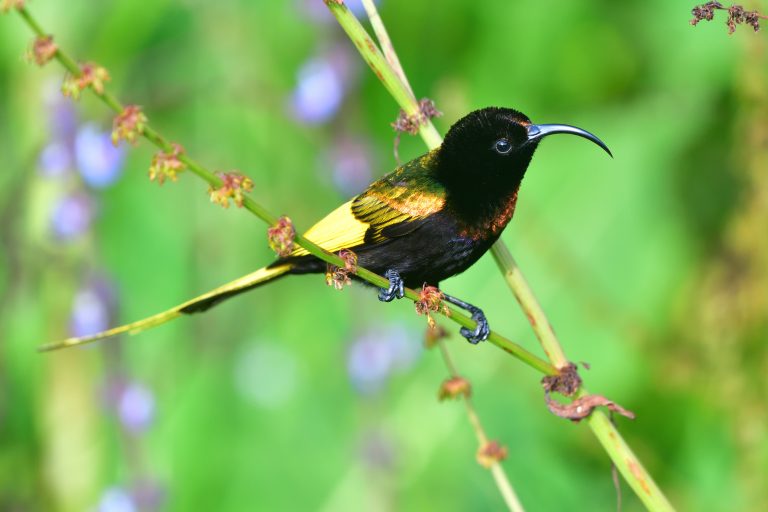 Selvine and I did a border crossing to Kenya on November 9 last year. She had some business to attend to in Nairoby, so I decided to bring my local guide Abdul with me. I had an American guest flying in to Nairobi quite late on November 10th to start her trip on November 11th, so my good friend Elvira Wolfer offered to show us Nairobi National Park. Abdul had never been to Kenya before and I had heard good things about this park, so we met with Elvira at the hotel in the evening on the 9th.
Day 1: Tuesday November 10, 2020 – Nairobi National park
With Elvira´s knowledge of the roads, we quickly navigated out of the city and soon found us at the gate of the park. All in all we recorded 108 species in the park that day. Here are some of the highlights: Greater Spotted Eagle (Lifer), Shelley´s Francolin (EA Lifer), other than that, there were more "common birds", not hard to see in the Arusha area. We returned to the hotel and met with my guest later that night. We arranged to meet for breakfast and retired to bed.
Here are some pictures from Day 1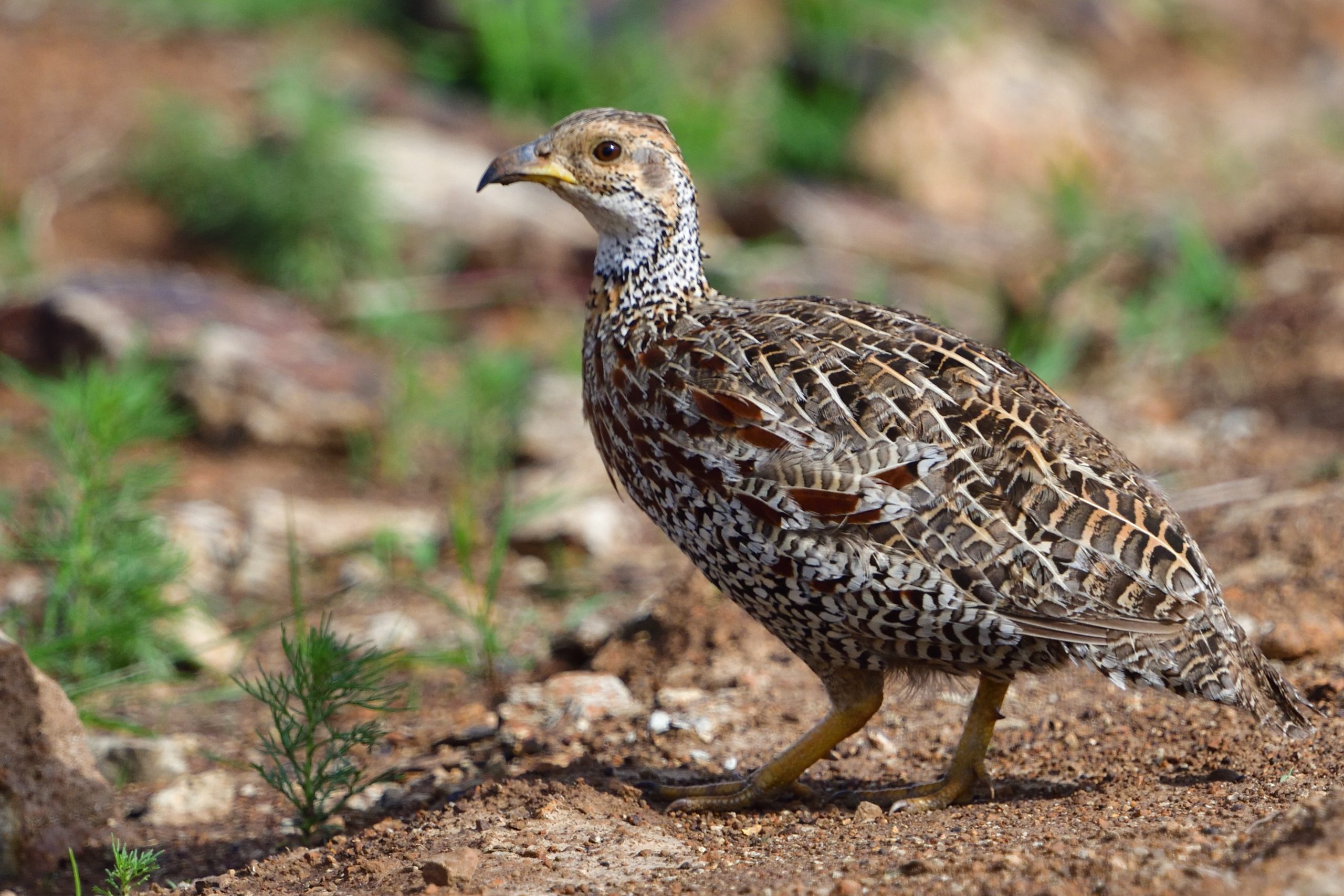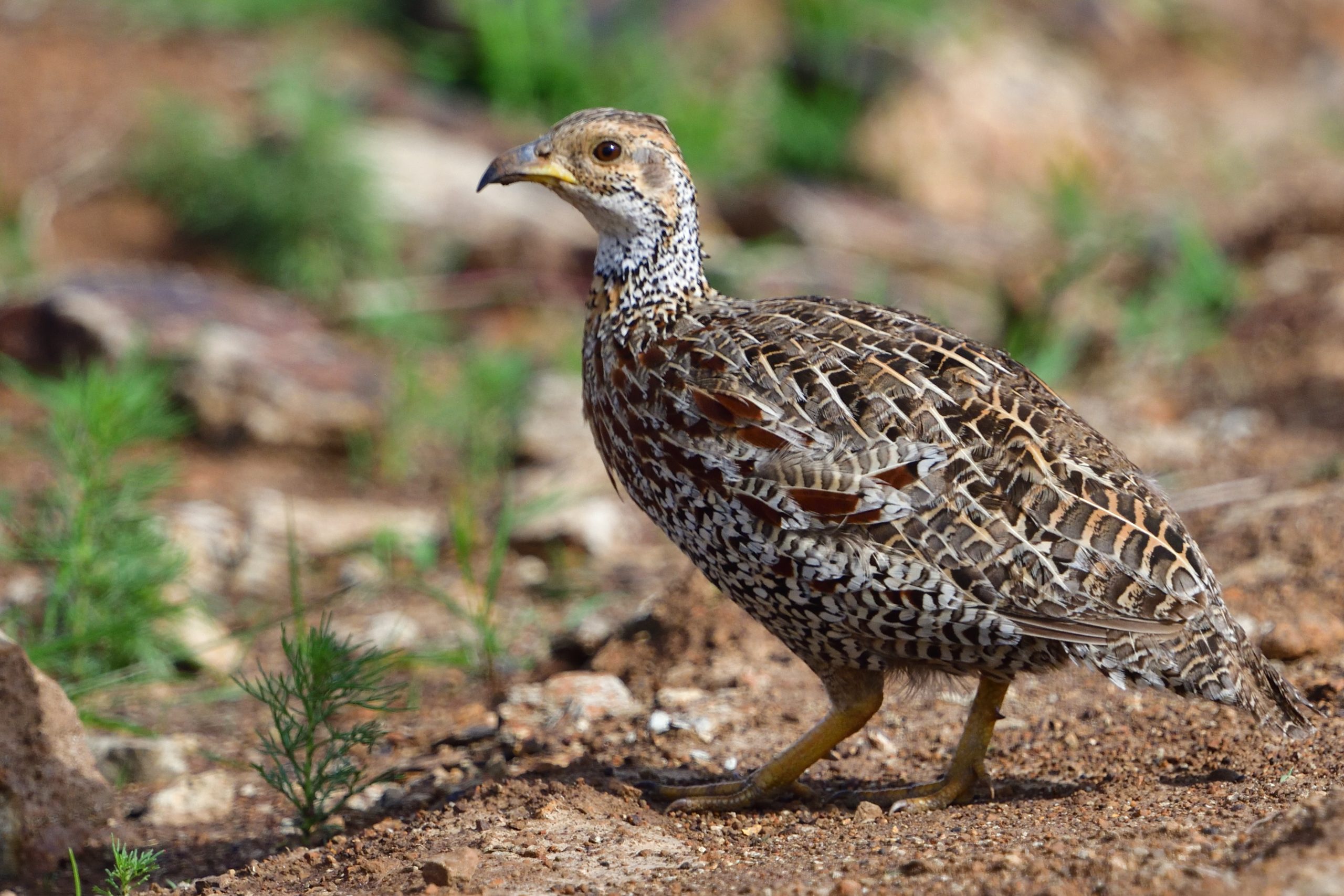 Shelley´s Francolin, Schleroptila shelleyi.
White-bellied Bustard, Eupodotis senegalensis
European Bee-eater, Merops apiaster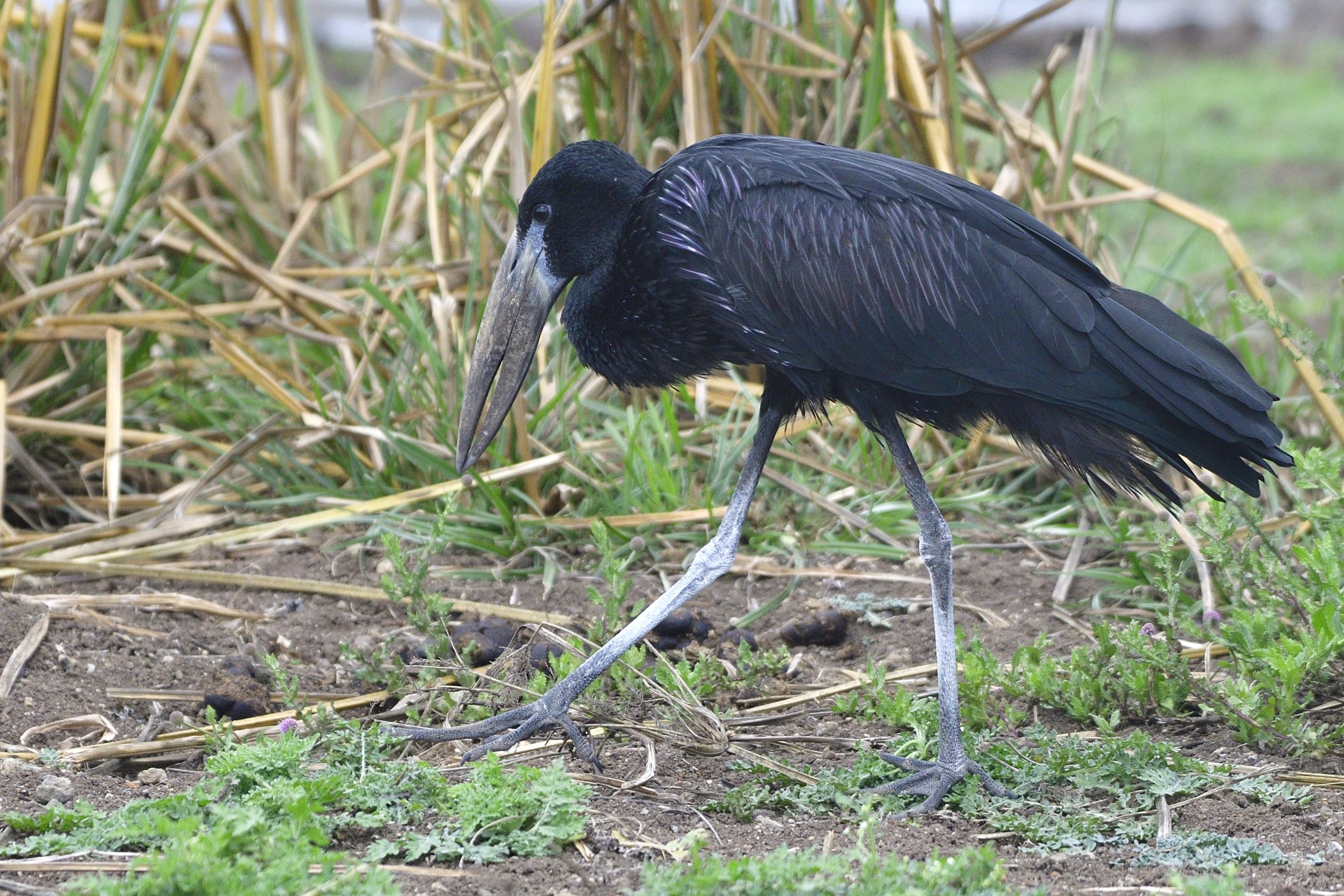 African Openbill, Anastomus lamelligerus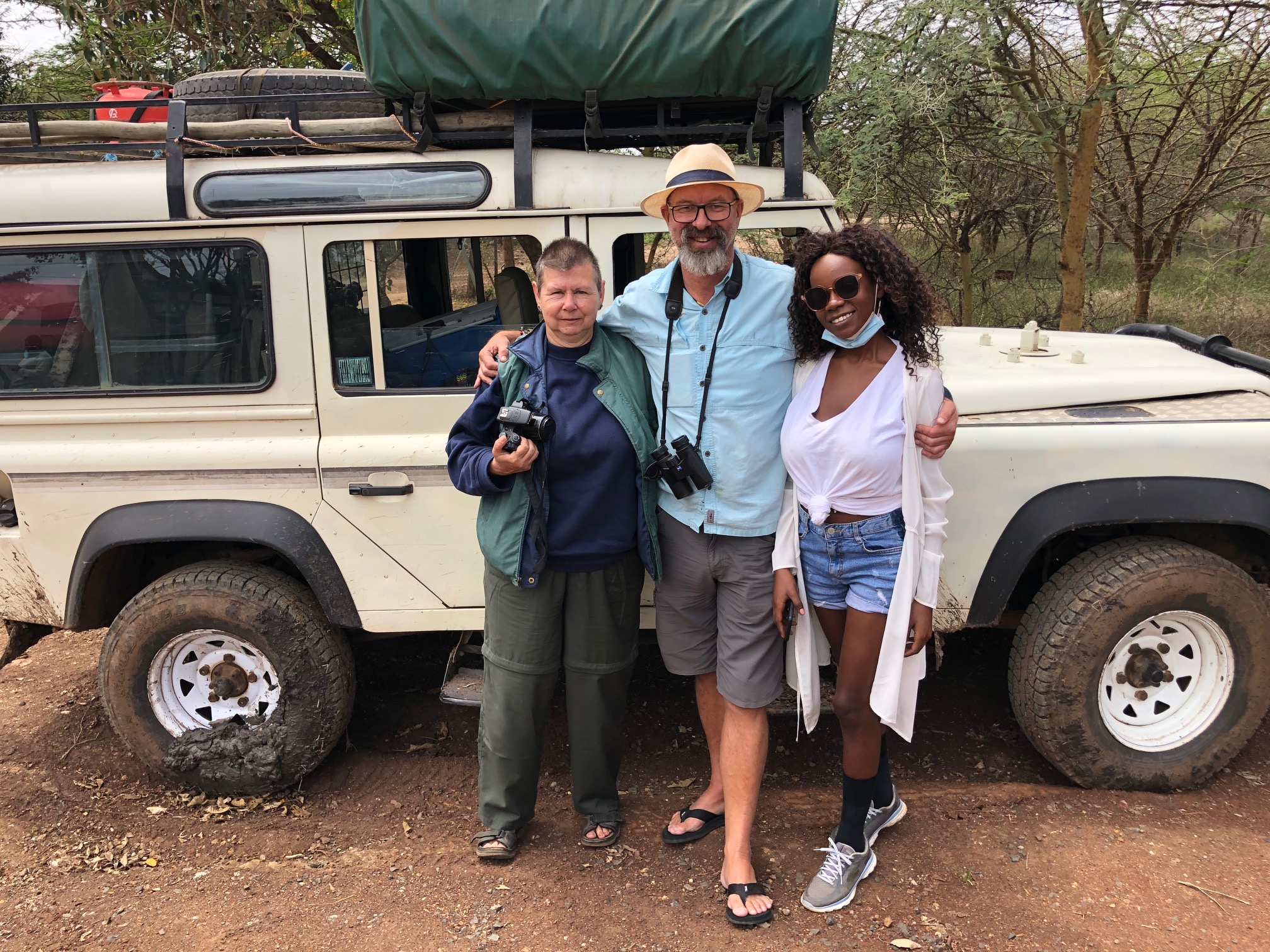 Elvira, Me and Selvine in Nairobi NP
Day 2: Wednesday, November 11, 2020 – Nairobi to Castle Forest via Sagana
We had breakfast at the hotel before we set out. We picked up our local guide Francis on the way before we headed for our spot short of Sagana for our first real target. We swung off the road and after just a minute or two, we could hear the endemic Hinde´s Babblers calling. We stepped our of the car and the birds were very nice to us and provided us with good photographic opportunities. We soon were in the car again, stopped for some groceries at the very nice supermarket in Sagana, topped up on necessities and were soon on our way to Castle Forest. We stopped briefly at the gate and looked for birds. We recorded Cinnamon-chested Bee-eaters, Northern Double-collared Sunbird, Olive Sunbird, African Hill Babbler  and Mountain Oriole. We drove a few hundred meters stopped and continued all the way to camp and recorded: Black-throated Apalis, Kikuyu White-eye, Grey-headed Nigrita and Abyssinian Thrush. We sat up camp quickly and went for lunch. From the deck of the lodge we recorded Mountain Greenbul, Black Cuckooshrike, Eastern Bronze-naped Pigeon, Hunter´s Cisticola, Tambourine Dove and African Olive Pigeon. After lunch, we decided to just walk the grounds of the camp: Streaky Seed-eater, Yellow-bellied Waxbill, Yellow-whiskered Greenbul, Grey Apalis, Tacazze Sunbird, Thick-billed Seed-eater, Red-backed Mannikin, Common and Kandt´s Waxbill, Mosque Swallow and Cape Robin-Chat. It was now getting dark, so we lit the bonfire and had a shower before dinner.
Some pictures of birds from Day 2: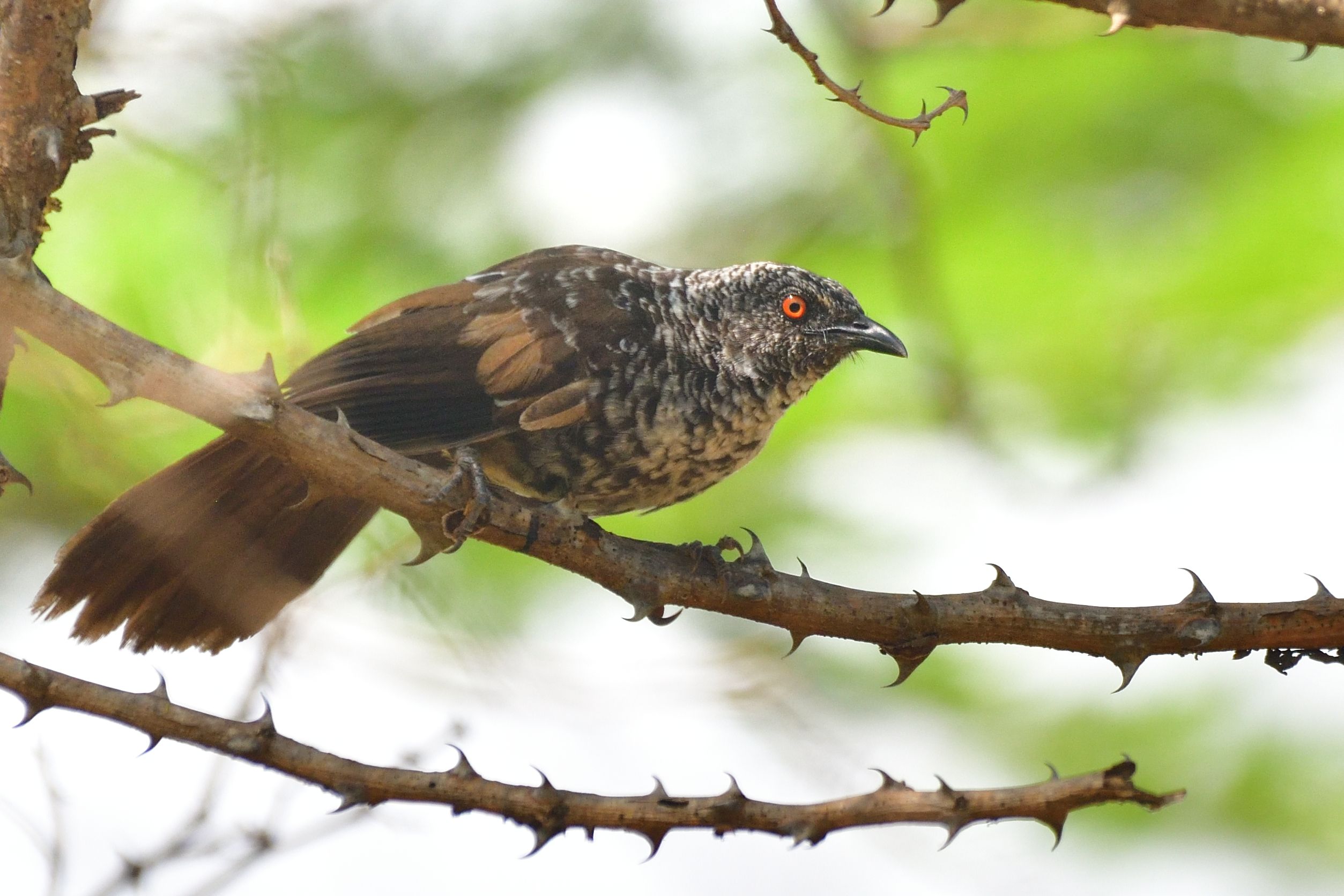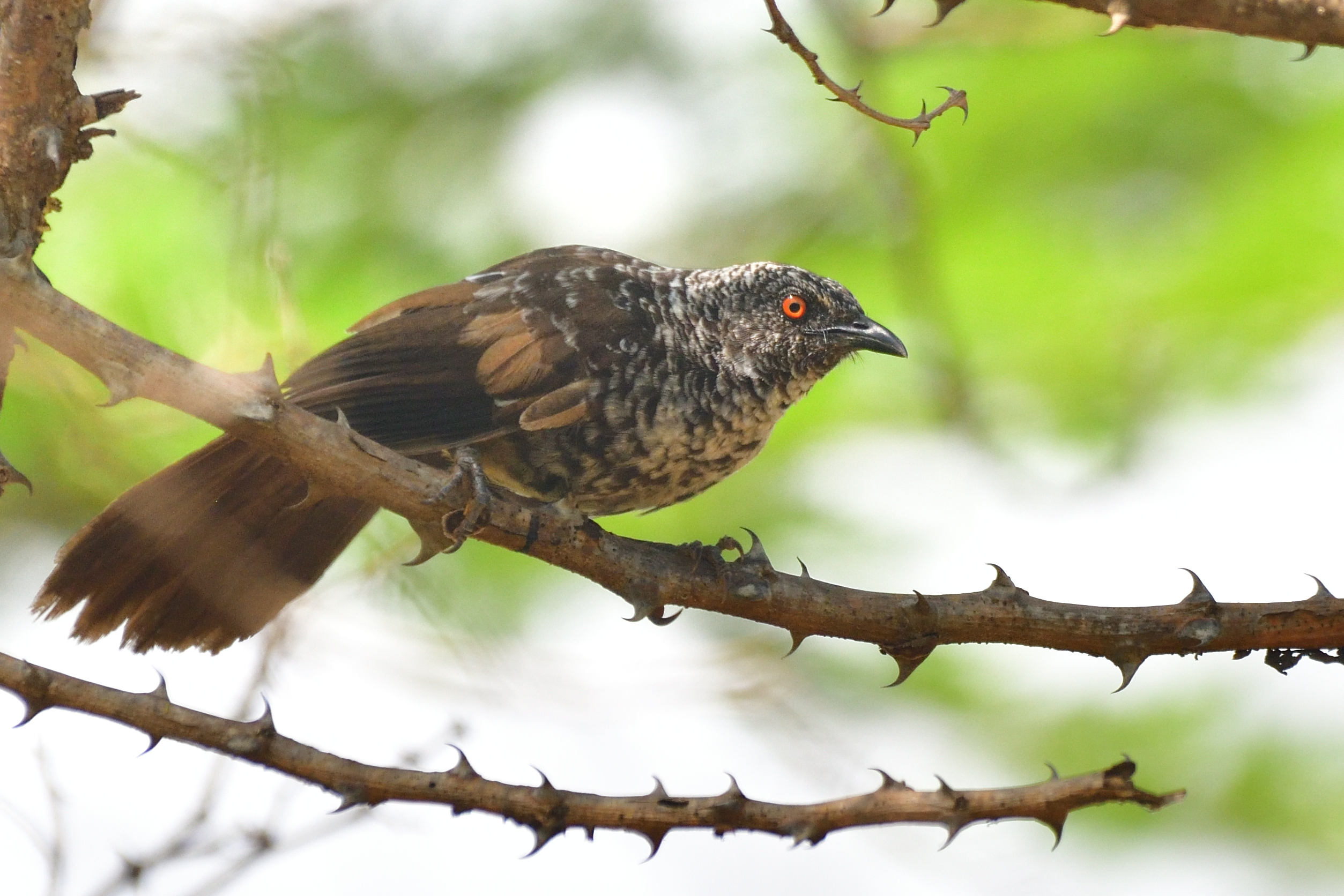 Hinde´s Babbler, Turdoides hindei – Endemic to Kenya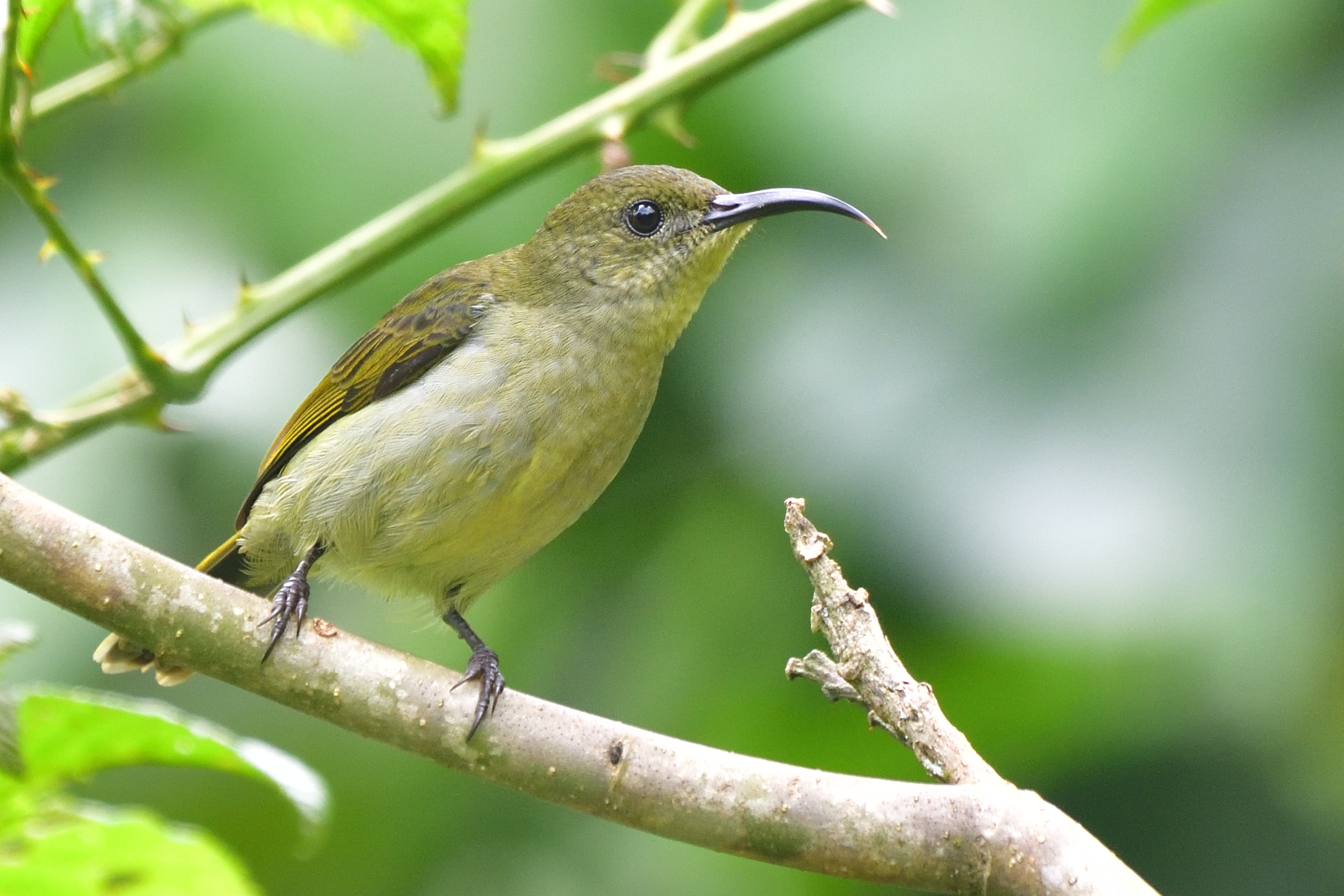 Olive Sunbird, Cyanomitra olivacea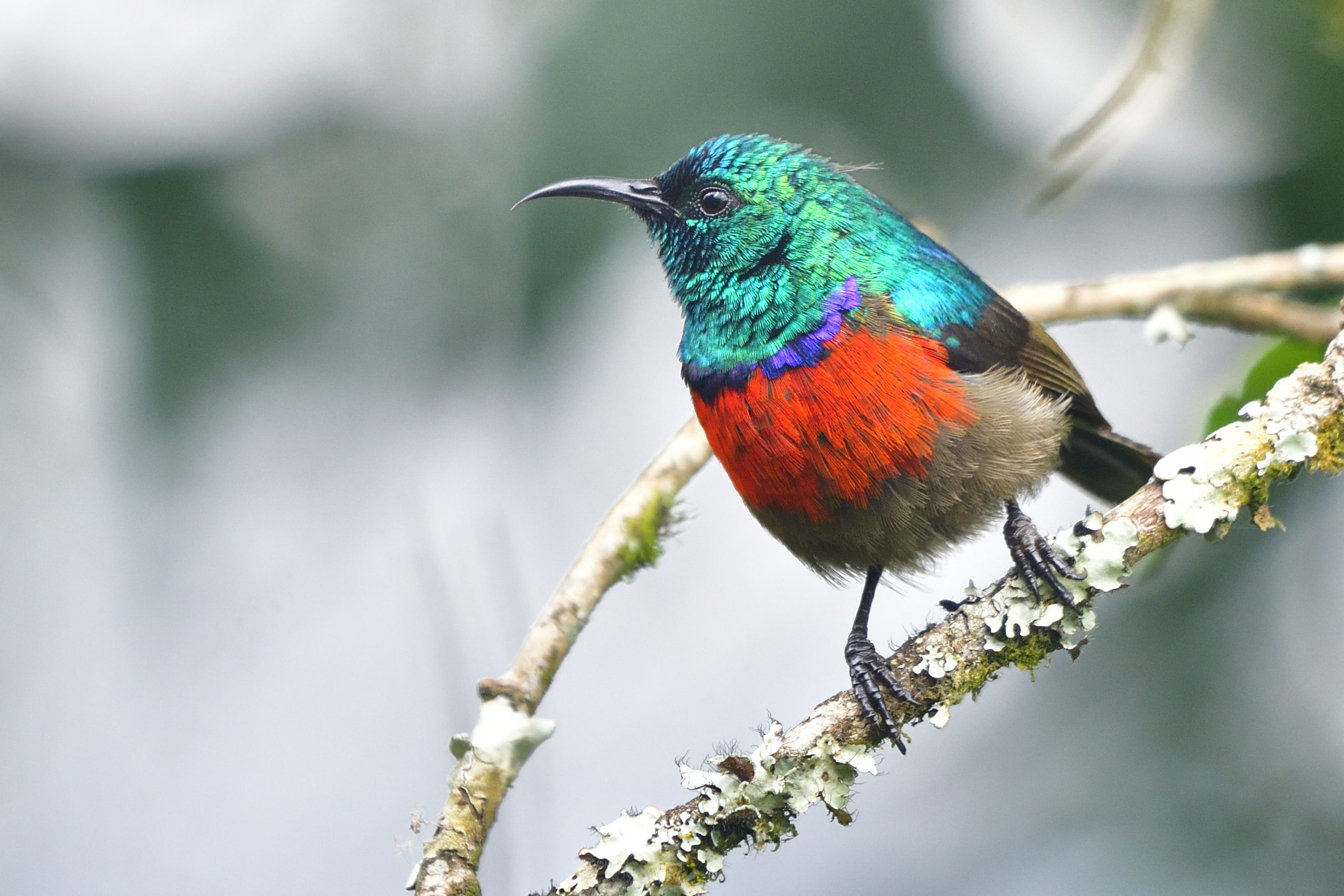 Northern Double-collared Sunbird, Cinnyris preussi
Abyssinian Thrush, Turdus abyssinicus
Grey-headed Nigrita, Nigrita caniacapillus
Yellow-bellied Waxbill, Coccopygia quarantina 
Eastern Bronze-naped Pigeon, Columba delagorguei
Grey Apalis, Apalis cinerea
Tacazze Sunbird, Nectarinia tacazze – Endemic to NE Africa
Thick-billed Seed-eater, Chritagra burtoni
Red-backed Mannikin, Spermestes nigriceps
Hunter´s Cisticola, Cisticola hunteri – Endemic to E Africa
Kandt´s Waxbill, Estrilda kandti
Day 3: Thursday, November 12, 2020 – Catle Forest
We decided to walk the garden this morning as well and in addition to the species we saw the day before, we added Abbot´s and Waller´s Starling, Hartlaub´s Turaco, Grey and Purple-throated Cuckooshrike, Brown-capped Weaver, Brown Parisoma, Black-collared Apalis, Brown Woodland Warbler, African Harrier-Hawk, Crowned Hornbill, White-bellied Tit, Mountain Buzzard, Chestnut-throated Apalis and Abyssinian Crimsonwing before breakfast. We drove down the hill after breakfast, but could not manage to add any more species to our list. The forest was quiet. We returned for lunch. After lunch we recorded Little Sparrowhawk, Mountain Wagtail, Purple-throated Cuckooshrike and Eastern Double Collared Sunbird. We returned to camp, had dinner and relaxed
Some pictures from Day 3:
White-eyed Slaty Flycatcher, Dioprornis ficheri – Endemic to E and C Africa
Purple-throated Cuckooshrike, Campephaga quiscalina
Hartlaub´s Turaco, Tauraco hartlaubi – Endemic to E Africa
Chestnut-throated Apalis, Apalis porphyrolaema – Endemic to E Africa
Black-collared Apalis, Oreolais pulchra
Day 4: Friday, November 13, 2020 – Castle Forest
The day was very slow for finding new birds. We only added the following new birds to our list: Olive-breasted Mountain Greenbul, African Emerald Cuckoo, Yellow-rumped Tinkerbird, White-headed Hoopoe and Bar-tailed Trogon. We were looking and looking for Tullberg´s Woodpecker, but unfortunately dipped on it this time.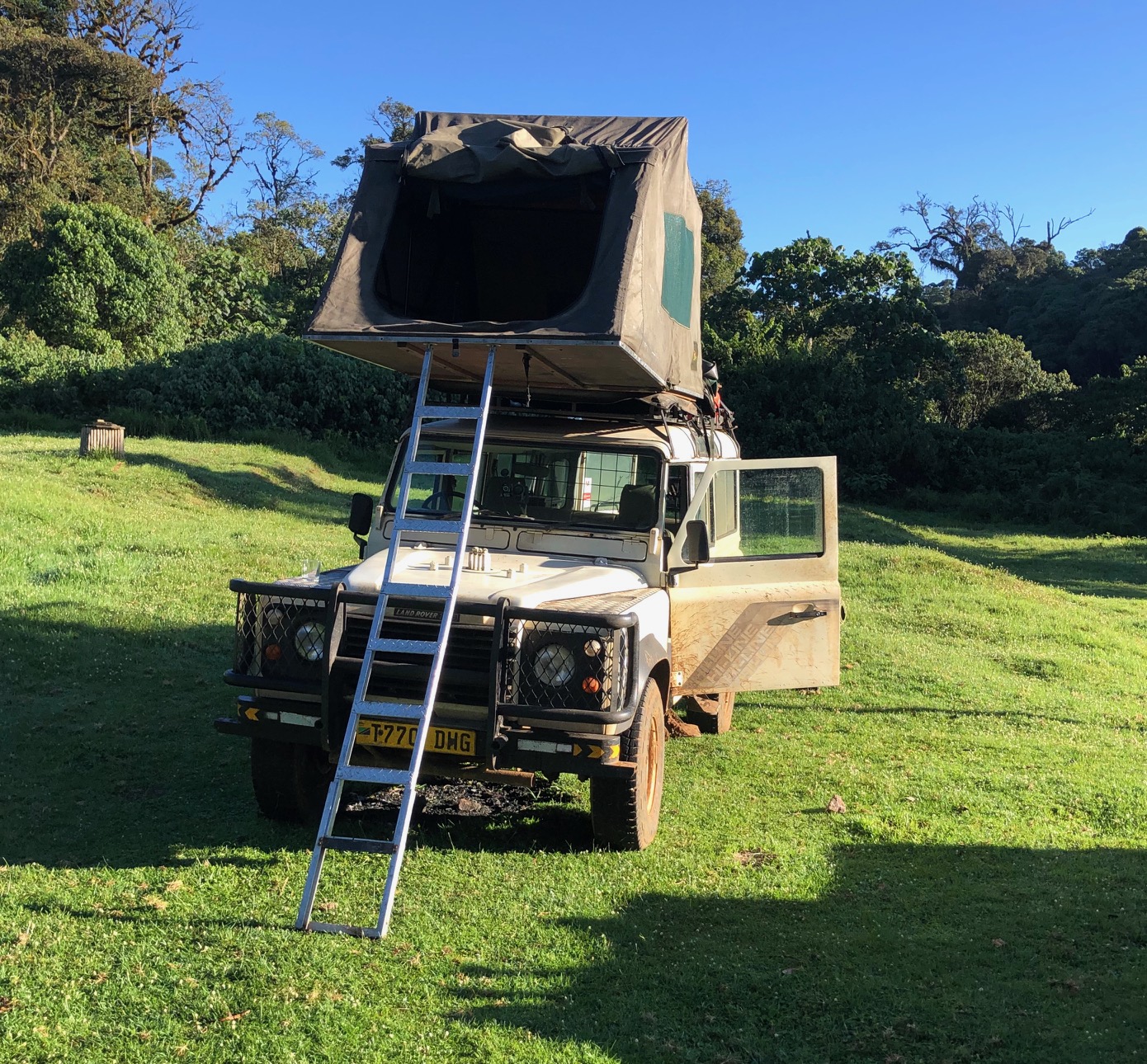 Lizzie parked for the night in Castle Forest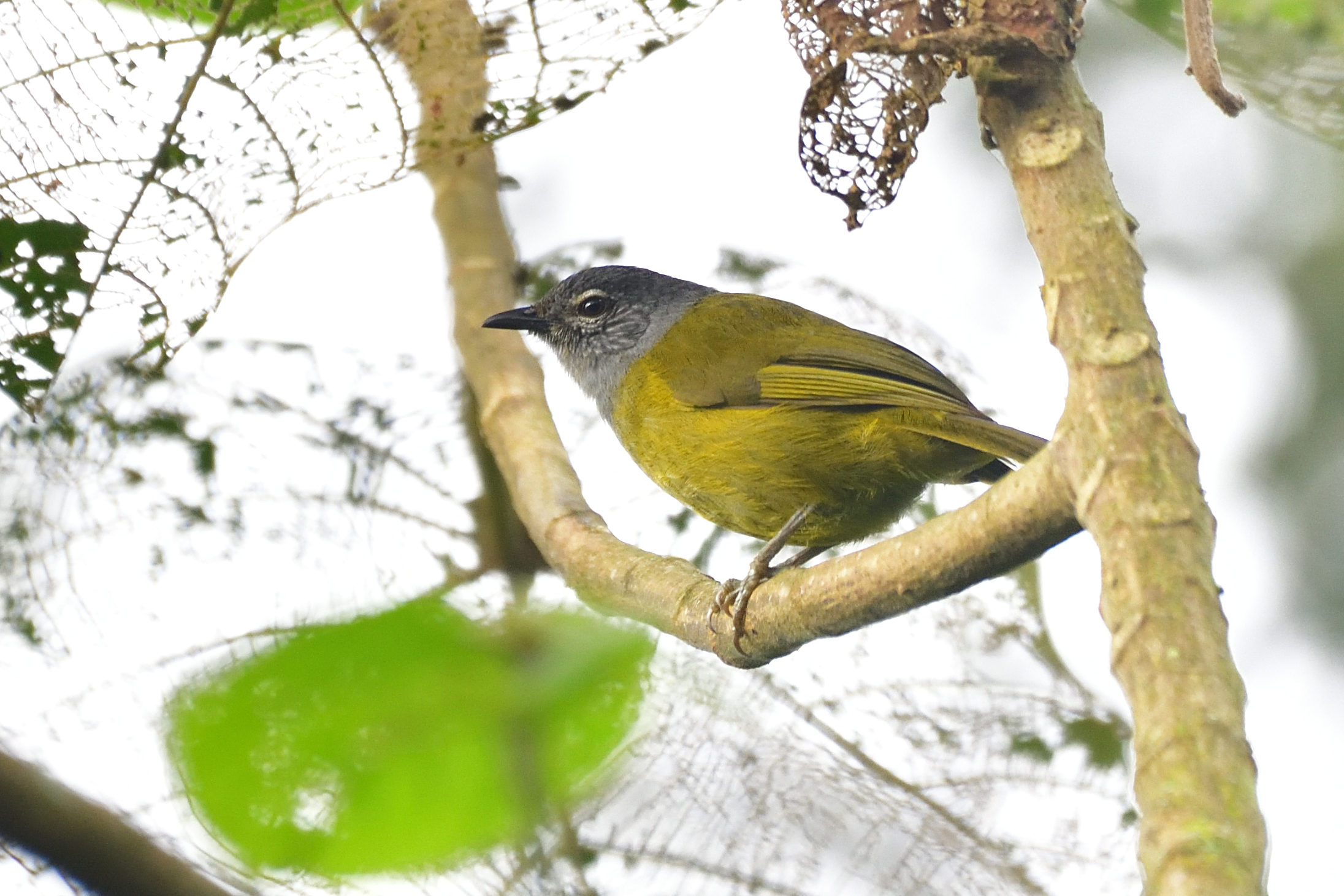 Olive-breasted Mountain Greenbul, Arizelocichla kikuyuensis – Endemic to Albertine Rift and C kenya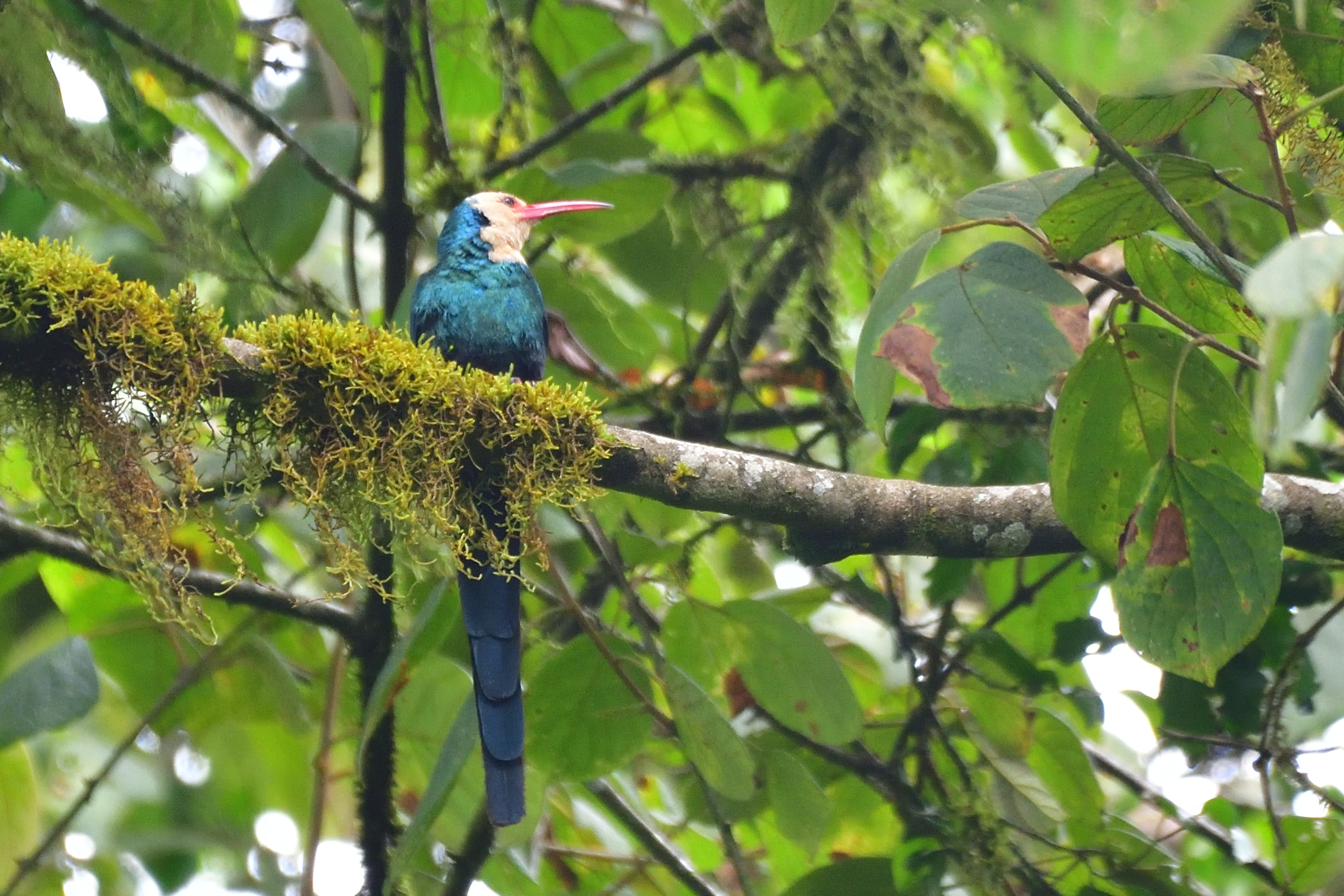 Day 5: Saturday, November 14, 2020 – Castle Forest to Samburu National Reserve
We decided to leave early for Samburu this morning. We stopped at the  equator and found a tree with nesting Speke´s Weavers. We continued past Isiolo and was soon at Archer´s gate. We saw a Fan-tailed Raven just outside the gate.  There were quite a  colony of nesting Little Swifts at the gate. We were also told that the bridge separating Samburu from Buffalo Springs were broken. That was a major set back. We climbed the car and recorded the Brown-tailed Apalis (a race or split from Yellow-breasted Apalis. We were now in very dry country and recorded the following species: Northern Red-billed Hornbill, Black-throated Barbet, D´Arnaud´s Barbet, Pale Prinia, Mouse-coloured Penduline Tit, Buff-crested Bustard, Donaldson Smith´s Sparrow-Weaver, Chestnut Sparrow, Red-fronted Warbler (Prinia), Vulturine Guineafowl, Ring-necked Dove, White-headed Buffalo Weaver, Pink-breasted Lark, Pygmy Falcon, Pied Wheatear, African Cuckoo, Grey Wren-Warbler, Yellow-necked Spurfowl, Red-tailed Shrike, Parrot-billed Sparrow, Taita Fiscal, Foxy Lark, Hunter´s Sunbird, Red-and-yellow Barbet, Eastern Violet-backed Sunbird, Wattled Starling, Ashy Cisticola, Rosy-patched Bushshrike, Magpie Starling, Mourning- Collared Dove, Black-bellied Sunbird, Dodson´s Bulbul, Secretarybird and White-headed Mousebird. We finally reached camp. My guest wondered were the fences where. I had to tell here that there were no fences. She was not happy with that so I ordered an Askari (guide) to sit  outside her tent all night. I cooked meal and we lit a fire. Soon we were all in slumber land.
Some pictures from Day 5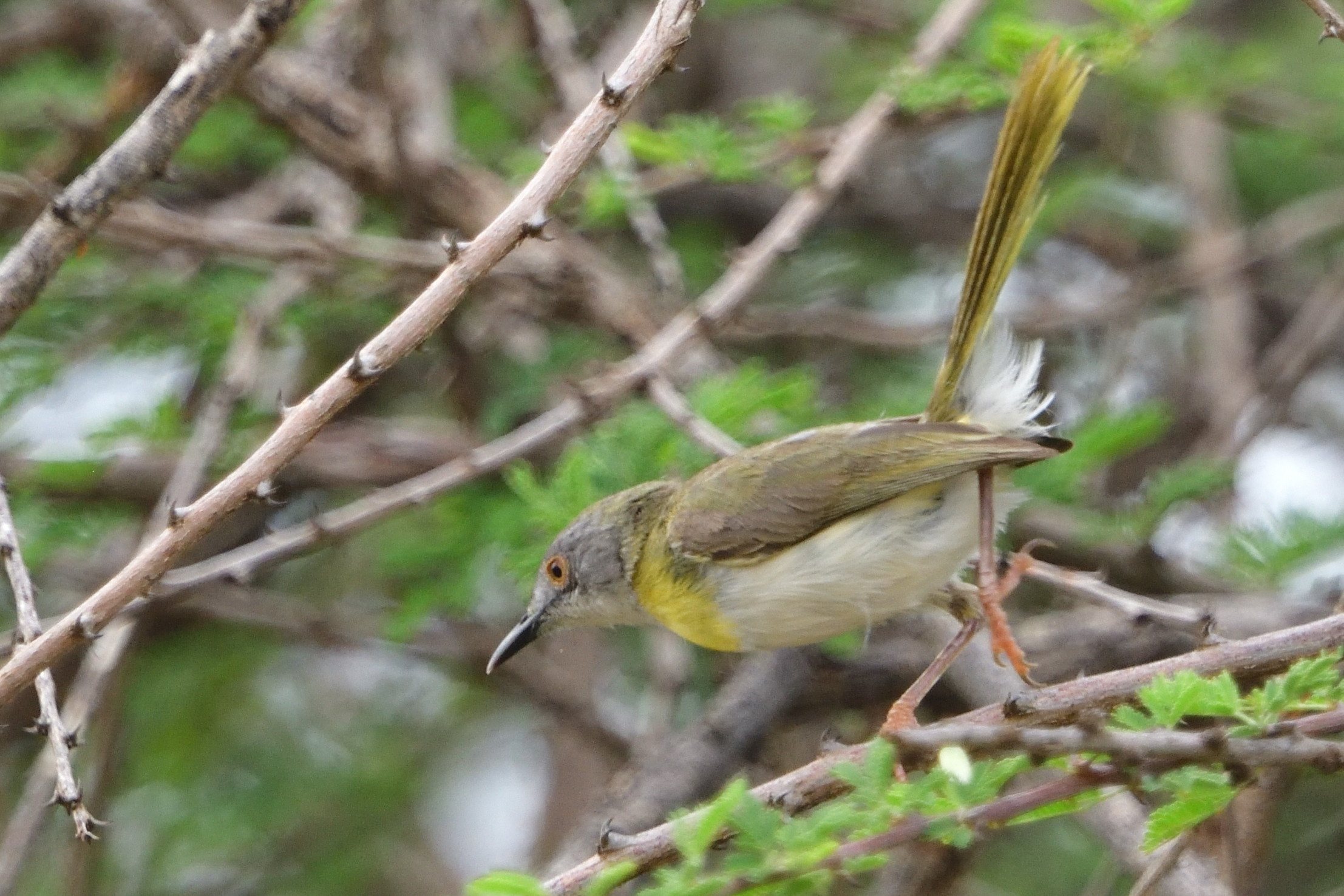 Brown-tailed Apalis, Apalis viridiceps
Ring-necked Dove, Streptopelia capicola
Foxy Lark, Calandulauda alopex – Endemic to NE Africa
Pied Wheatear, Oenanthe pieschanka
Day 6: Sunday, November 15, 2020 – Samburu to Naro Moru
Since the bridge to Buffalo Springs were washed away, we did not have any choice than to go back to Archer´s Post. We registered amongst others the following new birds on the way out: Eastern Yellow-billed Hornbill, White-throated Bee-eater, Martial Eagle, Rufous Chatterer, African Silverbill, Black-cheeked Waxbill, Tawny Eagle, Kenya Sparrow, and Black-crowned Tchagra. We reached the gate turned for Isiolo and stopped for the Boran Cisticola place. While they looked for the Cisticola, I managed to take picture of a Brown Parisoma (picture lifer). We were soon on our way and reached our destination for the night Naro Moru River Lodge. After a quick lunch, the following birds were recorded in the garden: Amethyst Sunbird, Green-headed Sunbird, Rüppel´s Robin-Chat, African Citril, Grey-capped Warbler and Red-faced Crombec. We had dinner in the restaurant and retired to the campground where Abdul, Francis and I enjoyed the bonfire before we retired to our tents.
Some pictures from Day 6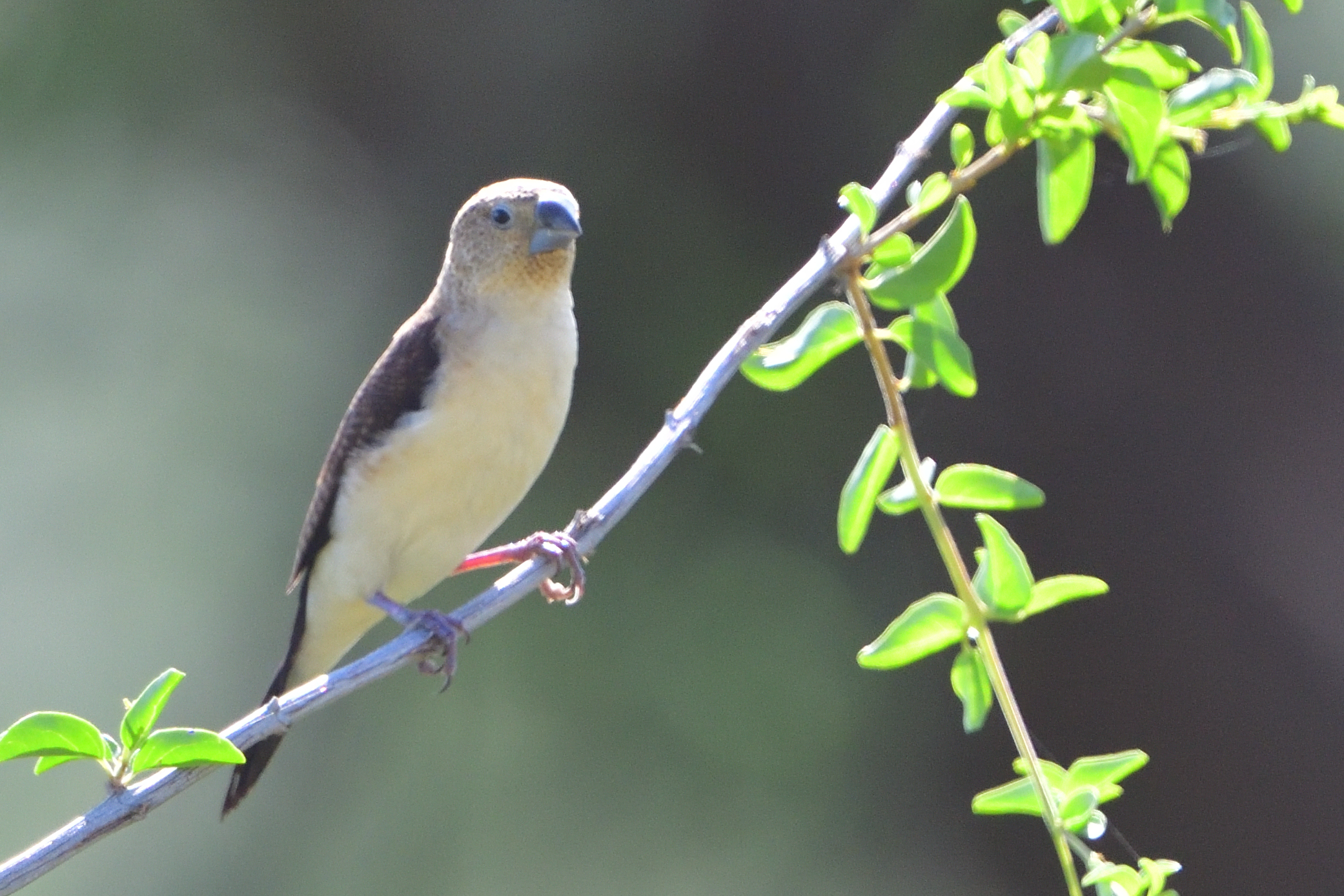 African Silverbill, Eurodice cantans
Brown Parisoma, Sylvia lugens
Day 7: Monday, November 16 – Naro Moru – Lake Baringo
We birded the garden before breakfast and added the following species: Common Scimitarbill, Red-fronted Barbet, Orange-breasted Bushshrike, Grey-headed Bushshrike and Bronzy Sunbird. We had a long drive ahead and were soon underways. We drove slowly on some dirt roads for a while and recorded Black-winged Lapwing, Ant-eating Chat, Northern Wheatear, Western Yellow Wagtail, Pectoral-patched Cisticola and Banded Martin before we reached the tar again. From there we had a short drive to our next stop for the Mackinder´s race of the Cape Eagle-Owl. The guide was waiting and the owl allowed for some good pictures. Soon we were on our way again. A while before Nakuru, there is a short cut on a dirt road to Lake Baringo and we choose to take that. At a transformator station there is a nesting colony of Fischer´s Lovebirds. On the same road before we entered tar again, we picked up Grey-backed Fiscal, Grey Crowned Crane and Coqui Francolin. We soon reached the tar again and continued to Marigat. I filled Diesel on the car and the others located a tree with a nesting colony of White-billed Buffalo Weavers. Our normal spot Robert´s Camp were flooded so we camped at Sandai resort instead. We set up camp, had dinner and an early night.
Some pictures from Day 7: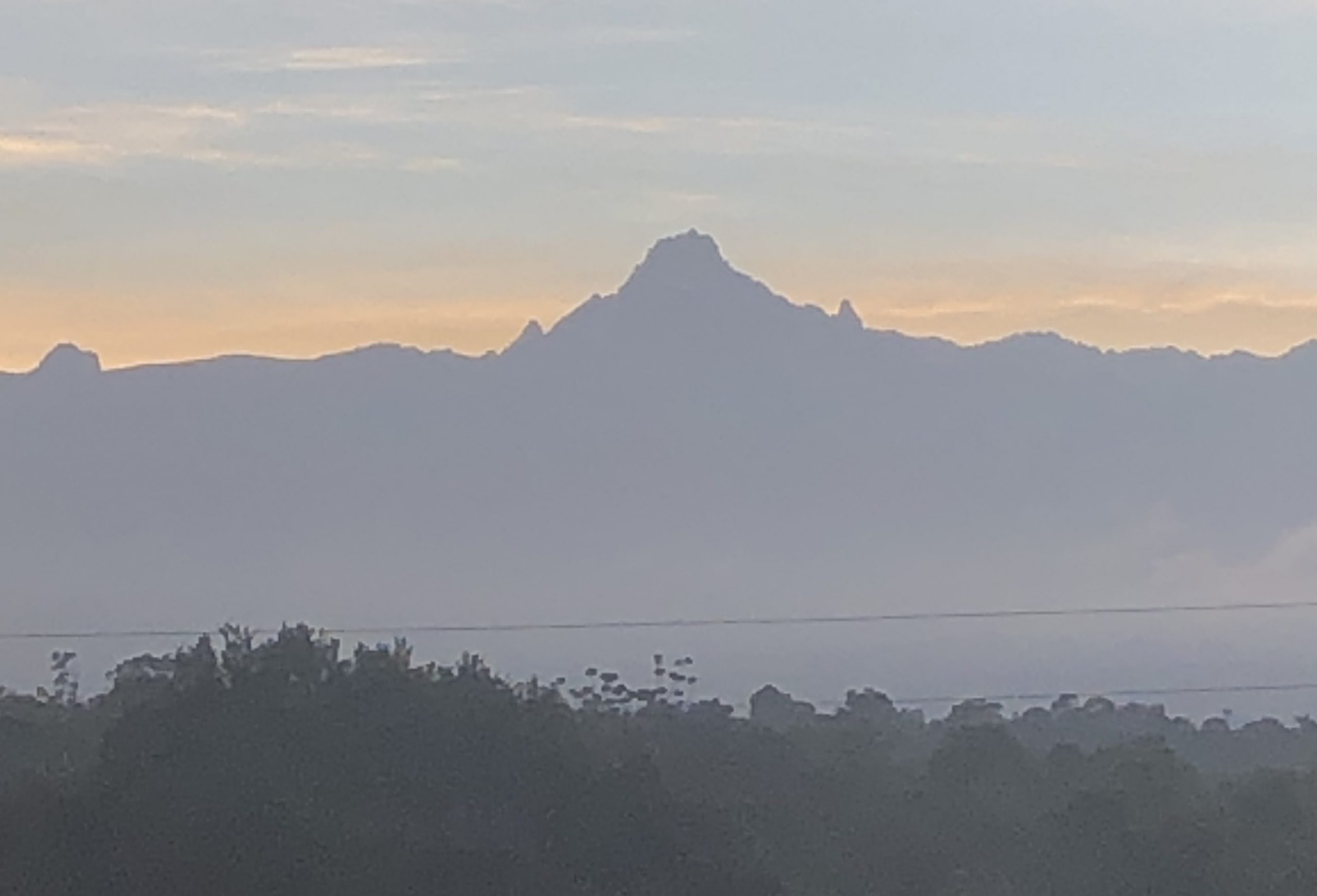 Nice View of Mount Kenya from  my roof top tent at Naro Moru River Lodge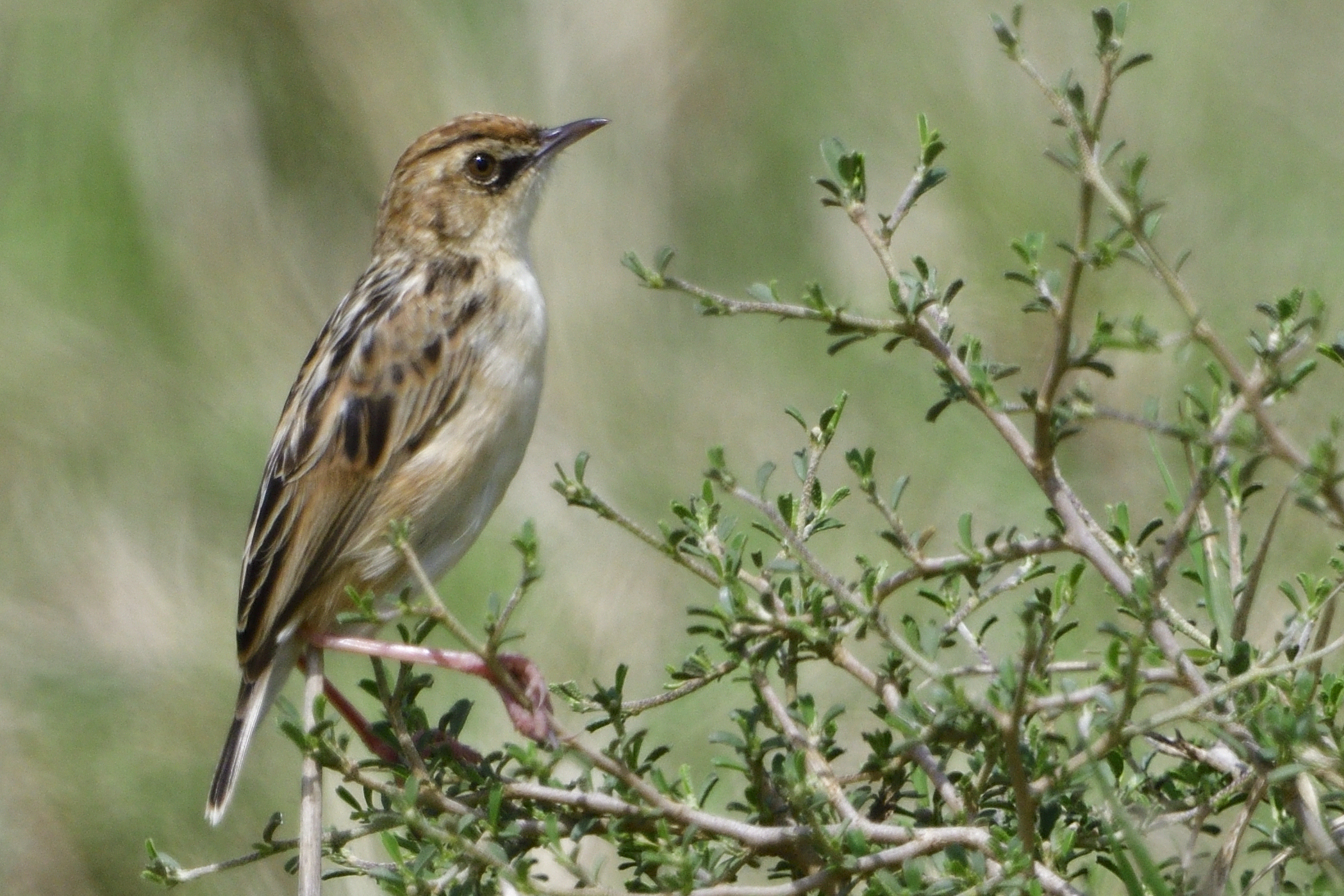 Pectoral-patched Cisticola, Cisticola brunnescens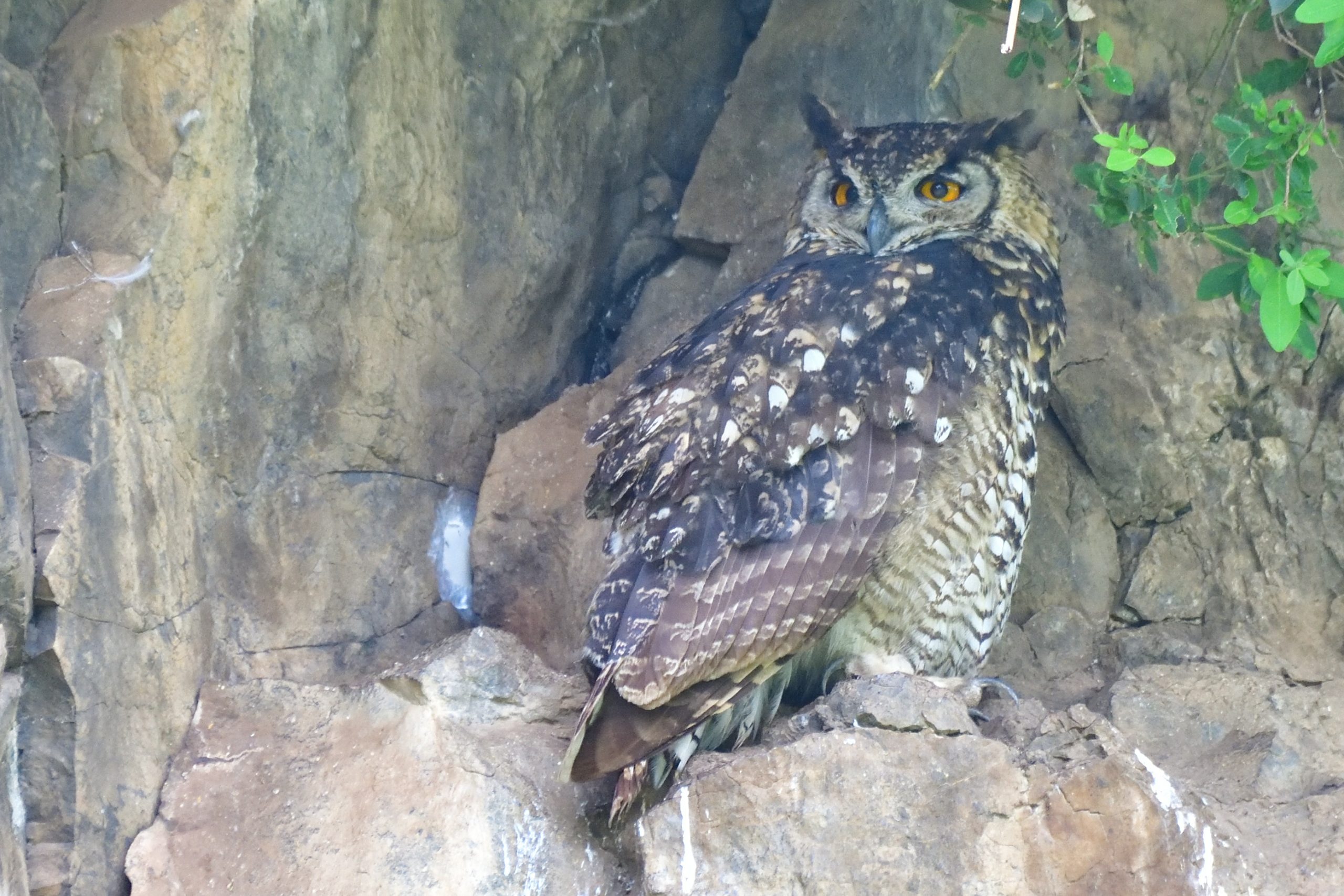 Cape Eagle-Owl (Mackinder´s), Bubo capensis
Day 8: Tuesday, November 17 – Lake Baringo
We started early in the morning by the famous cliff faces near Lake Lake Baringo. Here are some of the birds we recorded in the morning: Verreaux´s Eagle, Northern Crombec, Hemrich´s Hornbill, Jackson´s Hornbill, Brown-tailed Rock Chat, Bristle-crowned Starling, Common Ostrich!, Spot-flanked Barbet, Beautiful Sunbird, Greater Blue-eared Starling, Acacia Tit, Mocking Cliff Chat, Abyssinian Scimitarbill, Buff-bellied Warbler, White-bellied Canary and Scaly-throated Honeyguide. After the morning birding we went back to camp for breakfast. Francis took his motorcycle to find the day time roosting spots for some of the nocturnal species. At around 3, we left again and Francis took us to the following nocturnal species: Northern White-faced Owl, Slender-tailed Nightjar, Greyish Eagle-Owl and Three-banded Courser. In addition we added Purple Roller and Brown Babbler to our list. The Black-headed Lapwing was nowhere to be found. We had dinner and settled in for the night.
Some pictures from Day 8: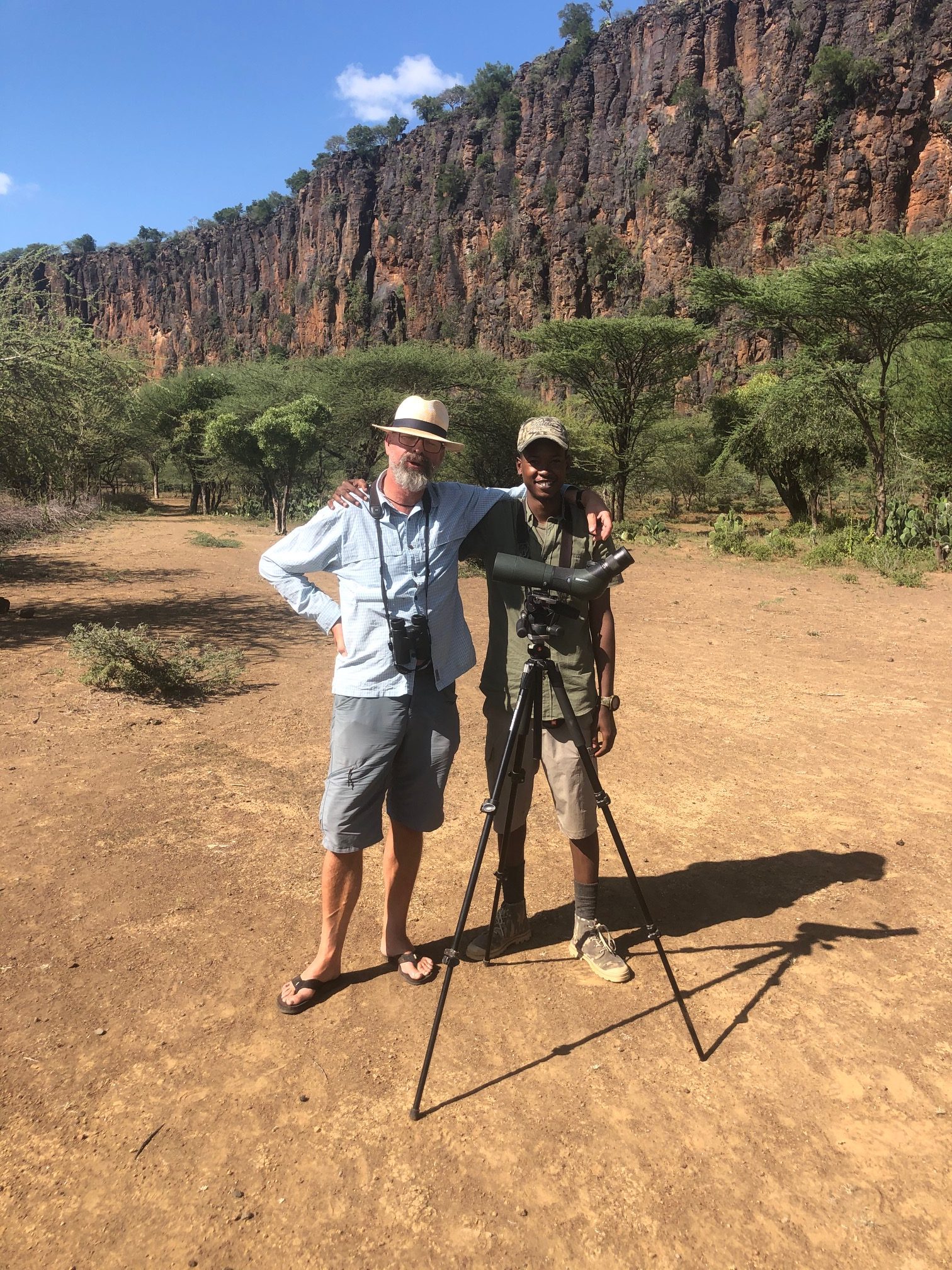 Abdul and me by the cliff face near Lake Baringo
Northern Crombec, Sylvietta brachyura
Hemprich´s Hornbill, Tuckus hemprichi – Endemic to NE Africa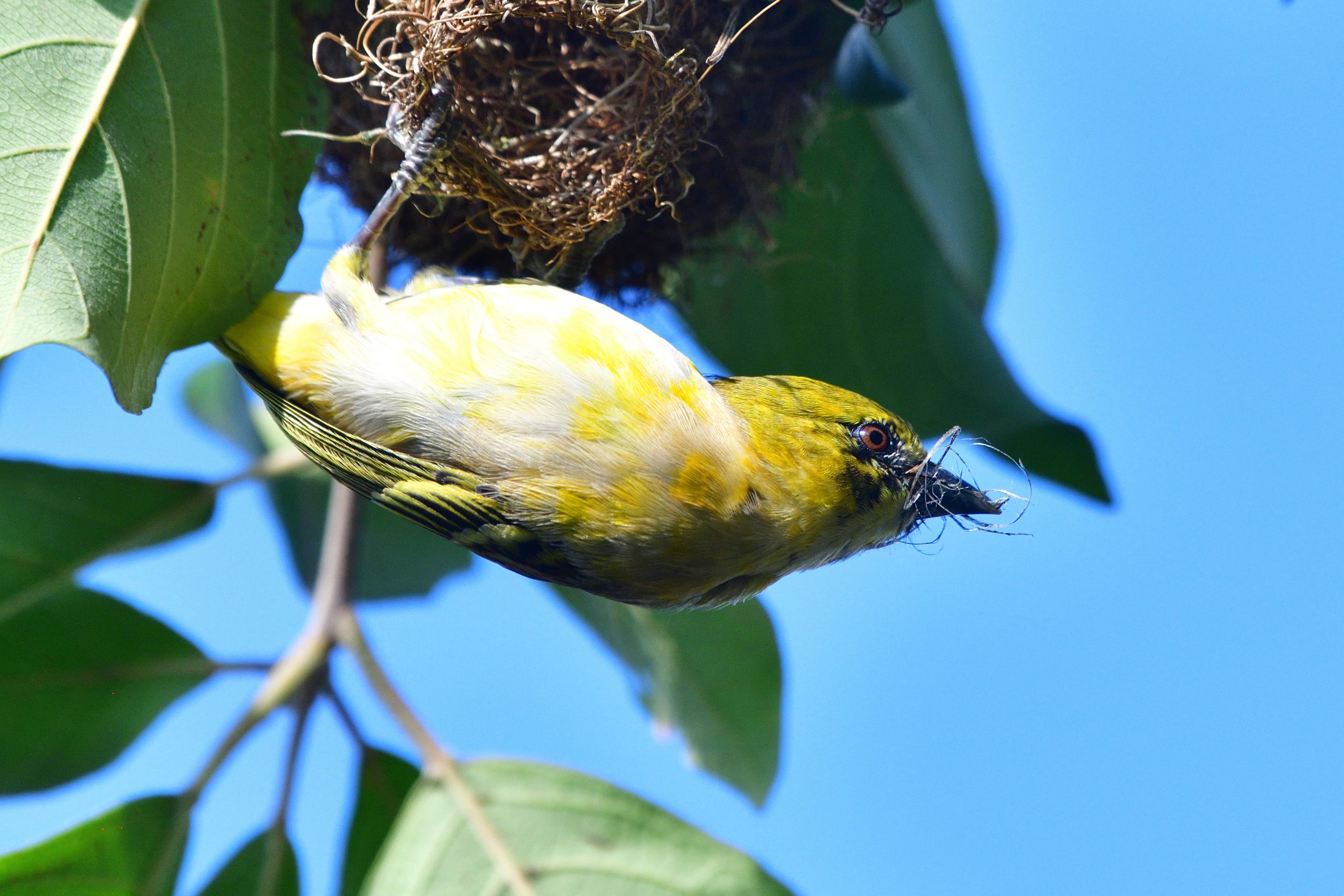 Little Weaver, Ploceus luteolus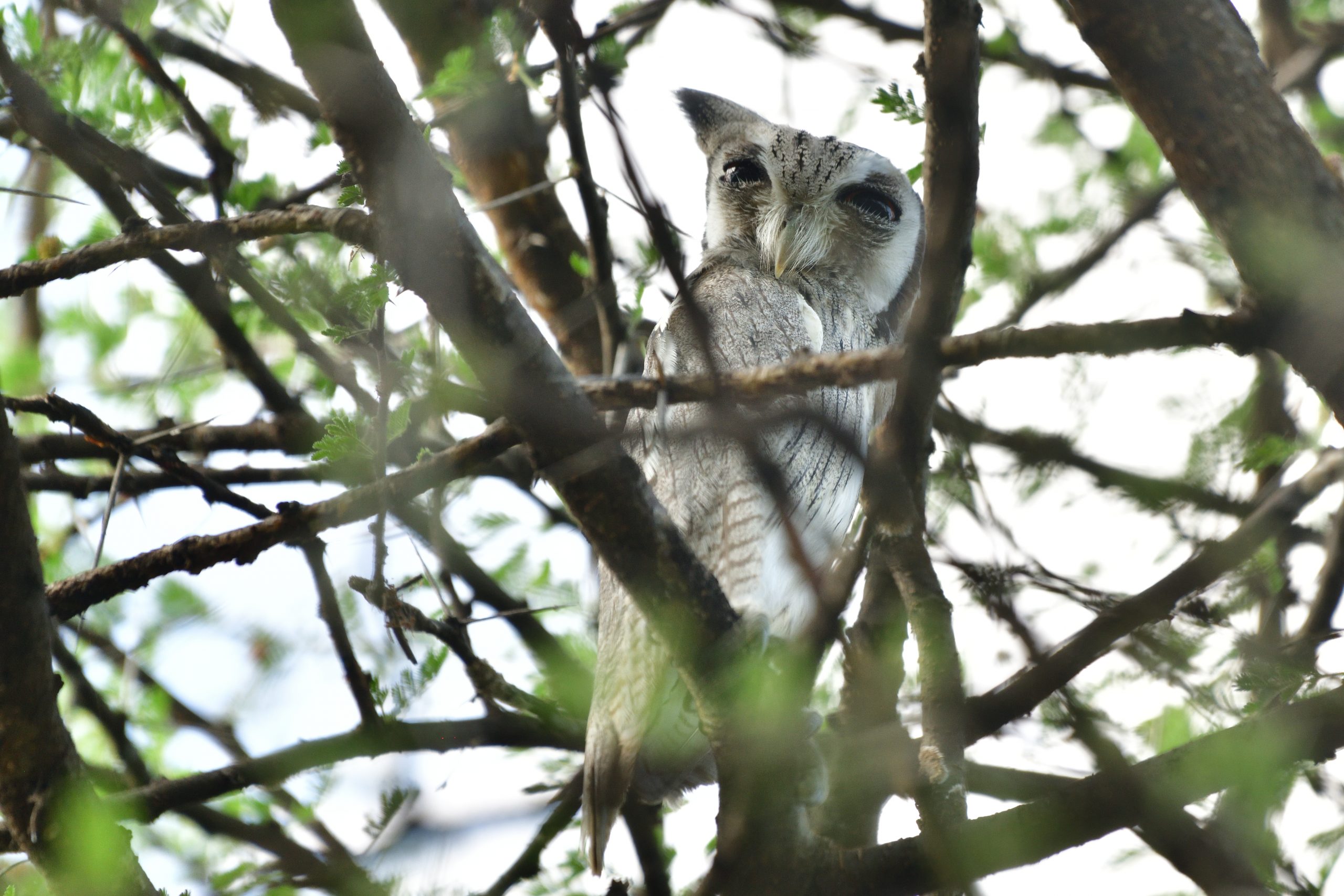 Northern White-faced Owl, Ptilopsis leucotis
Greyish Eagle-Owl, Bubo cinerascens
Purple Roller, Coreacias naevius
Day 9: Wednesday, November 18 – Lake Baringo
We had ordered a boat trip on the lake for this day. It was quite bad to see how much the water had risen since last year. We added many common water birds like: Squacco, Striated Goliath and Purple Heron, African Darter, African Jacana, African Fish Eagle, Hamerkop, Egyptian Goose, Malachite and Pied Kingfisher, African Swamphen, Black-crowned Night Heron etc. Other birds included Blue-cheeked Bee-eater, Woodland Kingfisher, Bearded and African Grey Woodpecker, Sand Martin, Northern Red Bishop, African Grey Woodpecker, Northern masked Weaver and Chestnut Weaver and Spur-winged Lapwing. We went for lunch, relaxed while the sun was too hot and set out after lunch. We drove to some dry habitat and added: Dark Chanting Goshawk, Straw-tailed Whydah, Cut-throat Finch, Blue-capped Cordon-bleu and Red-billed Oxpecker.  We could not locate any other new birds, so we returned to camp.
Some pictures from Day 9:
Resorts taken over by the lake..
Blue-cheeked Bee-eater, Merops persicus
African Fish Eagle (Juvenile), Haliaeetus vocifer
Hamerkop, Scopus umbretta
Purple Heron, Ardea purpurea
Sand Martin, Riparia riparia
Spotted Palm-Thrush,  Cichladusa guttata – Endemic to NE Africa
Northern Masked Weaver, Ploceus taeniopterus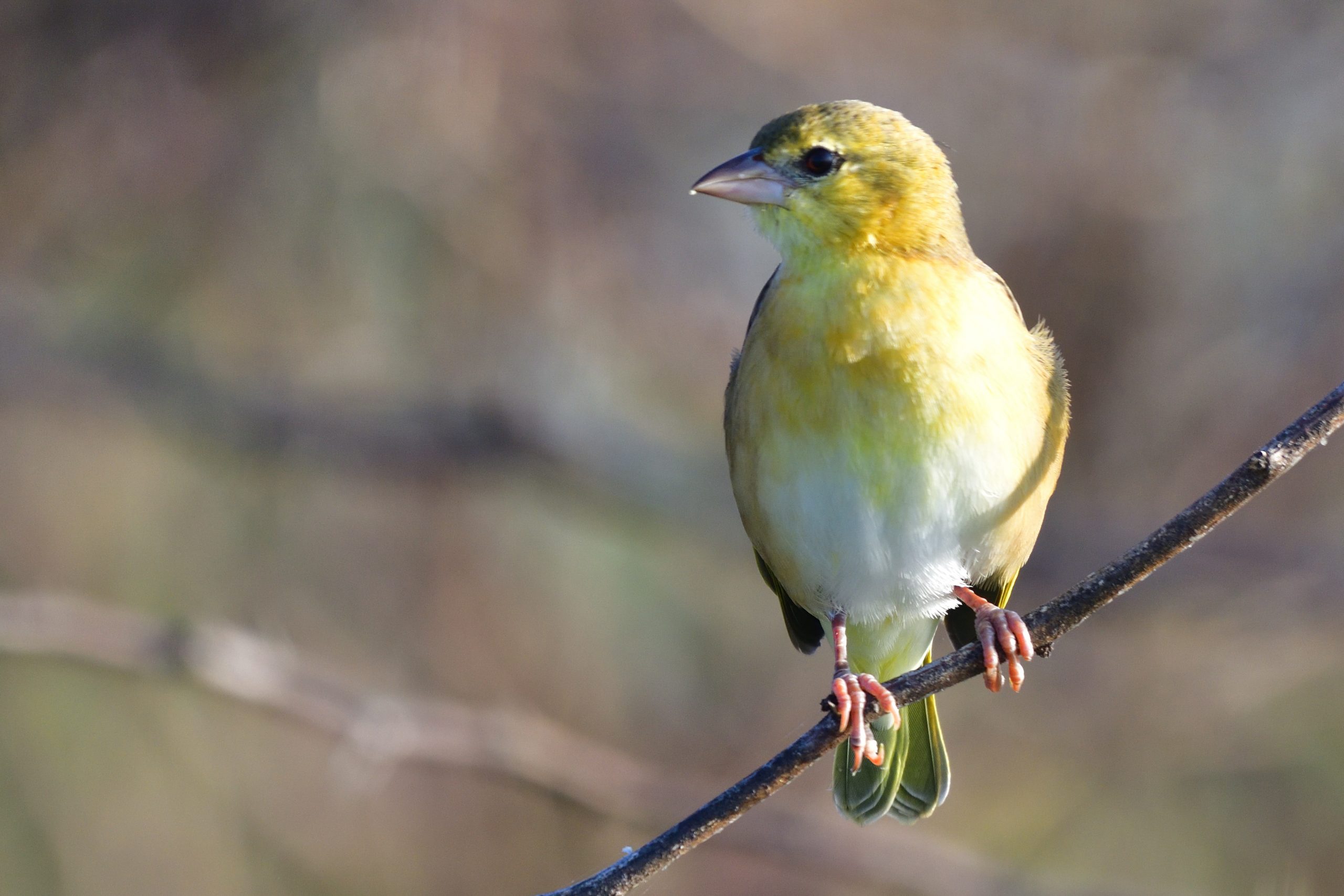 Northern Masked Weaver (female), Ploceus taeniopterus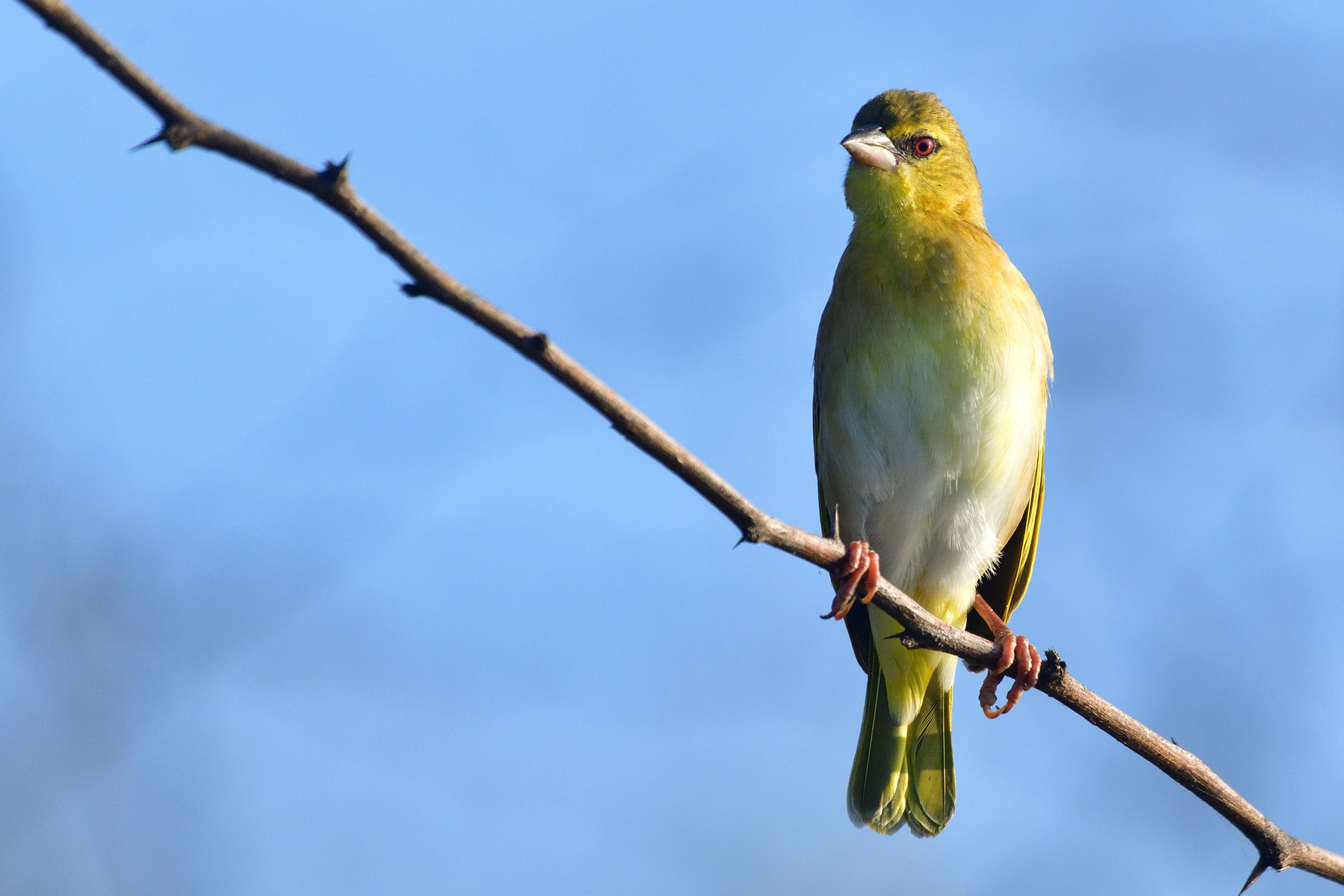 Golden-backed Weaver (Female) Ploceus Jacksoni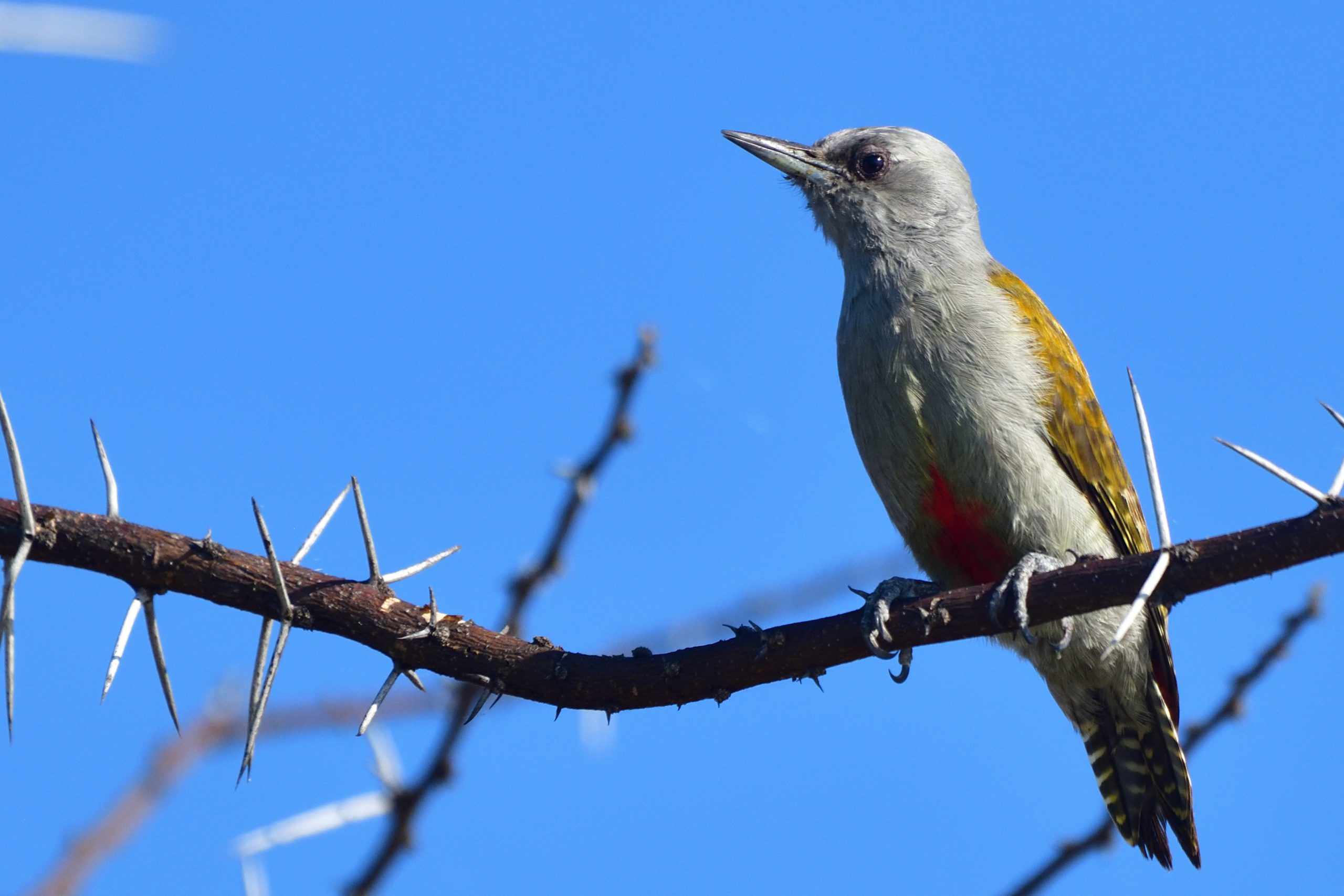 African Grey Woodpecker, Dendropicos goertae
Day 10: Thursday, November 19 – Lake Baringo to Kakamega Forest
We had seen all the target birds in Lake Baringo so decided to leave quiet early. We stopped briefly at Marigat to get some better pictures of the White-billed Buffalo-Weaver. We then said our goodbyes to Francis and were soon on our way. We drove hard without any incidents and met our new guide Winston at the Rondo Retreat in Kakamega Forest. We relaxed a little in the garden and recorded African Crowned Eagle, Grey-throated Barbet, Vieillot´s Black Weaver, Mackinnon´s Shrike, Joyfull Greenbul and Bocage´s Bushshrike. Then we headed for Smith´s Camp, where we normally stay in Kakamega. We took a brief walk from camp and added African Blue Flycatcher. Dinner was served and we retired to our rooms. 
Here´s some pictures from Day 10:
White-billed Buffalo-Weaver, Bubalomis albirostris
Joyful Greenbul, Chlorocichla laetissima – Endemic to E Africa
African Blue Flycatcher, Elminia longicauda
Day 11: Friday, November 20 – Kakamega Forest
I did not feel too well this morning so I drove the guides and the guest to the forest. Here is what they registered: Snowy-crowned Robin-Chat, Equatorial Akalat, Dark-backed Weaver, Buff-spotted Woodpecker, Lühder´s Bushshrike, Brown-throated Wattle-eye, Brown-chested Alethe and Pink-footed Puffback. I picked them up for breakfast and dropped them back in the forest: Ansorge´s Greenbul, Black-faced Rufous Warbler, Yellow-throated Leaflove, Slender-billed Greenbul, Yellow-billed Barbet, Uganda Woodland Warbler, Thick-billed Honeyguide, Sharpe´s Drongo and White-chinned Prinia. I picked them up for a quick lunch and left them again. They managed to add Great Blue Turaco, Grey Wagtail, Jameson´s Wattle-eye, White-spotted Flufftail, Petit´s Cuckooshrike, Buff-throated Apalis and Black Cuckoo. I picked them up and we returned to camp for dinner and bed.
No Pictures for day 11
Day 12: Saturday, November 21 – Kakamega Forest.
I did not feel in form today either so sent them out in the forest again. Here´s what they managed to find before breakfast: Black-faced Prinia, Olive-green Cameroptera, Blue-headed Bee-eater, Dusky Tit, Red-bellied Malimbe, Turner´s Eremomela, Chestnut Wattle-eye, and Kakamega Hyliota. We had some rain after breakfast, so they only went out in the afternoon and managed: Green-throated Sunbird, Ross´s Turaco, Red-tailed Bristlebill and Black-billed Weaver. From camp I took a picture of a Black-and-white Casqued Hornbill: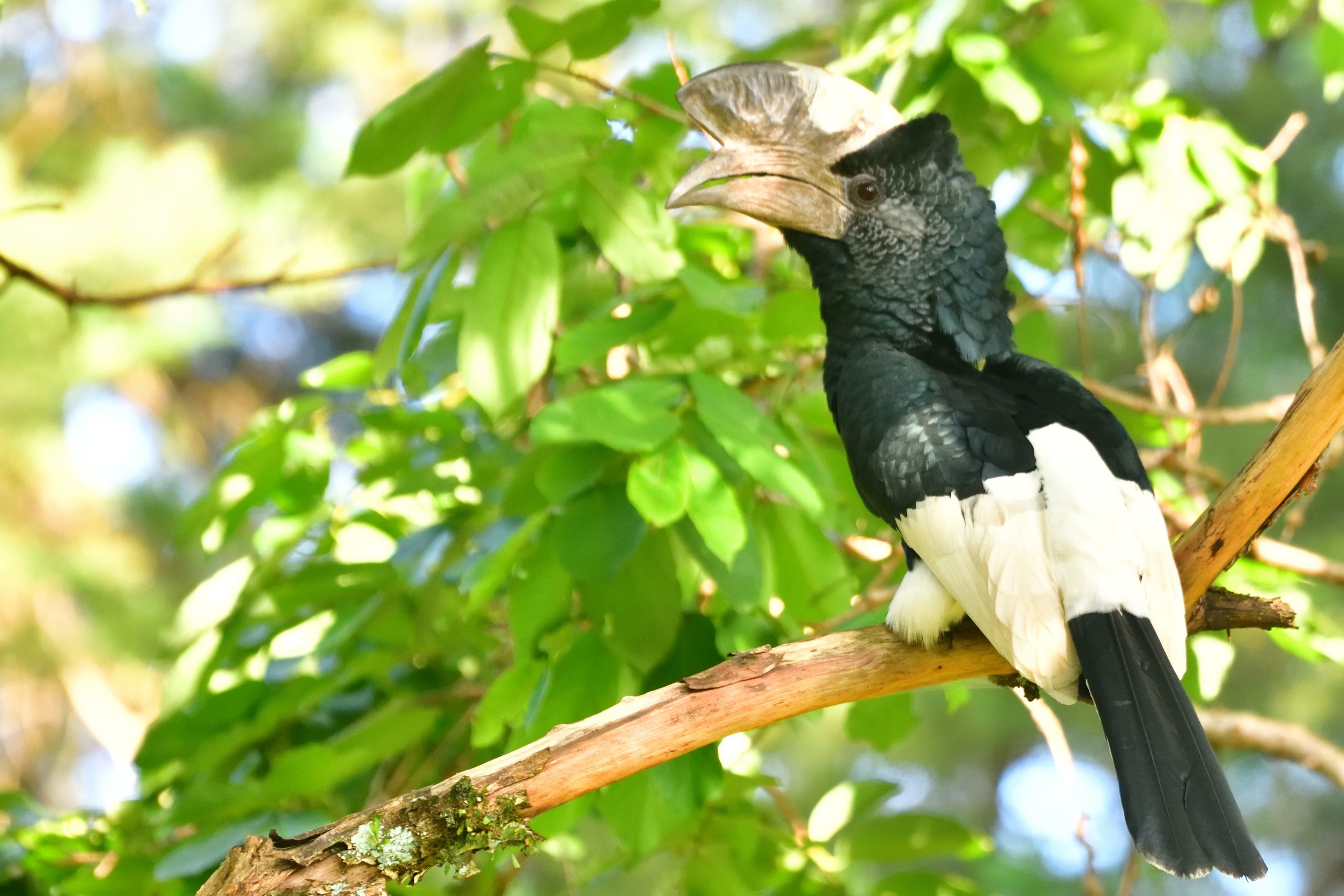 Black-and-white Casqued Hornbill, Bycanistes subcylindricus
Day 13: Sunday, November 22 – Kakamega Forest to Kisumu
I again dropped them in the forest in the morning, but this time I was waiting in the car. They added African Pygmy Kingfisher, Pale-breasted Illadopsis, Yellow-crested Woodpecker, Red-headed Bluebill and Black-necked Weaver. They came back to the car and walked a little away from me. Abdul came back and said he had a Kakamega Hyliota. That was a lifer for me and I managed to capture some poor pictures. Immediately after, we headed for Kisumu. We arrived in Kisume around noon and went straight to Hippo Point. It was a Sunday and quite a few people there. I met with the guide and made arrangements for a boat trip this afternoon. We birded a little and found Greater Swamp Warbler, Broad-billed Roller, Eastern Plantain-eater, Black-headed Gonolek, Swamp Flycatcher, Blue-spotted Wood-Dove, African Thrush, Golden-backed and Slender-billed Weaver. We went to Dunga Hill Camp. Unfortunately the water level had risen quite high in Lake Victoria as well, so the camp ground was under water. We had to camp nearby the restaurant and being a Sunday, it was loud and crowded. On top of that the wind picked up and made it impossible to do a boat ride that afternoon. We just relaxed and thankfully due to the curfew in Kenya, the camp went silent around 9PM.
Some pictures from Day 13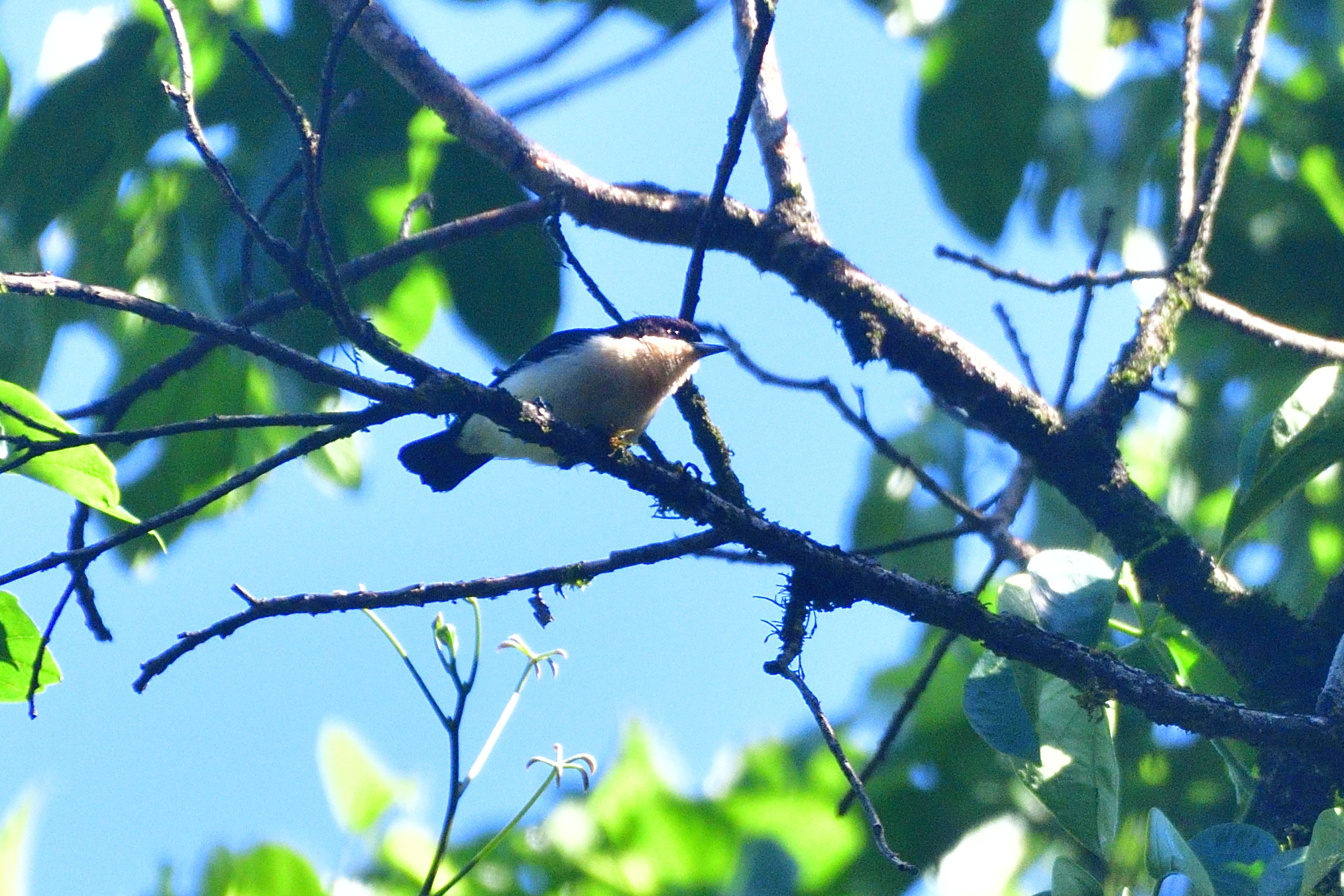 Kakamega Hyliota, Hyliota slatini?
Day 14: Monday, November 23 – Kisumu to Foothills of Aberdere.
The weather was calm in the morning and we decided for a short boat ride. While waiting for the boat, we photographed some of the birds we saw at Hippo Point the day before. We only had a couple of hours in the boat, but managed to see Papyrus Gonolek and get good pictures off Swamp Flycatcher. In addition a female Village Weaver. At 10:00 we left for the long drive to Kipipiri camp on the foothills of Aberdere National Park. We were advised to take off at Gilgil, but must have taken a bad turn since we drove up something that more resembled a river bed than anything else. We also managed to get a flat tyre. Alnavaz from Kipipiri and our guide John Githiri came and helped us. By 4PM, we were ready to drive up the mountain. We managed to pick up most of our targets: Golden-winged Sunbird, Jackson´s Francolin, Malachite Sunbird, Moorland Chat, Thick-billed Seed-eater and Aberdere Cisticola. A very long day indeed.
Some pictures from Day 14: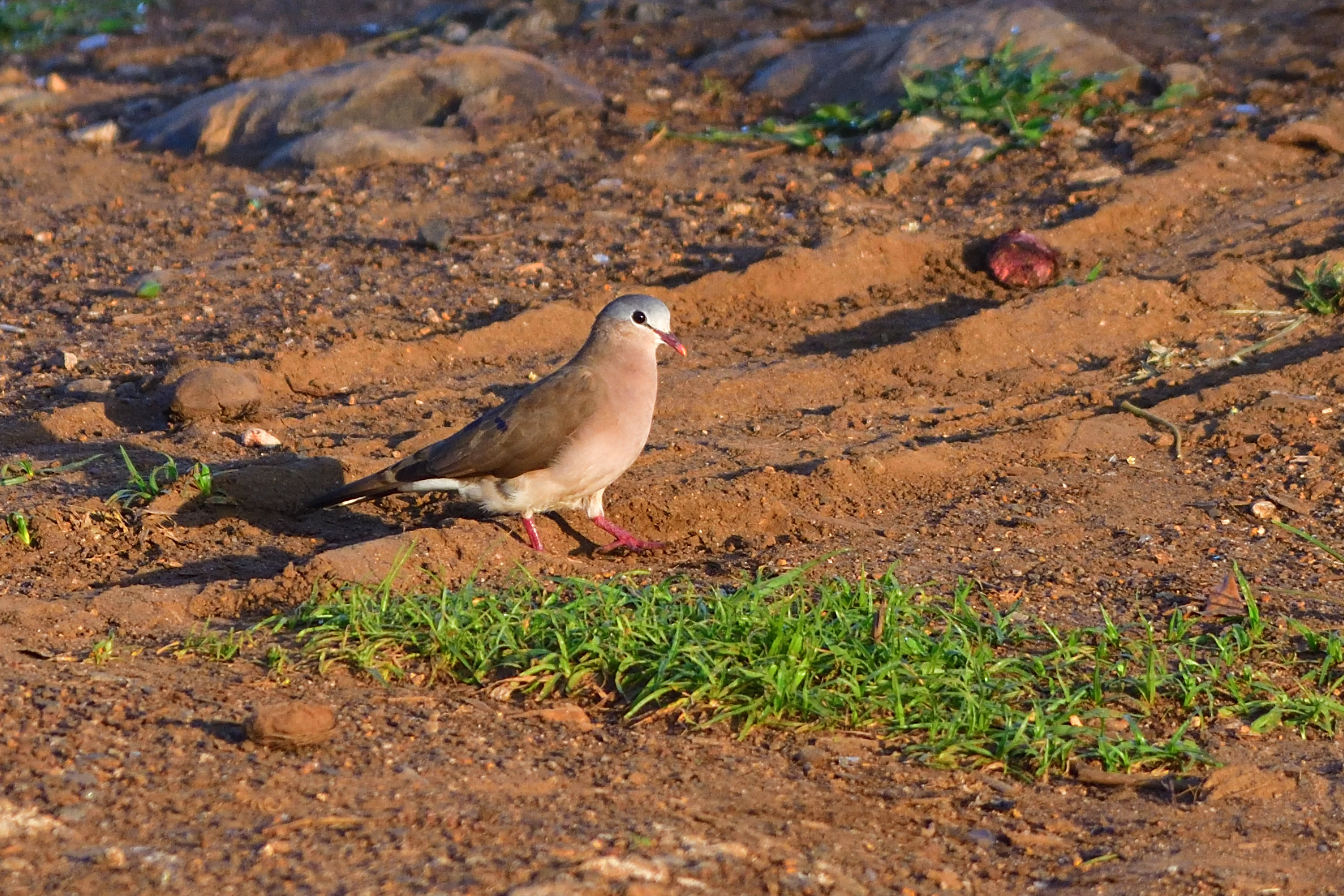 Blue-spotted Wood-Dove, Turtur afer
African Thrush, Turdus pelios
Black-headed Gonolek, Lanarius erythrogaster
Swamp Flycatcher, Muscicapa aquatica
Papyrus Gonolek, Laniarius mufumbiri – Endemic to E Africa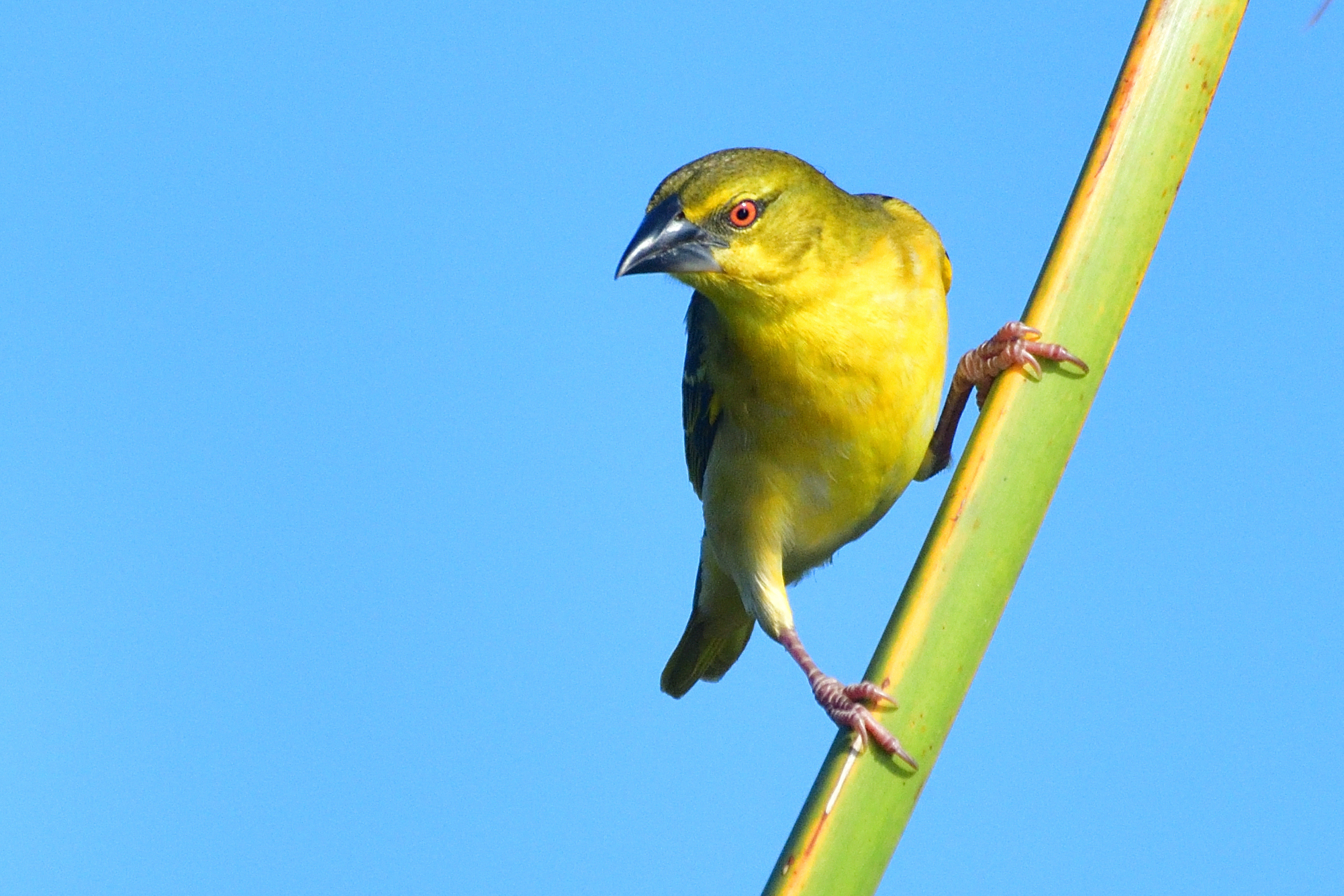 Village Weaver (Female), Ploceus cucullatus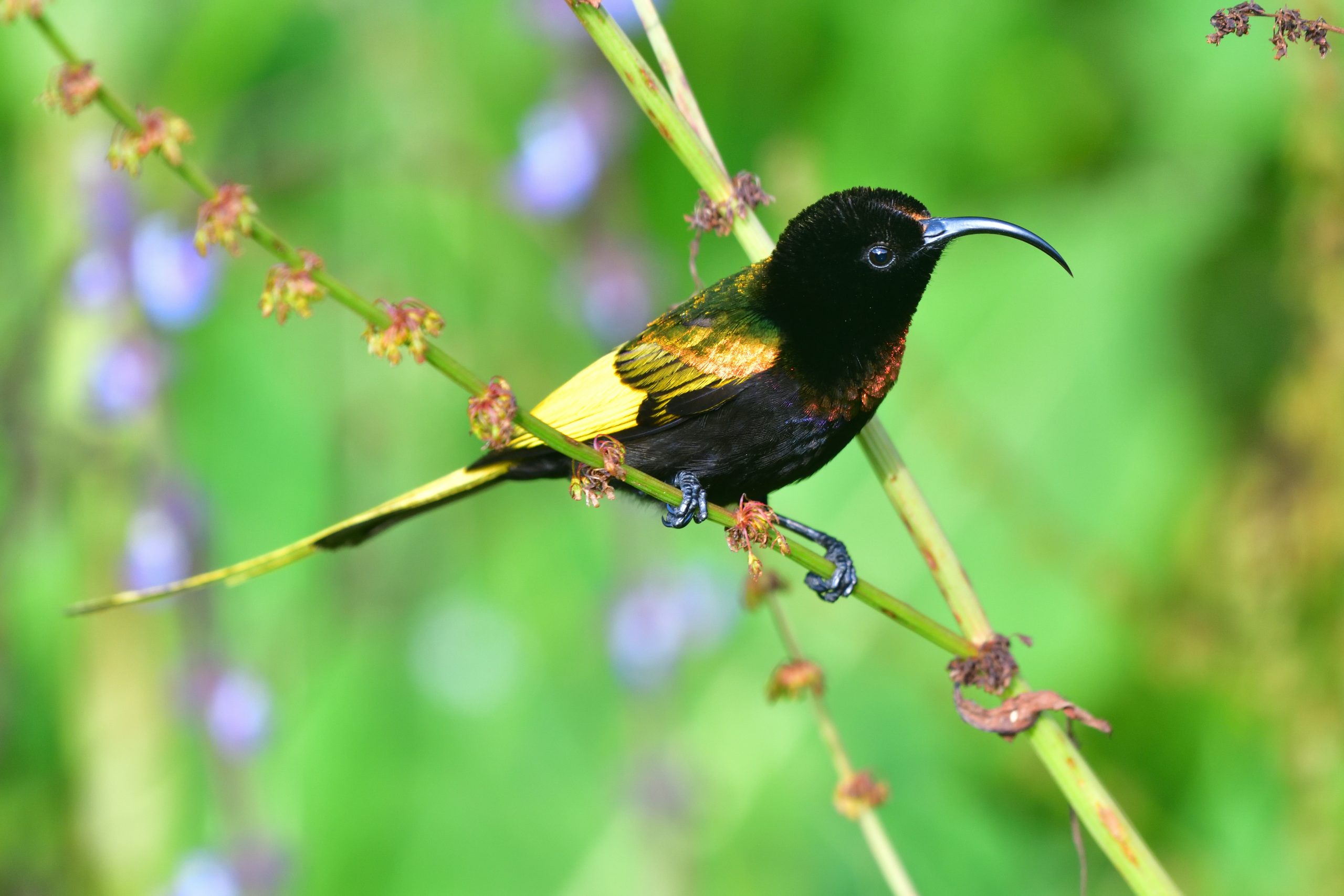 Golden-winged Sunbird, Drepanorhynchus reichenowi – Endemic to E Africa
Jackson´s Francolin, Pternistis Jacksoni – Endemic to E Africa
Aberdere Cisticola, Cisticola aberdere – Endemic to C Kenya
Day 15: Tuesday, November 24 – Aberdere via Kinangoep Platau – Nairobi
We left camp early for the Kinangoep Platau with packed breakfasts. This is John Githiri´s home turf. We parked where we parked last year and were soon into birds. The sun was straight towards us. Their target was the Sharpe´s Longclaw, but since I had good pictures of that, I decided to walk in a circle to get behind the sun. Levaillant and Wing-snapping Cisticola, Sharpe´s Longclaw, African Snipe, Cape Robin-Chat, Western Citril, Bronzy Sunbird, Long-tailed Widowbird, Common Waxbill and Streaky Seed-eater were some of the birds I found. After we finished the first target area, we drove down a farm road. A field there holds a healthy population of Stout Cisticola. I waited in the car until they returned from their successful quest. It was now mid day and we dropped John and headed for Nairobi. Selvine was waiting for us with an Uber that took my guest to the airport.
Here are some pictures from Day 15: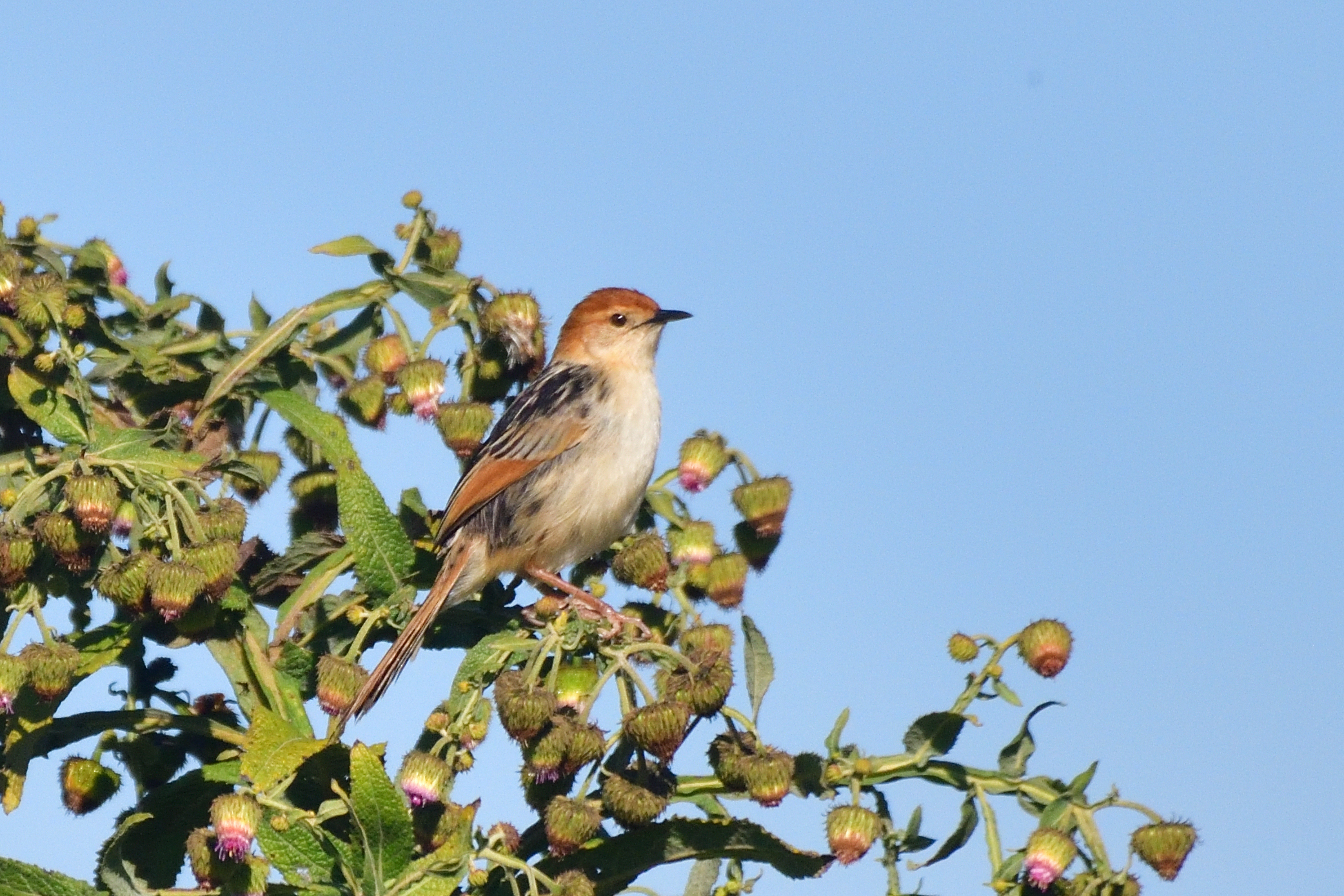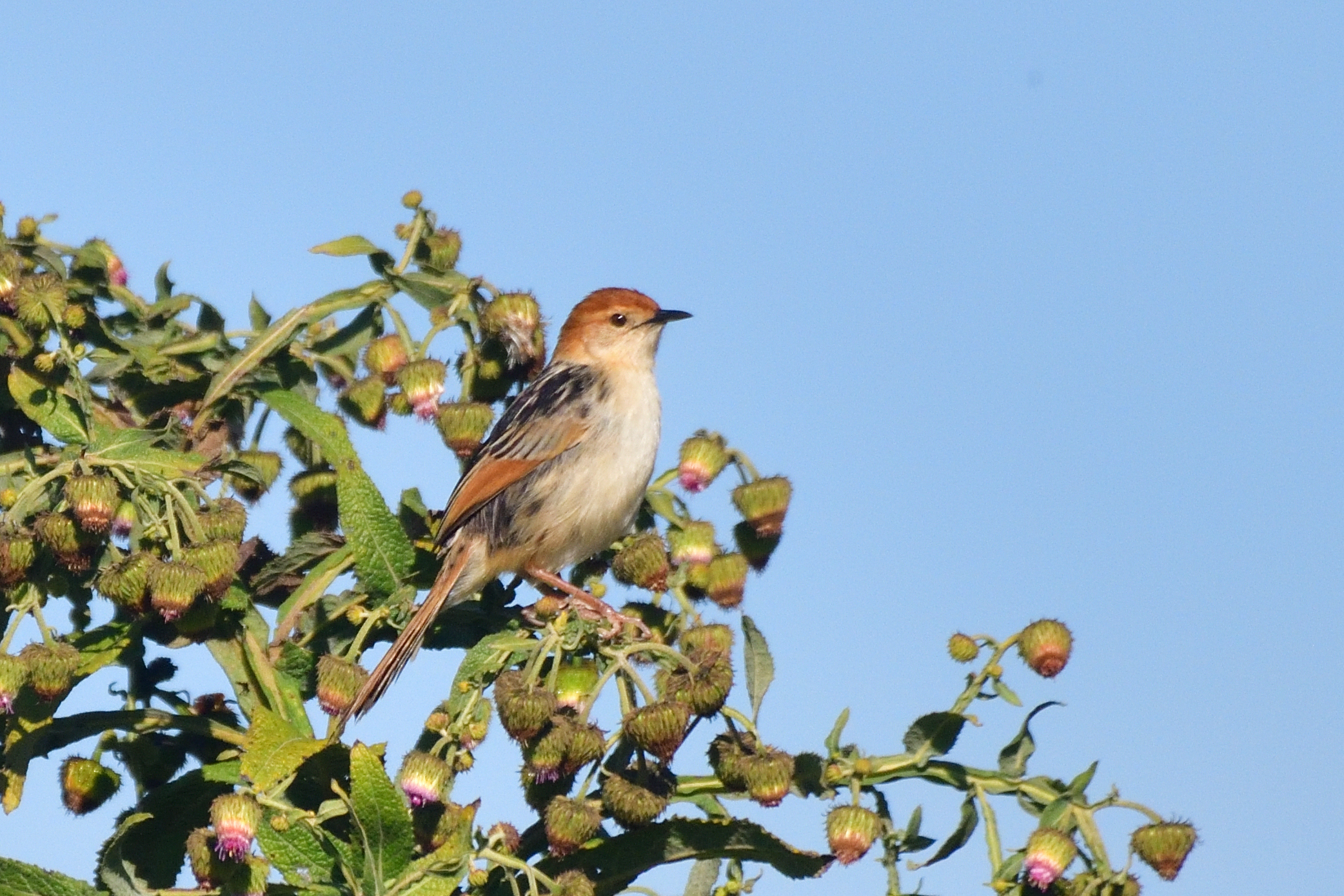 Levaillant´s Cisticola, Cisticola tinniens – Common in SA, but very scarcely distributed in EA
Streaky Seed-eater, Chritagra striolata
Kenya Sparrow, Passer rufocinctus – Endemic to Kenya and Tanzania
Long-tailed Widowbird (female), Euplectes progne
Long-tailed Widowbird, Euplectes progne
Common Waxbill, Estrilda astrild
Bronzy Sunbird, Nectarina kilimensis
African Citril, Chritagra citrinelloides – Endemic to NE Africa
Abdul, Selvine and I stayed one more night in Nairobi before we drove across the border to Tanzania the day after. We recorded a total of 464 species on the trip, my guest photographed 330. Abdul managed to get 104 lifers, so he was a happy chap. I have done this trip many times and always find ways to improve. It was the first time on all my trips that I discovered that the guest and I was not compatible.