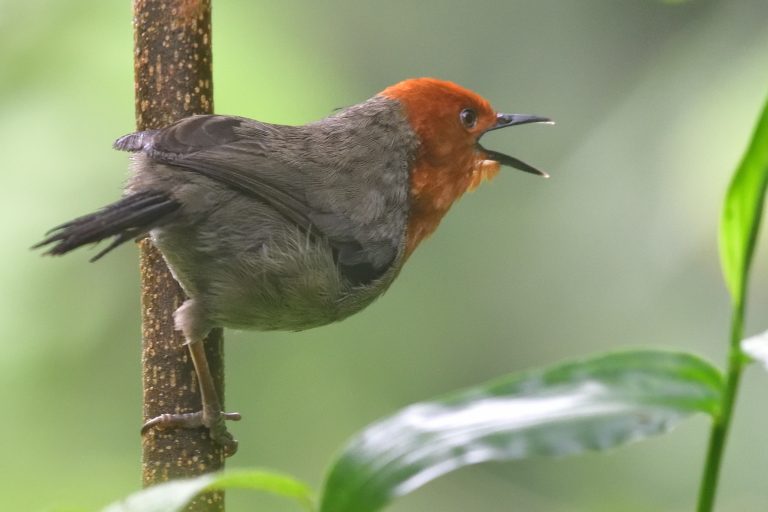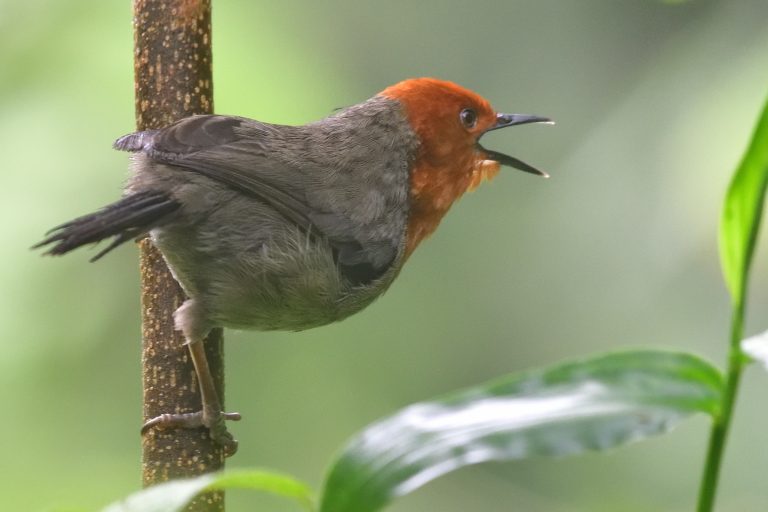 Selvine and I crossed the border from Kenya to Tanzania on November 25 after finishing a Kenyan trip. We had a guest flying in to Dar on November 30, so not much time to recharge. My good friend Toffy picked up my car for service the same day we arrived home, and I had it back by the 28th. We left early for Dar on the 29th and arrived before dark. I treated Selvine to a nice hotel at the beach that night. I asked for a late checkout and we really enjoyed a day by the pool before we went to the airport hotel to await our guest. This was the prelude to the craziest trip I have ever done in my life. I was contacted by South African birder, Sue Welman, to do a customised trip to the Southern Highlands of Tanzania. She sent me a very short list of her target birds that were mostly endemics to Tanzania. I was very much in doubt whether I was going to do the trip, but in the end I decided to take the challenge. Sue was supposed to arrive in July, but due to the current situation in South Africa with lock down etc, she could not arrive before much later. I mentioned crazy trip because the trip took on a life on by itself. Read on and you will understand. I am a careful planner of my trips and always allow plenty of time (days) to find the birds for my guests. 
Sue flew in on late on November 30  and arrived at the airport hotel we were staying in.
Day 1: Tuesday, December 1 – Dar es Salaam to Uluguru Mountains.
We had an early start and made good time we picked up Martin Joho and Abdul Al-Habesha in Chalinze. Martin has always been my main guide and Abdul was coming along for training. We made it up the mountain on some very tricky roads and finally parked at my normal spot. Martin quickly assembled a bunch of porters and soon we started the climb. The climb goes easier and easier each time for an old man and before we knew it we were in camp. The porters helped set up camp. The boys and Sue disappeared into the forest while I was busy helping Selvine set up the cooking facilities. It also happened to be Sue´s birthday and she needed a lifer for her birthday present besides the bubbly I had secretly brought  for her. When Sue and the boys got back to camp she was smiling because she had a lifer: Dark Batis. We had 2 target birds up there: Uluguru Bushshrike and Loveridge´s Sunbird so I considered this a bonus bird. Selvine as normal made us a delicious meal and after finishing dinner we all retired to our tents. Sue was not a bird photographer so I realised early on the trip that I would not get many chances for pictures. When she had seen a bird, it was time to move on.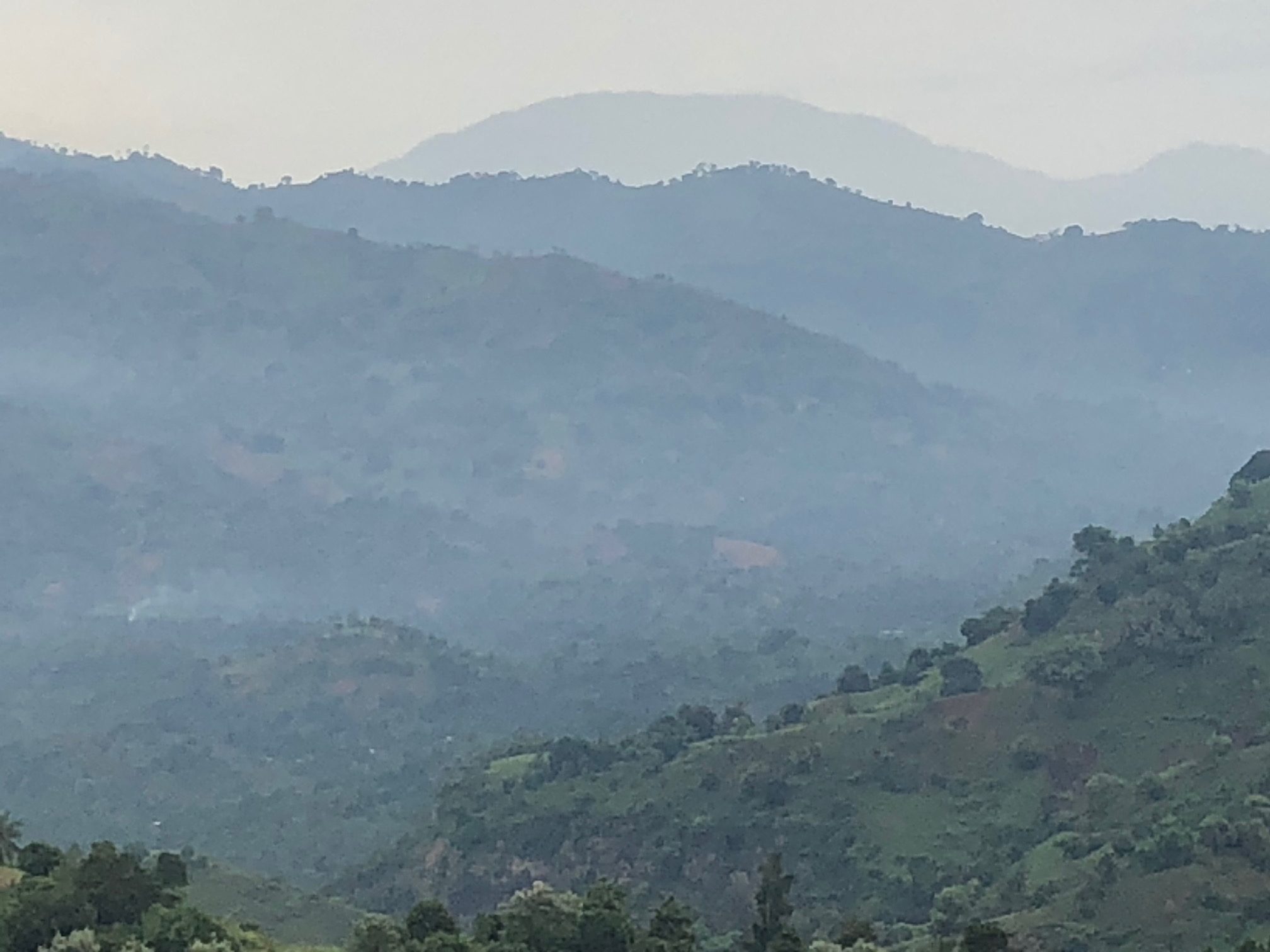 Beautiful view from Uluguru Mountains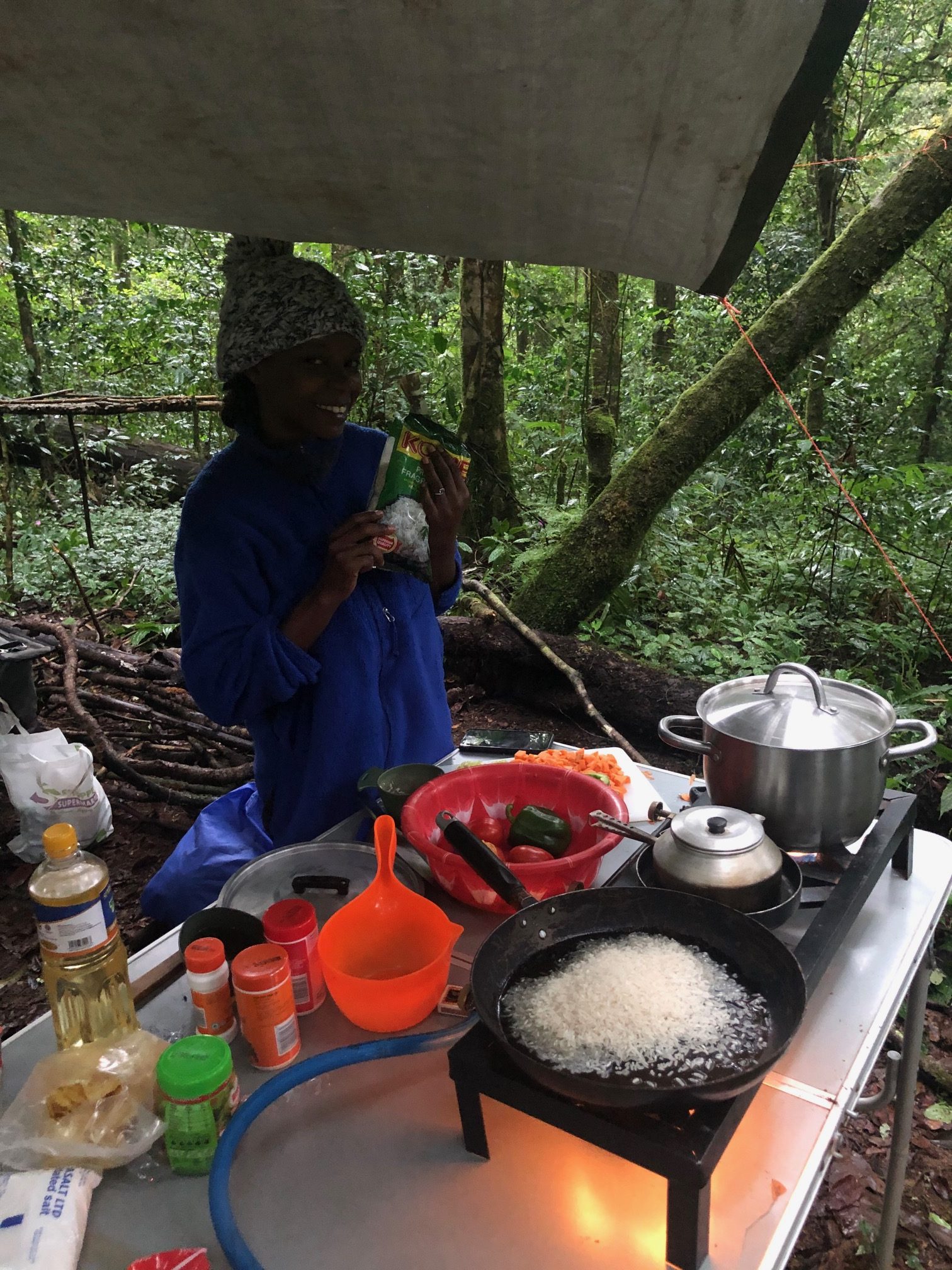 Selvine, the chef continues to overdo herself.
Day 2: Wednesday, December 2 – Uluguru Mountains to Geiro
I had set off 2-3 nights in Uluguru mountains to find the target birds, but already before breakfast we managed to locate both of them. We had a council over breakfast and decided to break camp and continue. Martin managed to get hold of the porters and stay behind to organise the packing whilst the rest of us continued down the mountain towards the car. Our next destination was the Ukaguru Mountains for Rubeho Akalat and Warbler. We made it all the way to Geiro (124 km north of Morogoro) that afternoon in a pretty heavy rainstorm. We searched a bit and finally found a pretty new local guest house. They even offered food. Sue, Selvine and I got our food pretty fast (1 1/2) hours, but the boys had to wait 3 hours for their food. 
Day 3: Thursday, December 3 – Geiro – Ukaguru Mountains – Bunduki Camp Uluguru
We started up the mountain early. We had set off one night for camping here also, but that did not happen. We found the Rubeho Warbler after 5 minutes. Martin and I had a spot for the Akalat so I let the boys and Sue go into the forest. I had very good pictures of the Akalat, but did not have pictures of the Warbler. I still do not have pictures of the Warbler. Within 45 minutes the gang came out of the forest and they had found not only the Akalat, but also Moreau´s Sunbird and Yellow-throated Greenbul. My plan was for Sue to have 4 lifers at this point, but she already had 7. The furthest we intended to travel on this trip was to Kitulu National Park. I already now had a gnawing suspicion that we would run out of birds. Bunduki Camp also in Uluguru we were supposed to do on the way back, but I decided to go all in. We had not unpacked the car so it was just to turn it around, drive down to Geiro, then Morogoro and we arrived through some very challenging roads at Bunduki Camp late afternoon. Selvine made us a nice meal and then the rain started hammering down. Luckily it did not last for many hours. We turned in. 
Day 4: Friday, December 4 – Bunduki Camp Uluguru to Mikumi.
We had 4 target species for the day: Winifred´s (Mrs. Moraus´s) Warbler, Uluguru Greenbul, Olive-flanked Ground Robin and the Uluguru race of Bar-throated Apalis. We set off early for a challenging walk. The first 2 hours straight up through shamba (farmland) before we finally reached the forest. By then I was so exhausted that I laid down. I felt something wriggling under my back and stood up just to discover I had been laying down on top of a snake! I gathered my strength super quick and we continued. The forest was just as steep. After about half an hour Martin heard the call from the Uluguru Greenbuls. We had nice views, but I could not get a picture. Sue was happy so we walked on. after another half an hour Martin suddenly took off the path. I thought he was going on a wild goose chase and at that time I was so exhausted I sat down on a log after checking for snakes. Abdul tried to drag me, but I totally refused. After 5 minutes i heard the Bar-throated Apalis calling close by. Suddenly, rejuvenated camera ready I managed to get pictures of the bird. Then Martin and Sue came back with smiles on their faces. "You found the birds" They nodded. "Where´s Abdul?" He is waiting for you, "How far?" Less than 5 minutes. I started walking towards Abdul. He waved me forward and there it was: Winifred´s Warbler. We teased the Warbler a little before I finally managed to get a decent picture. Smiles all over. I asked about the Robin. He took us 50 meters towards the original path. Played the call and up popped the Olive-flanked Ground Robin, a bird I had seen in Mufindi before, but never managed to get a picture off. The Robin posed for me and my shutter ran and ran. Finally satisfied after bagging 3 good birds in less than 15 minutes with minimal effort we joined the others. I am not exaggerating when I say I was dancing down the mountain. I still need a picture of the Uluguru Greenbul, but was assured it can be found at a lower altitude, so I never have to climb that mountain again. Having bagged all 4 target birds we decided to walk down to camp. Bunduki camp is such a lovely place with a river running nearby. Sue had an old ankle injury from a previous birding trip, so Abdul and I went in front in order to start packing camp. When we came down, Selvine was relaxing by the river and asked that please tell me you did not find all the birds, because she wanted to stay one more night. I had to tell her the truth. She was not happy :-(. Camp was quickly packed, I navigated through some very slippery roads and eventually reached the main road and headed for Mikumi. We reached Tan-Swiss in Mikumi early afternoon for some relaxation. Selvine and I took the opportunity to use the excellent pool. We had dinner at the restaurant and made sure we managed to charge all our gear. 
Some pictures from Day 4: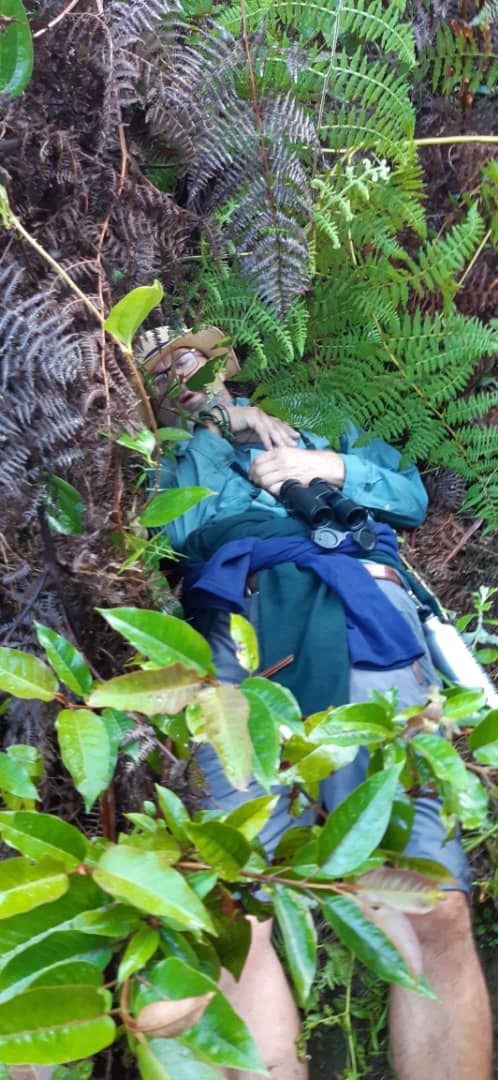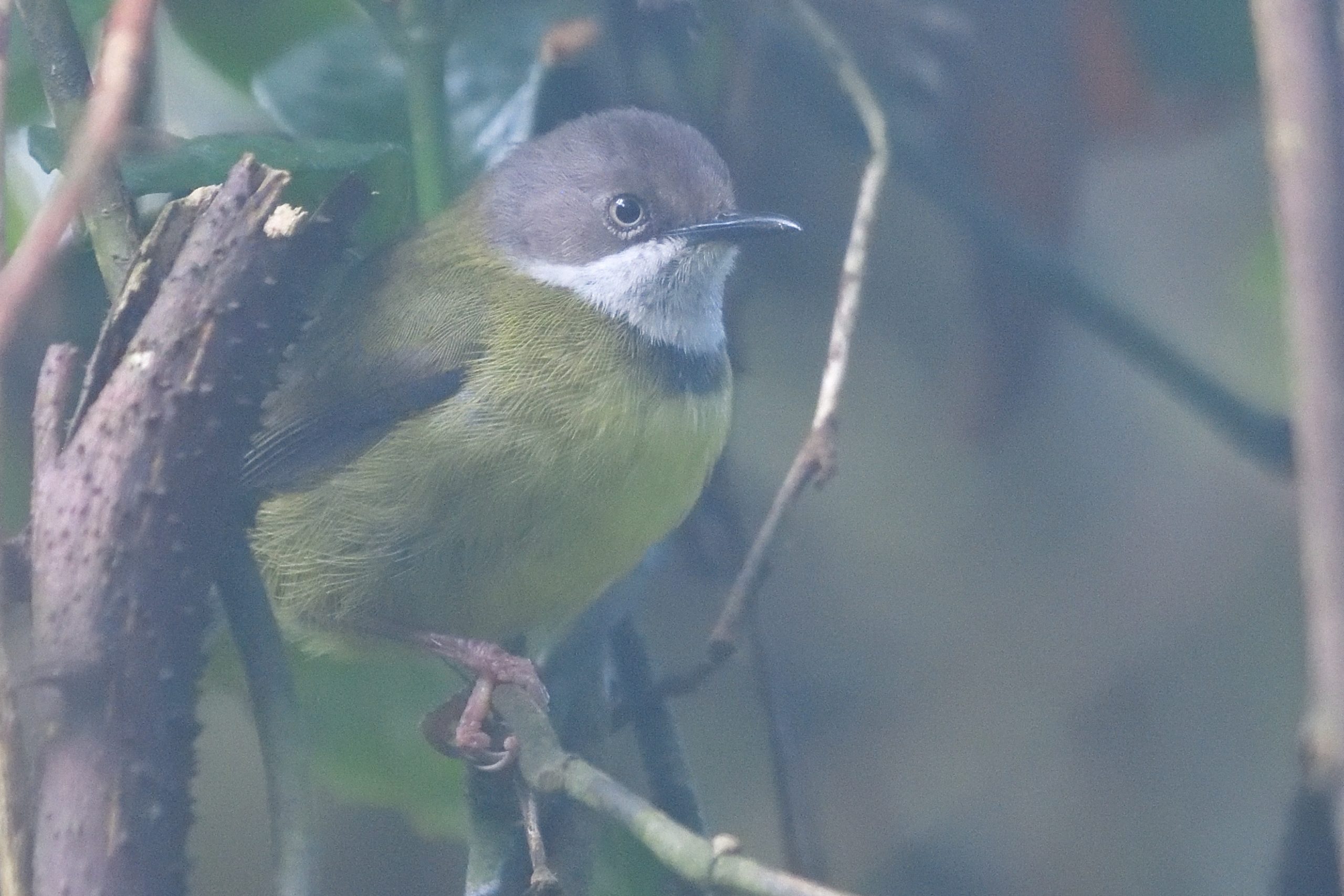 Bar-throated Apalis, Apalis thoracica, race Uluguru – Restricted to the Uluguru Mountains, Tanzania
Winifred´s Warbler, Scepomycter winifredae – Endemic to some forests of Eastern Arc Mountains in Tanzania – Lifer
Olive-flanked Ground Robin, Cossyphia anomala – Localised endemic to SE Africa – Picture Lifer
Day 5: Saturday, December 5 – Mikumi to base camp for Udzungwa Forest Partridge
In the morning, Martin came and told us that he have had a traffic accident in his family and that he had to leave us. I sort of panicked and wonder what to do. On the other hand, I had been to all the other destinations on our "planned trip" and trusted my knowledge of the locations and Abduls eyes and ears that we would be fine. Sue was very sceptical, but she finally agreed to continue. We knew we did not have time to reach all the way up to the Udzungwa Forest Partridge site that day, so we decided to bird the Miombo Woodland just north of Mikumi that morning. Abdul needed some lifers: Pale-billed Hornbill, Arnot´s Chat, Blue Waxbill, Greater Blue-eared Starling, Meyer´s Parrot, Cinnamon-breasted Tit, Hoffmann´s Sunbird, Reichard´s Seed-eater, Racket-tailed Roller and Miombo Wren-warbler were some of the birds recorded. We tried for the Speckle-throated Woodpecker and the Livingstone´s Flycatcher, but no luck. We got back in the car and headed towards Iringa. We took the turn off at Ilula and took the terrible road towards Udekwa where we had to check in with the local ranger. Instead of parking at the ranger station, we drove all the way up to the nearest campground. We still had some time and after some problem opening the back door of my Landy, we finally managed to get our gear out. Our plan was to hit the base camp by the river before the forest started that afternoon and continue the steep walk to our camp the day after. I had some tough negotiating with the porters on fees, but I finally got my will. Sue, Selvine and I started the walk while Abdul stayed behind and made sure the porters managed to get all our gear packed. It did not take long before the porters overtook us on the path and after some tough 2 1/2 hour hike we arrived and Abdul had organised the porters to set up camp for us. Selvine excelled again with her cooking. The porters slept in the forest. Abdul had his meal with the porters and managed to get one interesting fact out of them: One of the porters knew the bird, but not only that, he had a spot to find it in the forest long time before we reached camp. I think we all slept extra good that night.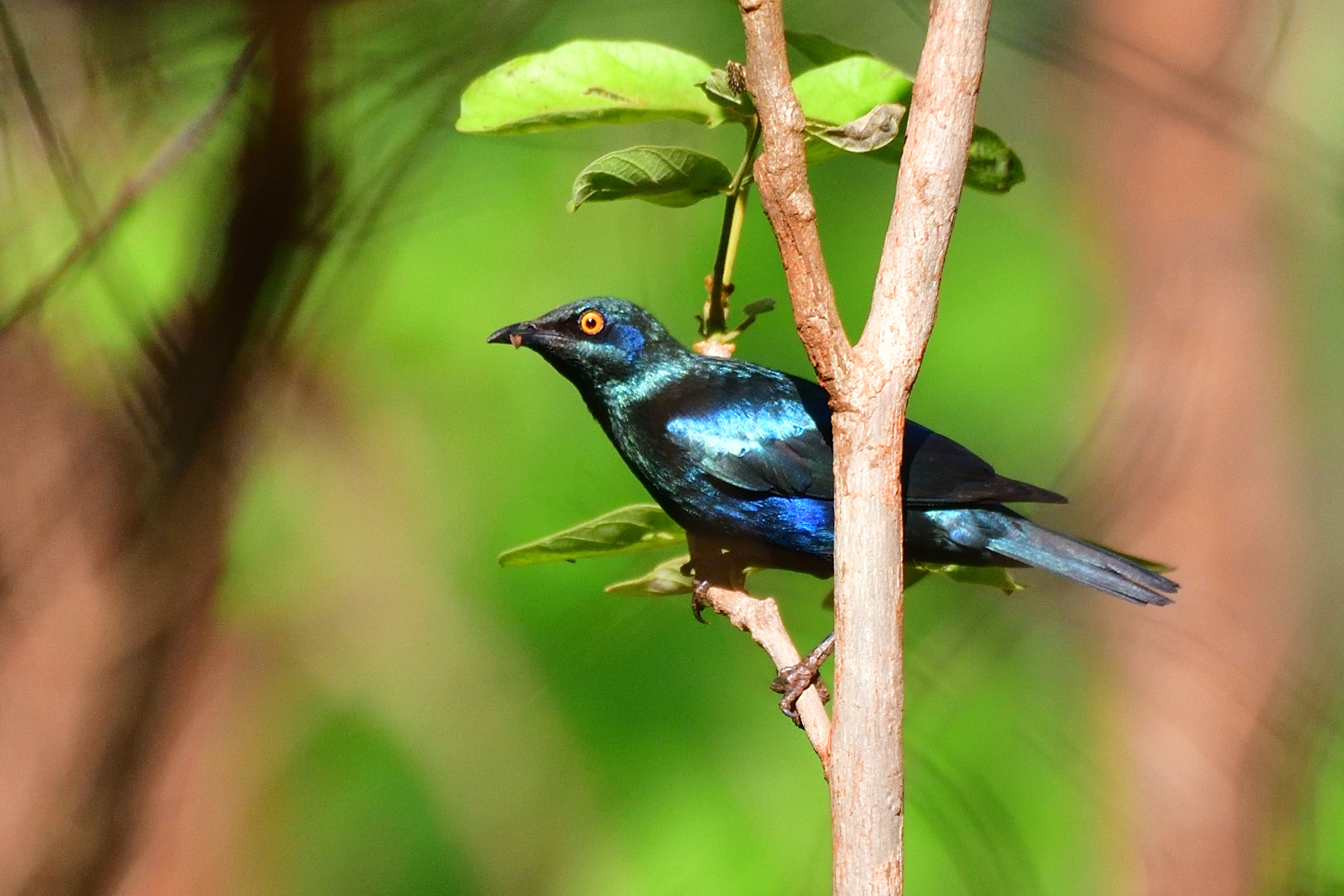 Greater Blue-eared Starling, Lamprotornis chalybaeus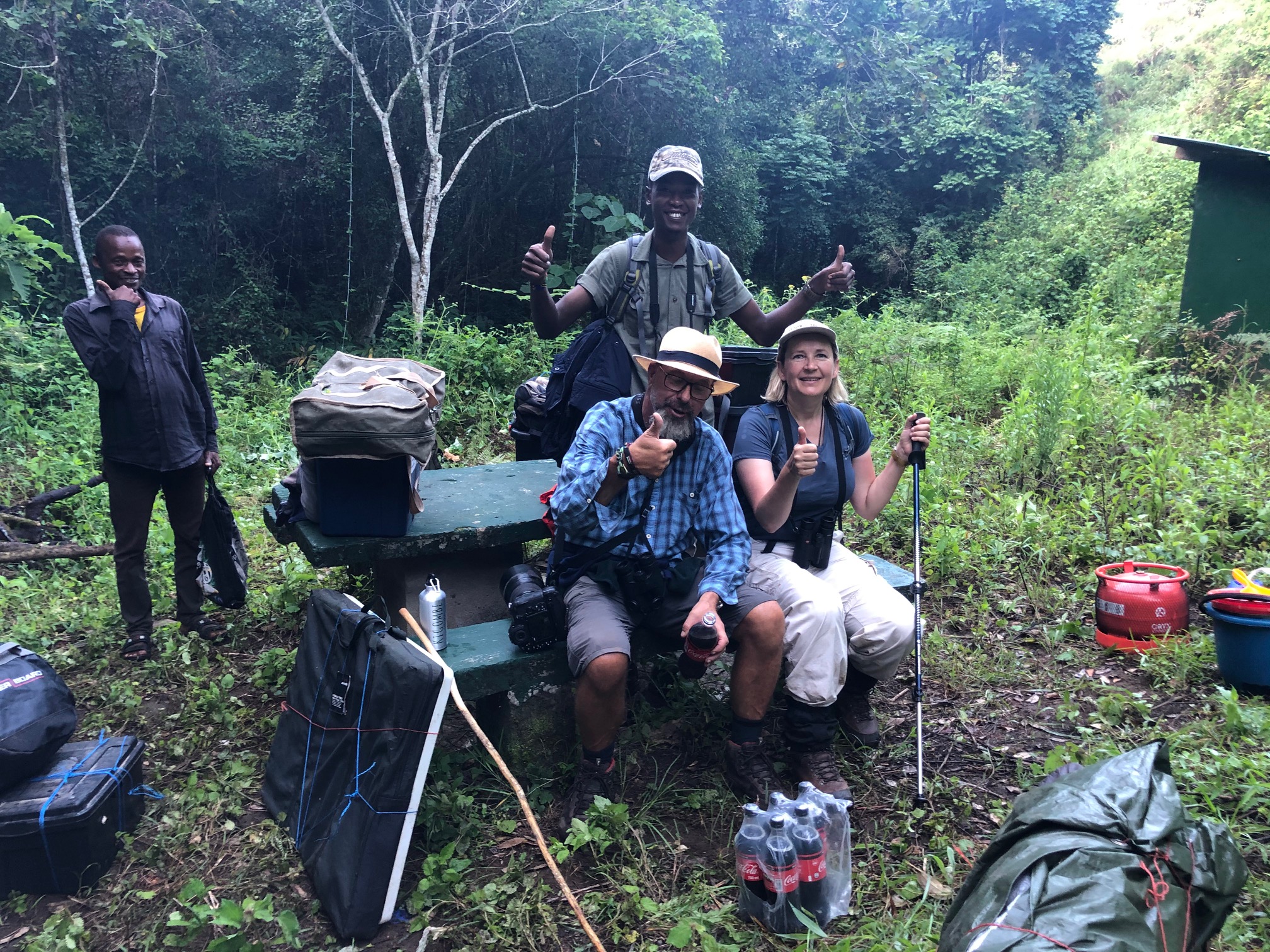 Reached Base Camp before the big hike up the mountain
Day 6: Sunday, December 6 – Udzungwa Forest site to Iringa
We decided this morning that the porter who knew about the Forest Partridge site, Sue and I should start early while the others packed camp. This is an extremely challenging hike and after about 40 minutes I lost the porter and Sue out of sight. I like to follow my own phase on tough hikes. 5 minutes later i caught up with Sue and the porter. I thought they needed a rest too. Then I saw the big grin on Sue´s face. Of course they had flushed the bird up in a tree where she had fantastic views of it. I had planned 3 nights in that camp, but the main target was of course the Partridge. We still had almost 2 hours to the camp. Sue asked me what to do, I said we turn around. She was happy. The first one we met on our way down was Selvine. She was happy too, so was the porters. Abdul was not that happy because he wanted to see the bird. Anyway, Sue was the guest. We walked all the way to the car. Turned around and drove towards Iringa. My charging light on the Landrover had been on for a couple of days. And about 25 km before Ilula the car stopped. We had experienced trouble on the way but I always managed to start it on the gear. Now it was no way it would start. What to do? We stopped a boda boda (Motorcycle taxi) and sent Abdul to Ilula to find a Fundi (Mechanic). It was quite hot, so after 1/2 hour, I decided to send the ladies on a boda boda to Ilula as well. I told them to find a hotel since I did not know how quick the repair would take. After a considerable time, Abdul came back with a Fundi. He explained that the fuel pump was electrical and since there was no electricity at all in the car, the turbo diesel did not get any fuel. He did a temp fix that took him maximum 5 minutes and soon we were on the way. We picked up the ladies in Ilula and I decided we needed to stock up on some essential supplies and I also wanted to treat the ladies good after so many days sleeping in a tent. I asked my friend Neil Baker for a hotel in Iringa and of course he suggested the most expensive one, Mama Iringa. He also gave me the name of an Electrical Fundi. The Fundi came to our hotel and told me the cable from the alternator to the battery was torn off. I had just before the trip had the car for service so was a little irritated. Anyway, the car was fixed in no time (We thought). Neil joined us for a nice dinner and we enjoyed some luxury. I knew we had a terrible drive ahead of us the day after so we went early to bed.
Day 7: Monday, December 7 –  Iringa via Uluti to Udzungwa Scarp Forest
We had a long drive on rough roads ahead of us that day. Sue had proven she was very fond of very spicy food, but I was very surprised that right after we took off from the main road, smoke was coming out of what I thought was her behind. Too much smoke to be that, so I stopped the car and had Abdul called the electrical fundi. Not sure what he had done wrong, but after 5 minutes it was fixed. I had only been to Itulu one time before and it is about 100 km on roads that just getting worse and worse the closer you get to Ituli.  I have a pretty good memory when it comes to direction, but had to admit I made a wrong turn, but only 100 meters before I realised. We arrived in Uluti and people there cheered us like heroes. They knew there was porter money for them. Last time I was there, we drove all the way up to the forest entrance. We met someone in Mikumi from a commercial bird company that had just been there and they said, there is no way you can do that. They were of course driving a Landcruiser. I just put my Landy in low gear range and drove all the way up albeit I broke a bridge on the way.  Same scenario. Sue, Selvine and I started walking and Abdul took care of the porters. Of course they caught up with us and were busy setting up camp when we arrived. This walk is not that hard because after roughly half an hour you come to a ridge you walk rest of the way on. The camp is quite nice. I helped Selvine setting up the cooking gear and soon she had dinner ready for us.  Exhausted we went to bed.
Day 8: Tuesday, December 8 – Udzungwa Scarp Forest to Kisolanza
We really just had one target bird there for Sue, the Rufous-winged Sunbird, the rest I knew we could find elsewhere. Sue Abdul and I started walking early. No photographic light for me, so after a while, I returned towards camp. Just before camp, I was met by Mrs and Mr. Rufous-winged Sunbird. I marked the spot like a scout would mark a spot. Not long after, Sue and Abdul was back in camp. I asked if they saw my scout marking, not at all, but they had found the bird a little deeper in the forest + Swynnertons Robin and Dapple-throat. Whilst having breakfast, we had a ranger visit us in camp. It turned out that Abdul had forgotten to report we were going there and pay the fee. We were asked to leave immediately. That suited us good since we had found the bird for Sue. We called the porters, packed camp and were soon by the car. There we were told that we had broken a bridge, but the porters had already fixed it for us. We drove out the terrible road to the main road and headed for Kisolanza. We arrived quite late and I had called ahead and said we needed dinner that night. Kisolanza has a very nice campground and we set up camp very quickly. Had a shower and headed over to the dining area. My surprise was big when I found my Aussie friends Jenny and Steve Clark there. We really enjoyed our meal and  soon retired to our tents.
Day 9: Wednesday, December 9 – Kisolanza
Sue Abdul and I started our bird walk early. Kisolanza is a very nice birding destination with plenty of birds. Sue wanted the Gertrudi race of the Western Miombo Double-collared Sunbird. I had been there a few times before and knew where to look for it. On the morning walk we also saw birds like Brown-capped Apalis, Grey Penduline Tit, White-winged Black Tit (TZ Lifer for me), Fawn-breasted Waxbill, Füllerborn´s Longclaw, Spot-flanked Barbet and Wing-snapping Cisticola. We returned for breakfast. After breakfast, I went over to the dining area and met another old friend. We were doing so good on this 21 day trip and I knew we were going  to run out of birds soon. He is a famous birder and I asked him if he had a place for the Tanzania Masked Weaver. He gave us the name of a place far far away. He tipped us of a Whyte´s Barbet in Kisolanza. I thought it was the race Sue was looking for and he kindly drew us a map on how to get there and exact where to look for it. I knew from before that there was also a Lesser Jacana there. We could not find either. We walked past the spot and turned around and of course Abdul spotted two Whyte´s Barbet (TZ lifer for me) and soon after Lesser Jacana (also TZ lifer for me). We returned to the car. Abdul heard a Black-collared barbet and with some patience he got another lifer.  On the way to camp we saw some Long-tailed Cisticolas. In camp, Selvine prepared lunch for us. We were still missing the Stuhlman´s race of the Coqui Francolin for Sue. We got some tips on where to find it, we heard it, but could not locate it. It was rain close by so I took them with a car and dropped them so we should not get too wet. While waiting for them, I got a bad picture of a Reichard´s Seed-eater. We returned to camp for the evening. 
Some pictures from Day 9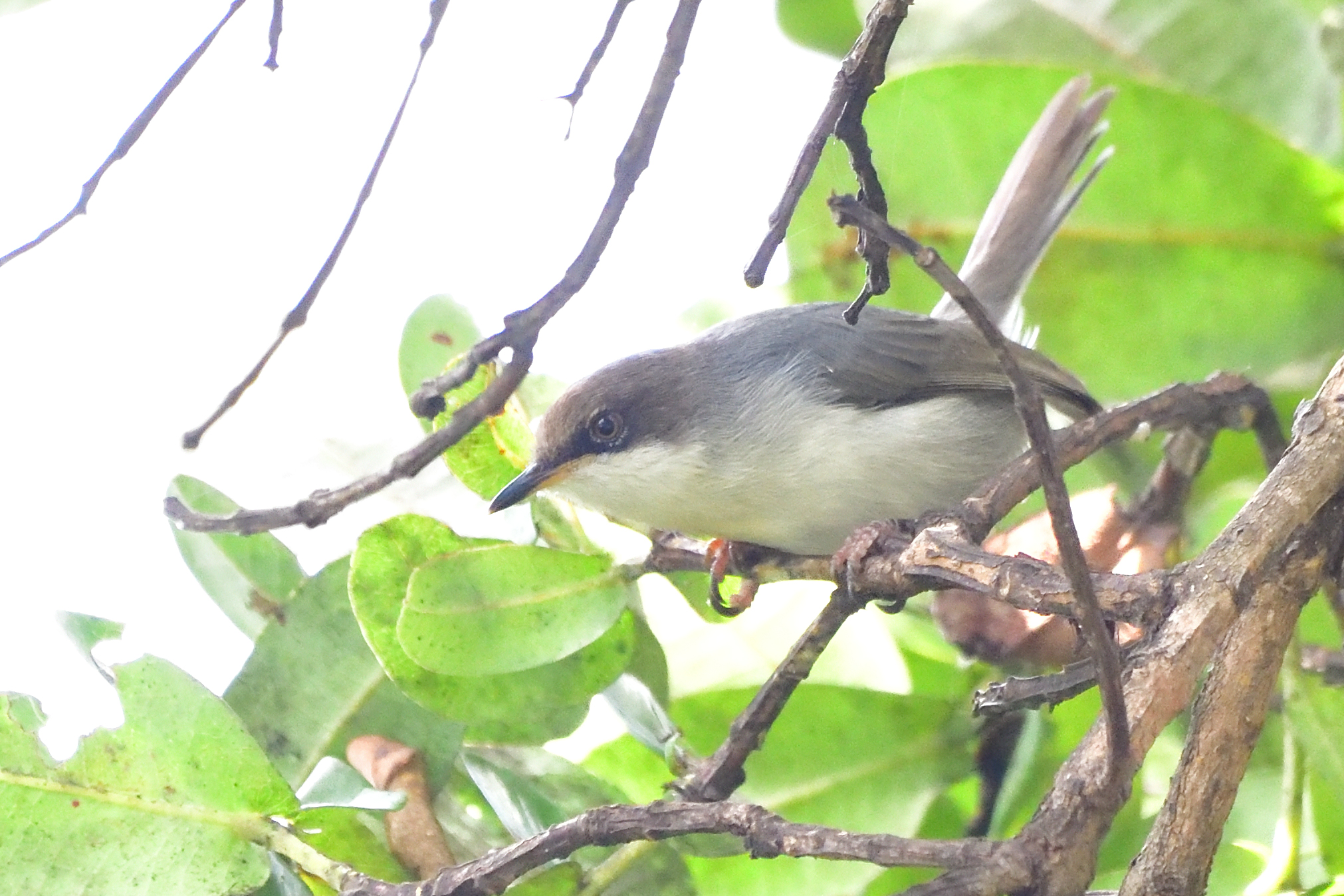 Brown-headed Apalis, Apalis alticola
Fawn-breasted Waxbill, Estrilda paludicola
Grey Penduline-Tit, Anthoscopus caroli
Füllerborn´s Longclaw, Macronyx fuelleborni – Endemic to SC Africa
Whyte´s Barbet, Stactolaema whytii – Endemic to SC Africa
Reichard´s Seed-eater, Chrithagra reichardi
Day 10: Thursday, December 10 – Kisolanza to Fox´s Farm, Mufindi
We tried the morning for the Coqui Francolin, but no luck. The first bird we dipped on at the trip. Jenny and Steve wanted to follow us to Mufindi. We took one exit too early, but we eventually got there. It was Selvine´s birthday, so I had booked 2 nights, whatever birds we found for Sue, we would stay 2 nights. The two targets here were Uhehe Fiscal and Iringa Akalat. Just before lunch, I suggested that we took a short walk down towards the lakes. I had seen the Fiscal there on my previous visit and sure enough the first bird we saw was the Uhehe Fiscal. We were entertained by a Forest Double-collared Sunbird in the garden just in front of the entrance. The lunch was nice as always. After lunch, the search for Iringa Akalat started. I was there last time more than 5 years ago and told them I knew a forest patch where to find the bird. Abdul was mobbing me letting the old fart know that there was no way I could remember. I took one wrong turn, but then I found the spot. Abdul called and the bird responded. Sue and Abdul walked in on a little drainage ditch and both got perfect views. This proves that the Akalats are very territorial and stay in the same patch year after year. Mission accomplished. I had a bottle of bubbly in store to celebrate Selvine´s birthday and we invited Sue over to join us. When I told Selvine about the cost of staying at Fox´s, her idea was to leave the day after :-). We had a nice chat and plenty of laughs. I had tipped the staff and they had made a nice cake for Selvine. I had as mentioned booked for 2 nights and asked Mr. Fox if it was a problem if we checked out the morning after since we had found our target birds. He was understanding and allowed us to check out the morning after. 
Day 11: Friday, December 11 – Mufindi to Kitulu National Park.
We managed to navigate out on the main road without any detours. We also managed to be stopped twice by immigration in the middle of Tanzania and asked for our Covid Certificates. Then one of the worst roads in Tanzania up to Kitulu National Park lay ahead of us. My trusty Landy Lizzie handled it with charm. We stopped at the gate to do a little birding and racked up some good birds: Stout, Black-lored and Churring Cisticola, Yellow-crowned Canary, Mountain Yellow Warbler, Pallid Harrier, Lanner Falcon, Common Quail, Montane Widowbird and Wing-snapping Cisticola. Out target bird was a race of Rufous-naped Lark. Of course we found that as well. This was supposed to be the end of our trip. we were supposed to have used 21 days and we had only used 11. We had a meeting this day. I told Sue, from now on, we will go blind to places I have never been too. We decided that our first target would be the Tanzanian Masked Weaver and then we would take it from there. We had a tip and we were going for it.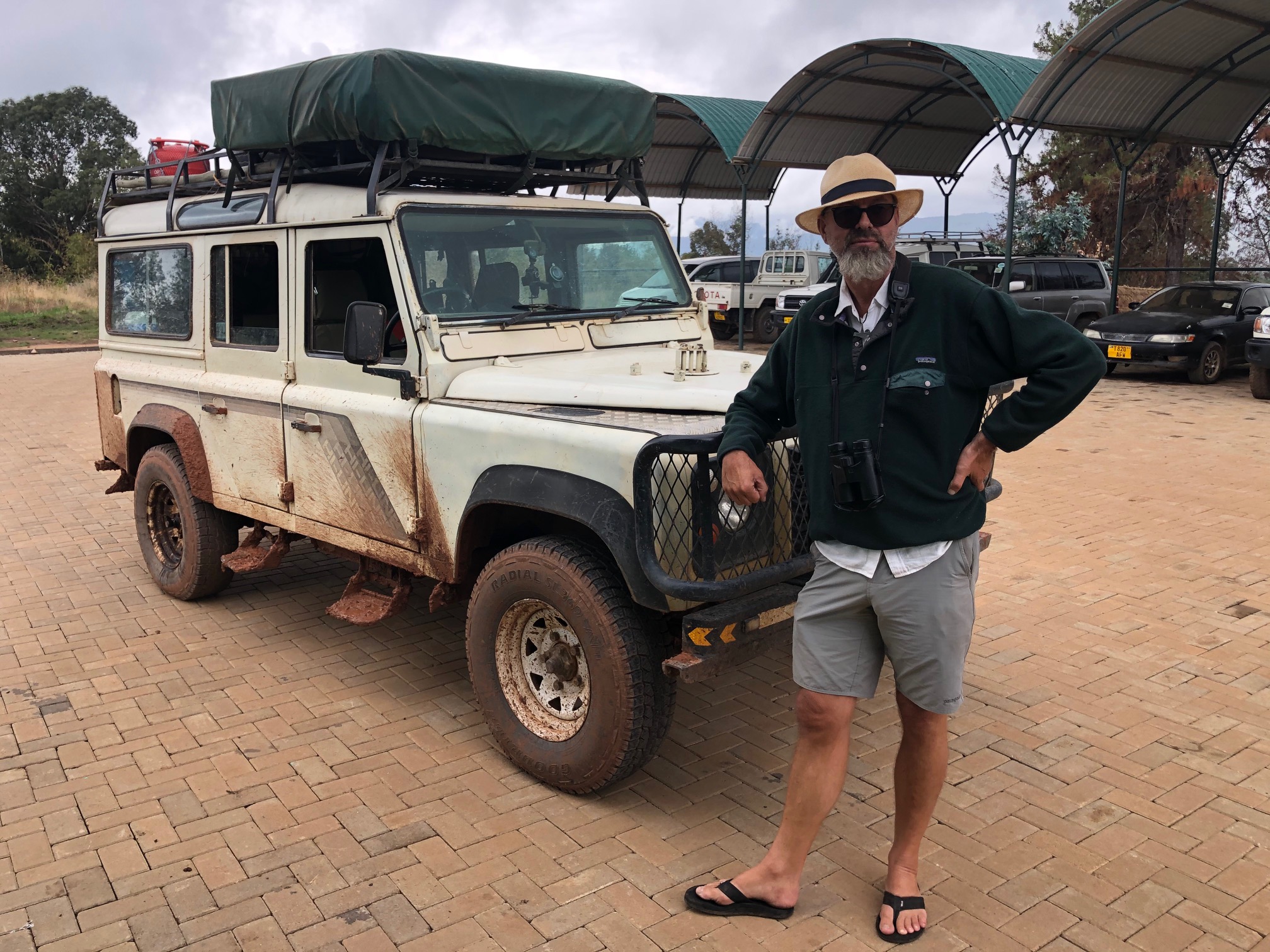 Kitulu National Park, Ranger Station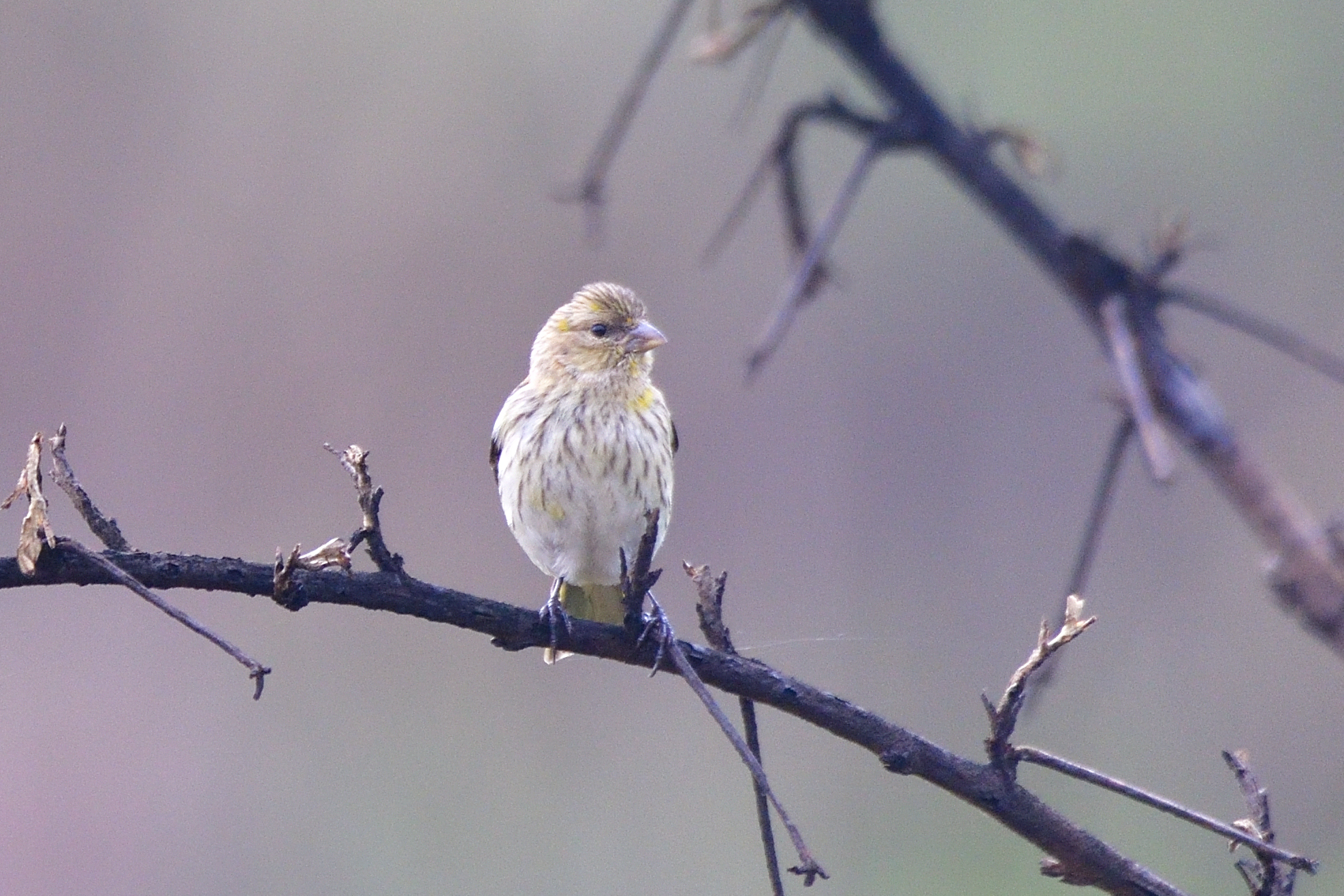 Yellow-crowned Canary, Serinus flavivertex – Female
Yellow-crowned Canary, Serinus flavivertex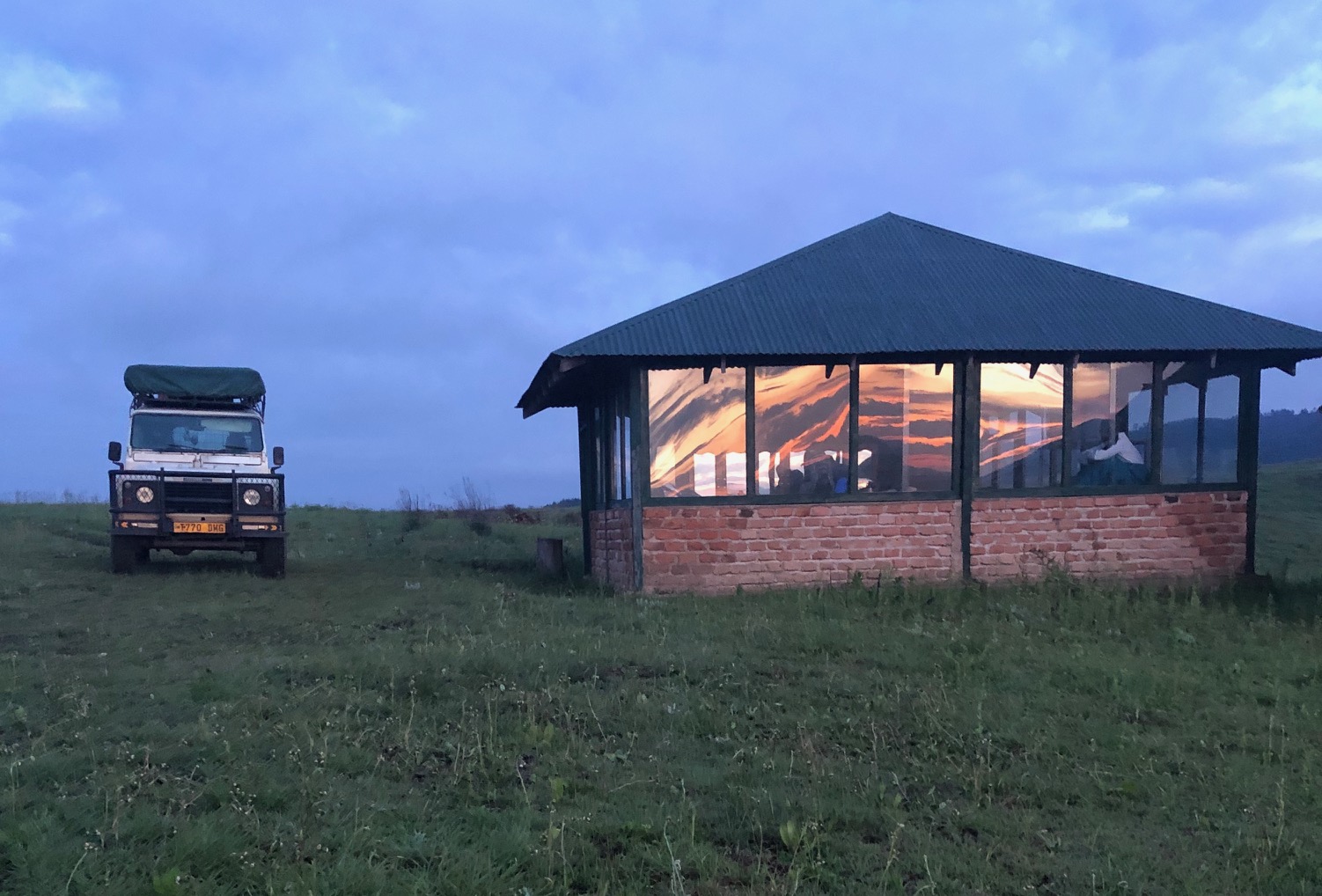 Camp at Kitulu National Park
Day 12: Saturday, December 12 – Kitulu National Park to Kyela
Kyela was the town we were told we could find Tanzanian Masked Weaver. It was a long drive, but an important bird (a lifer for me too). Normally this bird is most easily found in Katavi, which is a looong drive so we decided to give it a shot. The drive went without incidents except some heavy rainstorms. Once we were close to Kyela, we stopped at a bridge. We saw a lot of bird activity there and looked careful at every Weaver. We found Jameson´s Firefinch, Orange-breasted Waxbill, Southern Brown-throated, Holub´s Golden and Village Weaver. We were running out of time and needed to find a hotel. Selvine searched and the closest we could find was Matema Beach hotel, quite a distance away. We had no option and went there. That night I spoke with Neil and he reminded me that he had sent me some coordinates on the Zambian side of the border for The Tanzanian Masked Weaver and that friend that told me about the Tanzanian Masked actually meant Southern Brown-throated. Ooops, we had driven more than 3 hours the wrong way due to bad intel. I went to sleep that night feeling like an idiot!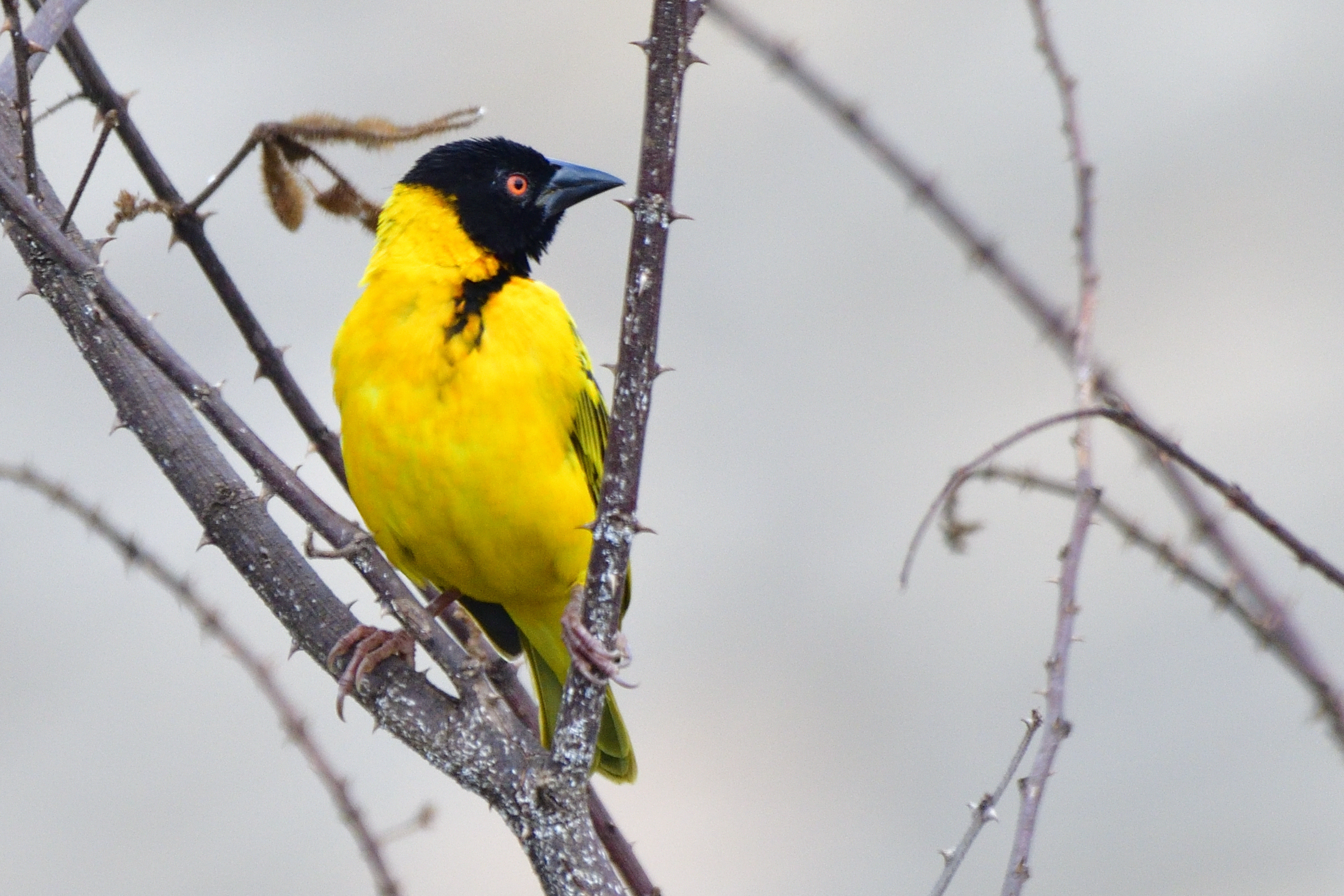 Village Weaver, Ploceus cucullatus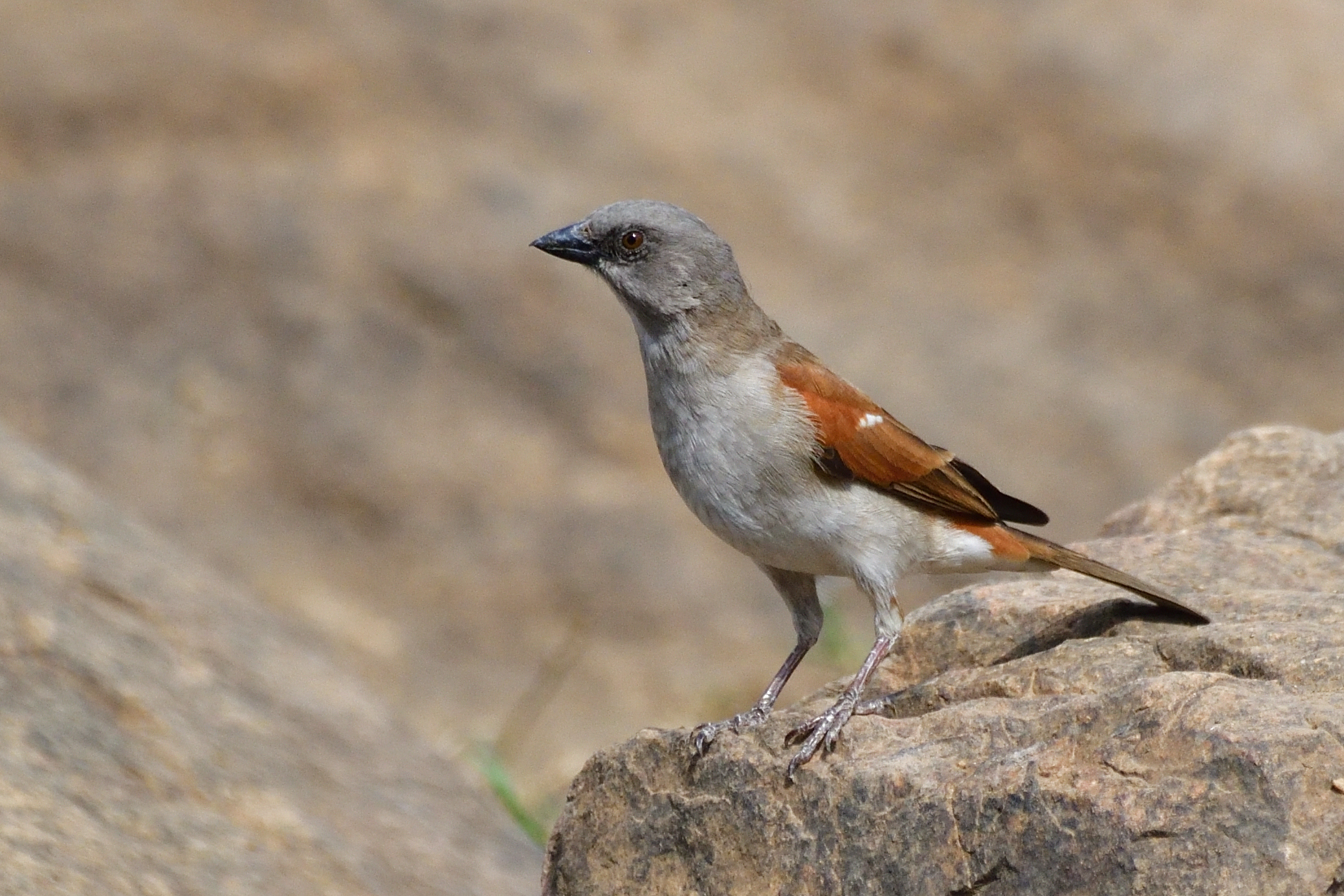 Northern Grey-headed Sparrow, Passer griseus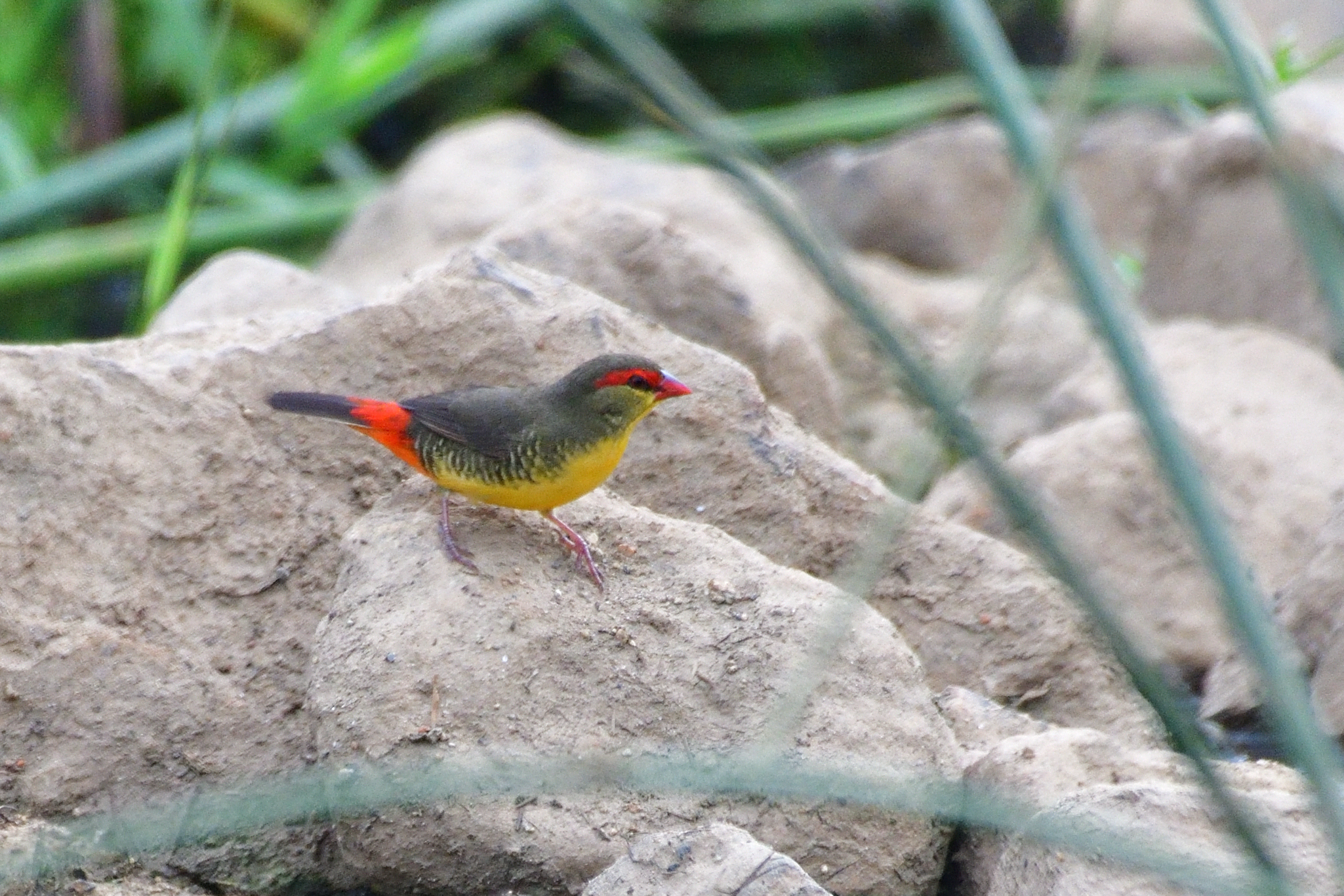 Orange-breasted Waxbill, Sporaegnithus subflavus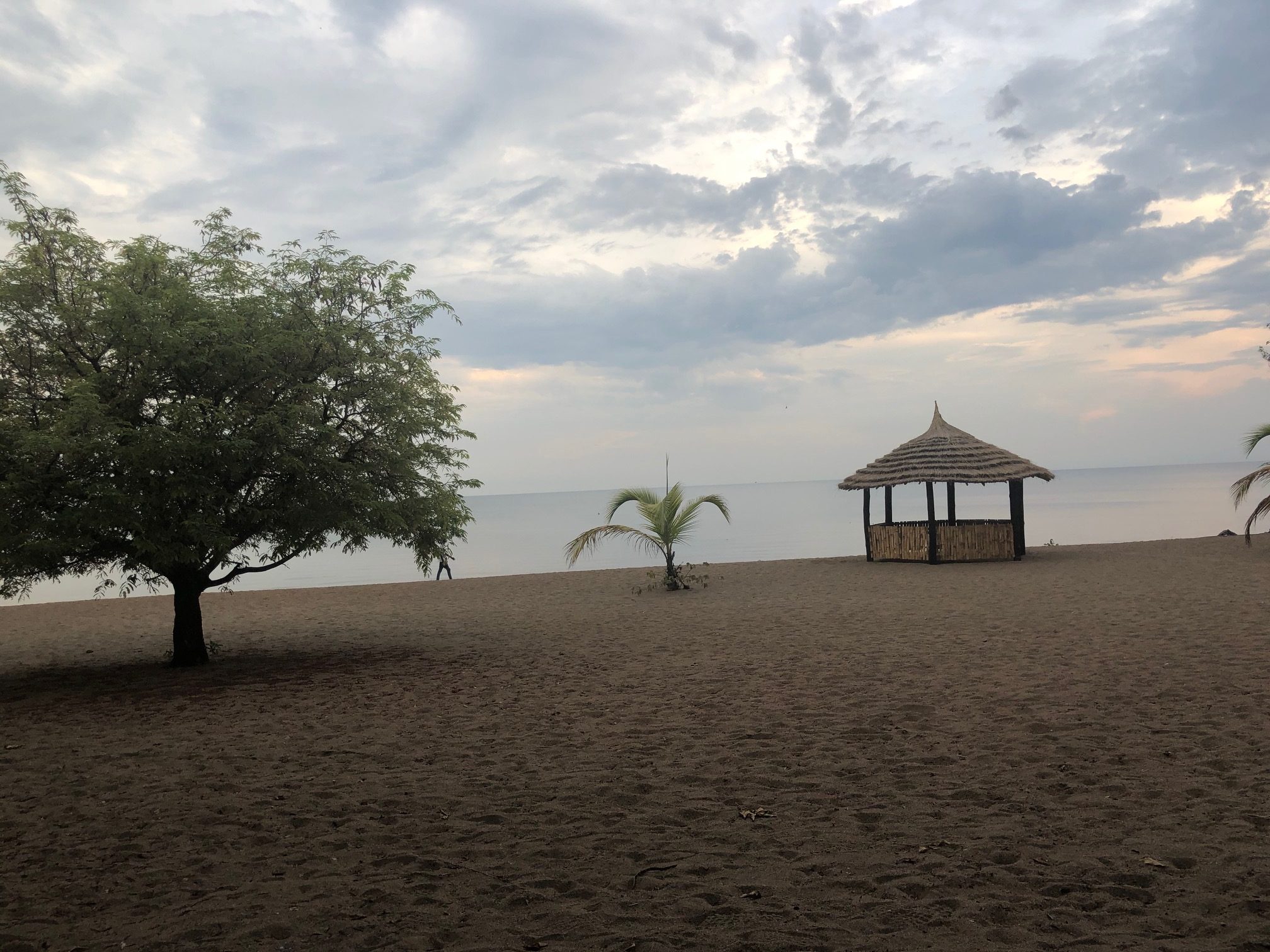 Matemba Beach, Lake Nyasa
Day 13: Sunday, December 13 – Matemba Beach to Sassi River near Laela
We were prepared for another day in the car. I asked Sue and Abdul to take the GPS reference from the Zambian bank of the Sassi River and move it straight across to the Tanzanian side of the river. We drove to the border town of Tundema. Abdul was using his Maps.me. Obviously I had not been clear in my instructions, so we were half across the border to Zambia before I realised something was wrong :-). I double checked and sure enough his GPS was still set on the Zambian site. I asked him please to move the GPS to the Tanzanian side and it looked like the spot was halfway between Tunduma and Simbawanga at a small town called Laela. We reached Laela and again headed for the Zambian border. It was quite a distance  and we passed some very nice Miombo Woodlands. We soon realised there was no roads to the exact spot. We passed one village and drove down one road and our spot got further and further away. We spotted a Buffy Pipit (TZ Lifer for me). We drove to the village closest to the spot and got assistance from the local village chief to get as close to the Sassi river and the spot as possible. This by driving on cattle tracks which we believed led to the river. Sue and I must have been the first Mzungu (White people) in that village ever. We came close to the river and Abdul shouted that he could see cows gracing by the river. I turned towards the cows, still firm ground, but suddenly I was in a marsh and was totally stuck. The village chief volunteered to get help from the village to get us loose and meanwhile the rest of us set up camp on a little higher ground. I flushed an African Snipe while carrying our gear to and from the Landy and our camp. The village chairman showed up with 10 guys that were so drunk they could hardly stand on their own legs. We tried for an hour or two but to get the Landy out, but to no avail. On top of that it started raining heavily. I asked the village chief to get a tractor from the nearest village. He promised to get back to us the day after with a tractor to pull us out. That night we enjoyed a nice night in camp and we also managed to purchase a local chicken which Selvine turned into a delicious meal. It rained more or less all night and I was contemplating leaving my precious Landy in the bog and find other alternatives to get back and wait for the dry season to pick it up.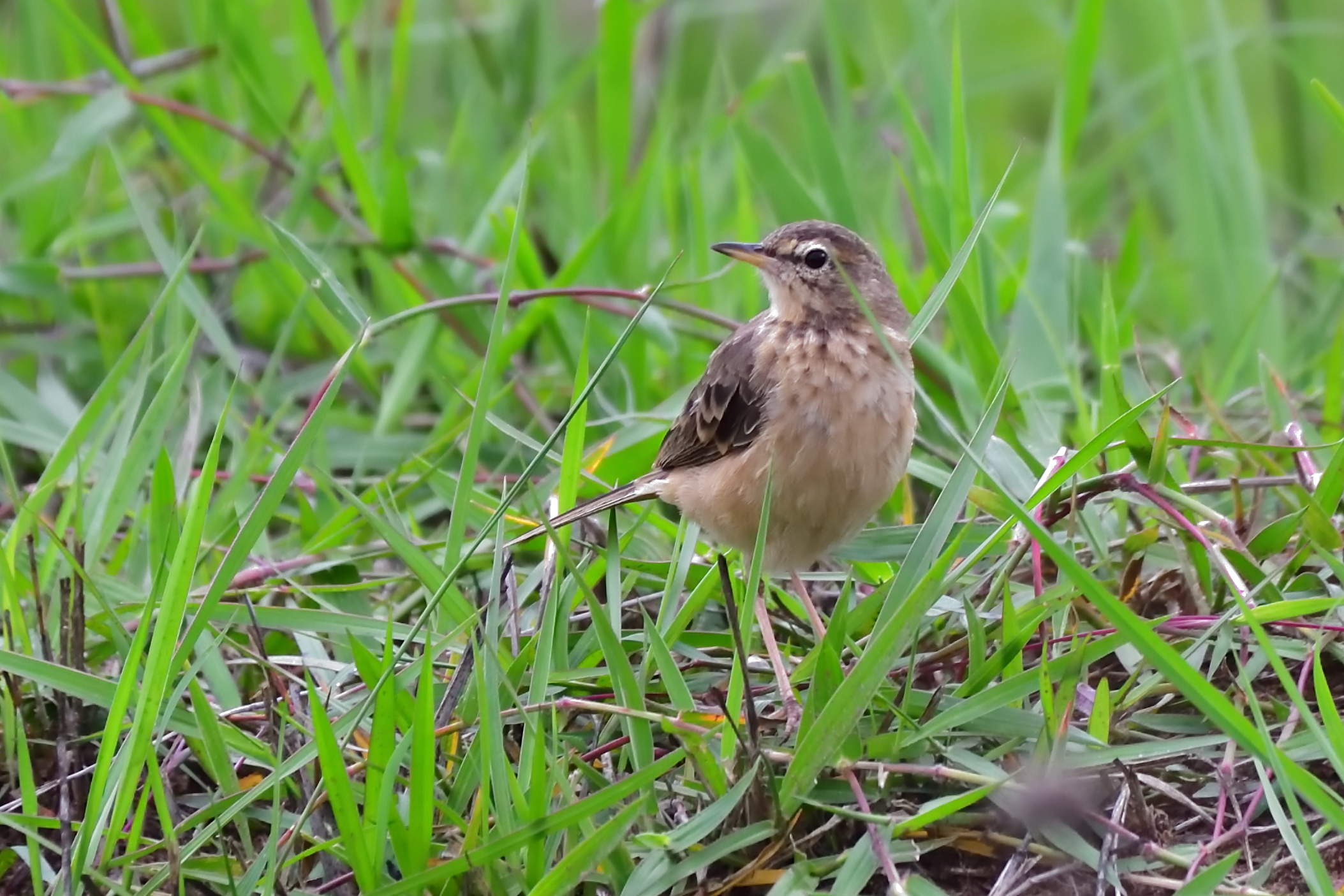 Buffy Pipit, Anthus vaalensis – TZ Lifer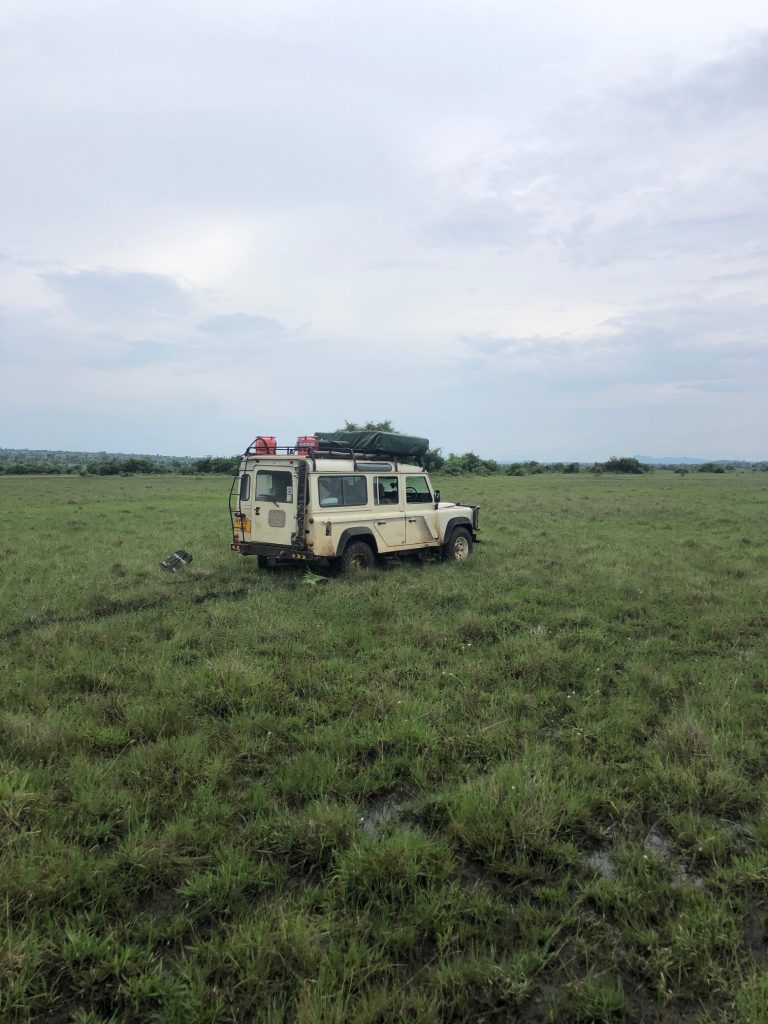 Lizzy, my Landy bogged down
Day 14: Monday, December 14 – Sassi River near Laela
The village chief showed up the day after of course without any tractor. The guys showed up too even drunker than the day before. Selvine stayed back in camp to watch over our gear and Sue, Abdul and I set out on an epic quest for the Tanzanian Masked Weaver. We were exactly 5 Km from the spot given by Neil. Abdul wanted a direct approach to the site, I suggested that we go to the river and follow the river upstream. I figured that the bird is not restricted to one spot and if we were lucky we could find it further south. Just before we approached the river, we spotted a Coppery-tailed Coucal and some noisy Hartlaub´s Babblers. Both lifers for Abdul, The last a TZ lifer for me. Abdul wanted to call them in so I could get a good picture, I said, Sue is priority, we can not spend 30 minutes with a bird I have perfect pictures of from SA. We followed the river. We picked up good species like Bare-faced Go-away-bird, Pale Flycatcher, Zitting Cisticola, Black-and-white Mannikin, Red-throated Pipit (Lifer), Angolan Swallow and Copper Sunbird. It had been raining very bad so multiple small streams were running into the Sassi River. One of them where quite heavy so it formed a delta where it ran into the main river. I crossed it easy (some experience from my fly fishing days) Sue and Abdul decided to go upstream. I tried to tell them it would be deeper and narrower there. However; they continued upstream. I walked a little towards the spot, stood and waited but they never showed up. I decided to return to the delta. They were shouting at me that they had found the Weaver. Of course it had flown when I came back. Then again it popped up and I managed to fire a few long distance shots of Tanzanian Masked Weaver (Lifer). Whilst chasing it we flushed a Swamp Nightjar (TZ Lifer) several times. My time with the camera was limited so soon we started heading back to camp. Abdul got exited by a Broad-tailed Paradise Whydah and took a detour. Sue and I forded a river  and I had to drain Sue´s gum boots. Right after that we first flushed a pair of Common quail and 50 meters further a pair of Harlequin Quails. Abdul caught up with us and we found a flock of Brown Firefinches (TZ Lifer). We had both a White Stork and an African Marsh Harrier flying over us. Eventually, we spotted our camp in the distance. Selvine was waiting for us. We actually found the Tanzanian Masked Weaver 2 km south of the spot Neil had given us, so my tactic worked out. I believe no birder has ever found the Weaver at this location before us. It was getting late, mission accomplished, the only issue now was how to get the Landy out of the bog. That was the challenge for the day after. 
Some pictures from the day: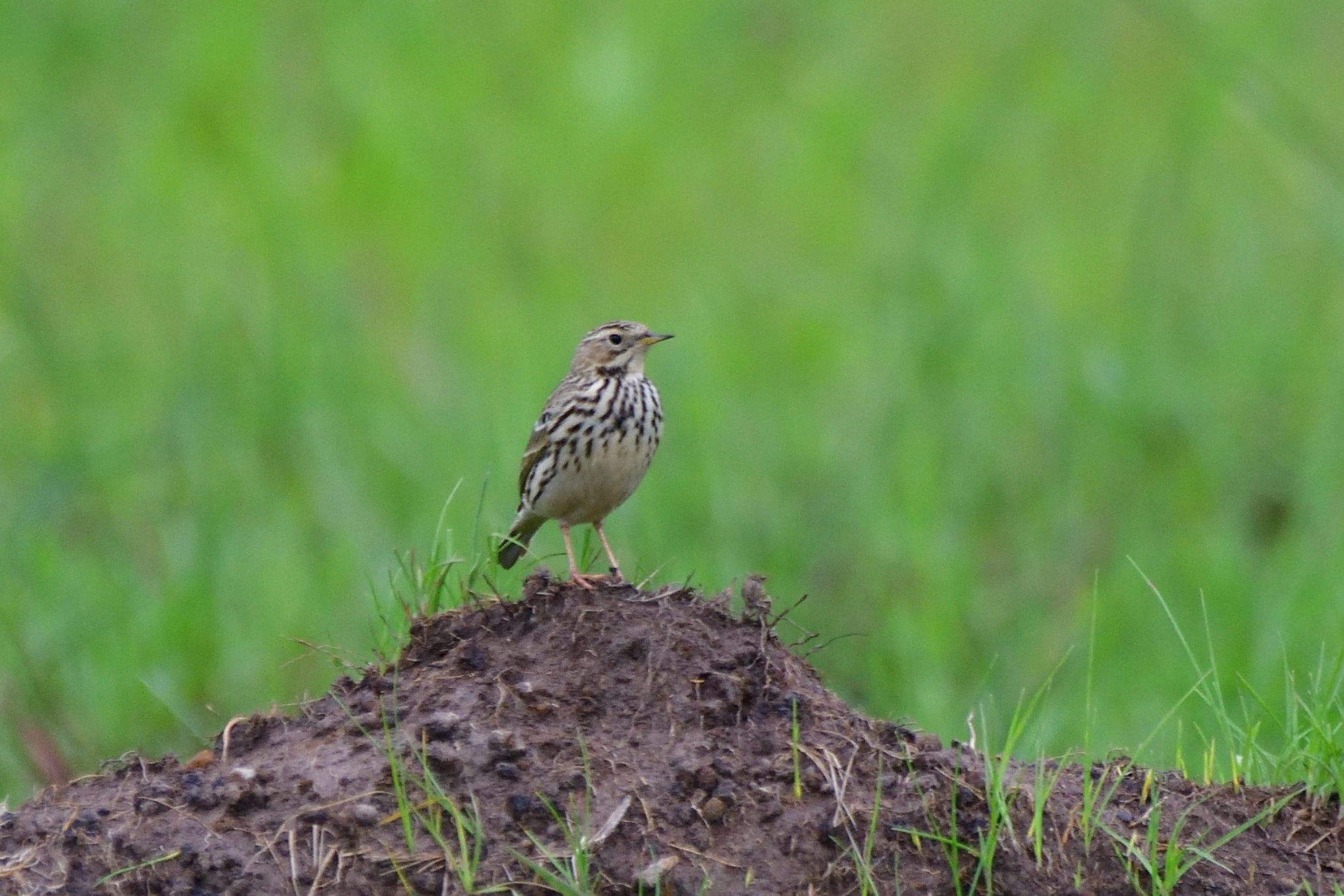 Red-throated Pipit, Anthus cervinus – Lifer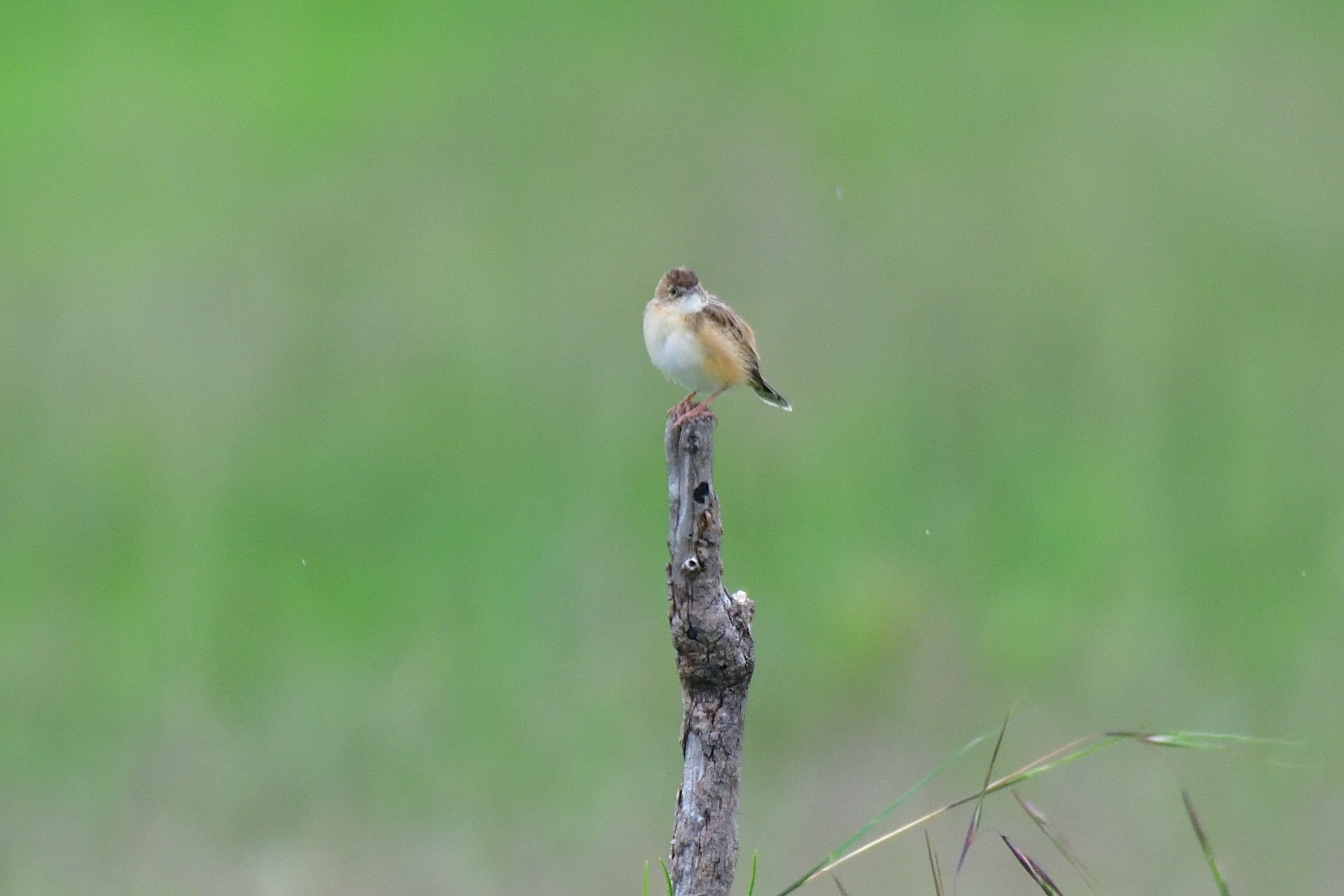 Zitting Cisticola, Cisticola juncidis
Coppery-tailed Coucal, Centropus cupreicaudus – TZ Photo Lifer
Black-crowned Night-Heron, Nycticorax nycticorax
Tanzania Masked Weaver, Ploceus reichardi – Endemic to SW Tanzania and NE Zambia – Lifer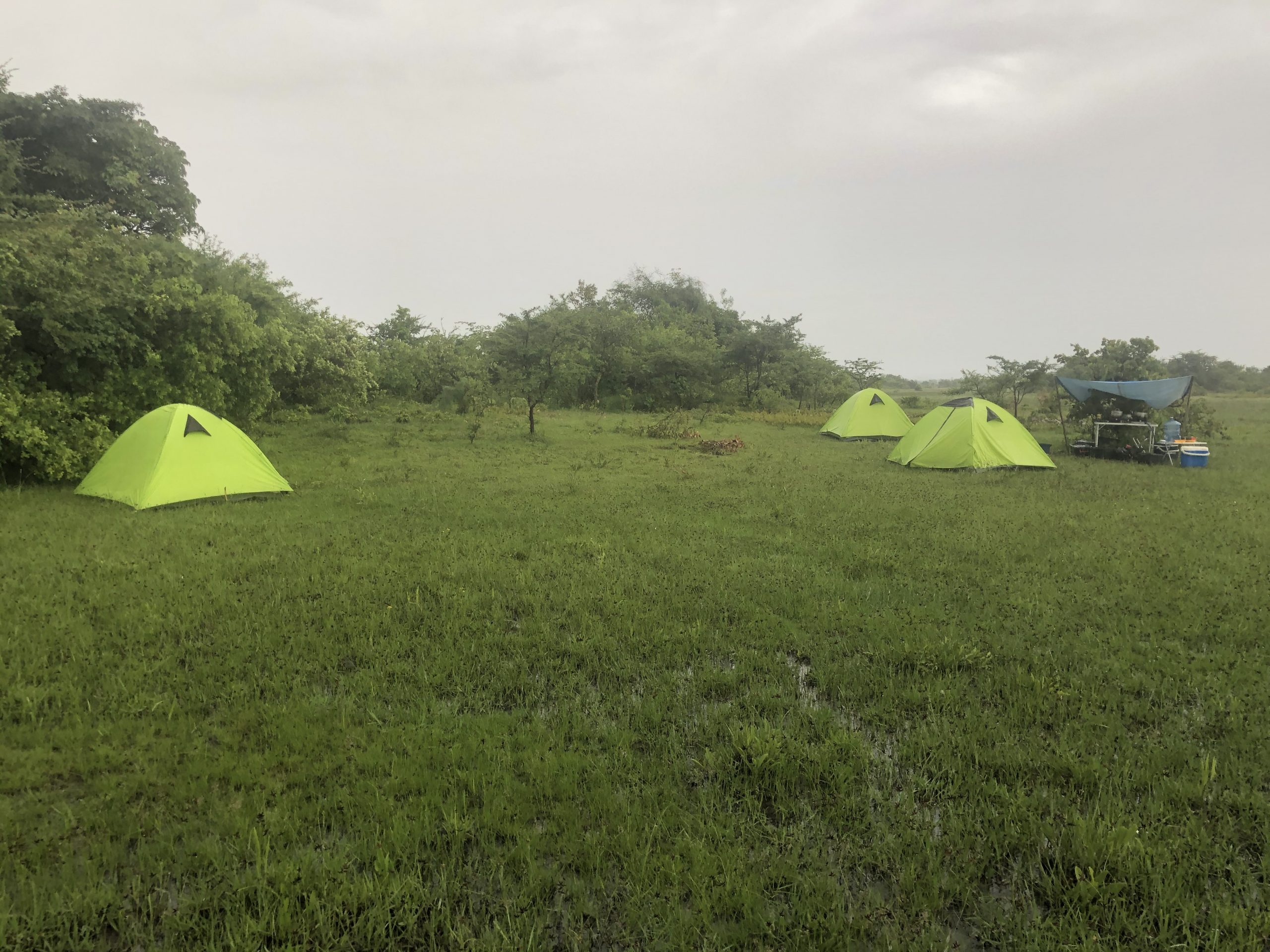 Our camp by Sassi River on the border to Zambia
Day 15: Tuesday, December 15 – Sassi River to Laela. 
The first order of the day was to get the Landy out of the bog. I sent Abdul to the nearest village to ramp up some muscles. He arrived with 16 men all of them so drunk they could hardly stand on their feet. However; miraculously, we managed to get the Landy out. They were all falling right, left and center flat in the mud :-). We drove out and headed for Laela. We stopped and birded at all the Miombo Forest patches on the way, but it was very quiet. We reached Laela just before dark and had a hard time finding a decent guest house. In the end we settled for the best we could find. They did not serve food, but there were some kind of a restaurant across the road. We all ordered Cuku (Chicken) with chips and it tasted ok washed down with a few luke warm Kilimanjaro beers. We still had 6 days left of the trip so we looked at what other birds Sue needed. Reichenow´s Batis was one of them. Which meant a 1278 km drive. I was up for the challenge.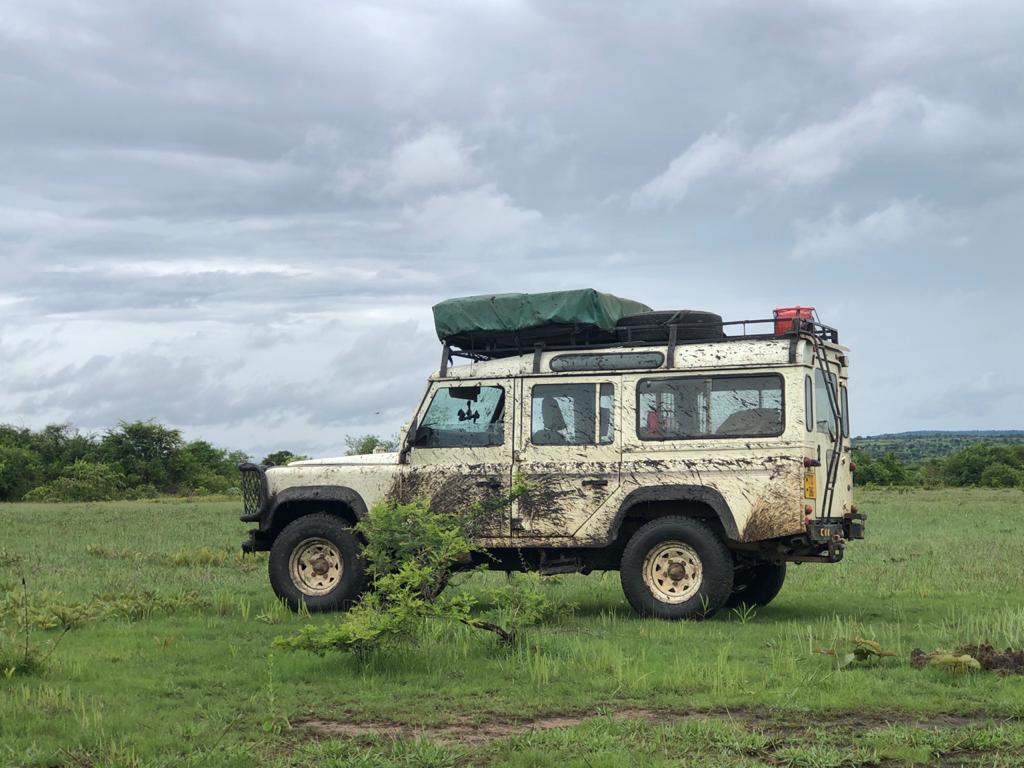 Day 16: Wednesday, December 16 – Laela to Songea
This was basically a day in the car. We covered 694 km and arrived in Songea just before dark. Quickly found a guest house, had dinner and to sleep.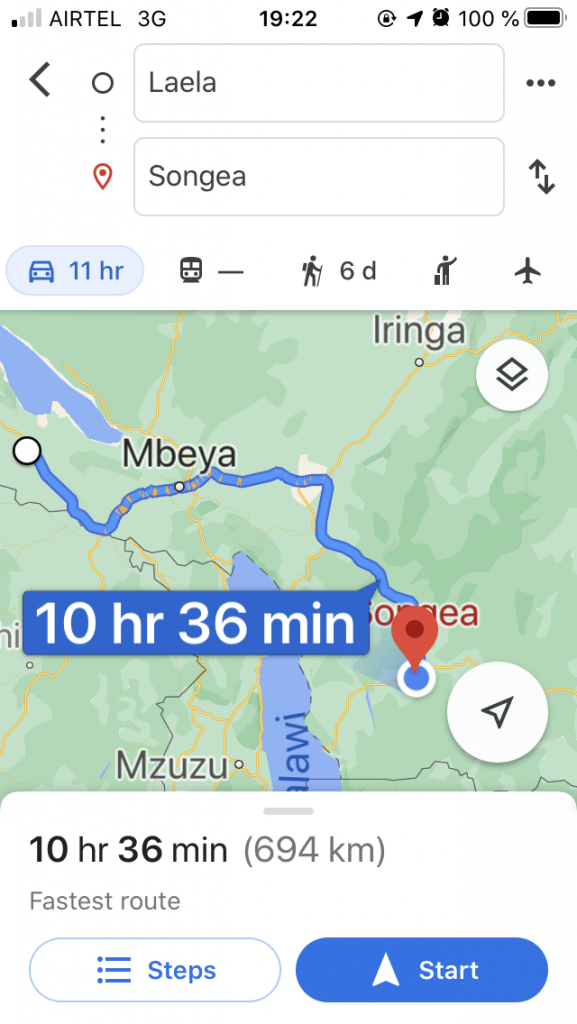 Day 17: Thursday, December 17 – Songea to Rondo Platau
Another long drive with a stop over in Masasi to restock our supplies. 
We arrived just in time to set up camp and for Selvine to cook us a lovely meal.
Selvine is rigging our home for the night.
Day 18: Friday, December 18 – Rondo Platau to Lindi
We went for a morning walk and found the Reichenow´s Batis just at the forest edge. Abdul added East-coast Akalat and Böhm´s Bee-eater to his lifer list. Back to camp and pack up again. As we were leaving the forest, Selvine spotted a Burchell´s Coucal. Lifer for Abdul and TZ picture lifer for me. As we drove down towards the main road, I discovered that one of the drive shafts was coming out. I popped it in, but it kept on coming out. With Abduls quick brain and my engineering skills, we cut the bottom of a pringle box and secured it properly with some rope. This concoction lasted all the way back to Arusha. Neil had given us some tips about Vincent Bunting. To my dismay, the spot was 3 hours back towards Songea. When we reached Masasi, I texted Neil and asked if he had actually seen the bird there, he said nope, but the habitat looked good for it. We found the spot and I got some pictures of Striped Pipit, but no Vincent Bunting. Abdul checked out several of the dome like mountains, but no bird. We decided to go back to Masasi for the night. We checked out 7 guest houses/hotels, nothing available. It was already dark and I hate driving in the dark. We decided to continue towards Lindi to find a place to stay on the way. To cut a long story short, we ended up in Lindi that night. We arrived 10:55, 5 minutes before the restaurant closed. Another long drive. 147 km driving in the dark in Tanzania, a new personal record for me.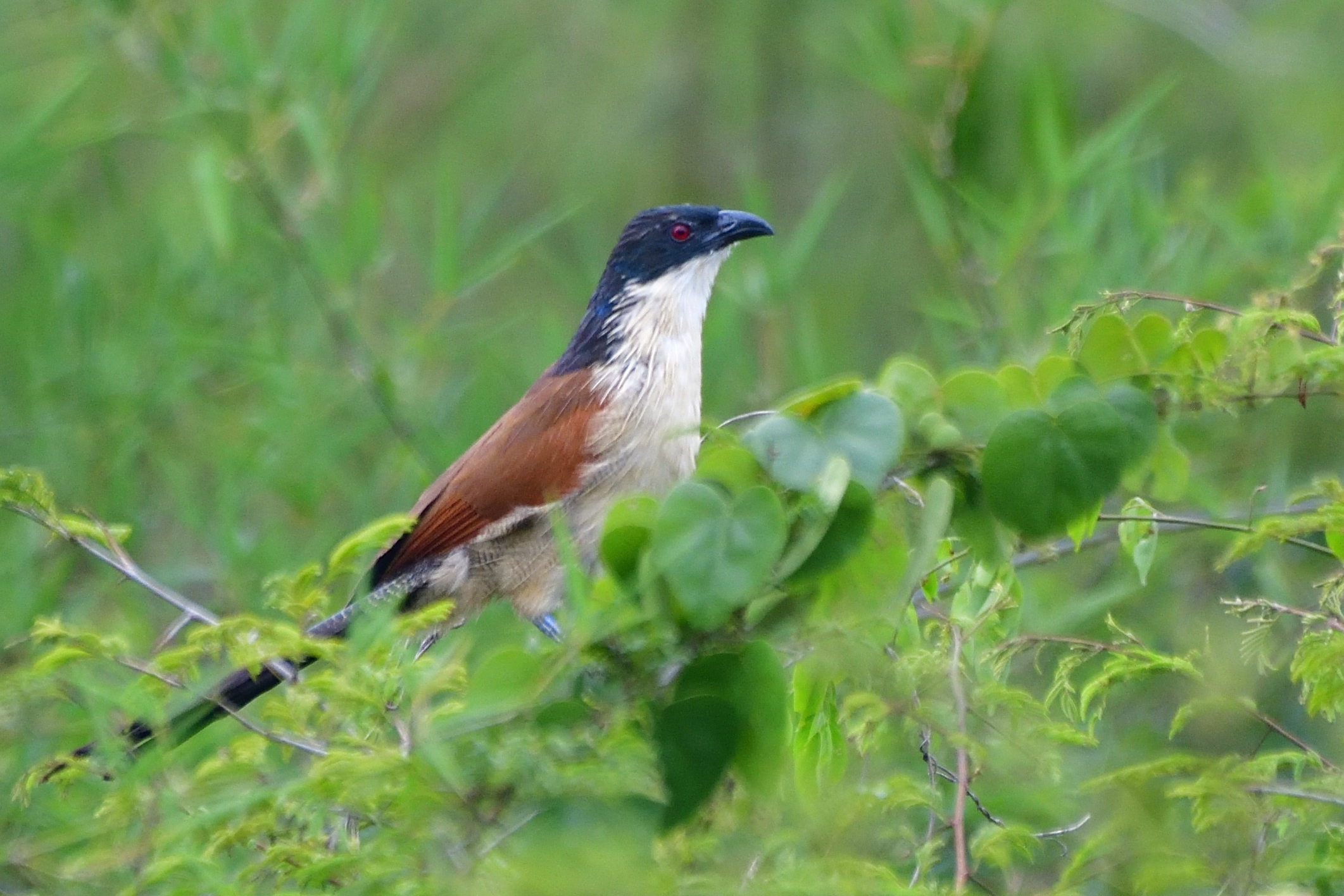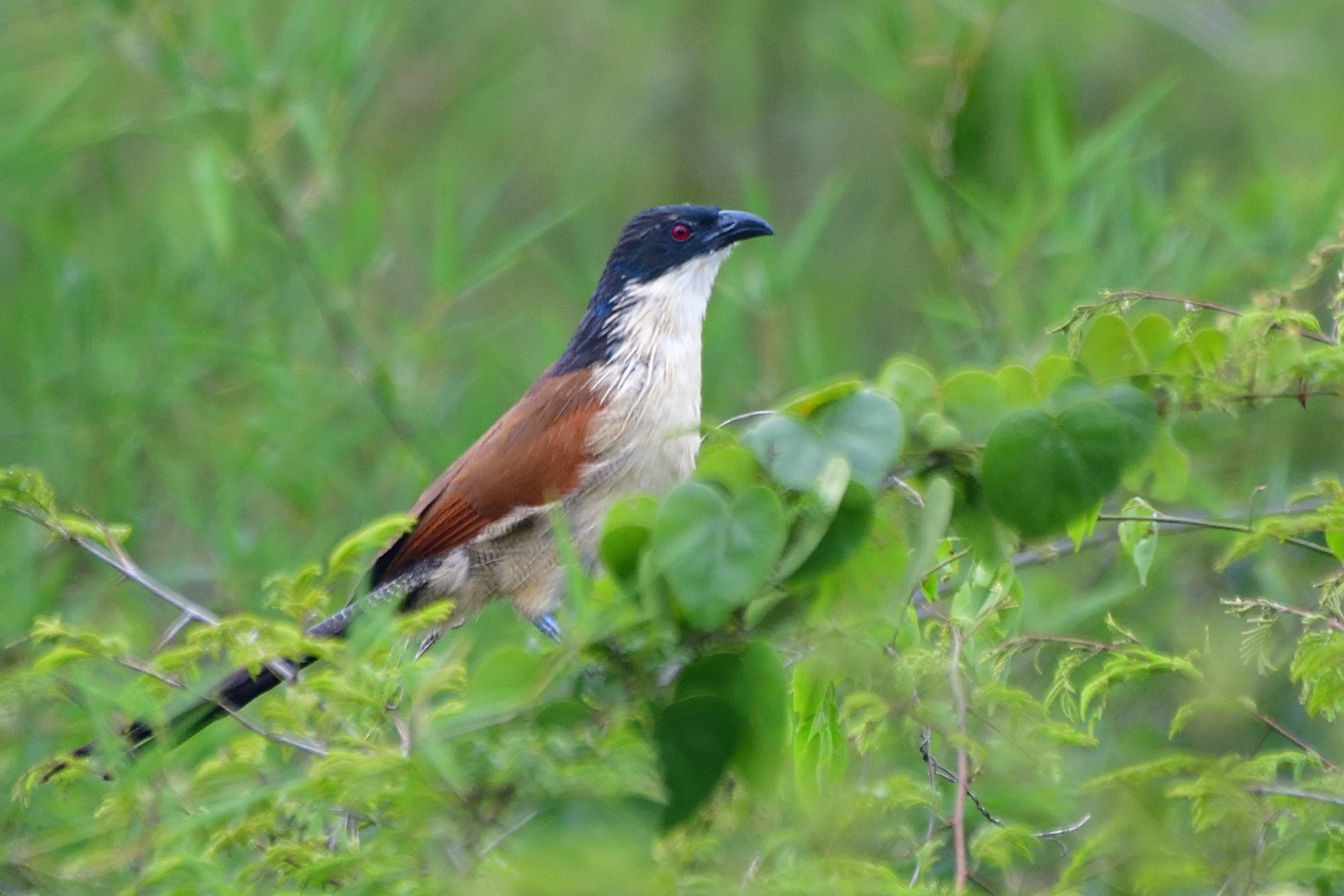 Burchell´s Coucal, Centropus burchelli – TZ picture lifer for me
Striped Pipit, Anthus lineiventris
Day 19: Saturday, December 19 – Lindi to Ikwiriri (290 km)
Another target for Sue was the race of Red-faced Mousebird found in Tanzania. Neil had told us to just make a detour north of Lindi. We did so and it took Abdul 5 minutes to spot the bird. Then back on the road. We had some heavy rain and at one point a huge truck was blocking the road. With my Landy, we continued in the ditch. It was quite slippery and we bumped in to the side of the ditch at some point. We passed a huge truck and he was honking and blinking his lights at us. When we reached Ikwiriri we understood why: Our back door was open and we had spread camping gear all over the road. When we did the inventory we found out that only a sleeping bag and some mattresses were missing. We slept that night at Selous Lodge. We were in driving distance of Dar es Salaam.
Selvine ready to leave Lindi
Red-faced Mousebird, Urocolius indicus – TZ Lifer
Sue is helping out with the windscreen viper
Day 20: Sunday, December 20 – Ikwiriri to Dar es Salaam (169 km)
We started early to hit the National Laboratory in Dar since Sue needed a Covid test to get back to South Africa. We arrived at the laboratory and it was total chaos. Sue got ticket number 318 and they were serving numbers 80-90. Selvine and I were waiting in the car. Abdul managed to purchase ticket number 117 and Sue soon had her test taken. However, she still had to wait 2 1/2 hours for her control number so she could pay. Finally, we were on the road again and headed straight for Samaki Samaki in Mlimani City for a well deserved beer. I had booked rooms for us with my friend Kelvin at Optima Royal. We had a nice day watching some football and had a few more beers.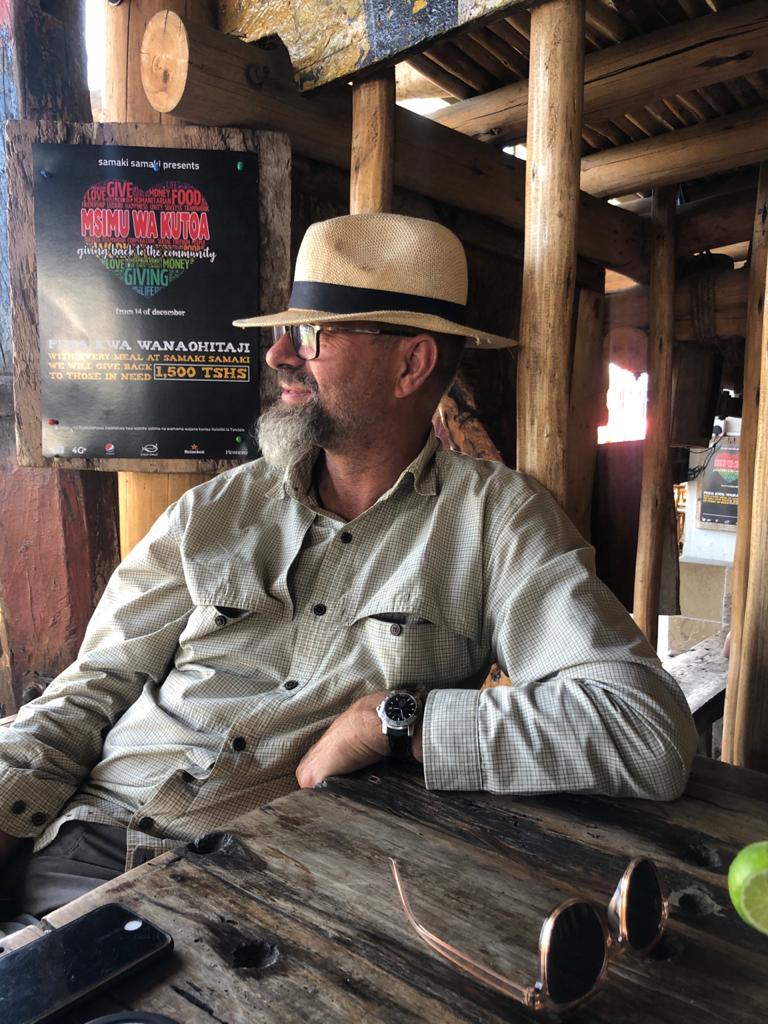 Relaxing at Samaki Samaki after a very long and crazy trip
Day 21: Monday, December 21 – Dar es Salaam – Bagamoyo – Dar es Salaam.
This was supposed to be a day to wait for Sue´s Covid certificate, but there is a certain Ruvu Weaver just west of Bagamoyo. At that time it was not a real split yet, but less than a month later, it is an official split. We tried some other pans south of Bagamoyo on the way home and could not find anything of real interest so we returned to Optima Royal. I arranged with Kelvin to take Sue to pick up the Covid test the day after and take her to the airport.
Sue shows her appreciation to my Landy Lizzie that took her more than 7.000 km criss crossing southern Tanzania
Day 22: Tuesday December 22
Selvine, Abdul and I Said bye to Sue. We were heading for Fish Eagle Point Lodge north of Tanga for some much needed relaxation. It was one of the craziest trips ever. We managed to find all birds for Sue + some bonus birds. Abdul got 94 lifers and I got a couple of lifers myself + quite a few Tanzanian lifers and Tanzanian picture lifers.