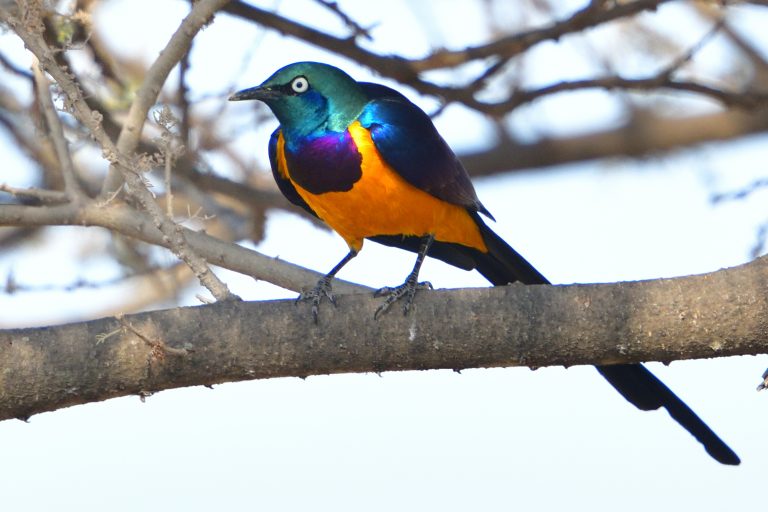 Day 10, Wednesday, August 26 – Amani Forest to Fish Eagle Point Lodge (continued from Part 1)
We continued from Amani towards Fish Eagle Point lodge (FEP) that is located about 40 km north of Tanga close to the Kenyan border. On the road we picked up a Gabara Goshawk and an African Openbill.  From the dirt road to the camp, we saw several Northern Carmine Bee-eaters on the electrical wires. The friendly staff showed us to our bungalows and told us that lunch was ready. While having lunch on the platform overlooking the bay, we registered Red-fronted Tinkerbird, Grey Sunbird, Sombre Greenbul, Crowned Hornbill, Yellow-billed Kite and a Common Sandpiper. It is quite a lot hotter on the coast, so birding mid day yields very few birds. I met with Mietek and Martin around 4 and we took a walk in the vicinity of the Lodge. Purple-banded Sunbird, White-throated Bee-eater, Mangrove Kingfisher, Palm-nut Vulture, African Fish Eagle and  Wolly-necked Stork were recorded. The sun was now almost setting and the tide was out, so I focused the last half hour to see if any waders had returned. On the first afternoon we found Whimbrel, Greater Sand Plover, Curlew Sandpiper and Common Greenshank. We returned to the Lodge freshened up, had dinner and an early night.
Some more pictures from Day 10: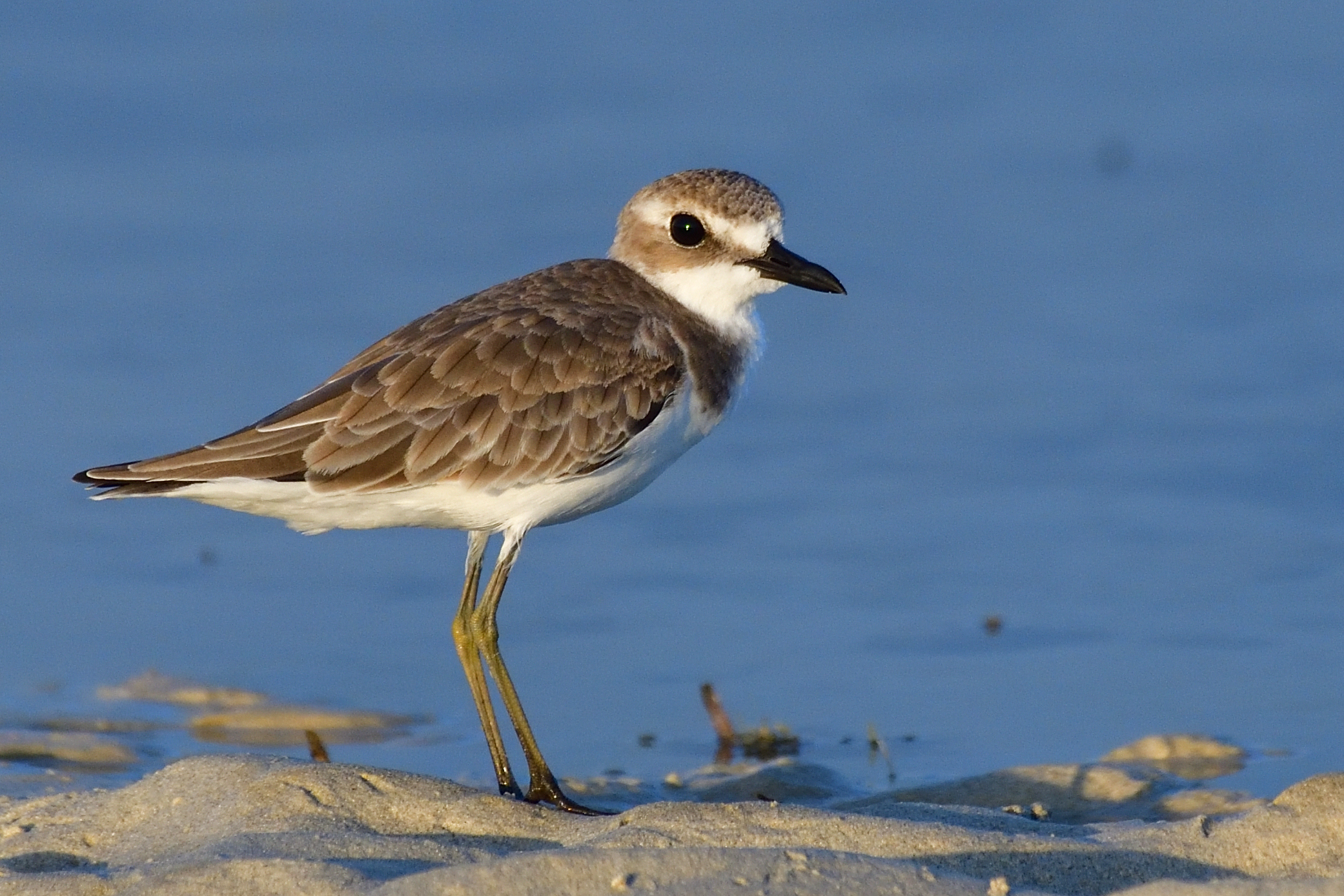 Greater Sand Plover, Charadris leschenaultii
Palm-nut Vulture, Gypohierax angolensis
Day 11, Thursday, August 27 – Fish EaglePoint Lodge
I had planned to take the Dhow today and go out to a sandbank about an hour from the lodge to look for Noddys, Terns, Gulls and Waders, but Mietek was not interested in those birds, so we decided to bird around the Lodge in stead. We were out birding early, just walking from the Lodge. Some of the new birds added for the day included: Green Malkoha, Black-bellied Starling, White-browed Coucal, Northern Brownbul, Yellow-throated Longclaw, Red-capped Robin-Chat, Crested Francolin, African Harrier-Hawk, Black-headed Oriole, Grey-headed Bushshrike, Blue-naped Mousebird, a surprise Eastern Black-headed Apalis, and Broad-billed Roller were recorded before we returned to the Lodge for breakfast. After breakfast it got to hot, so we just rested through lunch until it was time for our afternoon birding. Steve Attwell, the owner of FEP wanted us to explore a nearby peninsula. We tried last time we were at FEP, but it was too boggy at that time. Now it was much better. We parked the car and walked towards the tree line, but it was still too hot. One of the target birds this afternoon was Brown-breasted Barbet. We tried to play its call at different intervals and finally we got a response. A pair of them flew in and allowed for some distant record shots. We walked on and found a noisy group of Green Wood Hoopoes but they would not get close enough for any pictures. We walked back towards the car and then we heard the unmistakable call of a Mombasa Woodpecker. We managed to get quite close and get some half decent pictures. This was also a surprise bird for me. We got in the car and drove a kilometre or so to the beach. Again we were trying for some Waders. Steve had informed us that the Crab Plovers had not yet arrived, but it did not take Steve long to find Mietek a pair on the beach. I wondered a little off by myself and managed to find a Grey Plover in addition to the Waders seen the day before. We returned to the Lodge, freshened up, dinner and an early night.
Some pictures from Day 11: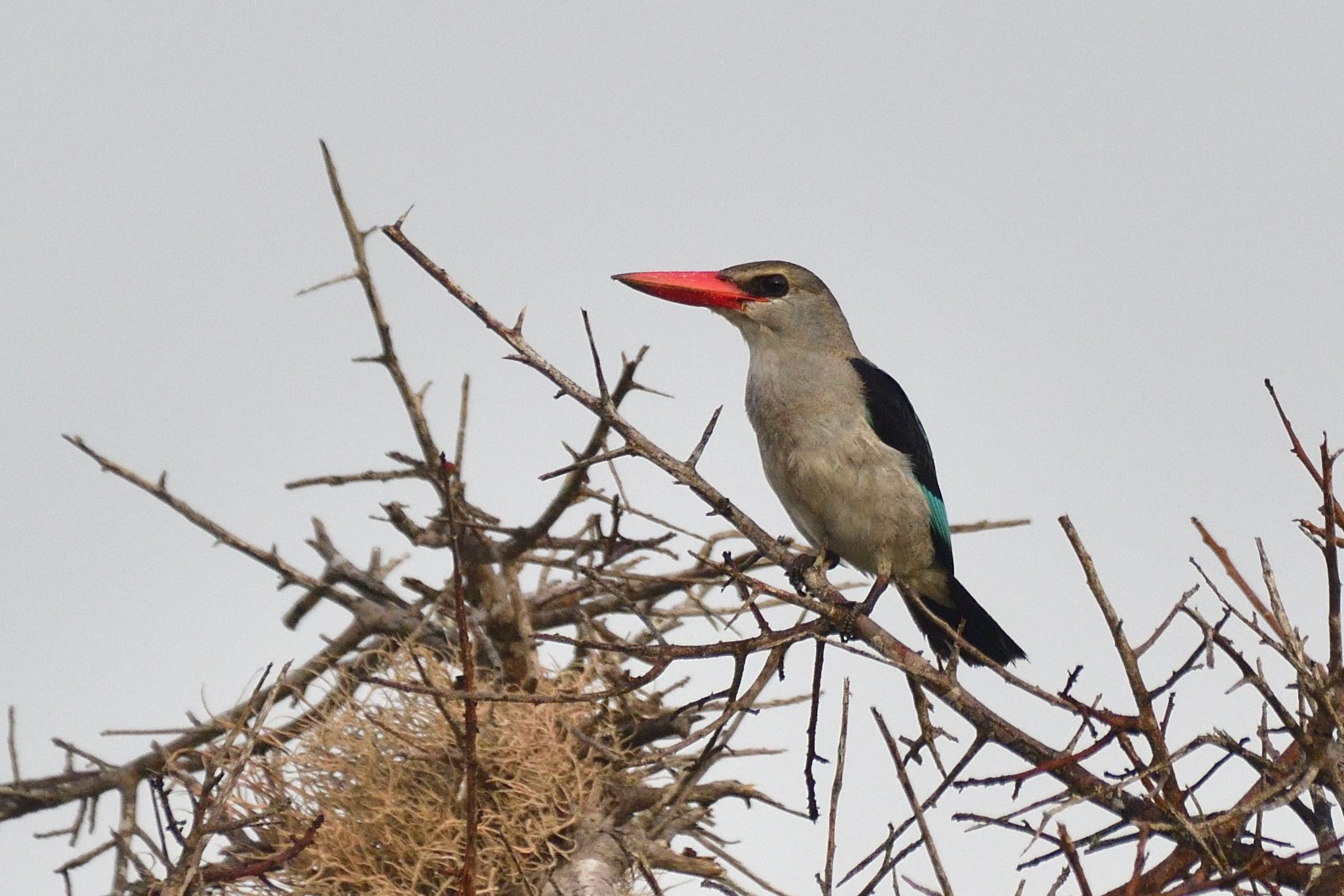 Mangrove Kingfisher, Halcyon senegaloides
Sombre Greenbul, Andropadus importunus
Eastern Black-headed Batis, Batis minor – Endemic to NE Africa
Mombasa Woodpecker, Campethera mombassica – Endemic to coastal East Africa
Day 12, Friday, August 28 – Fish Eagle Point Lodge
Another full day at FEP. We started with a morning walk again. We did not add many new birds this morning: Bearded Scrub-Robin and Green-backed Camaroptera. However; we managed to get better photo opportunities for a few birds. At one point we had 4 Green Malkohas calling at the same time, but none of them wanted to show themselves. We returned for breakfast and to relax during the heat of the day. In the afternoon, we focused again on the water birds: Dimorphic and Great Egret. In addition some new waders had arrived. A Grey Plover in perfect breeding condition. It would only allow for distant pictures. Terek Sandpiper, Ruddy Turnstone, Common Ringed and Lesser Sand Plovers. 15 minutes before sundown, we had a pair of Wolly-necked Stork land allowing for some pictures. This was a bird Mietek needed better pictures off. We returned to the Lodge and had the same routine as previous nights.
Some pictures from Day 12: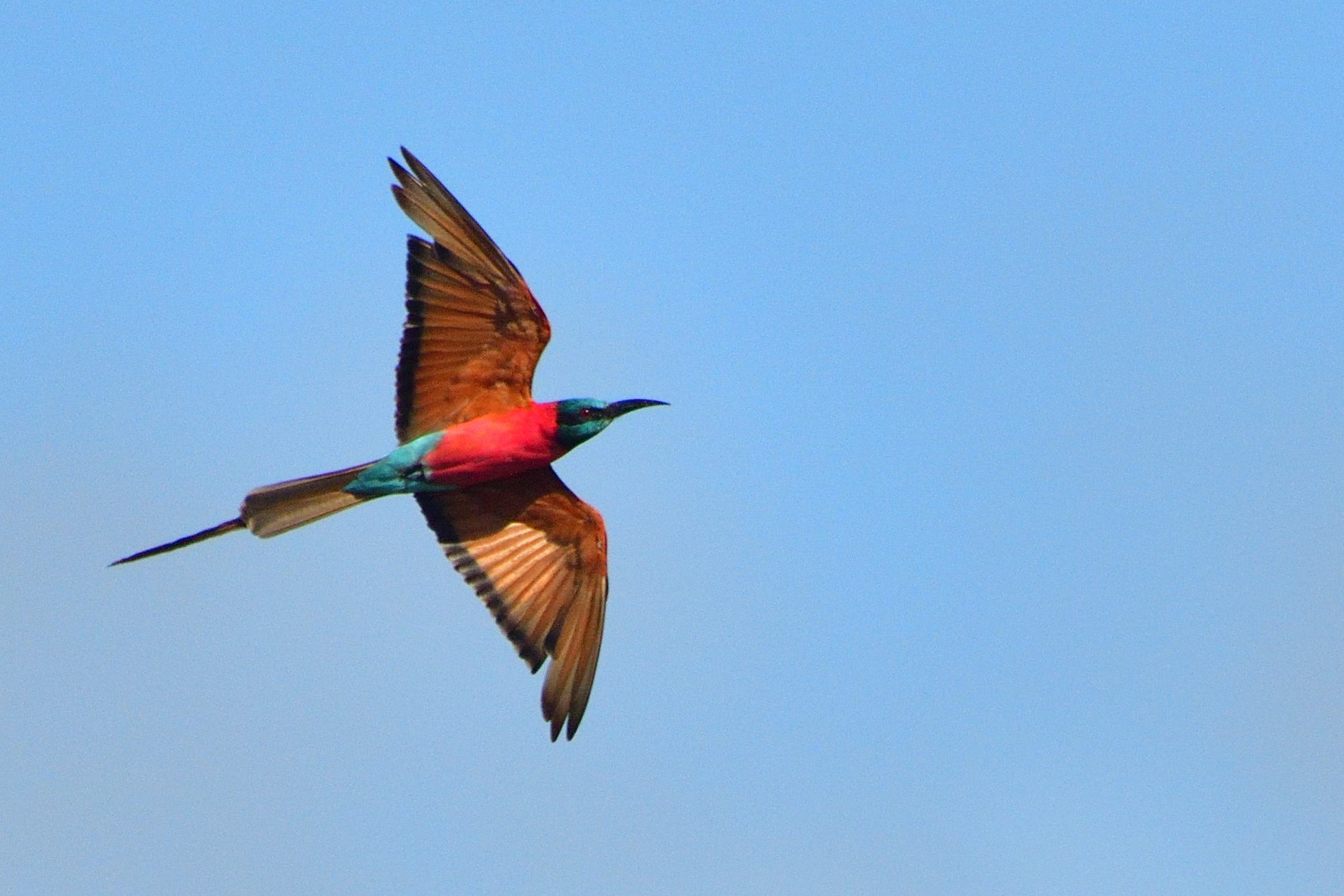 Northern Carmine Bee-eater, Merops nubicus
Brown-breasted Barbet, Lybius melanopterus – Endemic to East Africa
Dimorphic Egret, Egretta dimorpha
Lesser Sand Plover, Charadrius mongolus
Common Sandpiper, Actitis hupoleucus
Curlew Sandpiper, Calidris ferruginea
Eurasian Whimbrell, Numenius phaeopus
Wolly-necked Stork, Ciconia episcopus
Day 13, Saturday, August 29 – Fish Eagle Point Lodge – Same
Our last day of morning birding at FEP. We added Amethyst Sunbird, Black Cuckooshrike, Lesser Honeyguide and Black Cuckoo to over FEP list before we went for breakfast. Afther breakfast, we packed our car and set out for Same and Elephant Motel. We dropped Martin off at Muheza, stopped for lunch just after Mombo and reached Same in good time for some afternoon birding. I took the road towards Mkomazi park and stopped at some new Bandas the park had built just outside the park. Before I parked the car, I saw a flock of White-crested Helmetshrikes fly off. This was one of Mietek´s target so I jumped out of the car and played the call and soon they were all back providing some greast photo opportunities. We added Hunter´s Sunbird before we went to our normal place. We had beautiful light this afternoon and managed to capture some of the previous birds in better light. We returned to the Motel and retired for the night.
Some pictures from Day 13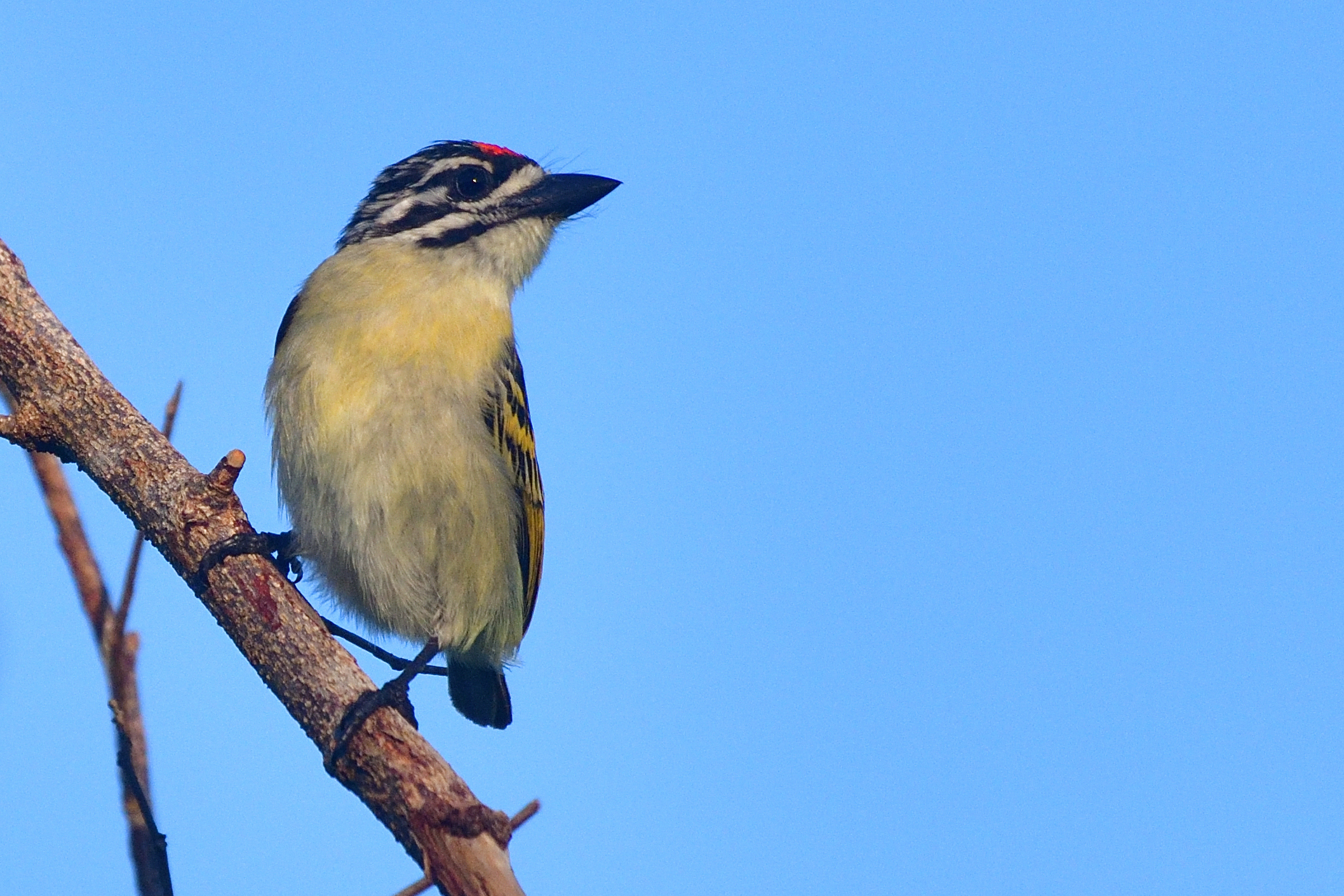 Red-fronted Tinkerbird, Pogoniulus pusillus
Crowned Hornbill, Tockus alboterminatus
Grey Sunbird, Cyanomitra veroxii
Lesser Honeyguide, Indicator minor
White-crested Helmetshrike, Prionops plumatus
Black-throated Barbet, Thricolaema melanocephala – Endemic to NE Africa
Purple Grenadier, Granatina ianthinogaster – Endemic to NE Africa
Eastern Violet-backed Sunbird, Anthreptes orientalis – Endemic to NE Africa
Nubian Woodpecker, Campethera nubica – Endemioc to NE Africa
Day 14, Sunday, August 30 – Same – Kiligolf
Mietek and I went back to just before the Mkomazi Gate. We had a pair of Jameson´s Firefinches on the way. We stopped at the spot of the new bomas and had a white-morphed African Paradise Flycatcher entertaining us for a while although to get a proper picture of these long-tailed birds proves very difficult. Other birds: Trumpeter Hornbill (One of Mietek´s targets), Parrot-billed Sparrow, Green-winged Pytilia, Red-billed Buffalo Weaver, Red-billed Oxpecker, Orange-breasted Bushshrike, Martial Eagle and Augur Buzzard. We went back to the Motel, had breakfast, packed the car and headed towards home. I heard a terrible noice under the car only 12 km north of Same, stopped and realised I had just lost my propeller shaft. A local Fundi managed to remove the reminders of the shaft and we were soon on our way again. We picked up a Brown Snake Eagle on the way, besides that nothing really exiting. We arrived home safe and managed to do a little garden birding before dark. A Scarlet-chested Sunbird posed nice for me.
Some Pictures from Day 14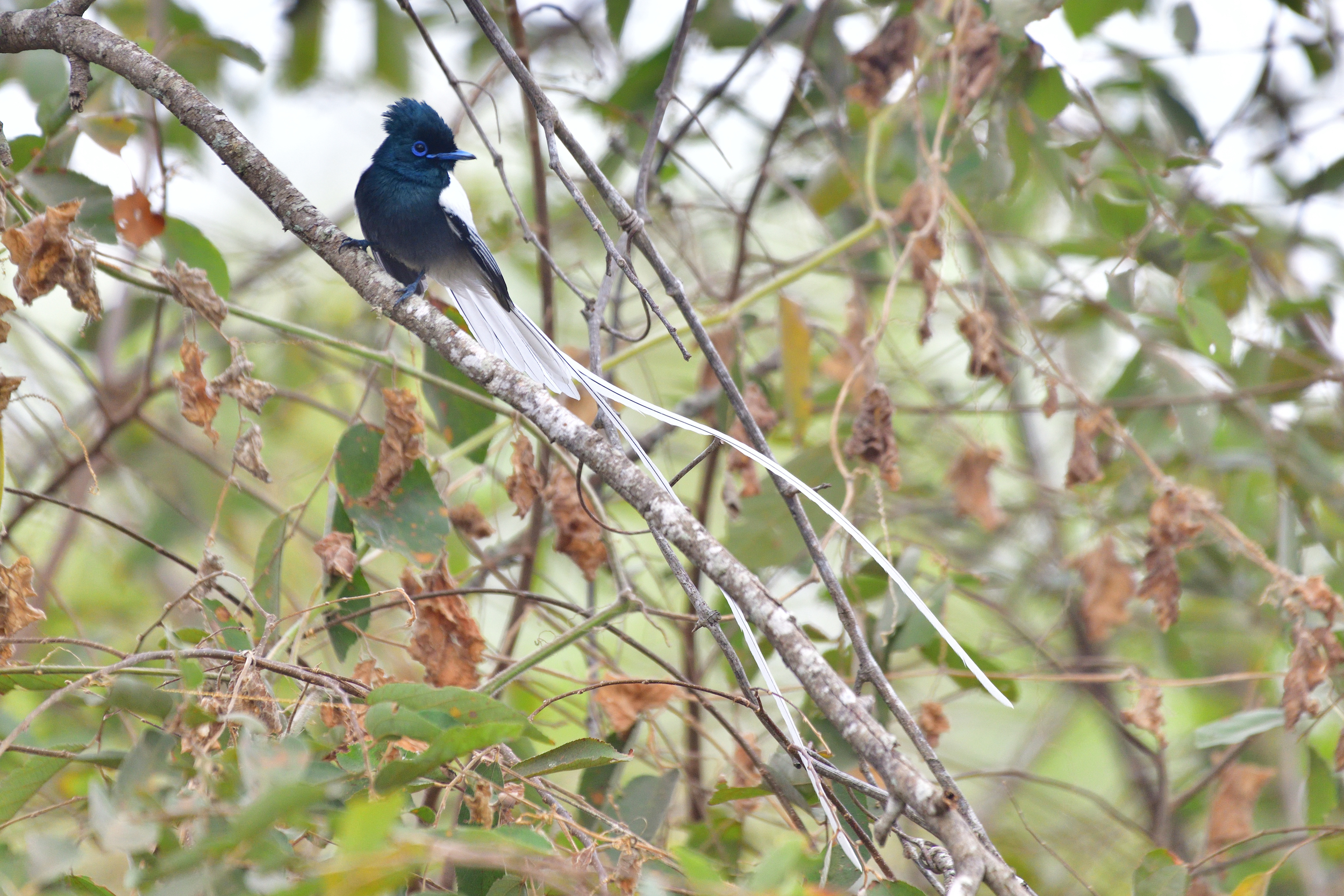 African Paradise Flycatcher, Terpsiphone viridis – White-morph
Trumpeter Hornbill, Bycanistes bucinator
Green-winged Pytilia, Pytilia melba
Scarlet-chested Sunbird, Chalcomitra senegalensis
Day 15, Monday, August 31 – Danish Forest – Kalanga Forest – Sakila Hills Wetlands
We were doing some local birding around Usa River this day. Abdul had joined us again. First stop Danish Forest. Quite a bit of Red-tape to get in on this day, but eventually we managed. This small forest patch contains some very good birds. Here are some of them we registered on this day: Little Greenbul, White-eared Barbet, Olive Sunbird, Silvery-cheeked Hornbill, Tropical Boubou, Grey-olive Greenbul, Tambourine Dove, Rüppel´s Robin-Chat, Black-throated Wattle-eye, Sombre Greenbul, Lemon Dove, Lesser Honeyguide, Black Sparrowhawk, Red-throated Twinspot and Crowned Hornbill. We had now moved to Rotterdam for some Breakfast/Lunch. Abdul mentioned a new forest he had recently discovered, Kalanga Forest. We decided to give it a try even though it was 12:30 when we arrived there. Some red tape there as well, but Abdul assured us it was a good spot for one of Mietek´s Target: Narina Trogon. We needed a ranger with us and he first took us on a wild goose chase before we eventually reached a good path. a Green Malkoha came out directly, then the target bird Narina Trogon followed by Black-fronted Bushshrike, Tropical Boubou, Broad-ringed White-eye and Buff-spotted Flufftail (My first sighting in TZ). We still needed better pictures of the Trogon and when I found a small glade with huge trees surrounding it, I decided this could be a good spot. I instructed Abdul to play the call and very quickly a male and a female flew in. Having found our target bird, we decided to return to the car. We only spent a total of one hour in the forest, but it certainly a patch I need to explore more. Our next stop of the day was the wetlands nearby Sakina Hills. I had observed Madagascar Pond Herons here on a few occasions. This small wetland holds an impressive number of waterbirds. Some of the ones observed: Knob-billed Duck, Hottentot Teal, Intermediate Egret, Black Crake, Grey Crowned Crane, African Swamphen, White-backed Duck and Lesser Moorhen. We scanned and scanned, but alas no Pond Heron. On our way home, we made a stop at the clubhouse at Kiligolf. Mietek was looking for Red-winged Starling. I relaxed in a chair and got descent pictures of a Superb Starling and Magpie Shrike.
Some pictures from Day 15: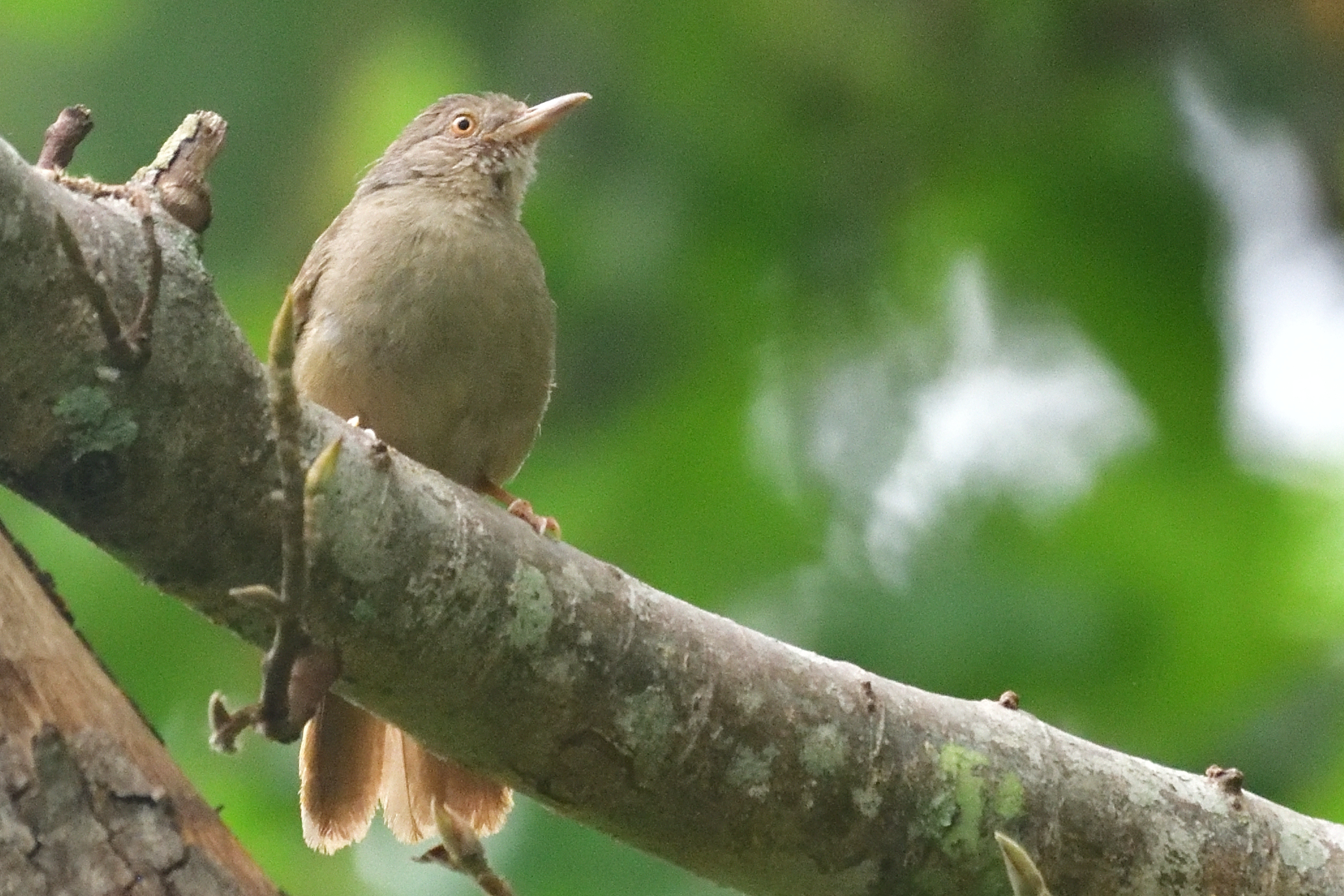 Grey-olive Greenbul, Phyllastrephus cerviniventrus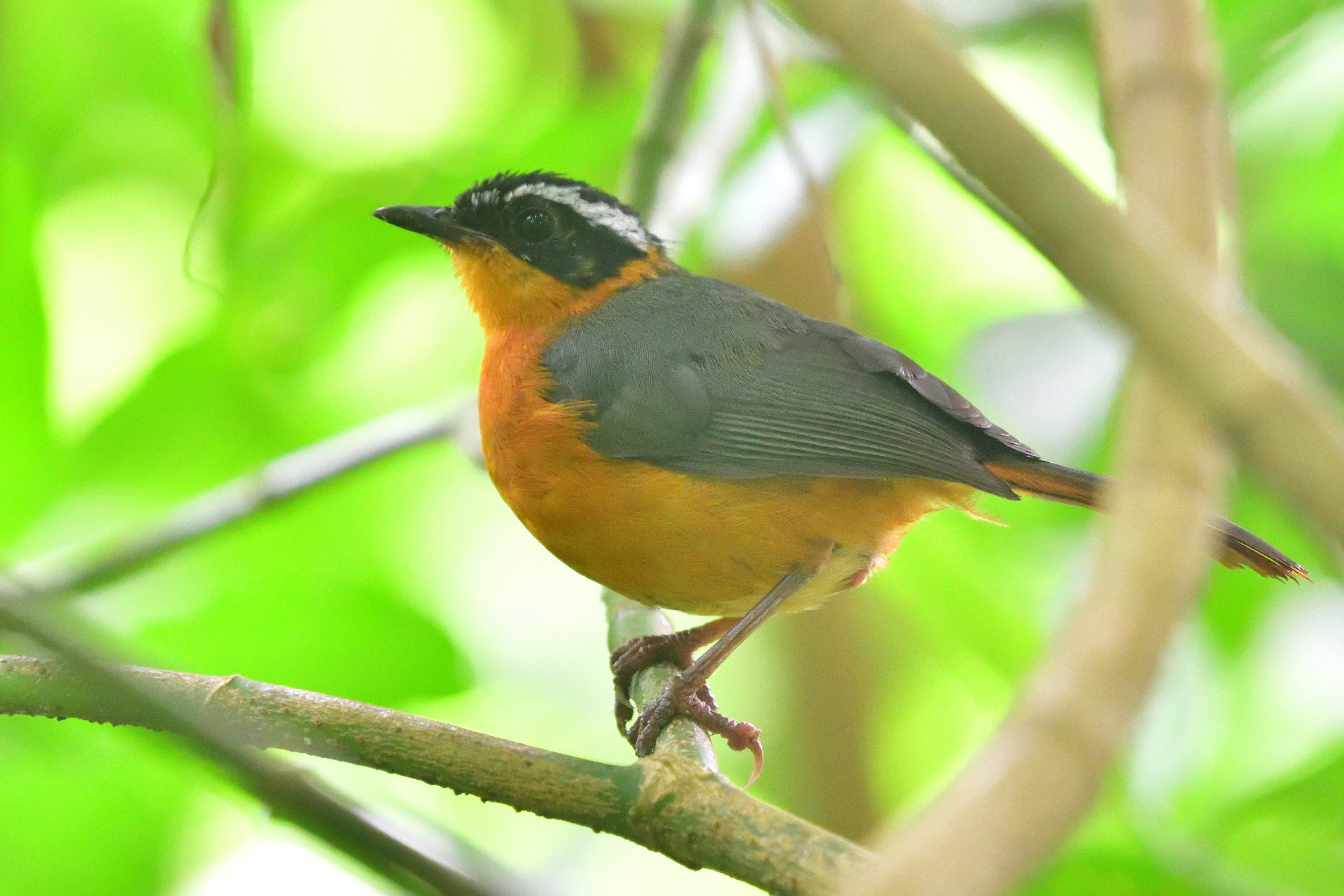 Rüppel´s Robin-Chat, Cossypha semirufa – Endemic to NE Africa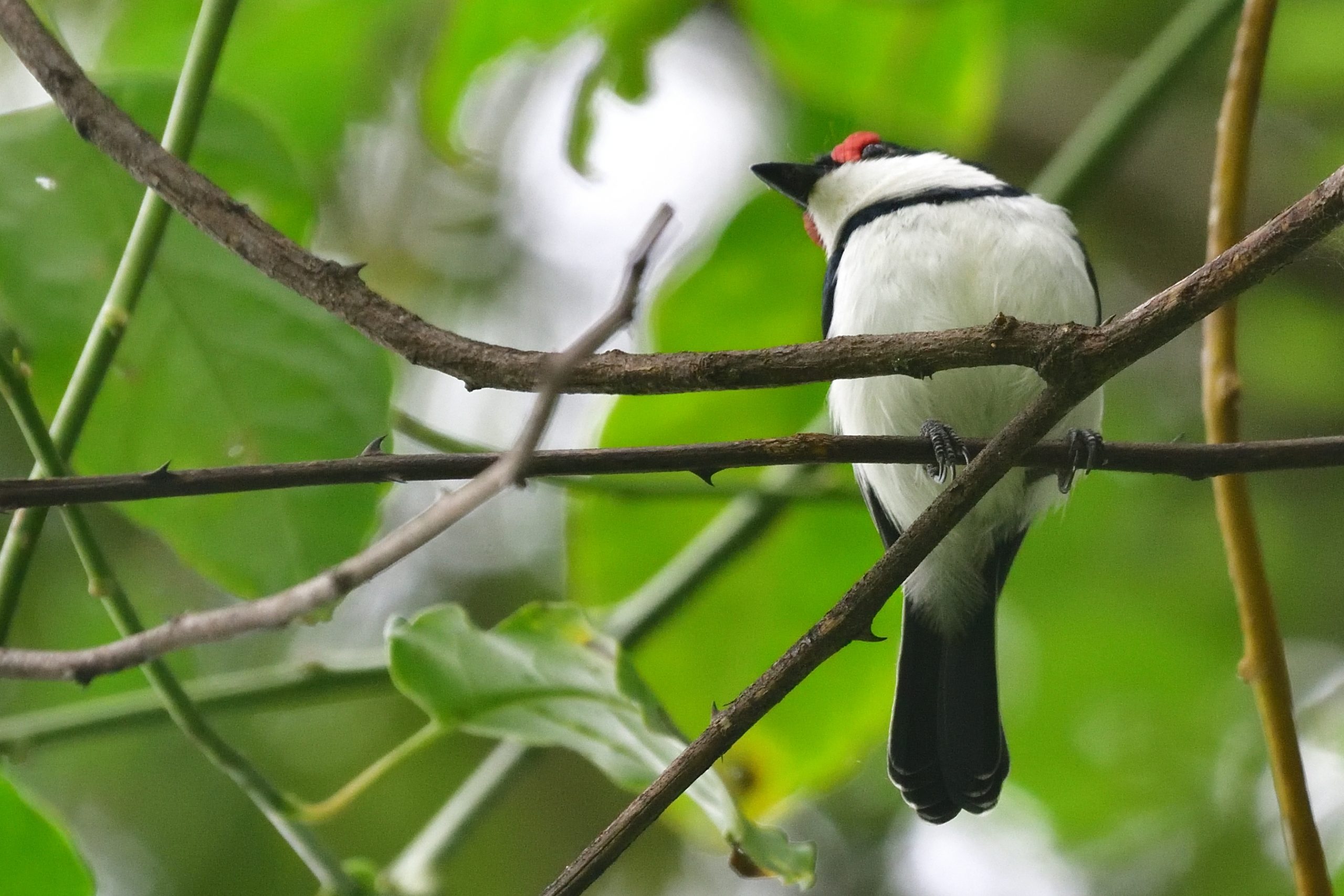 Black-throated Wattle-eye, Platysteira peltata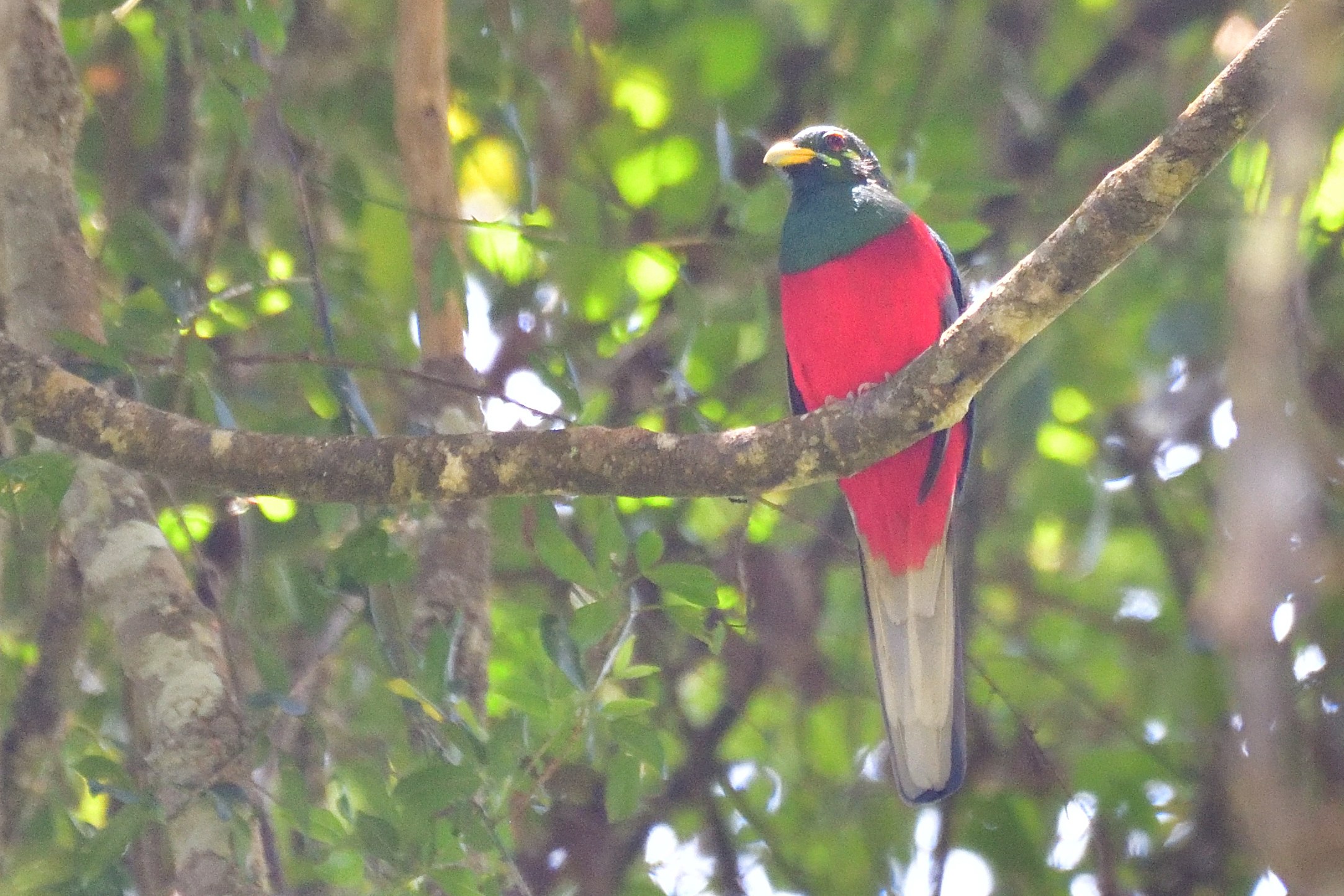 Narina Trogon, Apoloderma narina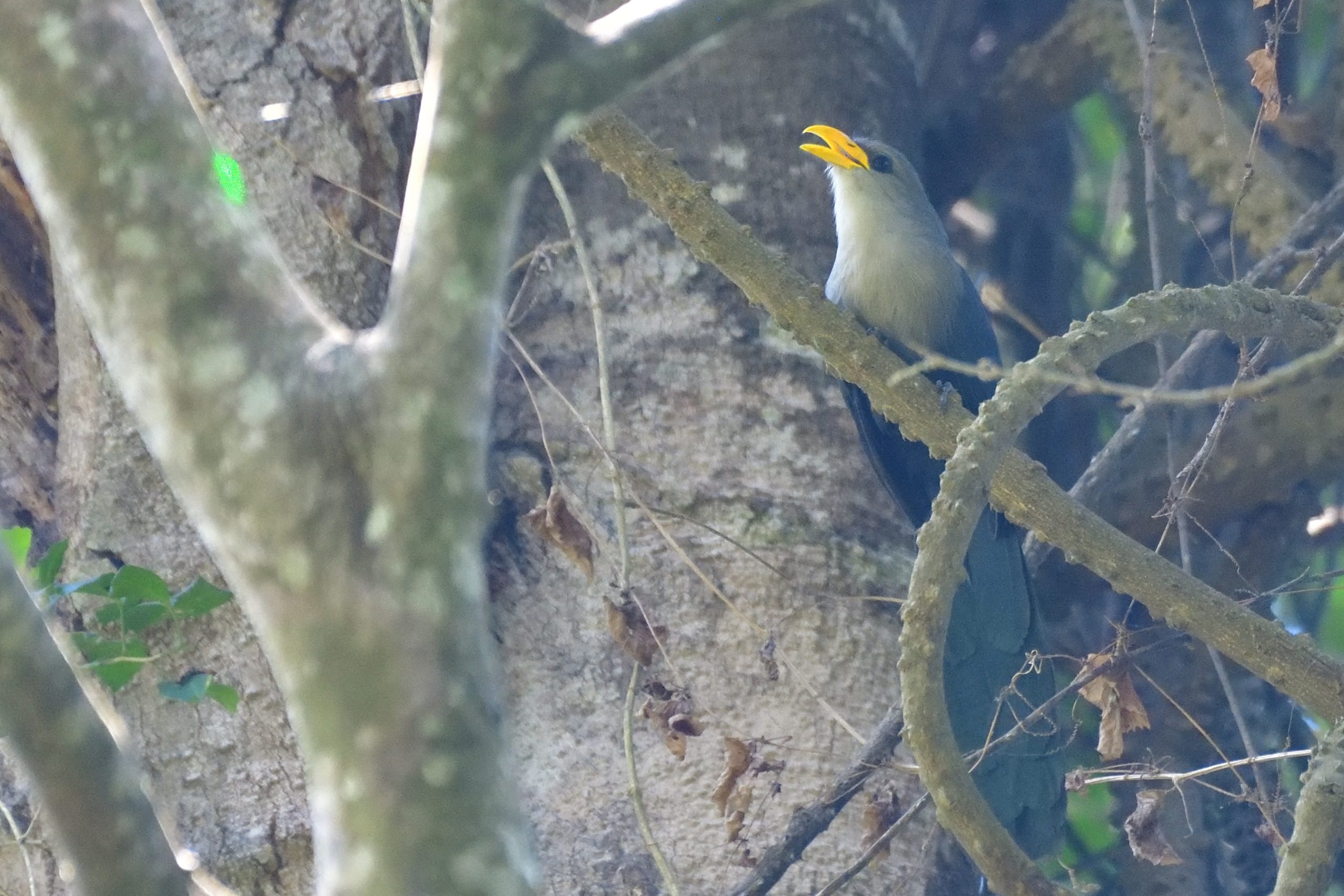 Green Malkoha, Ceuthmochares australis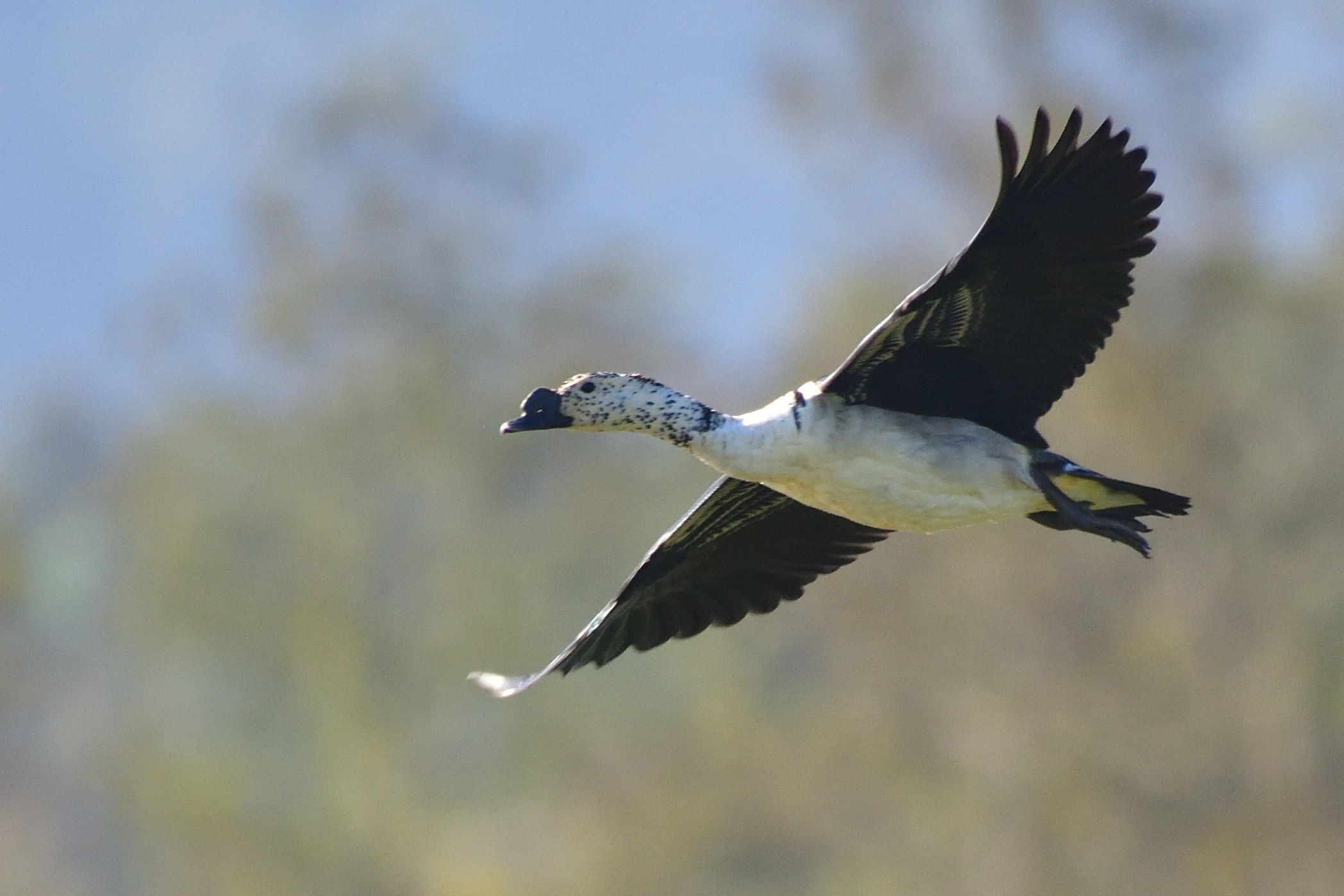 Knob-billed Duck, Sarkidornis melantos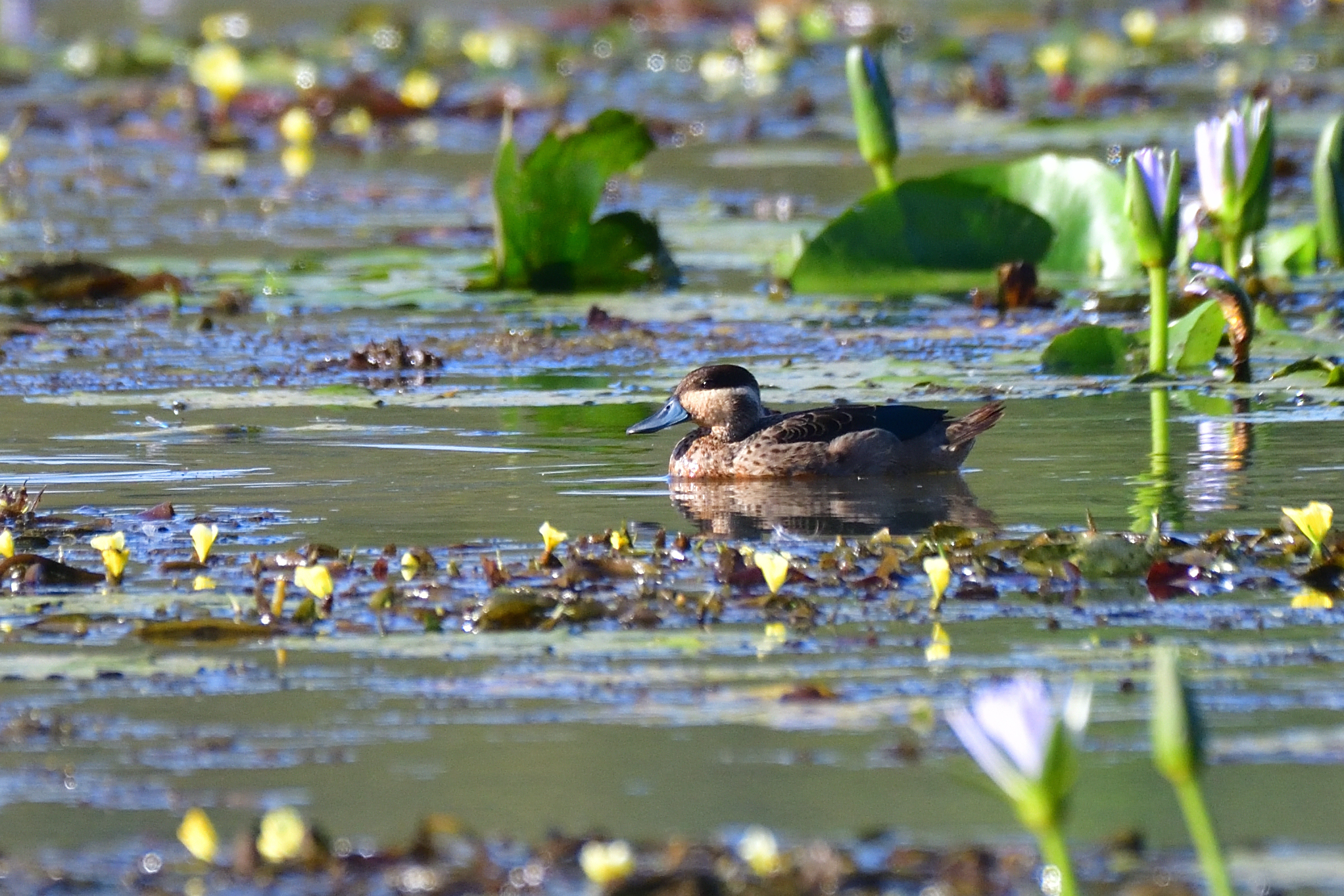 Hottentot Teal, Anas hottentota
Superb Starling, Lamprotornis superbus – Endemic to NE Africa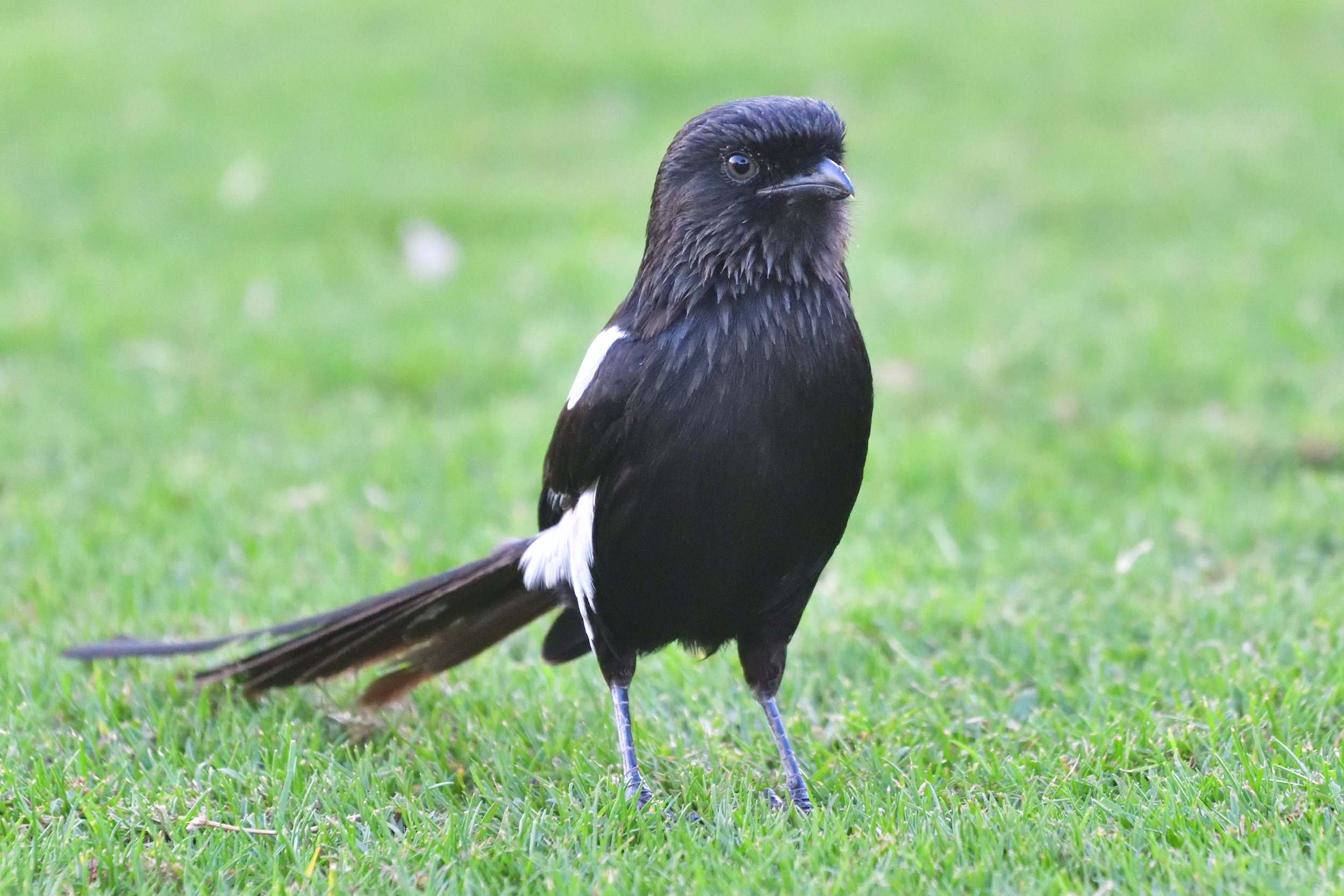 Magpie Shrike, Urolestes melanoleucos
Day 16, Tuesday, September 1 – Mirerani and beyond
This day we were going to explore from the town of Mirerani and towards the Masai Steppe. We reached the town of Mirerani made a right and continued at speed to where the tar ended. We slowed down there, popped up the roof on the Landy and started birding. It was a little slow in the beginning, but Von der Deckens´s Hornbill, Banded Parisoma, African Grey Woodpecker and Red-fronted Tinkerbird were picked up before I saw a Grey-headed Bushshrike fly low across the road. It landed close to the road allowing for good photographic opportunities. We drove on a couple hundred metres and from the same stop, we saw Hunter´s Sunbird, Northern Crombec, Somali Bunting, Black-throated Barbet and Pygmy Batis all seen and photographed from the car. We continued and stopped for the odd bird: Pygmy Falcon, Pink-breasted Lark, Tsavo Sunbird, Spotted Palm Thrush and Yellow-bellied Eremomela. Then we found Mietek´s number one target bird for the day: Golden-breasted Starling. We spent quite a time with the Starlings trying to get good pictures. We drove on and collected amongst others Green-winged Pytilia, Brubru, Blue-capped Cordon-bleu, White-bellied Go-away-bird, Eastern Chanting Goshawk, Yellow-collared Lovebird, White-headed Mousebird, Crested Francolin, Grey Wren-Warbler, Red-billed Oxpecker and heard a Buff-crested Bustard. We stopped at our normal spot and had breakfast before we took a small walk. It was not a lot of activity on our walk, but Tsavo Sunbird, Bare-eyed Thrush, Red-and-yellow Canary, Namaqua Dove, Purple Grenadier, Eastern Violet-backed Sunbird, Pale White-eye, Black-faced Sandgrouse, Yellow-spotted Bush Sparrow, Red-fronted Prinia (Warbler), Brown-crowned Tchagra and Pygmy Batis were recorded before we returned to the car. We continued driving and added Rosy-patched Bushshrike, Scaly Chatterer, Fischer´s Sparrow-Lark, Chestnut Sparrow and Red-rumped Swallow before we came to the point were we usually turn. This place has a breeding population of Black-capped Social Weavers. They were not breeding now, but still a few birds were hanging around the nests. On the way back I saw a small flock on one other of Mietek´s target: Fischer´s Starling. This bird use to be very common on this road, but that day this was the only sighting we had. We continued and took a left down to the lake. We parked the car and observed quite a few species: Spur-winged Lapwing, Three-banded Plover, Wood Sandpiper, Dwarf Bittern, Grey-headed Silverbill, Fulvous Whistling Duck, Cut-throat Finch + many more. We stopped at another location and noticed a huge flock of Wattled Starlings (another of Mietek´s targets). Mietek and Abdul went to get some pictures of those birds, I waited in the car. We drove on and picked up White-browed Coucal, Slate-colured Boubou, Black-faced Waxbill and Grey-headed Kingfisher. So far we had registered more than 80 species. We drove back to Kiligolf and went back to the clubhouse. Still no luck in finding a Red-winged Starling for Mietek. We returned to the house. All in all a very productive day.
Some pictures from Day 16: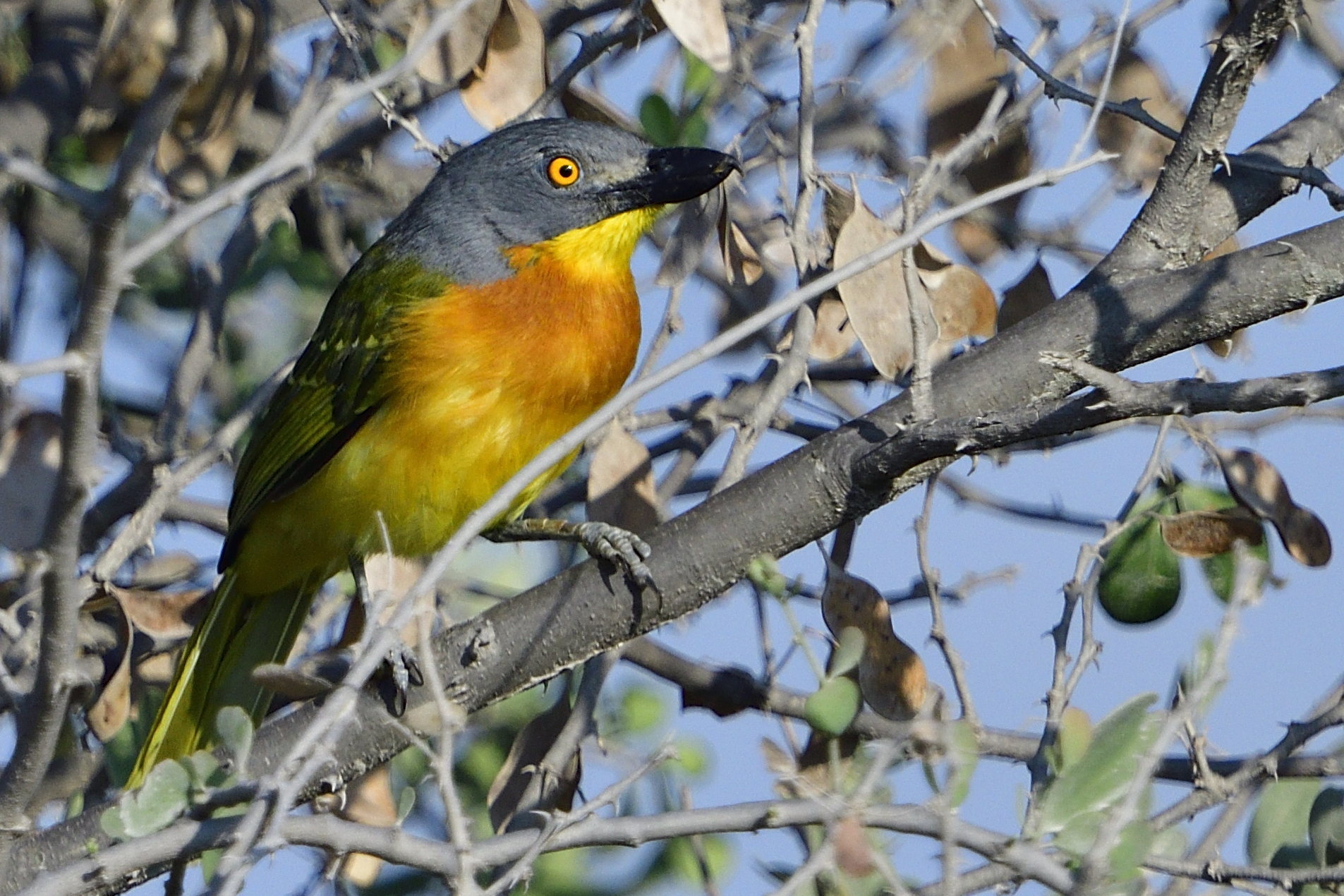 Grey-headed Bushshrike, Malaconotus blanchoti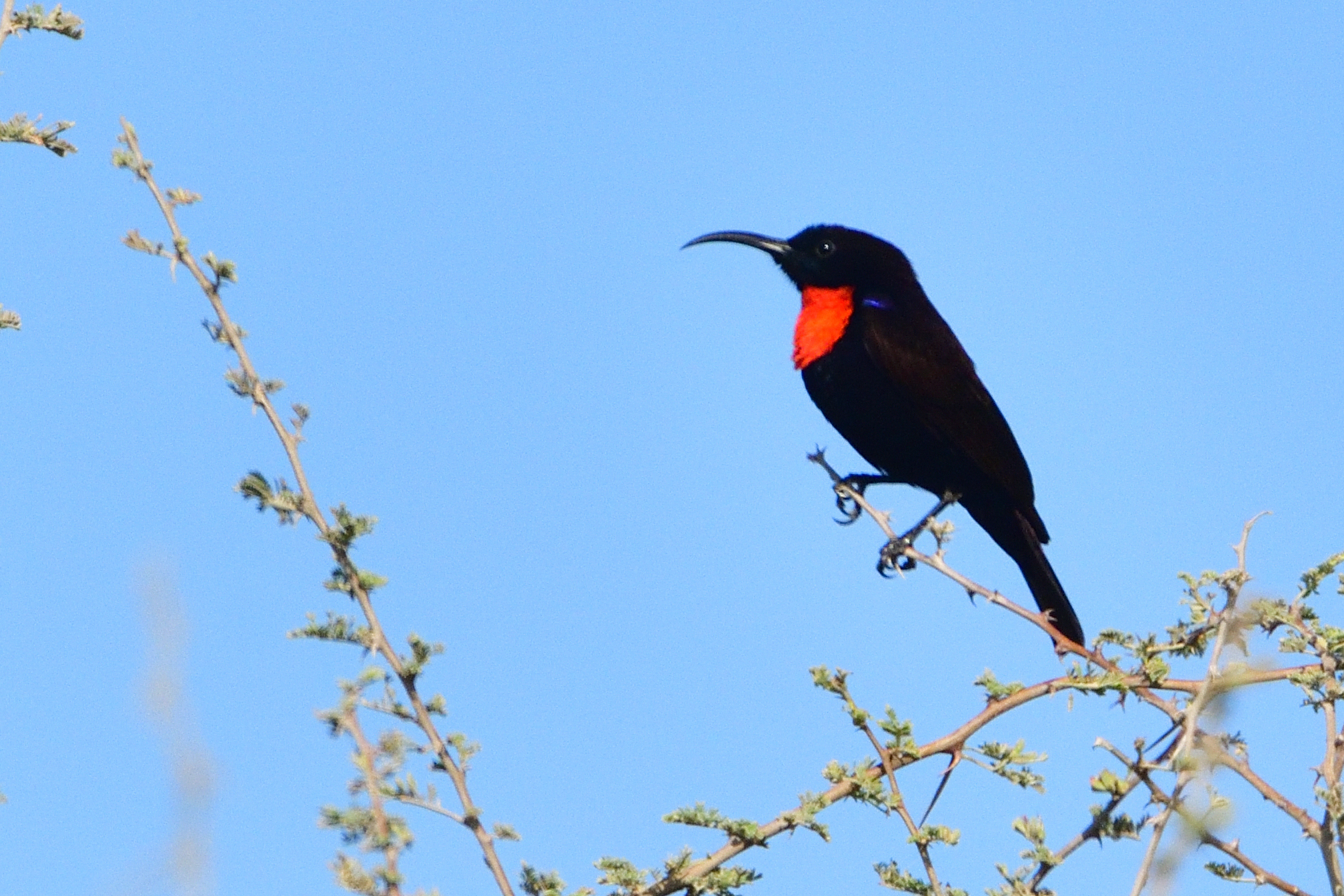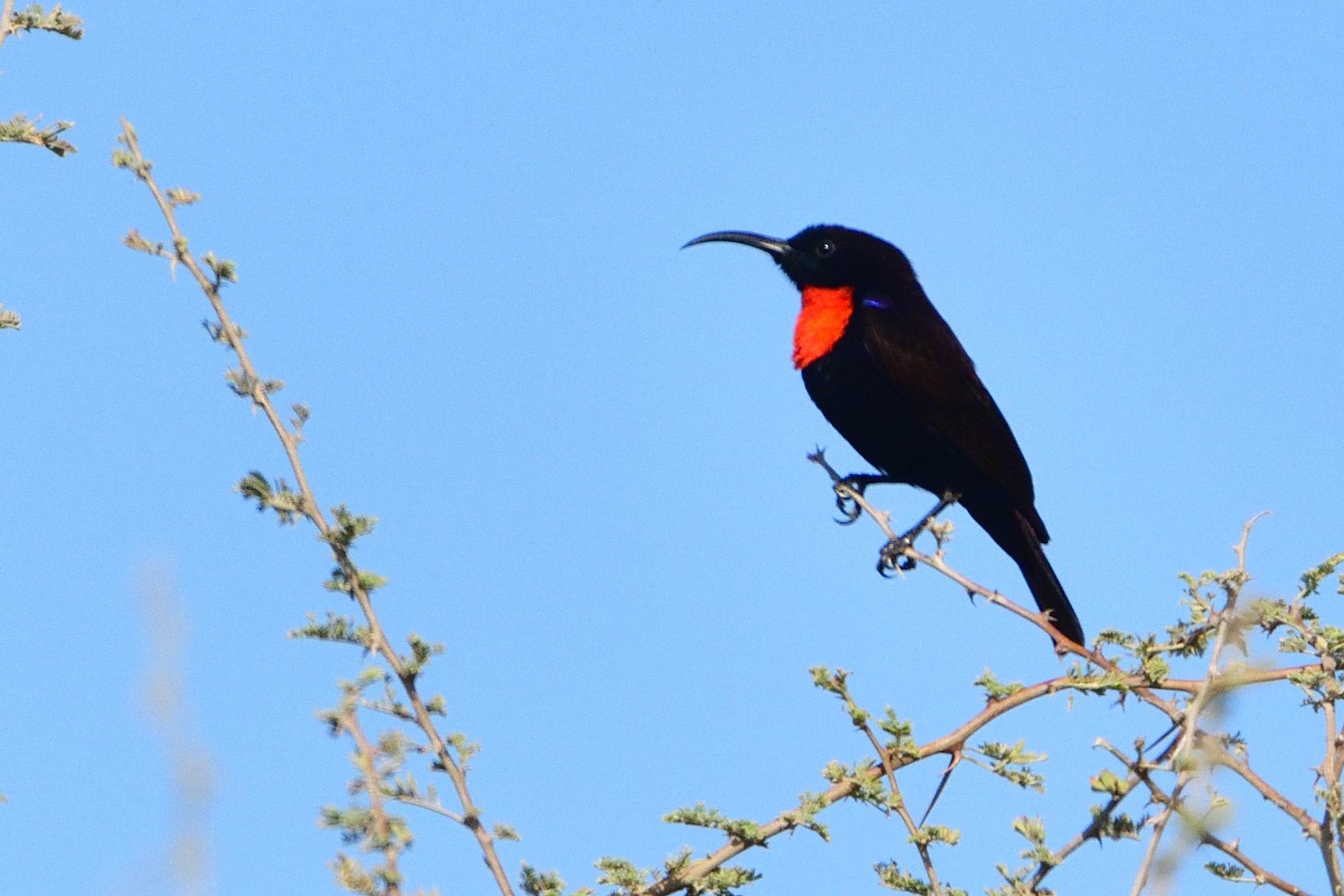 Hunter´s Sunbird, Chalcomitra hunteri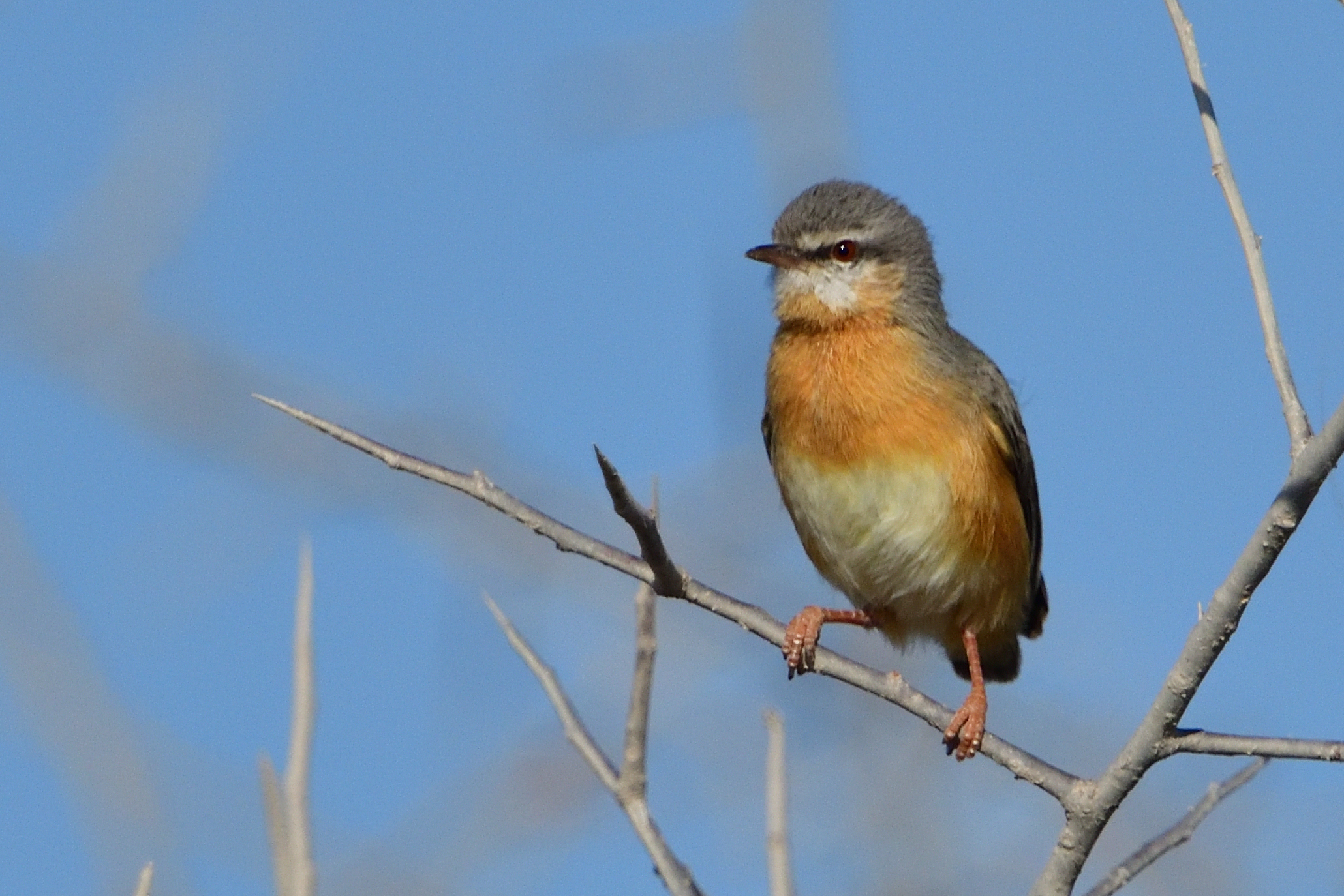 Northern Crombec, Sylvietta brachyura – Endemic to NE Africa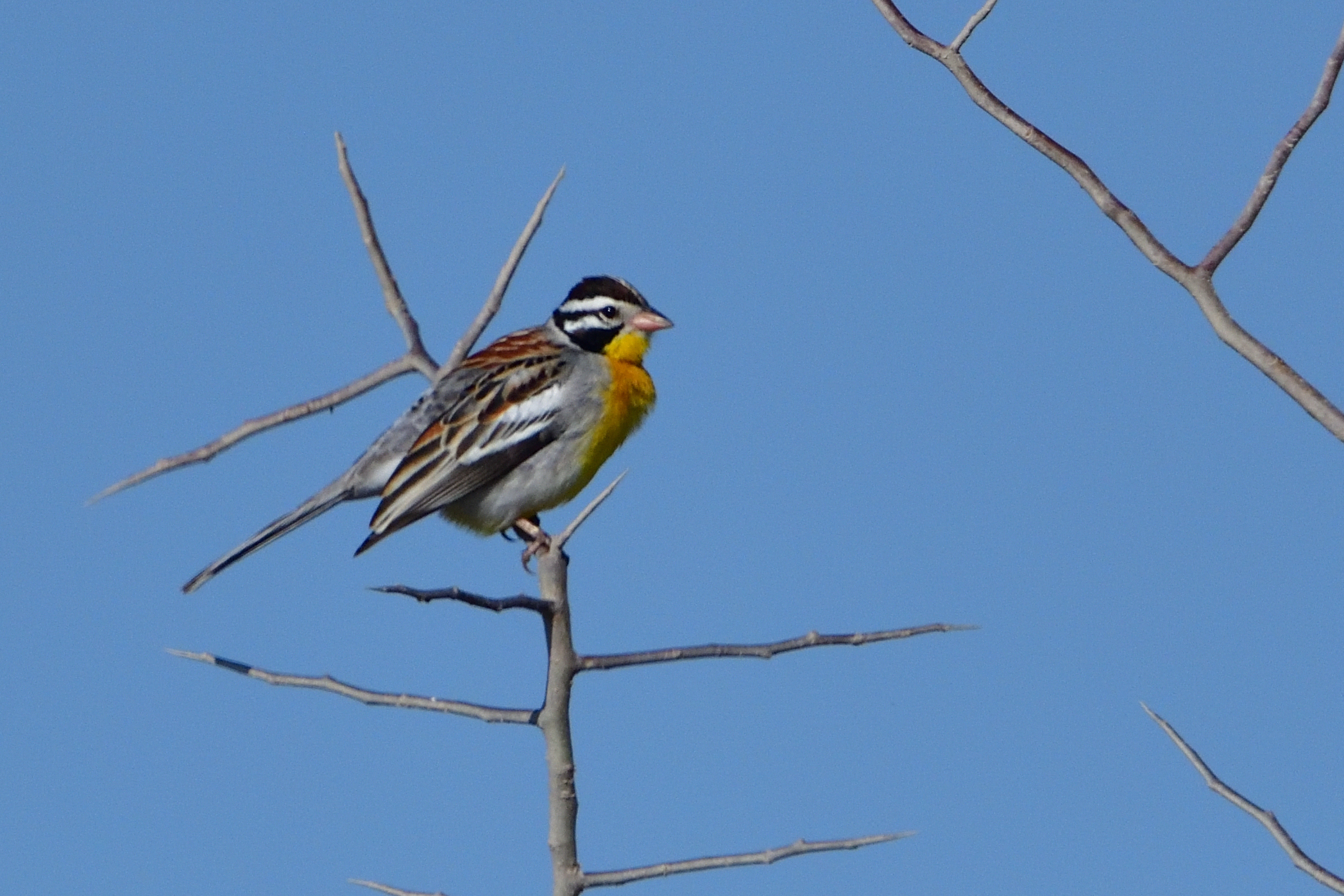 Somali Bunting, Emberiza poliopleura – Endemic to NE Africa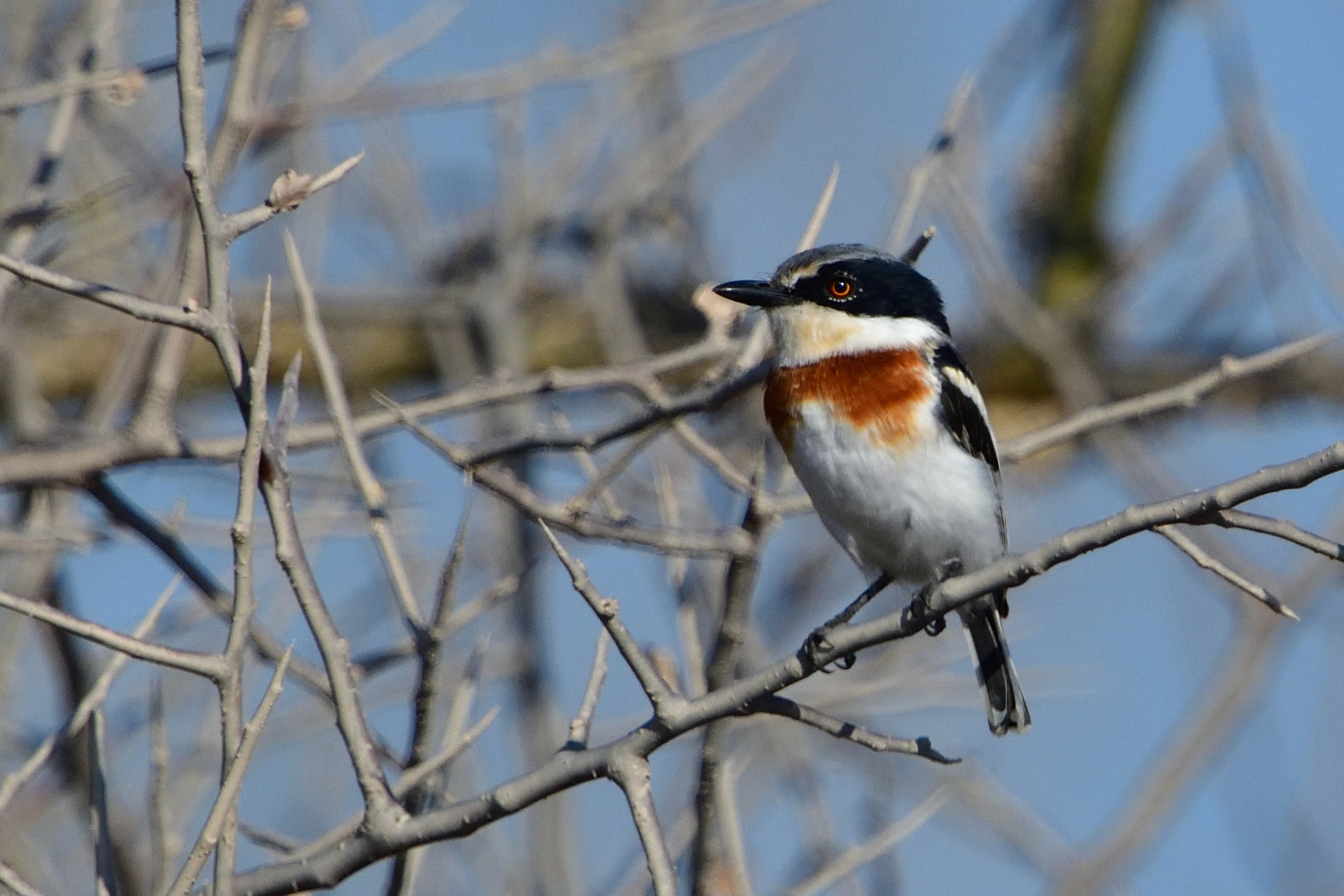 Pygmy Batis, Batis perkeo – Endemic to NE Africa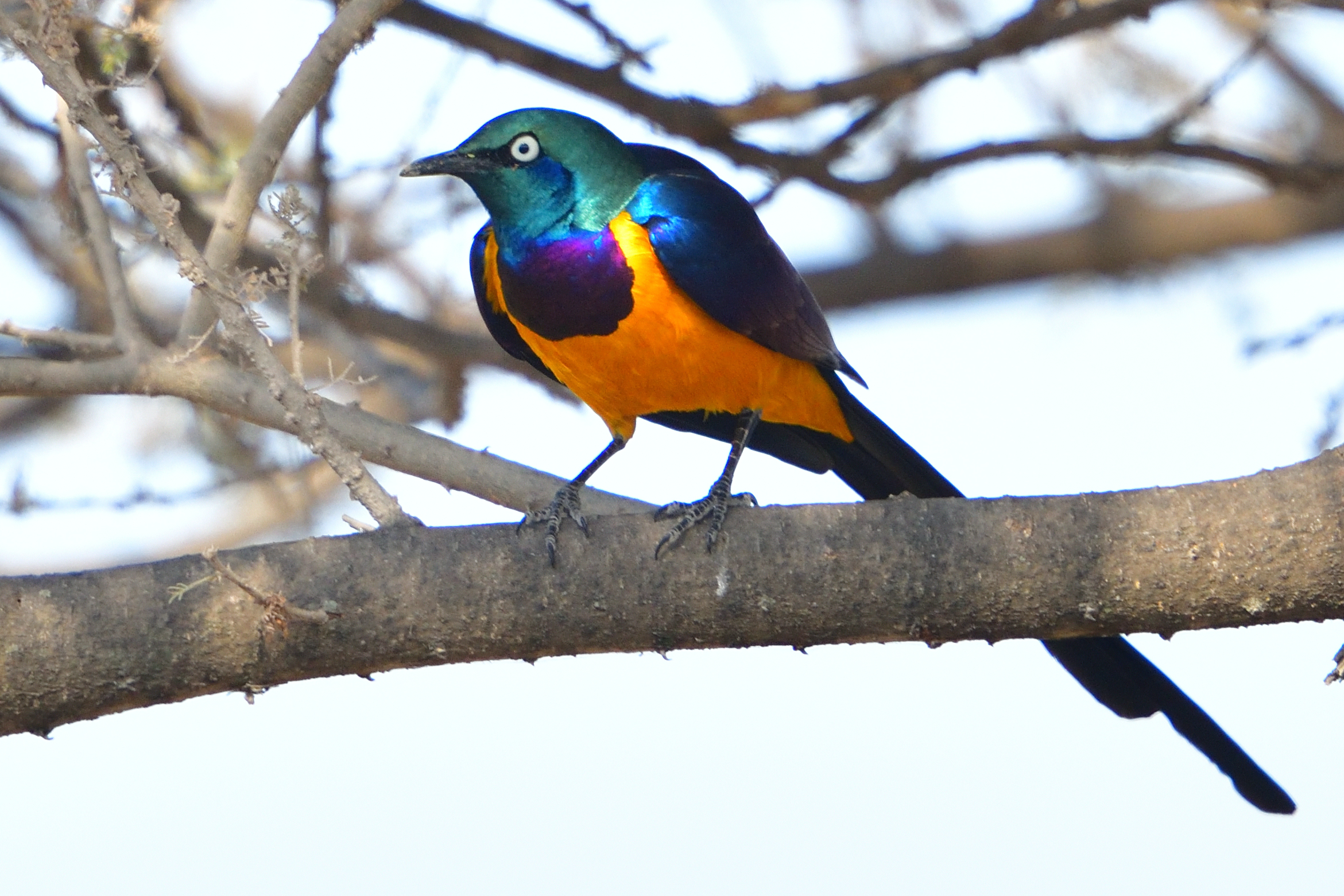 Golden-breasted Starling, Lamprotornis regius – Endemic to NE Tanzania
Tsavo Sunbird (Female), Cinnyris tsavoensis – Endemic to E Africa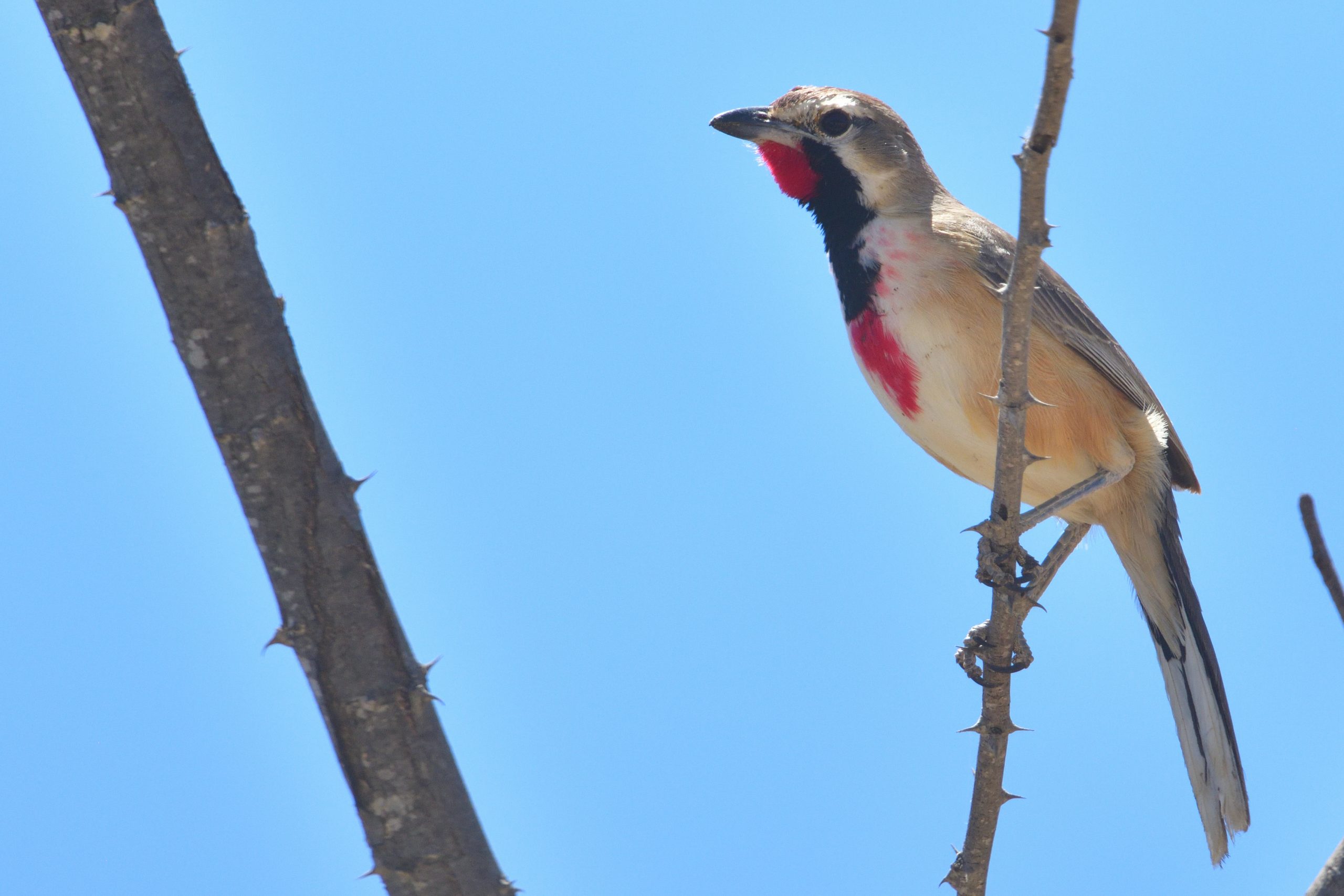 Rosy-patched Bushshrike, Telophorus cruentus – Endemic to NE Africa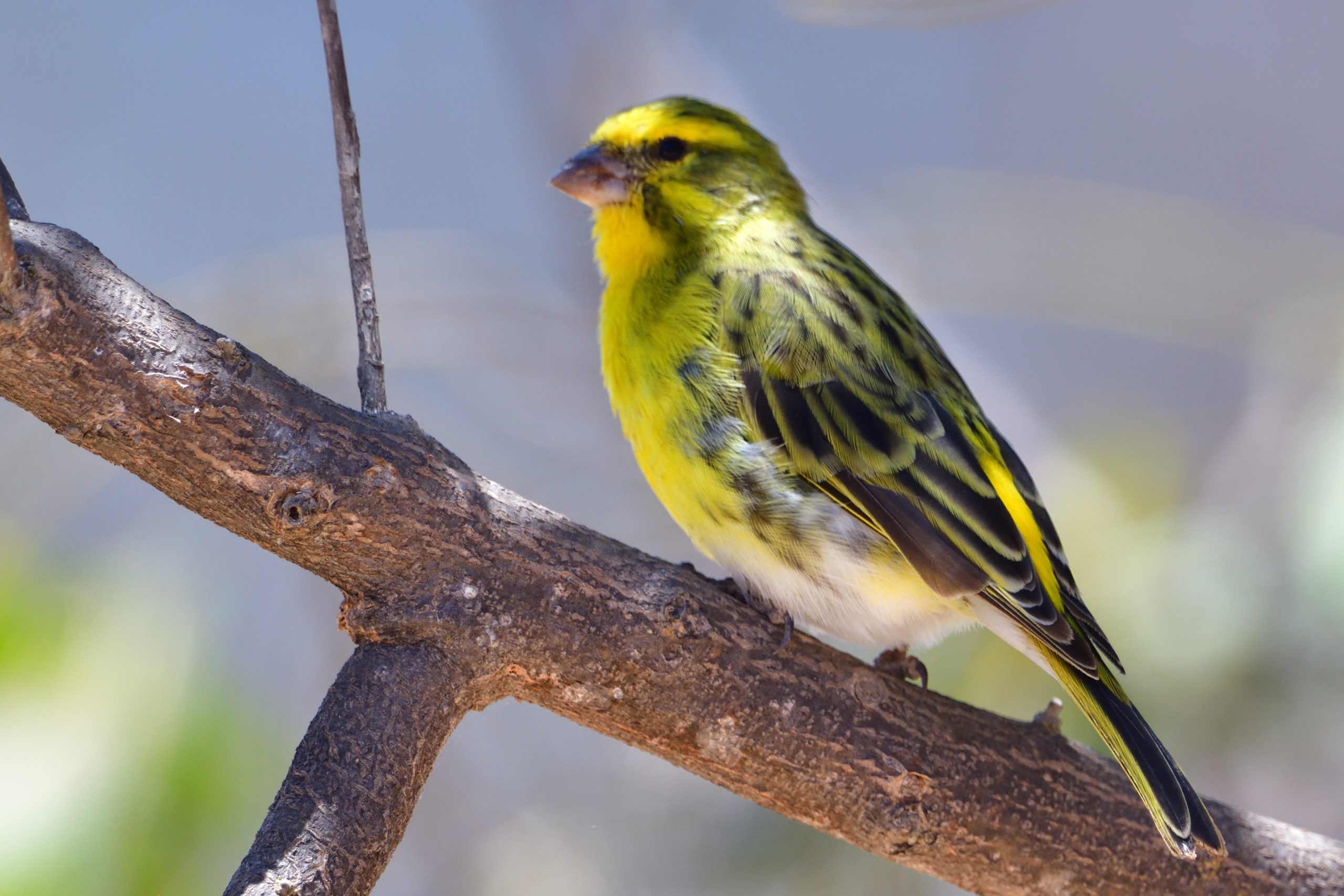 White-bellied Canary, Chritagra dorsostriata – Endemic to NE Africa
Day 17, Wednesday, September 2 – Dam near Nanja
We arrived in Nanja around 08:15 and started picking up birds on the road: Fischer´s Sparrow-Lark, Kenya Sparrow, Rufous-naped Lark, Wattled Starling and Tawny Eagle. We had gotten a tip of some Lapwings in the area so drove a little cross country on the West side of the dam. Temminck´s Courser, Yellow-collared Lovebird, Coqui Francolin and our target bird Black-winged Lapwing. We turned and went to the other side of the dam. We picked up quite a few waterbirds + a couple of Northern Pied Babbler and a Whiskered Tern. More than 50 species in total for the day. One the way back, we stopped at Lake Duluti and Mietek finally got a good picture of a White-eared Barbet and also one of his other targets: Black-headed Oriole.
Some pictures from Day 17: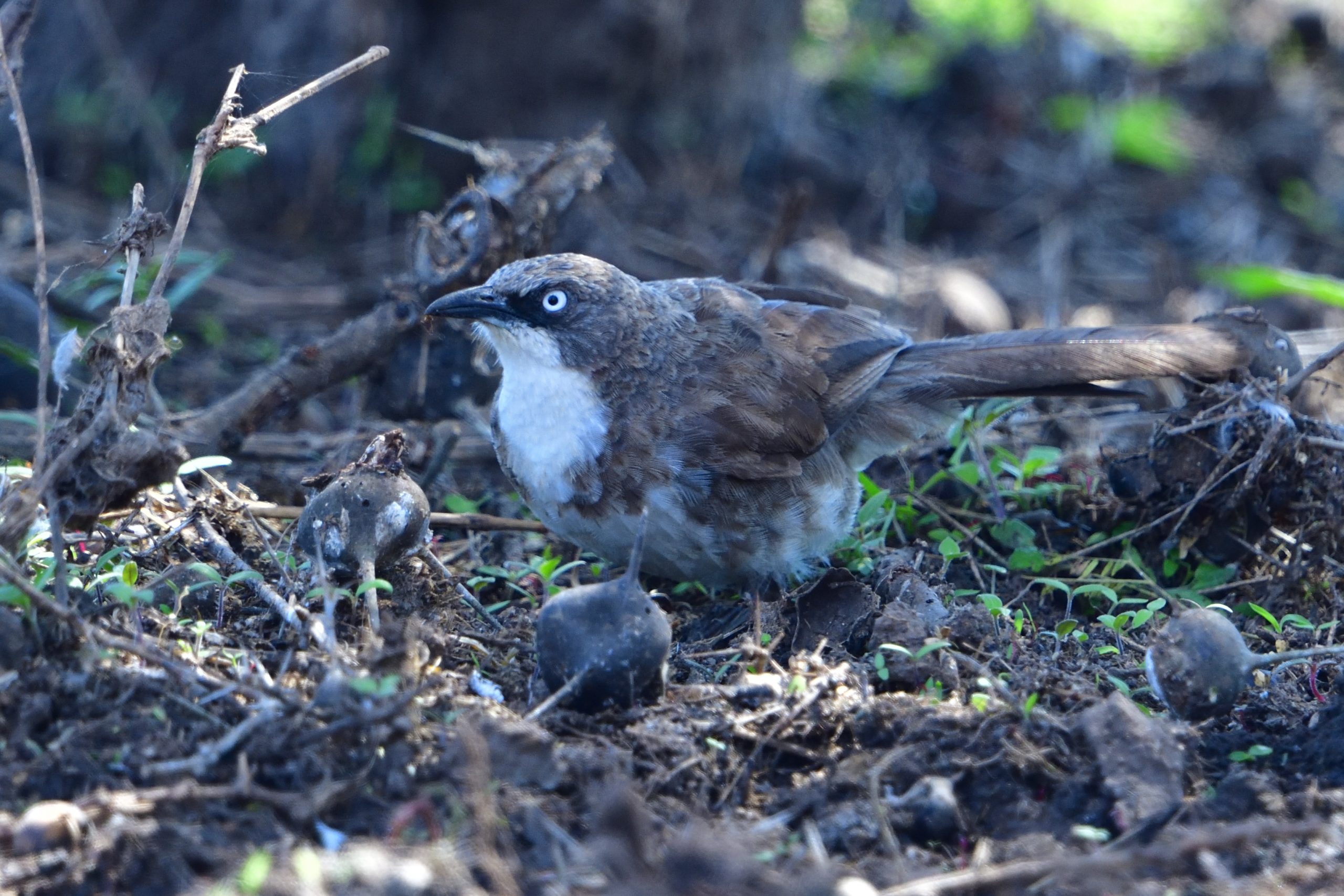 Northern Pied Babbler, Turdoides hypoleuca – Endemic to East Africa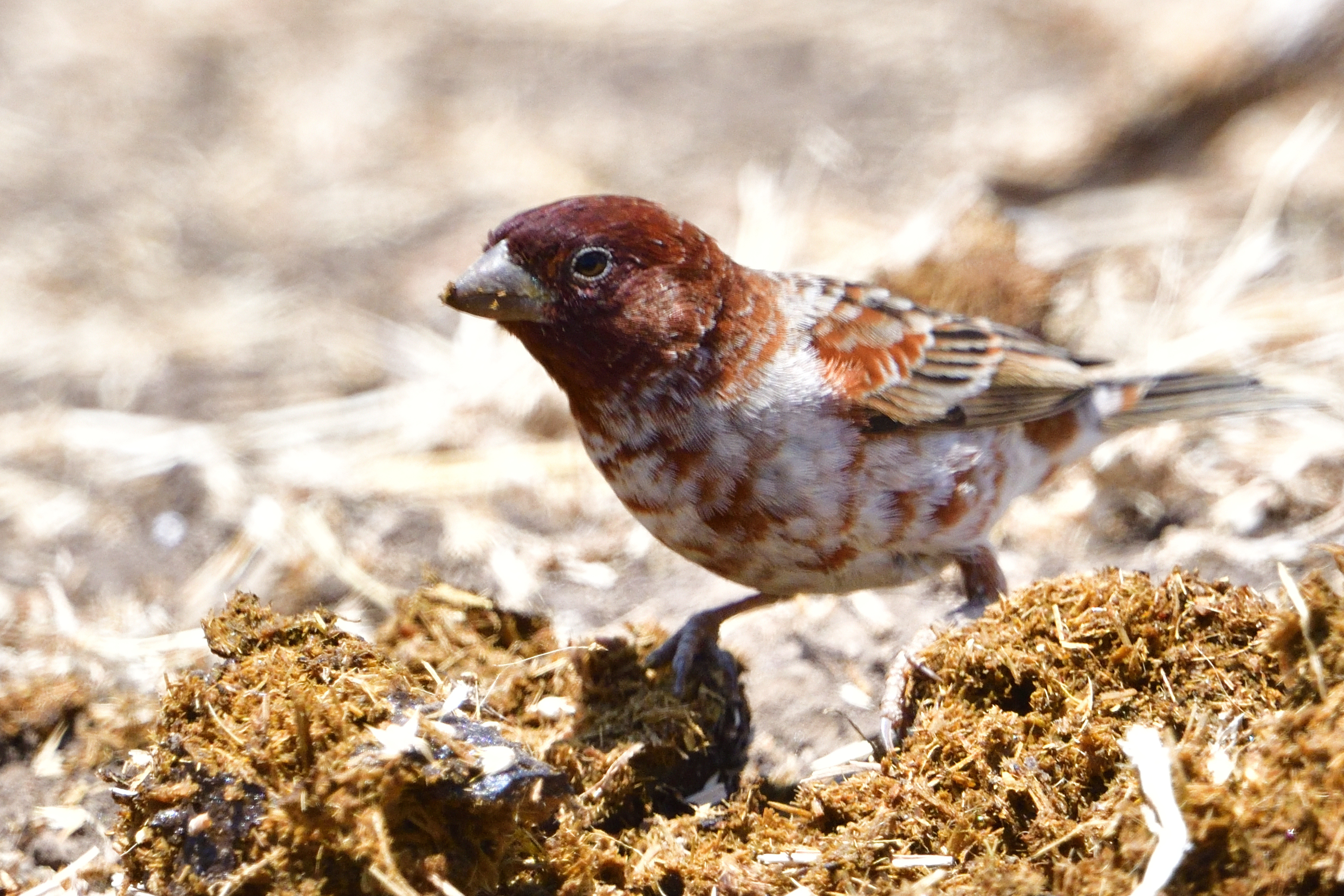 Chestnut Sparrow (In plumage change), Passer eminibey – Endemic to NE Africa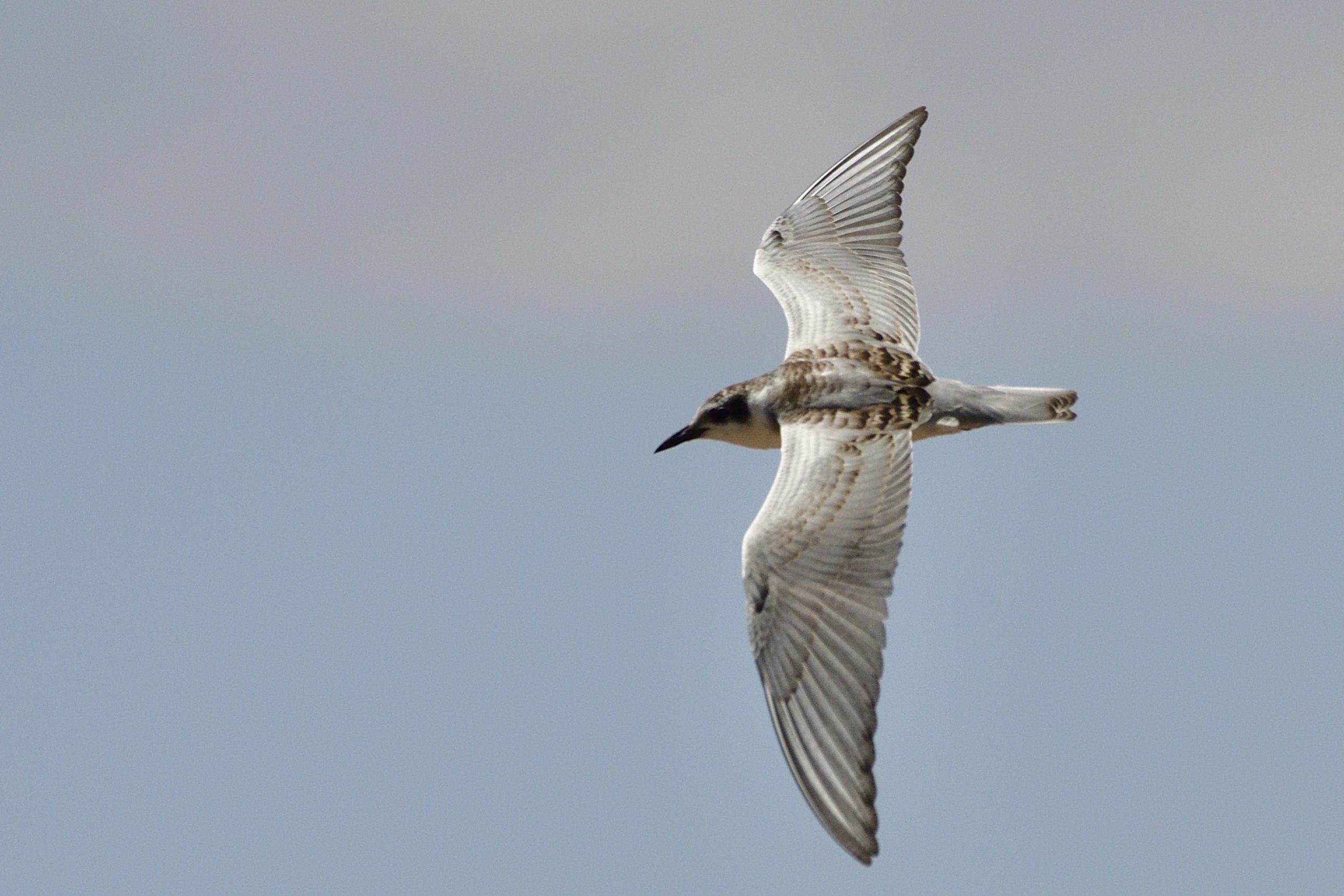 Whiskered Tern, Chlidonias hybrida
Day 18, Thursday, September 3 – Kiligolf
I had decided to give the Kalanga Forest a chance this day, but Mietek wanted to stay in my house and photograph birds in my garden. Abdul helped him spot the birds and I was just relaxing on my balcony working on the birds for the trip. I believe Mietek was happy with the trip. He told me he had photographed 220 species which were the most birds he had ever photographed on a trip. We recorded around 400 species in total. That number could have been higher if we went for every bird, but since Mietek had his target birds, that was what we focused on. Due to the Corona curse this might be the only trip I do this year. Many people have booked and cancelled. Mietek is a brave man. He came with a Covid test here, had to go back to Germany and take a new Covid test before they released him back into society.