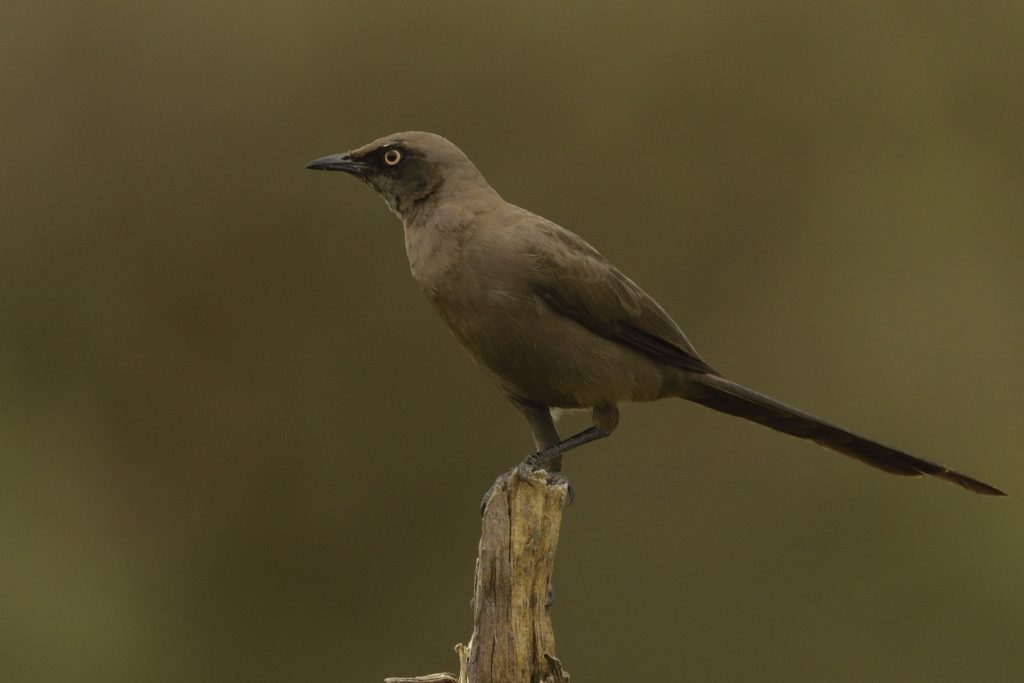 Day 1, Thursday, April 14, 2022 – Airport – Kiligolf
I had a young European couple visiting as friends on April 14, 2022. The couple had never been to Africa before so despite I sent them a list of birds we were likely to encounter on the trip, I never got a target list back assuming that besides migrants they would be interested in most birds. They were to spend 18 days with me, but that never happened, they ended up with 9 days. The reason will be apparent later in this trip report. Their flight was changed so instead of arriving at 12:50, they only arrived after 16:00. We were more or less home with an hour to spare to photograph birds in my garden. I told them that dark would come early so go and grab your cameras and they managed to take pictures of quite a few species in my beautiful garden. Some birds found in my garden in the late afternoon: Vitelline Masked Weaver, Golden-backed Weaver, Red-billed Firefinch, Northern Grey-headed Sparrow, Scarlet-chested Sunbird, Speckled Mousebird, Red-cheeked and Blue-naped Cordon-bleu, Pale White-eye, Spotted Palm Thrush, Superb Starling, White-browed Coucal and after a 50 metre walk in the dark a Pearl-spotted Owlet. My maid and Selvine prepared a nice meal that night and after dinner I took them for a drive to find Slender-tailed Nightjar. It proved quite easy to get them at the playing field of the local Polo Club.
Day 2, Friday, April 15, 2022 – Kiligolf – Wetlands at Sakila Hills – Kiligolf
We met for coffee at 06:45 and started walking the golf course around 07:00. Abdul was busy with a birding group on his own, so he had provided for Isihaka as a guide for the days we spent birding out from my house in the Arusha area. Isihaka proved to be a very competent guide who I will highly recommend. some of the birds recorded included:  Laughing Dove, Gabar Goshawk, for some reason my guests were very interested in photographing Helmeted Guineafowls, well certainly a new bird for them. The list continued with Gabar Goshawk, African Palm Swift, Hildebrandt´s Starling, Tawny-flanked Prinia, Yellow-breasted Apalis, Long-tailed Fiscal, African Pied Wagtail, European Honey Buzzard (an EA Photo lifer for me), Reichenow´s Seed-eater, Marico Sunbird, White-rumped Swift, White-browed Robin-Chat, White-bellied Go-away-bird, Yellow Bishop, Violet-backed Starling, Rattling and Red-faced Cisticola, Spectacled Weaver, a pair of Verreaux´s Eagle-Owls (Day Roost). Pied, Grey-headed and Giant Kingfisher, Black-backed Puffback, Thick-billed Weaver, Great Eagret, Winding Cisticola, Arrow-marked Babbler, Buff-bellied Warbler, Wire-tailed Swallow, Red-chested Cuckoo, African Yellow Warbler, Crimson-rumped Waxbill, Tropical Boubou, Greater Painted Snipe, Emerald-spotted  Wood Dove , Bronze Mannikin, Yellow-spotted Bush Sparrow and Red-faced Crombec. Due to the amount of Photographing by my guests, we were quite behind schedule when we finally reached home and had breakfast around 11:15. After breakfast, I had decided to visit a little wetland near Sakila Hills. The Wetland was still pretty dry, but we encountered some birds: African Sacred and Hadada Ibis, African Jacana, Western Cattle Egret, Blacksmith Lapwing, Egyptian and Spur-winged Goose, Grey and Black-headed Heron, White-faced Whistling Duck, Brown-throated Martin, Yellow-billed Stork, African Pipit, Red-rumped Swallow and Knob-billed Duck Quite an amount of time were spent photographing these rather common birds). We stopped at Usa River for a quick lunch. On the way back towards Kiligolf, we stopped for a breeding colony of Taveta Weavers and a little further we found a pair of Brown-breasted Barbet. We went towards the clubhouse to bird the upper holes of the golf course. Just before the clubhouse we found Little Bee-eater, Yellow-fronted Canary and Steel-blue Whydah. We parked the car and started walking. It was still hot, so not too many birds were active: Pin-tailed Whydah, Hamerkop, Nubian Woodpecker, Black-chested Snake Eagle, Striated Heron, African Paradise Flycatcher, Bare-eyed Thrush, Purple Grenadier, Brubru, Diederik Cuckoo, Little Bittern, Black Crake and Little Swift. It was still only 17:45 and I suggested that Isihaka would walk my friends back to my house and see what they could pick up, but my friends decided to come with me in the car and spend the reminder of the afternoon photographing birds in my garden. Again a nice dinner and my friend went out at night to look for owls after the meal.
Some pictures from Day 2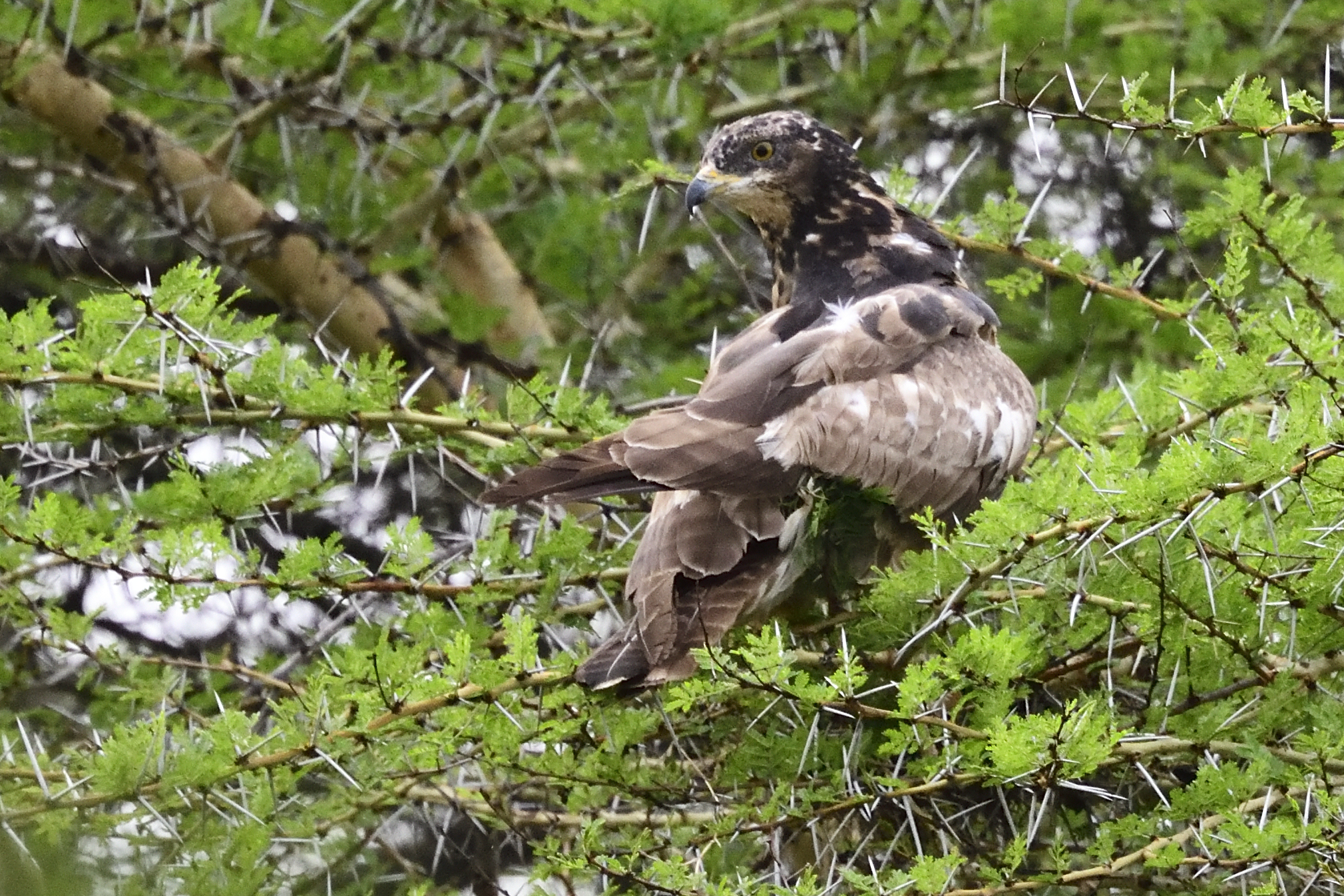 European Honey Buzzard, Pernis apivorus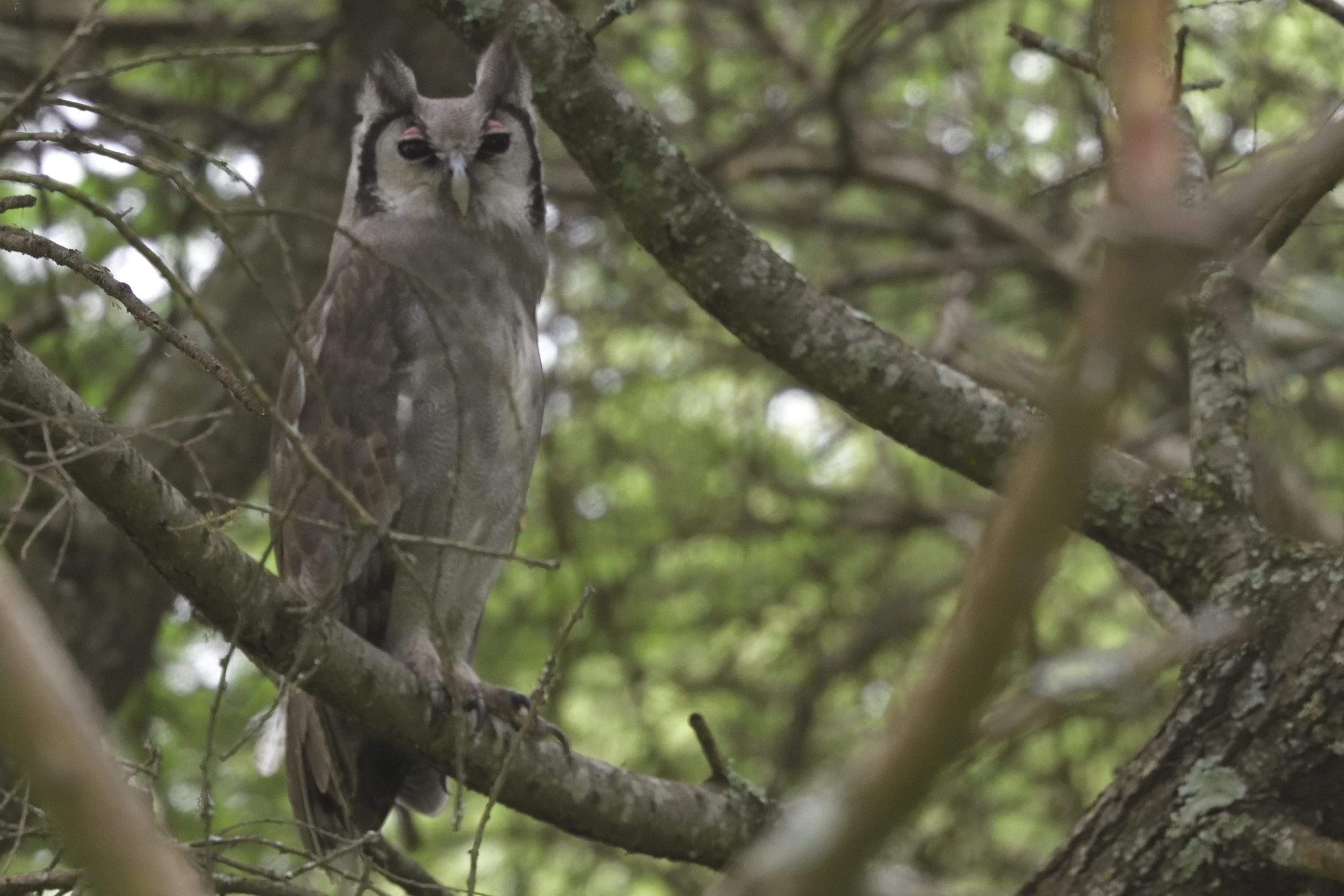 Verreraux´s Eagle-Owl, Bubo lacteus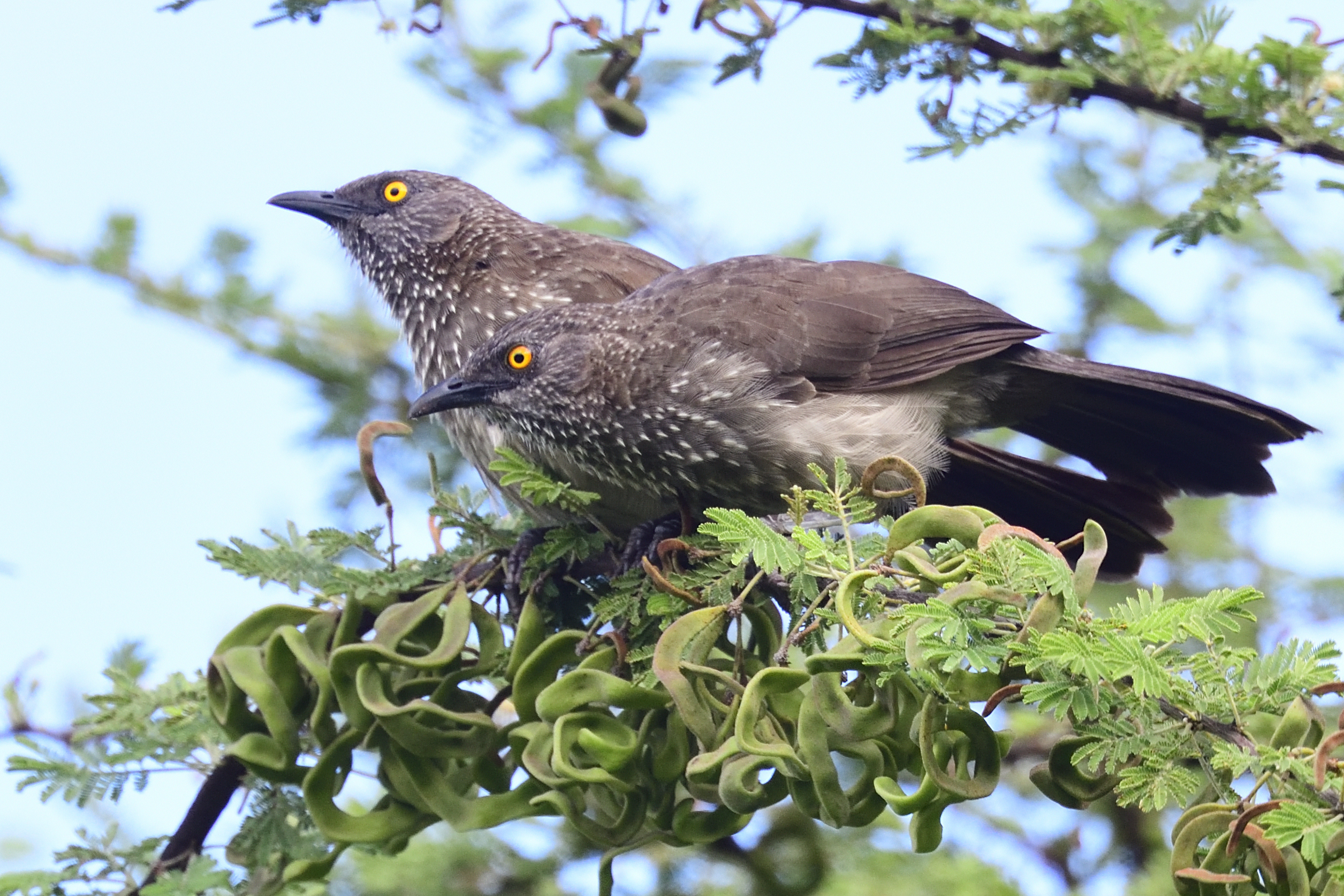 Arrow-marked Babbler, Turdoides jardineii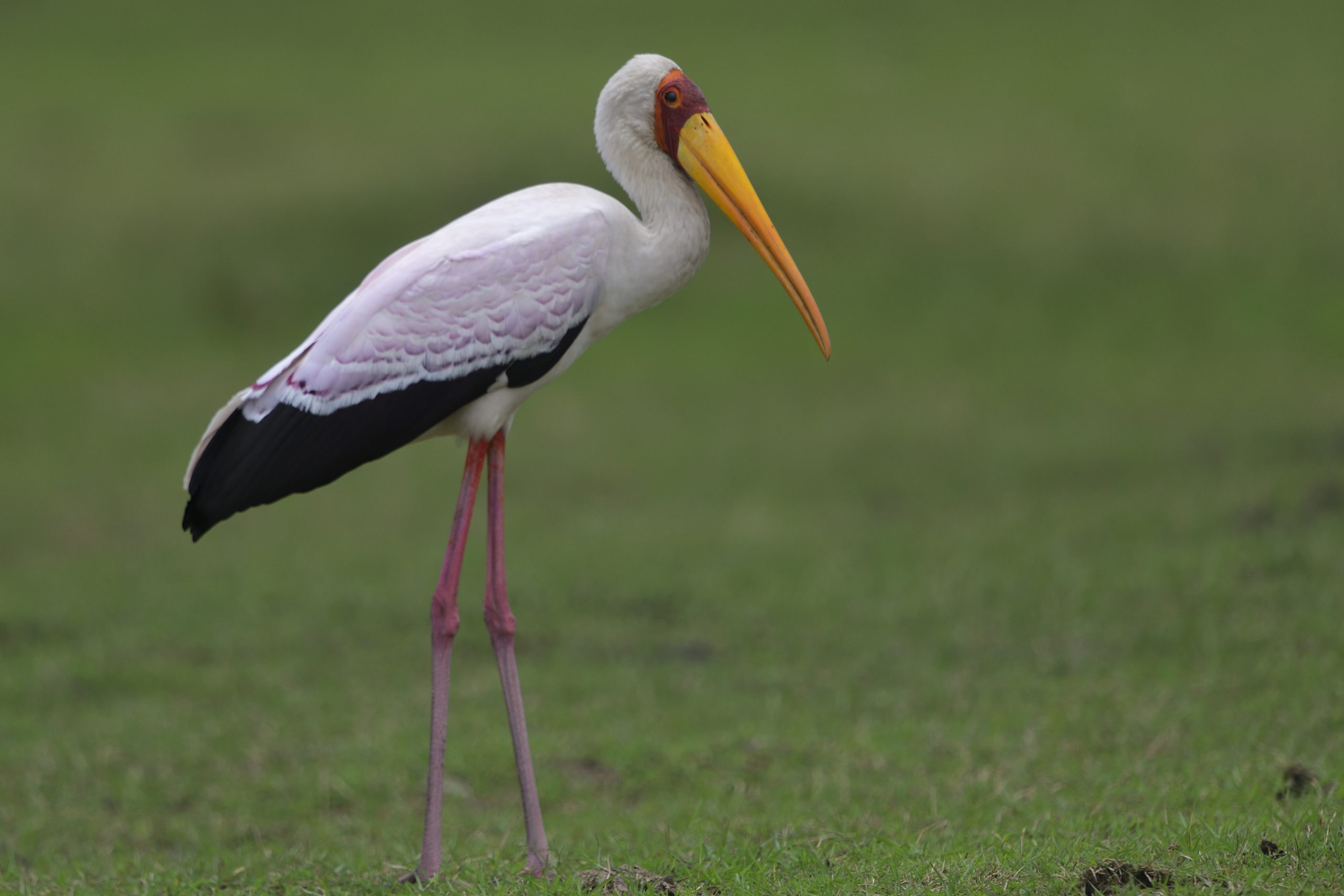 Yellow-billed Stork, Mycteria ibis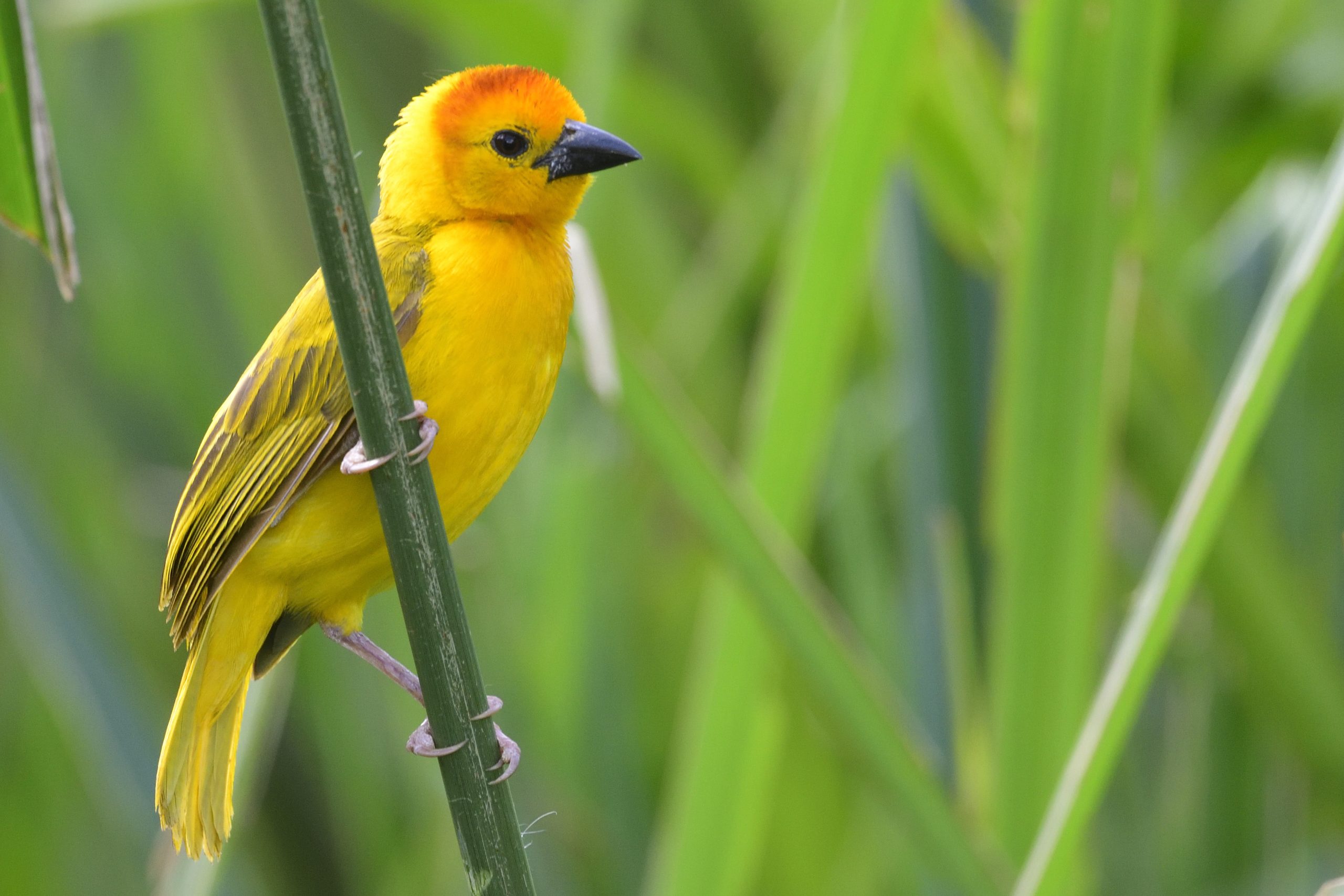 Taveta Weaver, Ploceus castaneiceps – Endemic to S. Kenya and N. Tanzania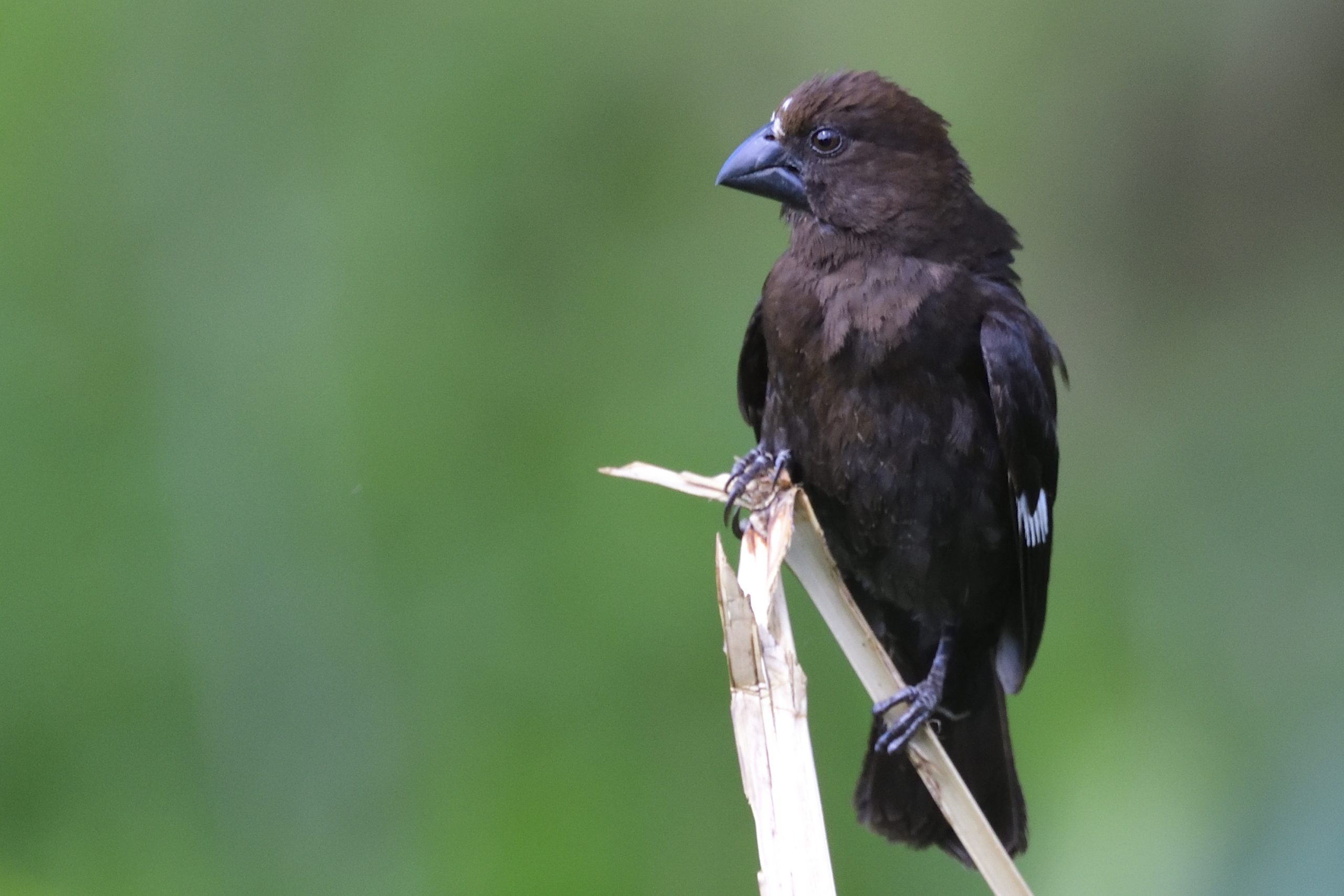 Thick-billed Weaver, Amblospiza albifrons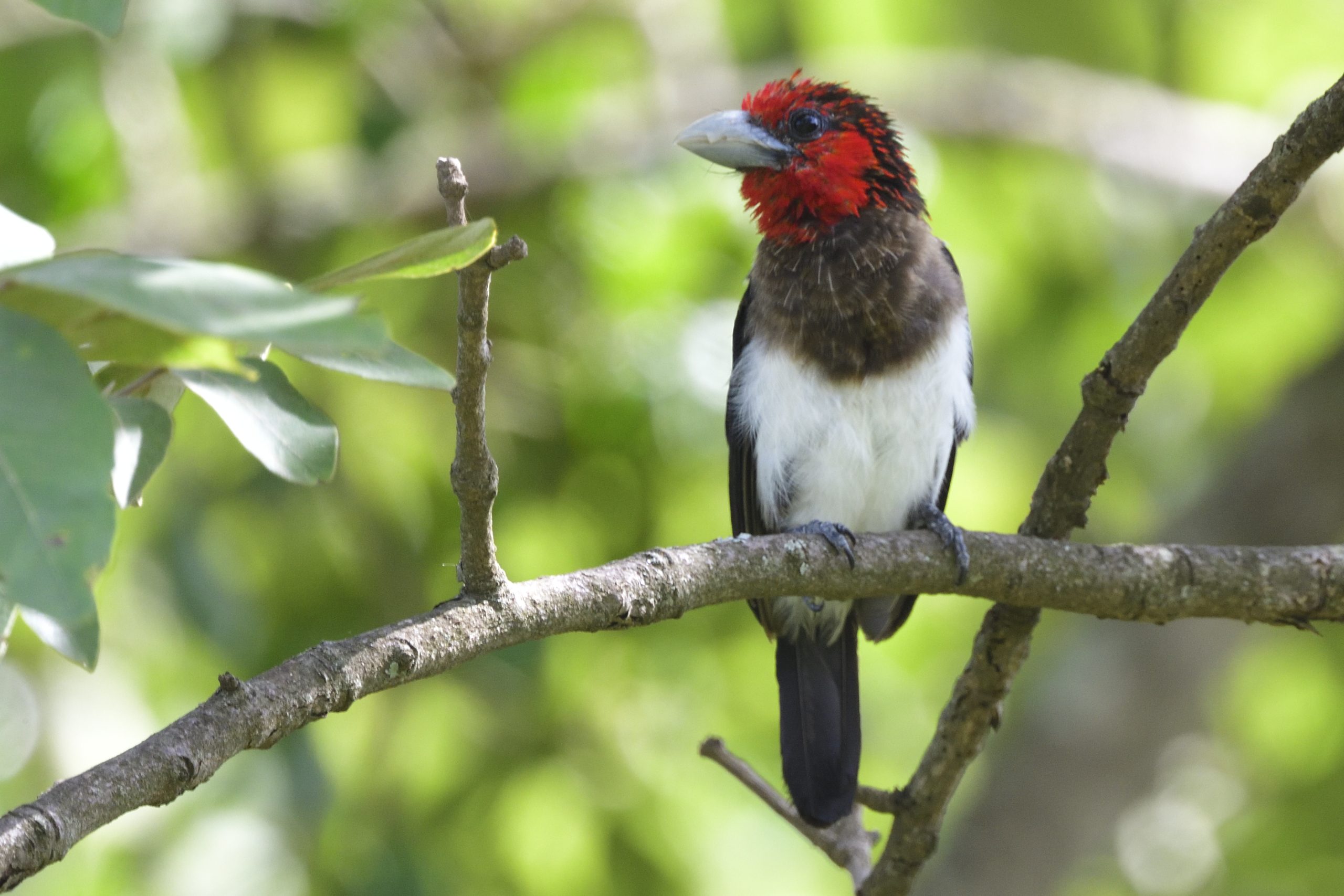 Brown-breasted Barbet, Lybius melanopterus – Endemic to Eastern Africa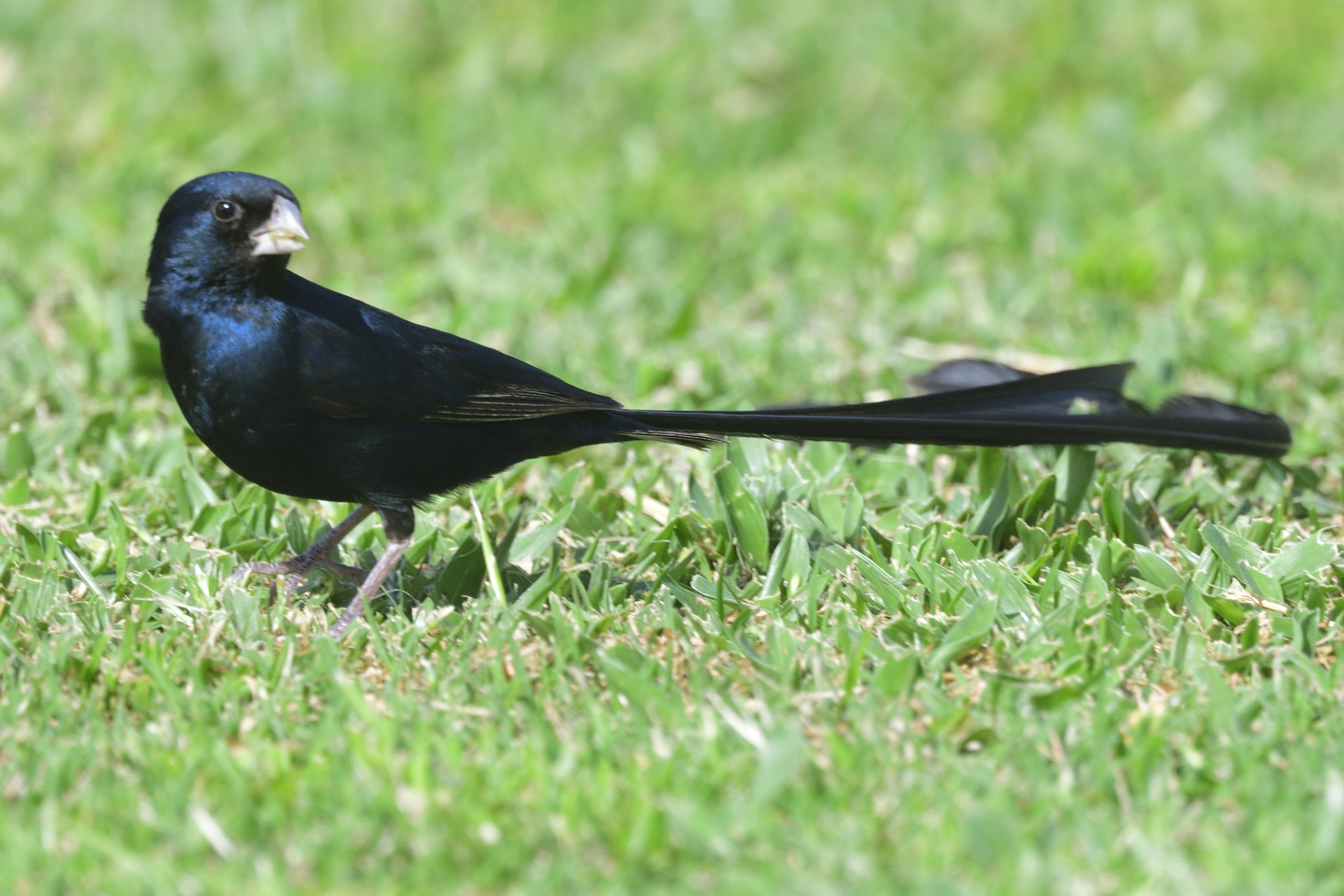 Steel-blue Whydah, Vidua hypocherina – Endemic to NE Africa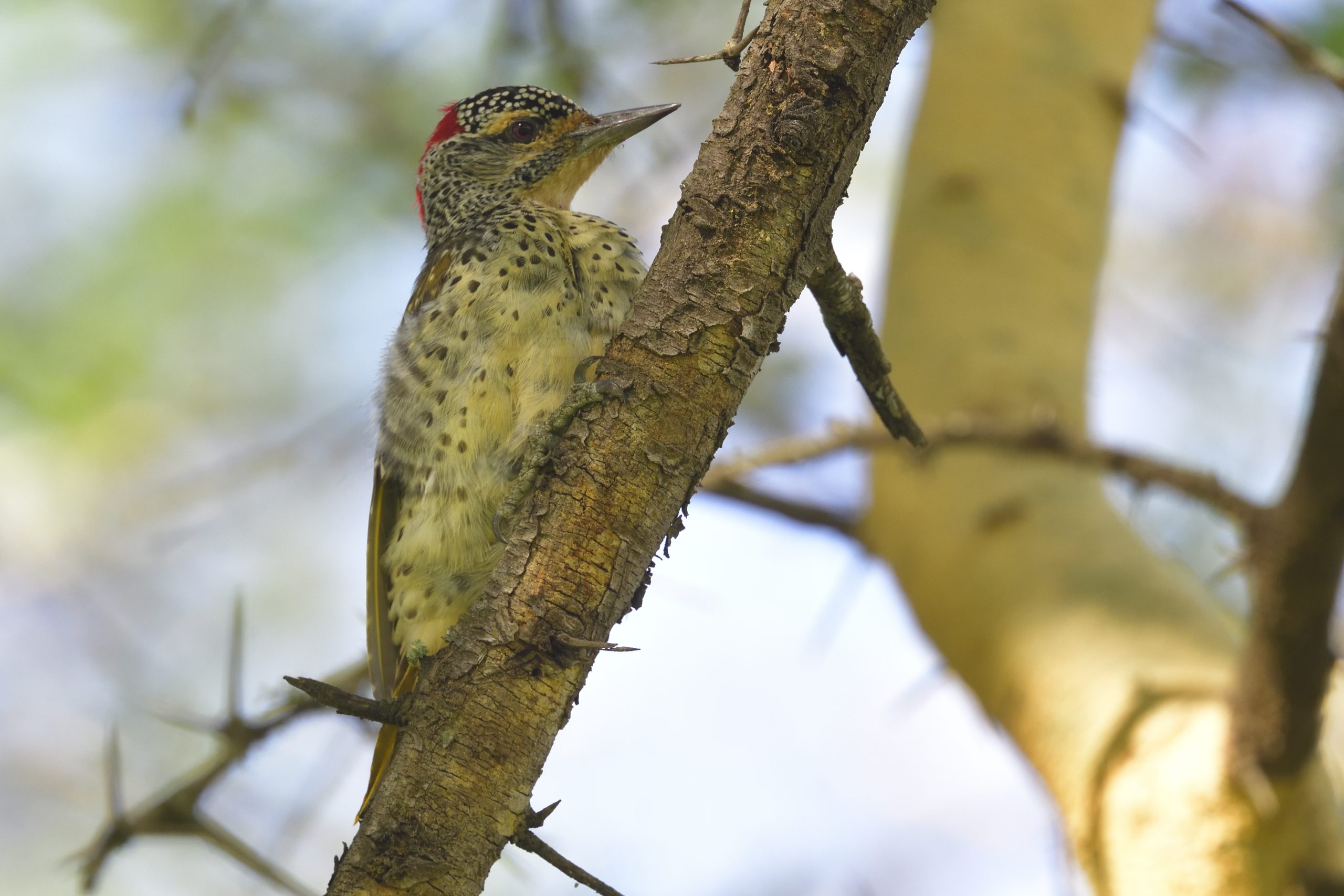 Nubian Woodpecker, Campethera nubica – Endemic to NE Africa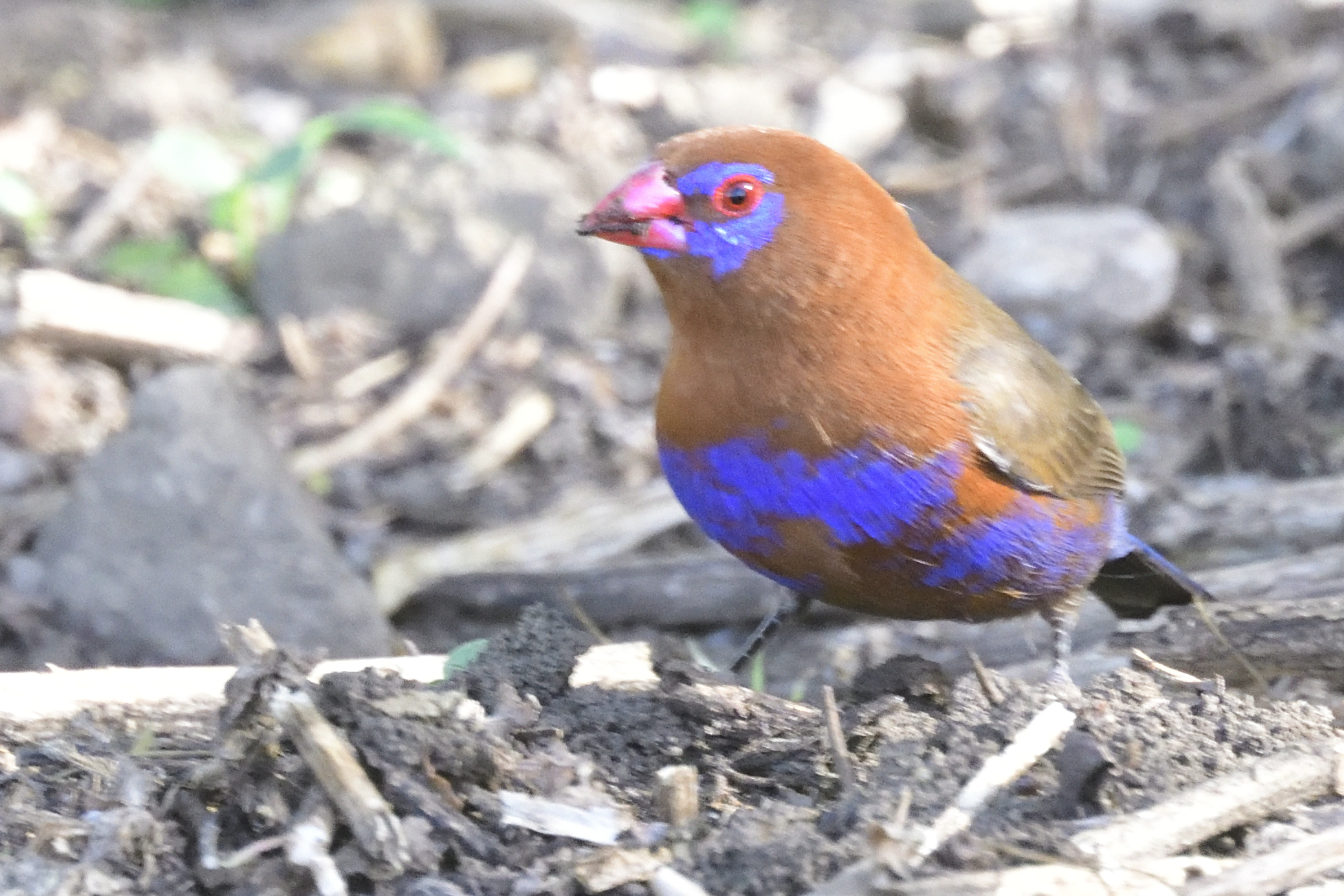 Purple Grenadier, Uraeginthus ianthinogaster – Endemic to NE Africa
Day 3, Saturday, April 16, 2022 – Kiligolf – Tarangire NP – Kiligolf
We were actually supposed to go to Lark Plains that day, but it was a Saturday and a massive market at one of our birding spots, the Masai village of Oldonyo Sambu, so we decided to go to Tarangire NP instead. We left early and was close to the gate at 07:45. I have a nesting colony for Rufous-tailed Weaver there. In the same colony you can also find Red-billed Buffalo Weavers. Other birds we found from the Weaver spot and around the gate of Tarangire NP included: Silverbird, Swahili Sparrow, Yellow-collared Lovebird, Chestnut Weaver, Northern Red-billed Hornbill, Ashy Starling, White-browed Sparrow Weaver and White-headed Buffalo Weaver. Once inside the park, we added amongst others: Tawny Eagle, White-backed Vulture, Northern White-crowned Shrike, African and Diederik Cuckoo, Red-bellied Parrot, Martial Eagle, Coqui Francolin, Speckle-fronted Weaver, Fischer´s Sparrow-Lark, Bateleur, Desert Cisticola, Secretarybird, Mourning Collared Dove, Namaqua Dove, White-browed Coucal, D´Arnaud´s barbet, Spur-winged Goose, Black-crowned Night Heron, Grey Crowned Crane and Black-winged Kite. We had now reached our breakfast spot and enjoyed a nice quick breakfast at public campsite 1. After breakfast, we continued our loop and added Magpie Shrike, Bare-faced Go-away-bird, Red-necked Spurfowl, Red-and-yellow Barbet, Grey Kestrel, Woodland Kingfisher, African Grey Woodpecker, Eastern Chanting Goshawk, African Hoopoe, Double-banded Courser, Black-faced Sandgrouse and Chestnut Weaver before we reached our lunch spot. After lunch we headed for Little Serengeti and added amongst other these species: Crested Francolin, Yellow-necked Spurfowl, White-bellied Bustard, Wattled Starling, Crowned Lapwing, Spotted Thick-knee, Rosy-patched Bushshrike, Common Ostrich, Rüppel´s Vulture, Lappet-faced Vulture, Marabou Stork, Lesser Grey Shrike, Buff-crested and Hartlaub´s Bustard, Southern Ground Hornbill, Common Whitethroat, Red-billed Oxpecker and Speckled Pigeon. We were at the gate around 16:30 allowing us time to drive and be home before dark. It was a medium day in Tarangire, but we still managed quite a few nice birds.
Some pictures from Day 3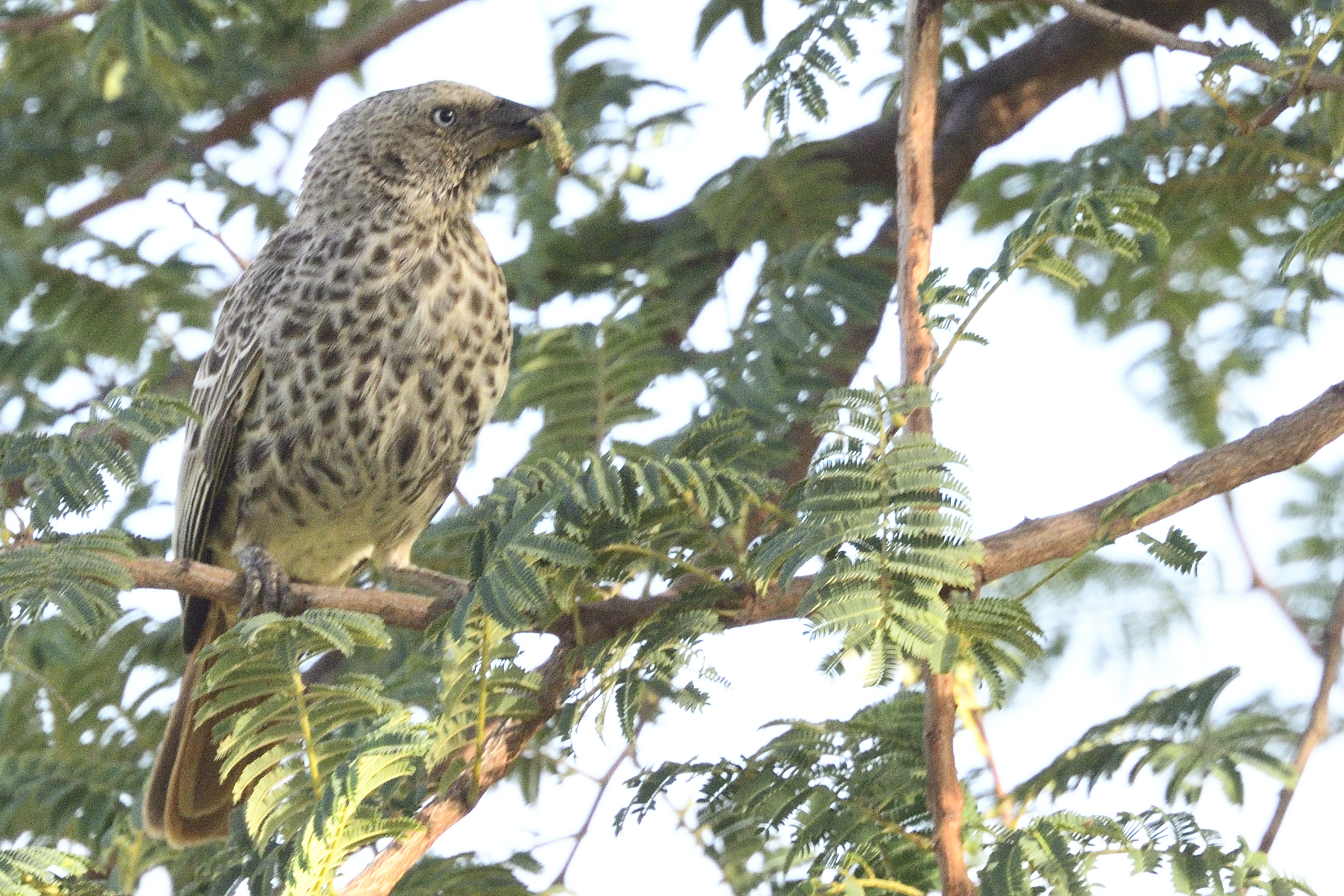 Rufous-tailed Weaver, Histurgops ruficauda – Endemic to Tanzania with a population in Mara, Kenya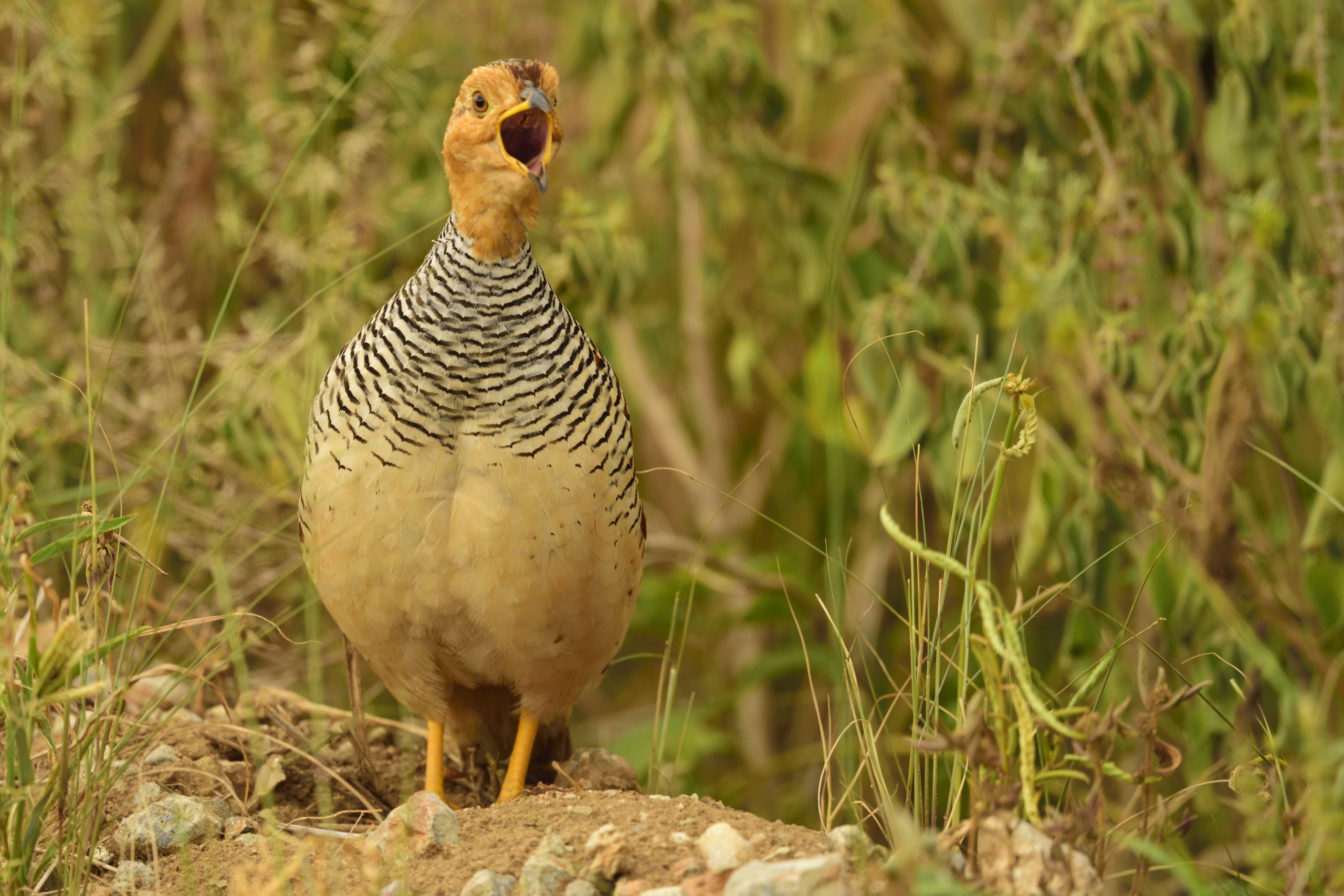 Coqui Francolin, Peliperdix coqui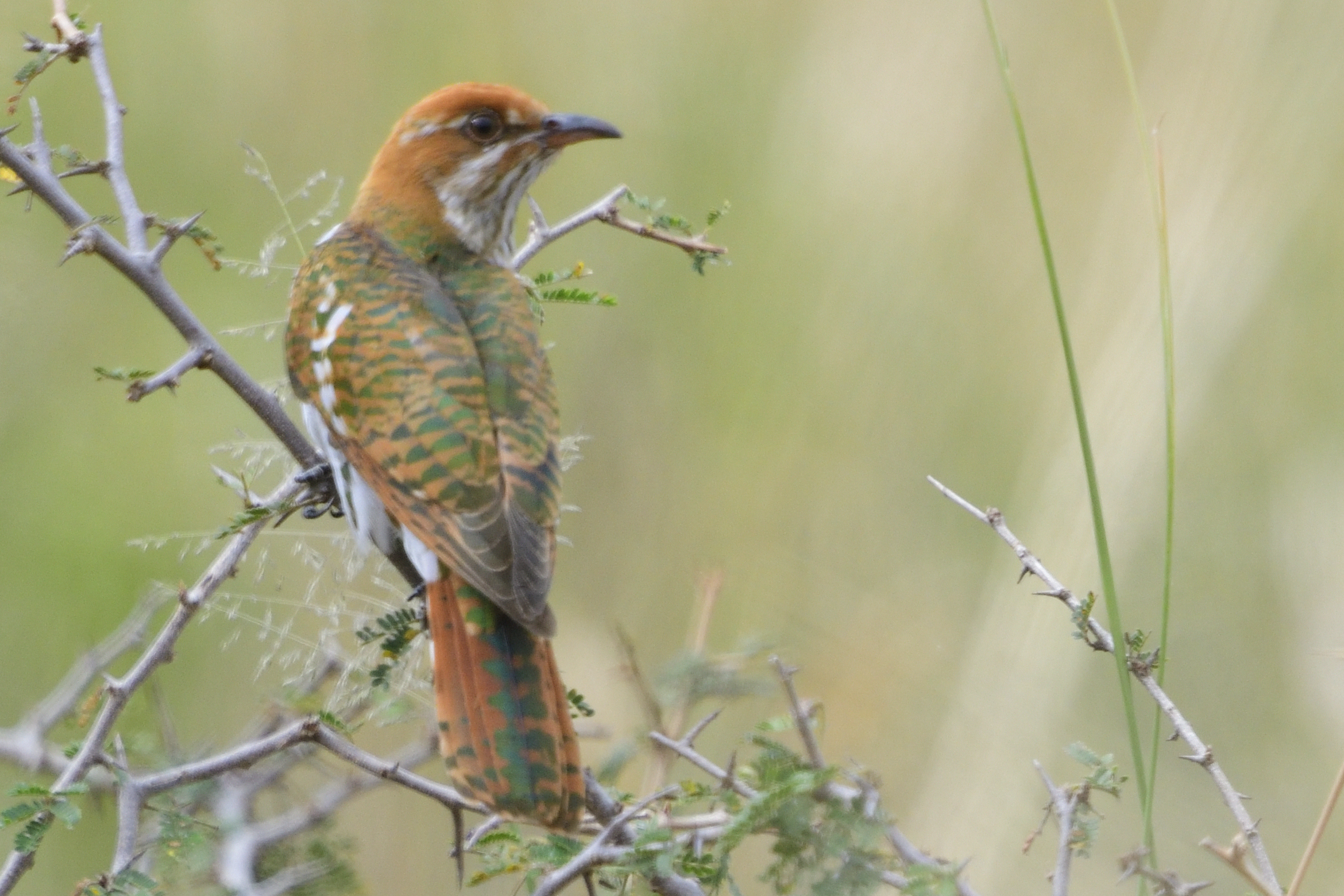 Diederik Cuckoo (female), Chrysococcyx caprius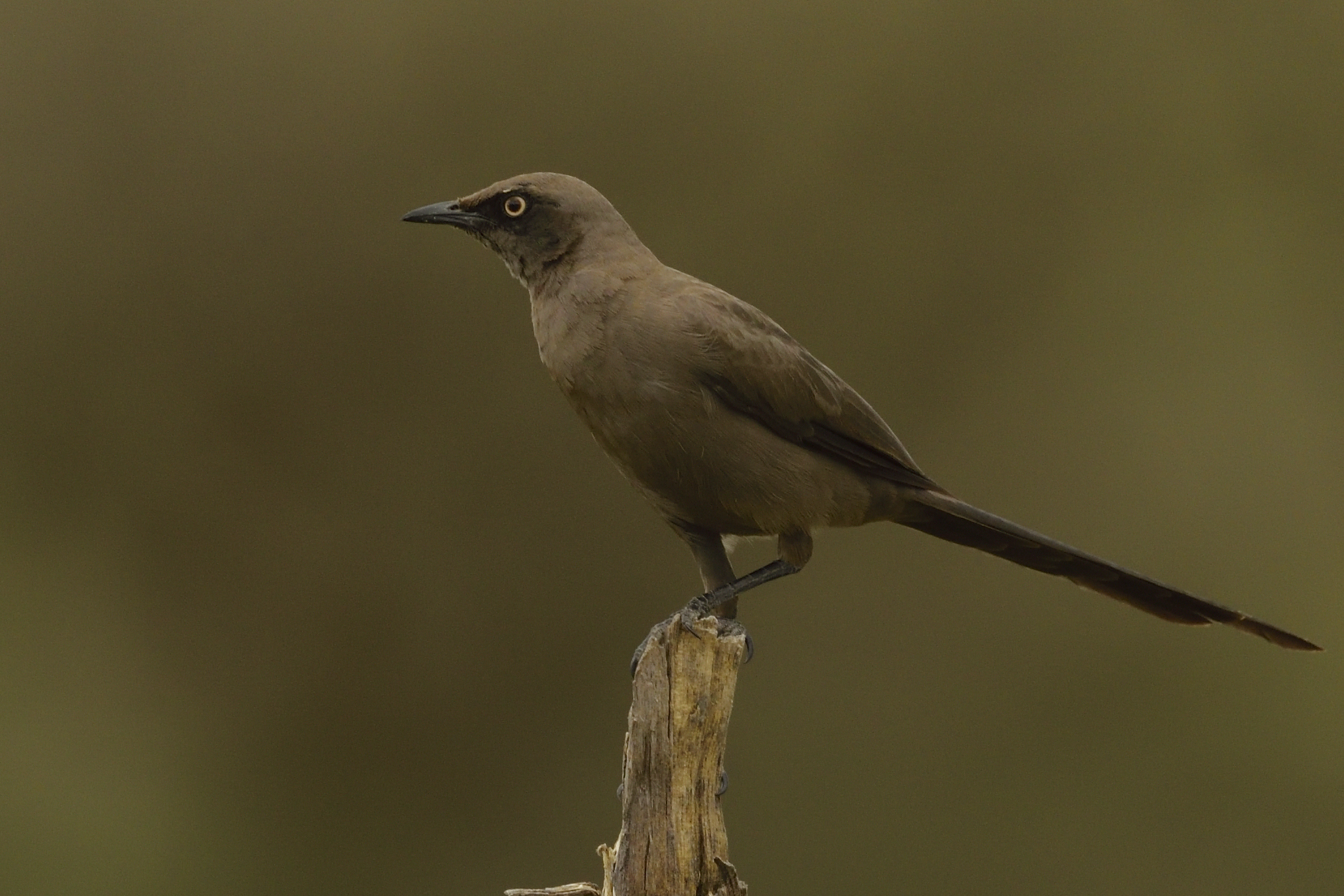 Ashy Starling, Lamprotornis unicolor – Endemic to Tanzania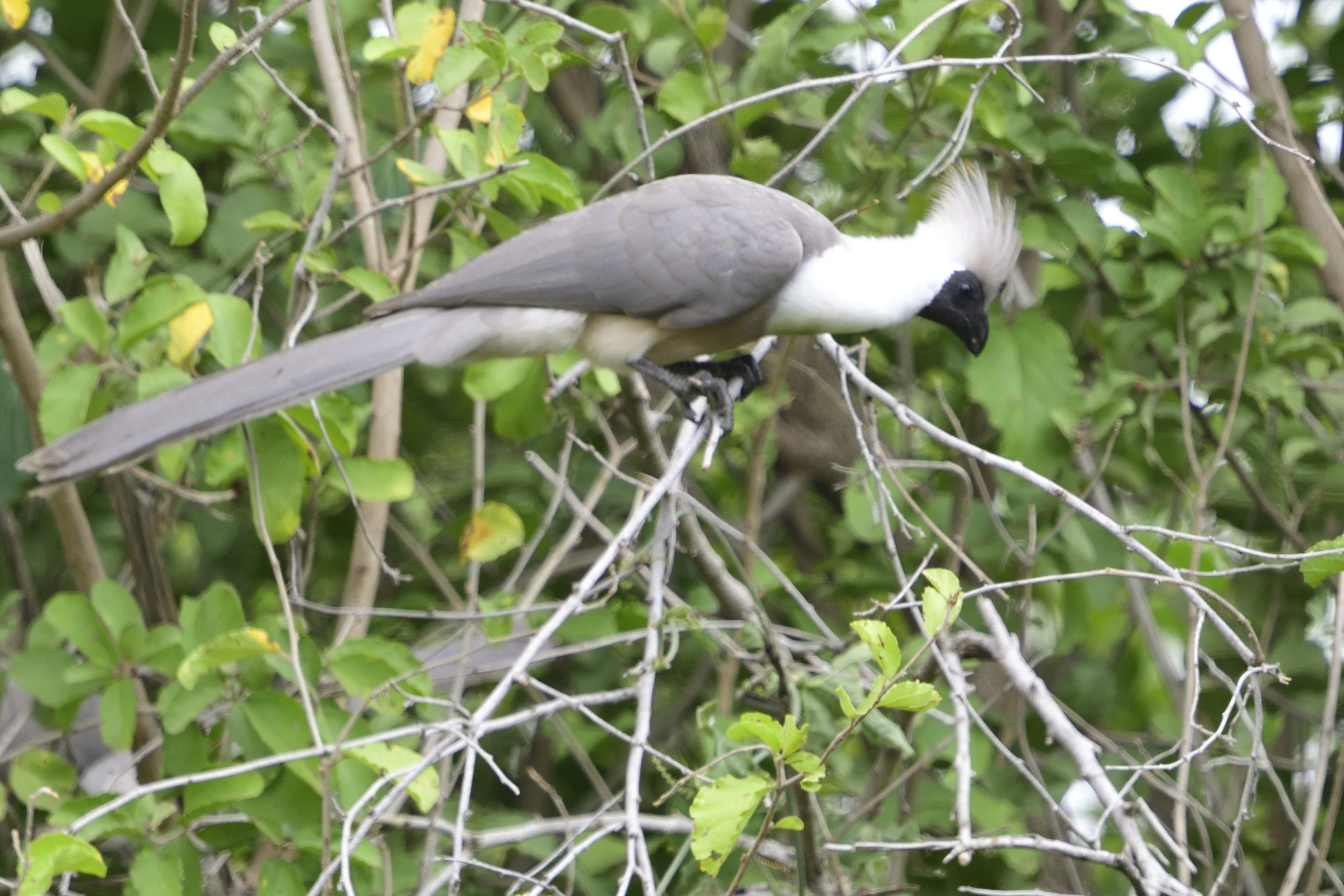 Bare-faced Go-away-bird, Corythaixoides personatus – Endemic to NE Africa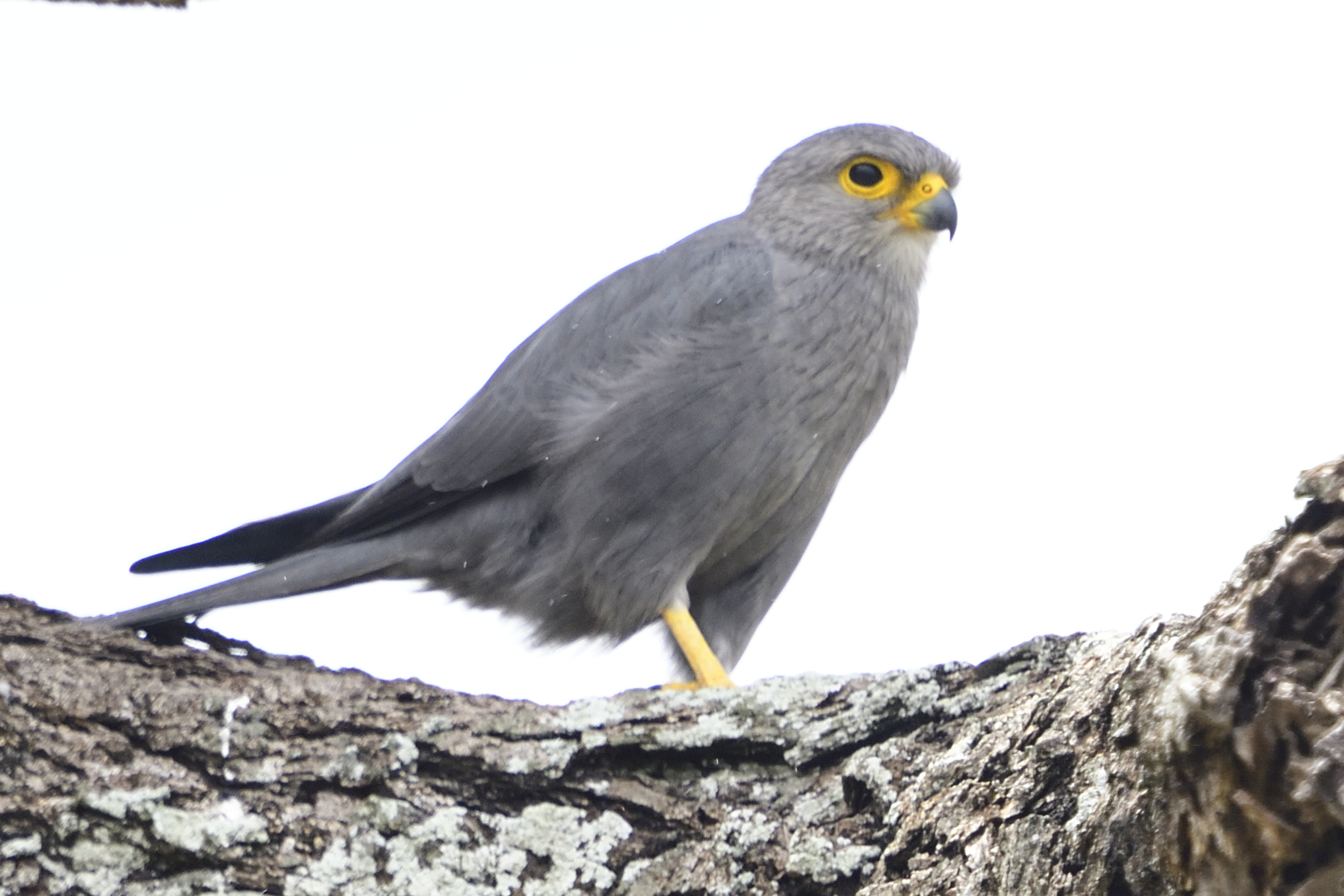 Grey Kestrel, Falco ardosiaceus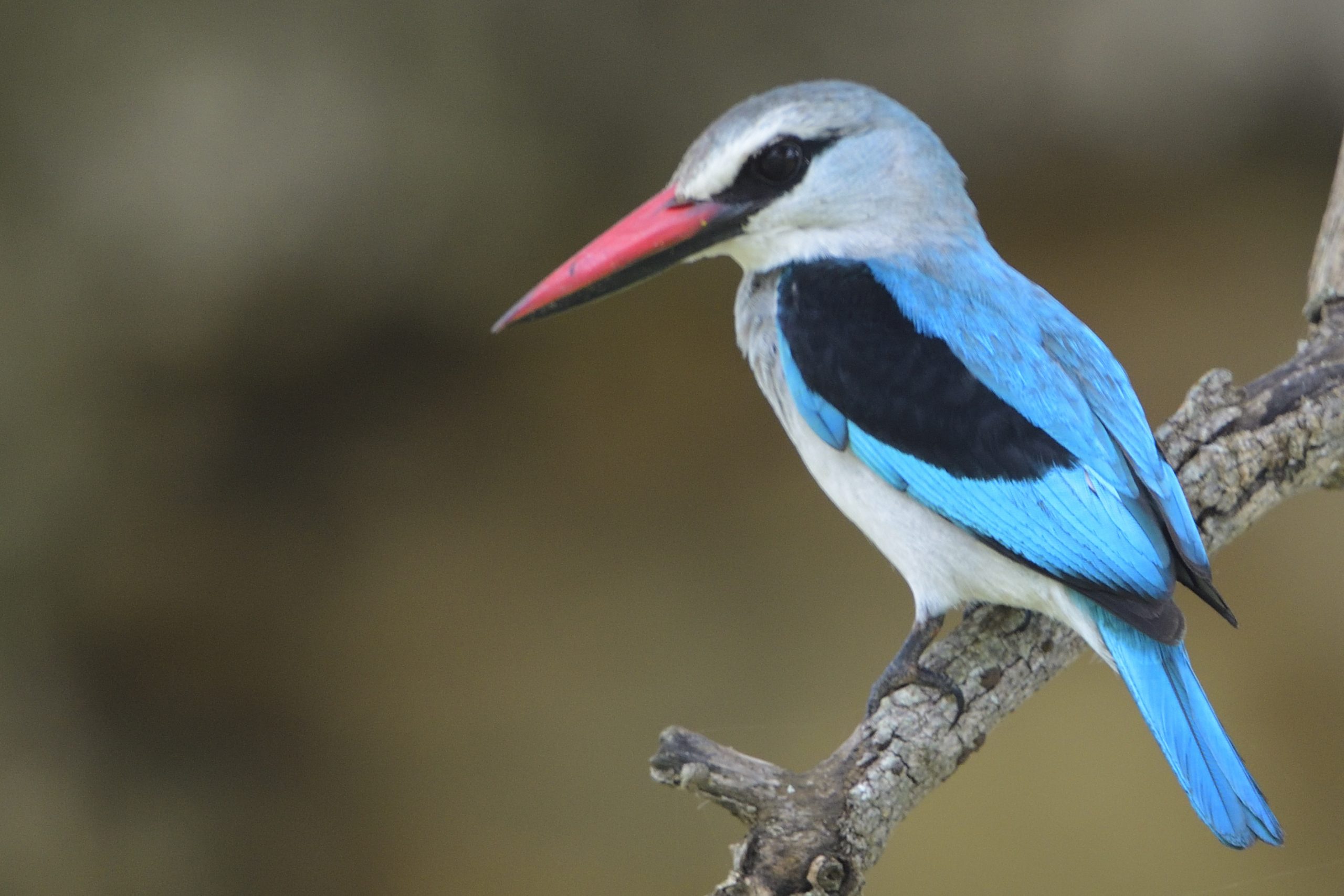 Woodland Kingfisher, Halcyon senegalensis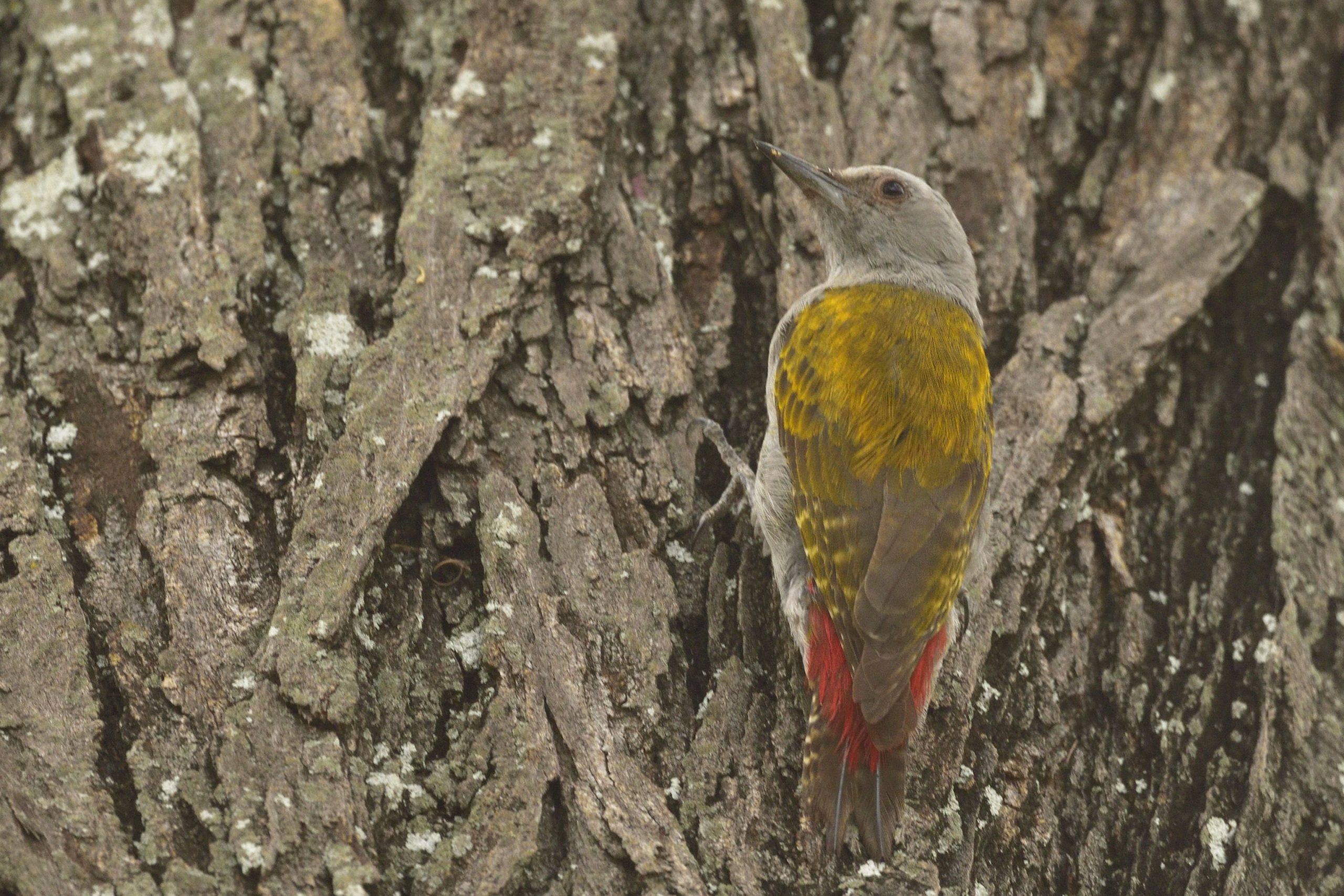 African Grey Woodpecker, Dendropicos goertae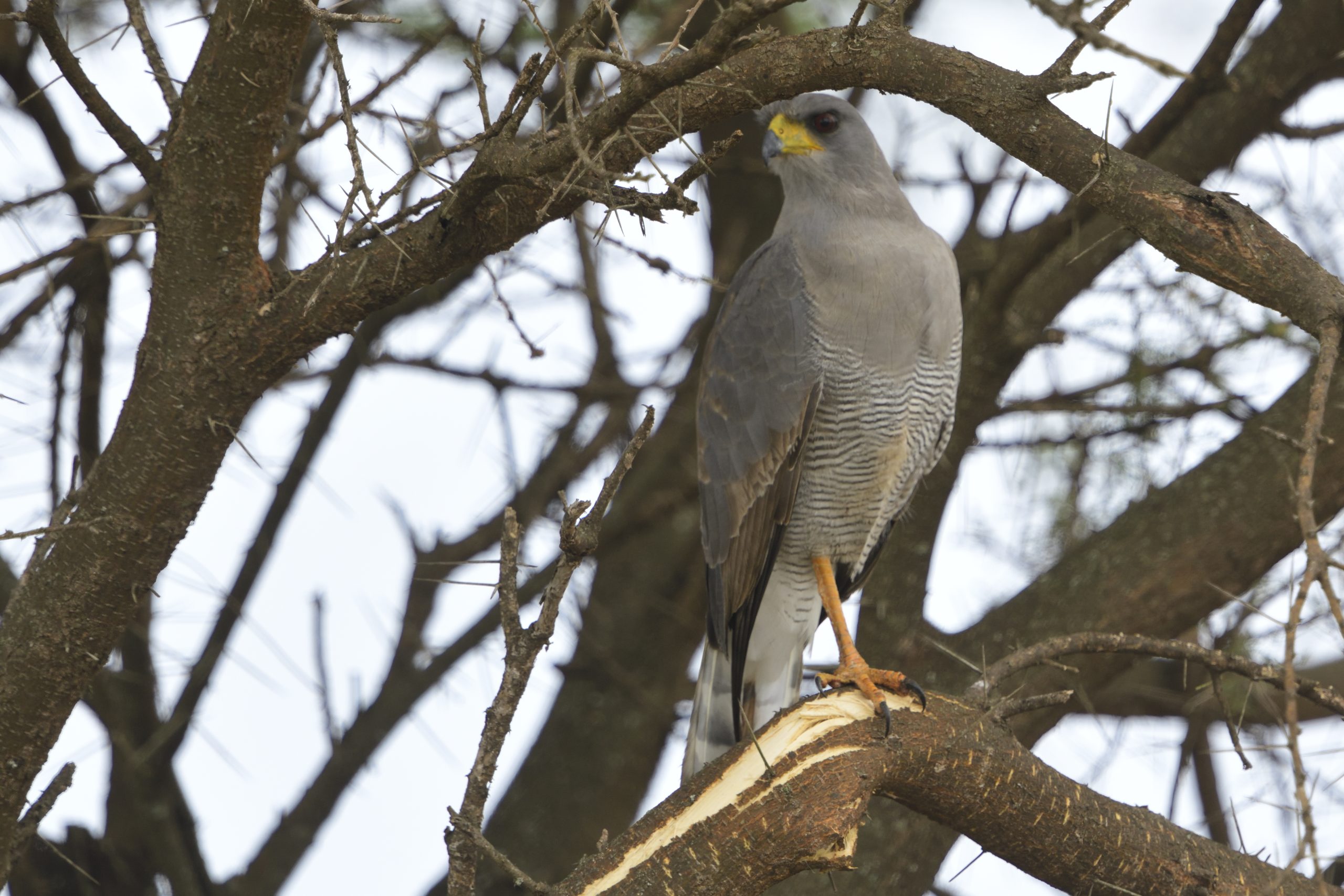 Eastern Chanting Goshawk, Melierax poliopterus – Endemic to NE Africa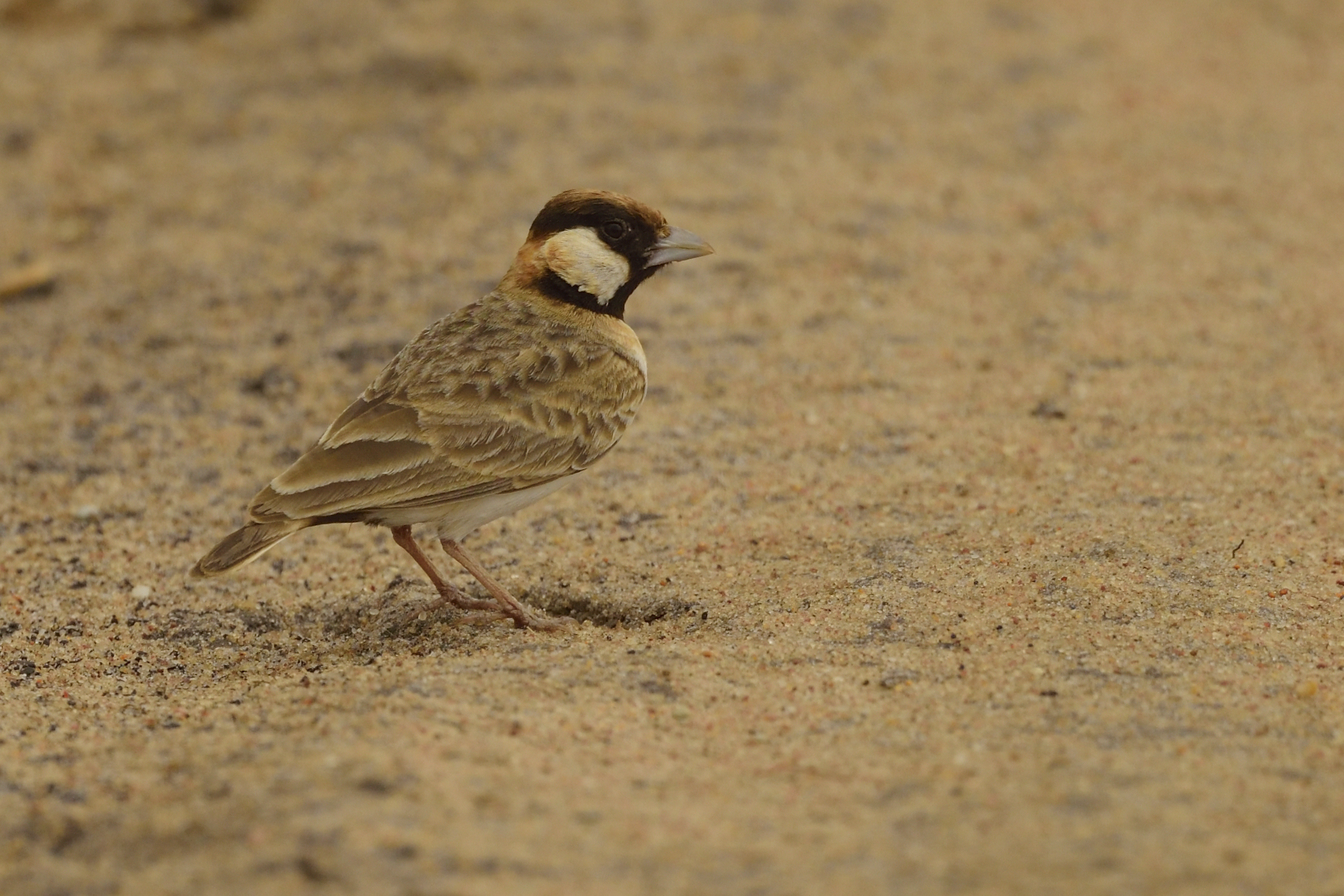 Fischer´s Sparrowlark, Eremopterix leucopareia – Endemic to Se Africa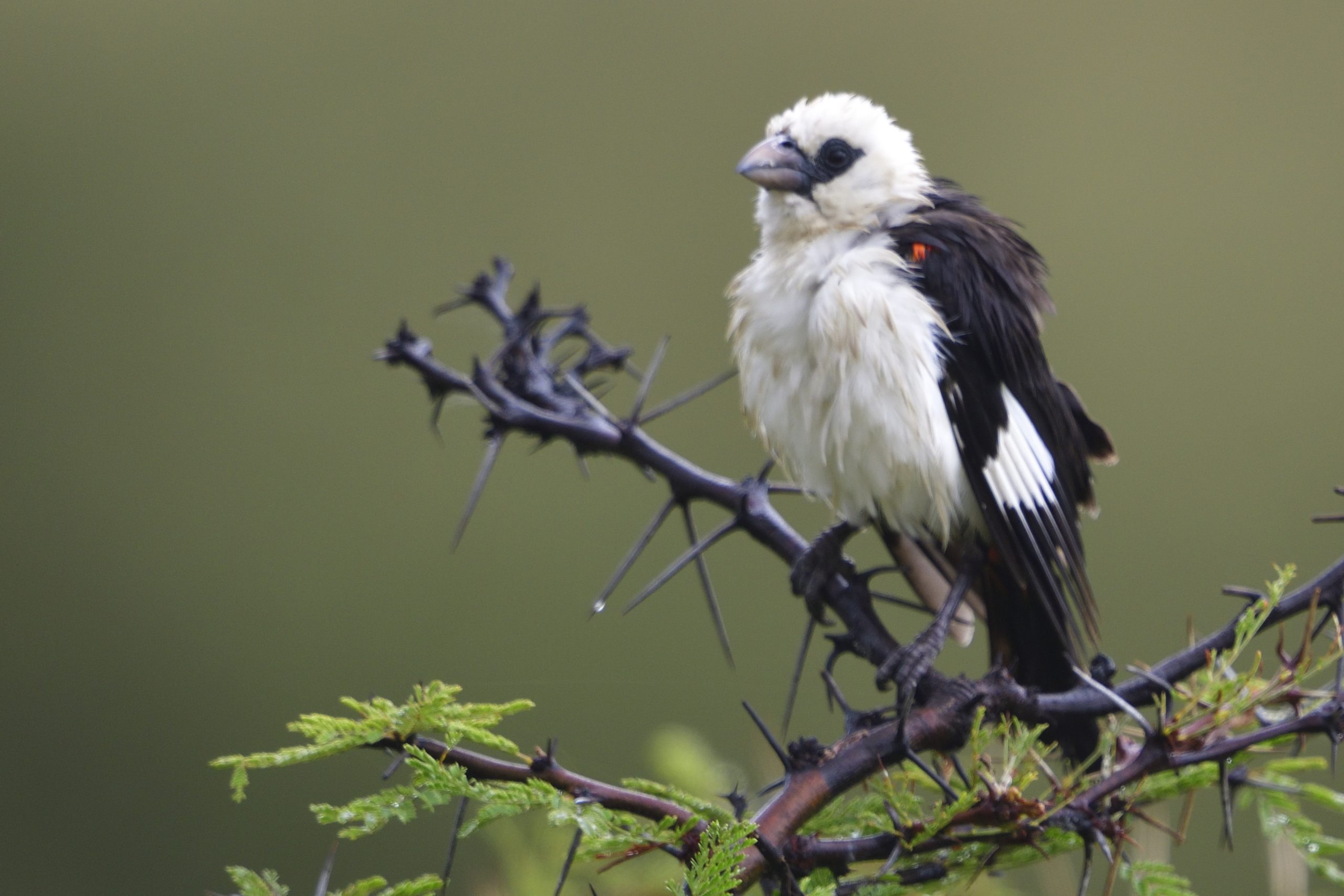 White-headed Buffalo Weaver, Dinemellia dinemelli – Endemic to NE Africa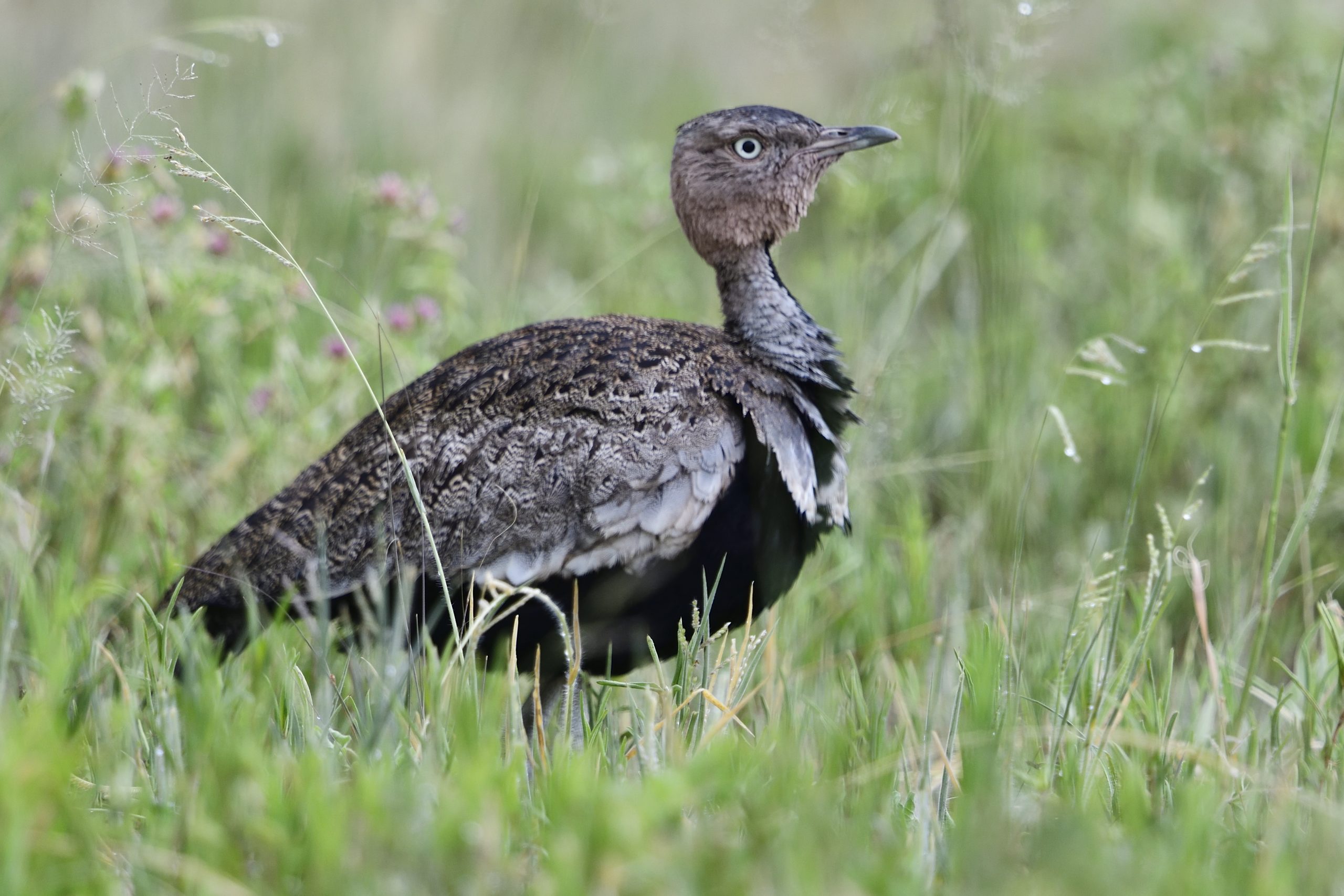 Buff-crested Bustard, Lophotis gindiana – Endemic to NE Africa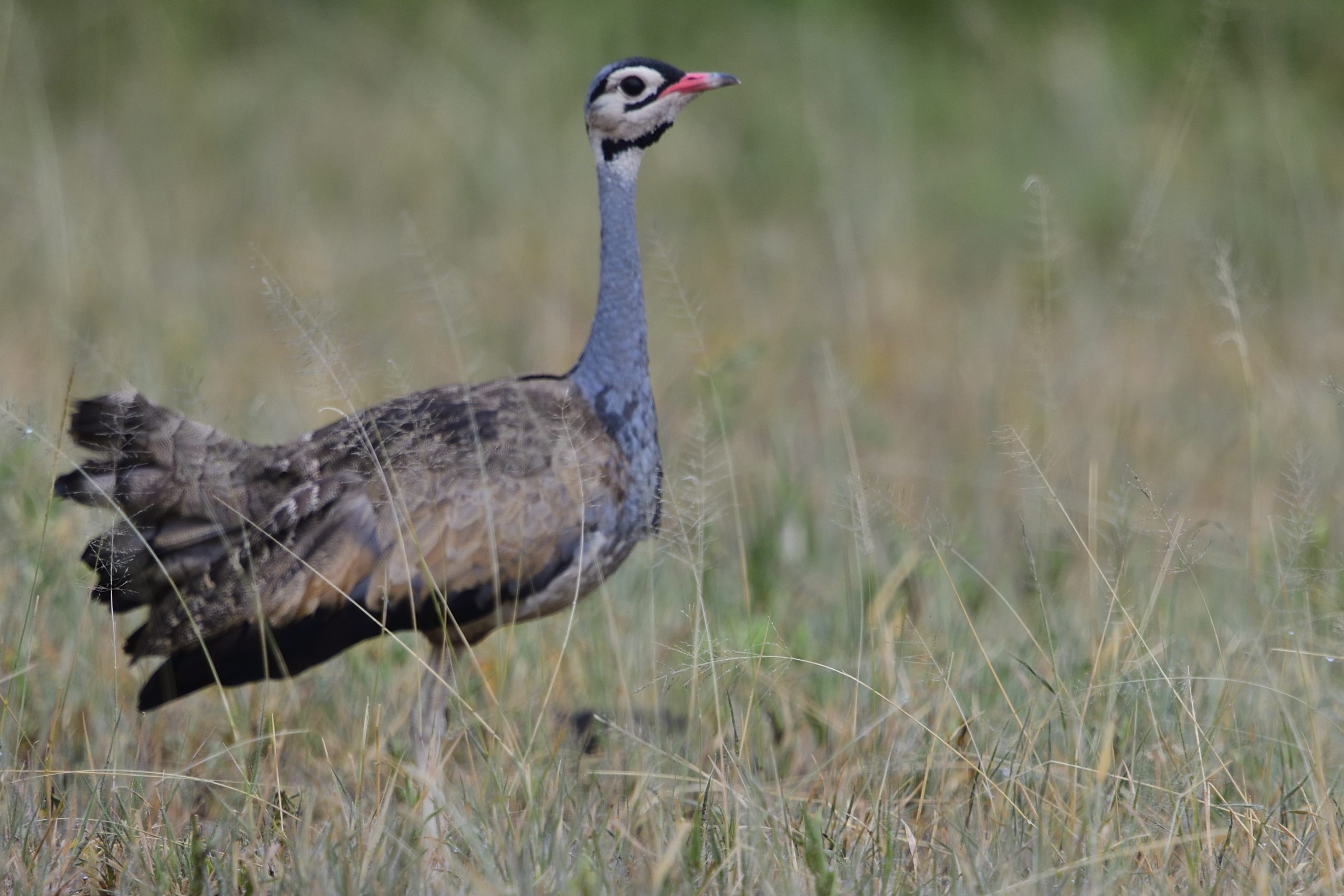 White-bellied Bustard, Eupodotis senegalensis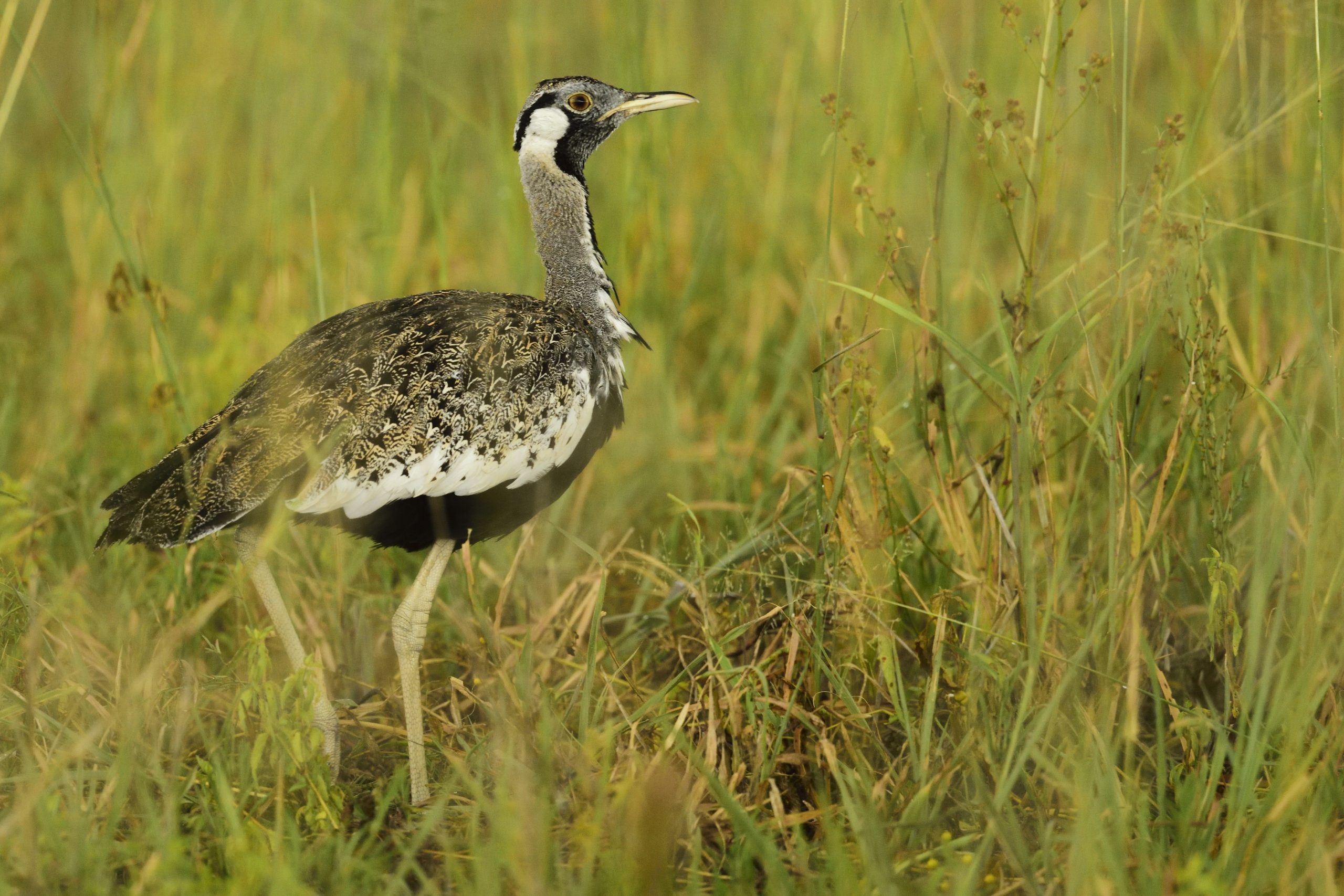 Hartlaub´s Bustard, Lissotis hartlaubi – Endemic to NE Africa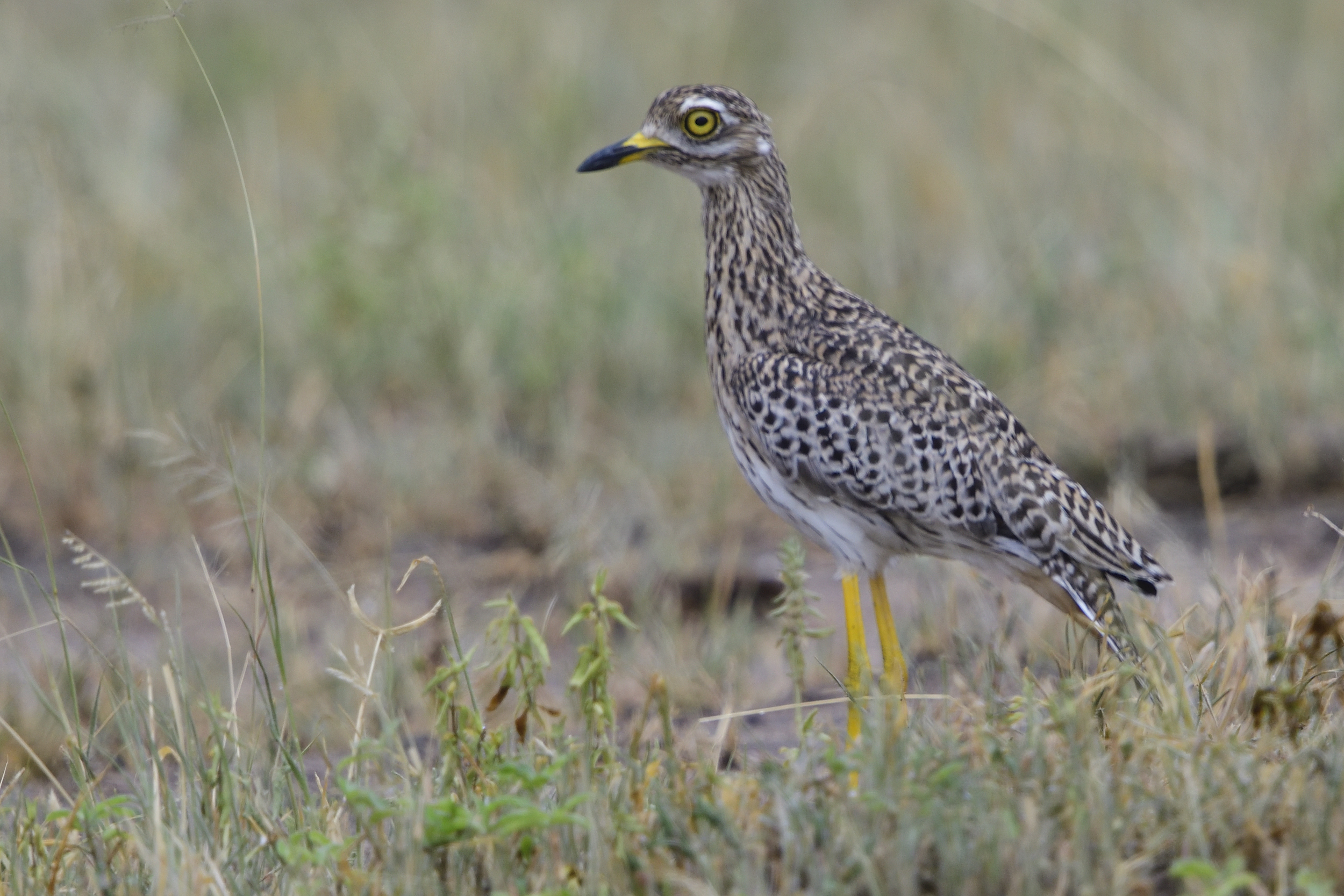 Spotted Thick-knee, Burhinus capensis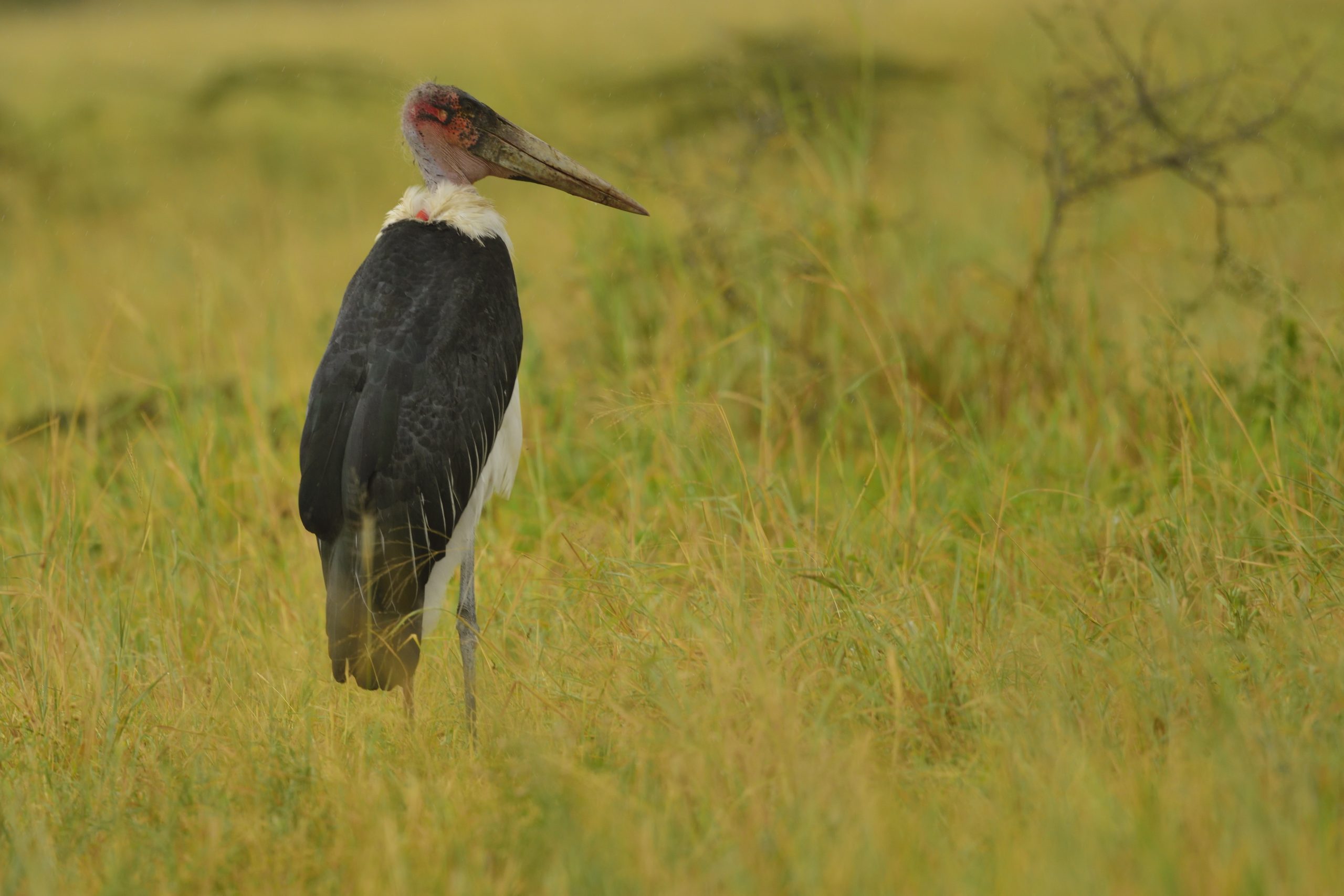 Marabou Stork, Leptoptilos crumenifer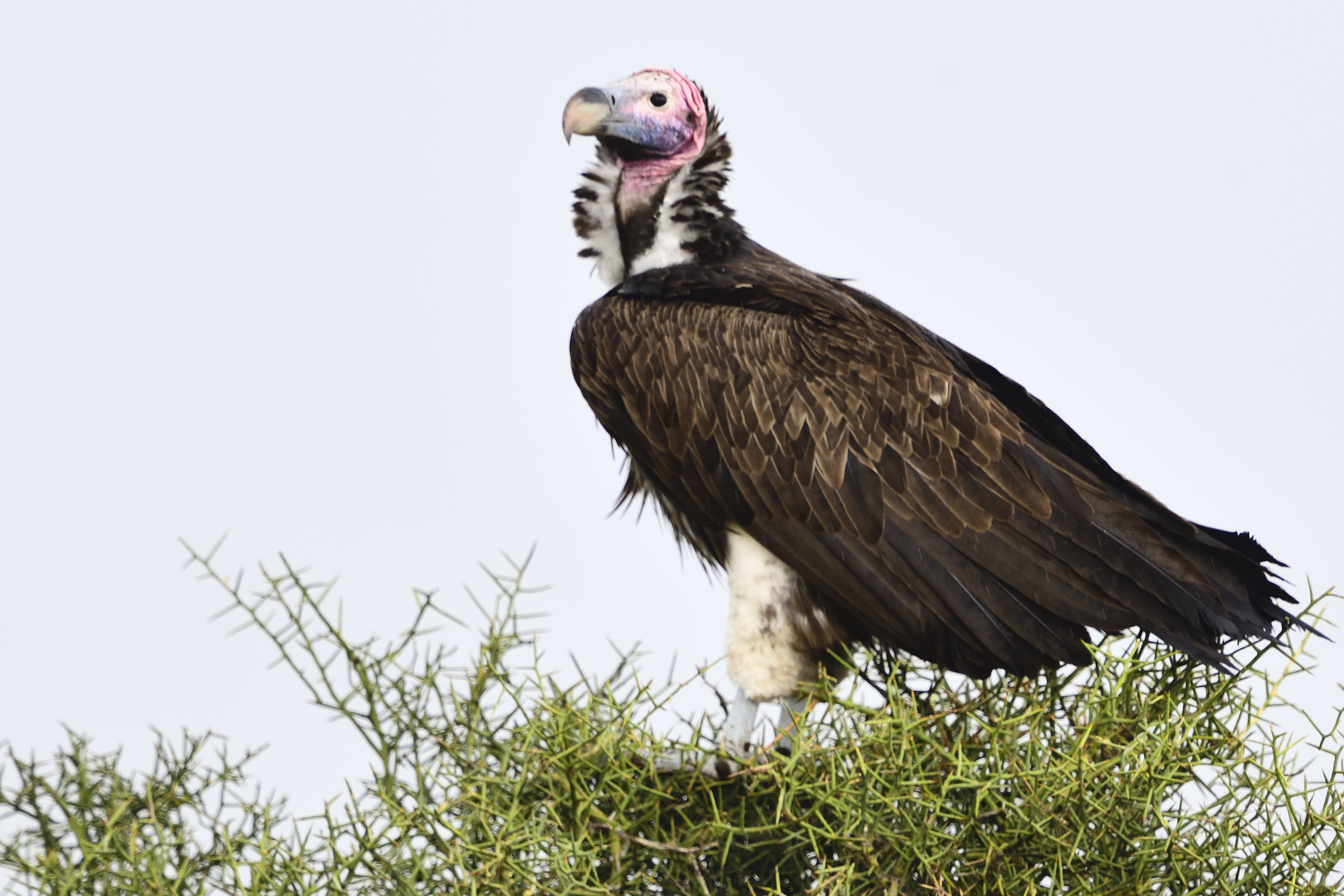 Lappet-faced Vulture, Torgos tracheliotos
Day 4, Sunday, April 17, 2022 – Kiligolf – Lark Plains – Oldonyo Sambu – Kiligolf
Again an early morning start. We arrived at the Lark Plains around 07:15 and started ticking birds on our way to where we parked the car. Foxy Lark, Lesser Kestrel, African Pipit, Capped Wheatear, Taita Fiscal, Red-capped Lark and Chestnut-bellied Sandgrouse where all seen before we reached our first destination. My Masai friends were waiting for us and as ever it was quite easy to get the Beesley´s Lark. We have quite a busy schedule on my trips and i did not expect my friends to spend a very long time photographing one bird. I sent Isihaka to look for the two more difficult larks, Short-tailed and Athi Short-toed. I kept an eye on him and he soon signalled that he had one of them. We moved towards him and got also shots of the Short-tailed. I sent Isihaka out again to look for the hardest one, the Athi Short-toed Lark that we often dip on. Isihaka was soon signalling again so I told my friends we should hurry. I started walking towards my guide and when i was halfway there found out that my friends were again on their tummies photographing something. By the time they finally reached us, we had lost the Lark. Thanks to Isihaka we managed to find it again. Once it were flushed, my friends told me they needed a better picture of a Capped Wheatear. I said no problem, we will see 8-10 of them on our way back to the car. Isihaka and I started walking towards the car. We saw plenty of Wheatears and I even took time to take a picture of this very common bird. I turned around and saw my guests were walking in a total different direction. I was seriously starting getting irritated now. I had never experience that any of my friends did not follow my lead. On the plains we had 3 target birds and we try to get them as quick as possible so we can move on while we still have good light. My friends as it turned out had a complete different agenda. Isihaka and I walked to the car and got the breakfast out and were waiting for my friends to finally turn up. I have led birders to the Lark Plains around 25 times before and I do have some experience on where to find the birds and I believed that is why my friends came and visited me? Anyway, after a quick breakfast, we were on our way. A masai cow had died so a flock of Vultures were at the kill. Lappet-faced, Rüppel´s and White-backed together with quite a few Tawny Eagles in different morphs (This had also happened on my last trip there in January). We photographed the vultures until they were flushed by a little Masai boy. On the way out to the road we flushed a Pallid Harrier. On the feeder road we saw 4 Kori Bustards, but it was getting hot so the number of birds we saw on our way to the Masai Booma were not that high. We added Eastern Chanting Goshawk and Greater Kestrel to a distance that is normally teaming with birds. Once at the booma it became evident again that my friends had their own agenda. I assumed incorrectly that since they had not been to Africa before, it was good to get as many of the special birds as possible. However as I was rudely explained. It was better to get great pictures of one or two birds, so instead of looking for new birds, 1.000 pictures of the same bird were better. One of these were the Grey-capped Social Weaver. I started looking for new birds and we found Scaly Chatterer, Cut-throat Finch, Beautiful Sunbird, Abyssinian Scimitarbill, Pygmy Batis, Banded Parisoma, Bare-eyed Thrush, Von der Decken´s Hornbill, Lesser Masked Weaver, Red-throated Tit, Kenya Sparrow, Red-fronted Prinia, Red-fronted Barbet, Black-faced Waxbill, Grey Wren-Warbler and Pygmy Falcon. It was time for lunch and after lunch we drove slowly towards the main road. The activity had picked up and we added Namaqua Dove, Blue-capped Cordonbleu, Hildebrandt´s Starling, Ashy Cisticola, White-bellied Canary, Rosy-patched Bushshrike and Straw-tailed Whydah. We drove towards Oldonyo Sambu and started birding again. Here are some of the birds we recorded at that site. White-necked Raven, Dusky Turtle Dove, Common Buzzard, Schalow´s (Abyssinian) Wheatear, Grey-backed Camaroptera, Streaky Seed-eater, Blue-naped Mousebird, Yellow-bellied Eremomela, Red-fronted Barbet, Chestnut Weaver, Rock Martin, Baglafecht Weaver, Cardinal Woodpecker, Long-billed Pipit, Lanner Falcon, Abyssinian Scimitarbill, White-browed Scrub-Robin, Pale White-eye and Chinspot Batis. We dipped on both Little Rock Thrush and Lyne´s Cisticola. It was already getting late so my next planned stop Lake Duluti, we had to skip in order to get home before dark. It appeared to me that as long as we were in the car, birding were ok, but once we started walking, my friends were not interested in what my guide and I was doing and they constantly lagged behind or took their own routes. Again, very annoying for both me and my guide. I had never experienced this kind of behaviour from any birders before. We got home had dinner and my guest again disappeared in the night to look for owls with my guide.
Some pictures from Day 4: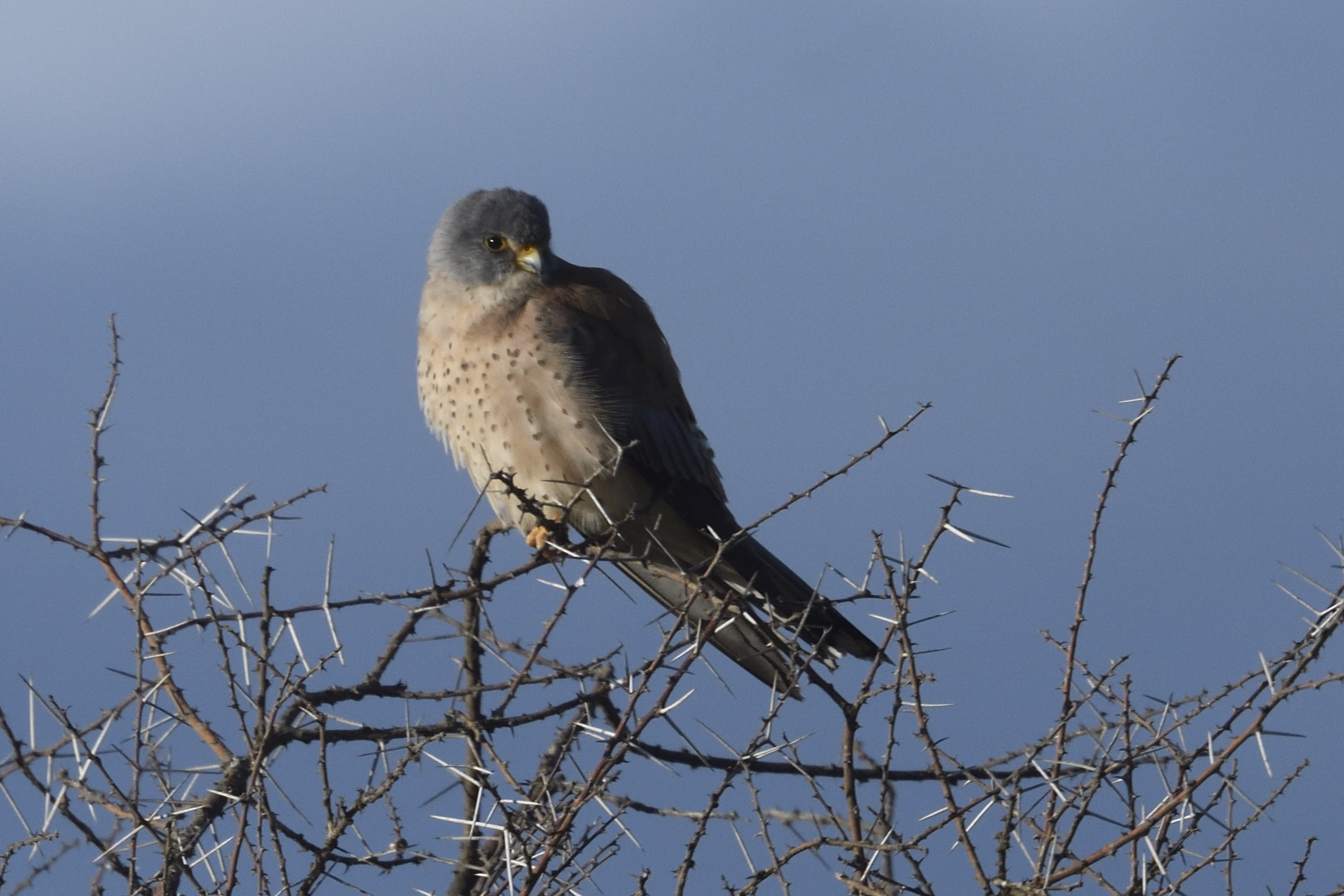 Lesser Kestrel, Falco naumanni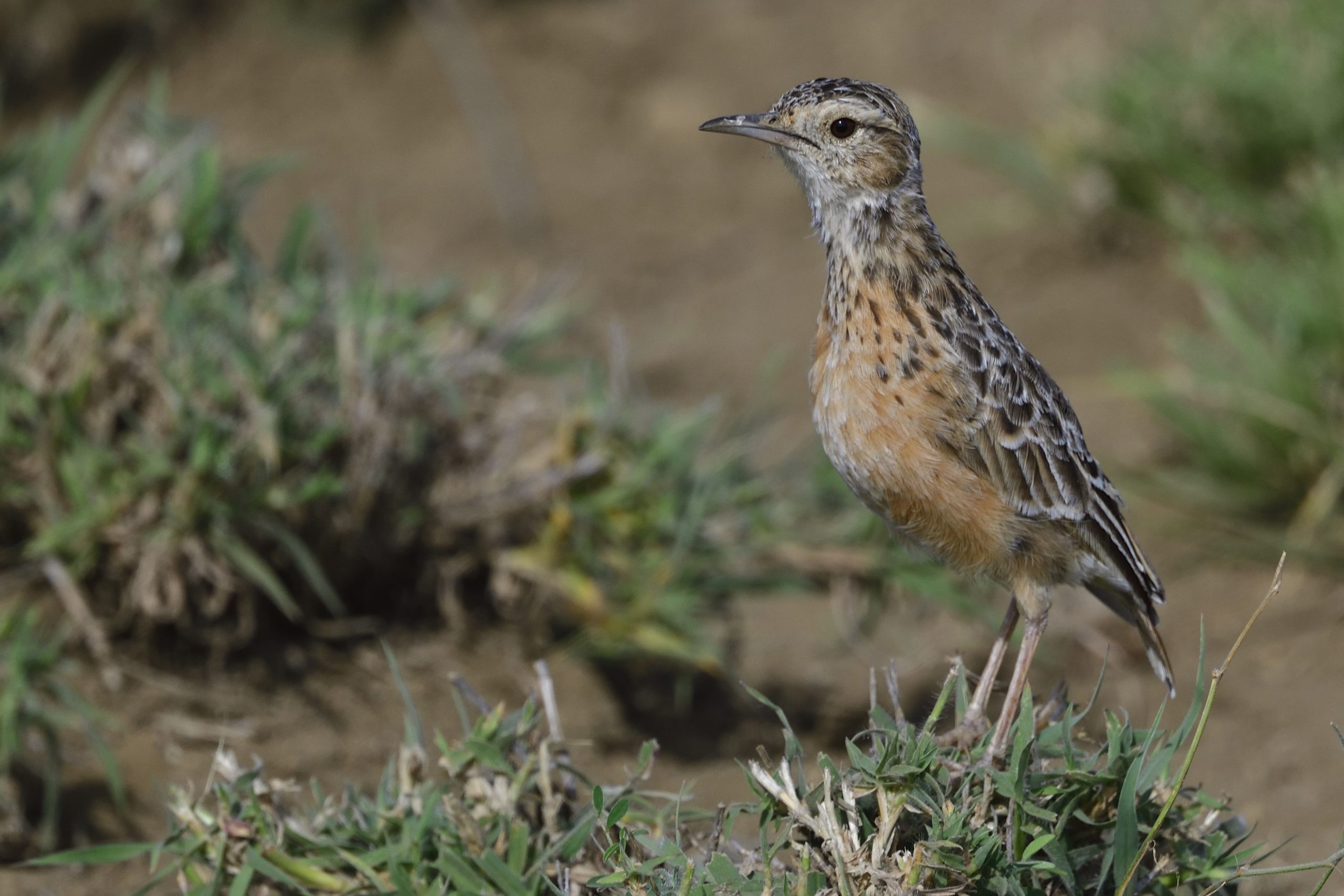 Beesley´s Lark, Chersomanes beesleyi -Endemic to a small area north of Arusha, Tanzania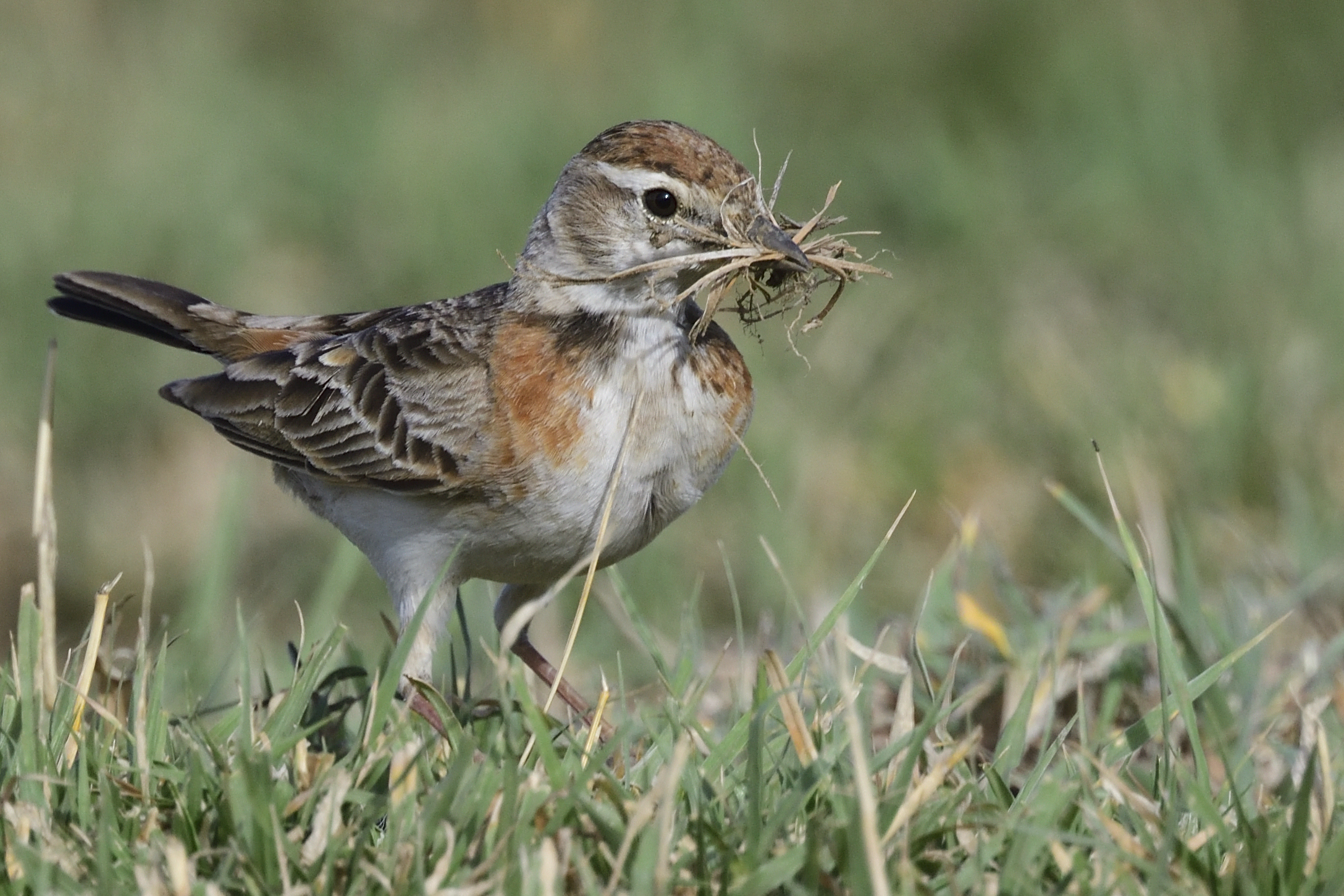 Red-capped Lark, Calandrella cinerea
Short-tailed Lark, Spizocorys fremantlii – Endemic to NE Africa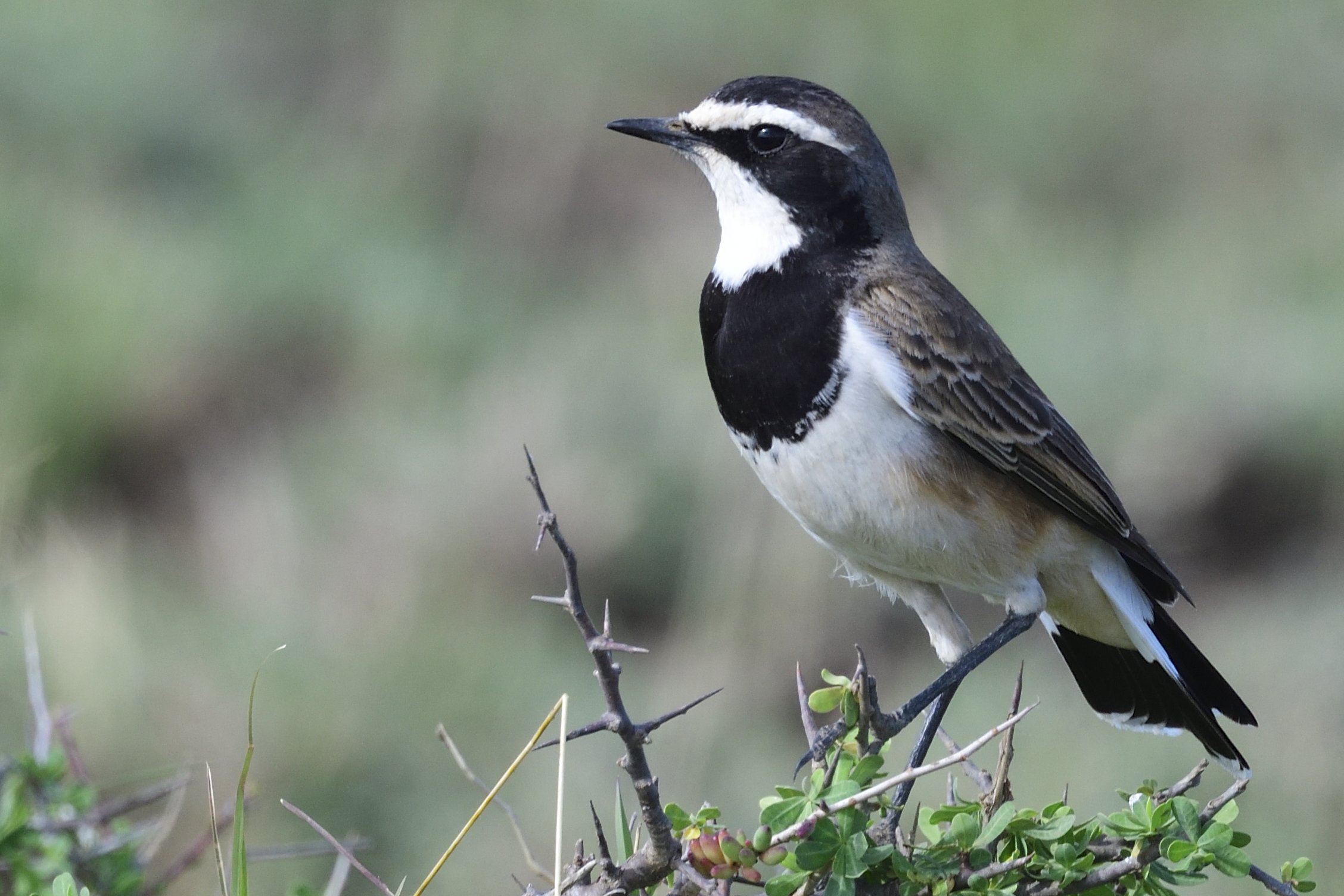 Capped Wheatear, Oenanthe pileata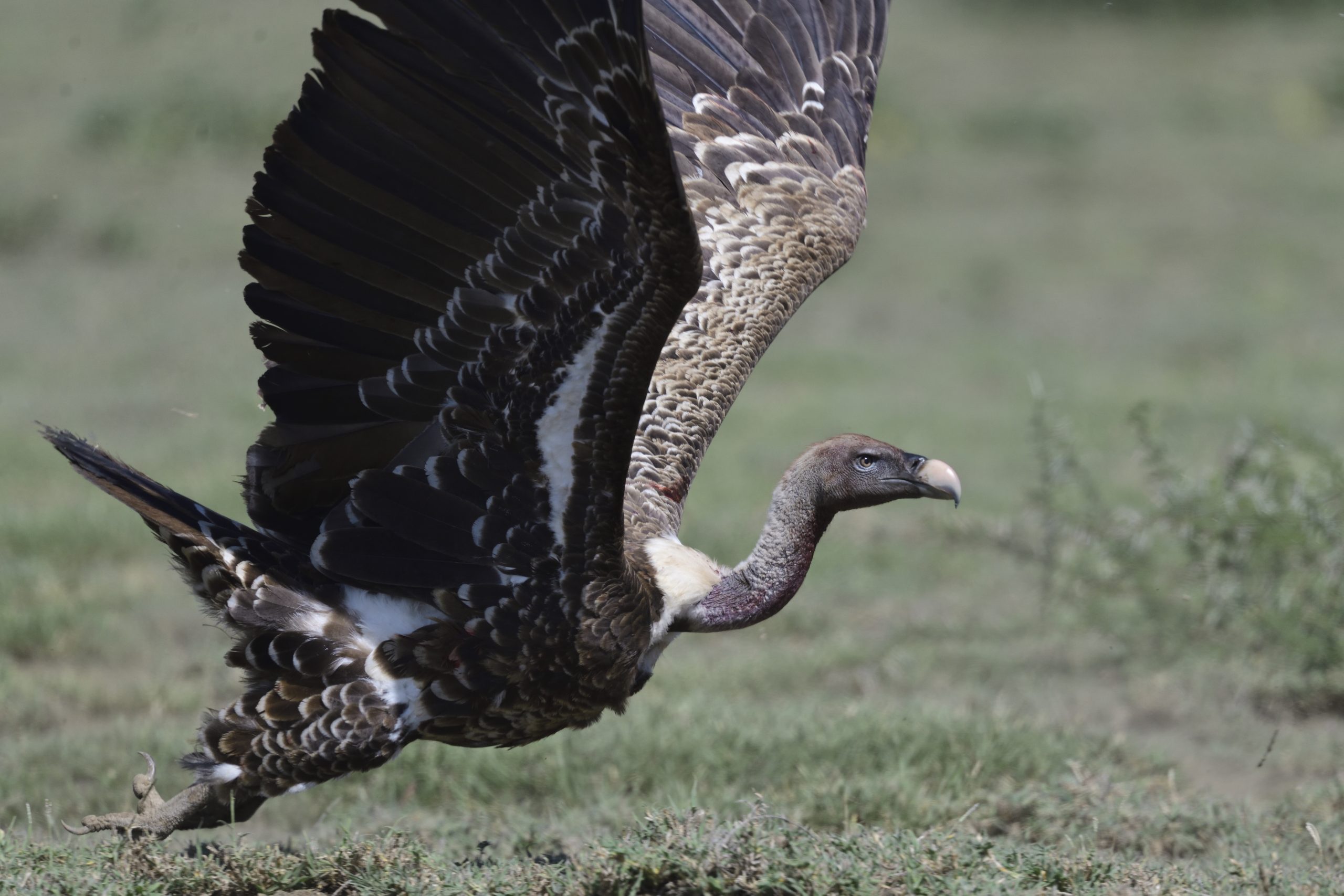 Rüppel´s Vulture, Gyps rueppelli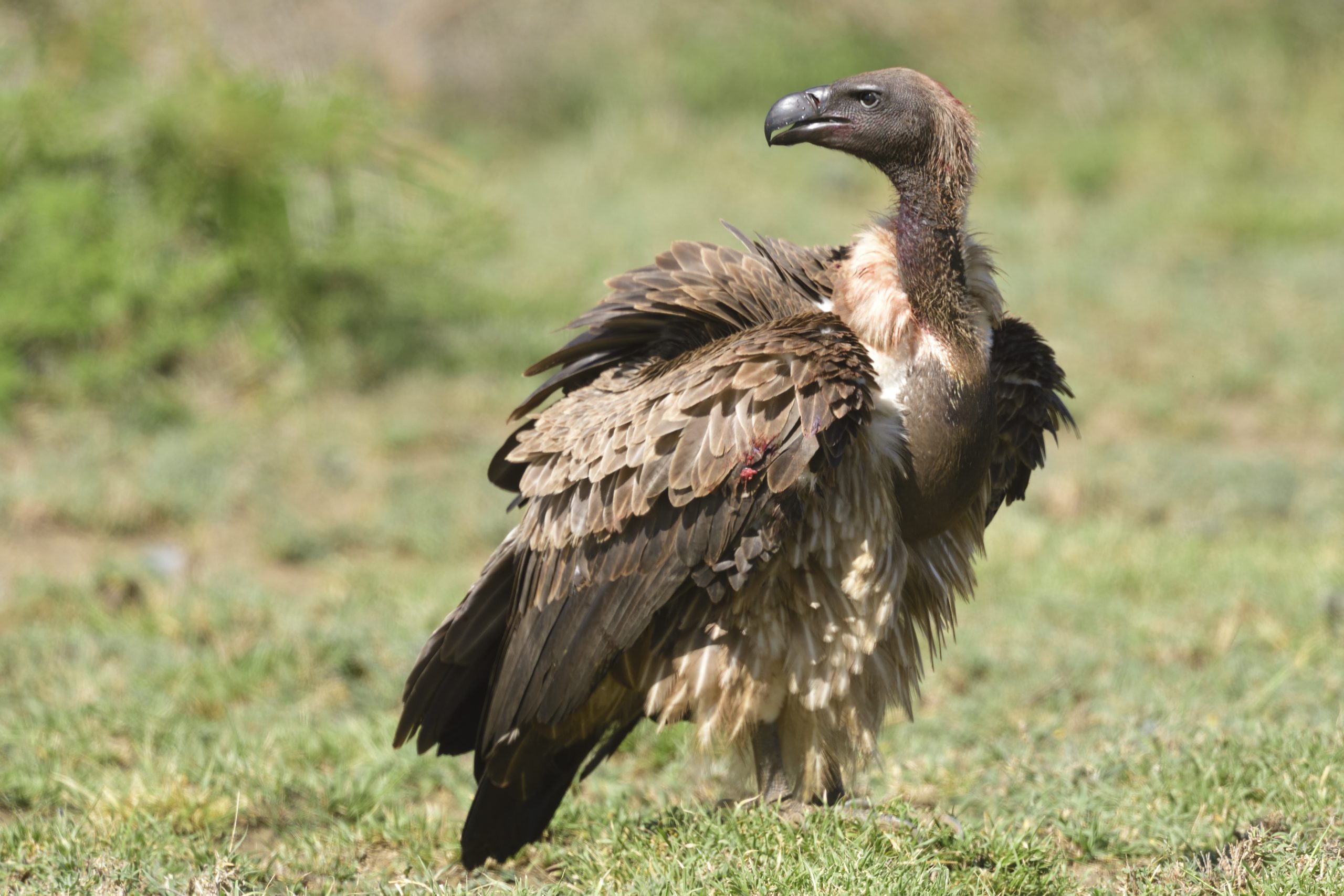 White-backed Vulture, Gyps africanus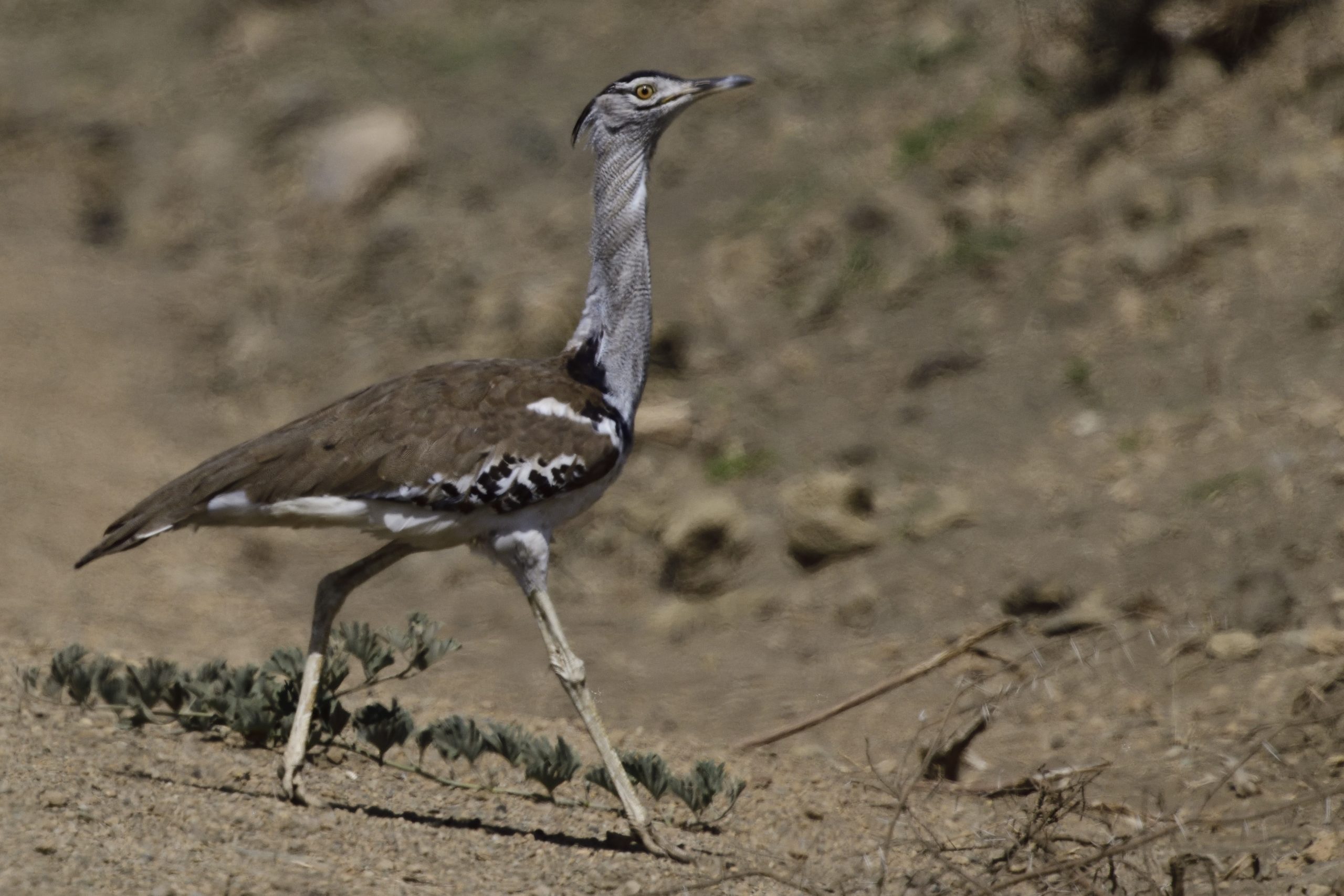 Kori Bustard, Ardeotis kori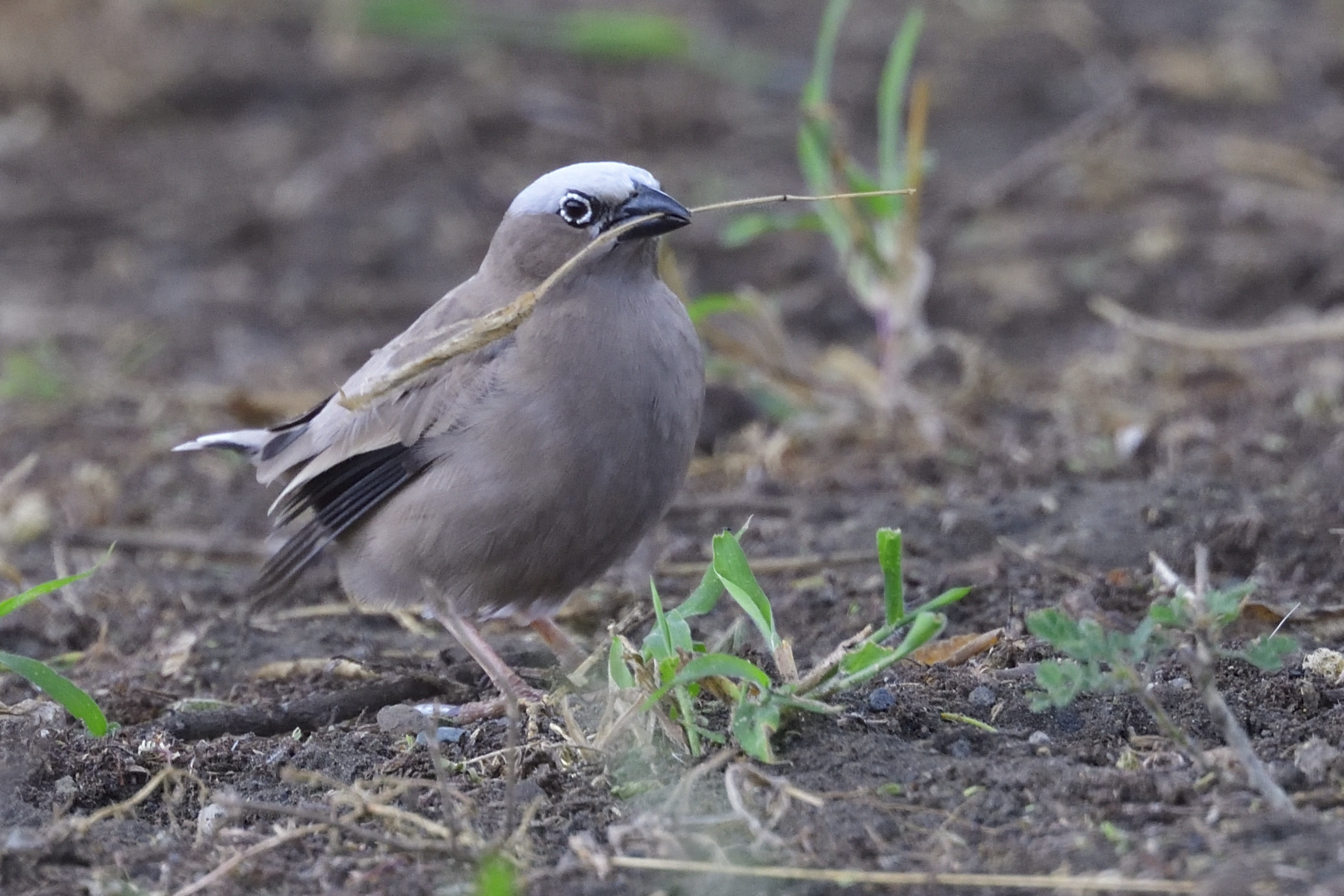 Grey-capped Social Weaver, Pseudonigrita arnaudi – Endemic to NE Africa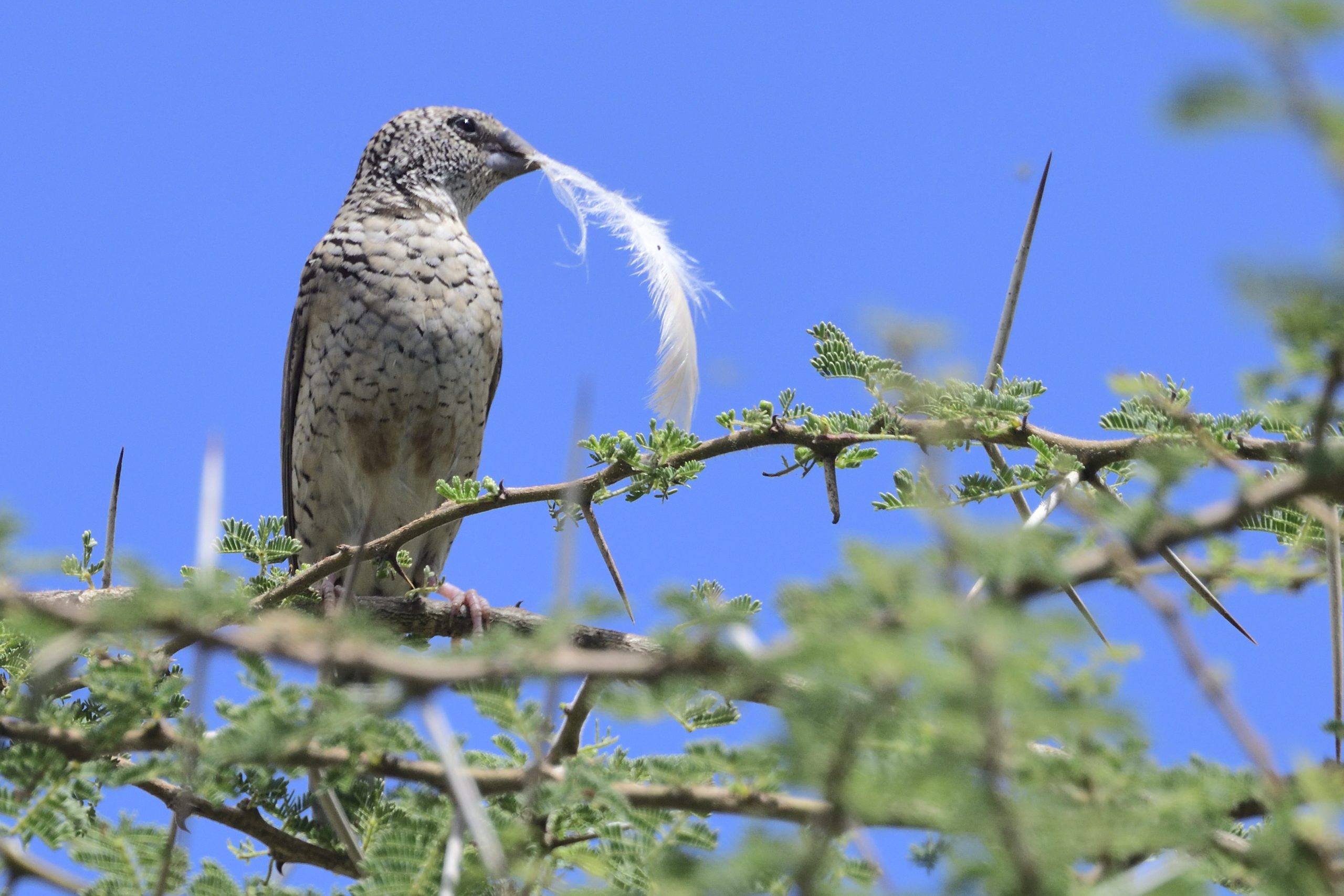 Cut-throat Finch, Amadina fasciata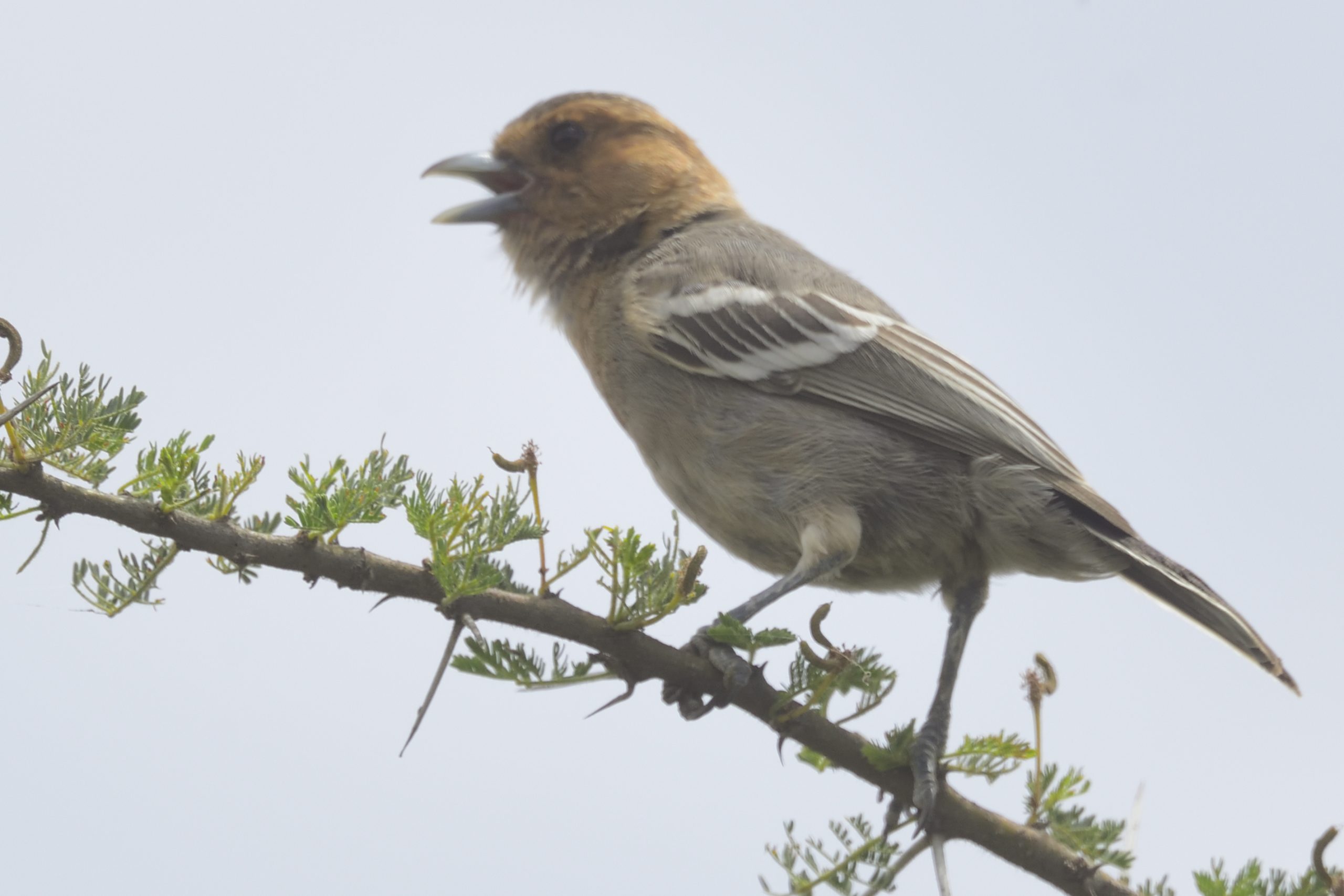 Red-throated Tit, Melaniparus fringillunus – Endemic to S kenya and N Tanzania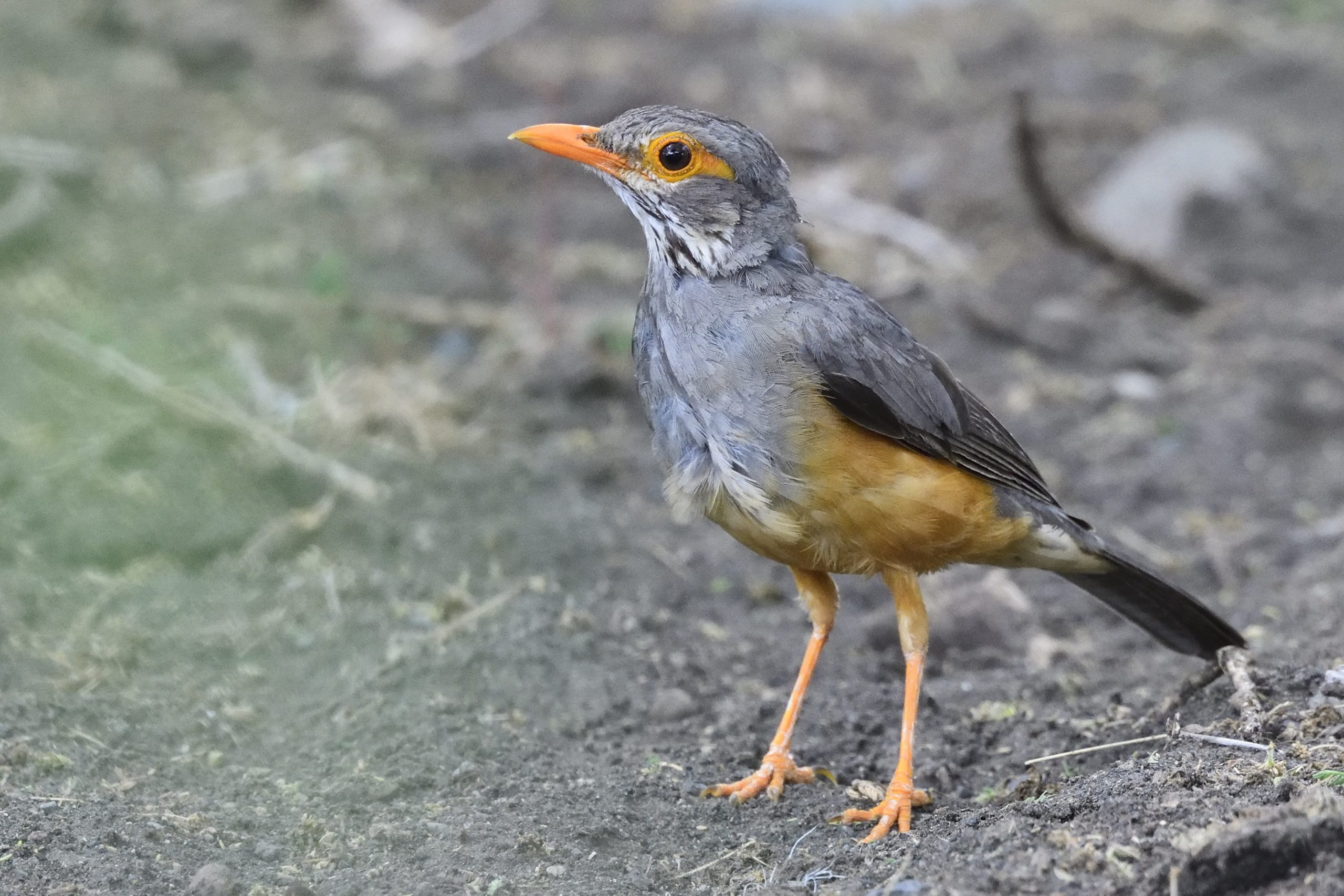 Bare-eyed Thrush, Turdus tephronotous – Endemic to NE Africa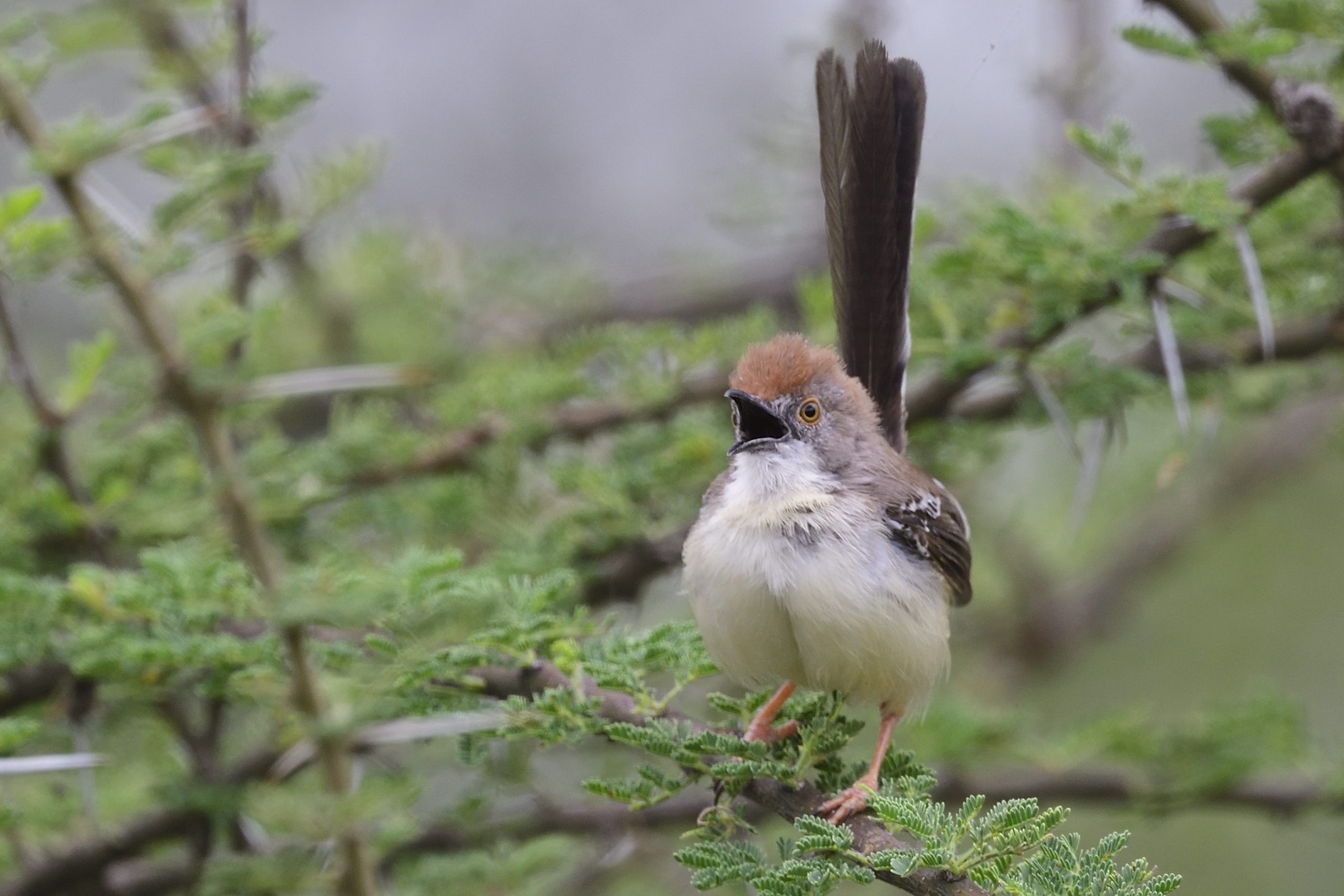 Red-fronted Prinia, Urorhipis rufifrons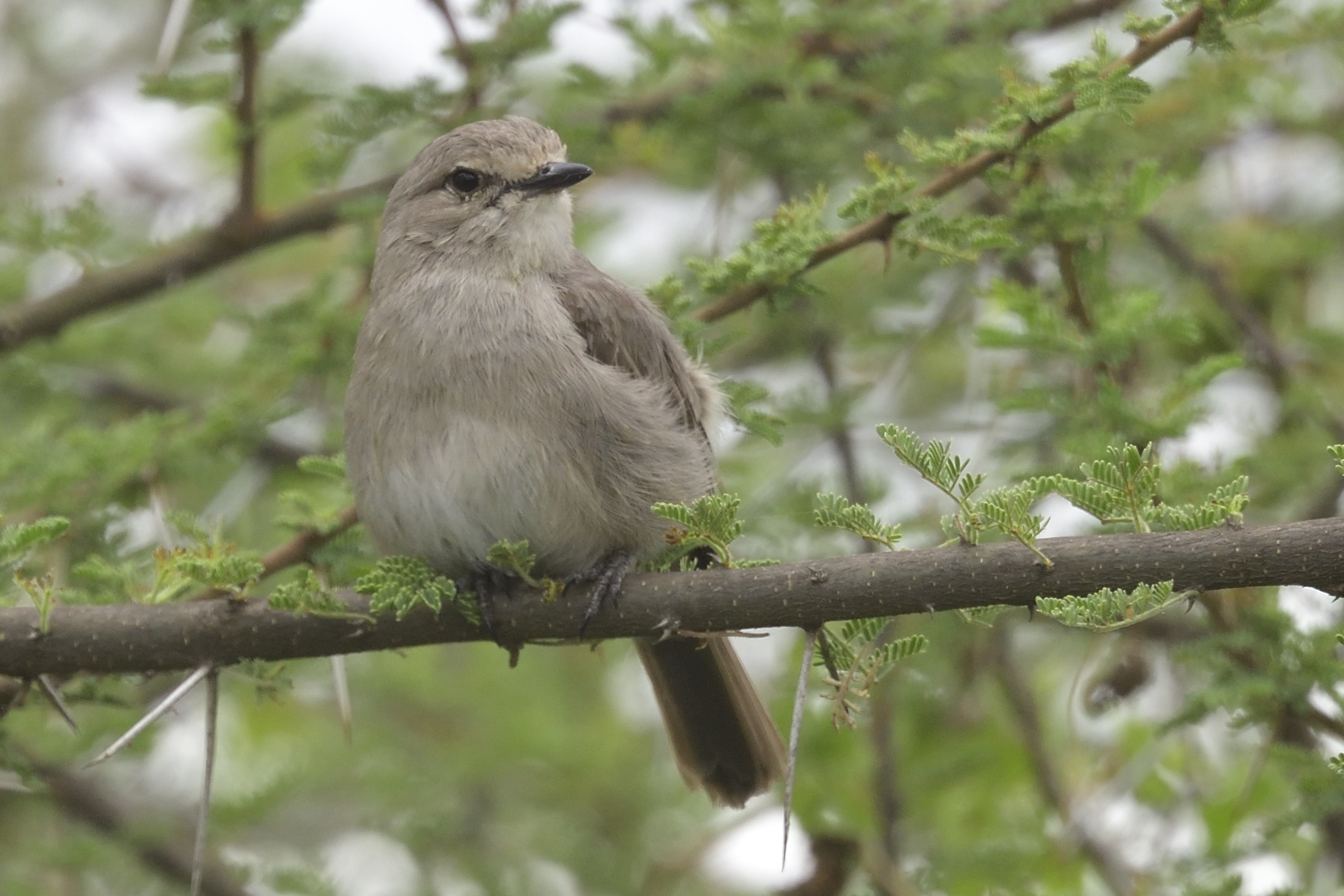 African Grey Flycatcher, Melaenornis microrhynchus – Endemic to NE Africa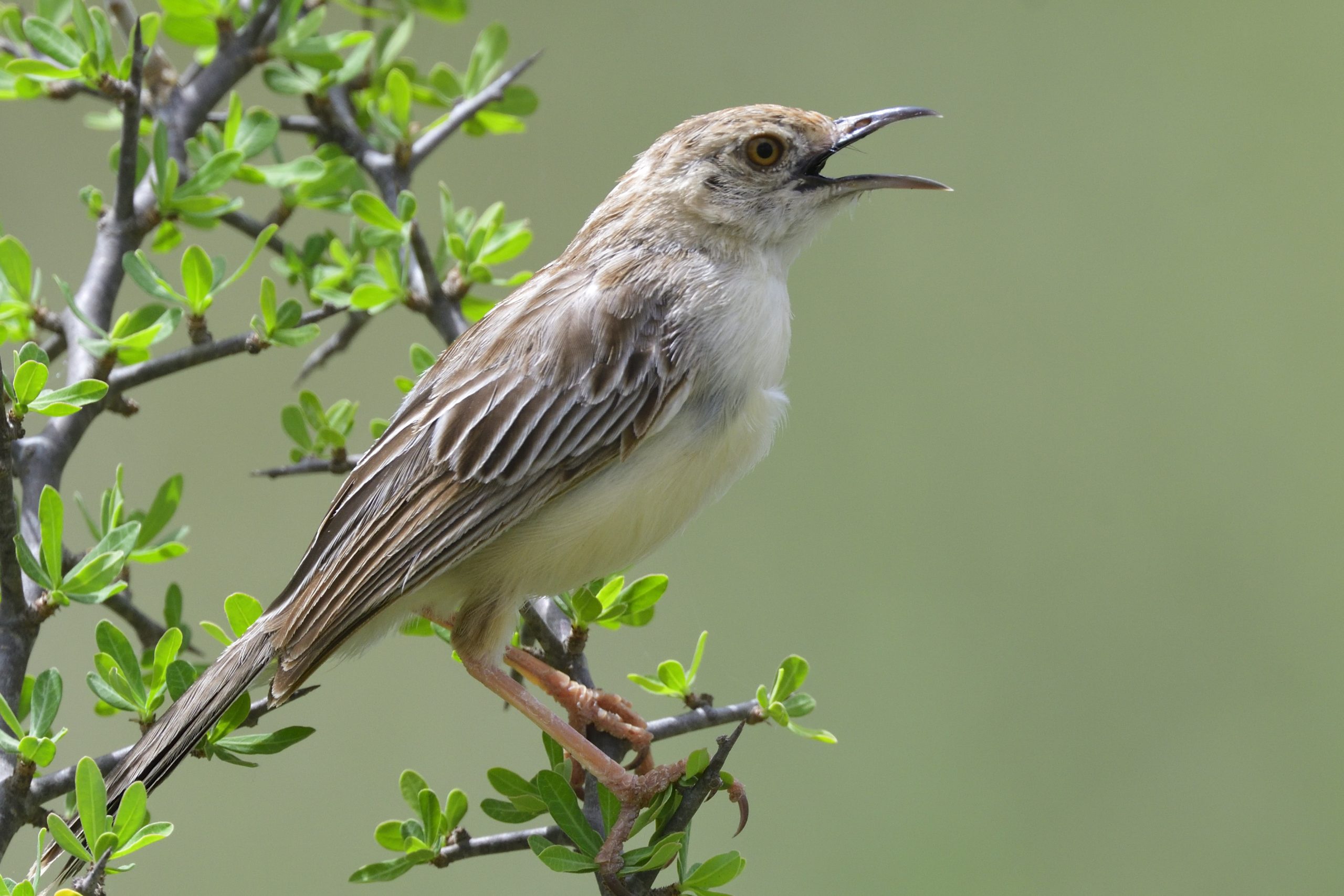 Ashy Cisticola, Cisticola cineroeus – Endemic to NE Africa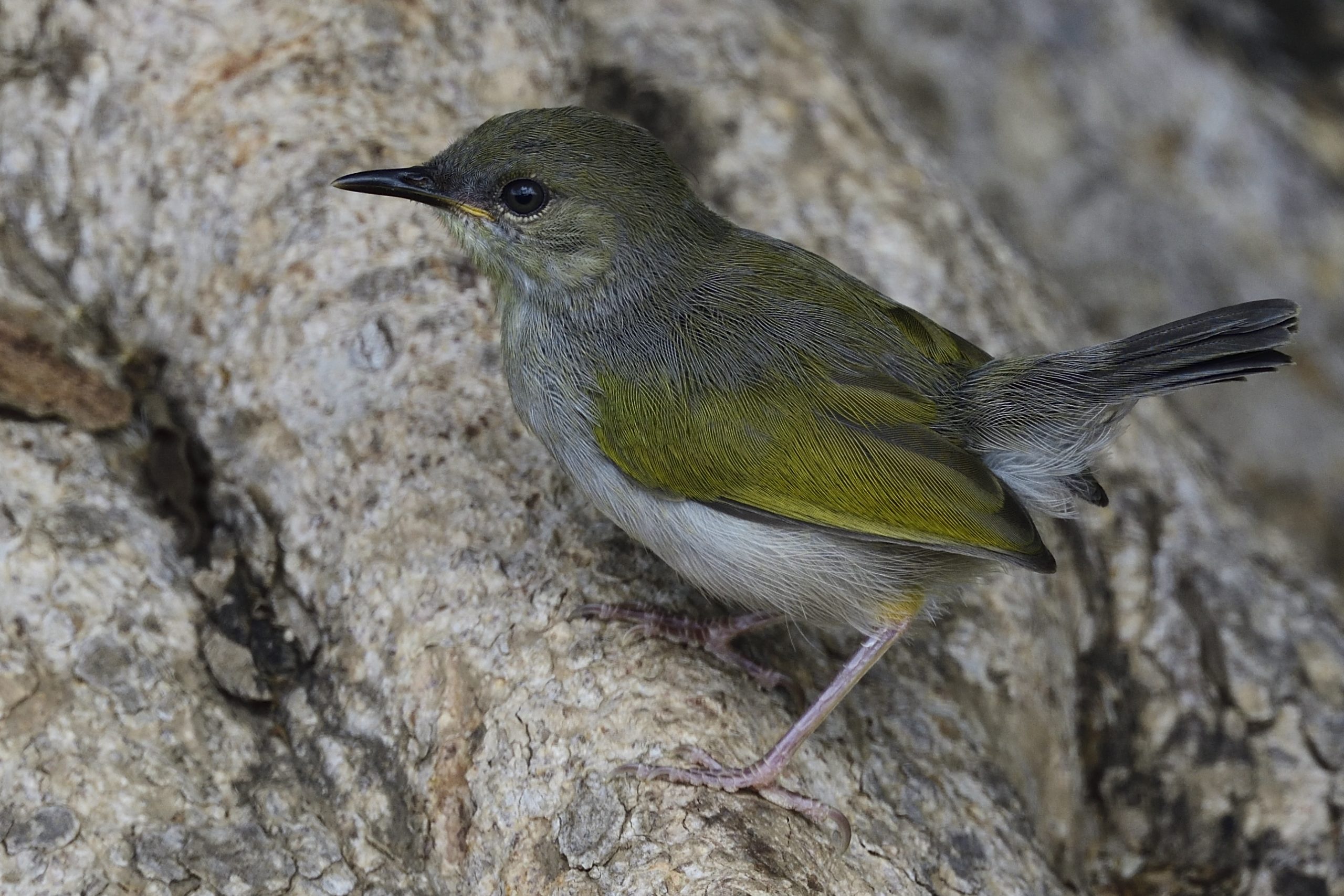 Grey-backed Camaroptera, Camaroptera brevicaudata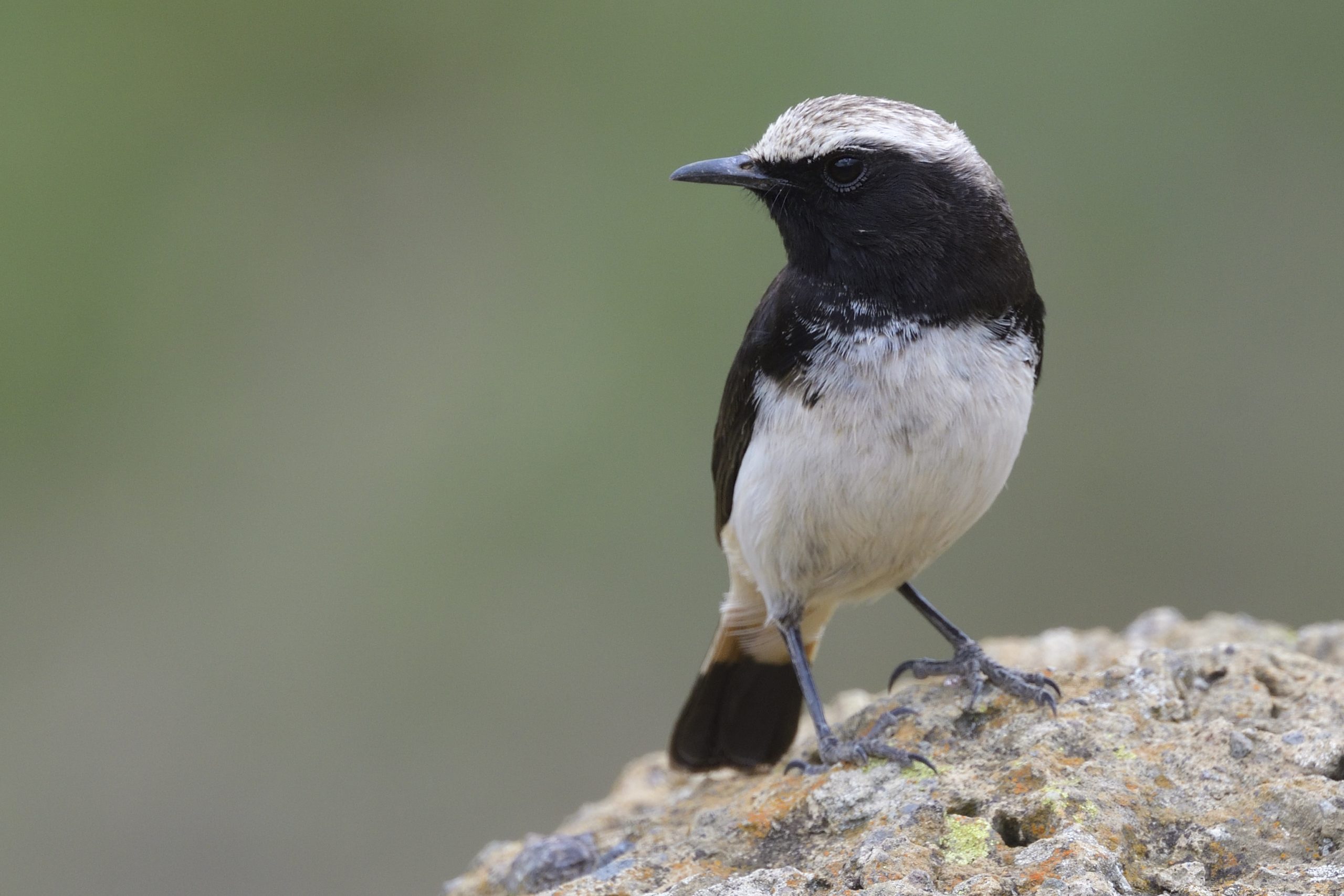 Schalow´s (Abyssinian) Wheatear, Oenanthe Schalowi – Endemic to Tanzania and Kenya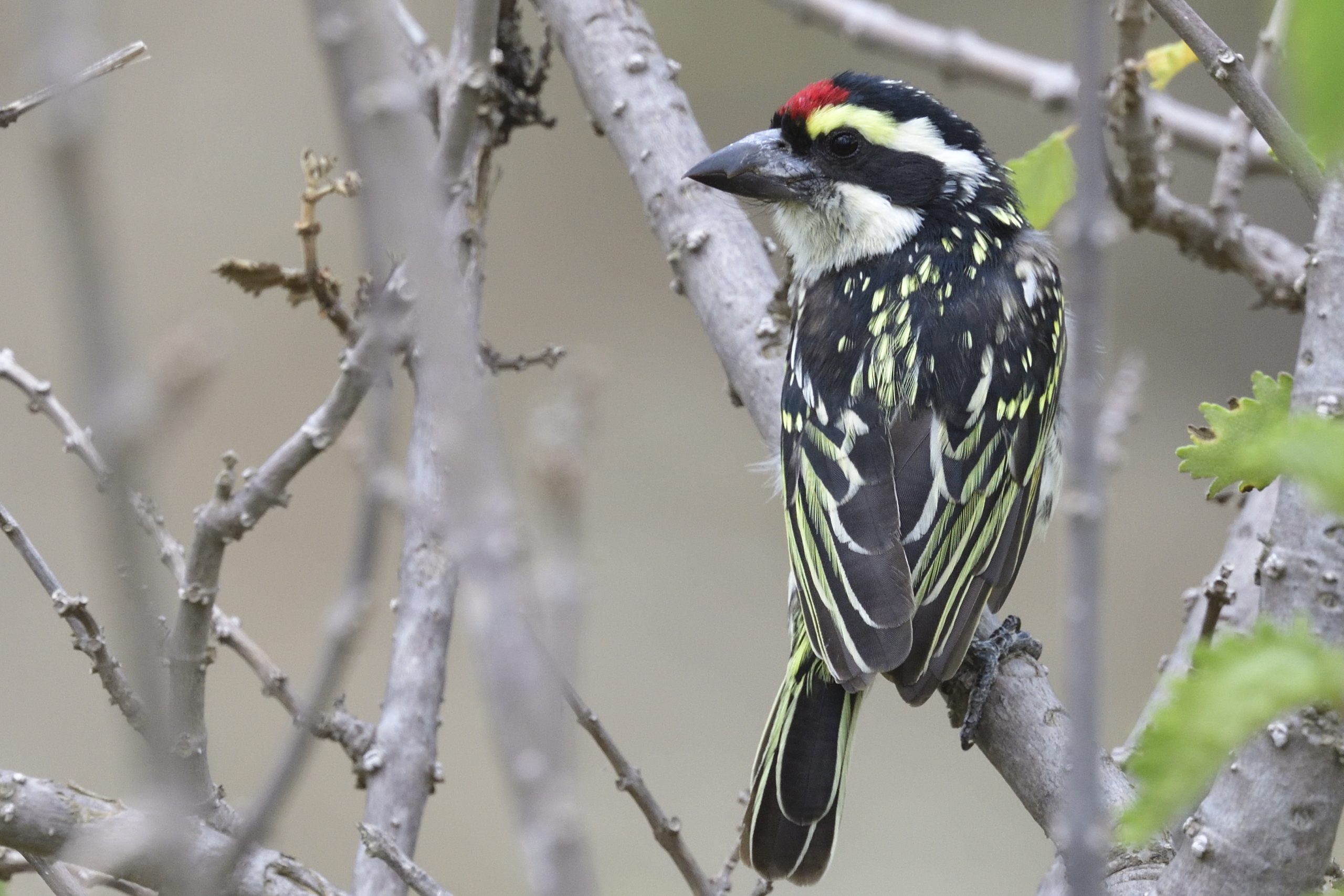 Red-fronted barbet, Thricholaema diademata – Endemic to NE Africa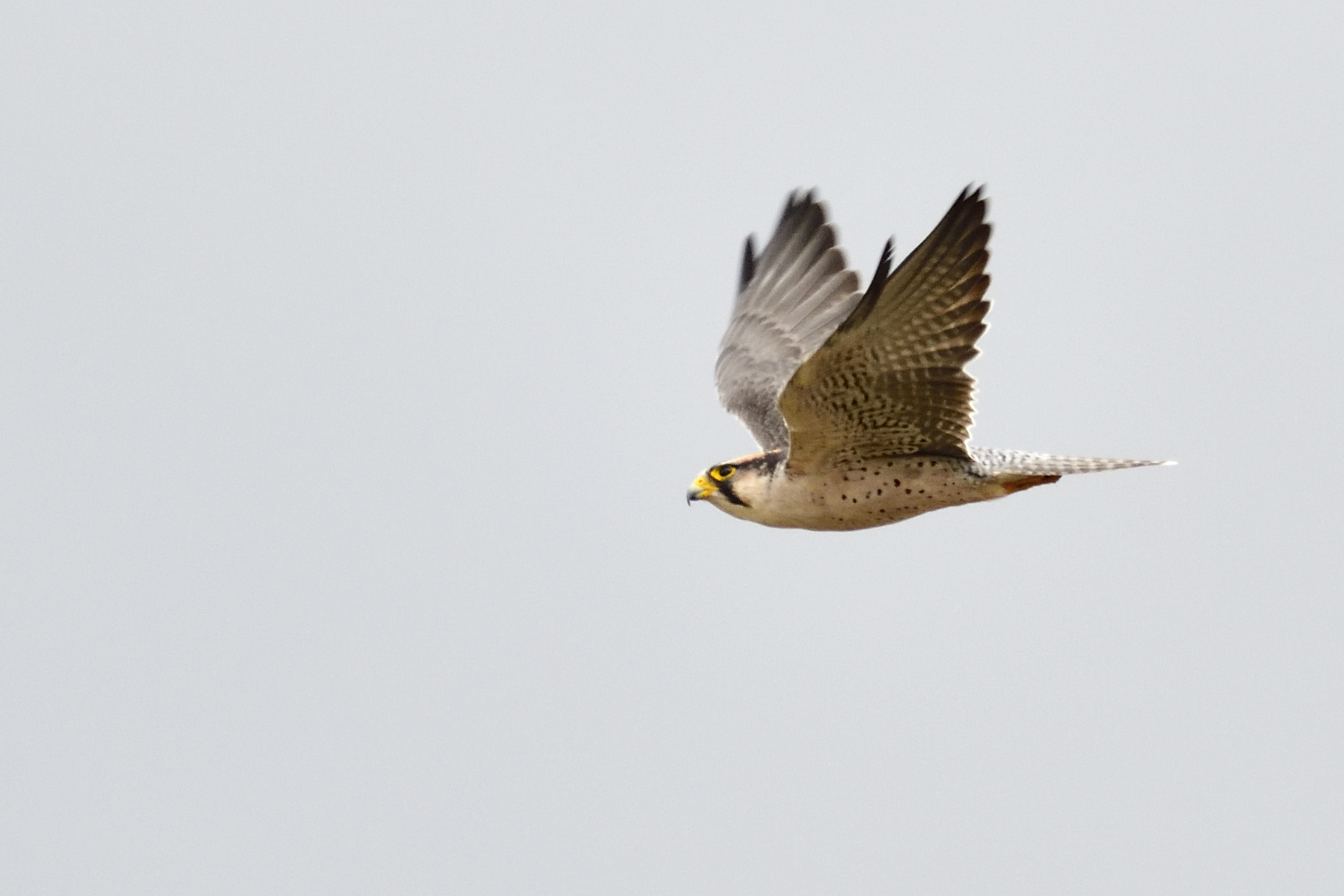 Lanner Falcon, Falco biarmicus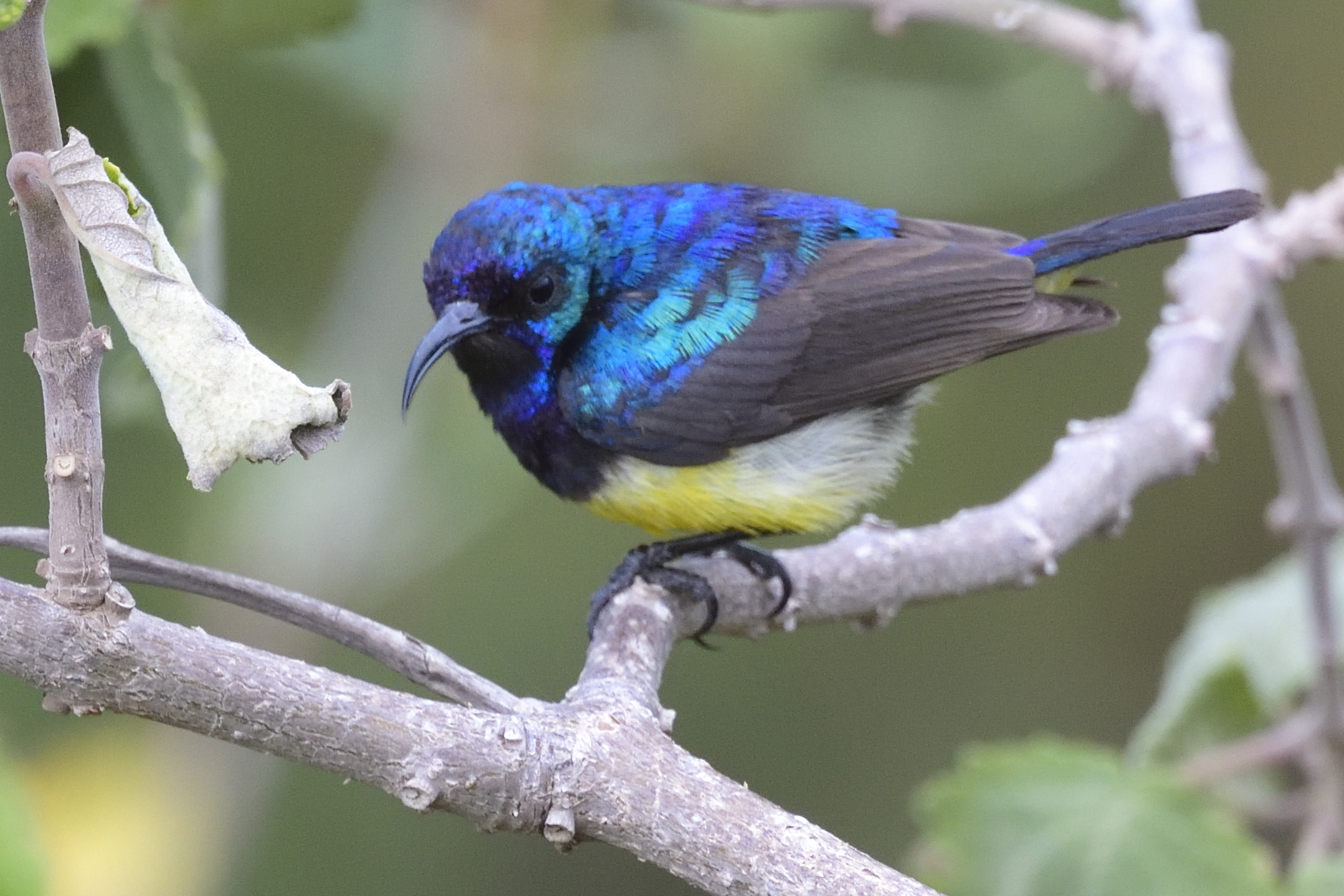 Variable Sunbird, Cinnyris venustus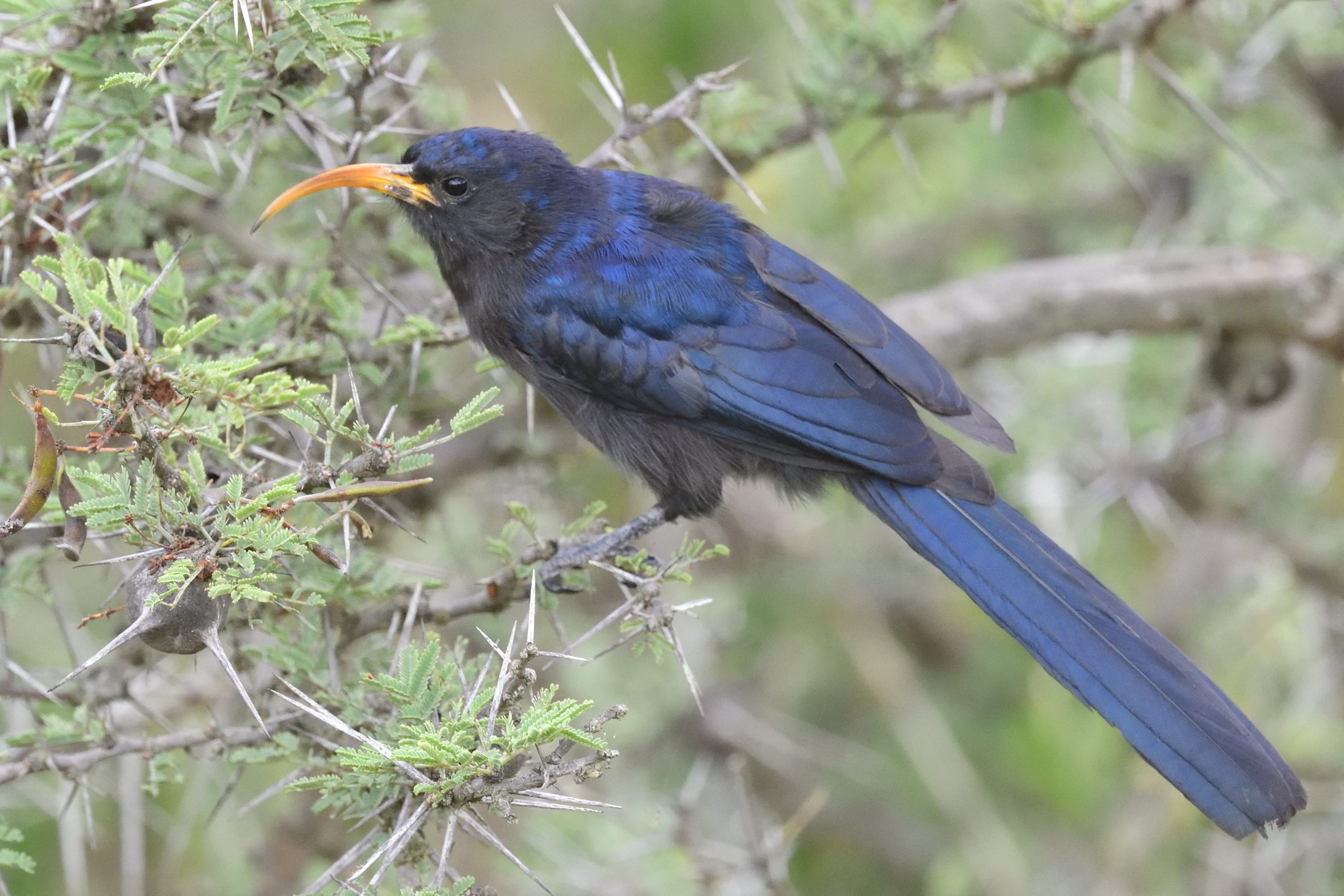 Abyssinian Scimitarbill, Rhinopomastus minor – Endemic to NE Africa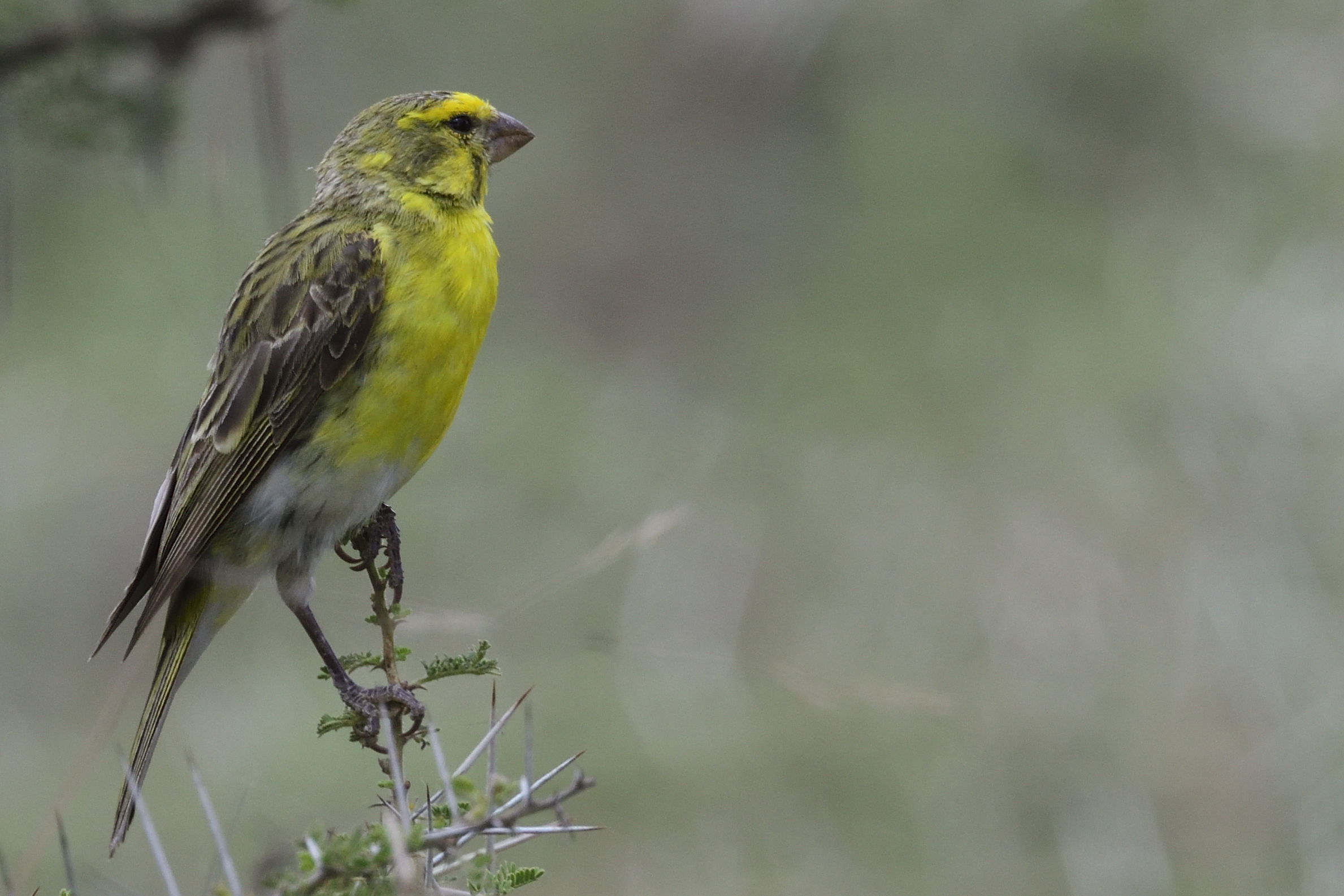 White-bellied Canary, Chritagra dorsostriata – Endemic to NE Africa
Day 5, Monday, April 18, 2022 – Kiligolf- Mererani – Masai steppes Shambalaya dam – Kiligolf
Again an early morning and we arrived at the spot we were going to start to bird at exactly 07:00. The light was absolutely beautiful. We were driving slowly starting to tick of birds: White-bellied canary, Straw-tailed Whydah, Blue-naped and White-headed Mousebird, Pink-breasted Lark, Yellow-bellied Eremomela, Ashy Cisticola, Southern Grosbeak Canary, Blue-cheeked Bee-eater, Eastern Violet-backed Sunbird, Black-throated barbet, Tsavo Sunbird, Little Bee-eater, Lesser Grey Shrike, Pygmy Falcon, Red-and-yellow Barbet, White-headed Buffalo Weaver, Yellow-collared Lovebird, Von der Decken´s Hornbill, Crimson-rumped Waxbill, Grey Wren Warbler, Purple Grenadier, Black-necked Weaver, Banded Parisoma, Buff-crested Bustard. White-bellied Go-away-bird, Scaly Chatterer, Long-tailed Paradise Whydah, Spotted Palm Thrush and Lesser Striped Swallow. We had now come to our breakfast spot and had a nice breakfast prepared by my maid, Neema and Selvine. After breakfast, we normally take a little walk down a hill. I take the car and position it where the path ends. I normally walk up and meet them halfway up the path, but there were quite a few locals skulking around, so I just birded a little around the car. When they finally caught up with me they had found the prime target: Pringle´s Puffback. Other birds we found included Red-fronted Tinkerbird, Namaqua Dove, Crested Francolin, Northern Crombec, Mouse-coloured Penduline-Tit, Somali Bunting, Hunter´s Sunbird and Pygmy Batis. We had now reached the main road and loaded up the car. Our next stop was a breeding colony of Black-capped Social Weavers. We did not see much on the way, but the Weavers were there. I am not sure what happened, because after photographing the Weavers shortly my friends disappeared into the bush on the other side of the road. Isihaka and I did not have a clue. When they finally returned back, I asked where they had been. They said they had discovered a cliff face with lots of Swifts, Swallows etc. I asked if they could show me and they asked if we had time, I said it is just 100 metres to show me, so sure. They showed me the spot and I walked back to the car not being impressed. I thought they were only going to show me the spot, but again they took their sweet time coming back. The target bird here was the Black-capped Social Weaver, but there were also plenty of Southern Grosbeak Canaries around + I managed to get some decent shots of Crimson-rumped Waxbills. We know about these birds and would love to show them to our friends, but when the friends are more interested in exploring on their own, there is little I could do? Well, they were finally back in the car and we headed towards the artificial lake Shambalaya. I had great birding with little water here both in October 21 and January 22. On the way there I were driving a little faster, but we still stopped to photograph Diedrik Cuckoo, Namaqua Dove and a Slate-coloured Boubou. Once at Shambalaya, I was very surprised that the water level were way too high. The road was under water and I did not dare to drive in the mud. I took a small walk to see if I could find another road, but to no avail. I picked up Parrot-billed Sparrow and Green-winged Pytilia on my walk. I came back to see my friends were photographing Blacksmith Lapwings again… Anyway, we had lunch and still managed to pick up a few species: Red-billed Oxpecker, Blue-billed Teal, Black-winged Stilt, Common Sandpiper, Little Egret, Three-banded Plover, Great White Pelican, Wattled Starling, African Fish Eagle, Sombre Greenbul and Northern White-crowned Shrike. Our Safari were to start the day after, so we were home a little early in order for me to pack the car. We said goodbye to Isihaka since we were going to have Victor as our guide for the rest of the trip. Dinner were served and my guest went out for owls at night.
Some pictures from Day 5: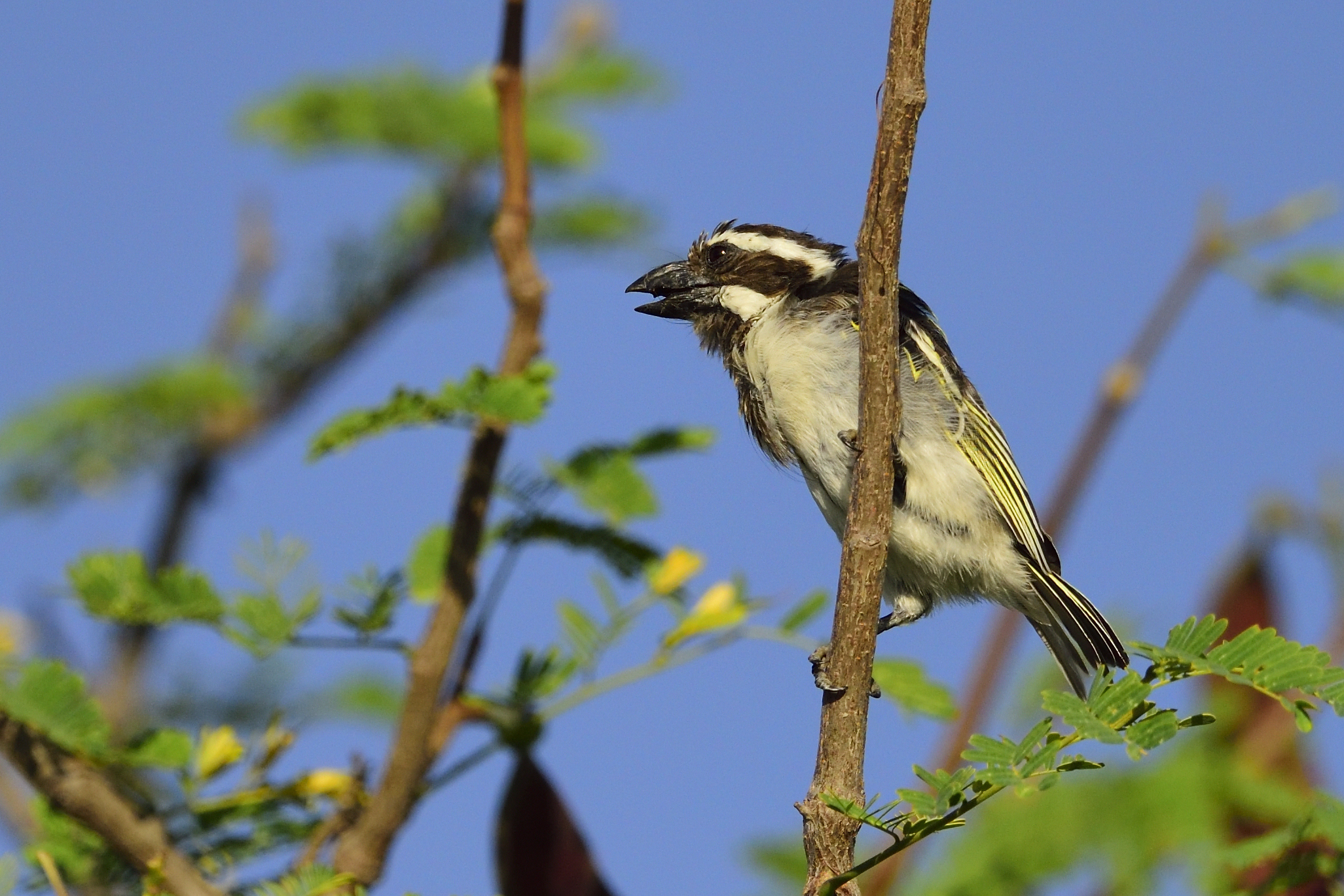 Black-throated Barbet, Tricholaema melanocephalus – Endemic to NE Africa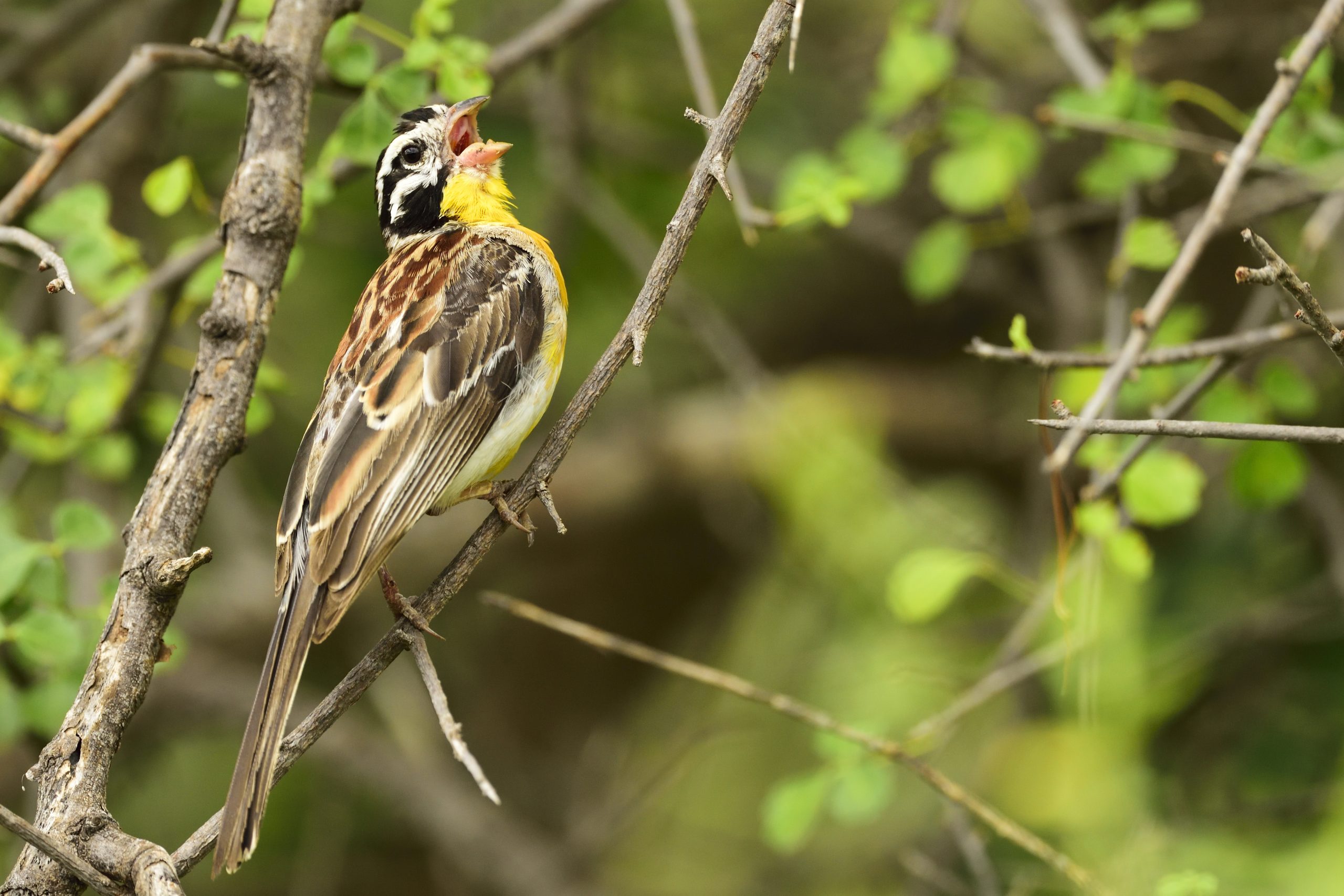 Somali Bunting, Emberiza poliopleura – Endemic to NE Africa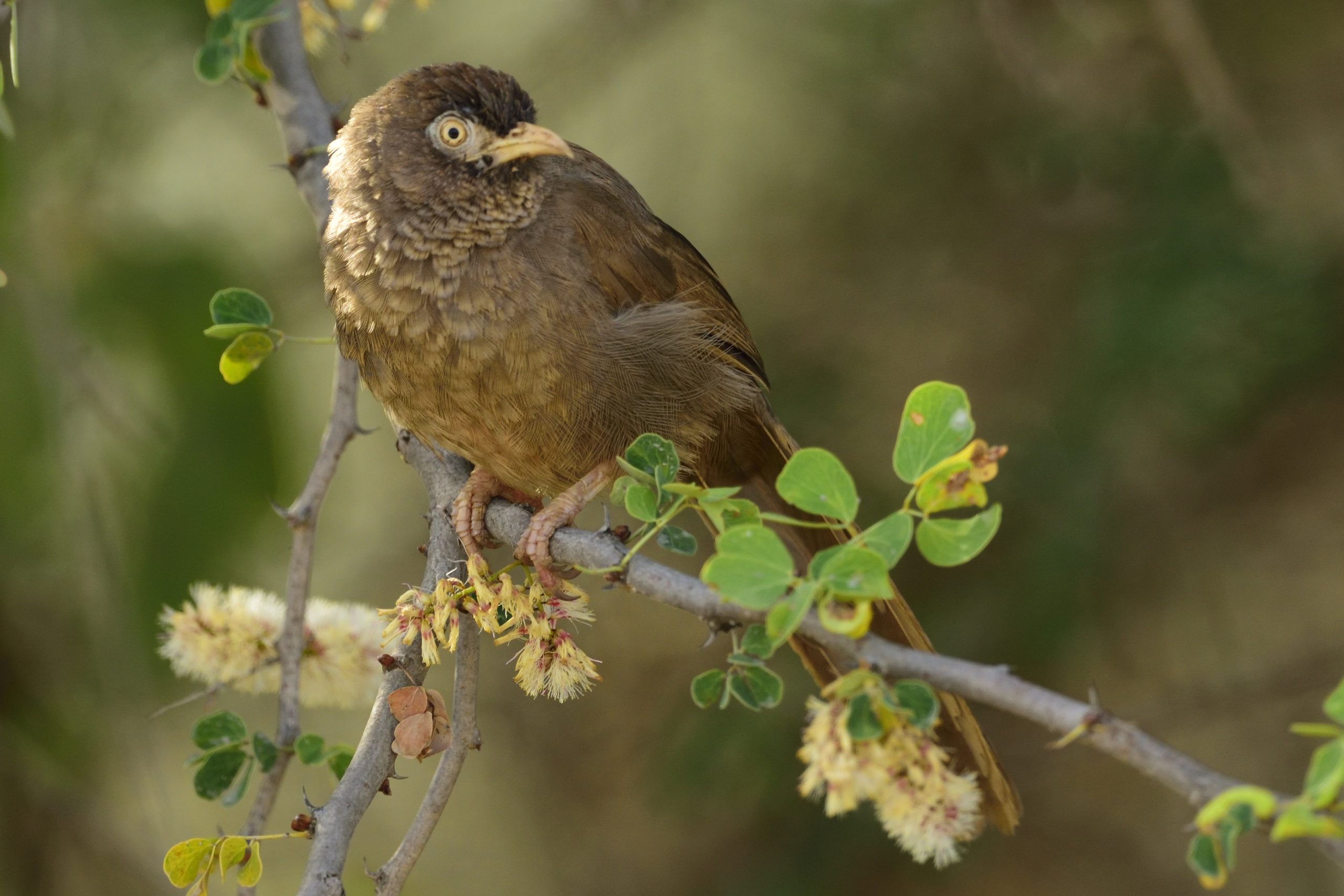 Scaly Chatterer, Turdoides aylmeri – Endemic to NE Africa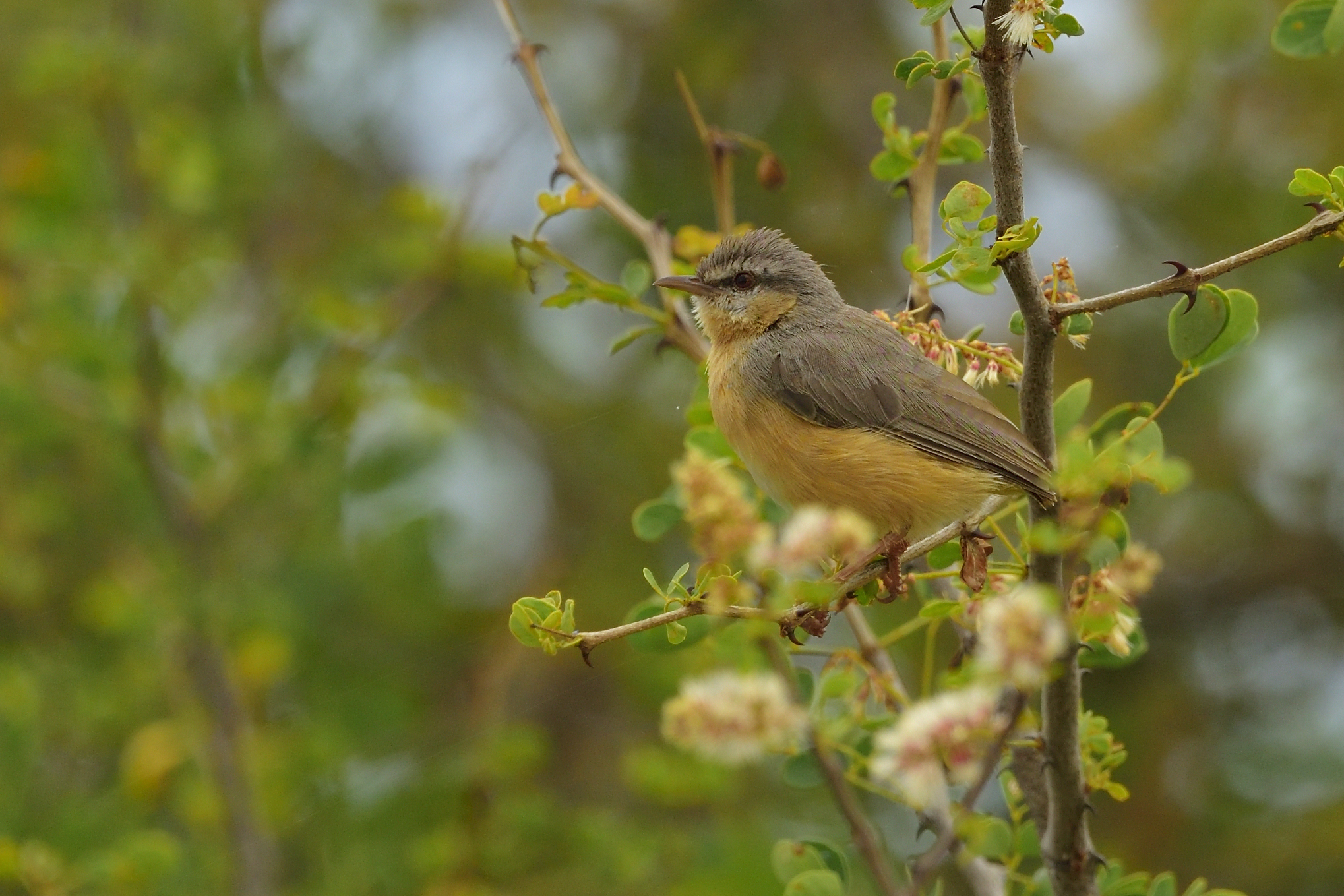 Northern Crombec, Sylvietta brachyura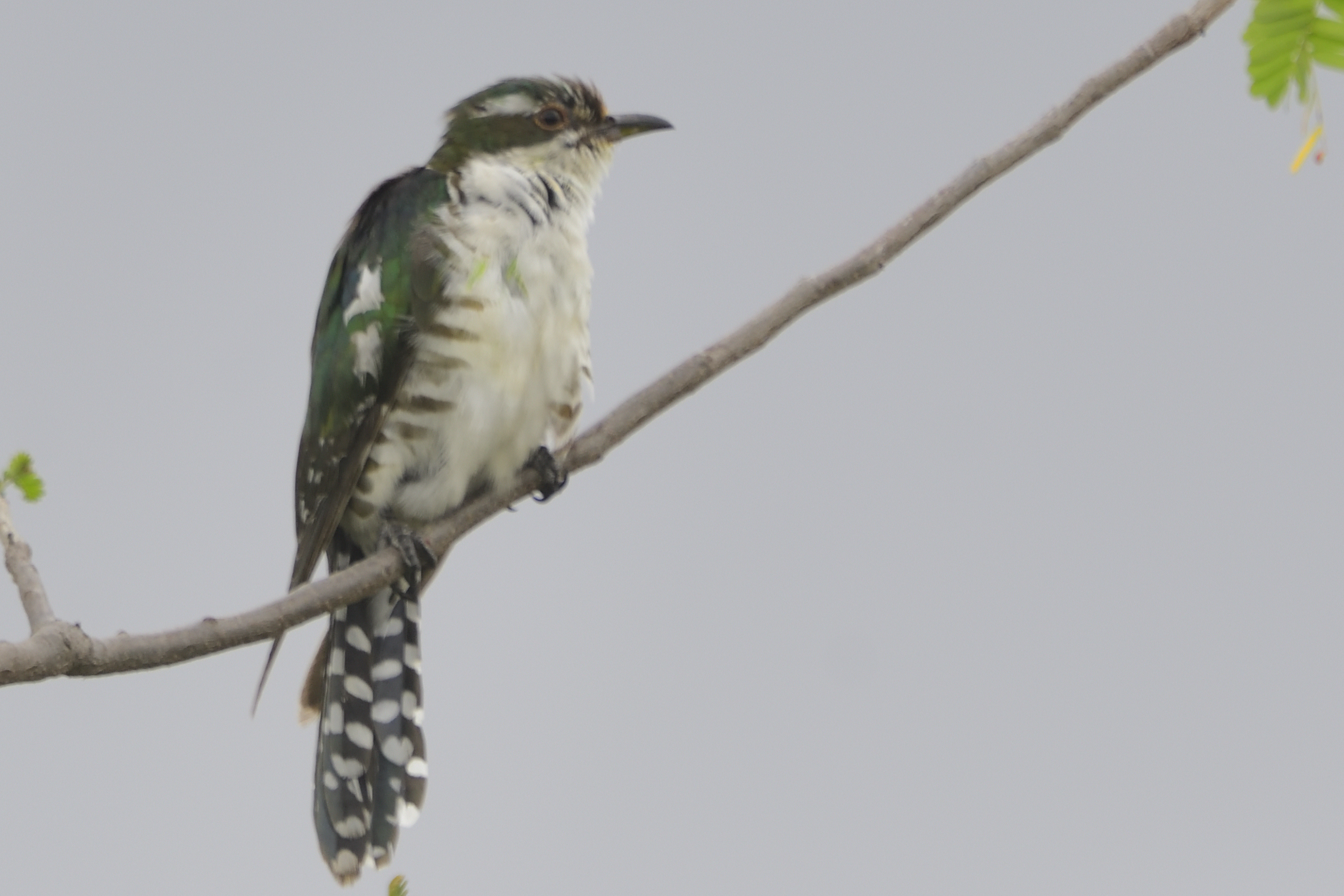 Diederik Cuckoo, Chrysococcyx caprius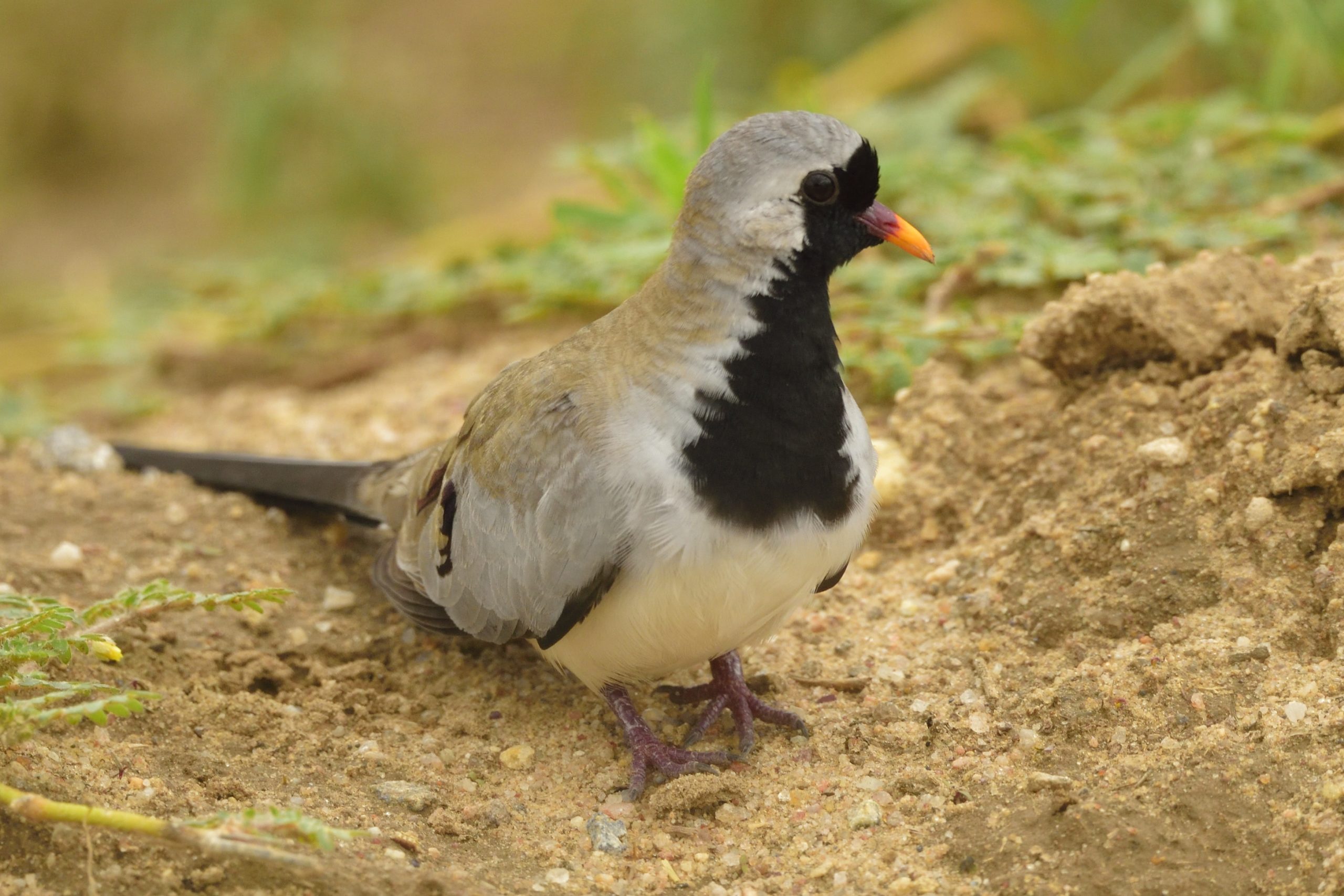 Namaqua Dove, Oena capensis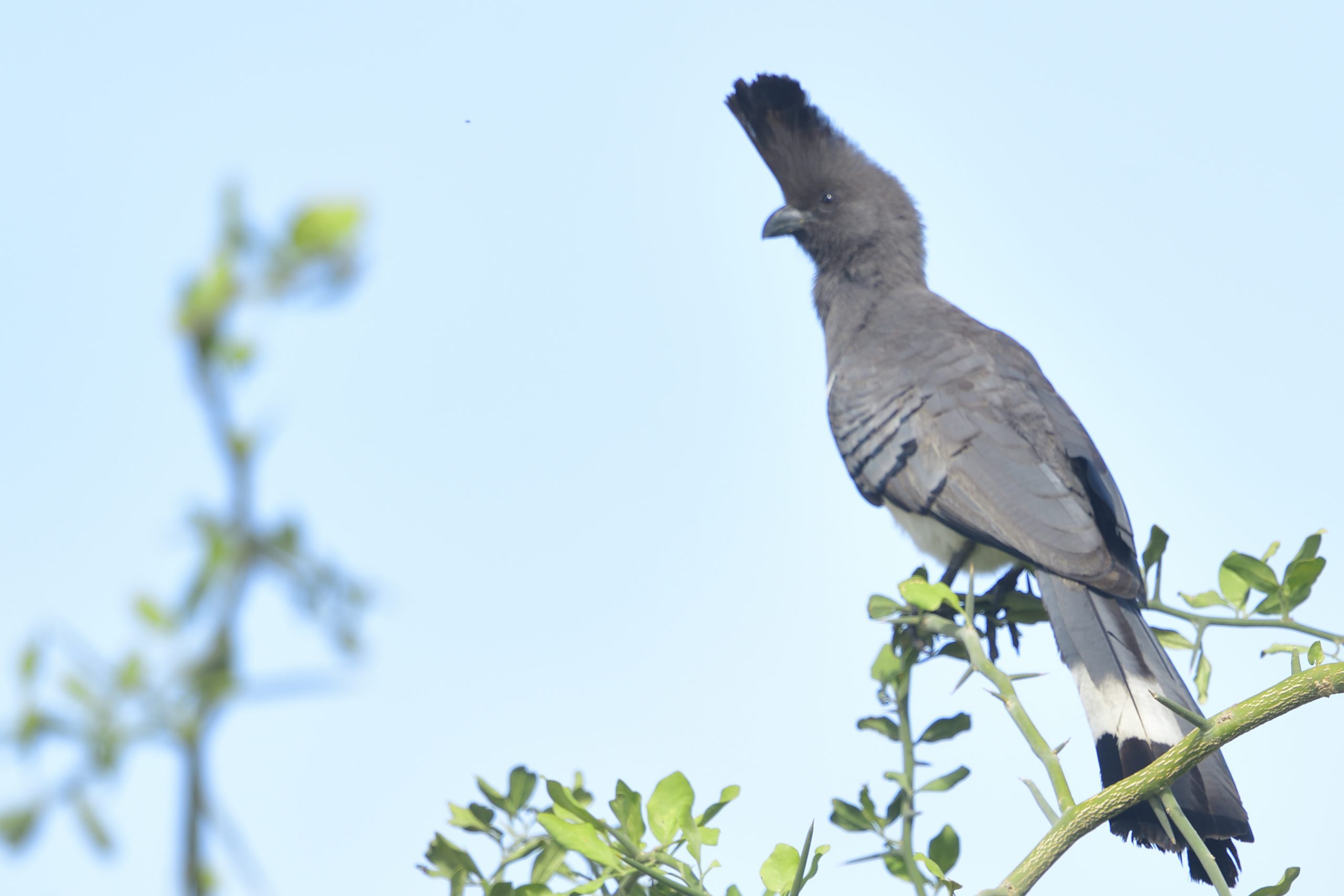 White-bellied Go-away-bird, Corythaixoides leucogaster – Endemic to NE Africa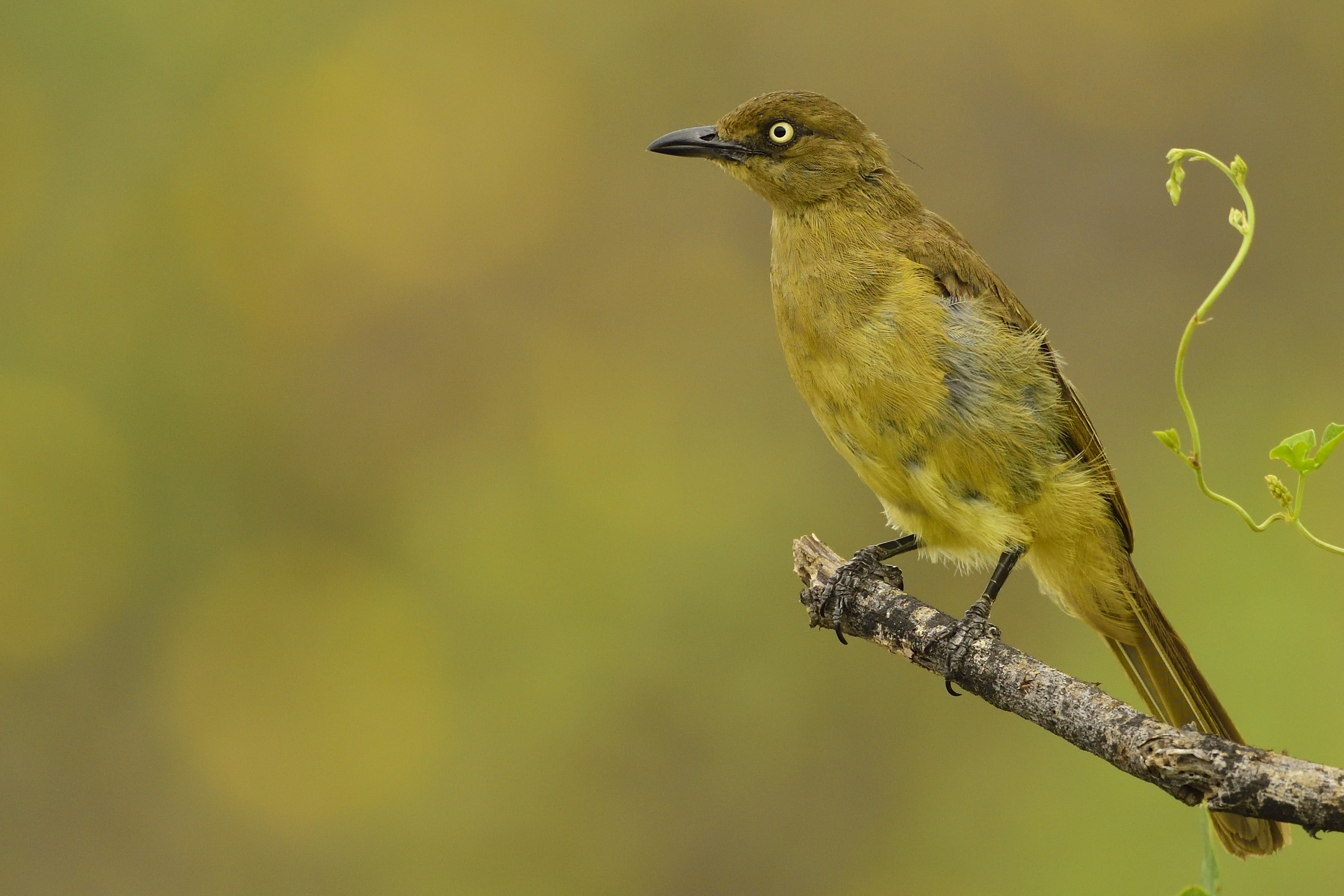 Sombre Greenbul, Andropadus importunus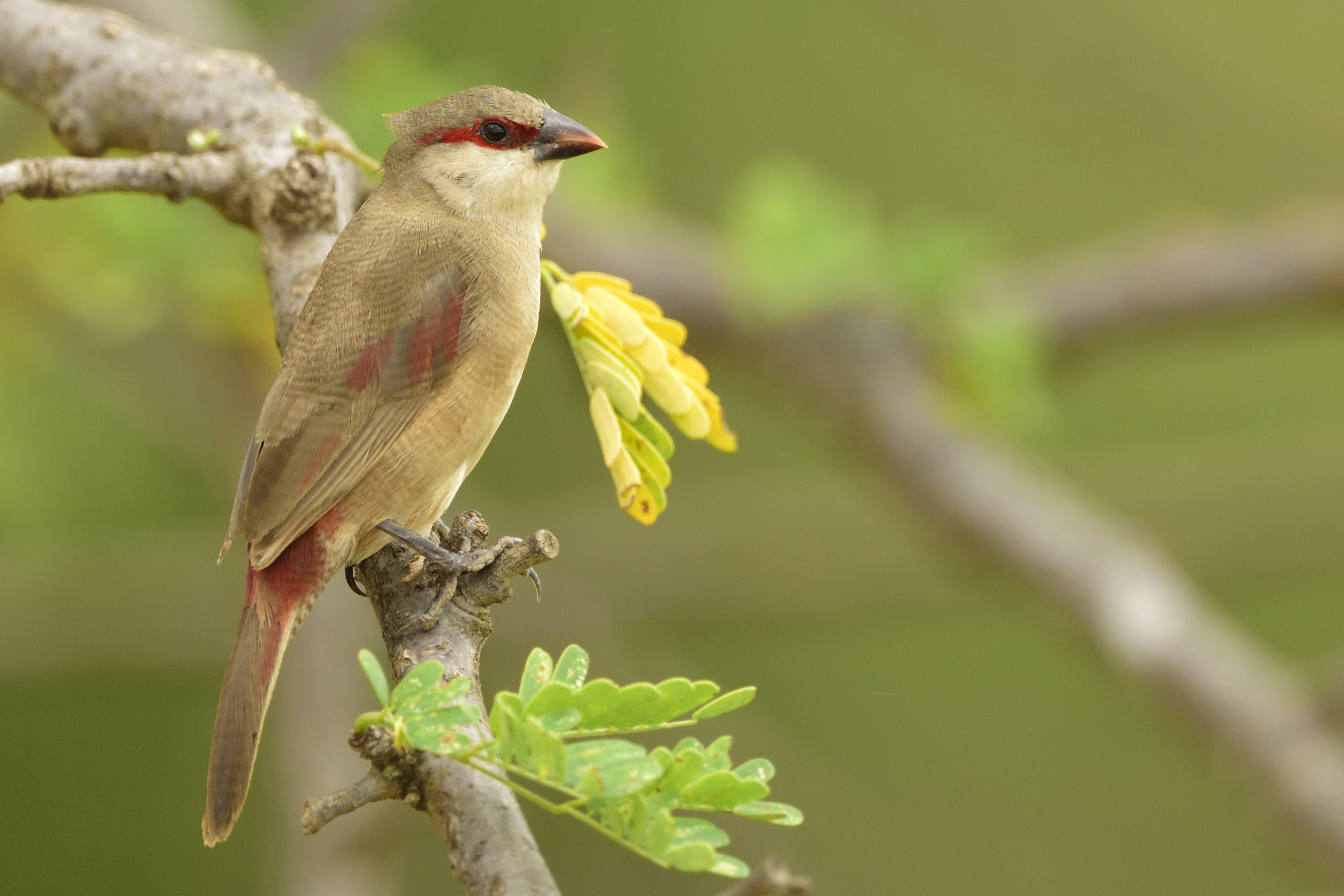 Crimson-rumped Waxbill, Estrilda rhodopyga – Endemic to NE Africa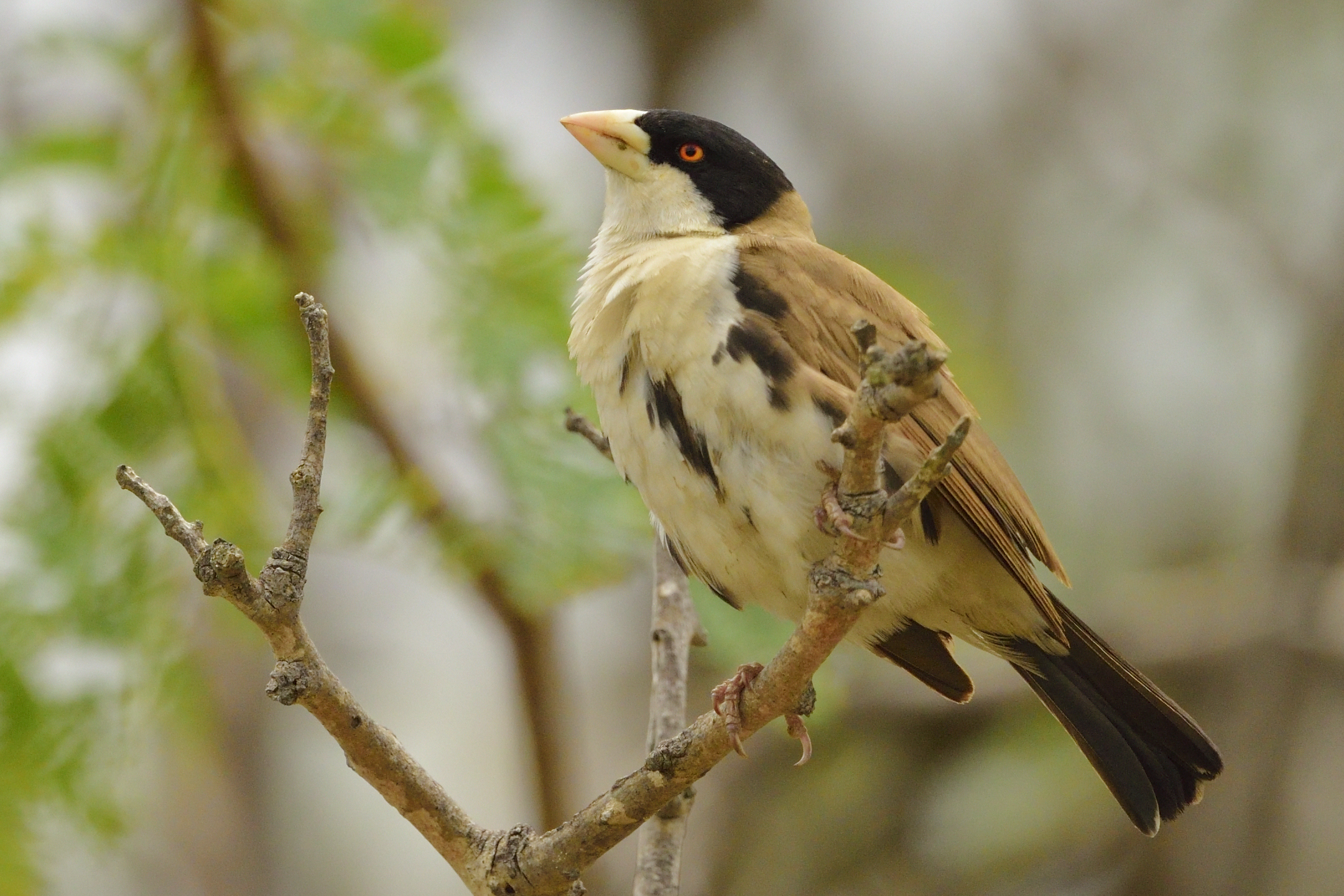 Black-capped Social Weaver, Pseudonigrita cabanisi – Endemic to NE Africa
Day 6, Tuesday, April 19, 2022 – Kilgolf – Same – South Pare – Same
I had asked if my friends wanted to stop at Nyumba ya Mungu Dam. They asked what was there and I said amongst other water birds, African Skimmers. For most of my friends, this is a highly sought after bird, but I was told that bird they could find all over Africa, so of no interest. I was thinking quietly at how much time they had spent photographing Blacksmith Lapwings, African Pipits, African Sacred Ibises etc, but did not say anything. It was clear it was only Endemic birds they were after.  We were not stressing that morning and we arrived in Same after about a 3 hour drive at around 11:00. Our new guide Victor were there waiting for us. We drove close to the entrance of Mkumazi national park and birded our normal area there. Our targets here are normally Black-bellied Sunbird and Eastern-black-headed Batis.  We started birding and I heard an Orange-breasted Bushshrike calling. I called it in and my friend got totally obsessed with the bird. I tried to say that this is a common bird in Africa, but was brushed off. After spending about half an hour with him, I decided to walk off.  It was almost mid day, so quite hot, but I still managed to pick up Straw-tailed Whydah, Red-fronted Tinkerbird, Jacobin Cuckoo, Yellow-spotted Bush Sparrow, D´Arnaud´s Barbet, Eastern Black-headed batis, Black-bellied Sunbird, Von der Decken´s Hornbill, Bare-eyed Thrush, Grey-headed Bushshrike and White-winged Widowbird.  It was now getting time for lunch and we drove to Elephant Motel, ordered lunch and checked in. We left the Motel at 15:00 heading for South Pare Mountains. Up there our main target would be South Pare White-eye. The White-eye proved quite easy to find and allowed for nice pictures. Again, my friend could not finish photographing the bird, so I walked off to collect some other species.  Here is some of the birds recorded besides the White-eye: White-eared Barbet, African Stonechat, Common Waxbill, Mosque Swallow, Evergreen Forest Warbler, Moustached Tinkerbird, Singing Cisticola, Bar-throated and Black-headed Apalis, Stripe-faced Greenbul, Eastern Bronze-naped Pigeon, Hartlaub´s Turaco, Southern Citril, East Coast Boubou, White-chested Alethe and Yellow Bishop. At 17:30 I caught up with the others and we returned to Elephant Motel where we arrived just before dark. We had dinner and retired early.
Some pictures from day 6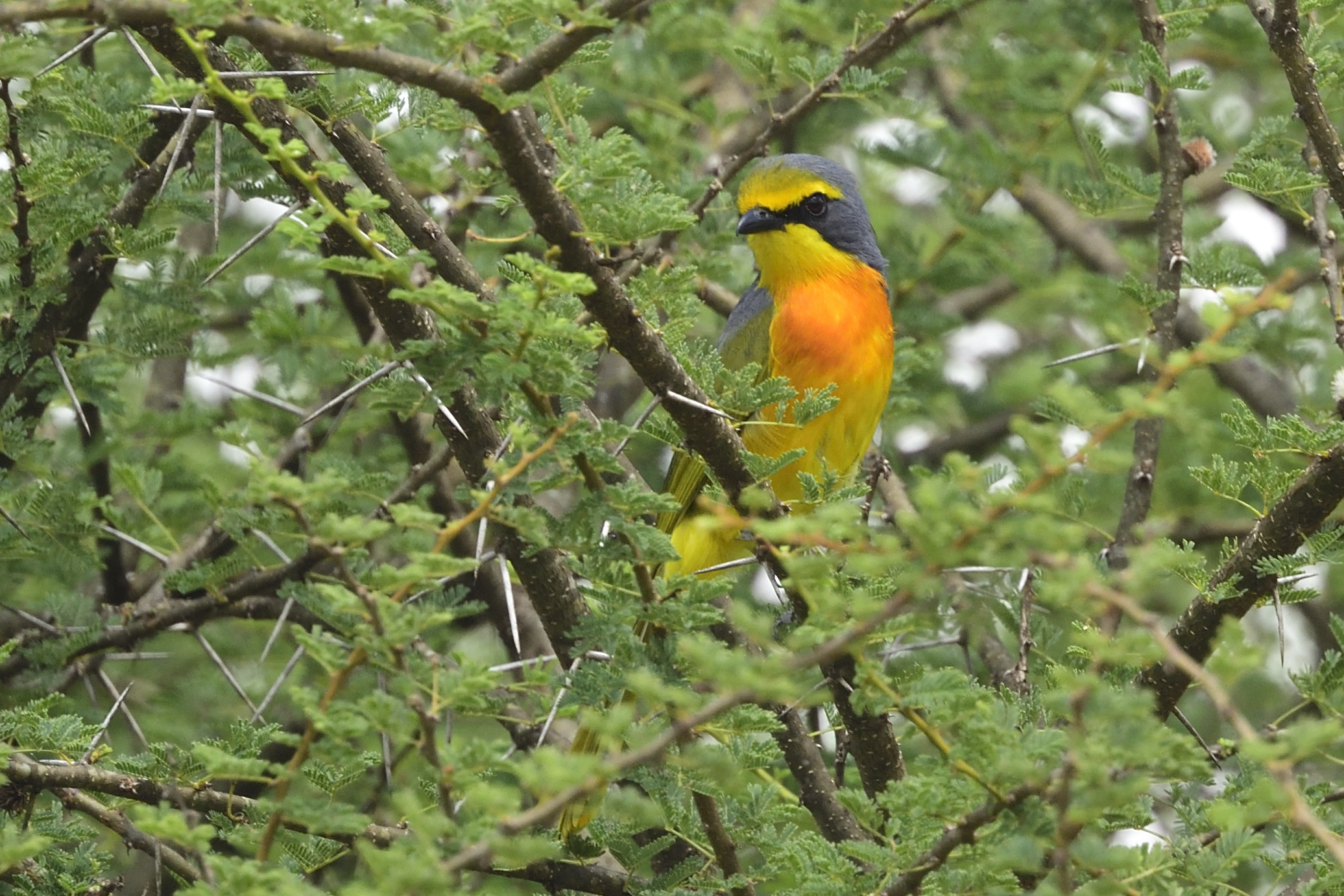 Orange-breasted Bushshrike, Chlorophoneus sulfureopectus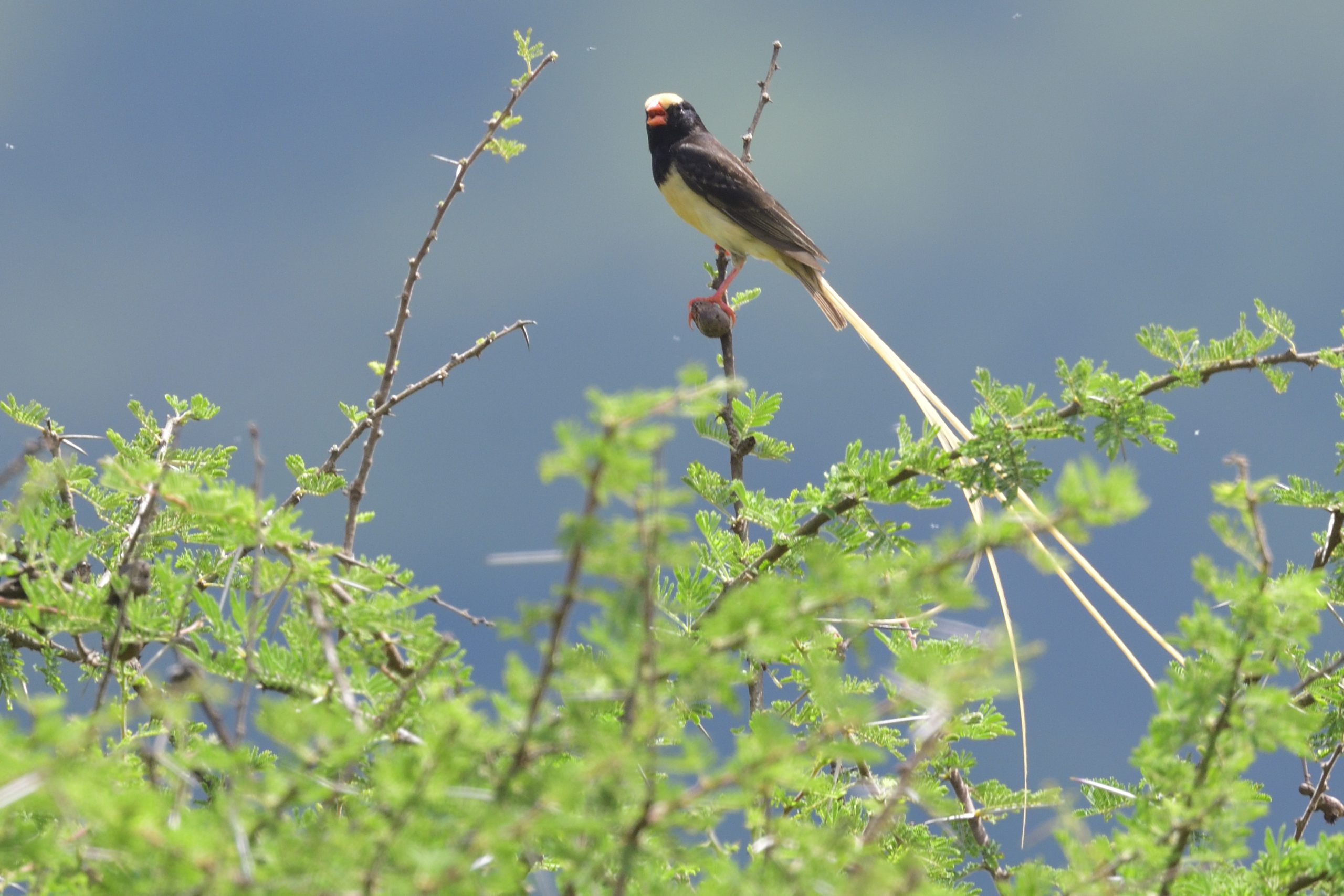 Straw-tailed Whydah, Vidua fischeri – Endemic to NE Africa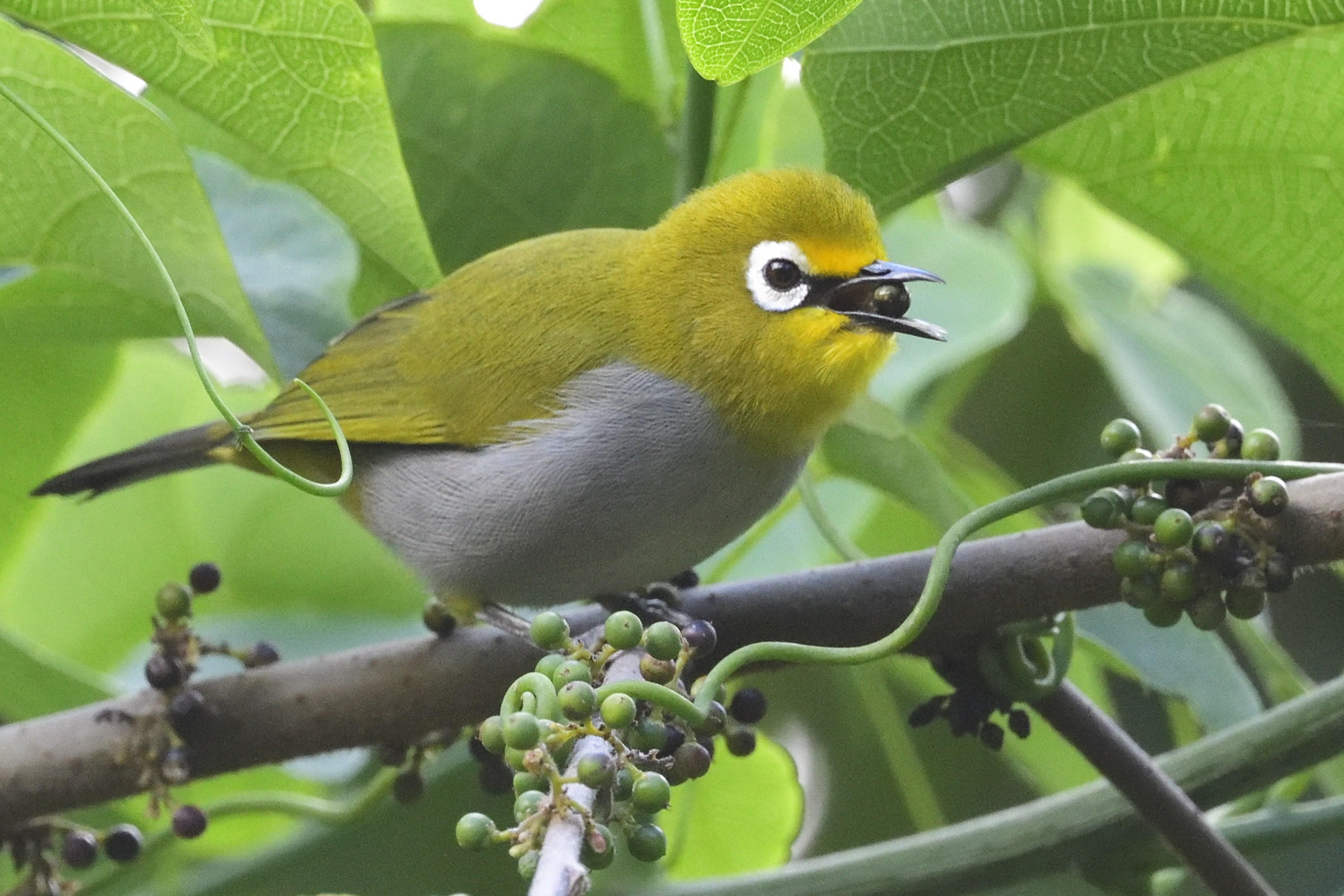 South Pare White-eye, Zosterops winifredae – Endemic to South Pare Mountains, Tanzania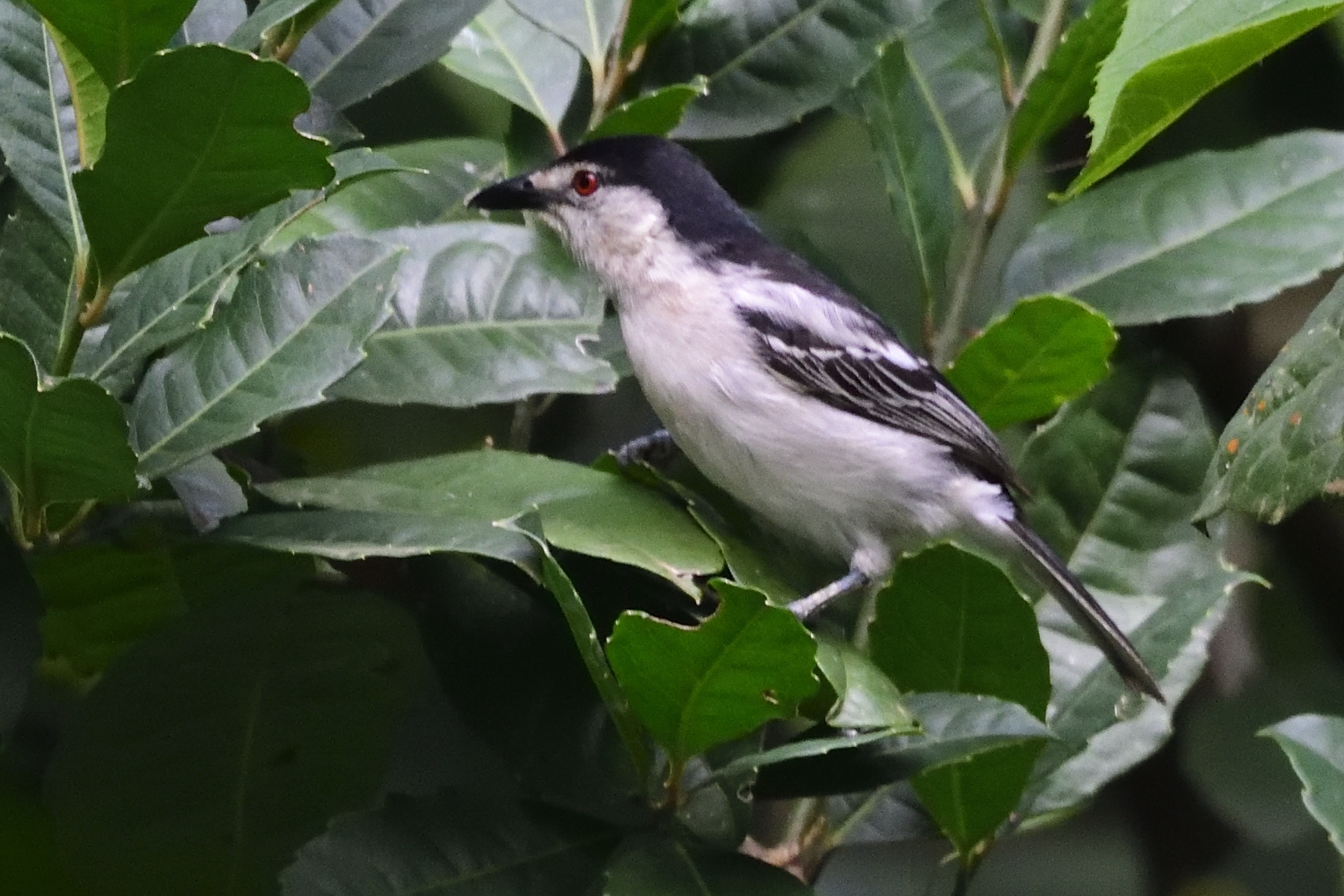 East Coast Boubou, Laniarius sublacteus – Endemic to coastal East Africa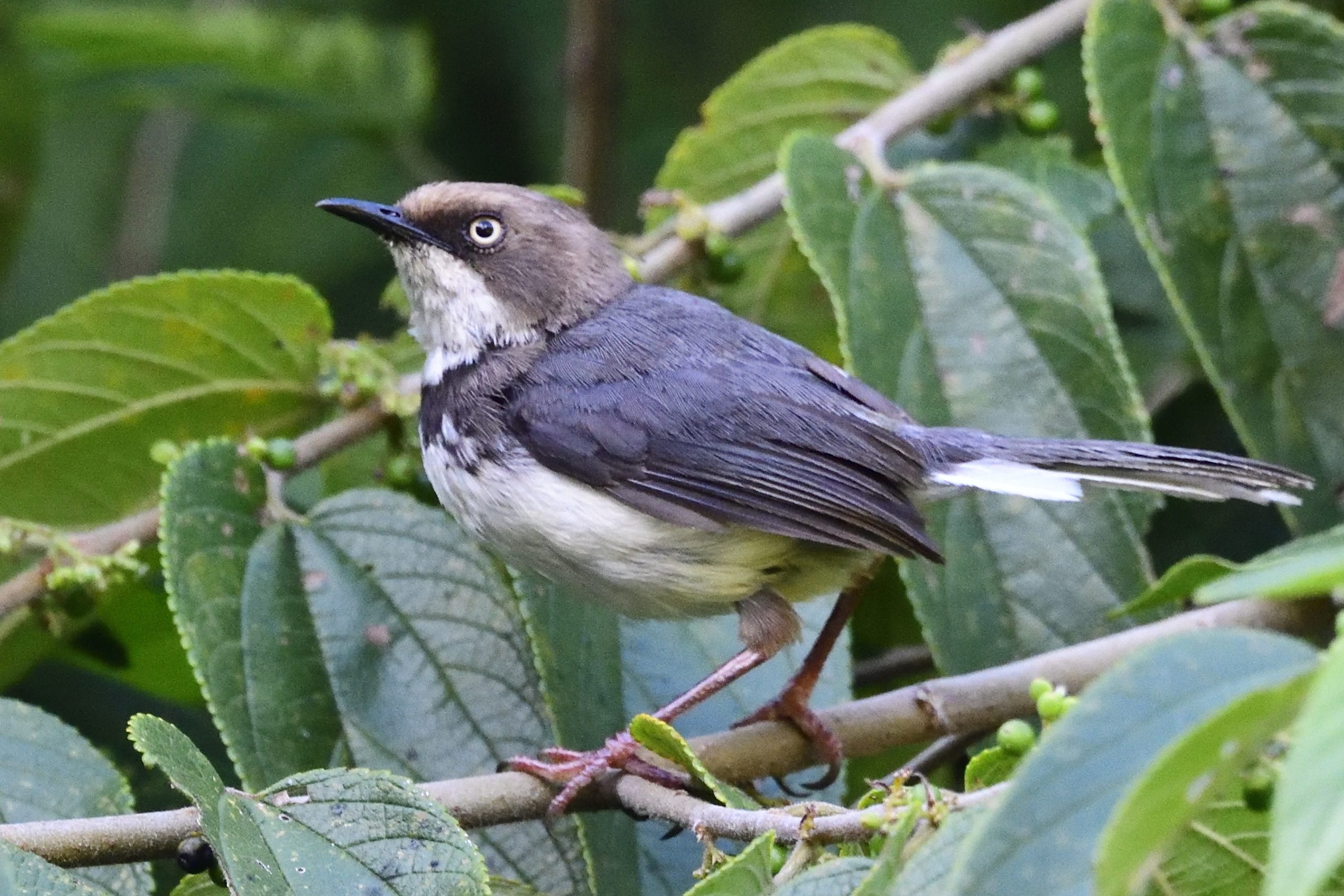 Bar-throated Apalis, Apalis thoracica – Race pareensis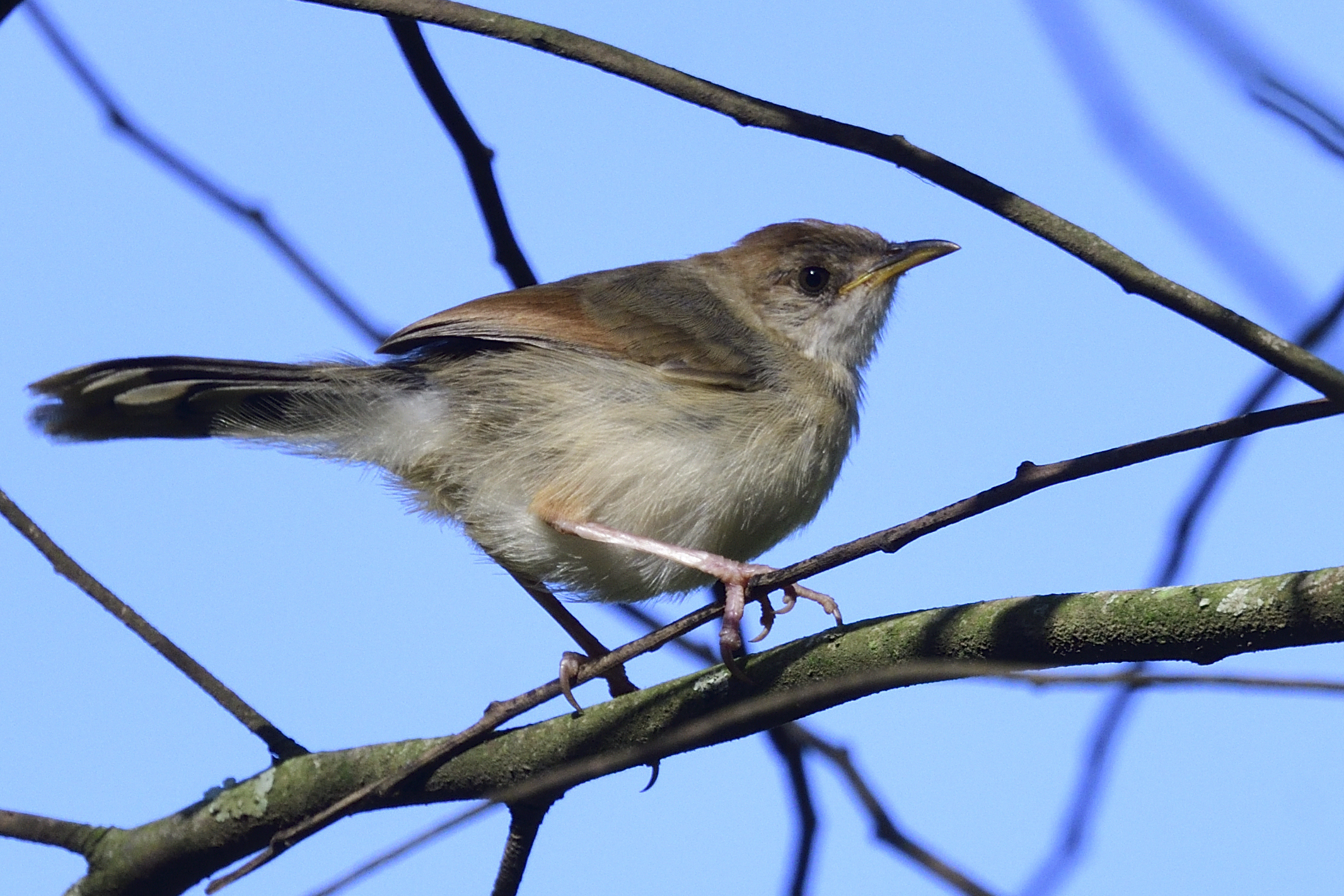 Singing Cisticola, Cisticola cantans
Day 7, Wednesday, April 20, 2022 – Same – Magamba Forest West Usdambara
We were back at the spot outside Mkomazi NP around 07:00 the next morning. We heard the Orange-breasted Bushshrike again and my friend spent the rest of the time we had available with that bird. I walked around and collected Black-bellied Sunbird, Tiny Cisticola, Little Bee-eater, Grey-headed Bushshrike, Eastern Black-headed Batis, Grey Wren-warbler + many more. I walked dow to the others and it appeared they were finished. We still had some time before breakfast so I suggested that we drove to the gate of the park itself and to drive slowly back out. We were rewarded with great picture opportunities of both White-winged Widowbird and Fischer´s Starling. We drove back to the Motel, had breakfast, packed up and were soon on our way to Magamba Forest. I met Abdul the night in advance and he told me that the road to our normal camp were being fixed and there were a 1 hour detour to get to camp. We were soon in Mombo and started our climb up the Western Usambara Mountains. We stopped in Sono and Victor bought us vegetables for the stay. At a police stop we normally get Grey-headed Greenbul, Mocking Cliff Chat and Mountain Wagtail. We stopped, but only got the Cliff Chat, Eastern Golden Weaver and Collared Sunbird. We arrived in camp a little late due to the detour. Victor and I started setting up camp. I was not surprised that my friends did not offer to help. All my other friends have helped to set up camp in order for us all to go birding as soon as possible. I told them there were rolls and jam for lunch, but they just disappeared out of camp. Victor and I finished setting up camp and we did not have a clue were my friends had gone, so we just continued organising stuff lightning a fire etc. At 16:30, they returned to camp and asked if Victor were coming with them. I said that both Victor and I were coming. I also said that this is the first time I were there with Victor and that I had been there 25 times to photograph birds and normally knew were to find them. We set off and sure enough found the Usambara Thrush and the Usambara Double-collared Sunbird were I predicted. In the afternoon there are more light in the forest uphill, my friend were not happy with my choice, I again tried to explain that I had been there 25 times….  We walked up to were I normally find the Usambara Weaver, but I could not entice it to come out. I discovered that my friend had started to play the Red-capped Forest Warbler from his phone. I tried to tell him that I had a better spot further up, but again was ignored. I walked up to my spot, played the call and 3 of them popped out. I went back and told my friends to come with me. They eventually came and got nice shots of the Forest Warbler. Abdul had found a spot for the Usambara Akalat a little further up were we had been very succesfull in the past with this little skulker. I wanted to show them the spot and walked up. Not sure what they were doing, but I had to mark the spot and walk to camp in order to prepare dinner.  They arrived in camp after dark after having tried for the Nightjar.  I had only heard the nightjar one time from camp. Victor and I sat and ate by the fire while my friends had their own seating arrangement. My friend disappeared once we heard an African Wood-Owl and came back with great pictures. Here are some of the birds we recorded the first afternoon in Magamba forest : African Dusky Flycatcher, Cape Robin-Chat, Grey Cuckooshrike, Red-capped Forest Warbler, Dark-capped Mountain Greenbul, Evergreen Forest Warbler, White-tailed Crested Flycatcher, Fülleborn´s Boubou and African Wood- Owl.
Some pictures from day 7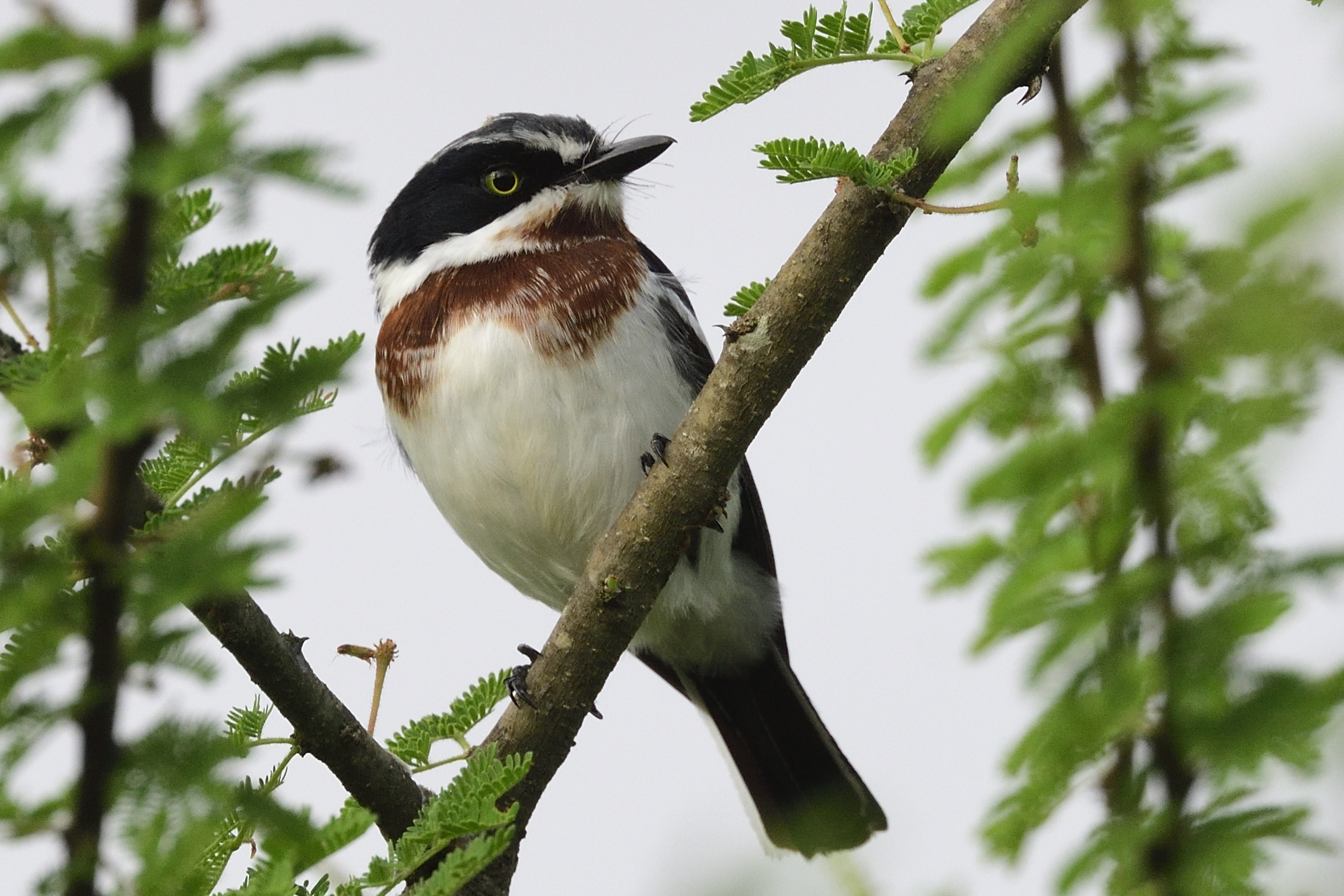 Chinspot Batis (female) Batis molitor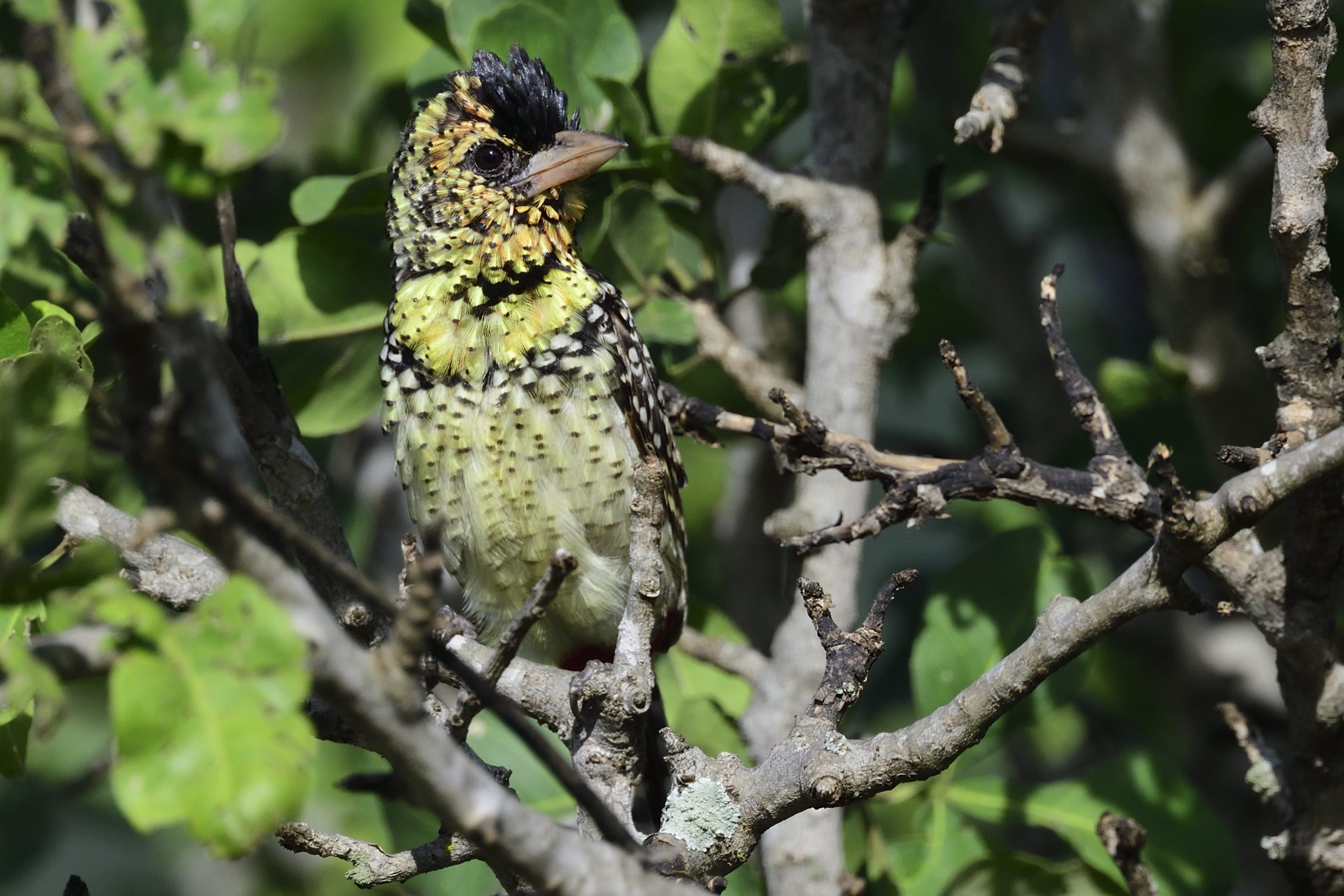 D´Arnaud´s Barbet, Trachyphonus darnaudii – Endemic to NE Africa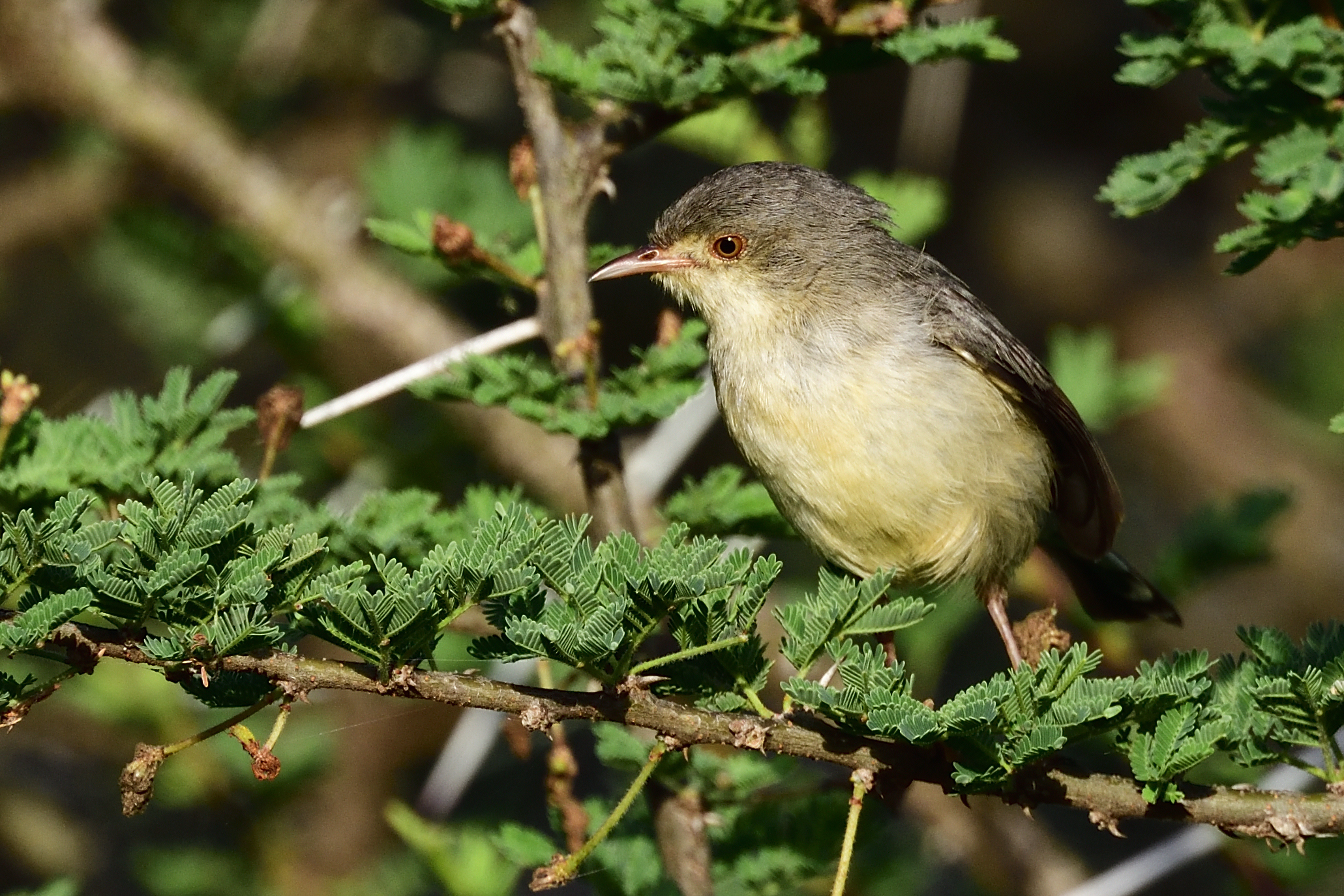 Buff-bellied Warbler, Phyllolais pulchella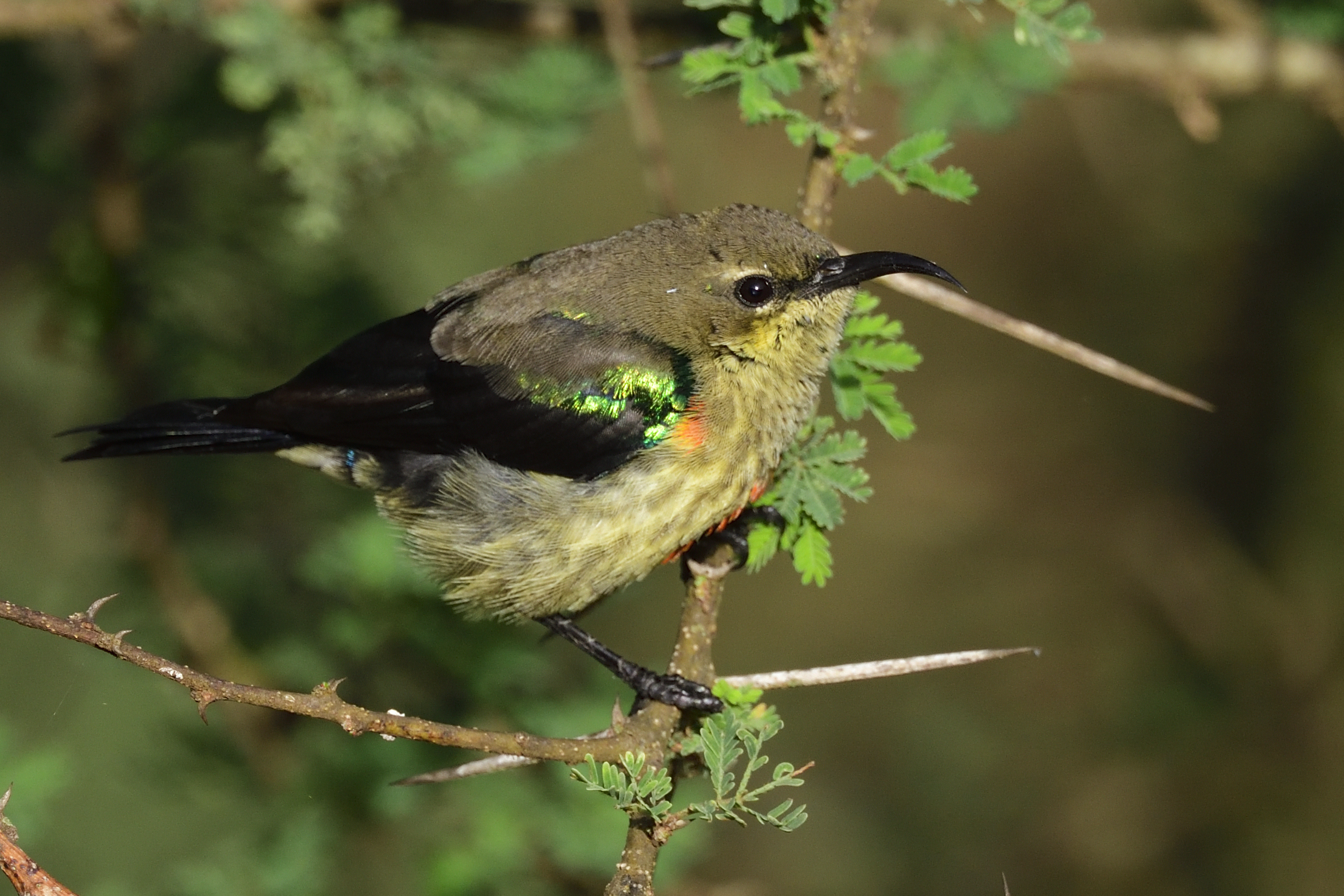 Black-bellied Sunbird (Juvenile), Cinnyris nectarinioides – Endemic to NE Africa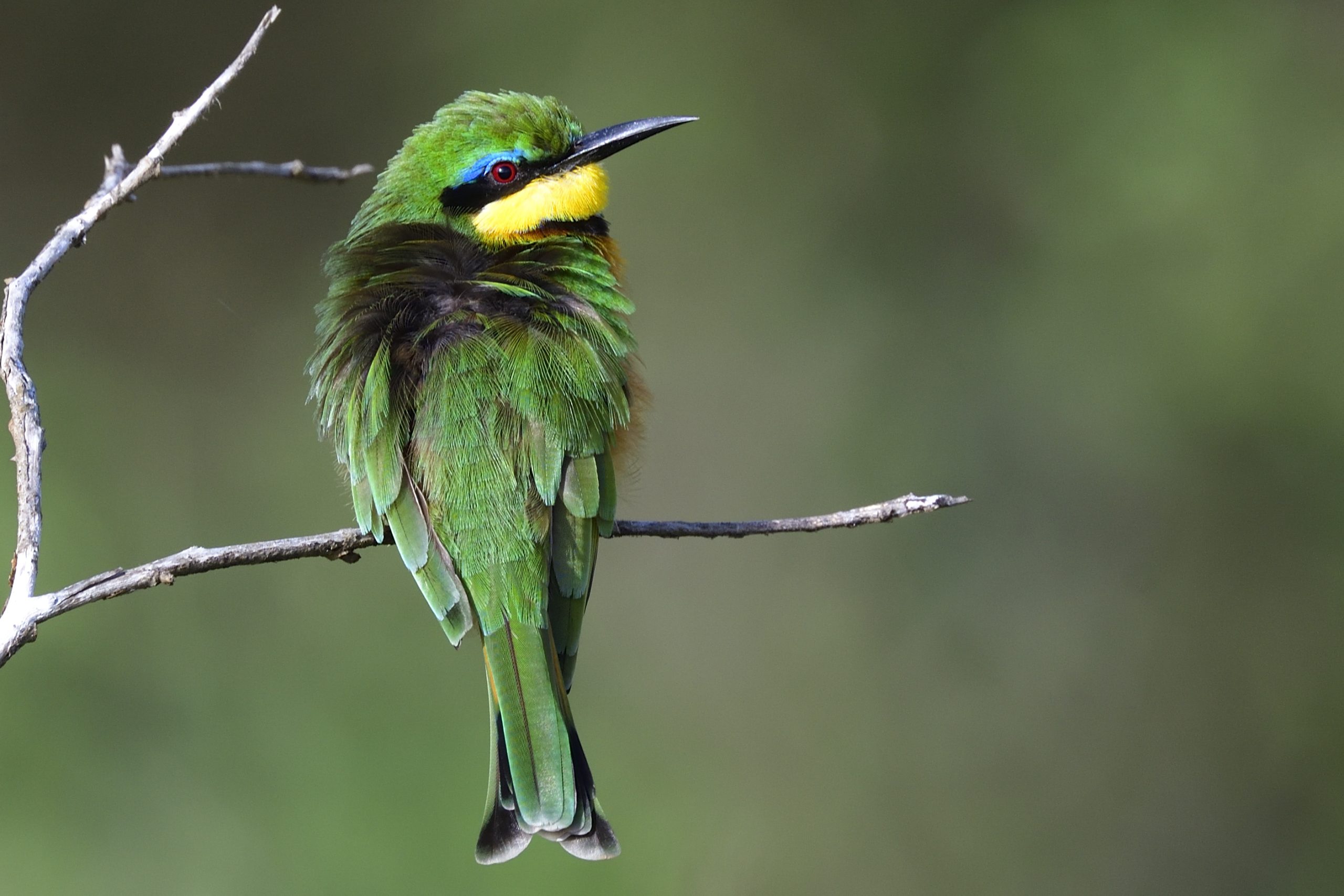 Little Bee-eater, Merops pusillus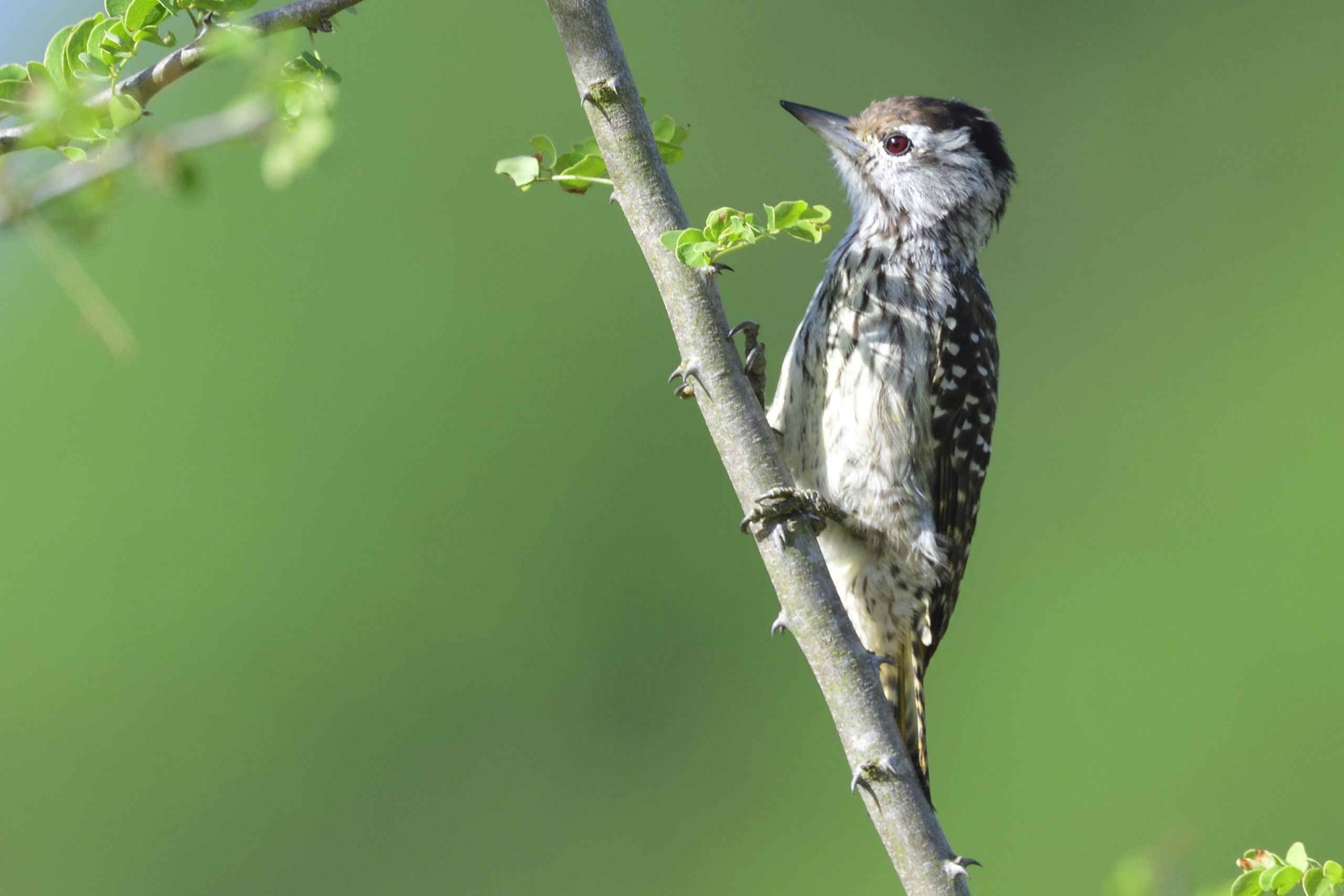 Cardinal Woodpecker (female), Dendropicos fuscescens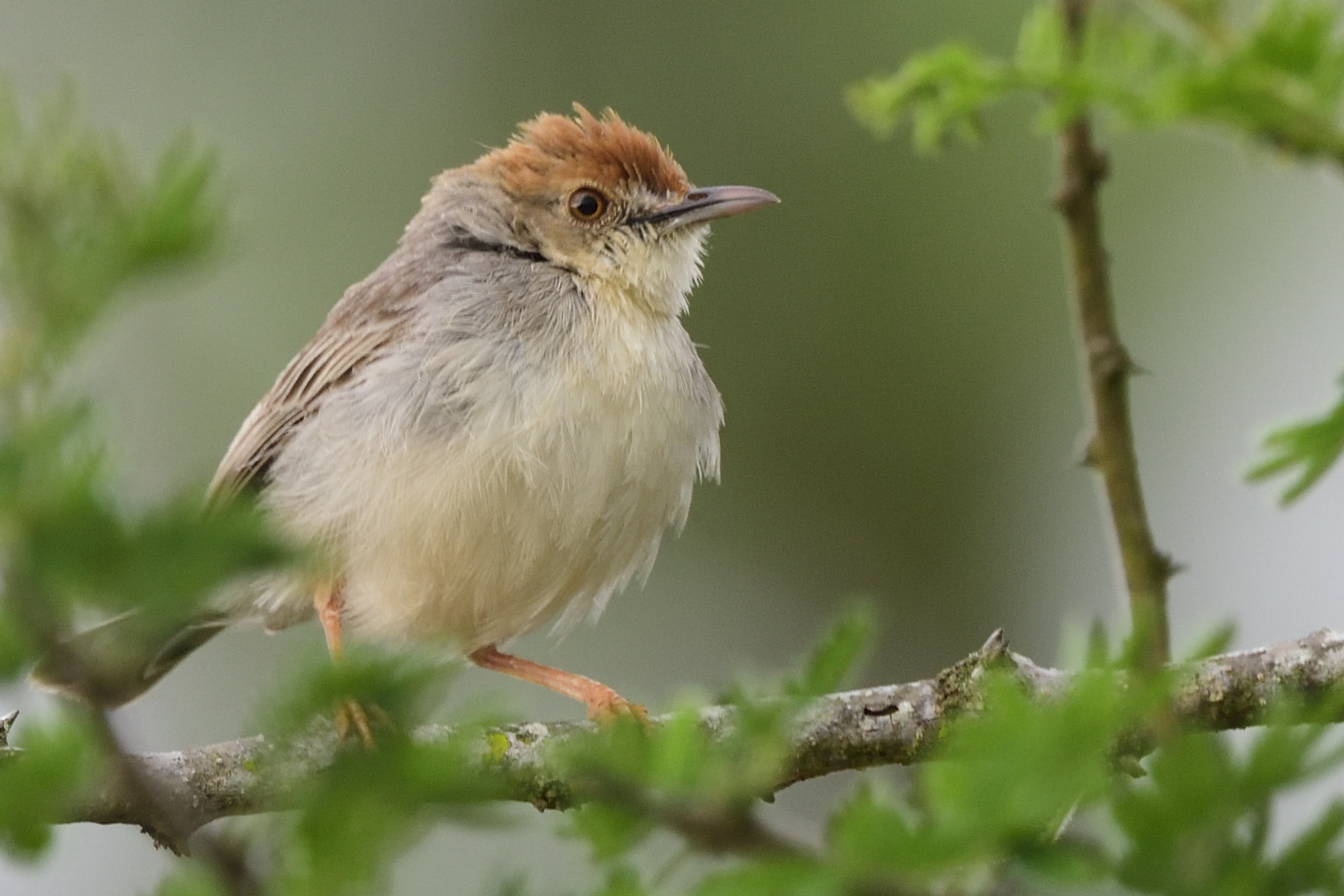 Tiny Cisticola, Cisticola nana – Endemic to NE Africa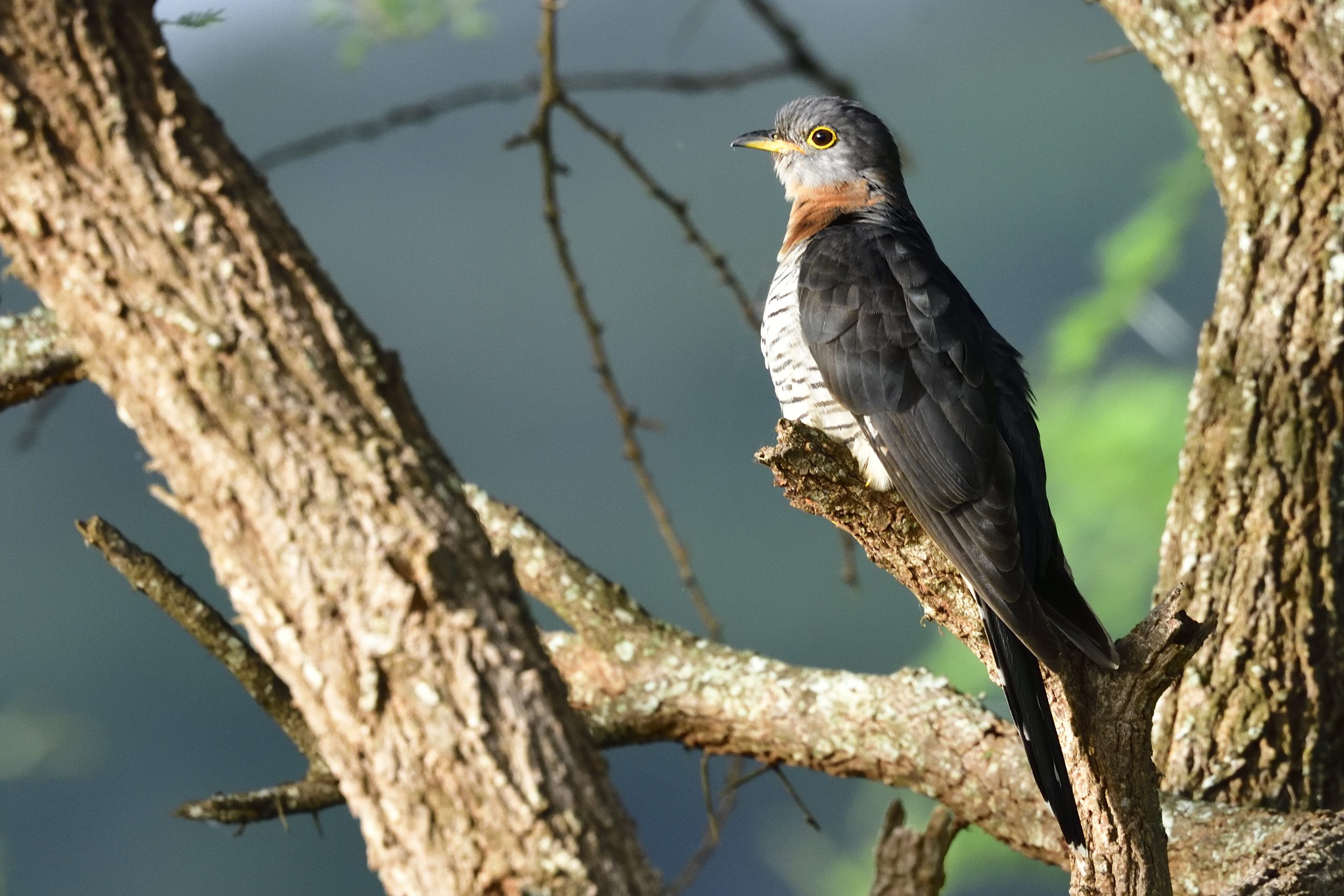 Red-chested Cuckoo, Cuculus solitarius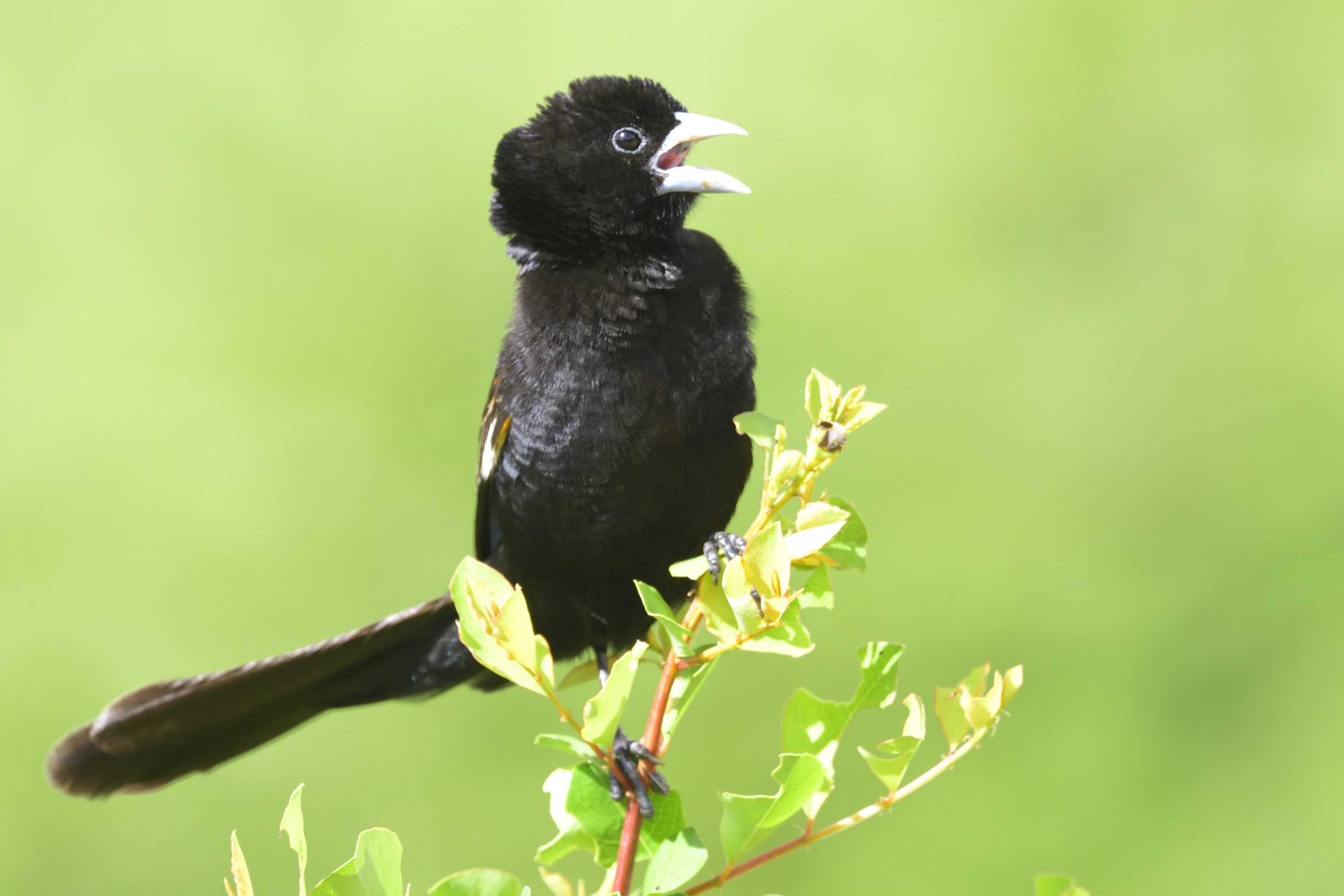 White-winged Widowbird, Euplectes albonotatus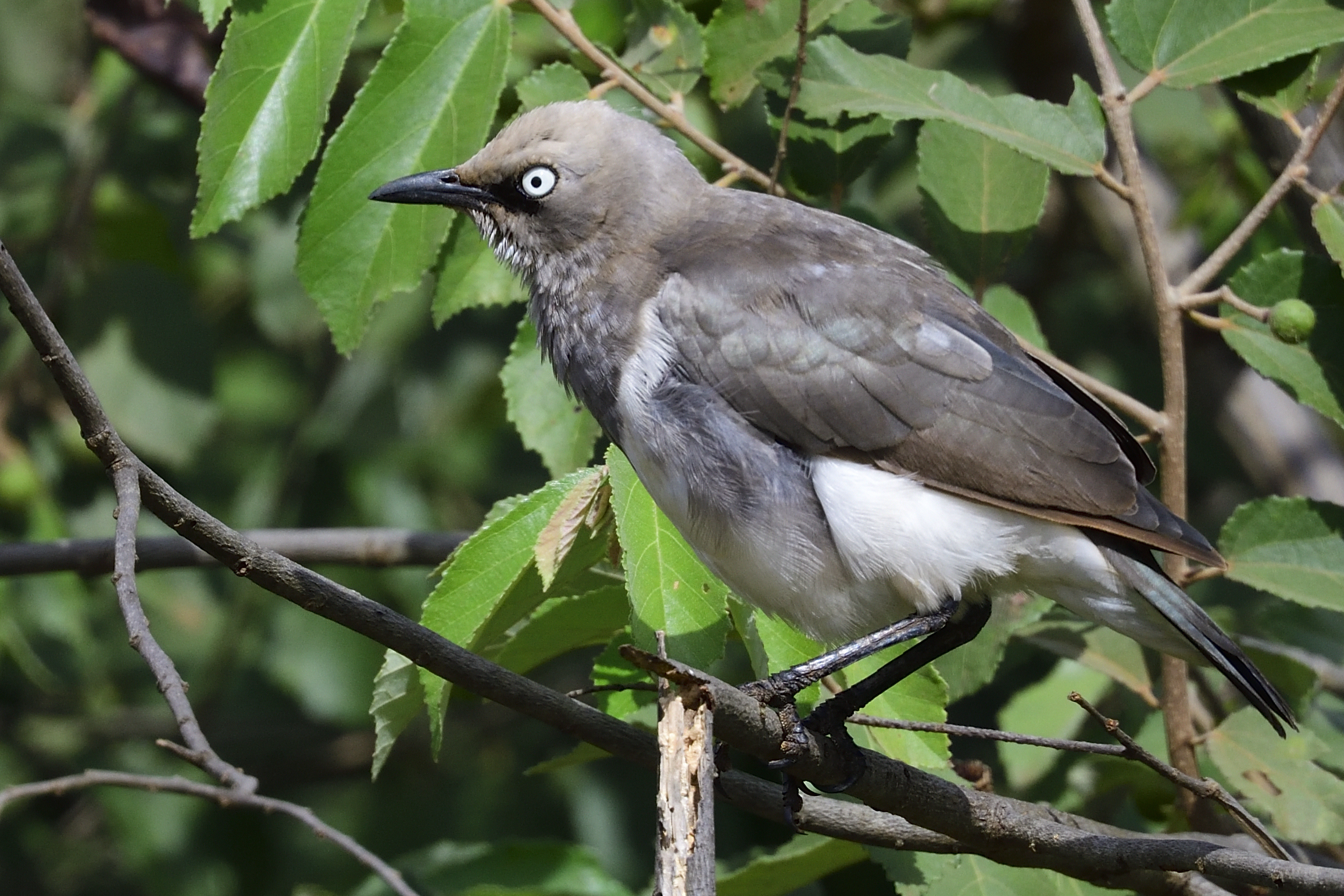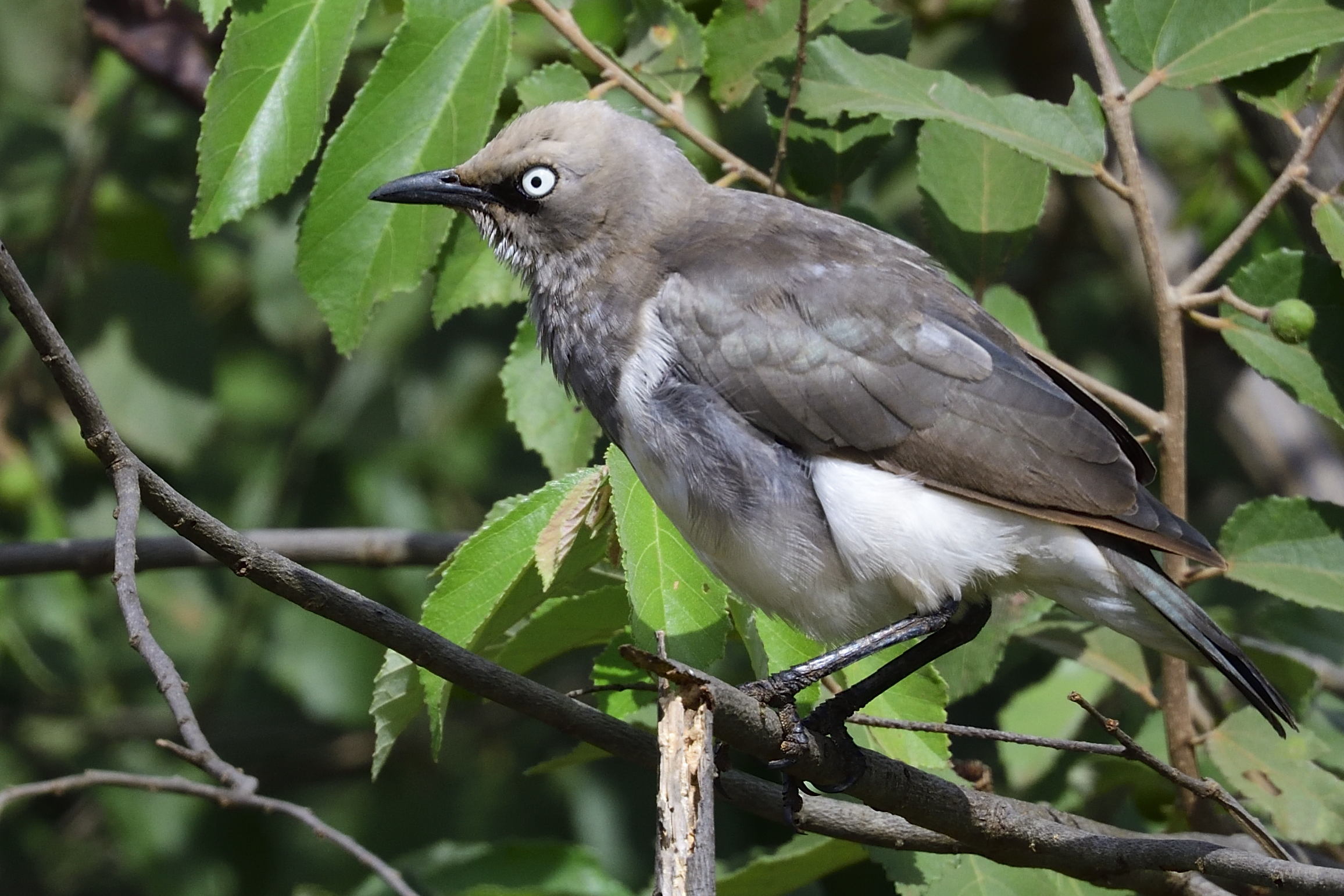 Fischer´s Starling, Lamprotornis fischeri – Endemic to NE Africa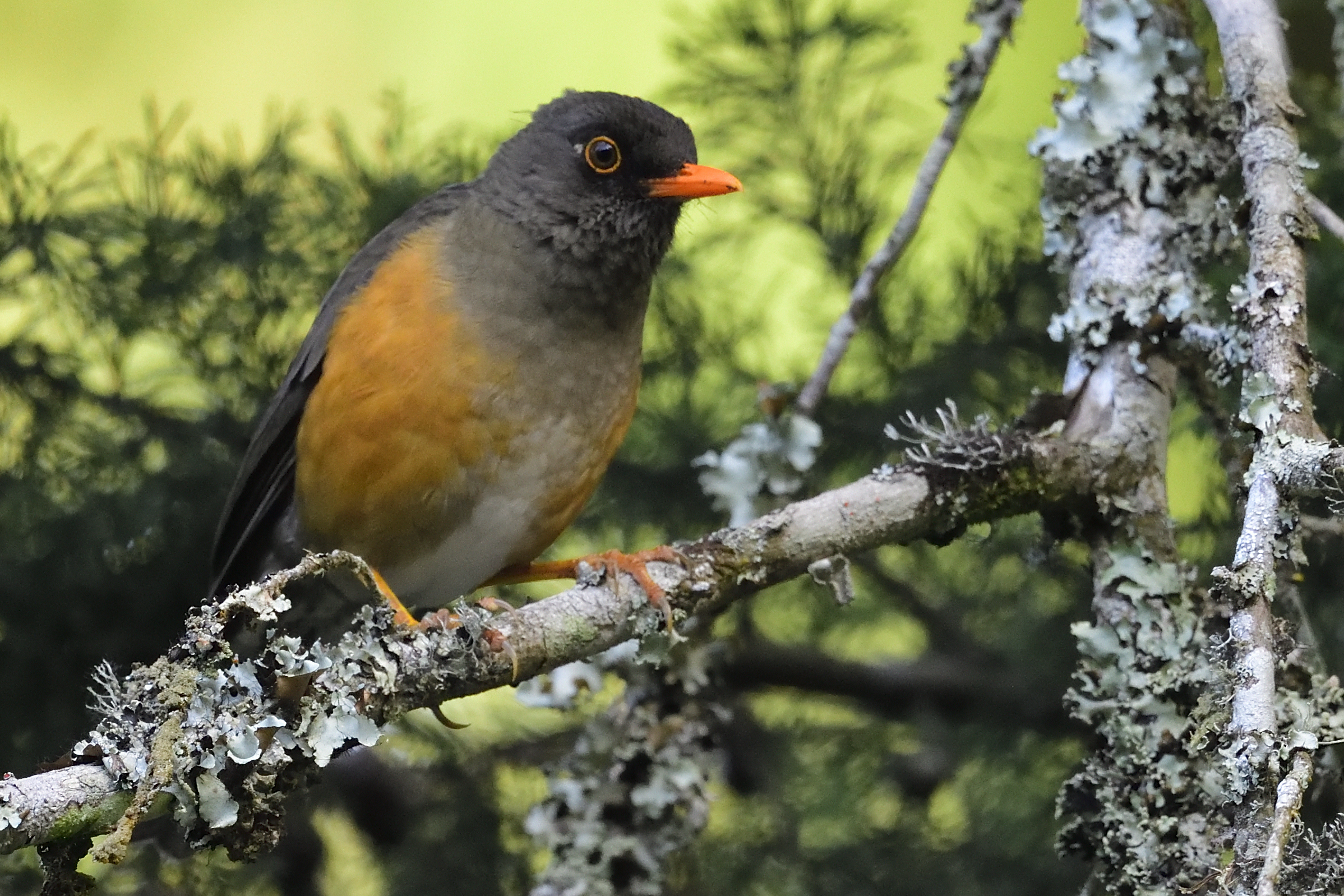 Usambara Thrush, Turdus roehli – Endemic to Pare and Usambara Mountains, Tanzania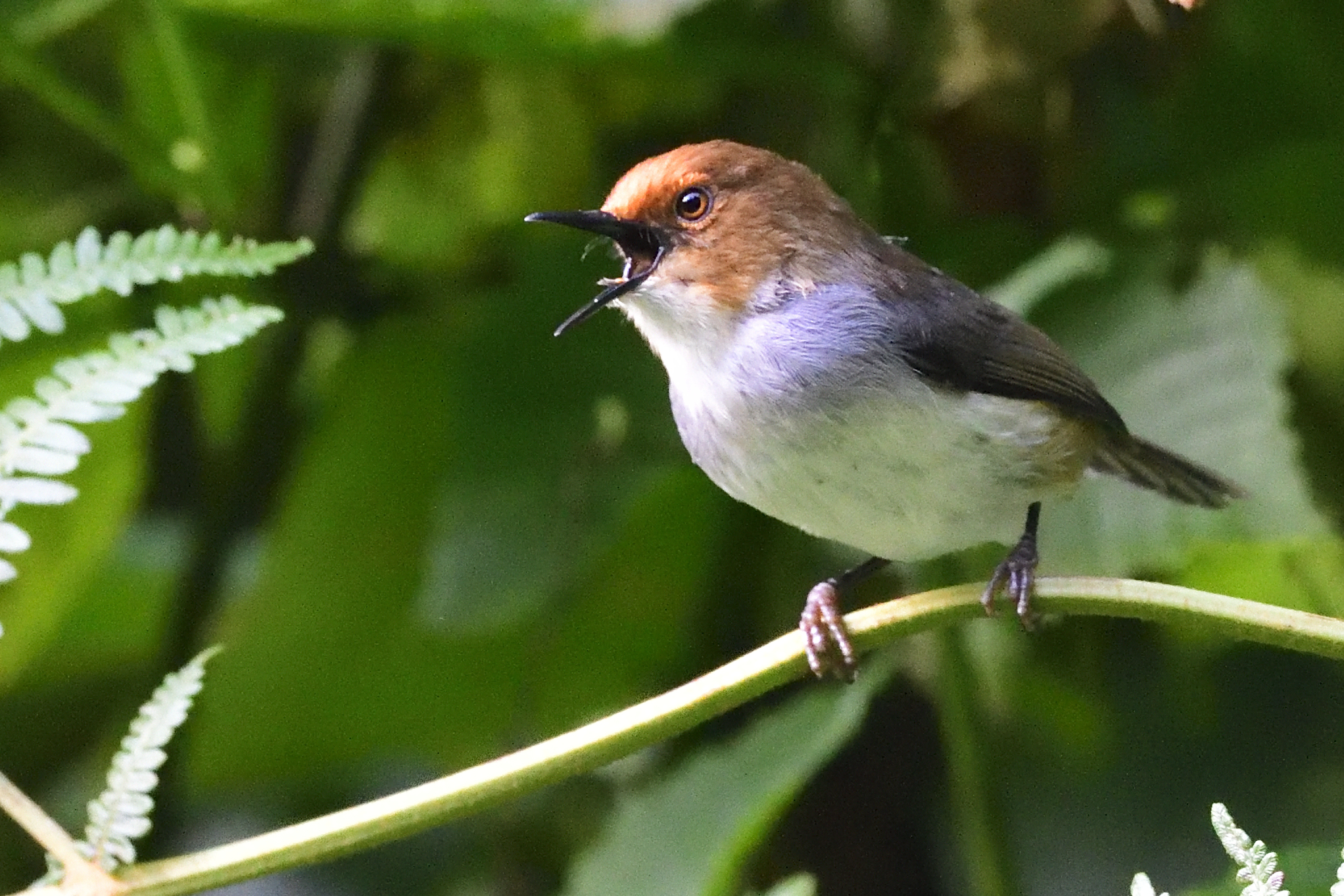 Red-capped Forest Warbler, Artisornis metopias -Endemic to Eastern Arc Mountains of Tanzania and Mozambique
Day 8, Thursday, April 21, 2022 – Magamba Forest, West Usambara
We had agreed to meet for Coffee at 06:45 that morning and then look at the light if it was worth going out at around 07:00. They wanted to go out at that time, I warned them that the birds would not be active, but was again ignored. We walked up hill again and as predicted little or no activity. We were back in camp around 09: 00 having recorded only a few new species: Southern Yellow White-eye, Usambara Akalat (brief sighting) and Cinnamon Bracken Warbler. I made breakfast and as soon as my friends had eaten, they set off. Victor and I fginished our meal and managed to find them. Victor had told them he had a path to find the Spot-throat and the Usambara Akalat at the beginning of the forest (about a 4 km walk downhill). Normnally, I would have used the car, but since the road was broken, there was no chance. My friend told me that we had breakfast when the birds were most active. I agreed and said we should never have walked that early and waited for the light. He then told me that they did not even get lunch the day before. I reminded him that I have told them there wer rolls and jam which they ignored in their quest to go out with out Victor and me. I normally stay 2 nights in Magamba, but hd agreed to extend with one night if necessary. He agreed to stay one more night, so I had to organise with Amani to tell we were coming one day later. We continued walking down and came to a place that is very good to get pictures of Fülleborn´s Boubou and also African Hill Babbler. I was toild that none of those birds were of interest since he only wanted Spot-throat, Usambara Akalat and Usambara Weaver. Well after 25 times in that habitat and many other habitats with Spot-throat, I still do not have a picture. There are about 25-30 good birds in Magamba and those I have marked with NL – Not Likely meaning less than 25% chance to get. They were in a hurry so I let them walk on their own. I prefer a slow phased birding and not run ning through the forest. Obviously it was Victor´s "secret" path they were aiming for. I walked further down than I had ever walked before and decided to turn towards camp in case they had gone into the forest on a path I did not see. I recorded Mountain Buzzard, Black Saw-wing, Silvery-cheeked Hornbill. Heard bot Spot-throat and the White-chested Alethe. When I entered camp a Juvenile Augurt Buzzard gave me some photo opportunities. However, it had been very quiet as expected at mid day.  They soon returned to camphad lunch and disappeared. Victor asked where they were going and they tiold him downhill. When Victor were finished eating, he went after them. Later he told me he walked or run 45 minutes downhill and could not catch up with them so he returned and met them. They had gone uphill instead. They wentall the way down to the same spot and returned at 20:30 at night. I took a walk uphill again, but the forest was quiet.
One picture from Day 8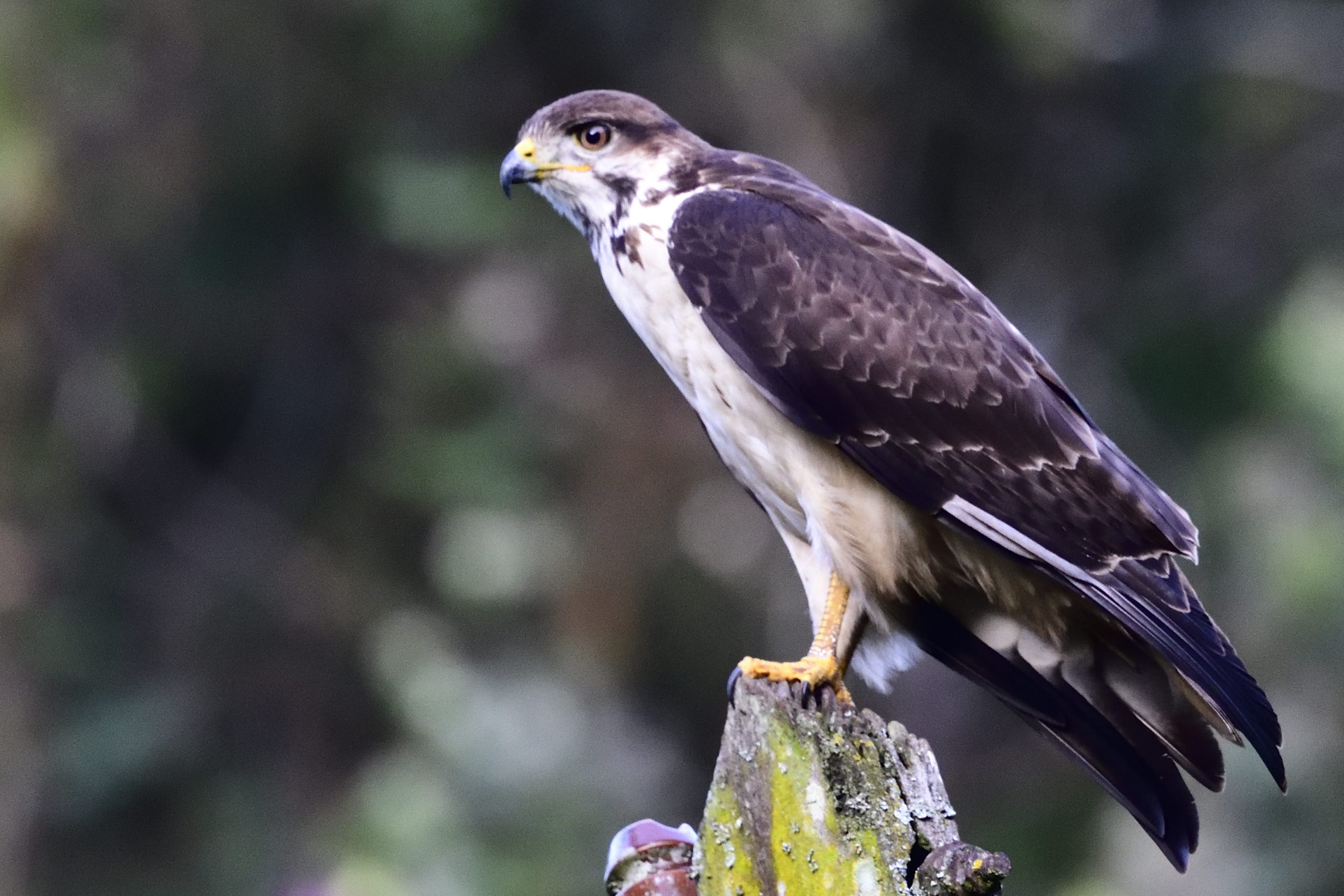 Augur Buzzard, Buteo augur
Day 9, Friday, April 22, 2022 – Magamba Forest.
My friend had ordered breakfast at 06:00 this morning. I do not eat that early and I had no intention of walking 4 km downhill to chase a bird that is very very hard to photograph when it is actually calling all over the forest. My friend had complained about electricity the night before. I had most generously borrowed him a power bank and also reminded him that we would not have any electricity as long as we stayed in Magamba Forest. He had 3 extra camera batteries with him, but spent a lot of time looking at pictures at the back of his camera and were apparently running out. I said I have an inverter and can charge batteries in my Land Rover. Anyway, by the time I got out of my tent they had long disappeared. I made myself breakfast and took a slow walk uphill. The forest was a lot more lively when I left the camp around 08:00. New birds for the trip in Magamba forest recorded: Southern Citril, White-starred Robin, Black-fronted Bushshrike, Bar-throated Apalis,  Hartlaub´s Turaco, Red-faced Crimsonwing, and Yellow-bellied Waxbill. They came back and after lunch I just walked in the garden. I saw some heavy rain clouds coming in.  They left and shouted to Victor if he were coming. Victor told them to give him 30 minutes to do some chores in camp. I went on a new path and on top of the path heard the Usambara Akalat. Less than 10 minutes from camp. The light were not good, but I still managed quite a few pictures. I just reached camp before the rain really started to poor down. I had warned my guests that they should never leave camp without their rain jacket and I discovered they had left them behind. I birded a little more around camp after the rain stopped and finally got a call from Victor at 18:30 saying that my friends had taken a motorcycle down to the office to charge their gear and that he had driven them to Müller´s Lodge where they would sleep that night. Victor was going to walk up to camp (9 km) in the dark. He joined me at around 21:30. By then, I had already packed most of camp including my friends tents and personal belongings so we could get out early the day after. Victor then told me that they wanted to stay another night in Magamba and that they had forgotten their cables to charge their iPhones, so he was supposed to meet them down at the office in the morning (9km walk). I said no way and if they had intended to stay one more night they could have let me know before 21:30 at night. Victor also told me that on one day they were walking down to his path, he came across a bird party with amongst other Tiny Mountain (Usambara) Greenbul, but they were not interested. My friend also got pictures of the Usambara Weaver, the day before, but according to Victor he stopped at the same spot the day after and called the Weaver in and kept it there for 2 hours before he was satisfied with his pictures. I told Victor that we would pack up the rest of camp the day after. We had people in Amani Forest that had bought supplies etc. for our arrival and it would have been ok if they told me in the morning, but not at 21:30 at night. Victor and I had dinner and went to sleep.
Some pictures from Day 9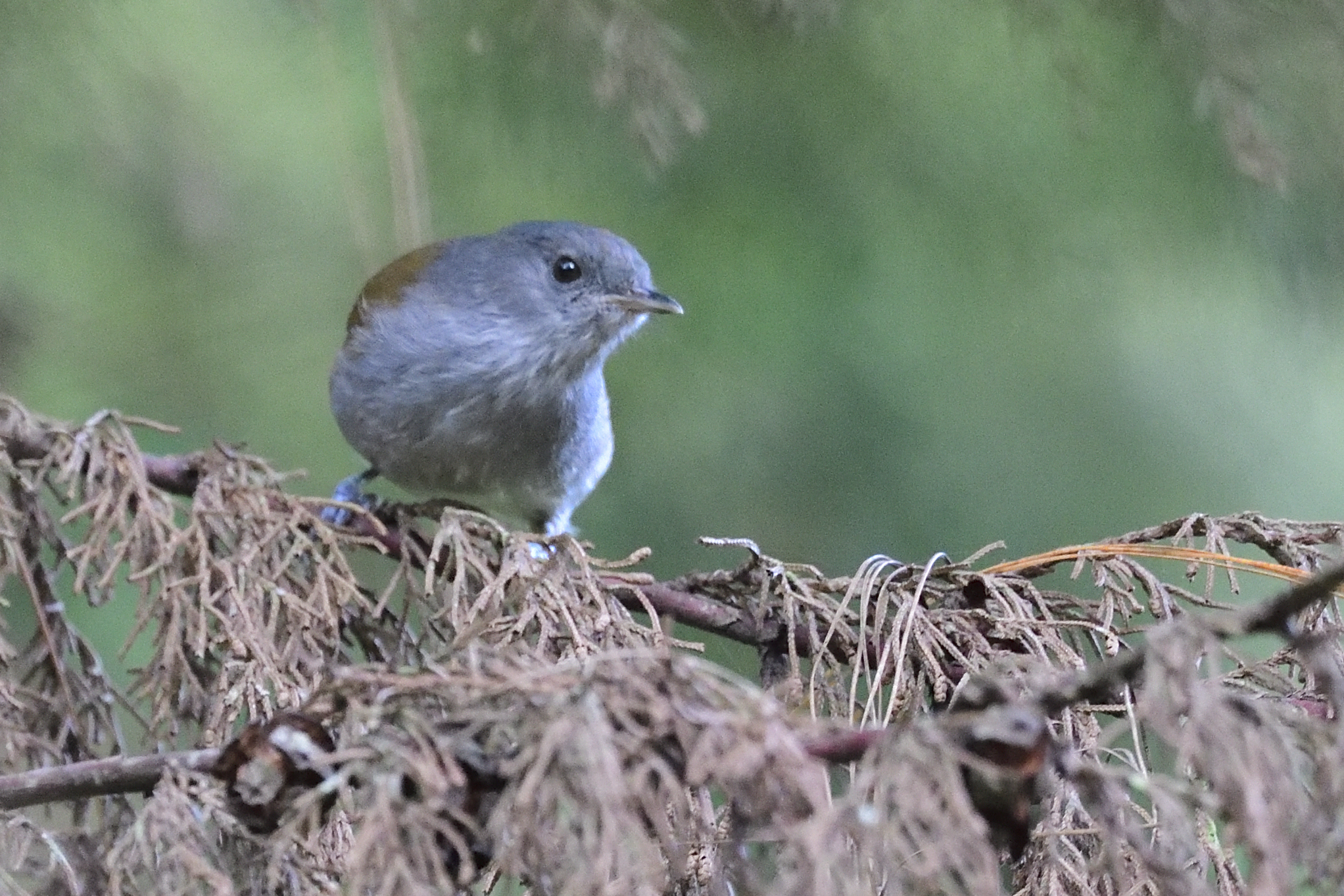 African Hill Babbler, Pseudoalcippe abyssinica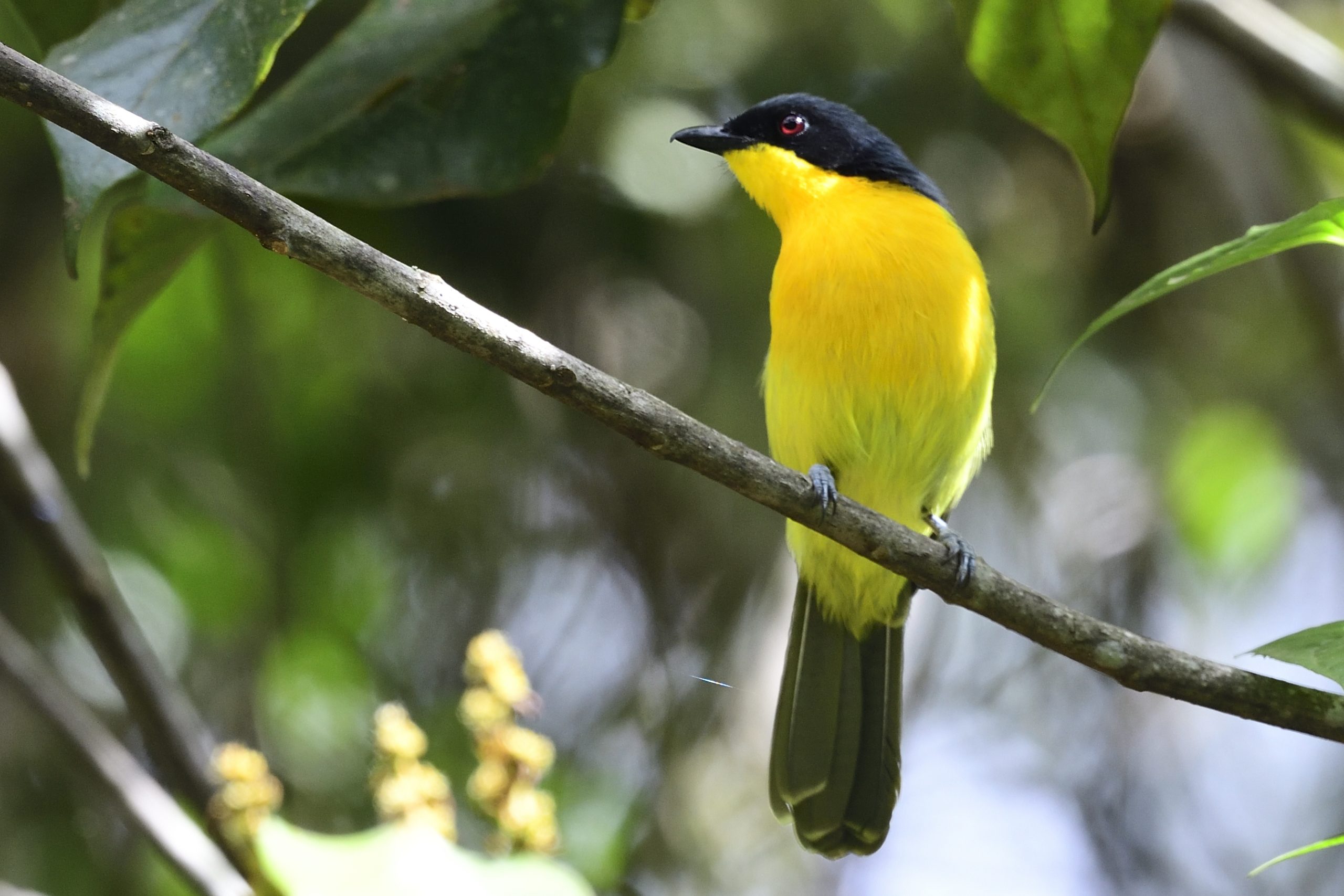 Black-fronted Bushshrike, Chlorophoneus nigrifrons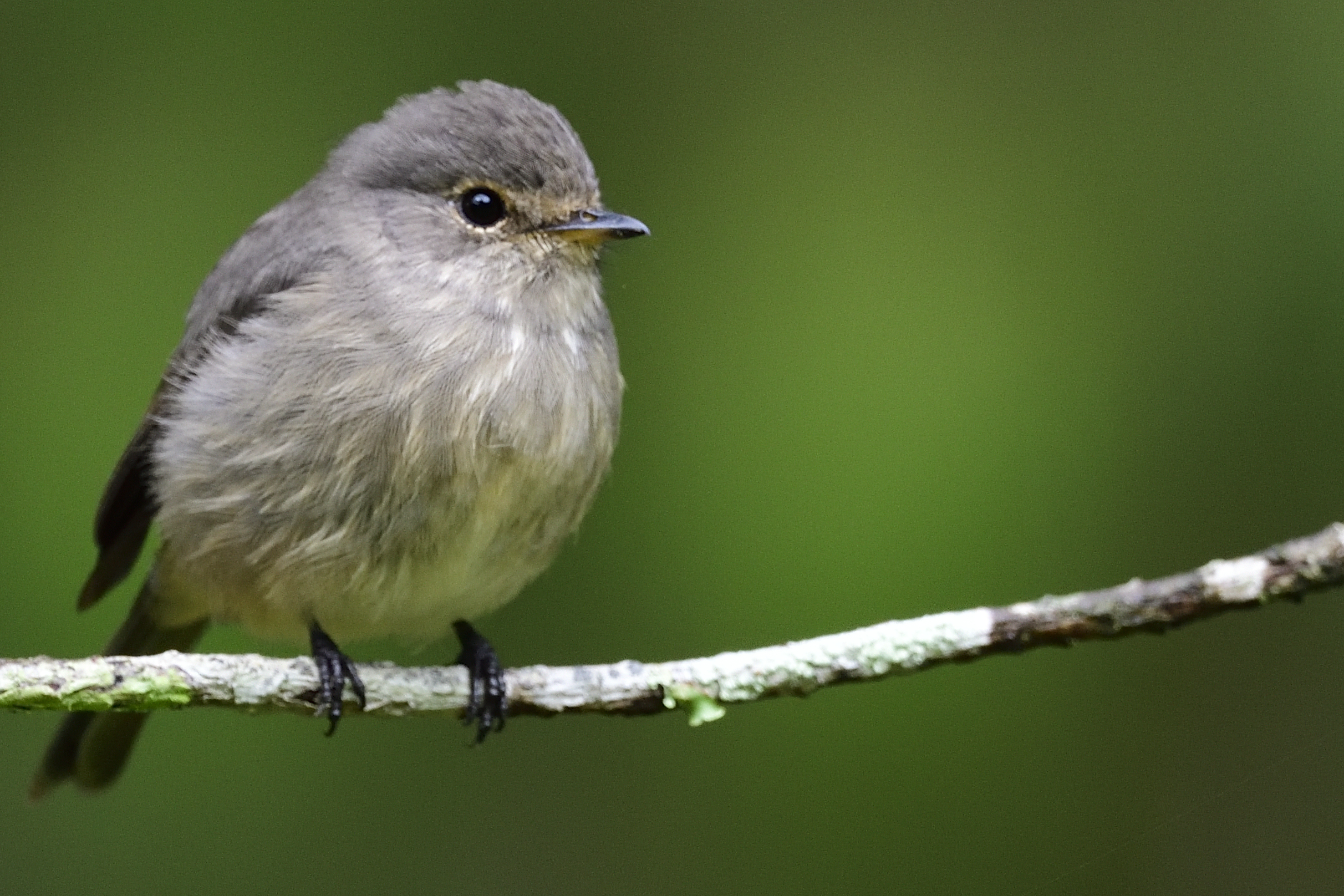 African Dusky Flycatcher, Muscicapa adusta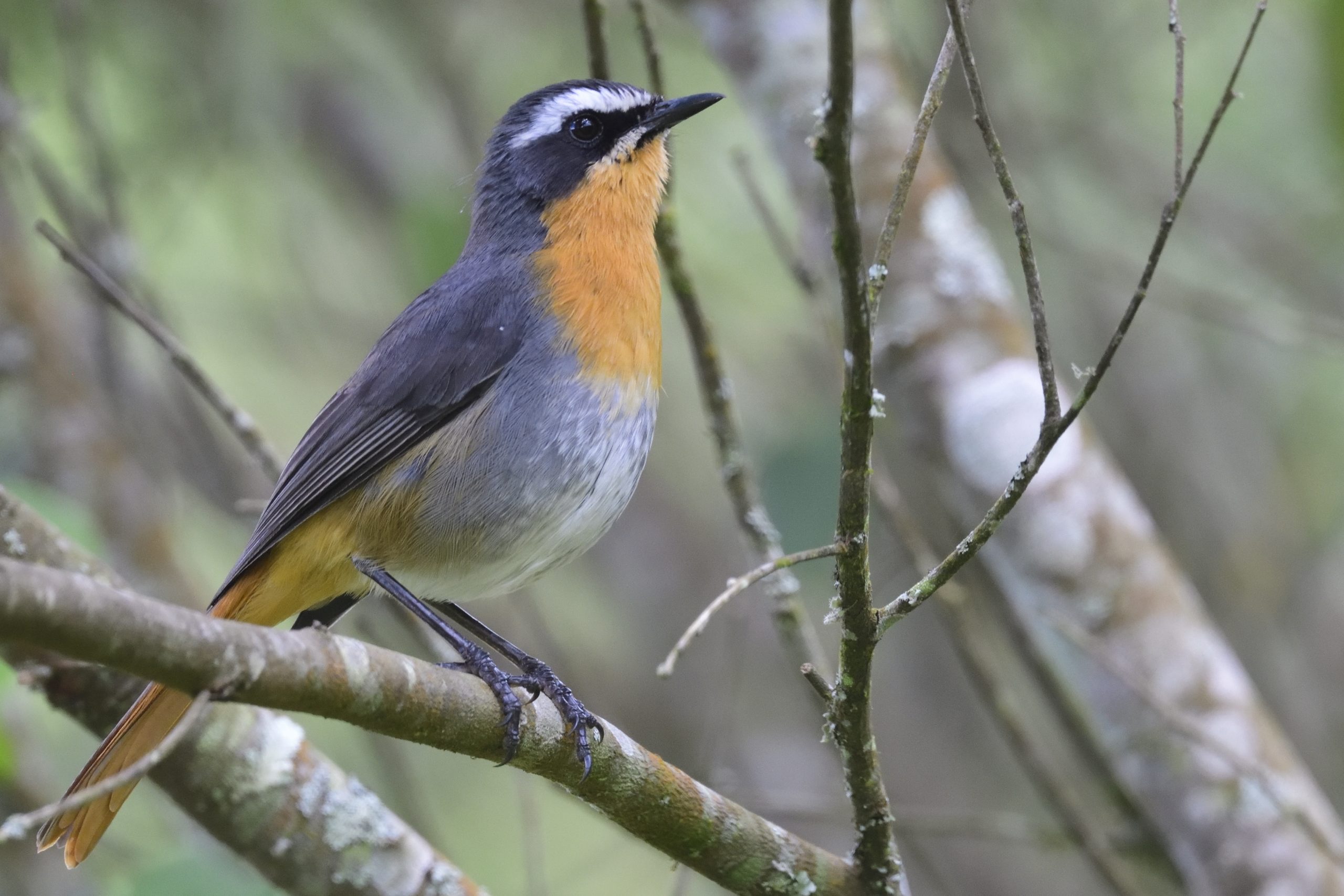 Cape Robin-Chat, Cossypha caffra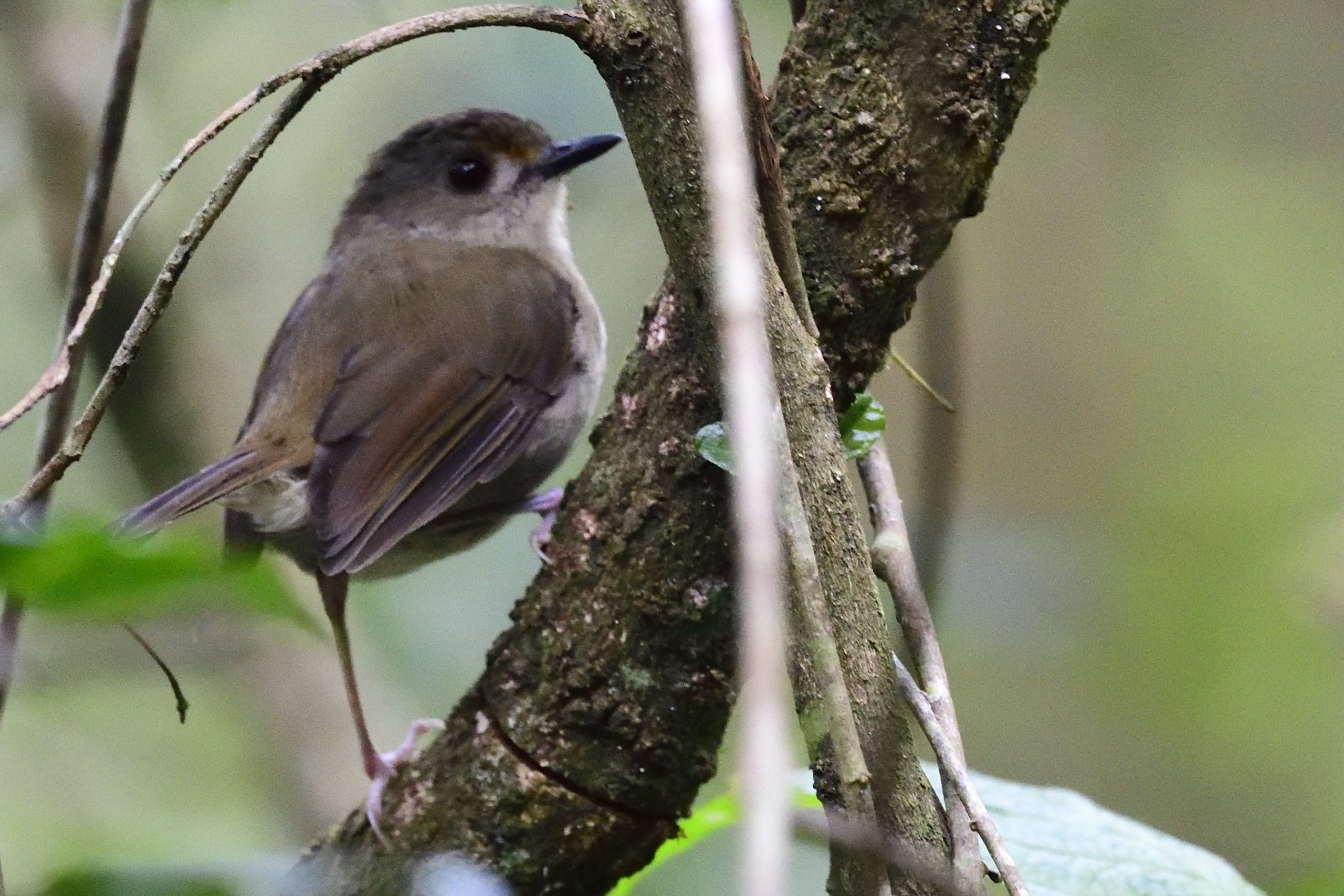 Usambara Akalat, Sheppardia montana, Endemic to West Usambara Mountains, Tanzania
Day 10, Saturday, April 23, 2022 – Magamba Forest – Kiligolf
I spoke with my friends on the line to the hotel they were staying at the morning after. They complained I was not flexible. I said we were flexible from 2-3 nights and I could have been flexible for the fourth night as well if they had told me in the morning. I had packed food for 3 days and not 4 and how would I get food? I told them that Victor and I would drive to the office as soon as we finished packing and they could choose between either continue the trip and go with us to Amani Forest or they could find an alternative way of finishing their trip. If they went to us to Amani Forest I also told them to never run away without having either Victor or me with them and that he should never call a bird unless Victor or me told him to. We arrived at the office, they were already there. They made no attempt on bringing the luggage in to the car. My friend told me that they had chosen the other alternative namely to continue the trip  themselves. To be honest, I never understood why they needed me anyway since they were fully intent on doing all the birding themselves. I guess I learnt a few lessons. I just took my car and left with a big smile on my face and drove home that day. For me that was a much better option than to continue a trip were I never were in control. I also want to add that I did not taste a drop of alcohol on this trip.