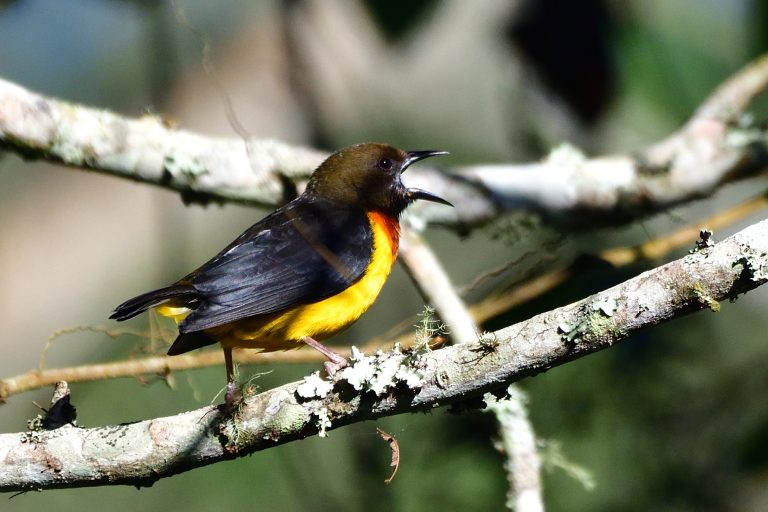 My Dutch friend living in France, Paul van Giersbergen was scheduled to arrive on January 2nd, this year. Abdul and I drove to the airport at night to pick him up. Just before the airport, we almost ran straight into a big Izusu lorry driving very slow without any reflectors and lights. The trip could easely have ended there. Instead, we reached the airport and picked up Paul. We drove home to my place and settled for the night.
Day 1, Sunday January 3: Kiligolf – Sakila Hills – Kiligolf.
Paul had sent me a target list with species he wanted to photograph. Abdul and I was working exclusively from that list. Paul had been to both Kenya and Uganda before so we were focusing on the Tanzanian specials. We decided to walk the golfcourse here at Kiligolf.com before breakfast. We managed around 75 bird species before we returned to the house for breakfast/brunch.  After the meal, we decided to visit a local wetland not too far from my house. The big targets for Paul was White-backed Duck and Lesser Moorhen. We found the duck, but not the Moorhen. We then drove back to Kiligolf to do an afternoon walk on a different side of the golf course. We ended the day with well over 100 species seen.
Some pictures from day 1: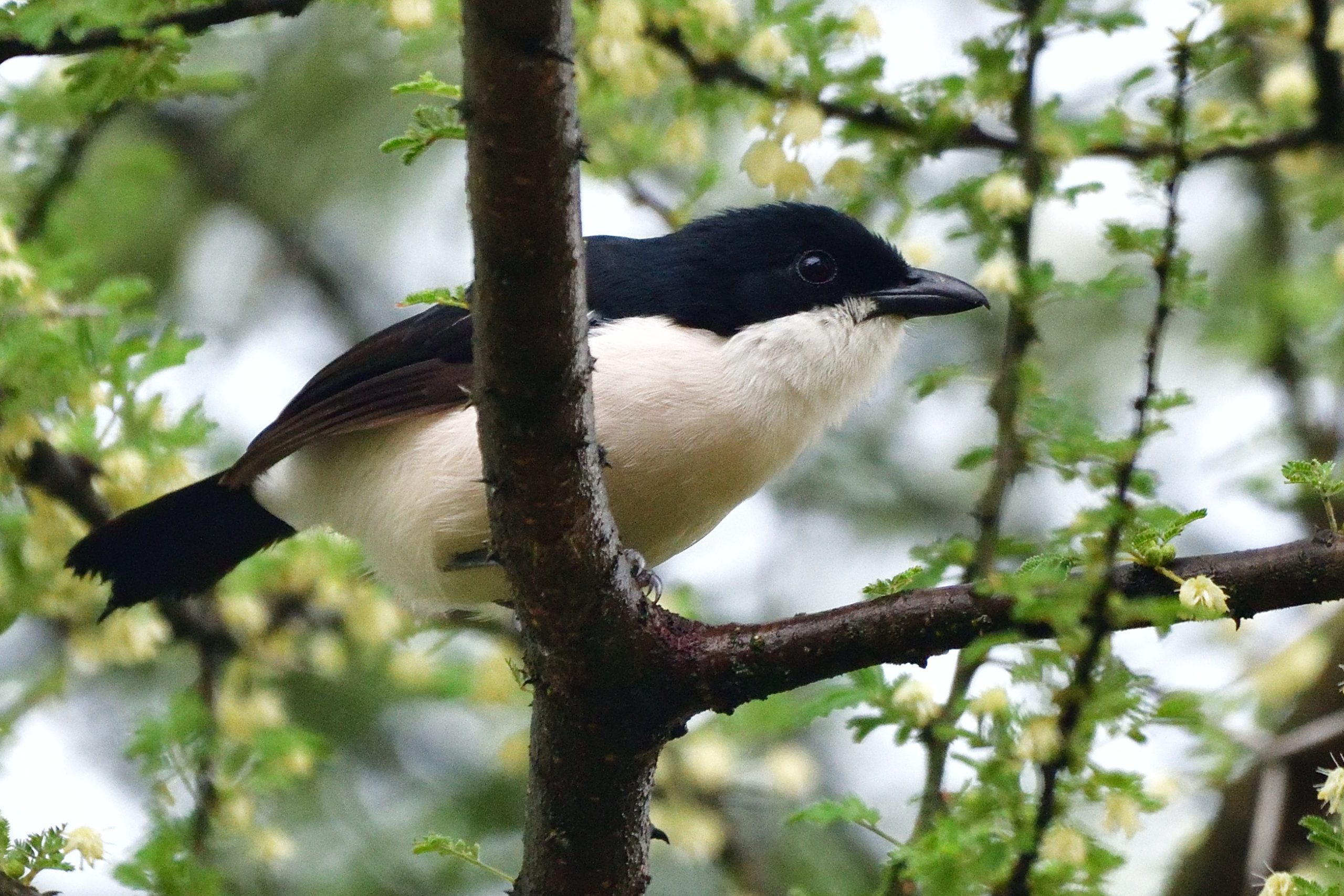 Tropical Boubou, Laniarius major
Arrow-marked Babbler, Turdoides jardineii
Brown-hooded Kingfisher, Halcyon albiventris
Grey-headed Kingfisher, Halcyon leucocephala
Buff-bellied Warbler, Phyllolais pulchella
Crimson-rumped Waxbill, Estrilda rhodopyga – Endemic to NE Africa
Red-faced Cisticola, Cisticola erythrops
Western Yellow Wagtail, Motacilla flava (This could possible be a Citrine Wagtail Motacilla citreola, the jury is still out)
Spot-flanked Barbet, Tricholaema lacrymosa – Endemic to East Africa
Day 2, Monday, January 4 – Kiligolf – Mereranis – Masai Steppe – Kiligolf
We had an early start and arrived in Mererani just after 07:00. The stretch out to the Masai Steppe is classic dry country birding where we normally rack up 100+ species in a day. Nothing different this day. The migrants where also in so we saw quite a few White-throated Robin´s (Irania), but the best bird for me this day was a Rufous-tailed Scrub-Robin.
Some pictures from day 2:
Slate-coloured Boubou, Laniarius funebris – Endemic to NE Africa
Black-capped Social-Weaver, Pseudonigrita arnaudi – Endemic to NE Africa
Fork-tailed Drongo, Dicrurus adsimilis
Rufous-tailed Scrub-Robin, Erythropygia galactotes
Day 3, Tuesday, January 5 – Kiligolf – Nyumba ya Mungu dam – South Pare Mountains – Same
Let the Safari begin. Normally, we hang around longer in the Arusha area, but due to the Covid restrictions in Europe, we needed to get Paul back to Arusha in time for his Covid Test. So already on Day 3, the car was packed and we sat out for Nyumba Ya Mungu dam for our first stop. The two targets for Paul here were Pringle´s Puffback and Scaly Chatterer. We had seen the Puffback on the Masai Steppes the day before, but no pictures. We could not locate it this day, but got good views of the Scaly Chatterer. We then left for Elephant Motel in Same to have lunch. After lunch, we climbed South Pare mountain with my Land Rover, Lizzie. Once up there, Abdul managed to find the South Pare White-eye for us, although quite distant views. We drove back to Elephant Motel and had dinner and an early night.
Day 4, Wednesday, January 6 – Same – Near Mkumazi – Magamba Forest, West Usambara.
I have another good birding spot quite close to the entrance gate of Mkumazi National Park. We went there this morning and found a number of good birds including Golden Pipit and White-throated Robin. After the morning birding, we went back to the Motel and had breakfast. After breakfast we were on our road again heading for Magamba Forest in West Usambara. We stopped for our necessary shopping in Sono and were soon on our way up again. We reached our camp ground early afternoon with some time to set up our camp. Later in the afternoon, we were ready for a forest walk. Magamba Forest never disappoints. Some of the birds we registered this afternoon: Mountain Buzzard, Red-faced Crimsonwing, Cinnamon Bracken Warbler, Usambara Double-collared Sunbird, Evergreen Forest Warbler, Moustached Tinkerbird, Red-capped Forest Warbler, Hartlaub´s Turaco, Spot-throat, Waller´s Starling, Dark-capped Mountain Greenbul, Fülleborn´s Boubou, Eastern Bronze-naped Pigeon and Stripe-faced Greenbul. 
Some pictures from day 4: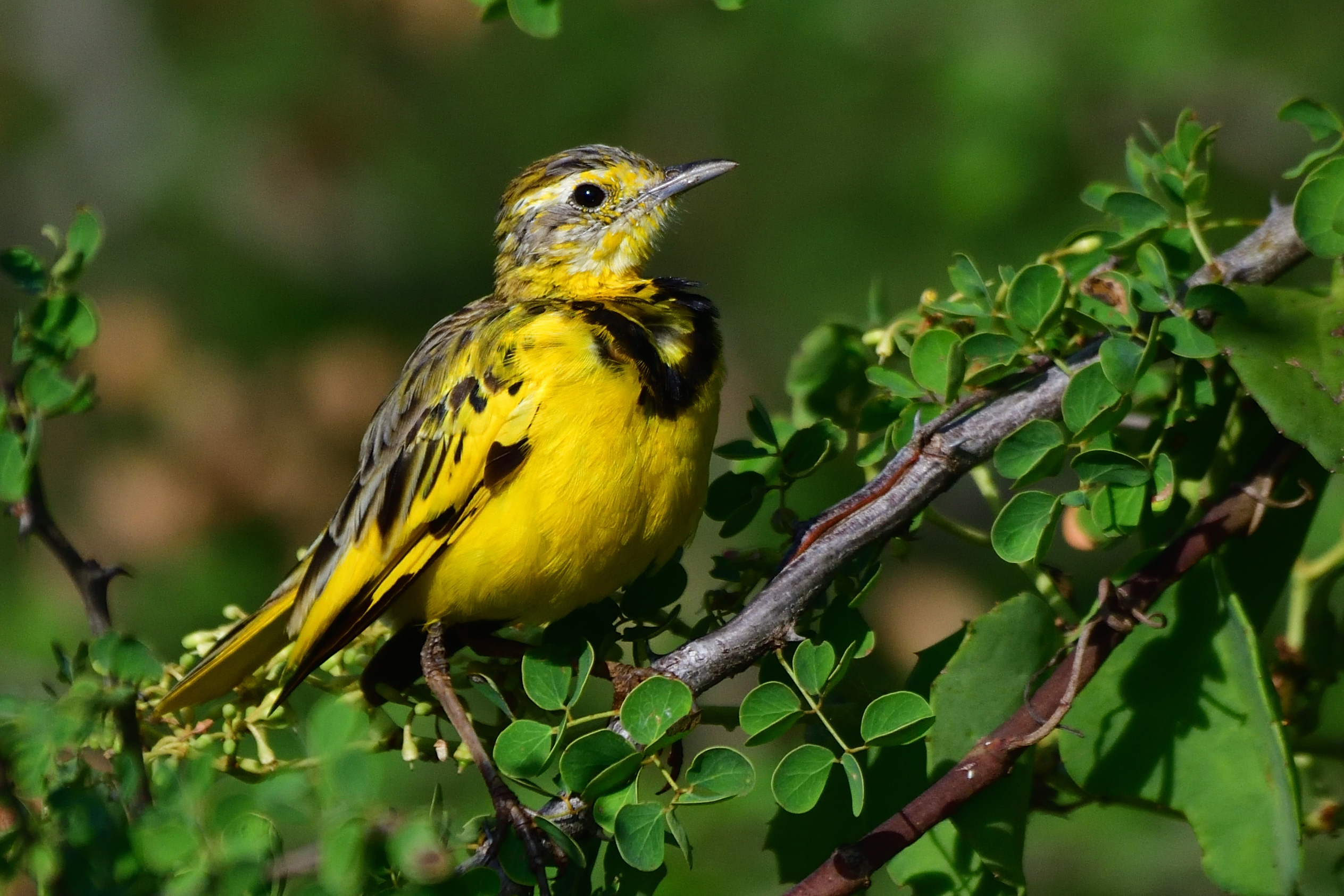 Golden Pipit, Tmetothylacus tenellus
White-throated Robin, Irania gutturalis
Chinspot Batis, Batis molitor
Diederick Cuckoo, Chrysococcyx caprius
African Harrier Hawk, Polyboroides typus
African Red-bellied Parrot, Policephalus rufiventris – Endemic to NE Africa
Black-bellied Sunbird, Cinnyris nectarinoides – Endemic to NE Africa
Northern Wheatear, Oenanthe oenanthe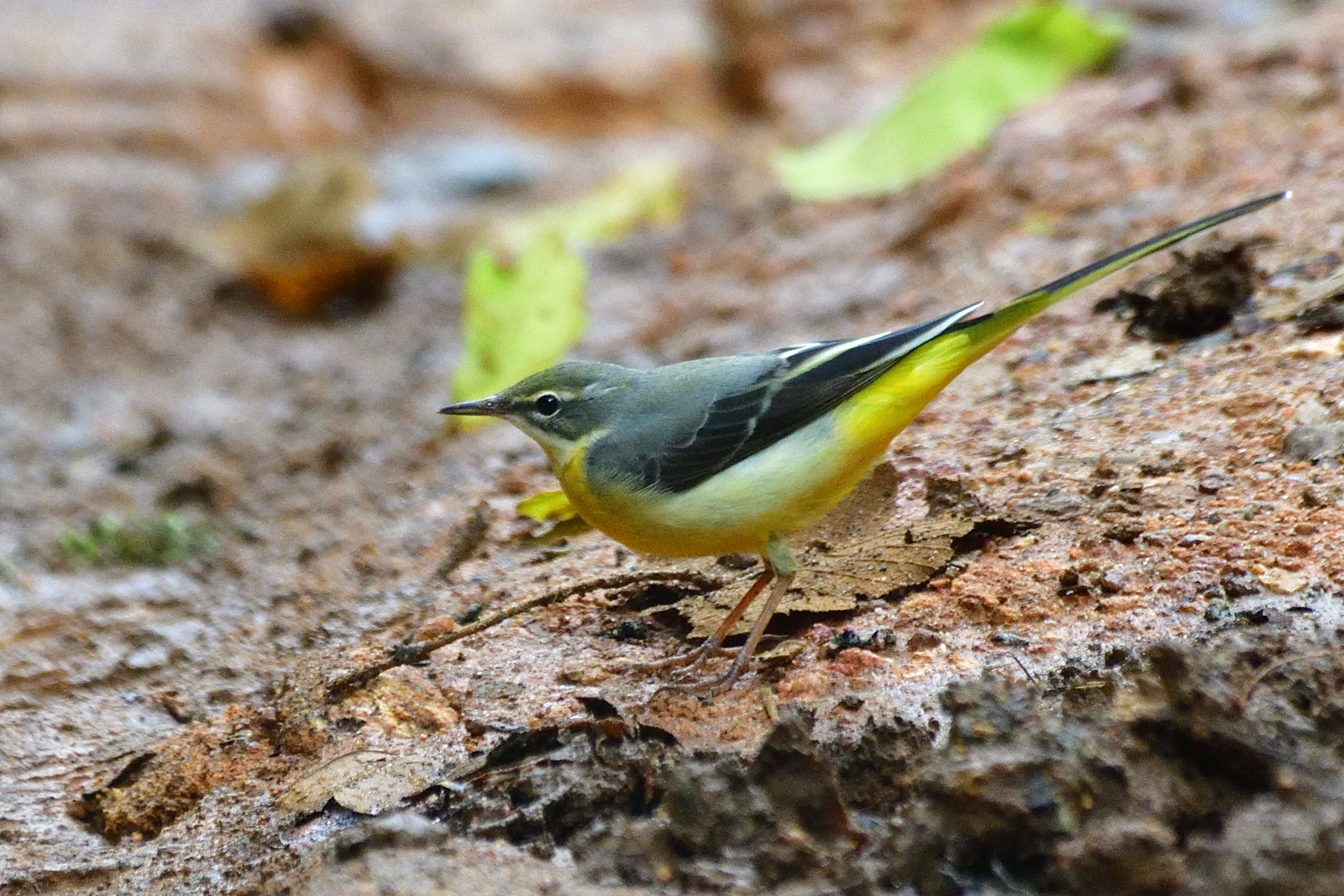 Grey Wagtail, Montecilla cinereo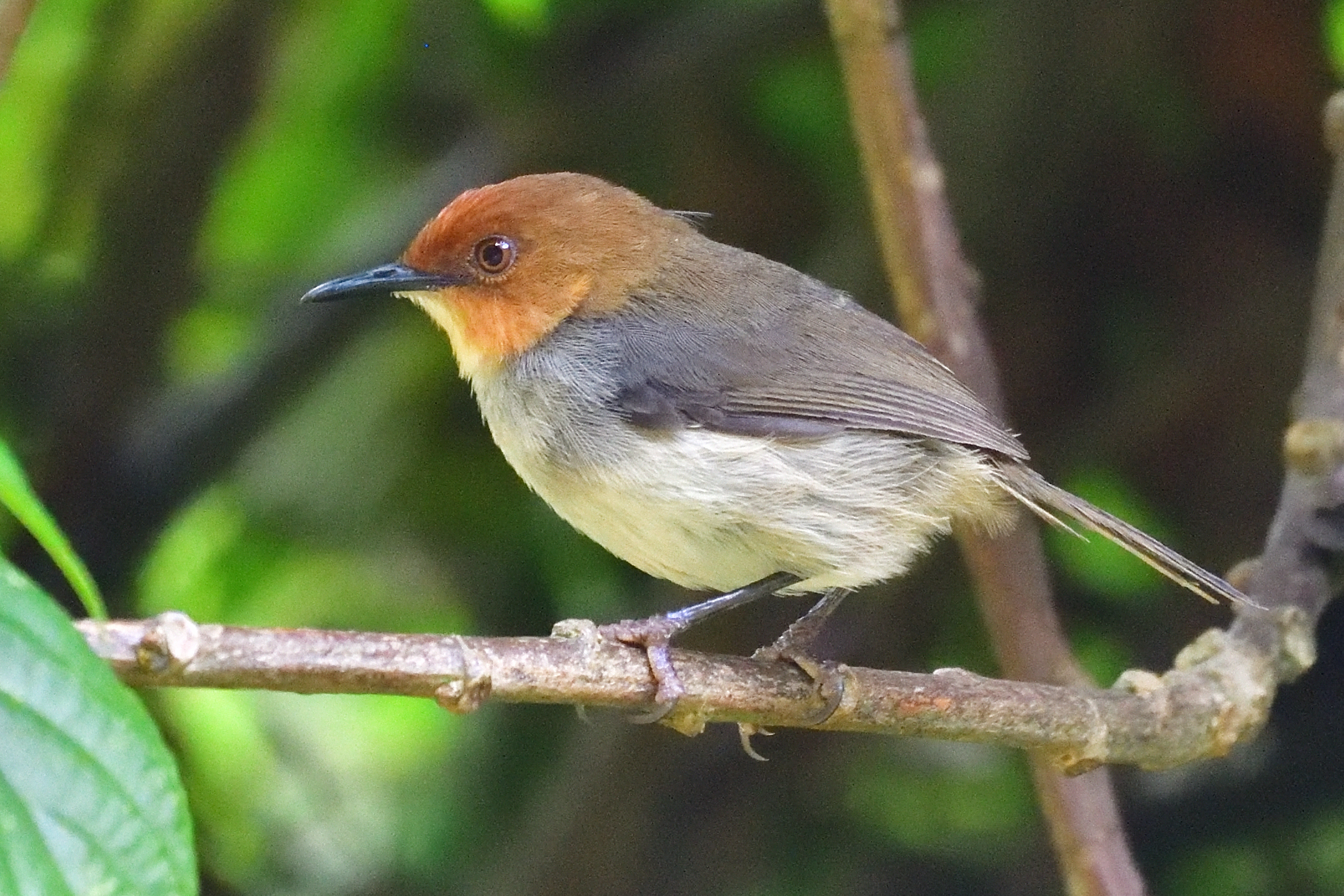 Red-capped Forest Warbler, Artisornis metopias – Endemic to Eastern Arc Mts of Tanzania and N Mozambique
Yellow-bellied Waxbill, Coccopygia quartinia
Day 5, Thursday, January 7 – Full day in Magamba Forest
After the mandatory cup of coffee we decided to walk up from camp again. The light is better in the upper forest in the morning. We came to our spot and looked for the Usambara Weaver and there it was first at a distance and then getting closer and closer allowing for very good pictures. Other birds encountered on the morning walk: Silvery-cheeked Hornbill, Red-backed Mannikin, Red-faced Crimsonwing, Southern Citril, Bar-throated Apalis, Cinnamon Bracken Warbler, Southern Yellow White-eye, Yellow-bellied Waxbill Rock Martin, Usambara Thrush, Black-headed Apalis, Yellow-throated Woodland Warbler, Olive Sunbird, Forest Batis, Black-fronted Bushshrike, Moustached Tinkerbird and African Hill Babbler. We went back to camp where Selvine had prepared a nice breakfast for us. After breakfast we went down from camp and only picked up a few new Magamba birds: Füllerborn´s Boubou, Bar-tailed Trogon, Mountain Buzzard, Usambara Double-coloured Sunbird, White-chested Alethe (heard only), White-starred Robin and Grey Wagtail. We returned to camp and while we were ready for dinner to be prepared, we heard the distinctive call of a Barred Long-tailed Cuckoo. Selvine cooked a splendid meal for us. We ate around the bonfire and turned to bed early. We had now found most of the special birds for Magamba and would make a decision after the morning birding the day after to stay one more night or to move on.
Some pictures from Day 5:,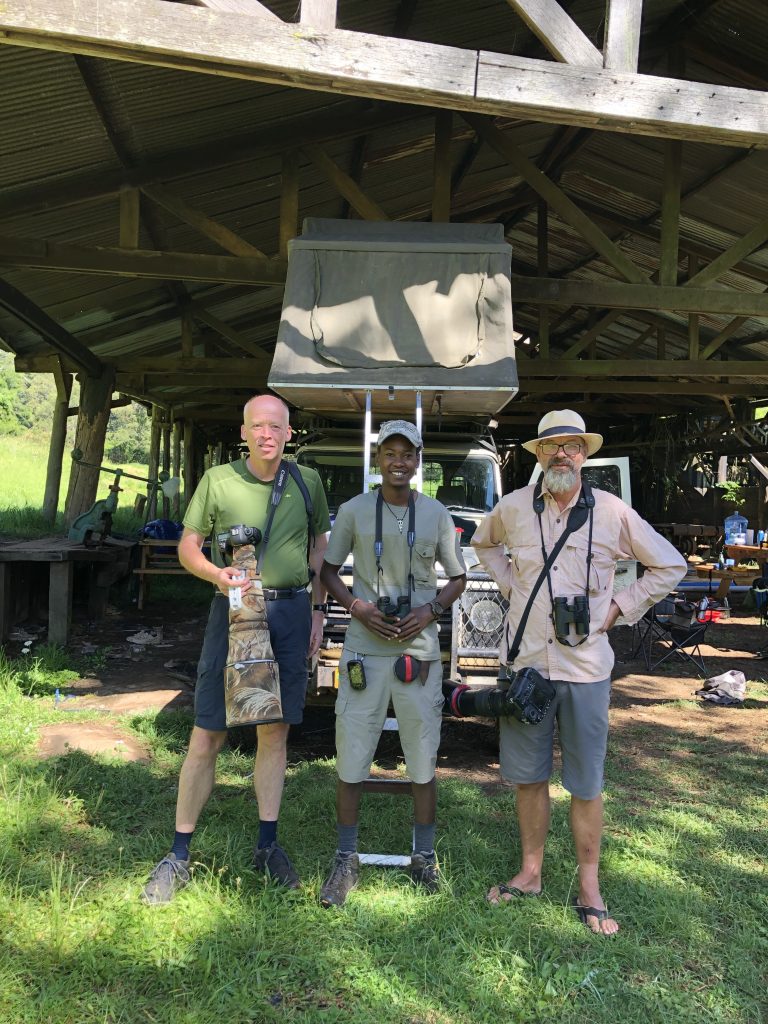 Paul, Abdul and me at the Old Sawmill camp in Magamba Forest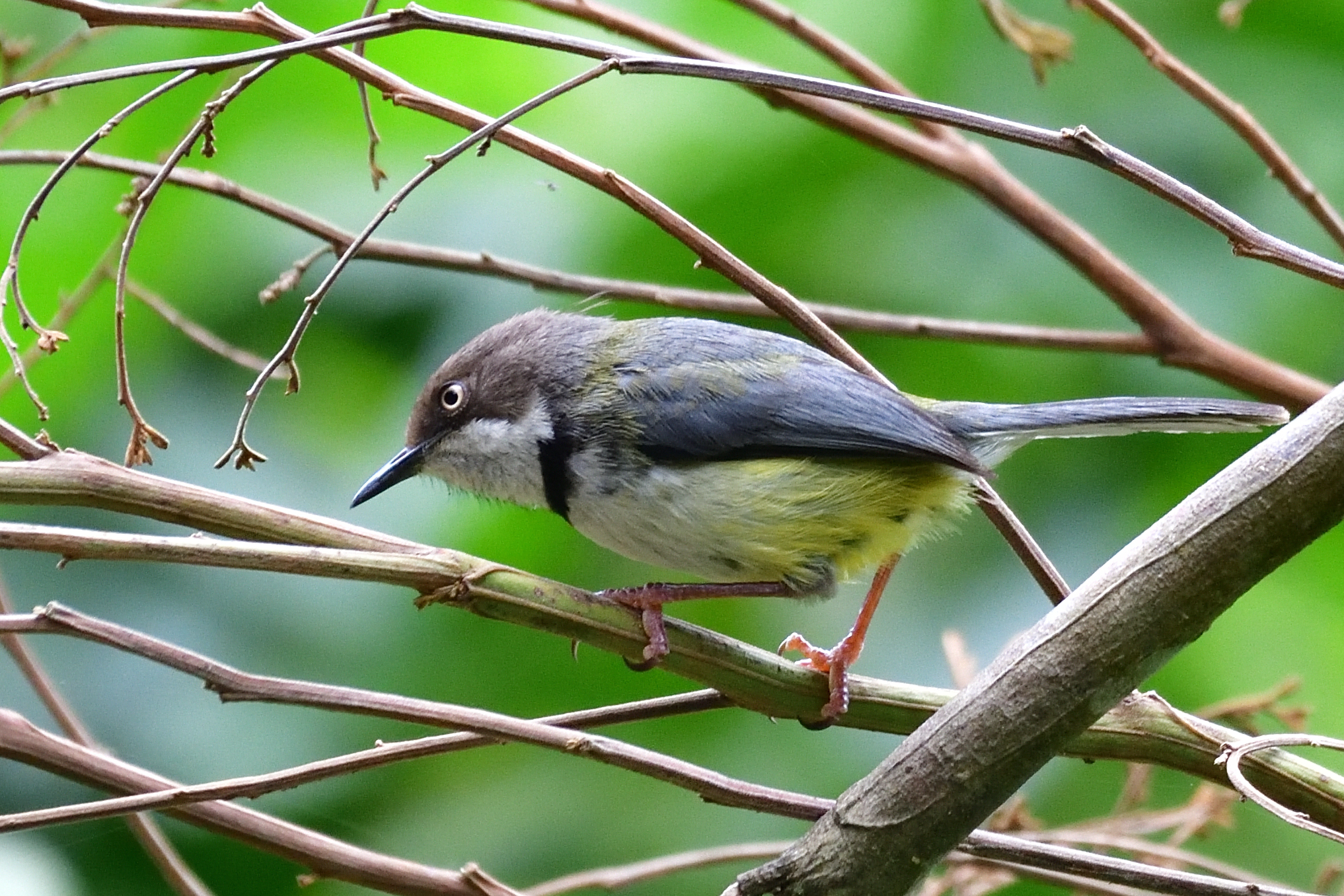 Bar-throated Apalis, Apalis thoracica -race murina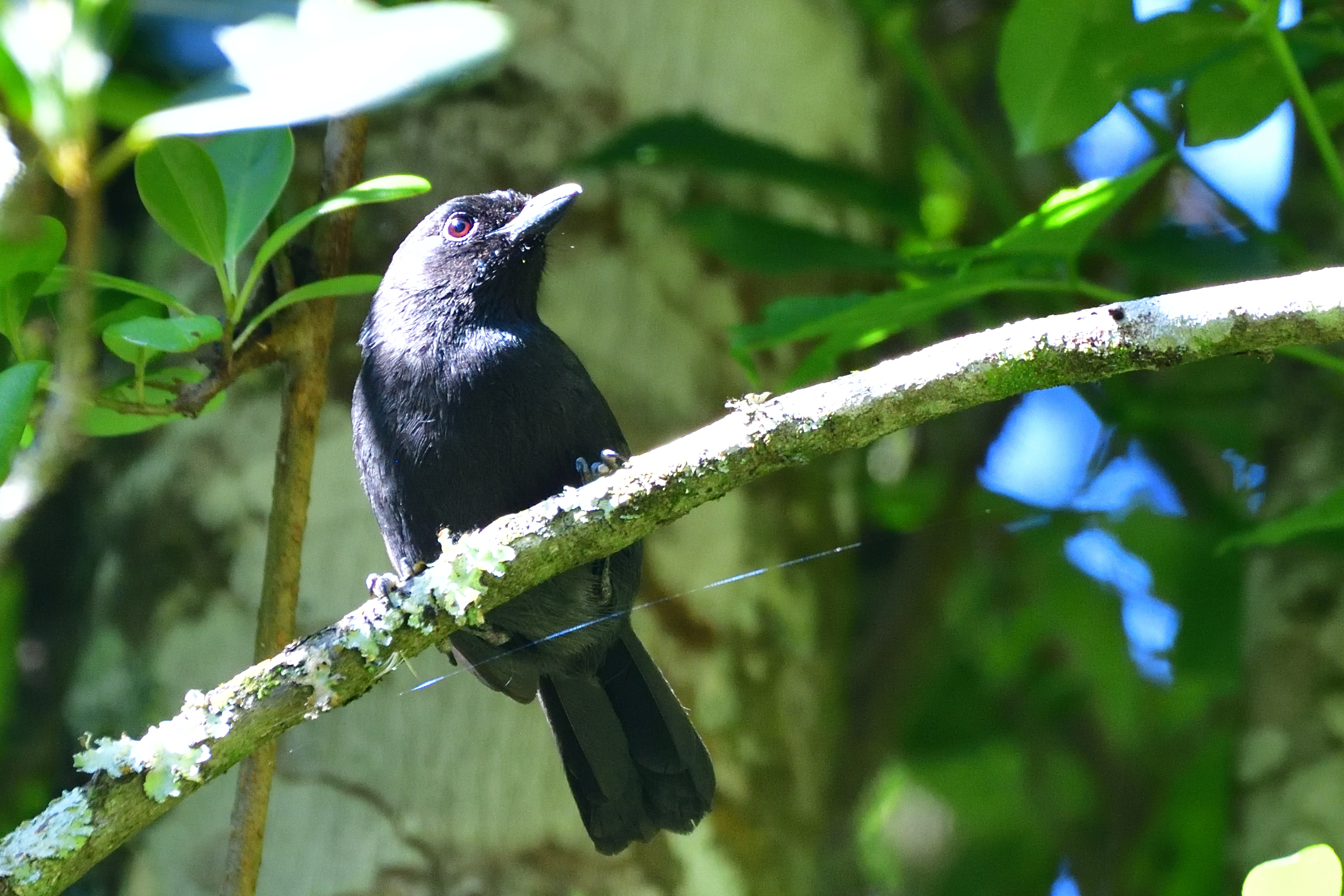 Fülleborn´s Boubou, Laniarius fuelleborni – race usambaricus – Endemic to Eastern Arc Mountains of Eatern Africa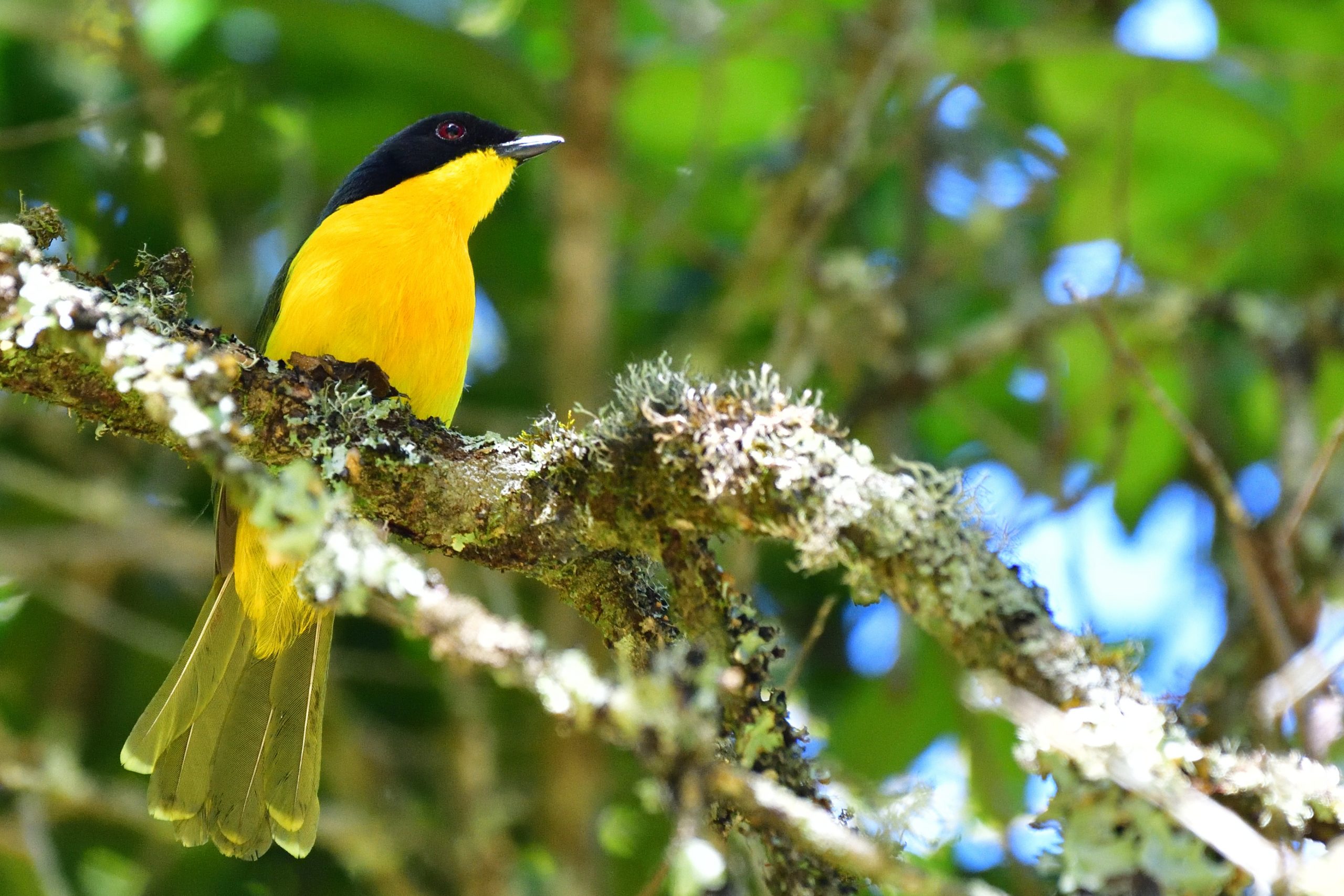 Black-fronted Bushshrike, Chlorophoneus nigrifrons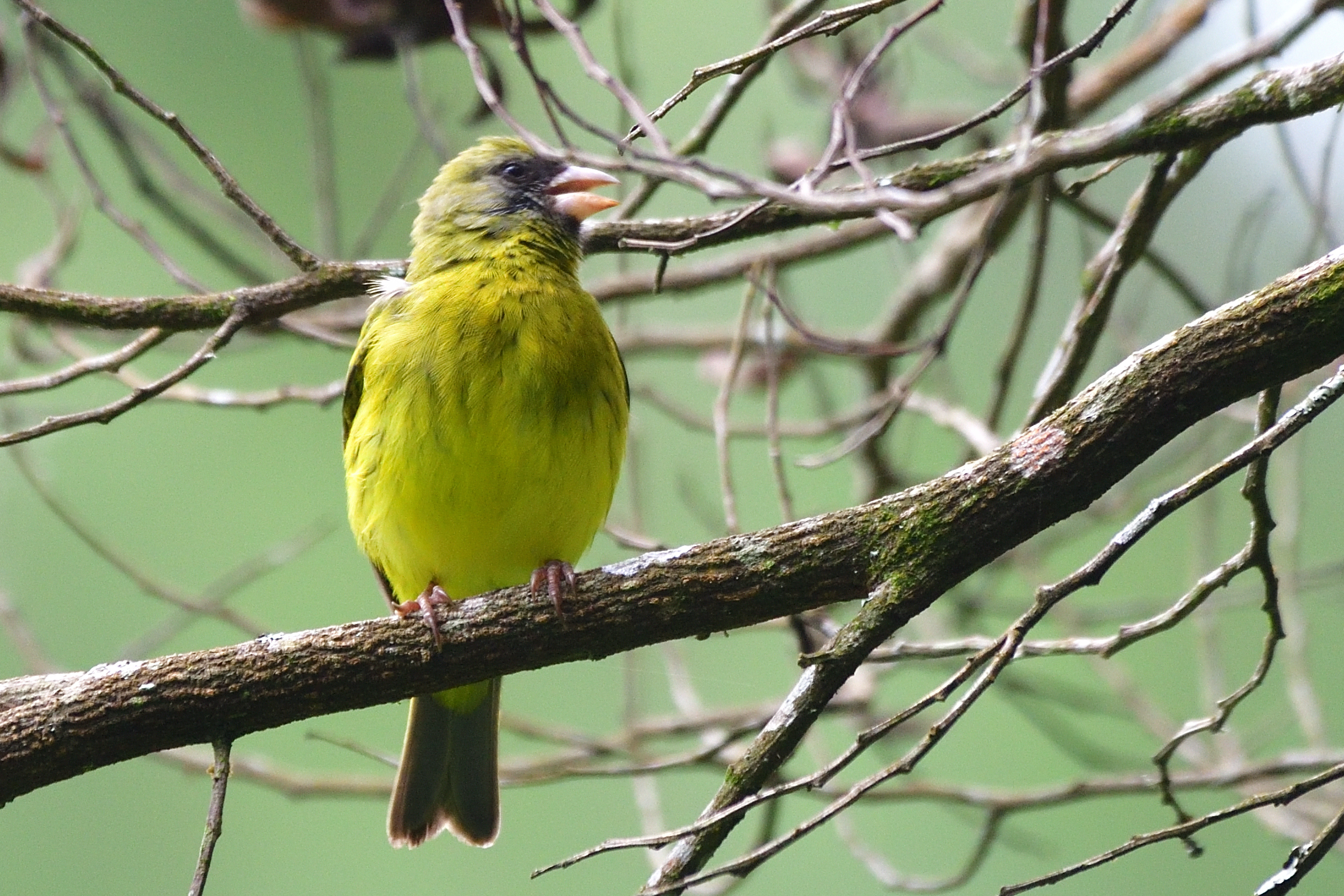 Southern Citril, Crithagra hyposticta – Endemic to SE Africa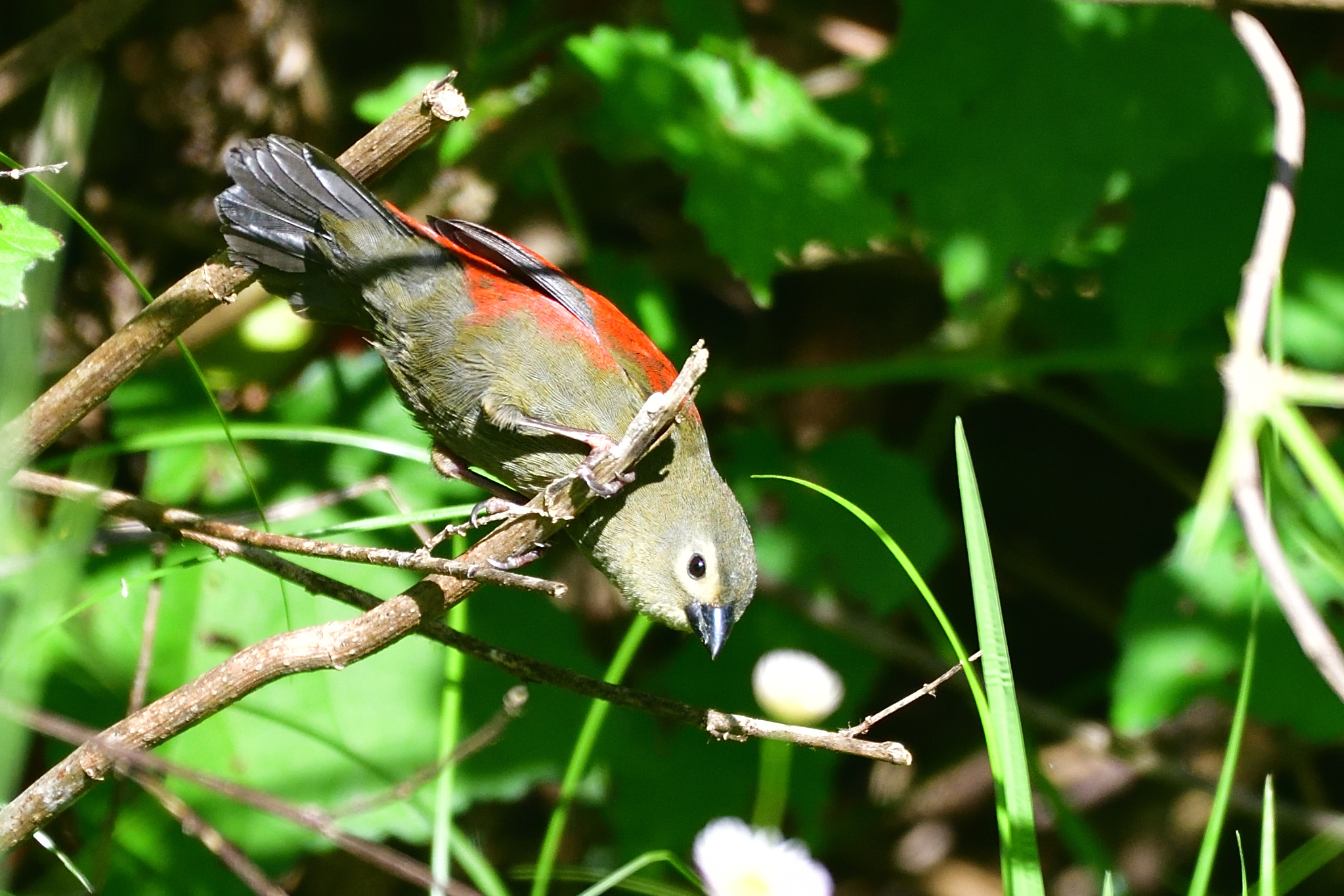 Red-faced Crimsonwing, Cryptospiza reichenowii race australis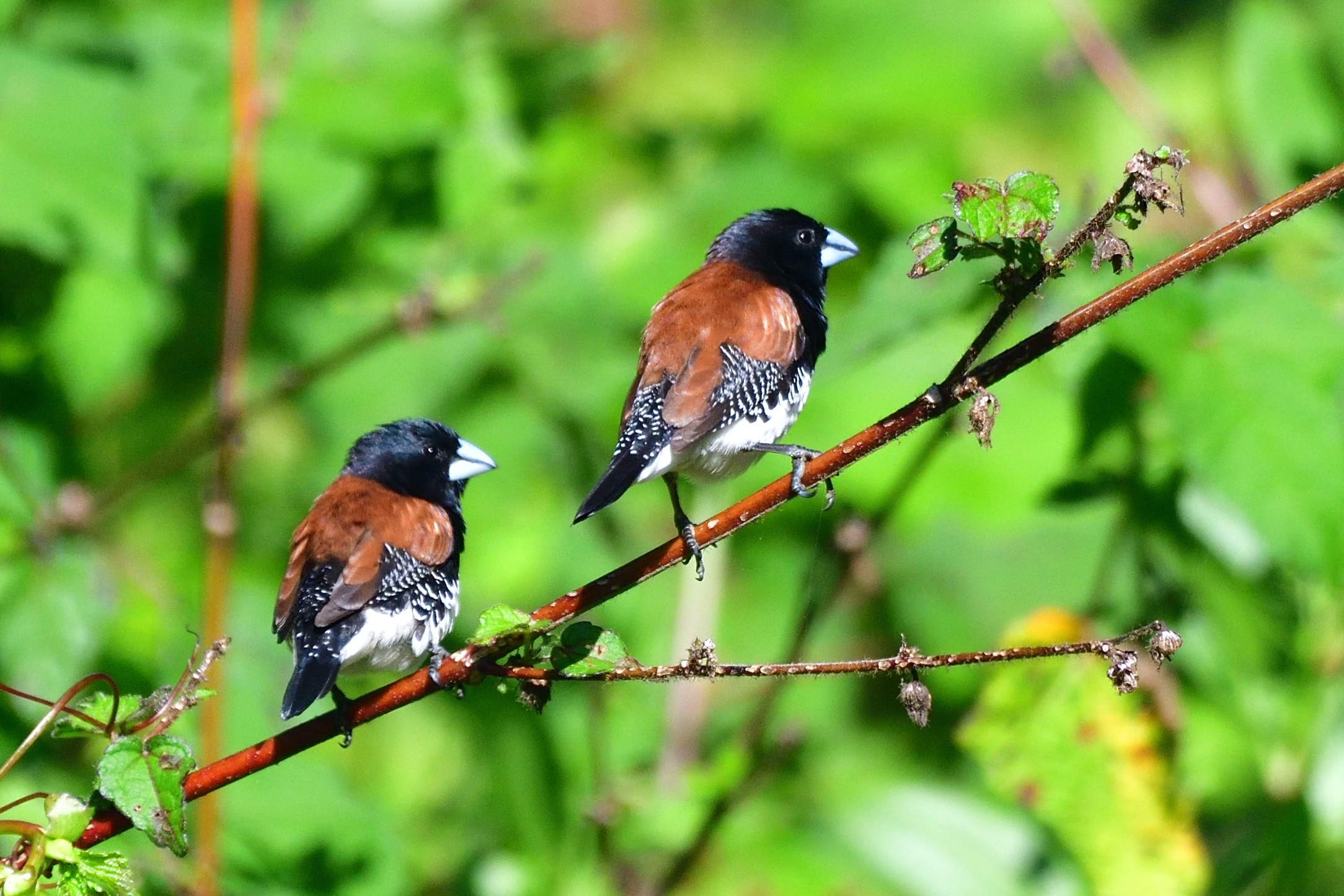 Red-backed Mannikin, Spermestes nigriceps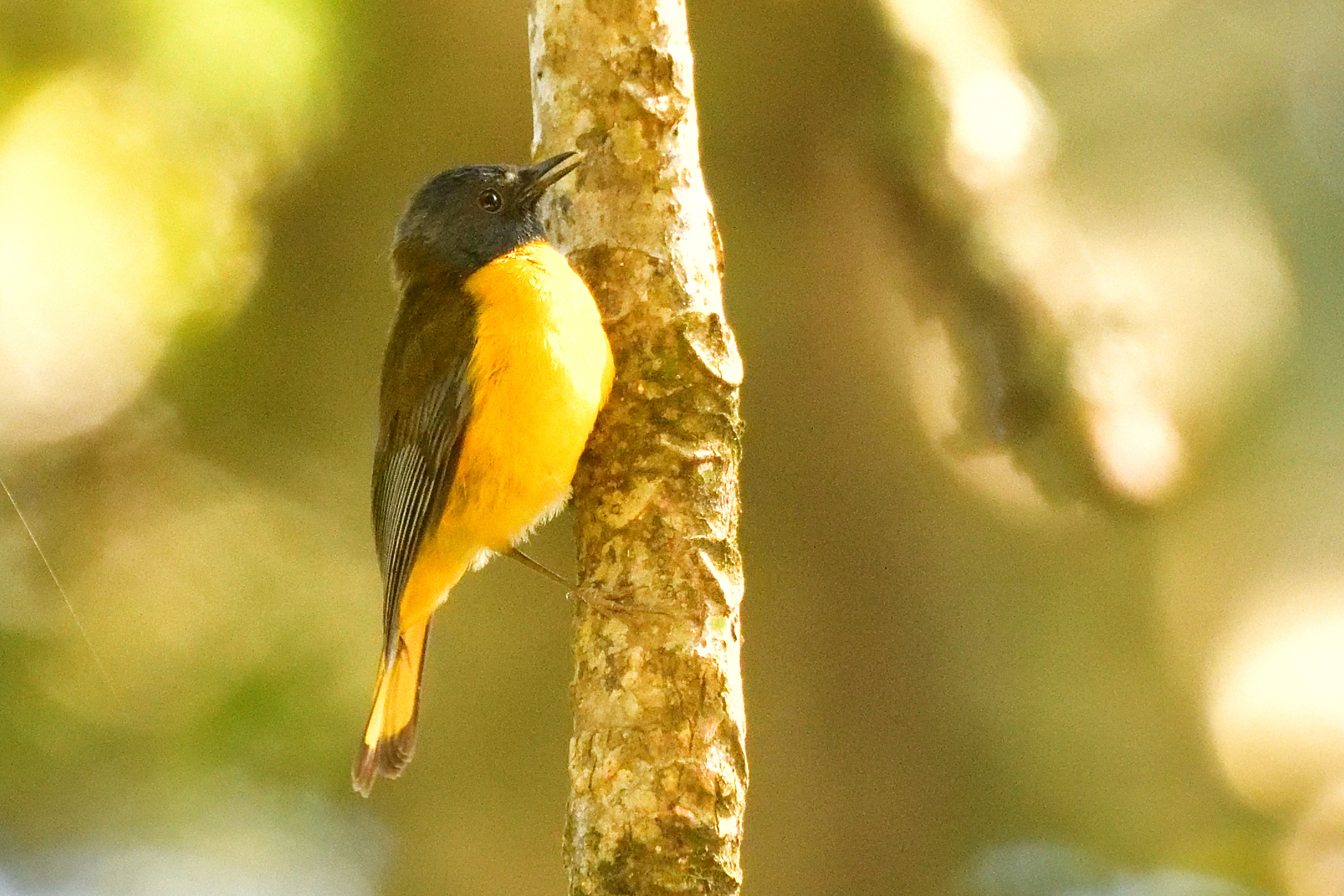 White-starred Robin, Pogonocichla stellata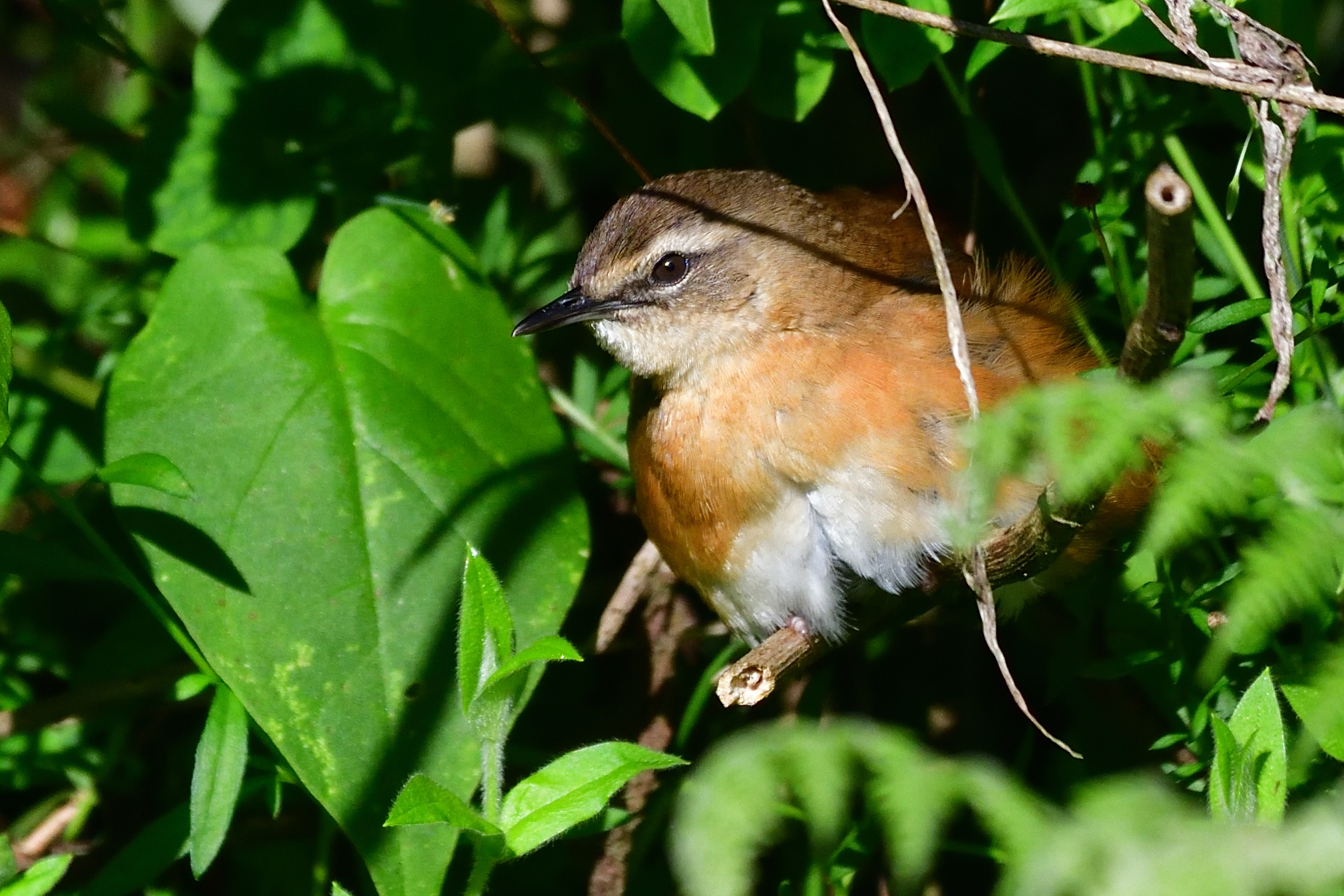 Cinnamon Bracken Warbler, Bradypterus cinnamomeus
Usambara Weaver, Ploceus nicolli – Endemic to Eastern Arc Mountains of Tanzania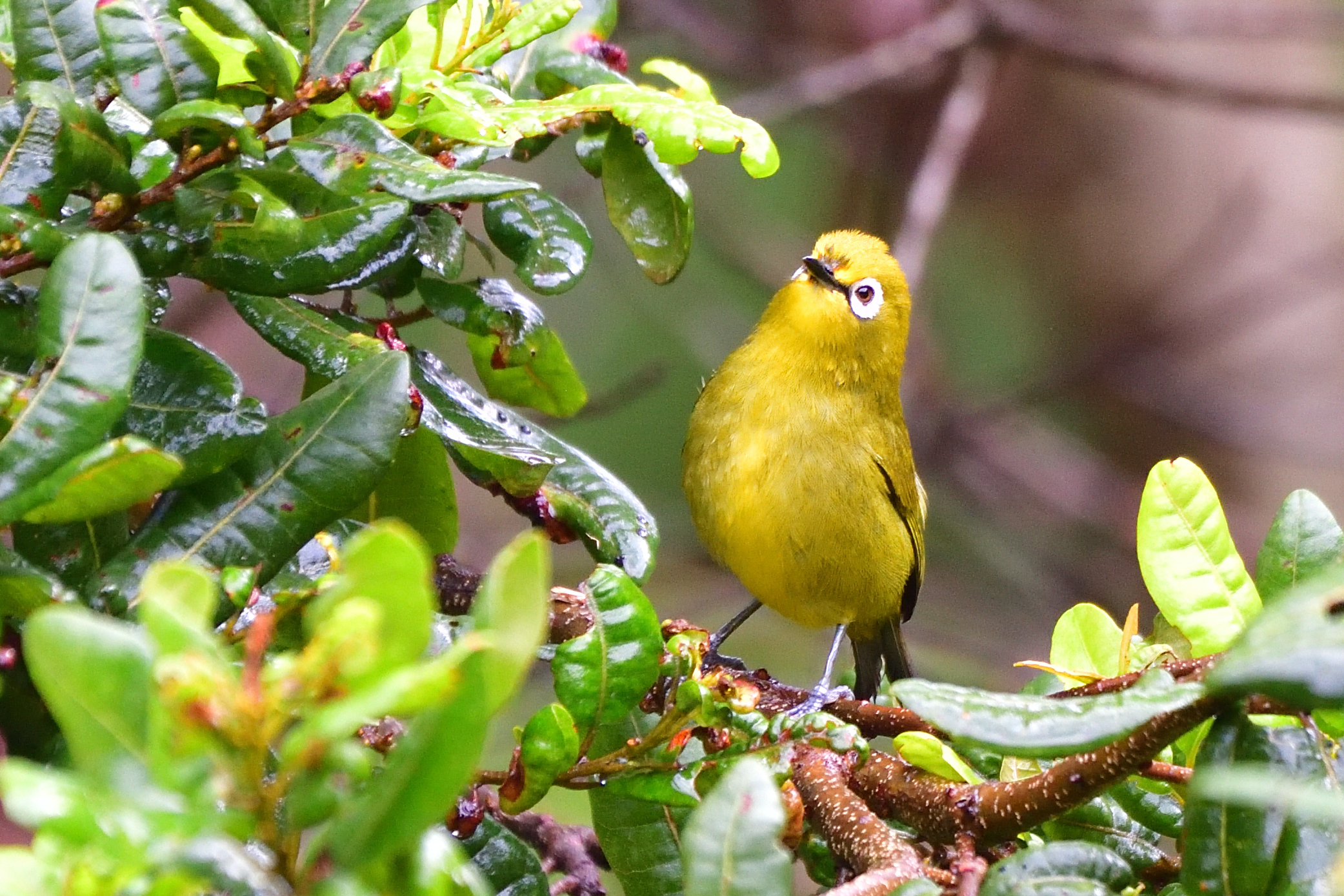 Southern Yellow White-eye, Zosterops Anderssoni – race Stierlingi
Day 6, Friday, January 8 – Magamba Forest West Usambara to Amania Forest East Usambara
This morning we also walked uphill from the camp. White-tailed Crested Flycatcher and a Black-headed Mountain Greenbul was added to the list. We came to where we normally stop, but Abdul and Paul pushed on a little further. I stopped when Abdul came to fetch me. He had discovered an Usambara Akalat. This real skulker even allowed for some photographs. I photographed a Baglafecht Weaver on the way down to camp. By now, we only had one target bird left, the Tiny Mountain Greenbul, so we decided to pack camp after breakfast and continue towards Amani Forest. 
We drove the long drive to Muheza and then the horrible road up to the Amani Forest head quarter. We stopped on the way at the lover part of Amani Forest, but it was very quiet. We continued to the camp and was greeted by Robert, the manager there. After packing out we went for a small walk. Some of the birds registered included: Little Greenbul, Green Barbet, Silvery-cheeked Hornbill, Palm-nut Vulture, White-browed Robin-Chat, White-eared Barbet, Moustached Tinkerbird, Black-bellied Starling, Collared, Variable, Olive and Purple-banded Sunbird, Pale Batis, Green-headed Oriole, Southern Yellow White-eye, African Green Pigeon, Red-rumped Swallow and Waller´s Starling
Some pictures from Day 6: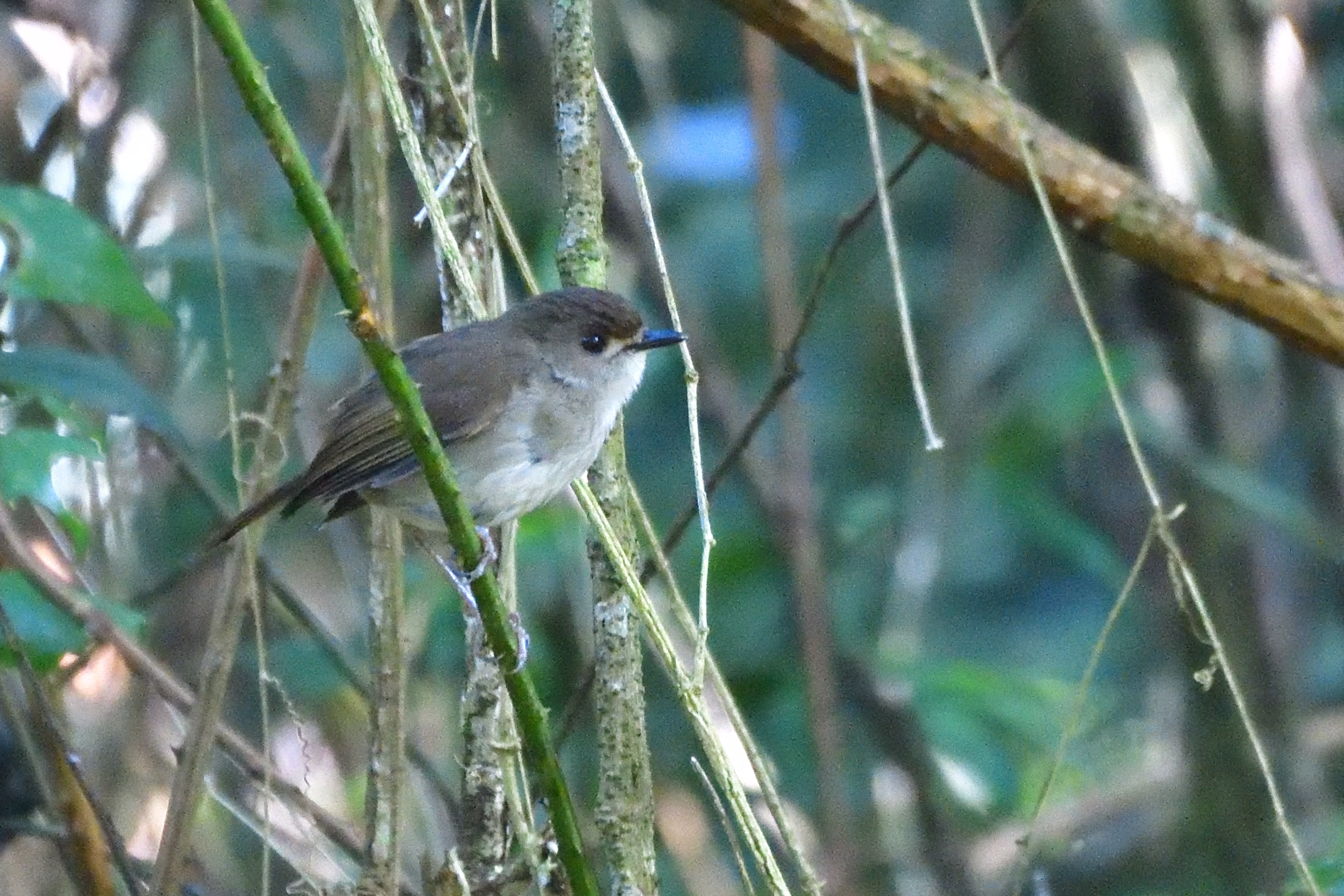 Usambara Akalat, Shepardia montana -Endemic to West Usambara mountains of Tanzania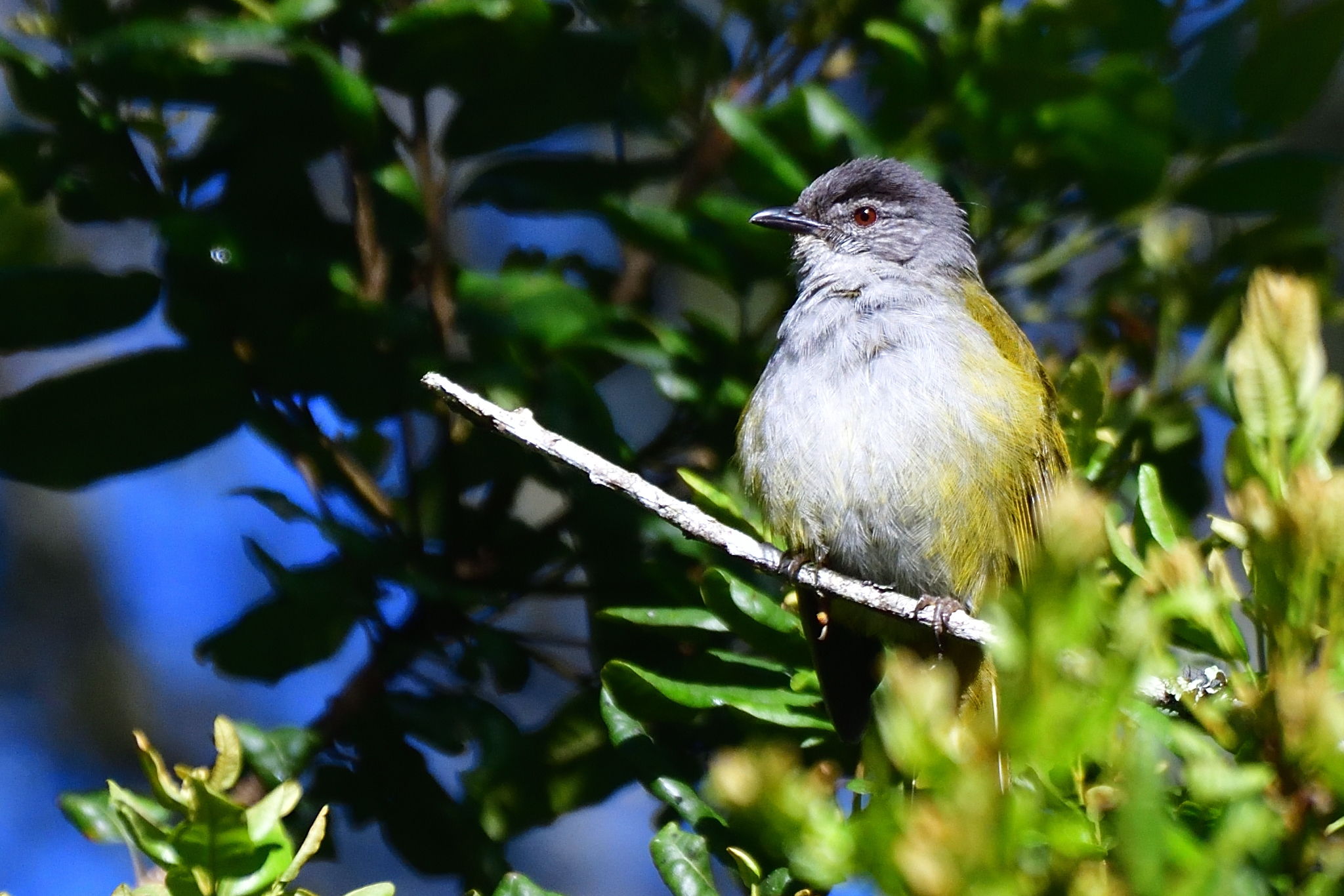 Black-headed Mountain Greenbul, Arizelocichla nigrecips – race usambarae – Endemic to highland forests of S Kenya and N Tanzania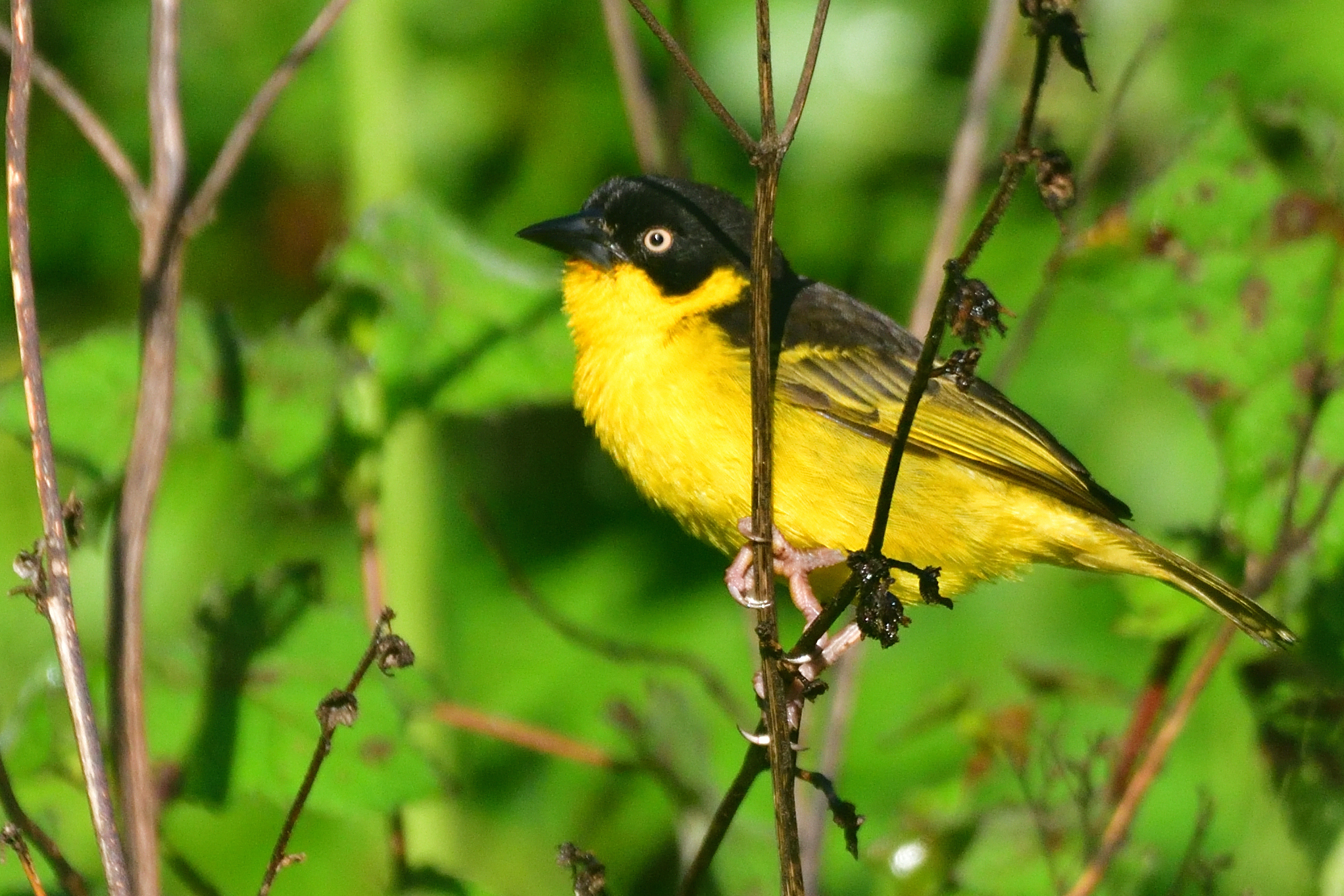 Baglafecht Weaver, Ploceus baglafecht – race reichenowi
Day 7, Saturday, January 9 – Full day in Amani Forest, East Usambara
That morning we were going for some of the biggest targets in Amani. In order to reach the targets habitat, we needed to take my car. On the way up to our destination we saw a Half-collared Kingfisher. We found a lot of logging was going on, so the access road were closed. We were told there was away around and after finding it, we soon found ourself in our target spot. We walked down the normal path and after a long search finally found a couple of Long-billed Forest Warblers. We eventually also found the other target in that area, Kretschmer´s Longbill. This is not an easy bird to photograh since it prefers dense cover. I managed to get a record shot anyway. With two good birds ticked, we got back in the car and drove to the next spot. Here I normally drive up a bit in to the forest and turn the car. Then I walk with my companions before I go and pick up the car and leapfrog them. On the first run, we did not hear or see the bird. We agreed to go a little further up and on the second run, we had good views of Sharpe´s Akalat. I believe Paul even got some descent pictures. With the 3 morning targets in box, we drove the long back to camp for lunch. 
In the afternoon, it was very quiet on our normal route around camp. We had two Black Sparrowhawks in an aerial fight, besides that we only added Green-backed Woodpecker, Mosque Swallow and Yellow-rumped Tinkerbird to our list.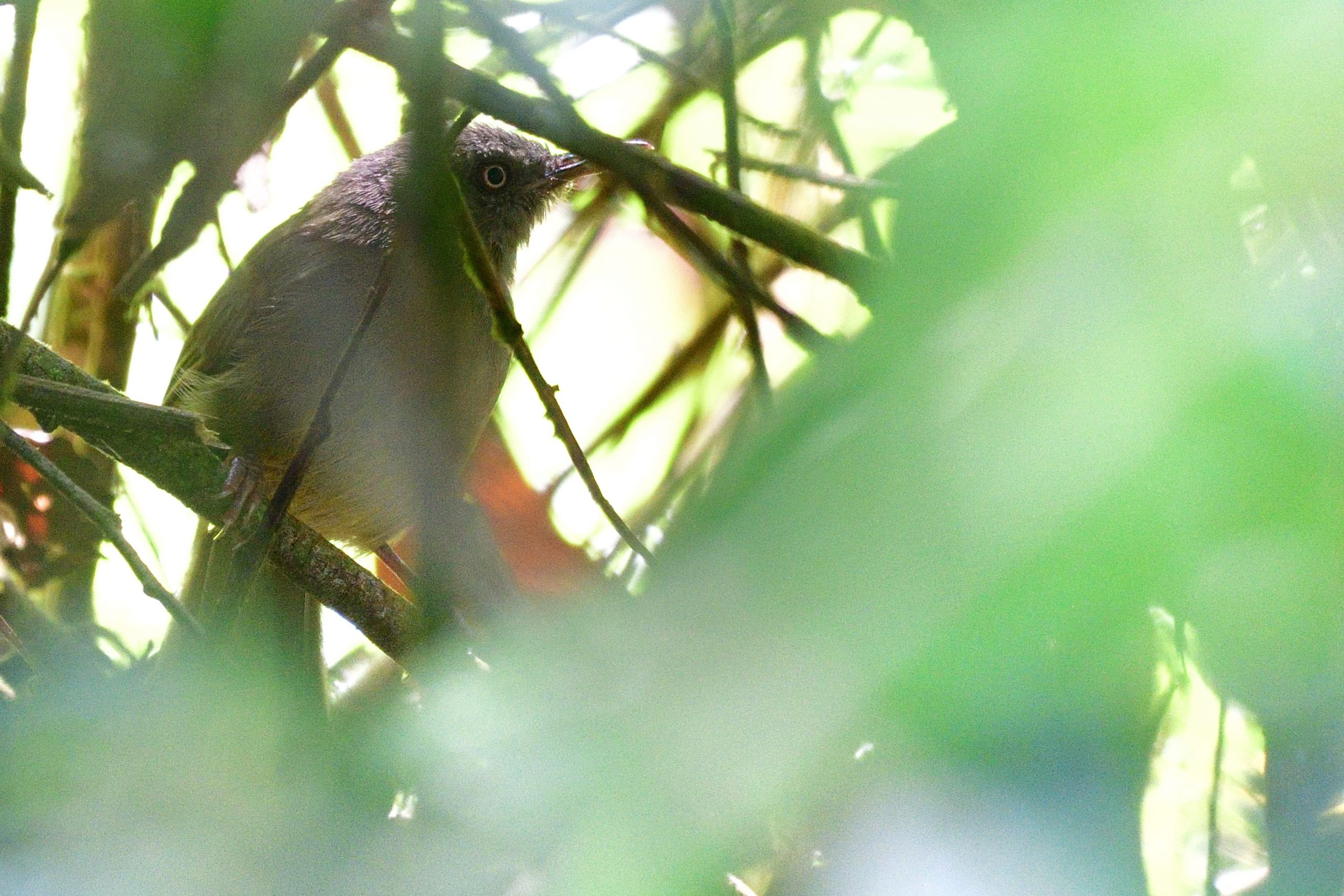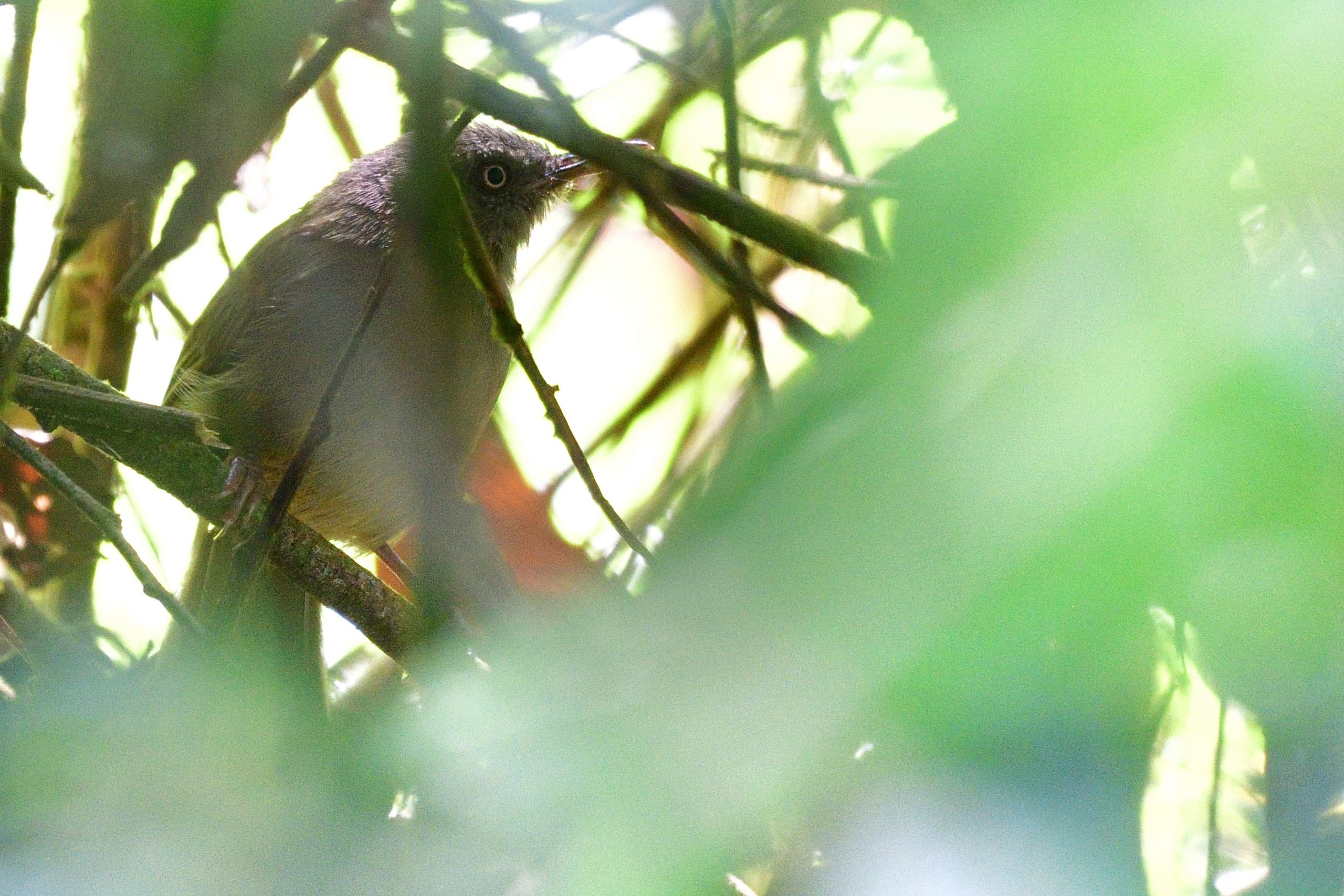 Kretschmer´s Longbill, Macrosphenus kretschmeri – Endemic to coastal SE Africa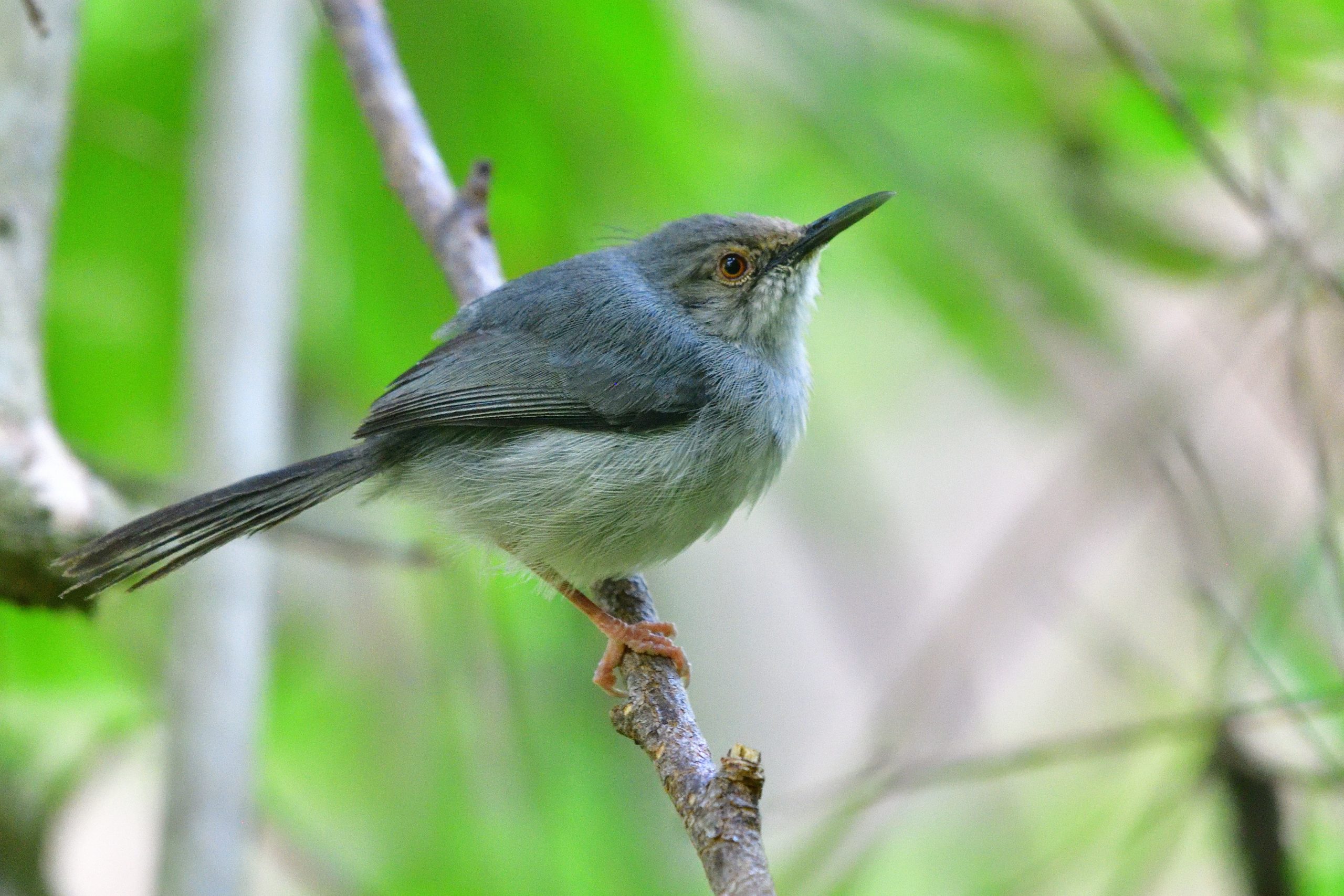 Long-billed Forest Warbler, Artisornis moreaui – Endemic to E usambaras, TZ and Sierra Jeci, N Mozambique
Day 8, Sunday, January 10 – Full day in Amani Forest.
It was raining this morning, so we did not start birding before around 10:30. it turned out to be a very slow day, possible the slowest day I have ever had in Amani forest. We drove a little up from the headquarters towards Emau-Hill. Some of the birds recorded: Singing Cisticola, African Emerald Cuckoo, Yellow-streaked Greenbul, Fischer´s Turaco and Crowned Eagle. We drove back to camp and did a little walk before lunch: Long-crested Eagle and finally an Uluguru Violet-backed Sunbird were recorded. After lunch, also very quiet, but in the end we could finally add Banded Green Sunbird to our list.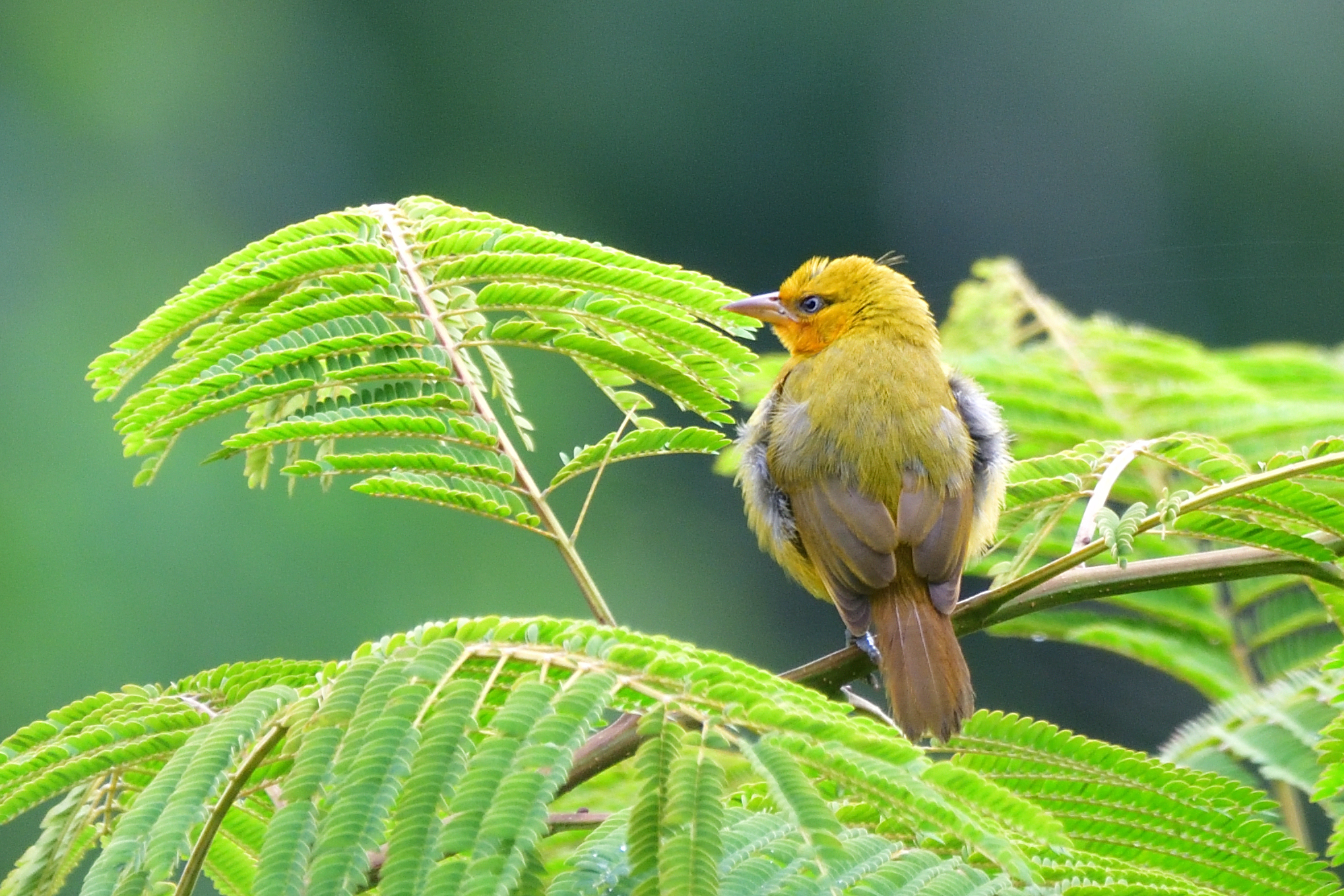 Spectackled Weaver, Ploceus ocularis
Day 9, Monday, January 11 – Amani Forest – Kiligolf
Time for departure, but as always we stop on the lower slopes of the Amani Forest. Before we departed we heard the call of an African Broadbill near camp. The lower area was also very quiet. We walked slowly down the road and very few birds were to be heard or seen: Eastern Nicator, Green-headed Oriole, Olive Sunbird, Red-throated Twinspot, Green-backed Woodpecker, Black Sparrowhawk and Speckled Pigeon. We had parked the Landy were we departed and Selvine came down to pick us up. Well, we got most of our target birds in Amani, but it was extremely hard work and never ever have we struggled so much to find our targets. Normally, we do stop in Same for the night on our way back, however we had gotten all the target birds in the Same area, so we decided to drive all the way back to Kiligolf. We arrived there late afternoon.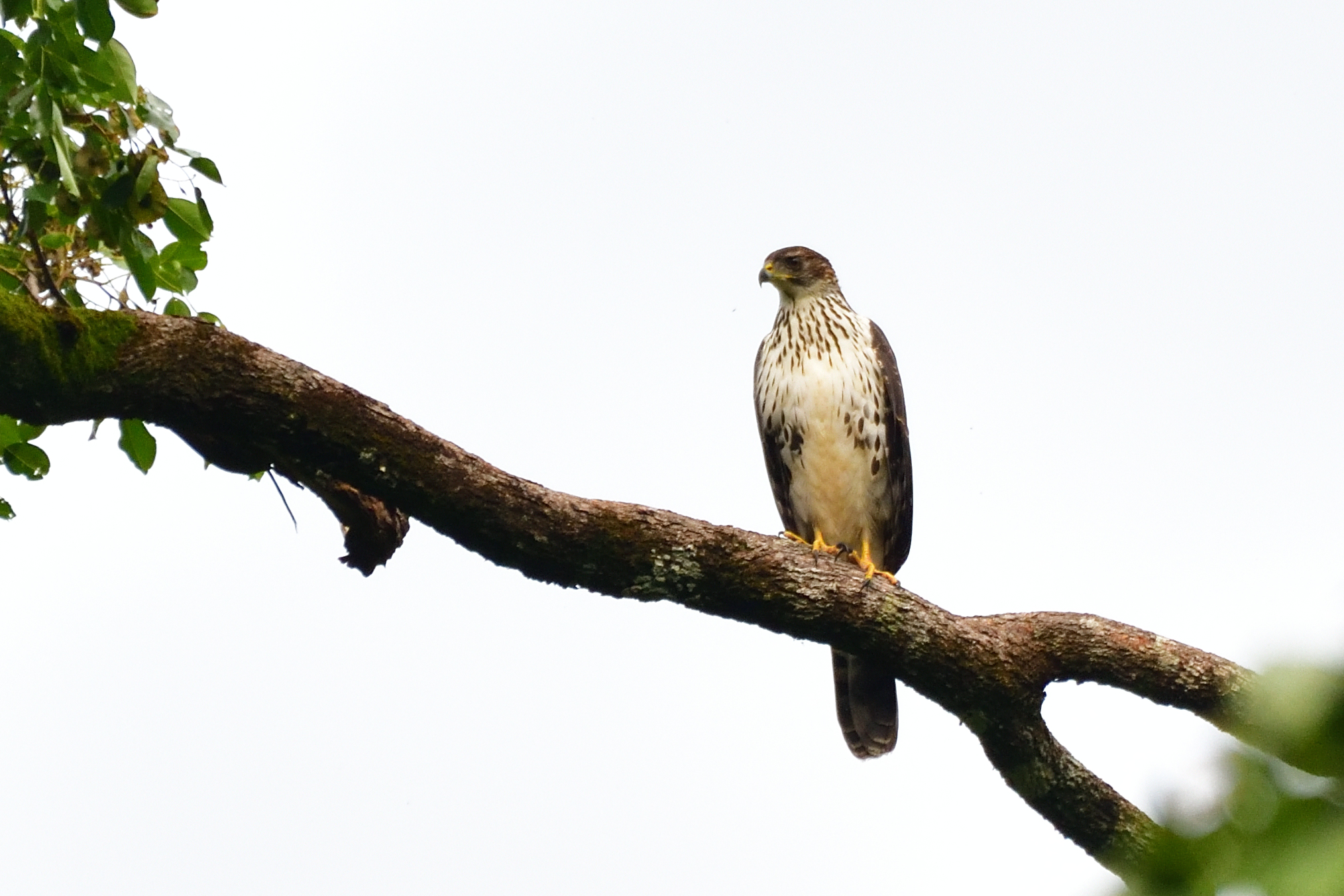 Black Sparrowhawk, Accipiter melanoleucus
Day 10, Tuesday January 12 – Kiligolf to Tarangire National Park – Nanja – Kiligolf
We left early in the morning heading for Tarangire National Park. We have a normal stop just before the gate for the Rufous-tailed Weaver. We stopped and also added Abdim´s Stork, White-headed Buffalo-Weaver, Silverbird, Red-billed Buffalo-Weaver, Blue-capped Cordonbleu and Striped Kingfisher. We continued to the gate and while I was organising entrance fee, Paul and Abdul took a little walk and recorded Yellow-collared Lovebird, Gabar Goshawk, Ashy Starling, Red-necked Spurfowl, Mourning Collared Dove, Red-billed Oxpecker and Eastern Grey Woodpecker. We were soon on our way and started ticking common birds: Magpie Shrike, White-bellied Go-away-bird, Northern Red-billed Hornbill, European Roller, Green Wood Hoopoe, Red-and-yellow barbet, Foxy Lark, Harlequin Quail, White-winged Widowbird, Winding and Zitting Cisticola, Brubru, Black-faced Sandgrouse, D`Arnaud´s Barbet, Speckle-fronted Weaver, African Hoopoe, Double-banded Courser, Blue-cheeked Bee-eater and Senegal Lapwing. We spent some time with the Bee-eaters and Lapwings. Paul needed a Black-winged lapwing. I tried as har as I could, but i could not turn any of the Senegal into Black-winged. We continued on our normal loop and registered among others: Long-crested Eagle, Bare-faced Go-away-bird, Verreaux´s Eagle-Owl, Yellow-necked Spurfowl, Bateleur, White-backed Vulture, Greater Honeyguide, Southern Ground Hornbill, Red-faced Crombec, Grey-headed Silverbill, Black-necked Weaver, Abdim´s Stork, Swahili Sparrow, Common Ostrich and Black-headed Oriole. We had now reached our picnic spot and relaxed half an hour to enjoy the fantastic lunch that Selvine had prepared for us. After lunch we headed for the Little Serengeti part of Tarangire as we always do. Some of the birds recorded: Von der Decken´s Hornbill, White-bellied Bustard, Northern Pied babbler, Isabelline Wheatear and Buff-crested Bustard. Then, we stopped for a Warthog mama and a baby crossing the road. Out of nowhere a lioness started chasing the baby. It drove it to a bush where a second lioness grabbed it. Then the little pig was fed to two teenager lions. quite something to experience a kill like that. We continued towards the gate and picked up Lesser Kestrel, Fischer´s Sparrow-Lark, Meyer´s Parrot, Black-bellied Bustard, Northern Wheatear, Crested and Coqui Francolin and Red-tailed Shrike. We were back at the gate around 3:30PM and had some extra time. Abdul and I had seen Black-winged Lapwing at the dam near Nanja on the way back. However, they were nowhere to be seen. We picked up African Swamphen, Lesser Flamingo and Hottentot Teal at the Dam before we started our journey towards Kiligolf. I used both my Nikon D810 and D850 on this trip. My D810 out of the goodness of my heart, I had lent to someone else for a month time. Of course i never checked the settings when I got it back. It turned out that whoever borrowed my D810 had changed the quality from RAW to JPG and never set it back to its original settings, so many of my pictures on this trip and my next trip was unfortunately taken in JPG format. Moral of the story, do not lend out your camera gear!
Some pictures from Day 10: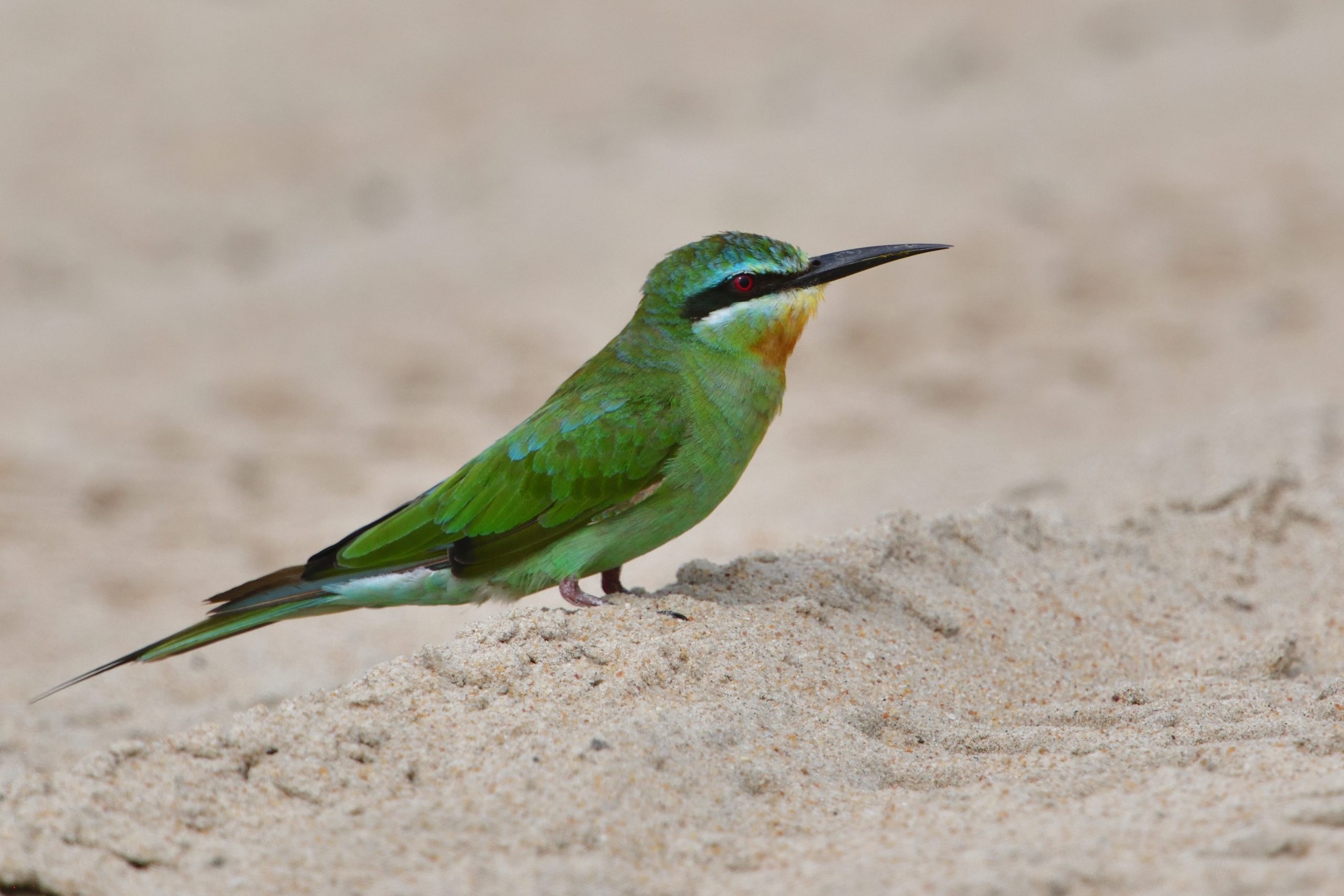 Blue-cheeked Bee-eater, Merops persicus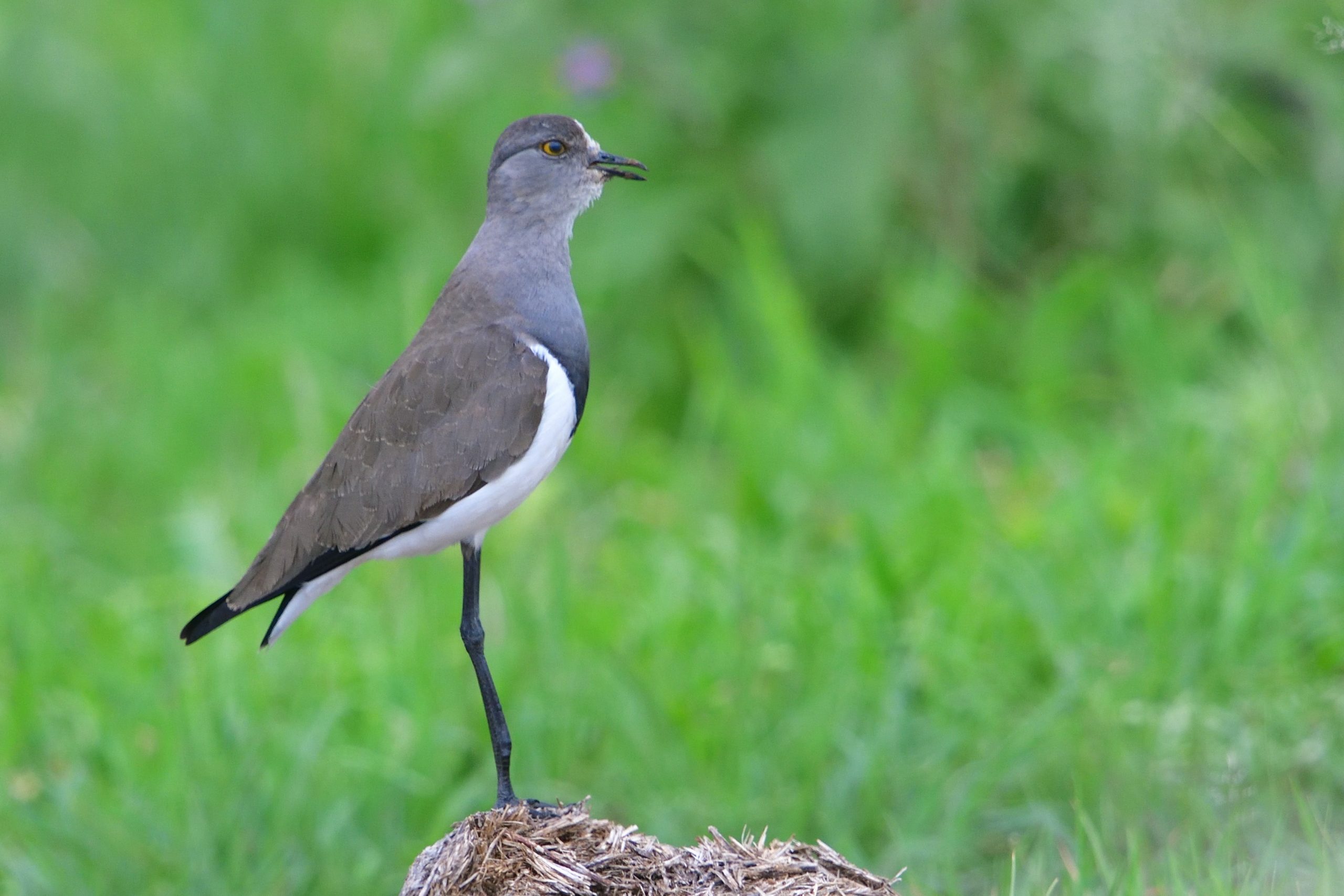 Senegal Lapwing, Vanellus lubugris
Double-banded Courser, Rhinoptilus africanus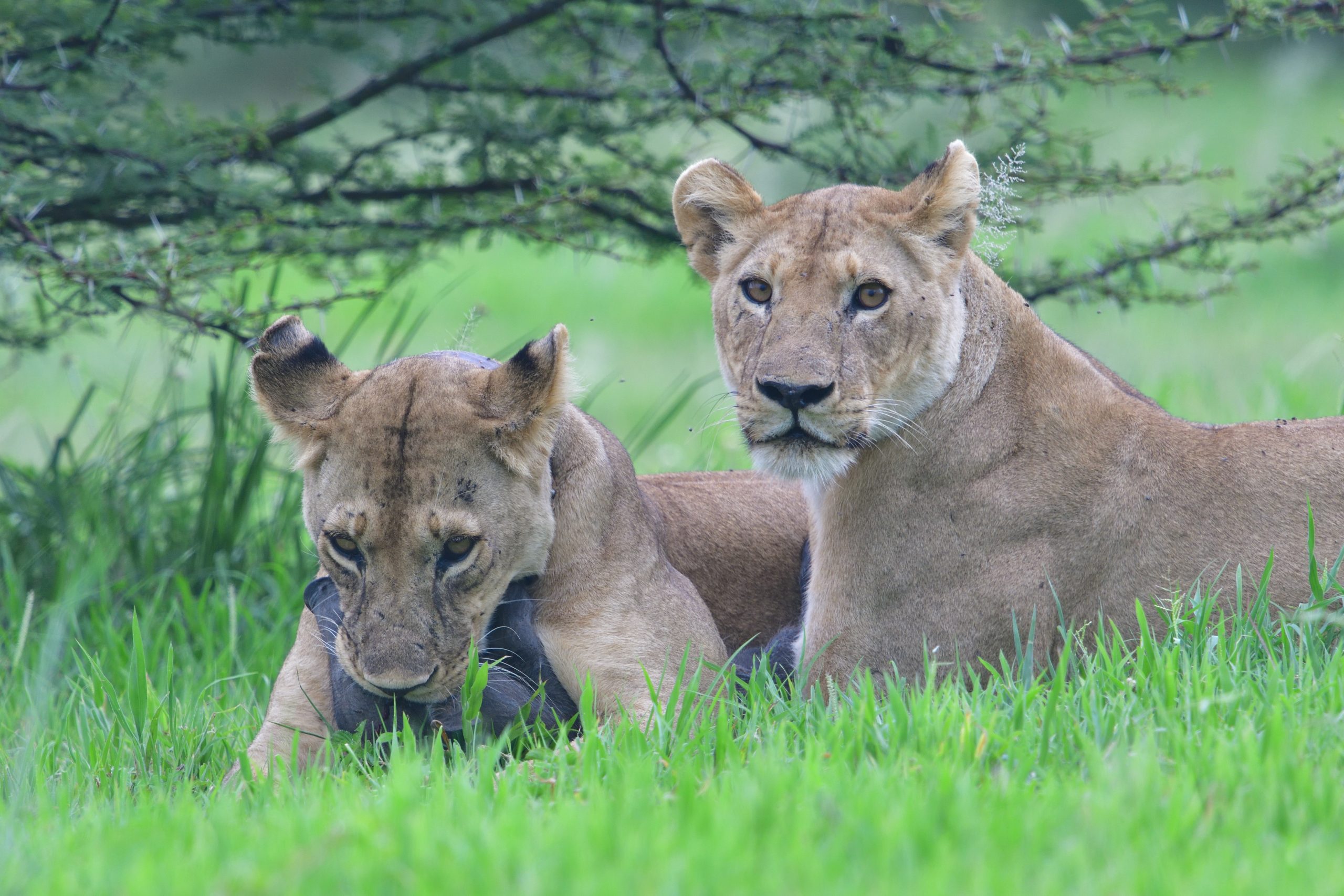 Two young Lions enjoying a baby Warthog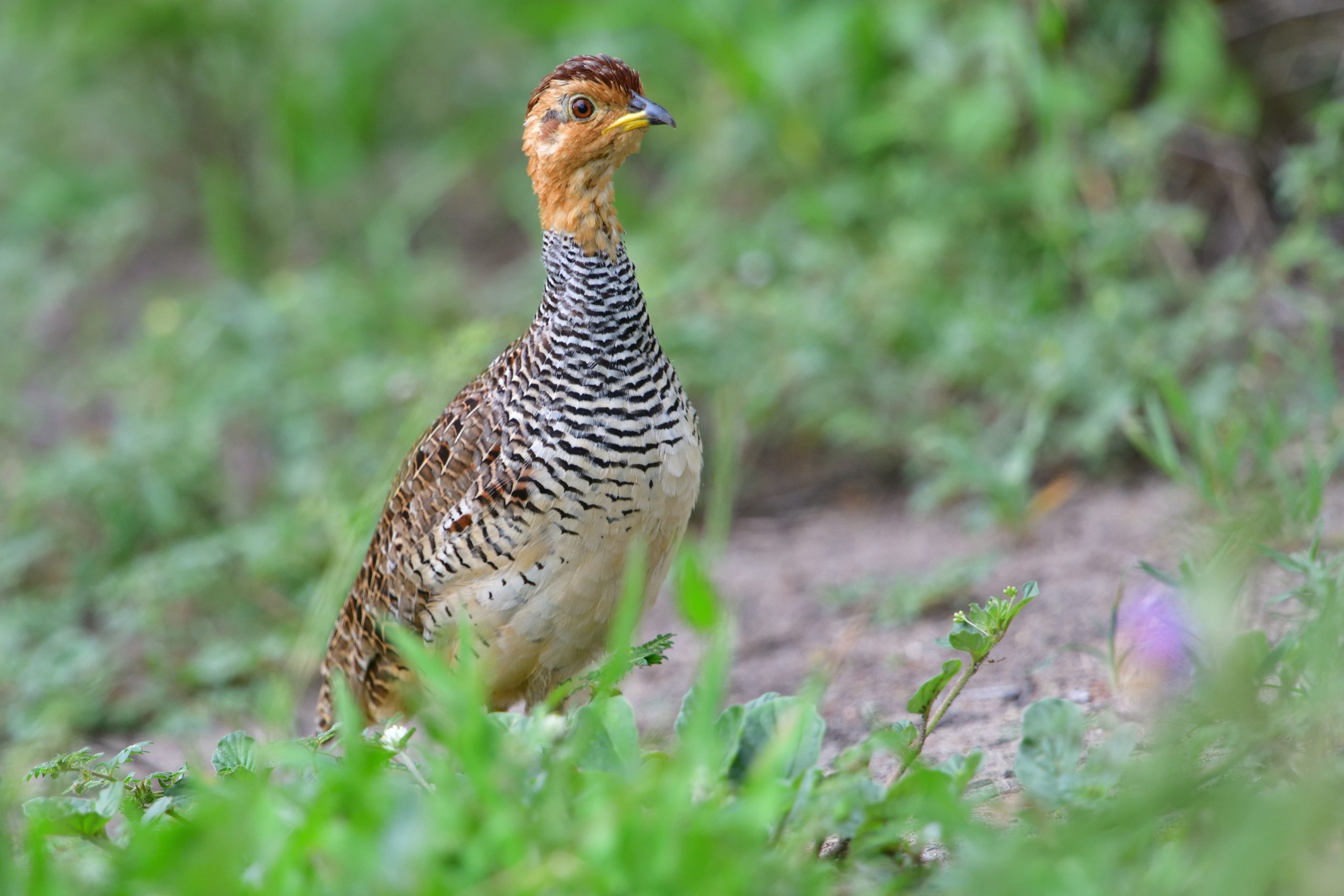 Coqui Francolin, Peliperdix coqui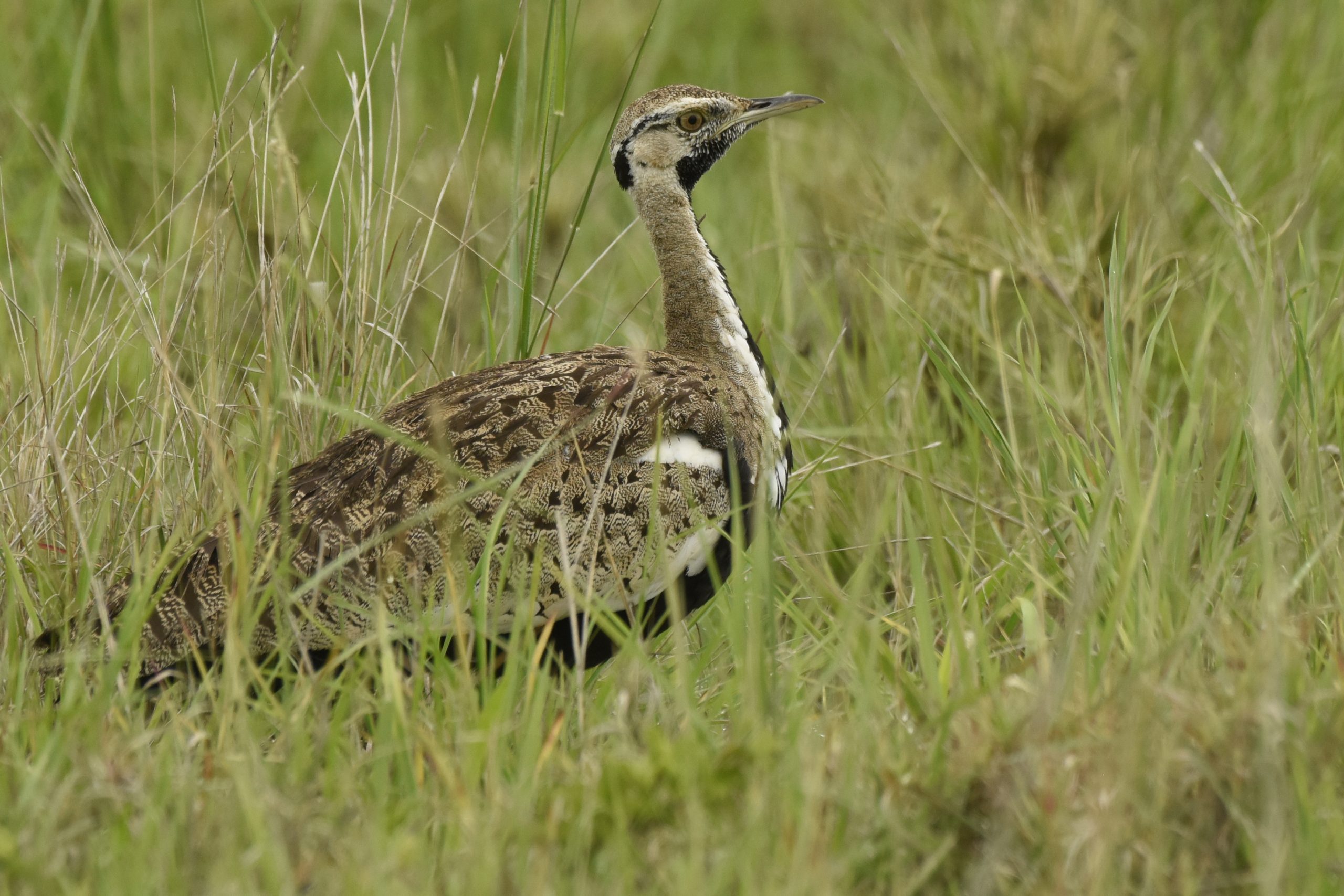 Black-bellied Bustard, Lissotis melanogaster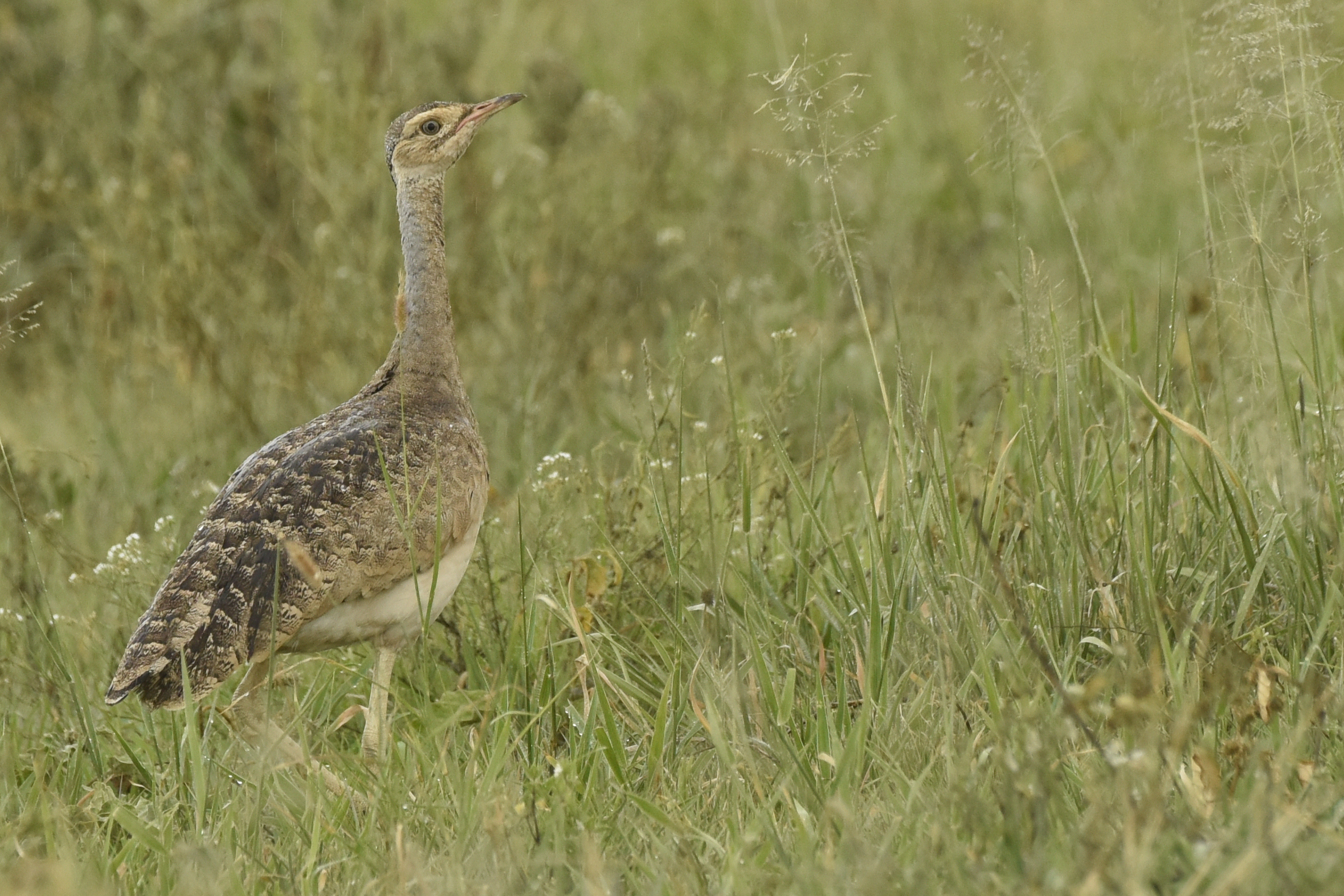 White-bellied Bustard (female), Eupodotis senegalensis
Yellow-necked Spurfowl, Pternistis leucoscepus – Endemic to NE Africa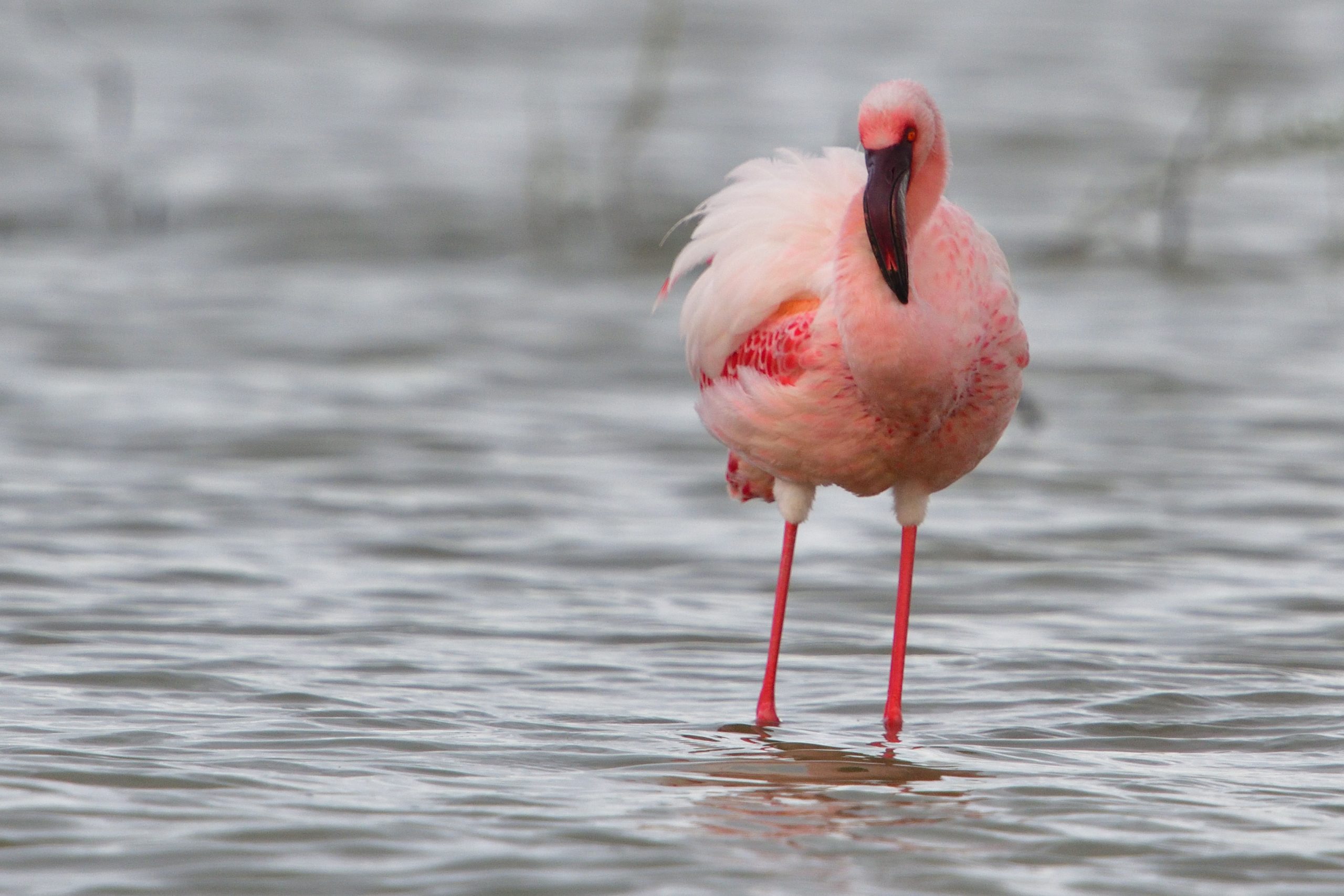 Lesser Flamingo, Phoeniconaias minor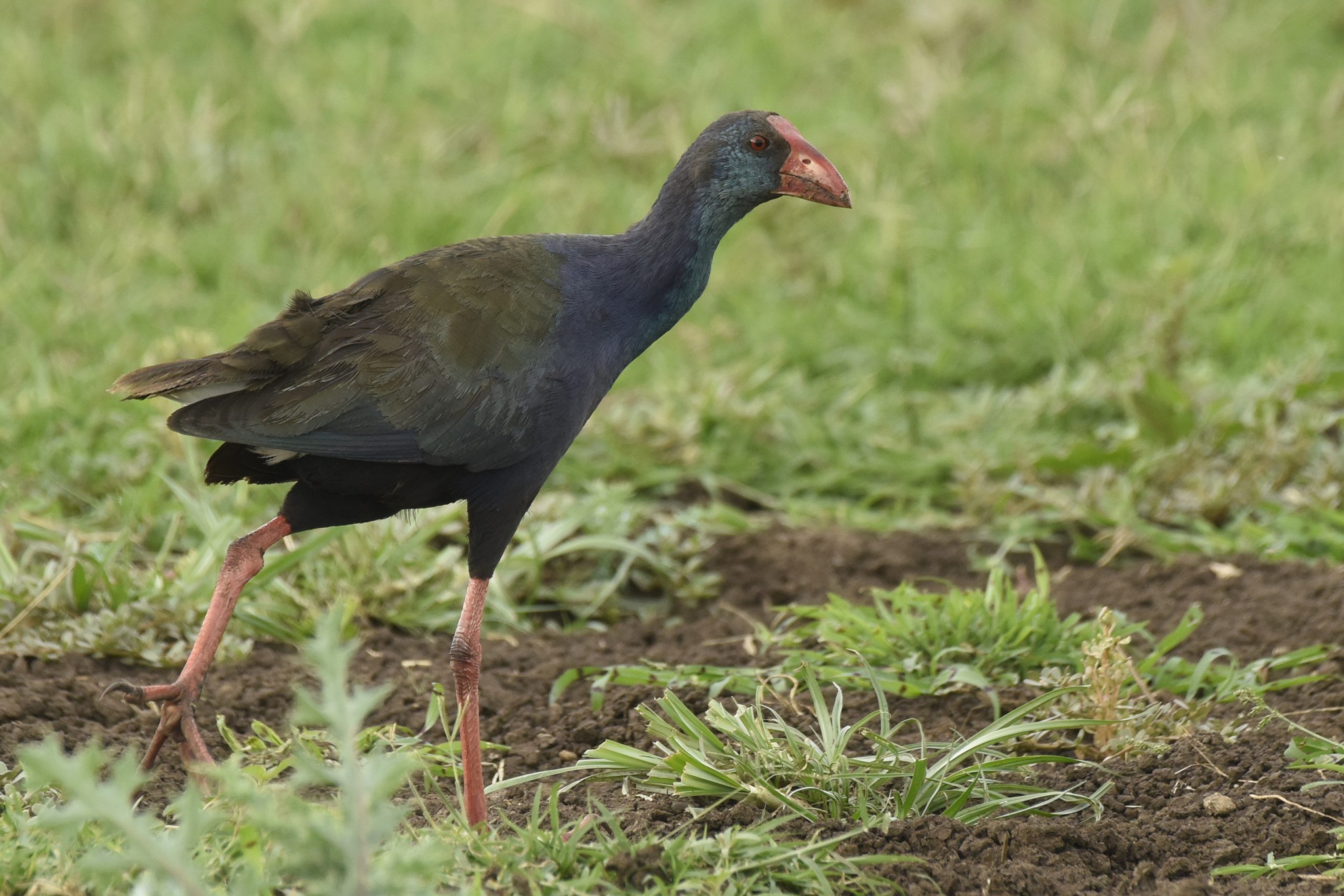 African Swamphen, Porphyrio madagascariensis
Day 11, Wednesday, January 13 – Kiligolf – Lark Plains, Oldonyo Sambo – Lake Duluti
We now had two full day destinations left with Paul. Dark clouds had been hanging over Mount Meru for a while, but it looked like the day after would be better for Arusha National Park. We therefore decided to visit the Lark Plains at Engikaret this day. The drive is quite swift and as we pulled off the road, we started ticking birds: Taita Fiscal, Rock Kestrel, Eurasian Hobby, Foxy Lark, Rosy-patched Bushshrike, Beautiful Sunbird and Red-capped Lark before we stopped the car. We could see Saruni, the Masai and his friend out on the plains, but first we took picture of a very obliging Banded Parisoma singing from a bush right next to the car. We walked out to the Masais and sure enough they had already located our main target, the Beesley´s Lark. (A recent study show that there are possible as few as less than 50 left of this endemic bird). After having bagged the Beesley´s, Abdul picked up a pair of Short-tailed Larks. Back at the car, we had breakfast. After that we drove slowly towards Saruni´s Boma. The usal suspects were added: Chestnut-bellied Sandgrouse, Red-fronted Prinia (Warbler), Black-necked Weaver, Northern Wheatear, Abdim´s Stork, Namaqua Dove, Yellow-bellied Eremomela, Mouse-coloured Penduline Tit, Ashy Cisticolas and Southern Grosbeak Canary. We parked the car and started walking in the dry Acacia Forest next to Saruni´s Boma. This is a very productive area: African Hoopoe, Black-chested Snake Eagle, Eastern Chanting Goshawk, White-bellied Canary, White-bellied Go-away-bird, White-headed Buffalo-Weaver, Chestnut Sparrow, Grey-capped Social Weaver, Crested Francolin, Red-and-yellow Barbet, Red-fronted Barbet, Brubru, Abyssinian Scimitarbill, Red-throated Tit, an overflying Rüppel´s Vulture, Pallid Harrier, Yellow-breasted Apalis, Pygmy Batis,  Kori Bustard, Buff-bellied Warbler and Fischer´s Sparrowlark were some of the birds recorded. Our next stop were as always Oldonyo Sambu, A Masai village closer to Arusha. This bird rich area is like birding on a garbage dump, but once you get further away from the village it gets cleaner. The target there is Lyne´s Cisticola and Schalow´s Wheatear. Both normally easy to find if you know where to look. On the way to the site we found amongst others: White-necked Raven, Common Rock Thrush, Variable Sunbird, Southern Grosbeak and White-bellied Canary, Kenya Sparrow, Blue-capped Cordonbleu, Brown-throated Martin, Scarlet-chested Sunbird and Long-billed Pipit. We were now at the spot for the Lyne´s. With some patience it soon posed nicely for us. As a bonus, we got the Scalow´s Wheatear and Northern Fiscal while waiting for the Lyne´s.  Both targets in box, we started our way back to the car. Paul also needed Fischer´s Lovebird and we happened upon a flock of them. They did not pose nice, but I believe Paul at least got some record shots. Other new birds for the site we registered on the way back to the Landy included White-fronted Bee-eater, Eastern Chanting Goshawk, Red-and-yellow Barbet, Abyssinian Scimitarbill, African Grey Woodpecker, Hildebrandt´s Starling, Marico Sunbird, Chestnut Sparrow and Red-tailed Shrike. It was now 2PM and time for lunch. We took our chairs out and had our lunch in the middle of a bustling Masai village. After lunch, we went towards the last stop of the day, Lake Duluti. Just before the lake, we took a right turn. Abdul has a spot there which is very productive for the Grey Olive Greenbul. Sure enough, the bird gave us good views. At Lake Duluti, there is always a breeding colony of Taveta Weavers. Before we could sit down, the resident Monitor Lizard needed to depart. Once seated we were entertained by several Taveta Weavers and also a Thick-billed Weaver came to visit us. After a highly successful day we returned to my home and Selvine´s cooking. Just before we reached my house, Abdul spotted a Verreaux´s Eagle-Owl.
Some pictures from Day 11: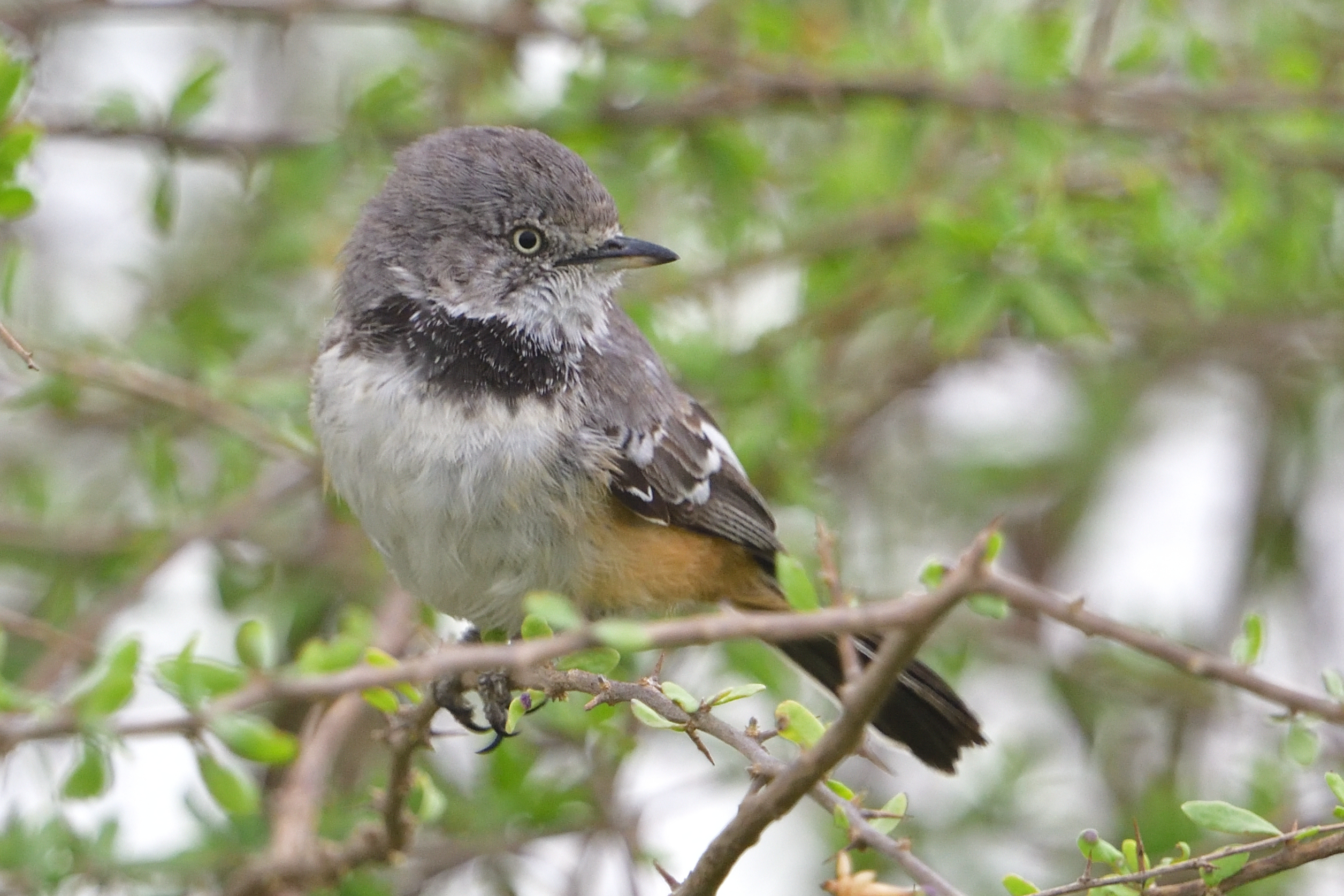 Banded Parisoma, Sylvia boehmi – Endemic to NE Africa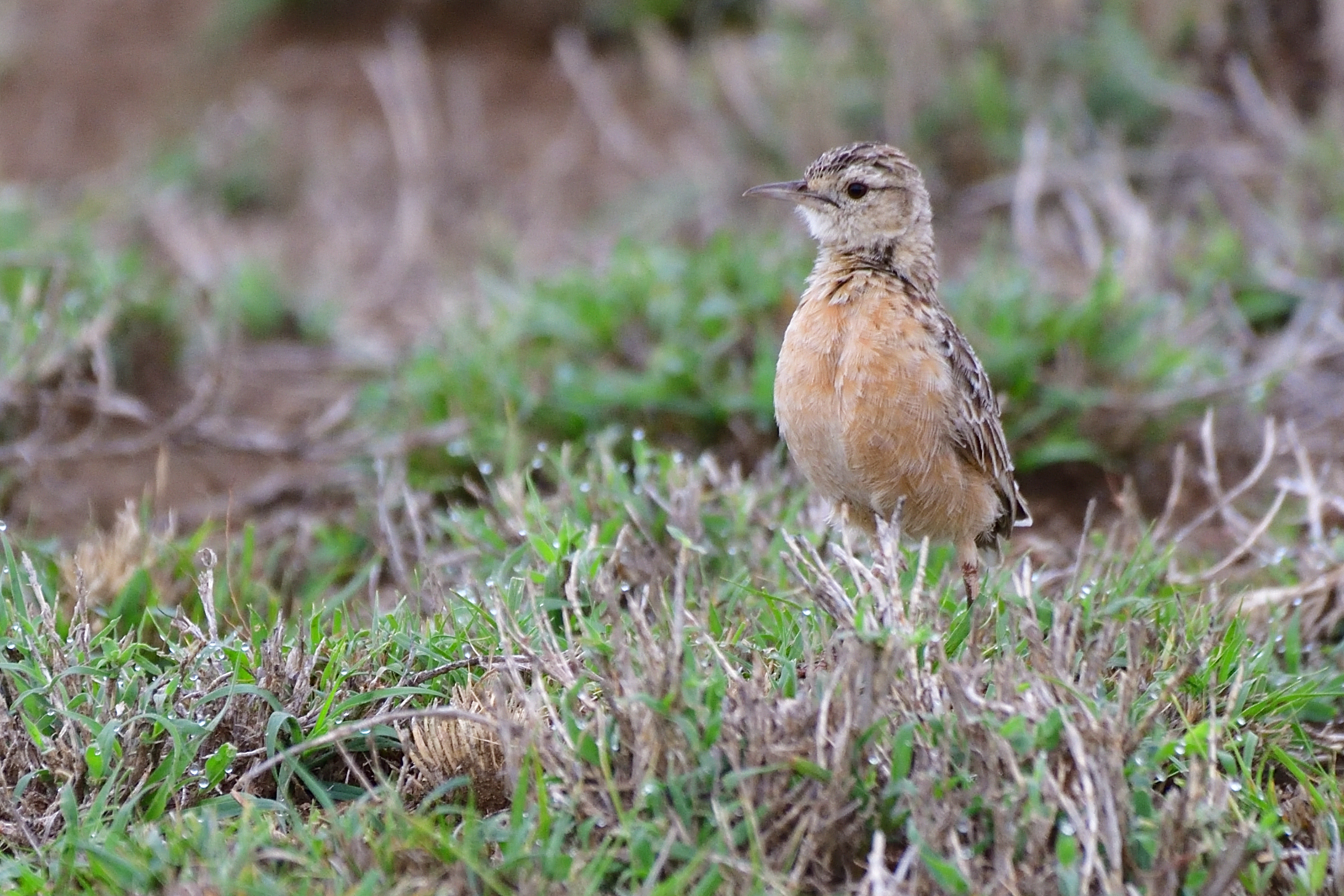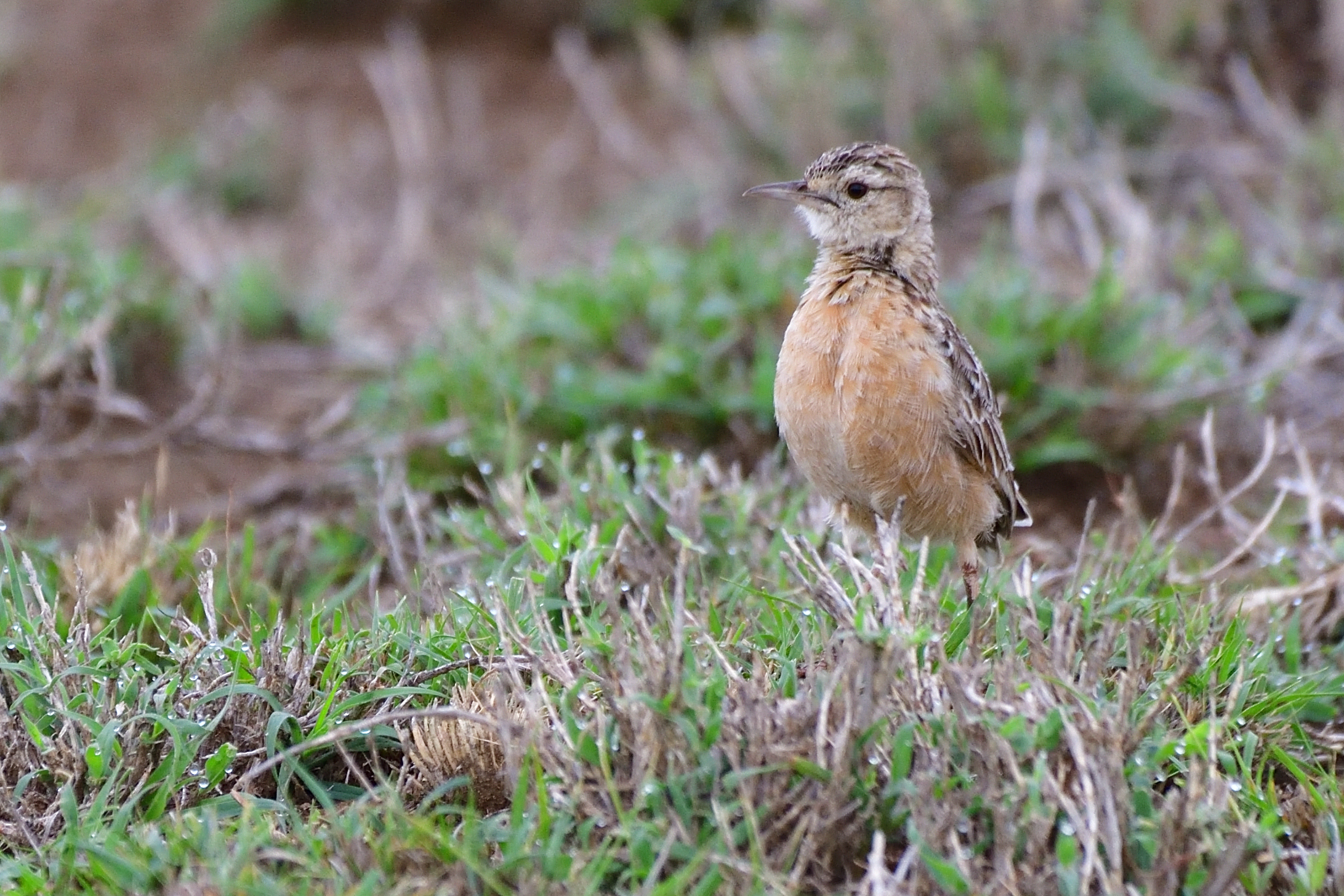 Beesley´s Lark, Chersomanes beesleyi – Endemic to a small area about 40 km north of Arusha Tanzania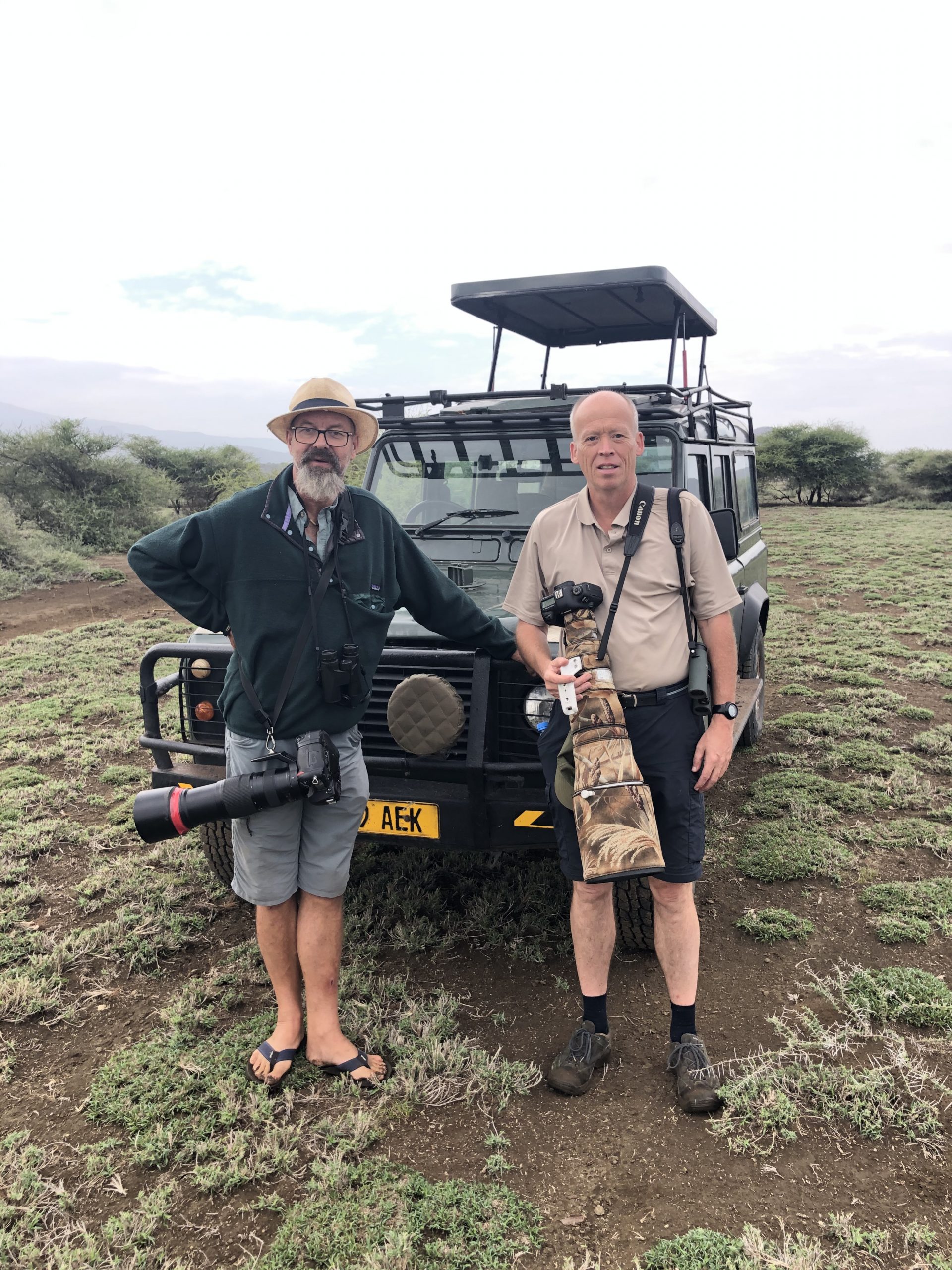 Paul and me after yet another successful quest for Beesley´s Lark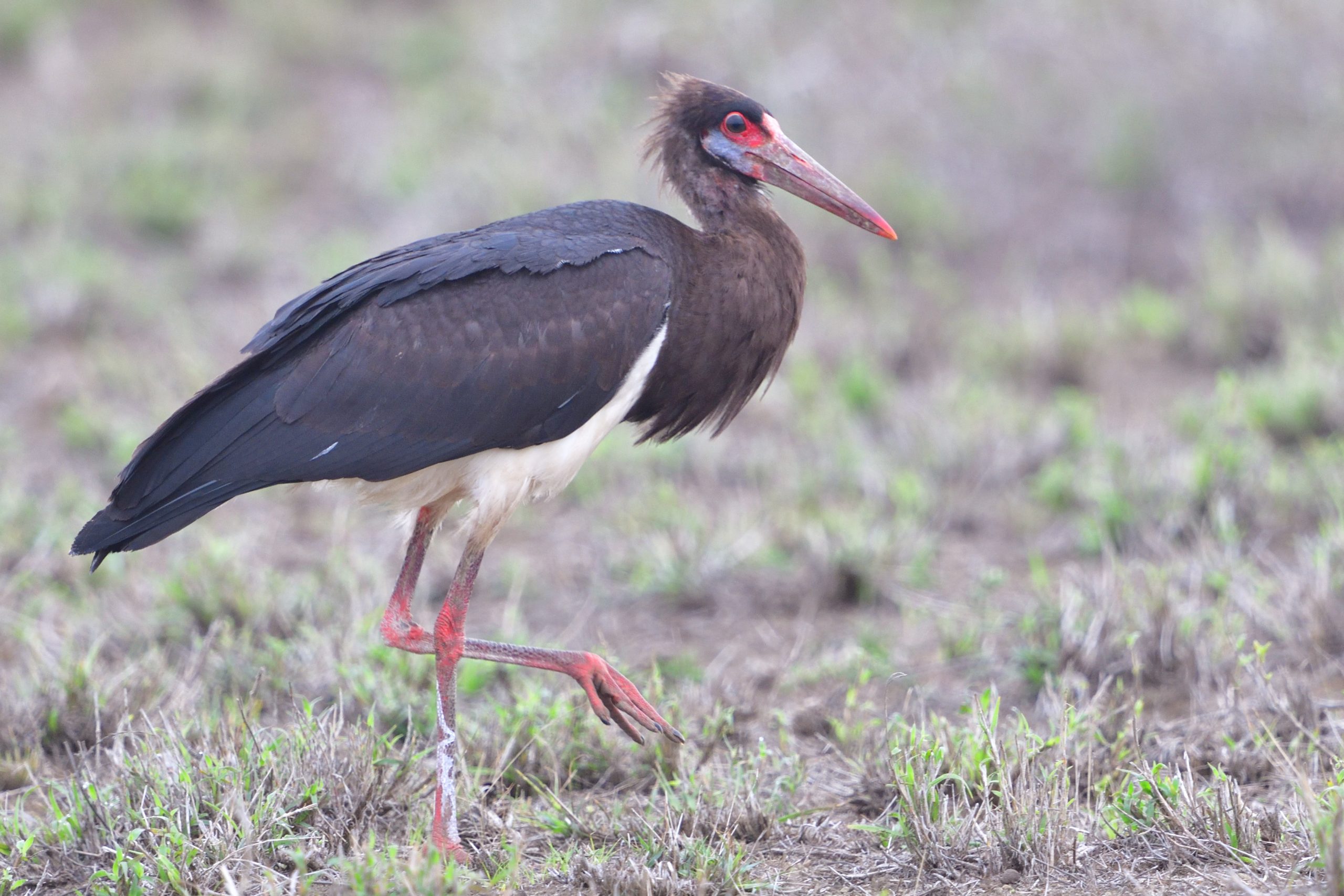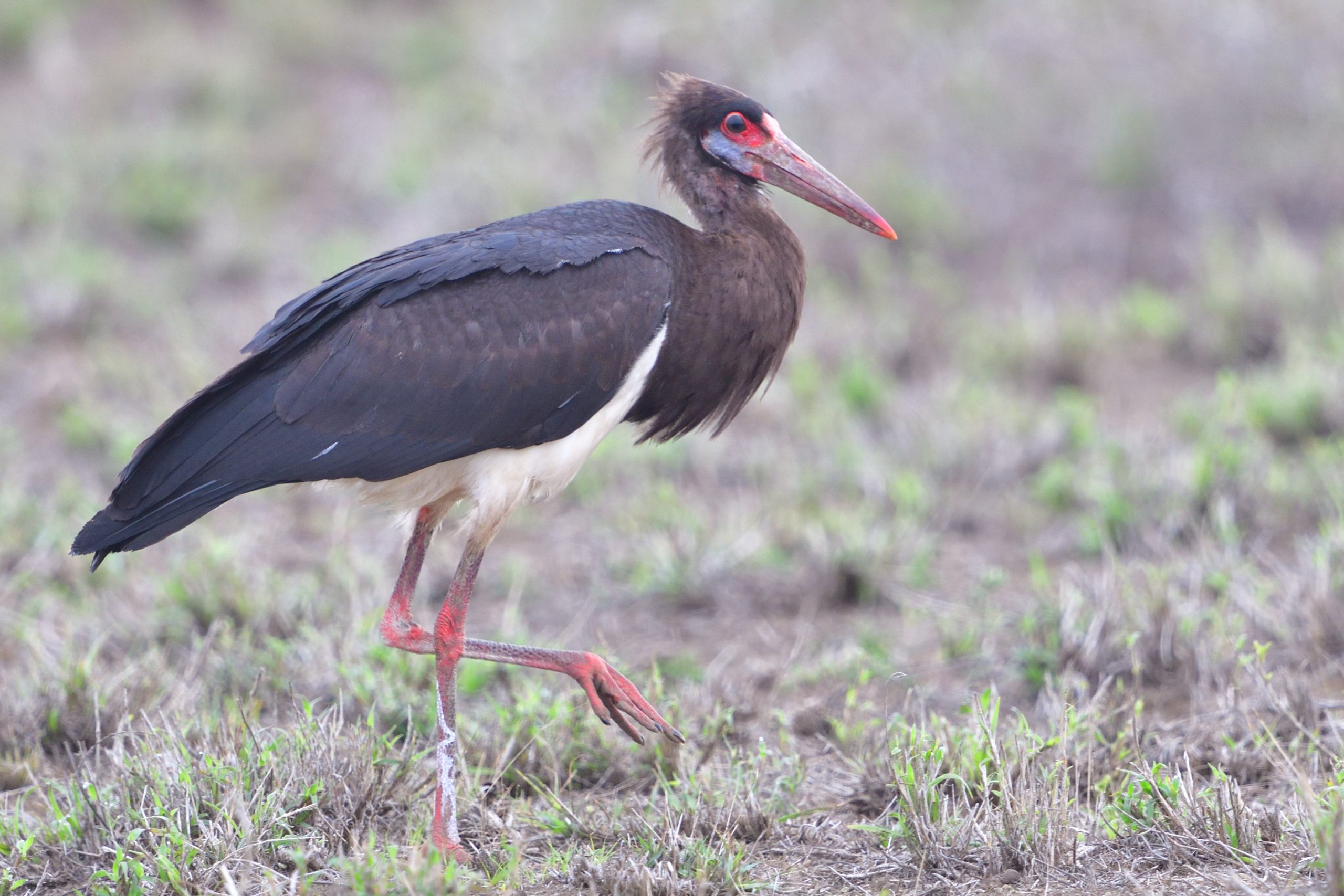 Abdim´s Stork, Ciconia abdimi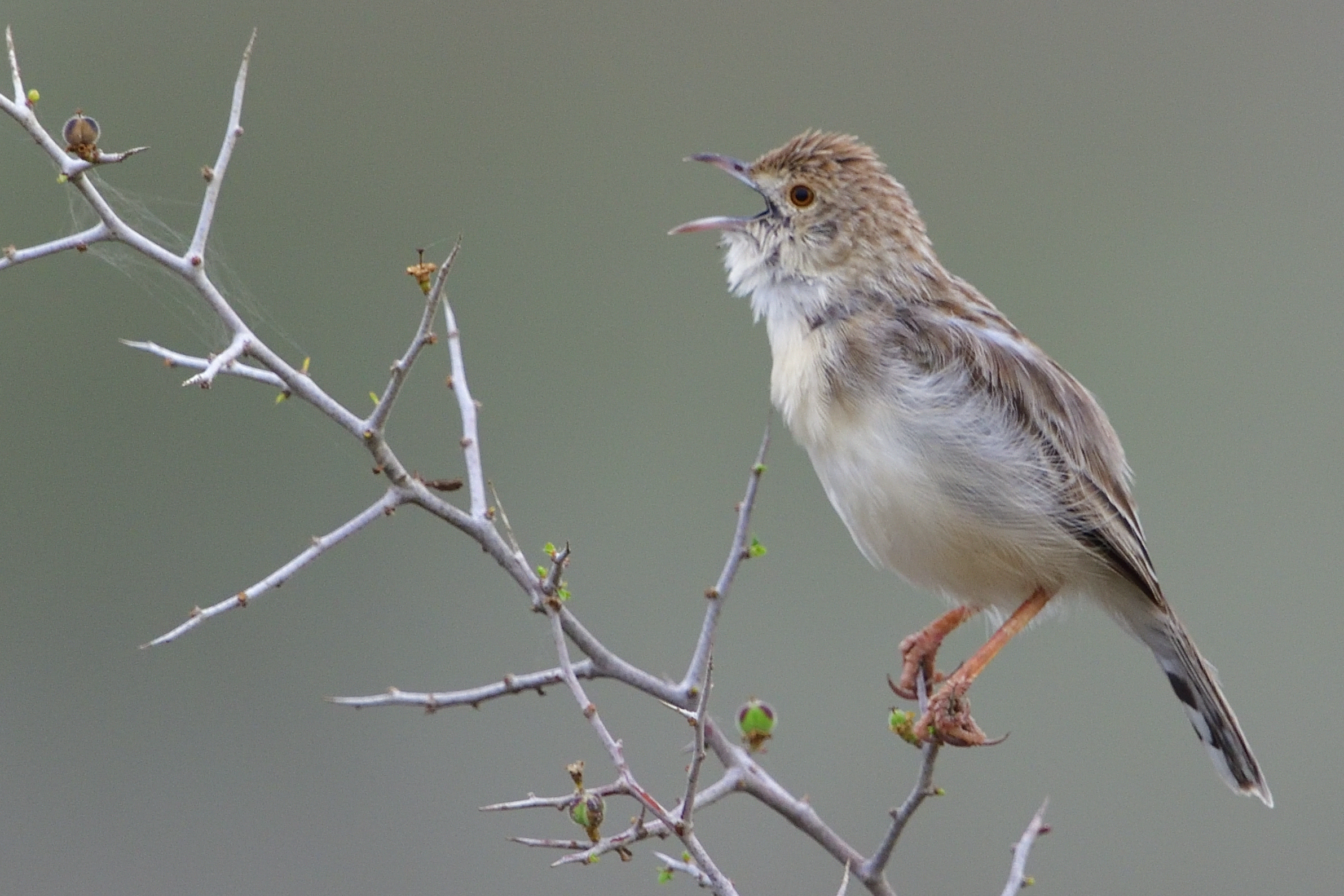 Ashy Cisticola, Cisticola cinereolus – Endemic to NE Africa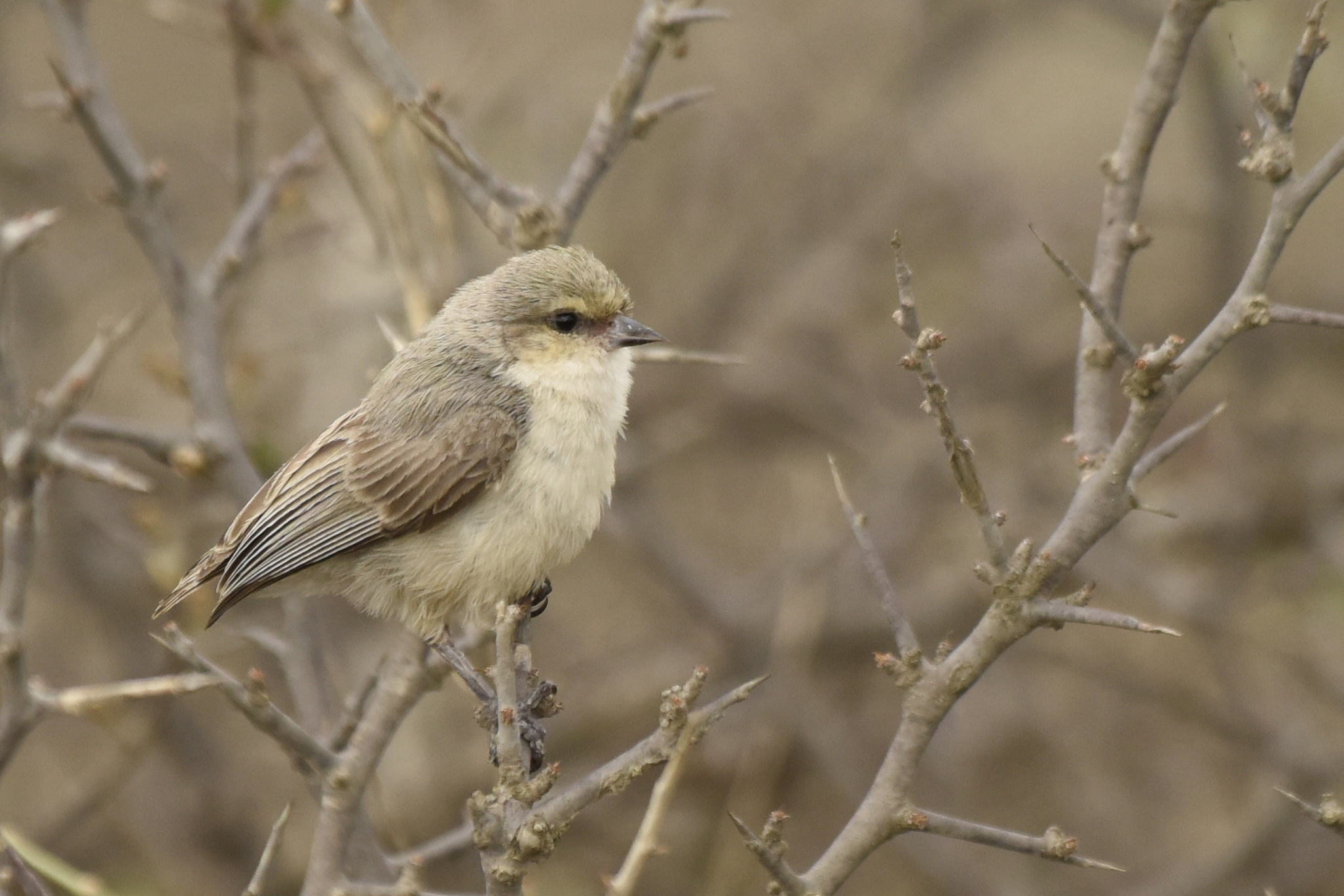 Mouse-coloured Penduline Tit, Anthoscopus musculus – Endemic to NE Africa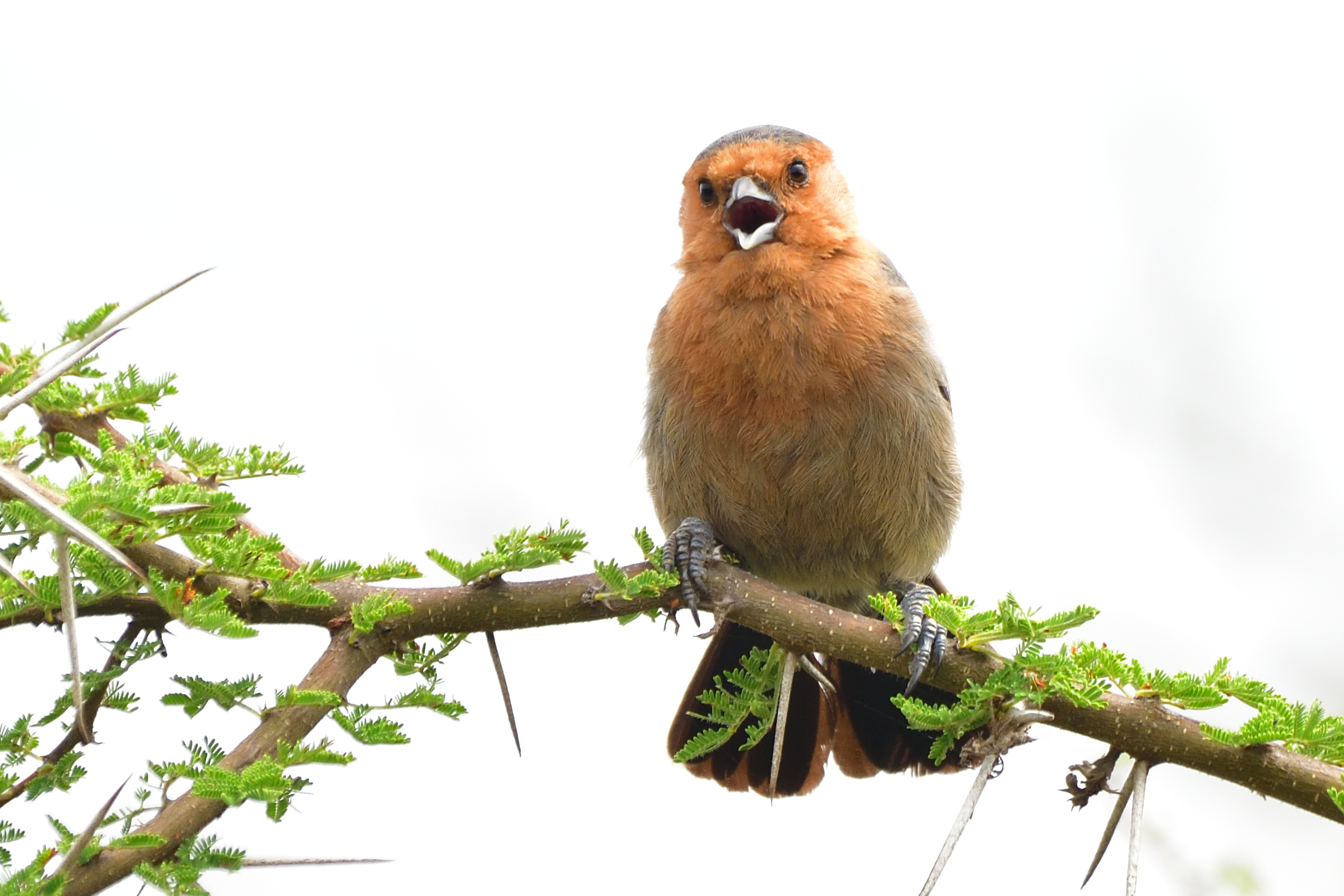 Red-throated Tit, Parus fringillinus -Endemic to S Kenya and N Tanzania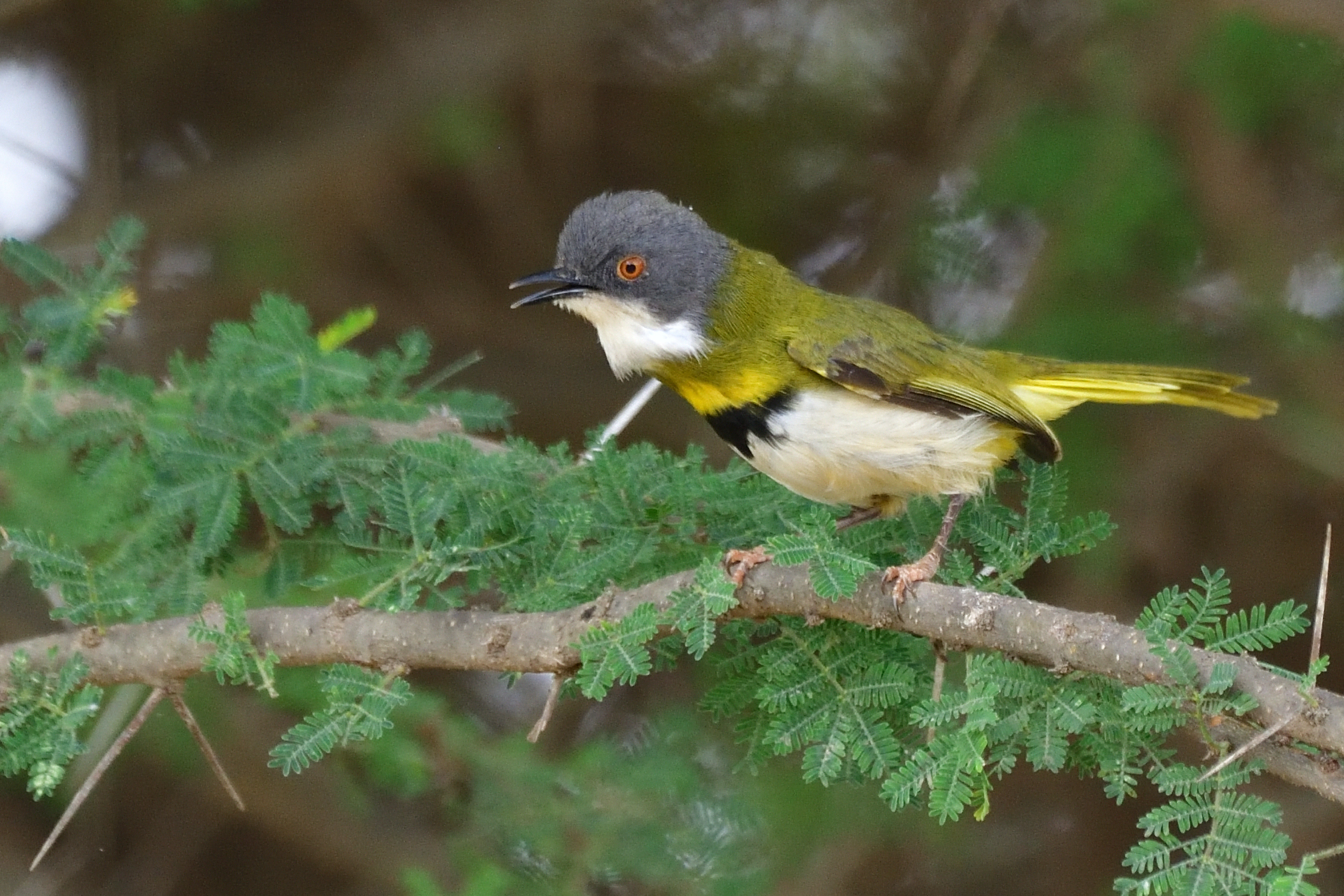 Yellow-breasted Apalis, Apalis flavida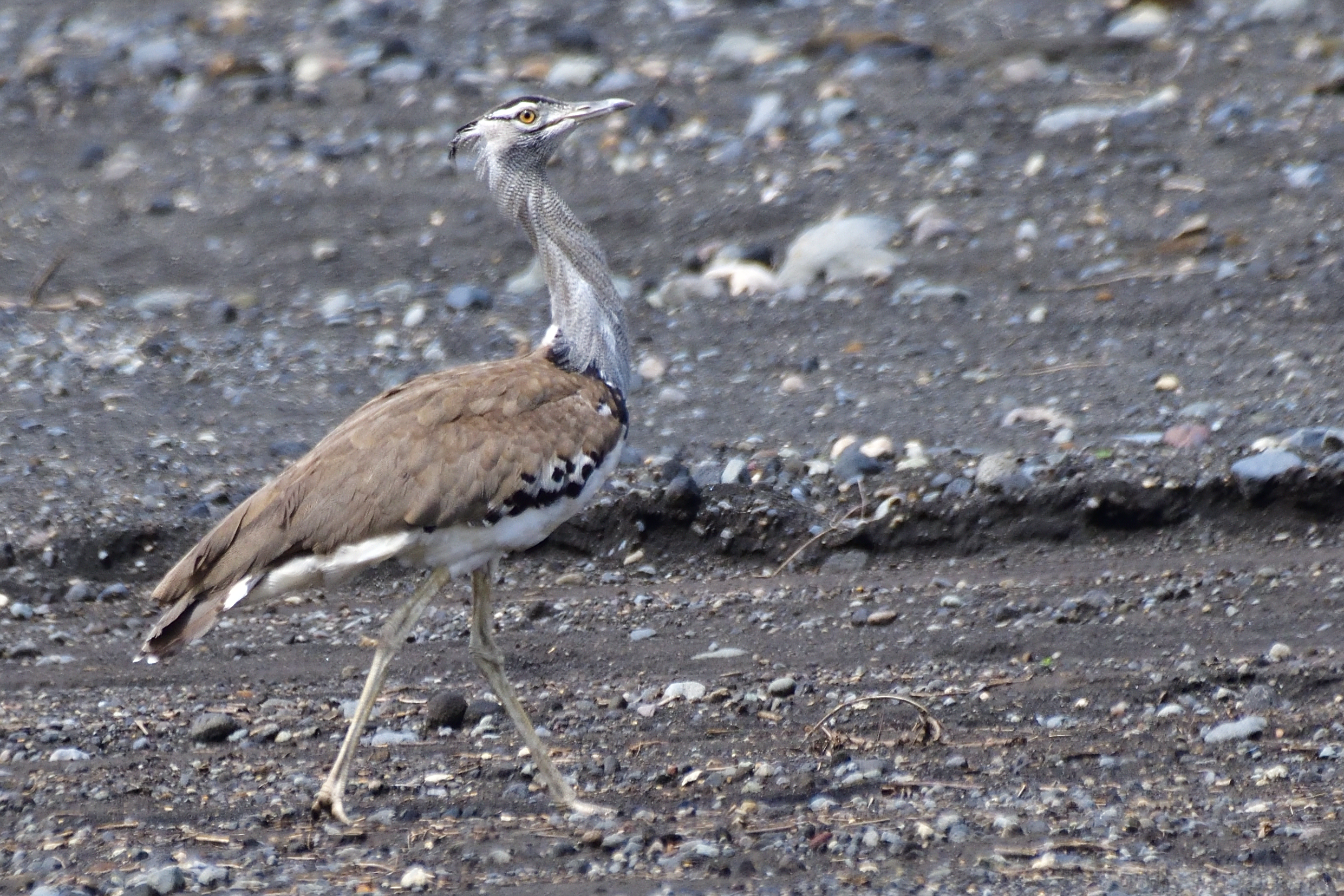 Kori Bustard, Ardeotis kori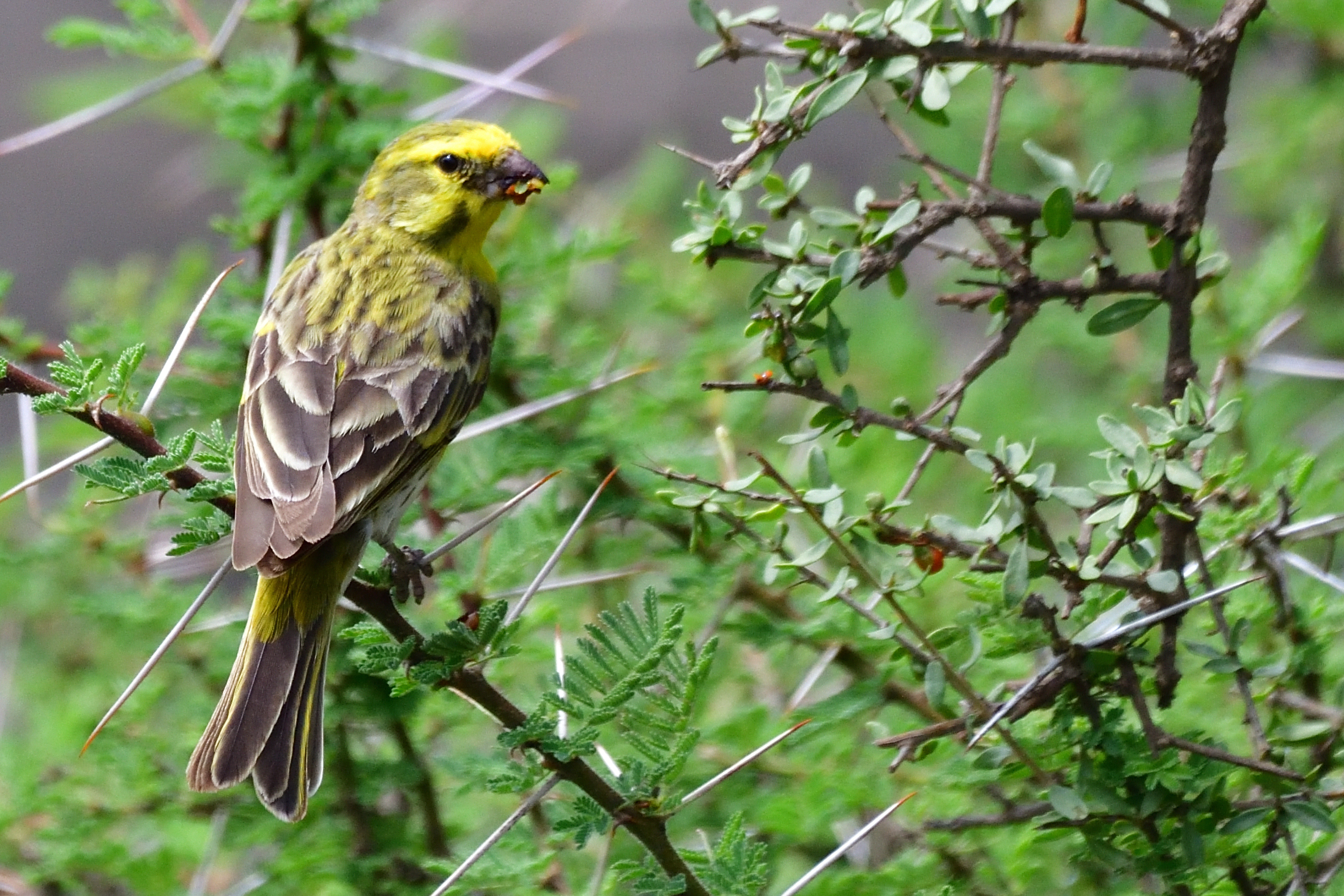 White-bellied Canary, Chritagra dorsostriata – Endemic to NE Africa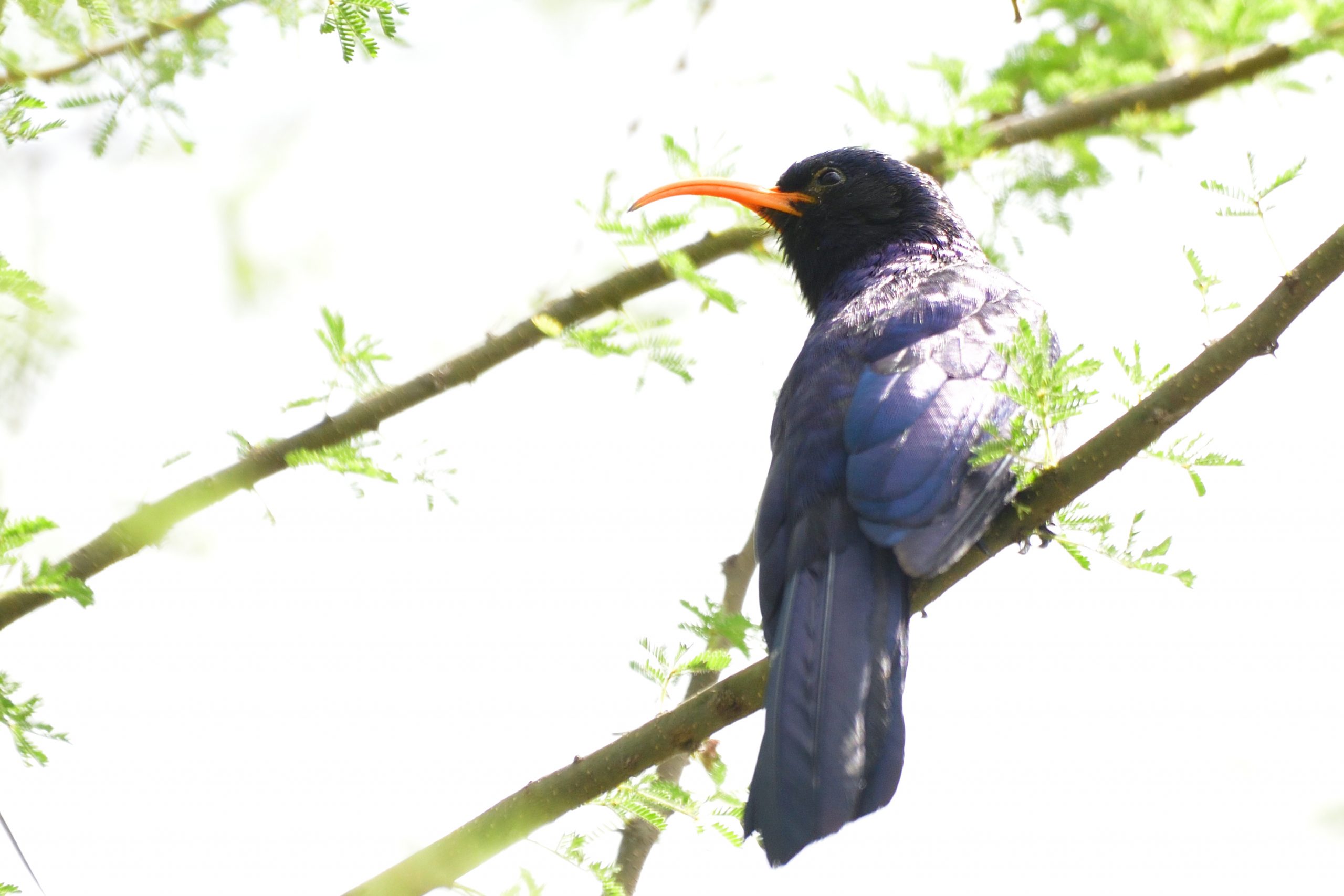 Abyssinian Scimitarbill, Rhinopomastus minor – Endemic to NE Africa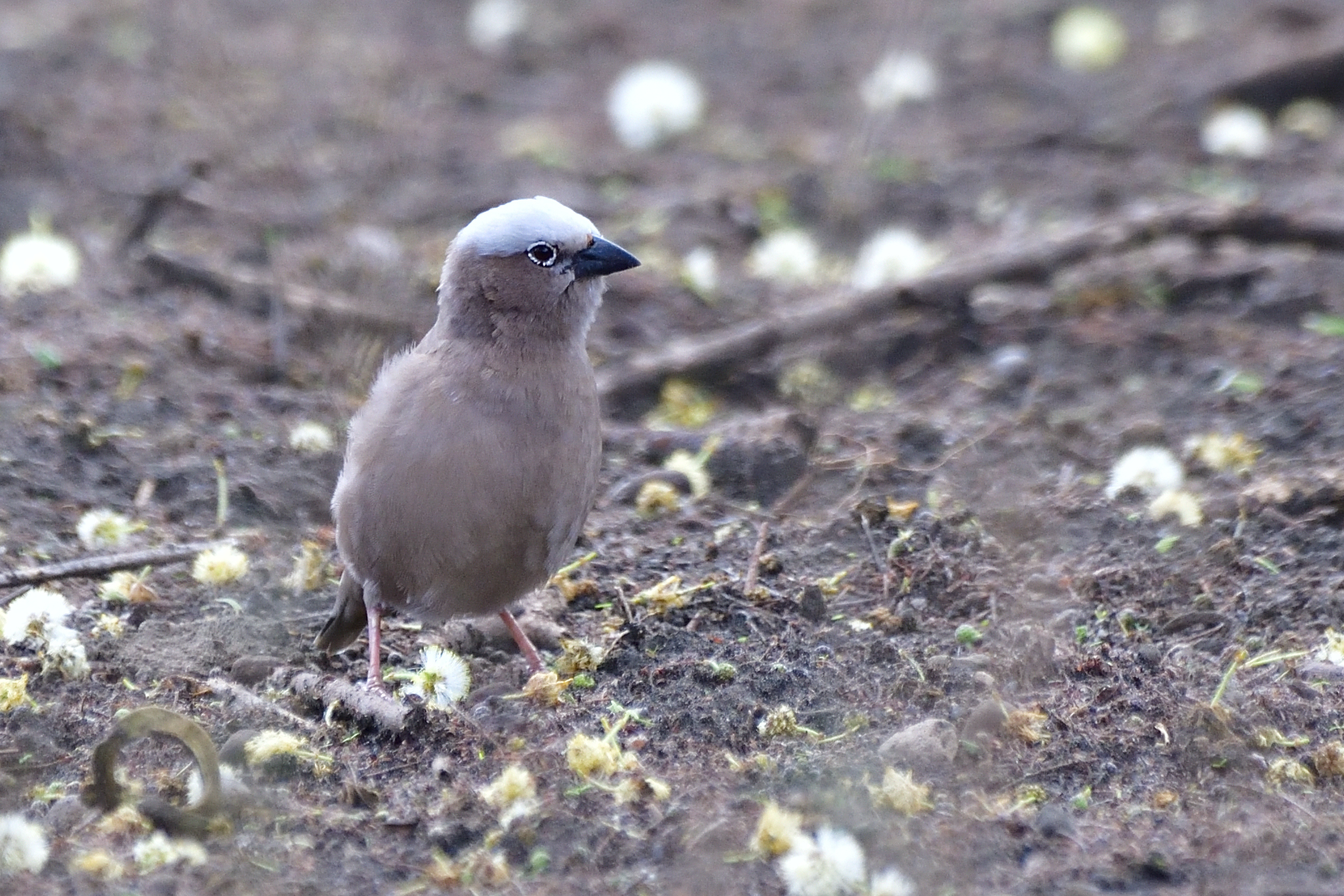 Grey-capped Social-Weaver, Pseudonigrita arnaudi – Endemic to NE Africa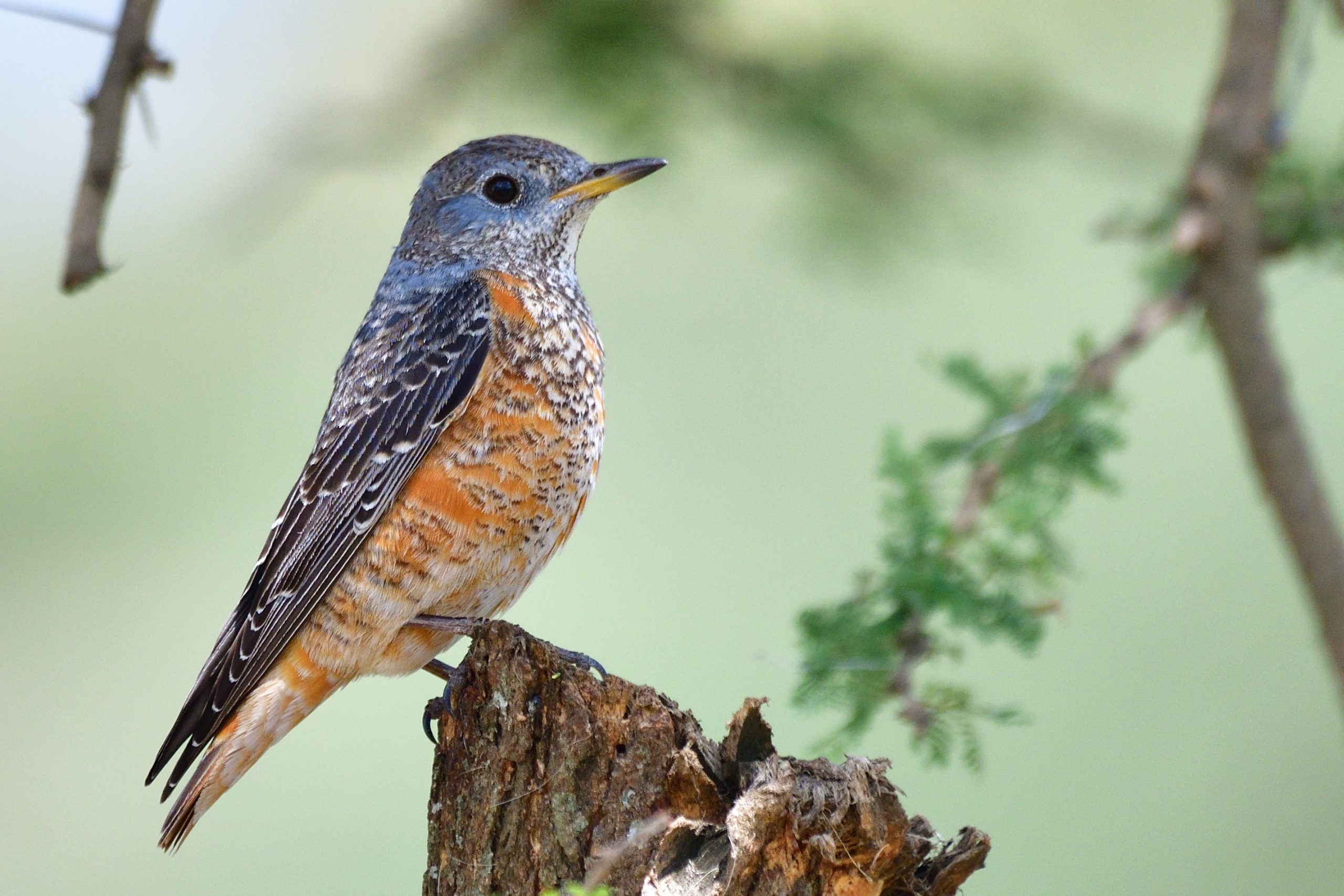 Common Rock Thrush, Monticola saxatilis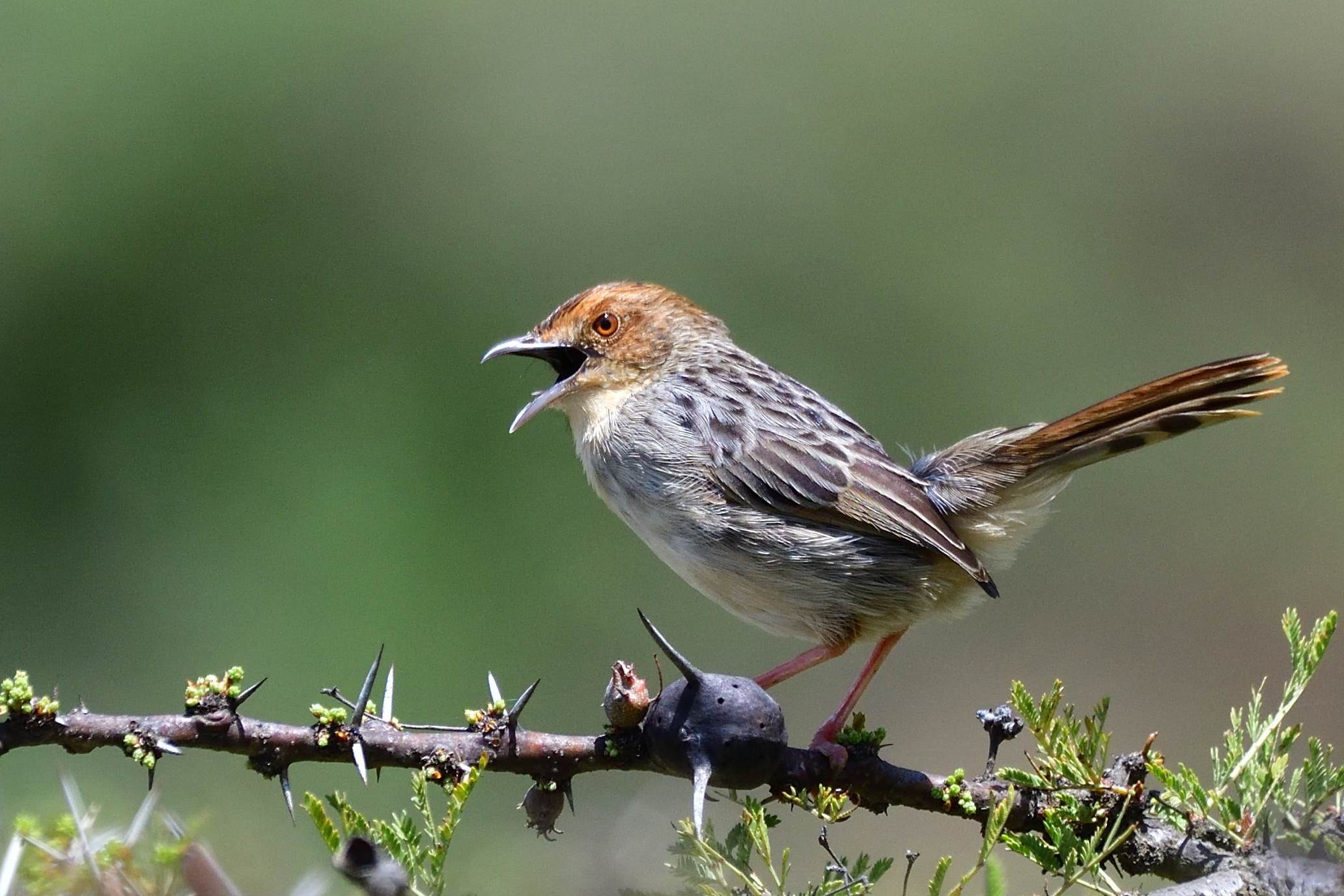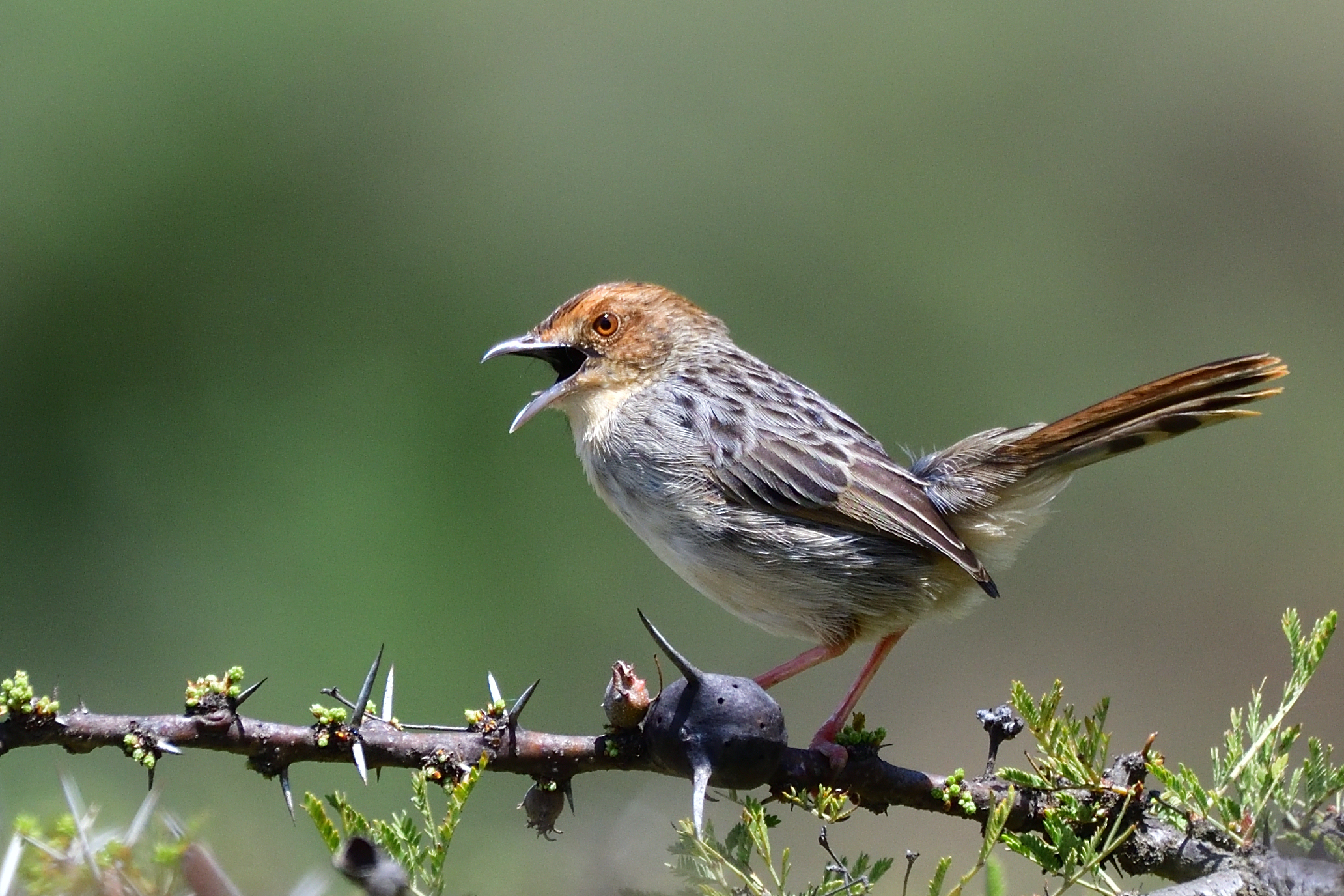 Lyne´s Cisticola, Cisticola distinctus – Endemic to East Africa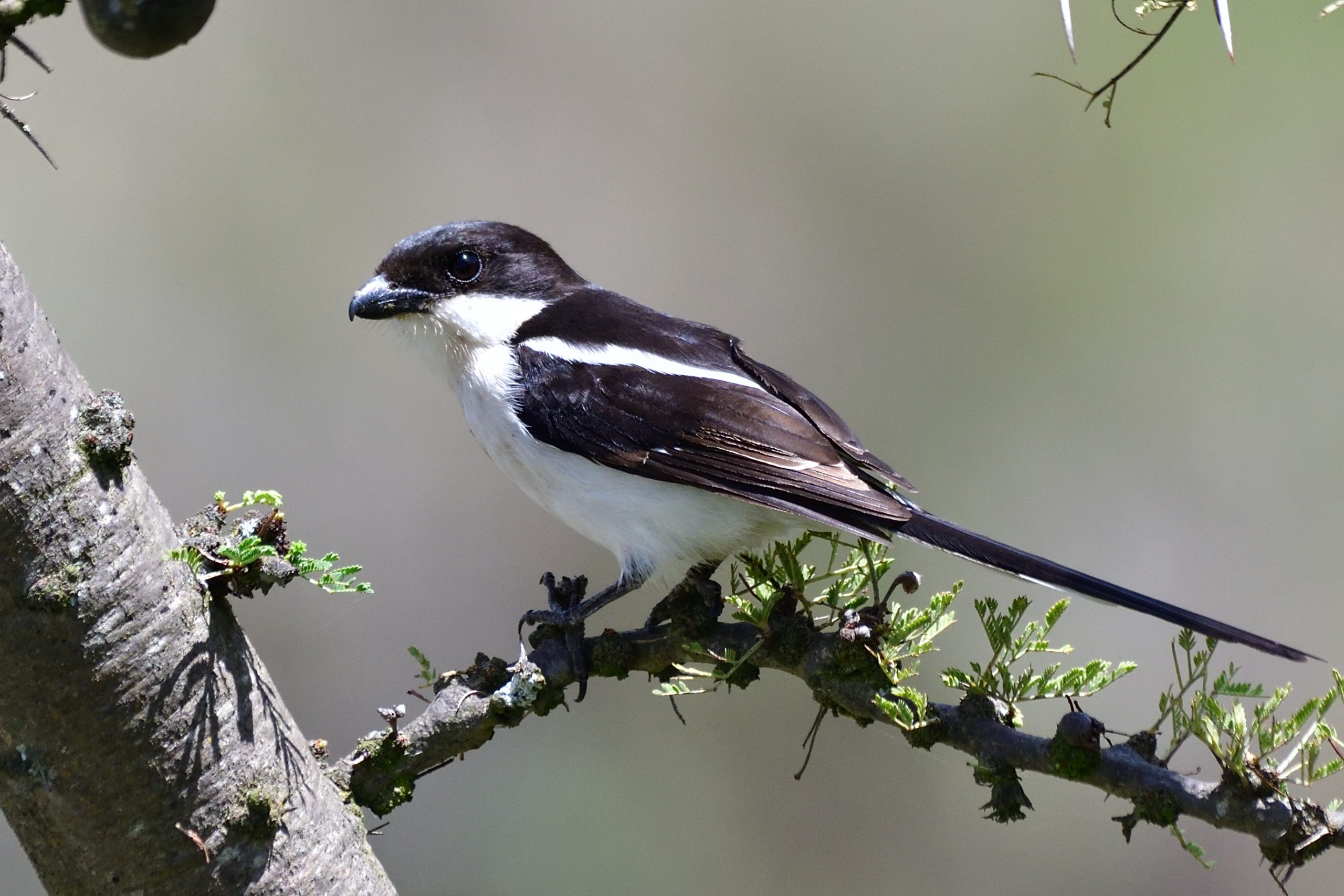 Northern Fiscal, Lanius humeralis
Long-billed Pipit,  Anthus longicaudatus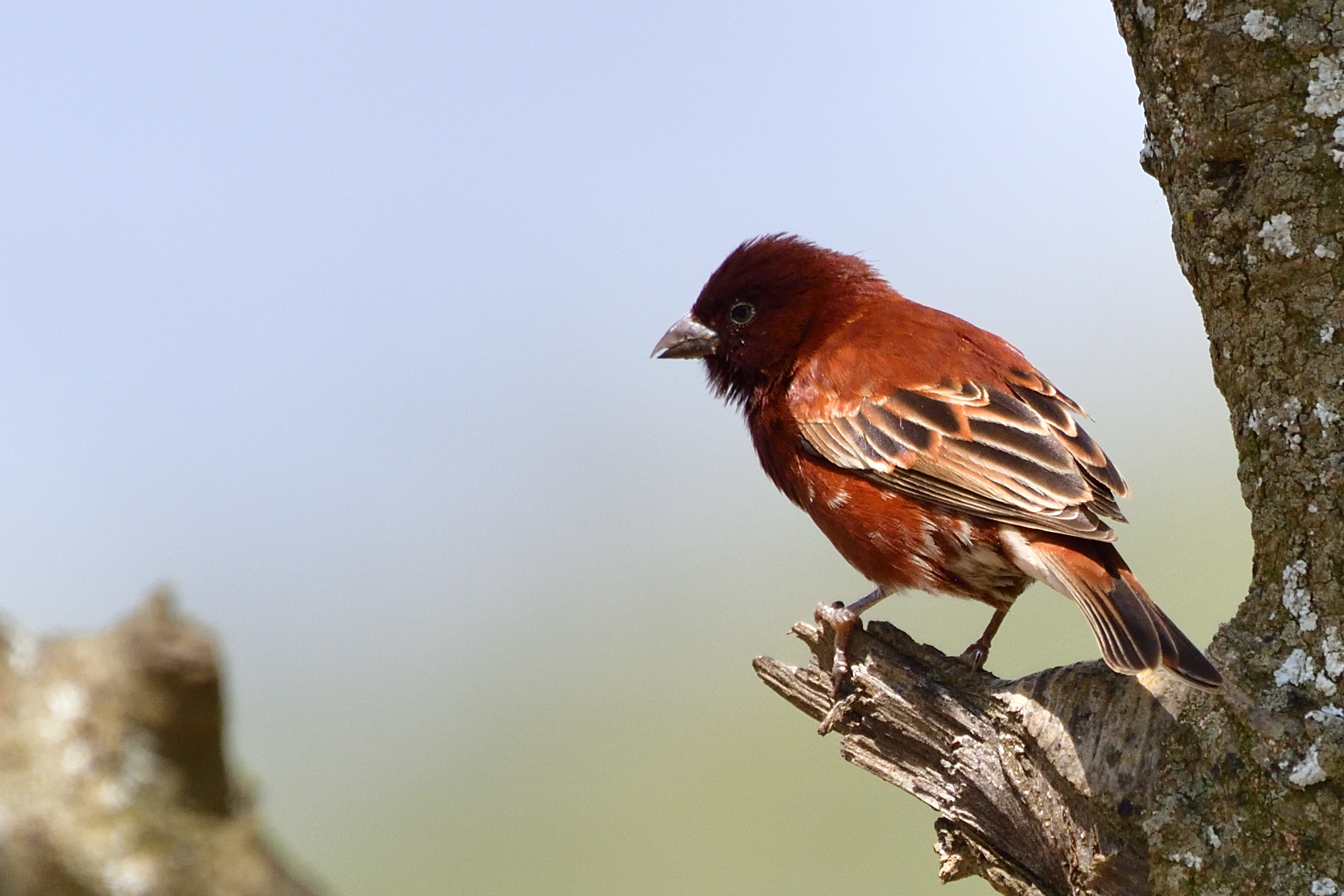 Chestnut Sparrow, Passer eminibey – Endemic to NE Africa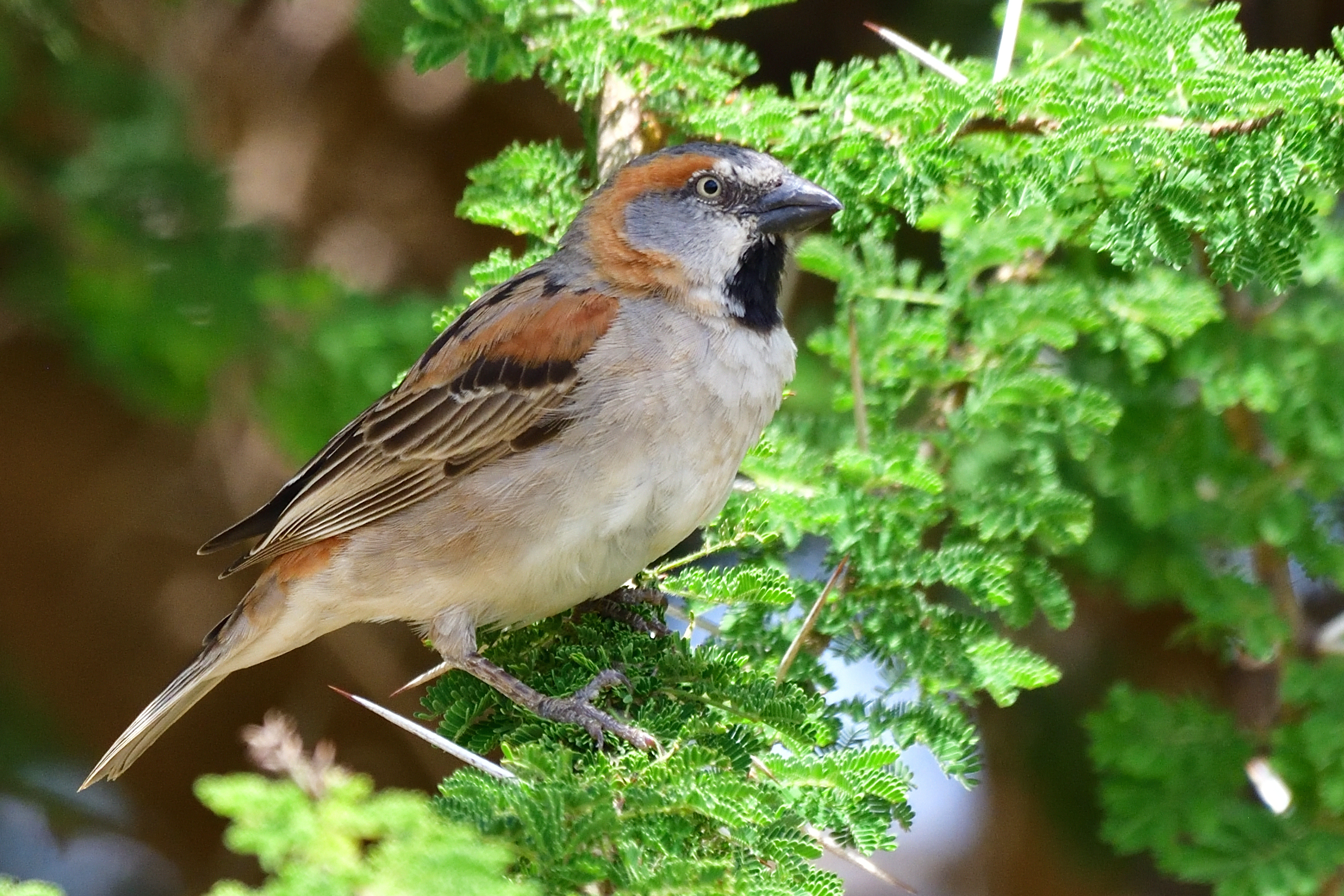 Kenya Sparrow,  Passer rufocinctus – Endemic to Kenya and Tanzania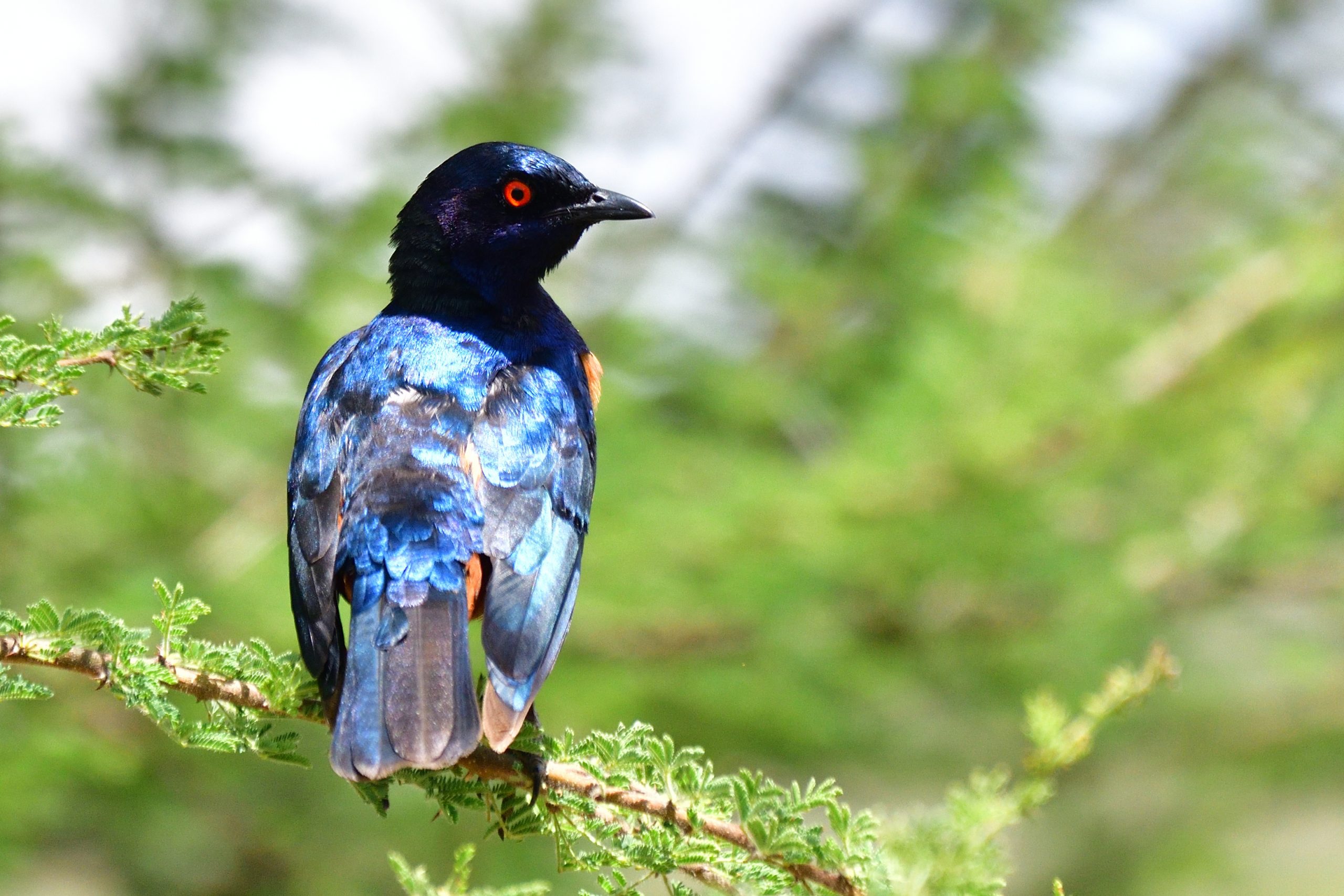 Hildebrandt´s Starling, Lamprotornis hildebrandti – Endemic to E Africa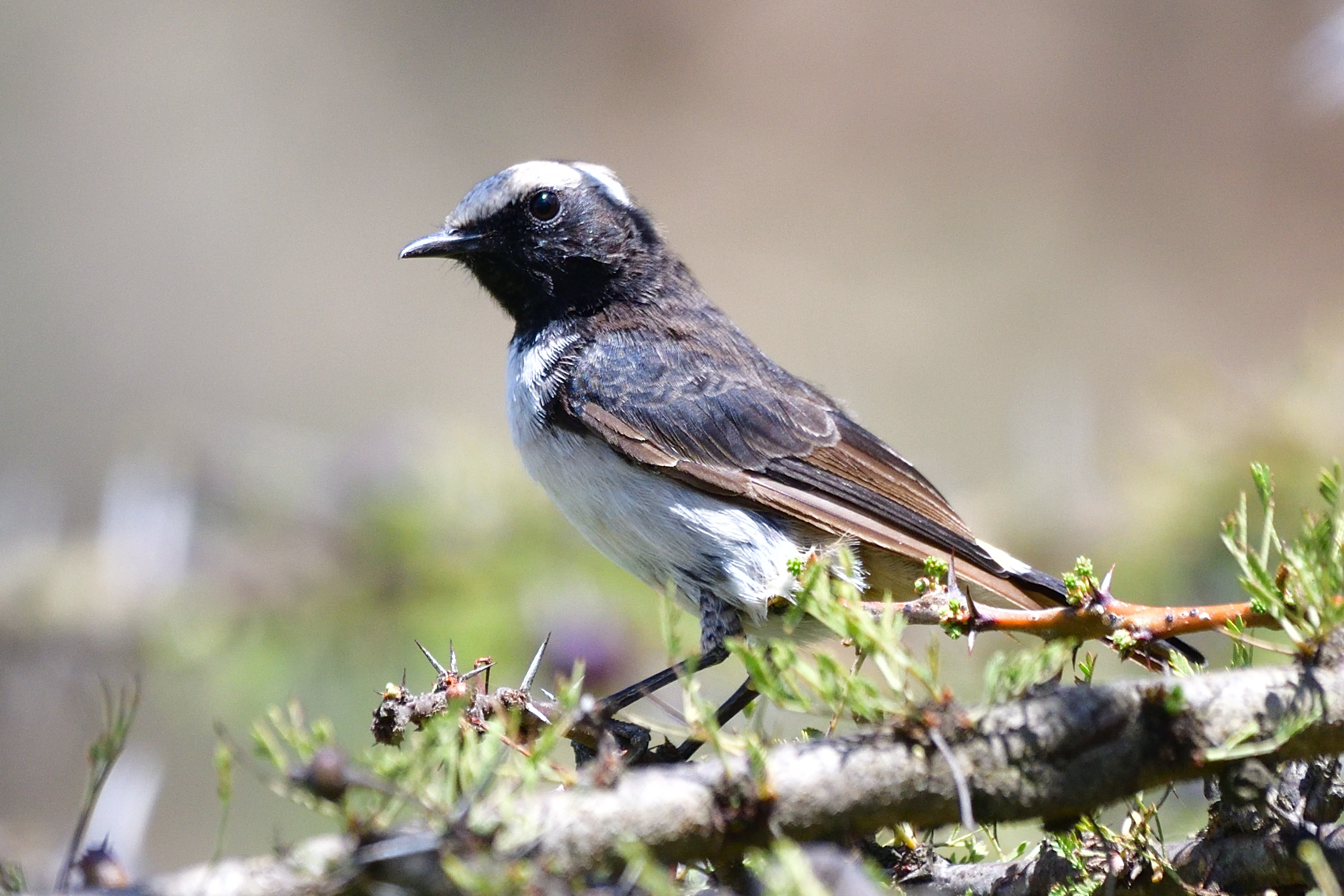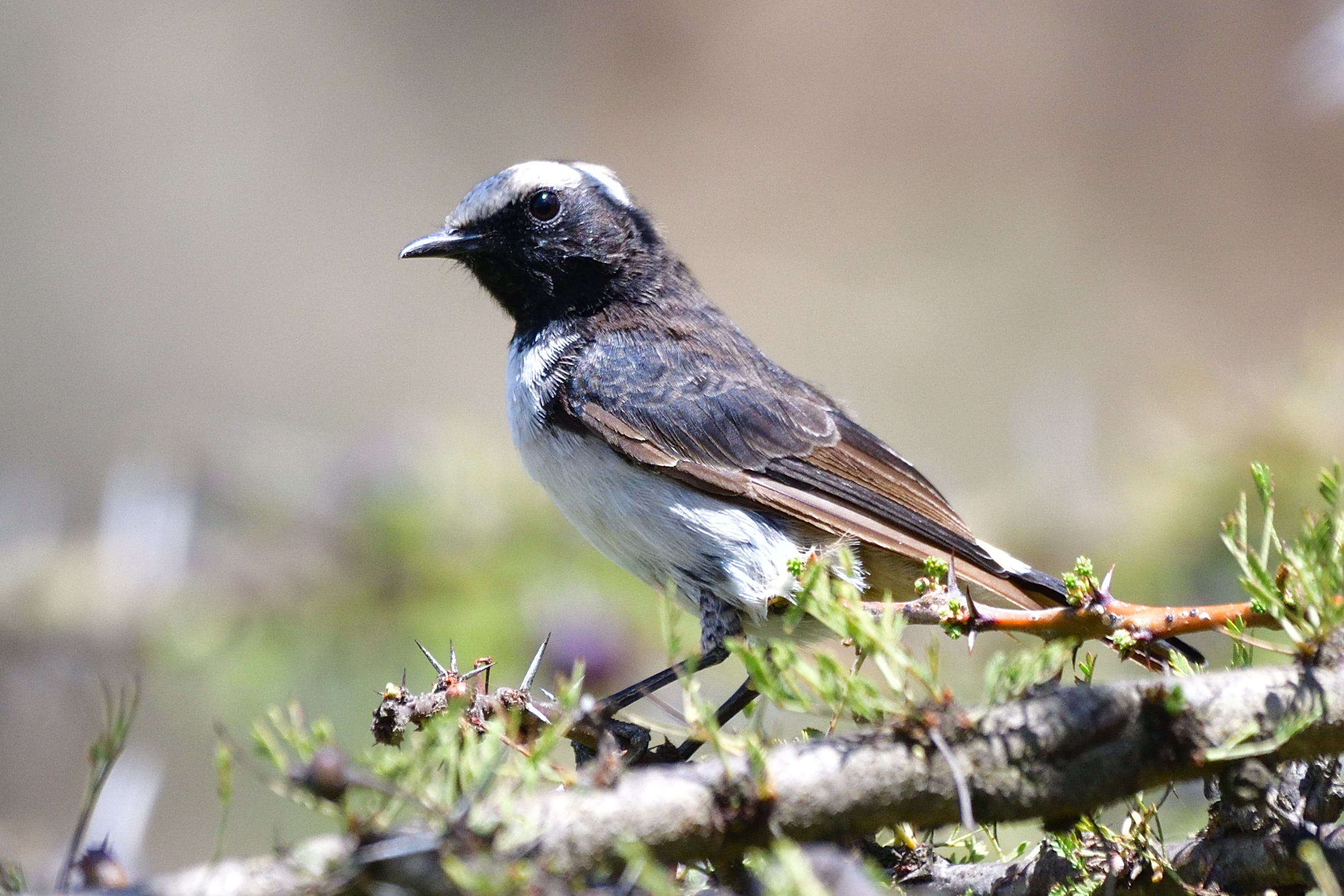 Schalow´s Wheatear, Oenanthe schalowi – Endemic to E Africa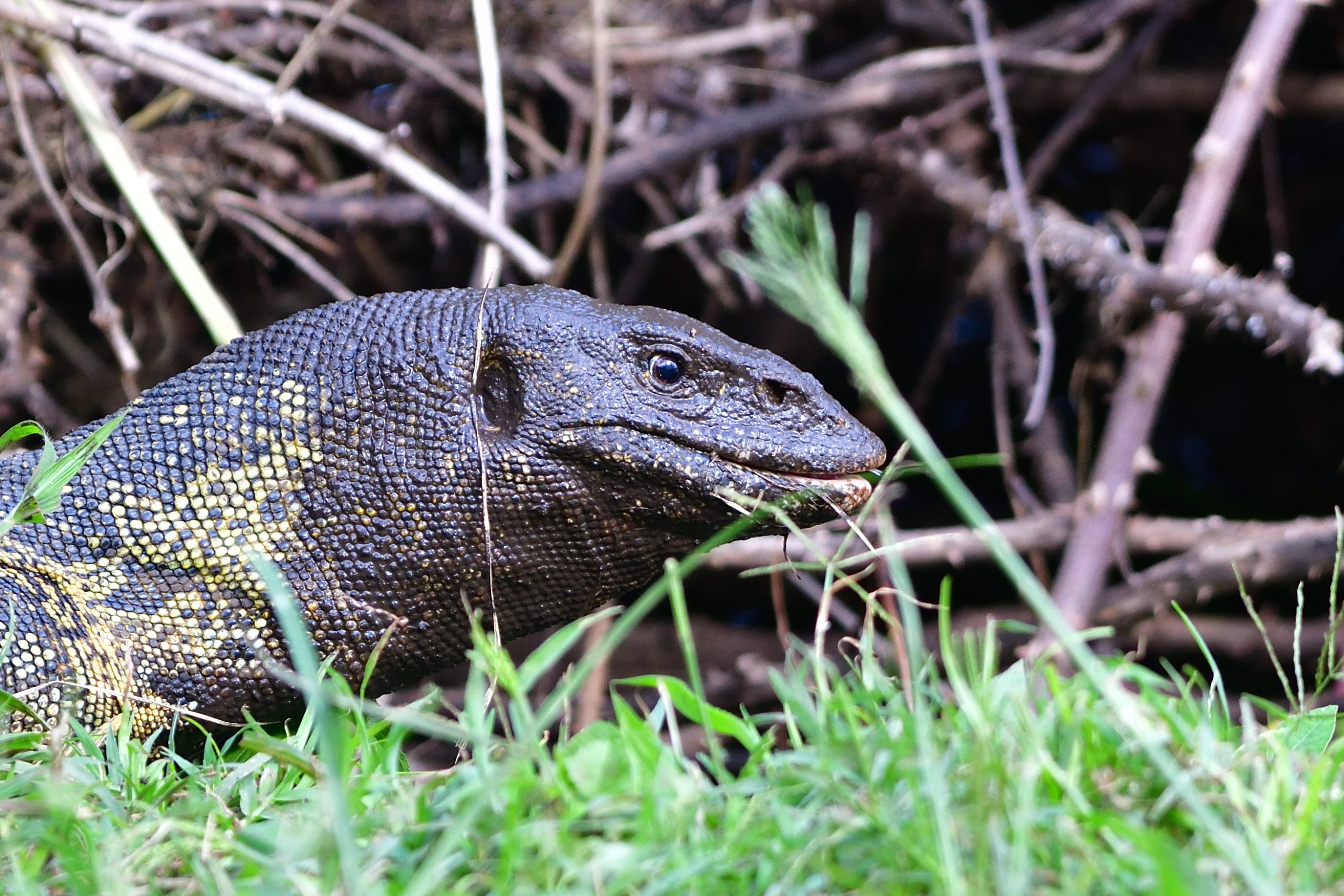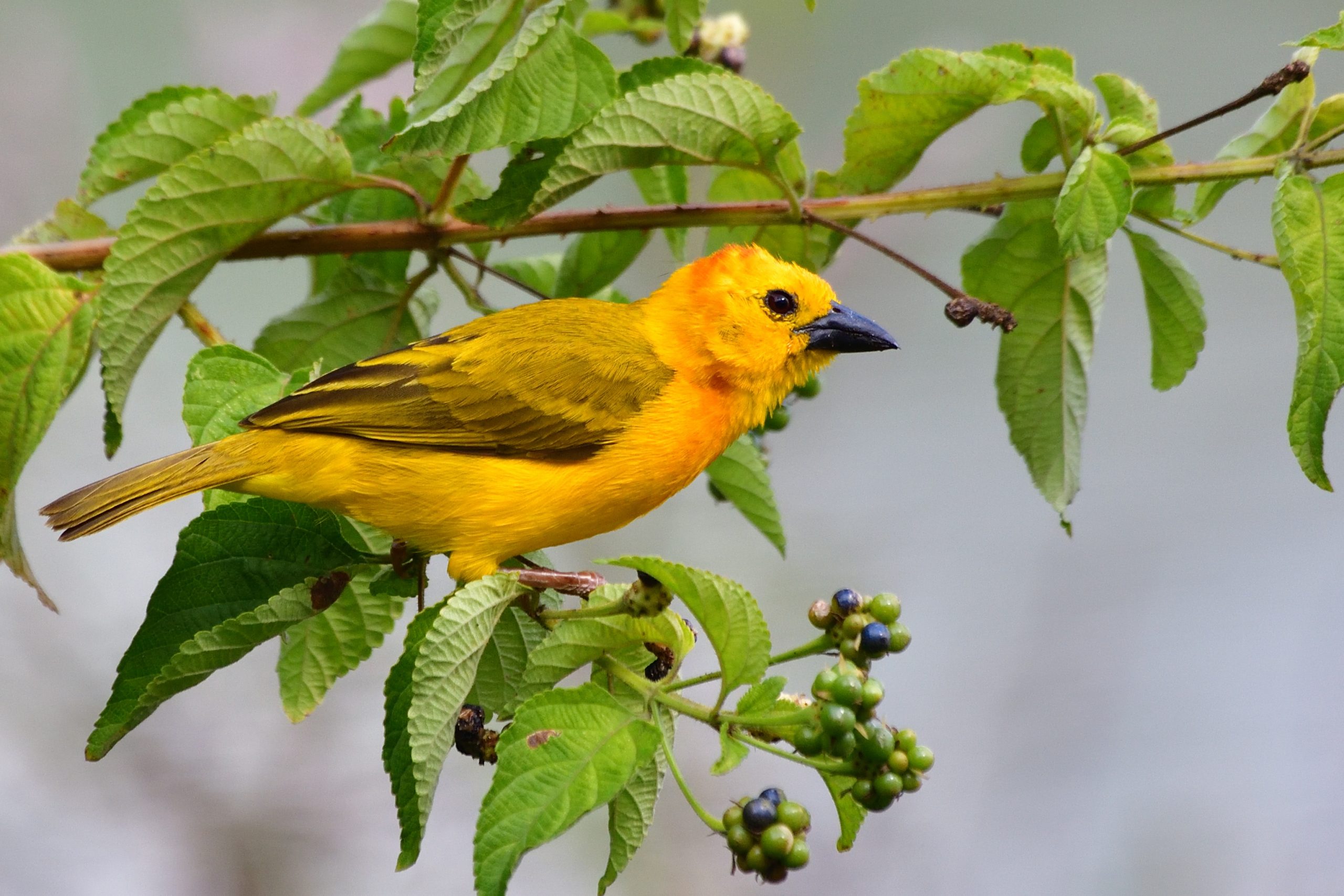 Taveta Weaver, Ploceus castaneiceps – Endemic to S Kenya and N Tanzania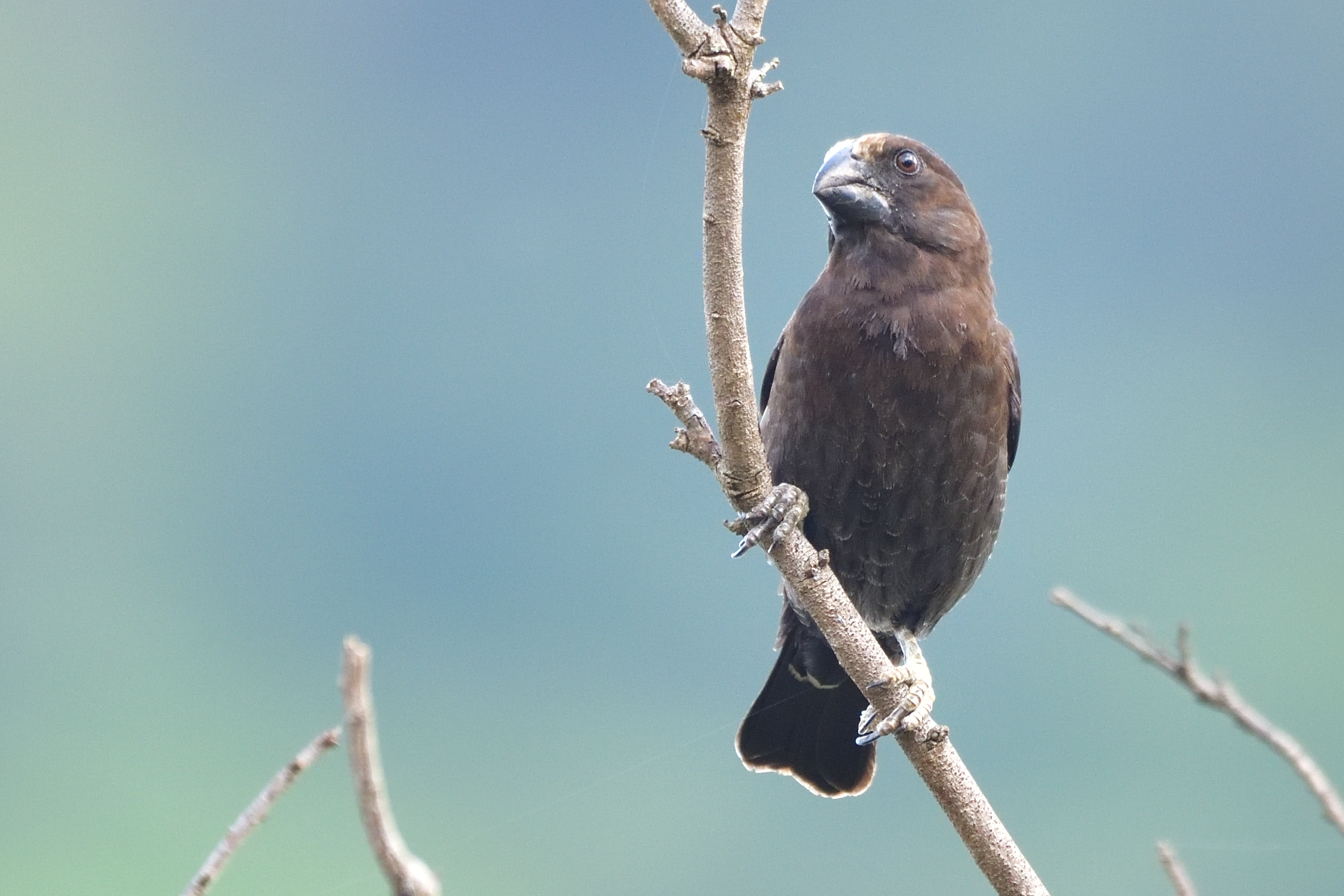 Thick-billed Weaver, Amblyospiza alvifrons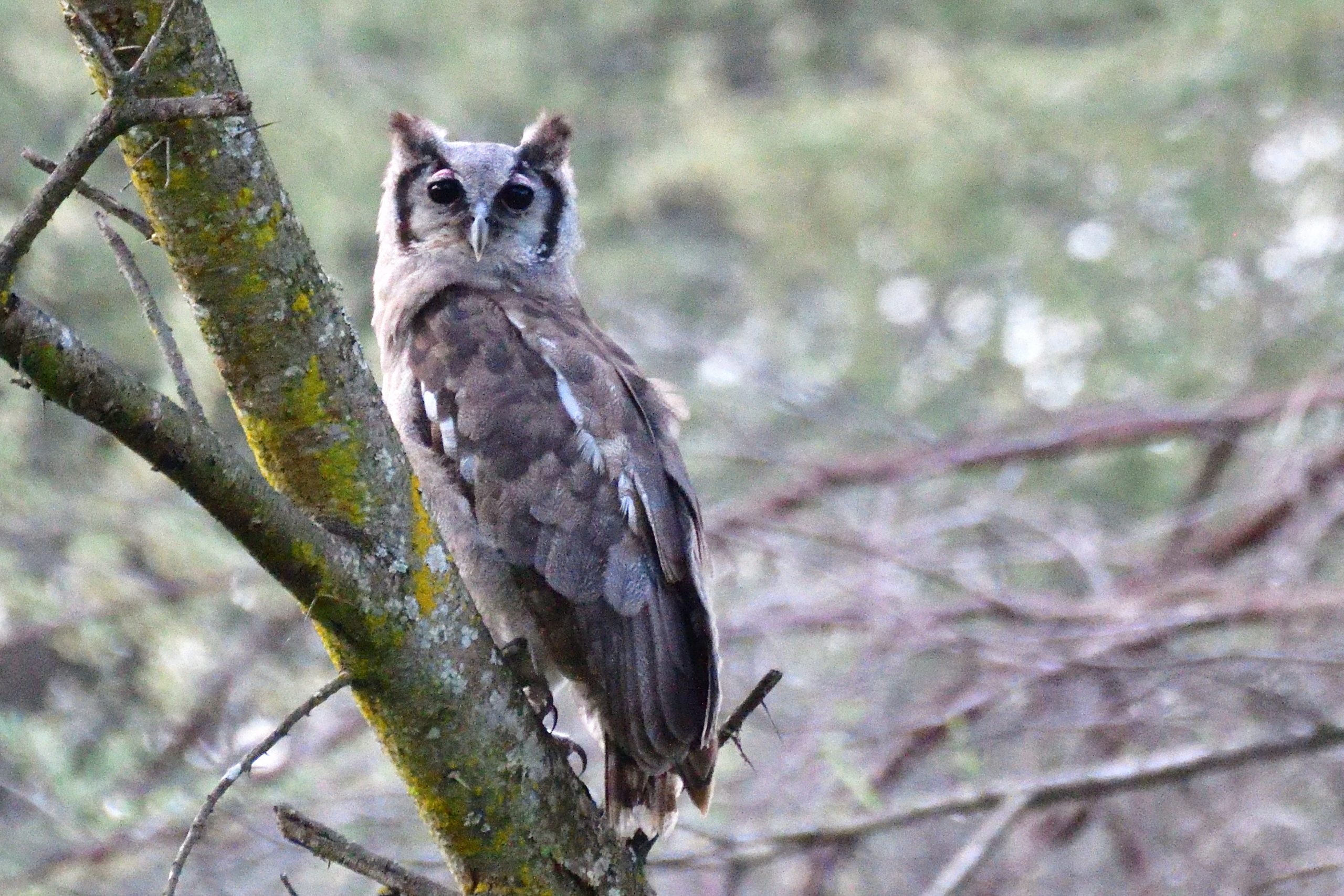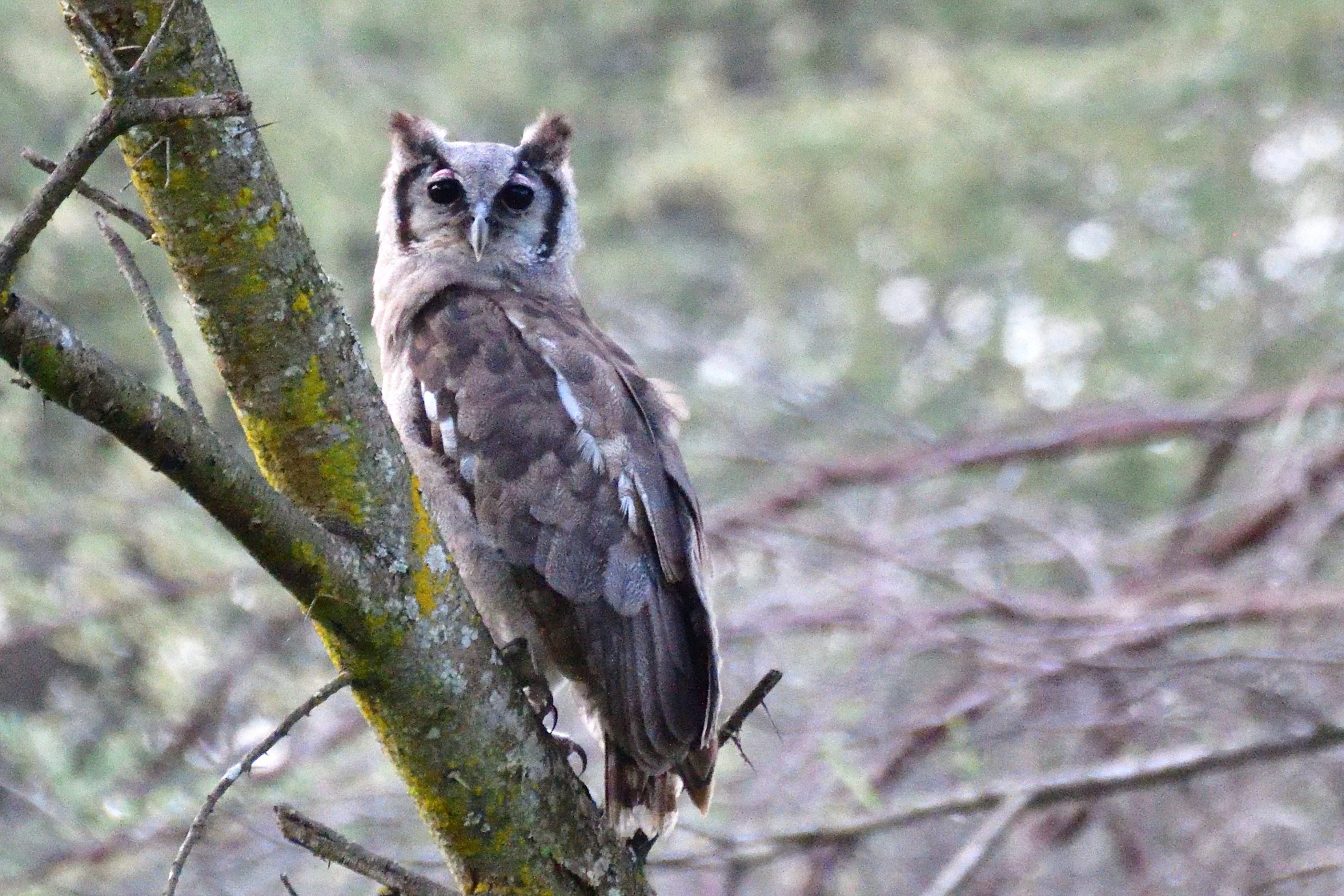 Verreaux´s Eagle-Owl, Bubo lacteus
Day 12, Thursday, January 14 – Kiligolf – Arusha NP – Kiligolf
Our last chance to visit Arusha NP before Paul left the day after. The weather looked ok so off we went. The park is close to my home, so we were at the gate around 07:00. We have a standard route in the park with a few options for deviations. First we drive towards the museum.  Pangani Longclaw, African Stonechat, Trilling Cisticola, African Pygmy Kingfisher, Grey Crowned Crane, Golden-tailed Woodpecker, Black-headed Oriole, Long-crested Eagle, White-eyed Slaty Flycatcher, Tropical Boubou and Rüppel´s Robin-Chat was some of the birds recorded before we parked at the Museum. We usually alight from the car and walk a little bit around the museum, but this day it was utterly quiet. We got back to the car and started the drive up the Ngurduto Crater. At the fork, we always make a right on the ascent. We drove as far as we could, checked the viewpoint, but still quiet. We drove back to the Buffalo View Point picnic site and recorded Bar-tailed Trogon, Scaly Francolin, Silvery-cheeked Hornbill, Black-fronted Bushshrike, Broad-ringed White-eye, Green Malkoha, Stripe-faced Greenbul, Alpine Swift and Hartlaub´s Turaco. We had a nice breakfast and was soon on our way. The goal was to drive up the other fork of the Ngurduto crater. We were quite surprised when we found out that a huge tree was blocking the road. I just had to reverse back down to the junction and drive back to the museum. We told the resident ranger about the fallen tree and he promised to have it removed by the afternoon. Normally we go to the lakes at this time, but Paul needed some birds at Mt. Meru so we decided to go straight there. We stopped at a small wetland on the way and recorded Taveta Weaver, White-backed Duck, Common Moorhen and Intermediate Egret. We drove up Mt. Meru and stopped by the fig tree. Abdul had a glimpse of Abyssinian Crimsonwing, but Paul and I could not get our eyes on them. Instead we managed to photograph Yellow-streaked Greenbul. We also recorded Crowned Eagle, African Hill babbler and Broad-ringed White-eye there. We were soon in the car and the next stop was by the picnic stop where there is a small waterfall. That place was also quiet, so we continued all the way to the top. Still quiet, but we managed to record Cinnamon Bracken Warbler, Evergreen Forest Warbler and Eastern Double-collared Sunbird. On the way down to the picnic spot we had Waller´s Starling, Mountain Wagtail, Eurasian Blackcap and bar-throated Apalis.  Selvine had been very creative and when unpacking our lunch, we discovered she had made wraps for us containing, meat, avocado and vegetables, a highlight. While having lunch we recorded Grey-headed Nigrita and Stripe-faced Greenbul. We packed up and headed downhill again. Abdul had promised Paul a Brown Woodland Warbler, however that promise never came to fruition, we just heard one. Other birds recorded on the way down: White-starred Robin and Cinnamon-chested Bee-eater. Down from the mountain, we started towards the lakes. Nothing special were recorded except a Black-chested Snake Eagle. Otherwise the usual suspects like Lesser Flamingo, Lapwings, Ducks etc. We drove around all the lakes and still had time on our hand, so we drove back to the museum to check if the road was cleared.  On the way we came across an albino Olive baboon. We stopped at the museum said hi to the friendly ranger. We asked about the tree blocking the road, but it was to our dismay not removed. Paul had to visit the toilet for a serious errand while I went to the side of the road and took a wee. The friendly ranger was suddenly not so friendly anymore and all his English totally vanished. He told me trash in trash out. I tried to tell him that my urine was no trash but nutrition for the plants. He then got even more angry. When I then in a polite way asked if the Baboons, Buffalos, Zebra and Antelopes also peed in his toilet, he really exploded and wanted to fine me for littering. I was just laughing and suddenly found myself in handcuffs. He was then going to speak with the boss. I can just imagine what the boss told him "You stupid idiot, you arrested a Mzungu (white man) inside the park because he was taking a leak? We have a total of 3 cars in the park today and you manage to arrest one of them that have paid good money to enter the park. Can you release that poor Mzungu and apologise" The episode took about one hour of our time and we suddenly found ourself short of time for exiting the park on time, so we headed straight for the gate. My intention was to turn the ranger in at the gate, but Abdul and Paul wisely talked me out of it. It would probably had taken me a couple of hours to file a report and we decided to drive home to Selvine´s cooking instead.
Some pictures from day 12: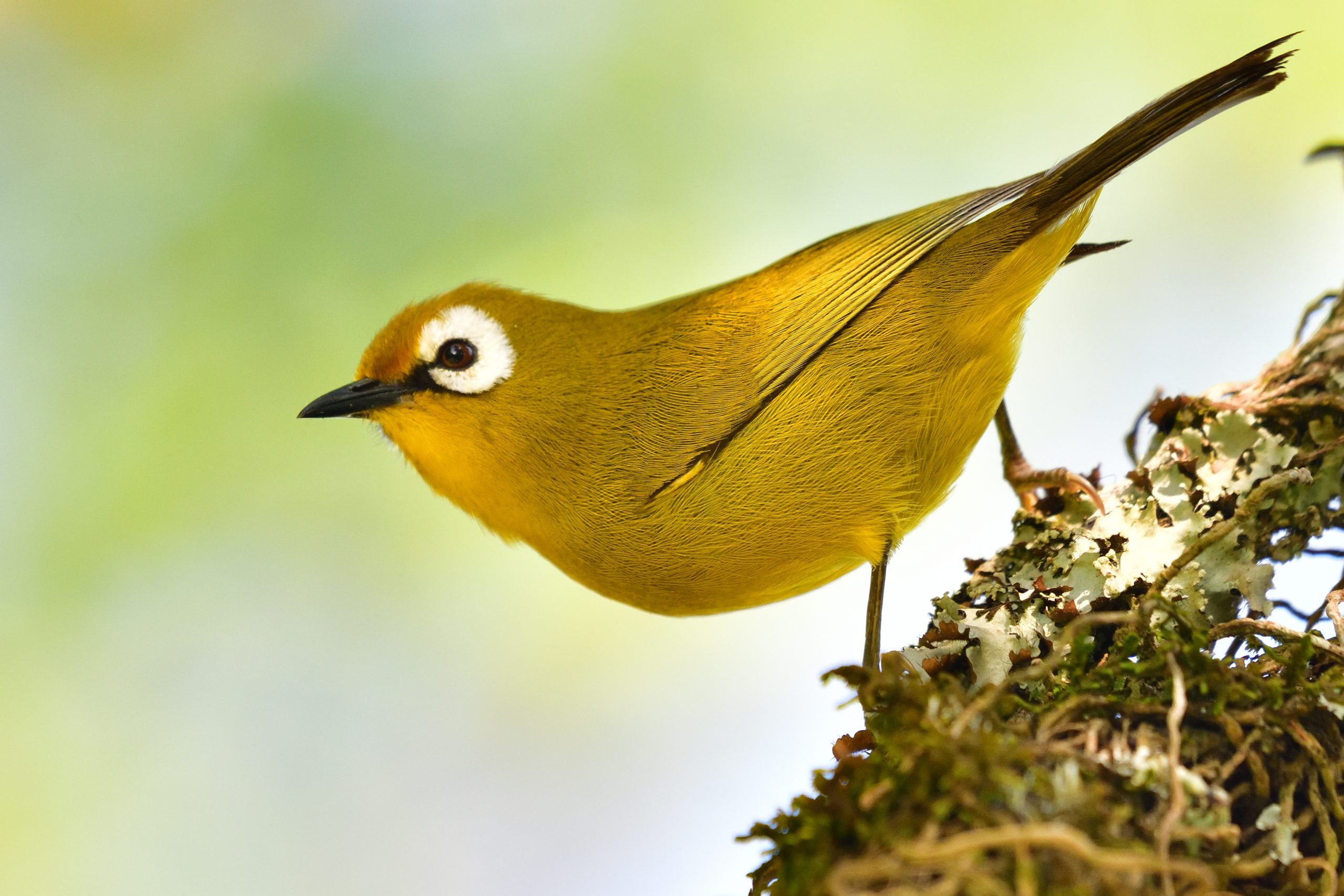 Broad-ringed White-eye, Zosterops eurycricotus – Endemic tothe Kilimanjaro region of Tanzania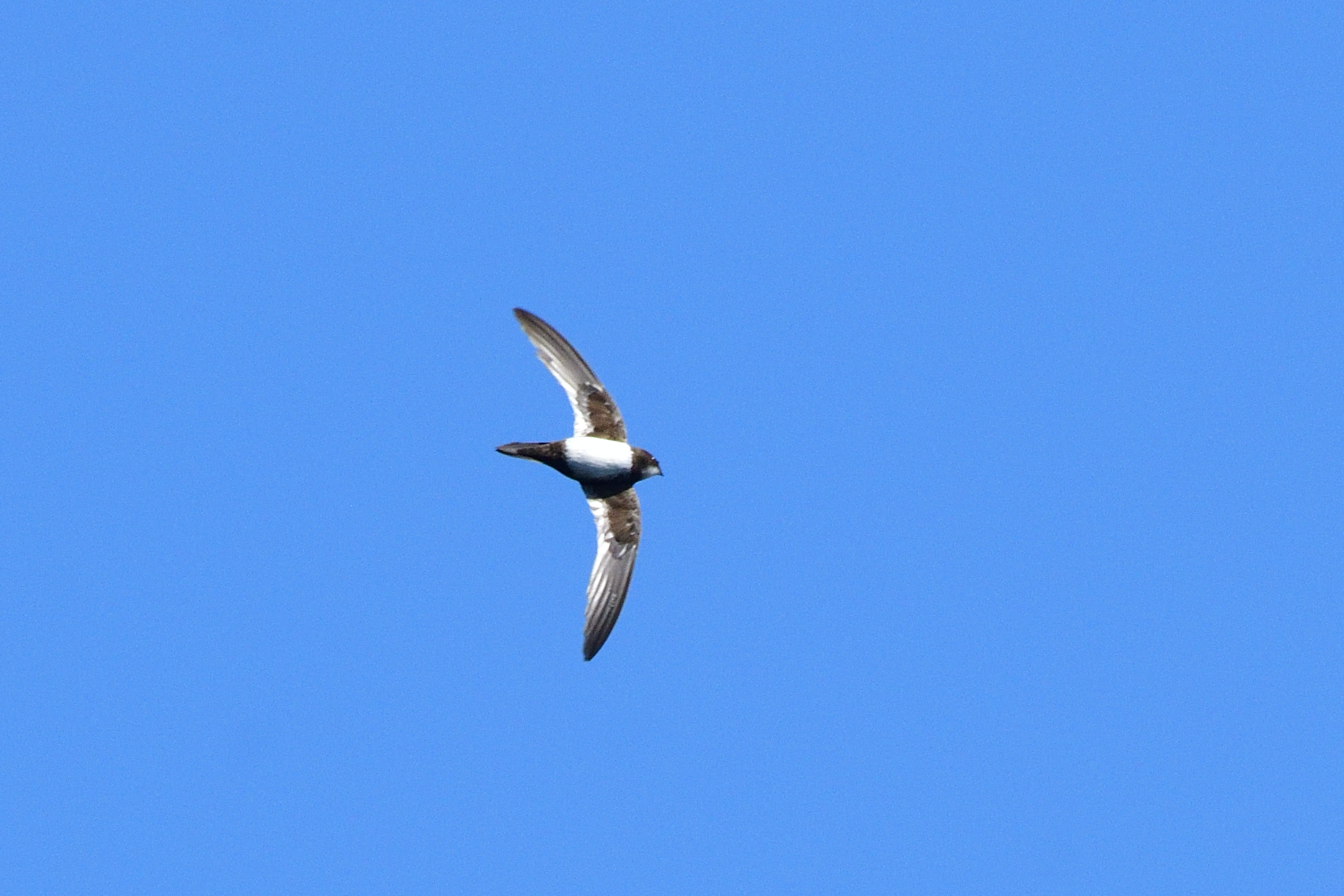 Alpine Swift, Tachymarptis melba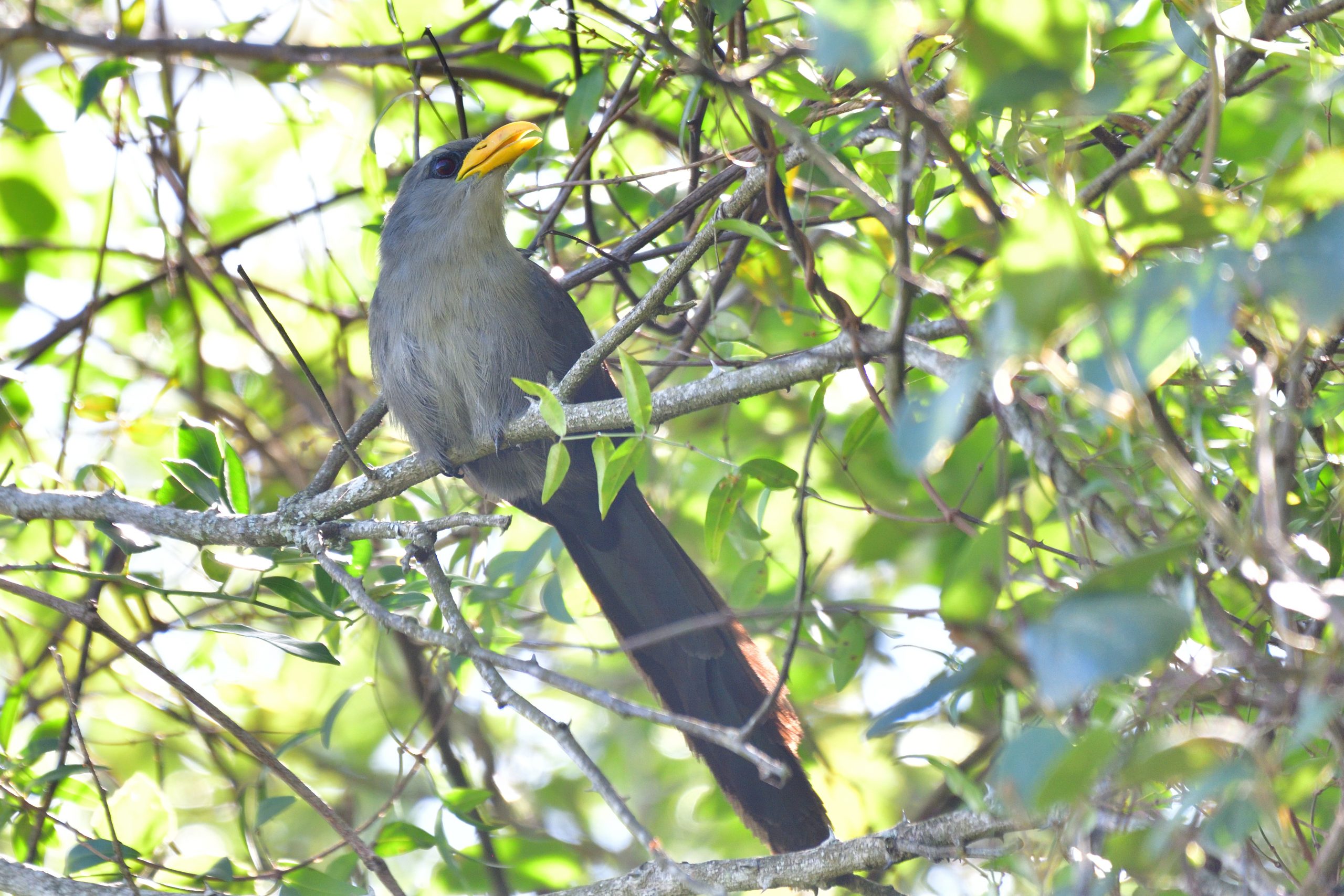 Green Malkoha, Ceuthmocares australis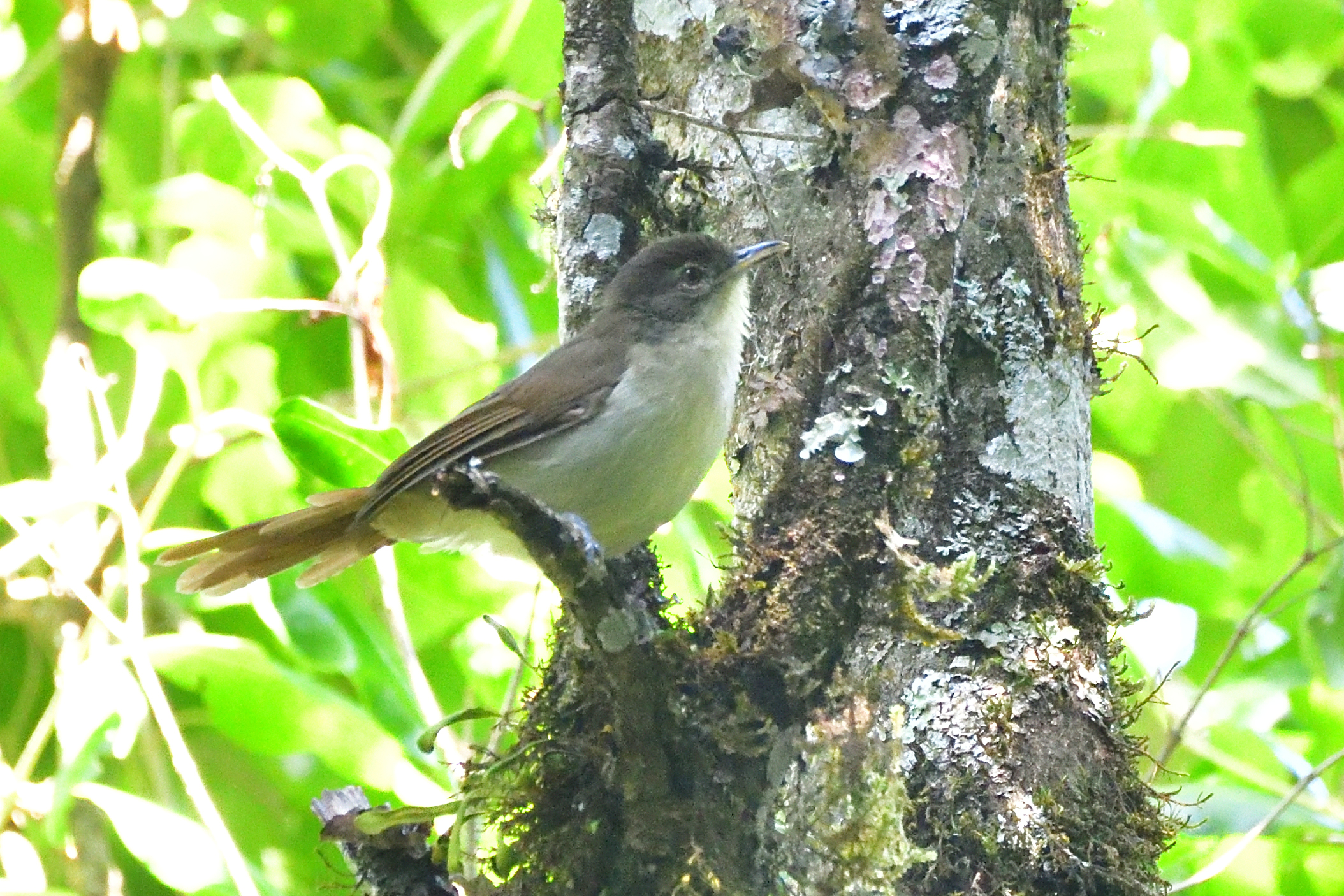 Yellow-streaked Greenbul, Phyllastrephus flavostriatus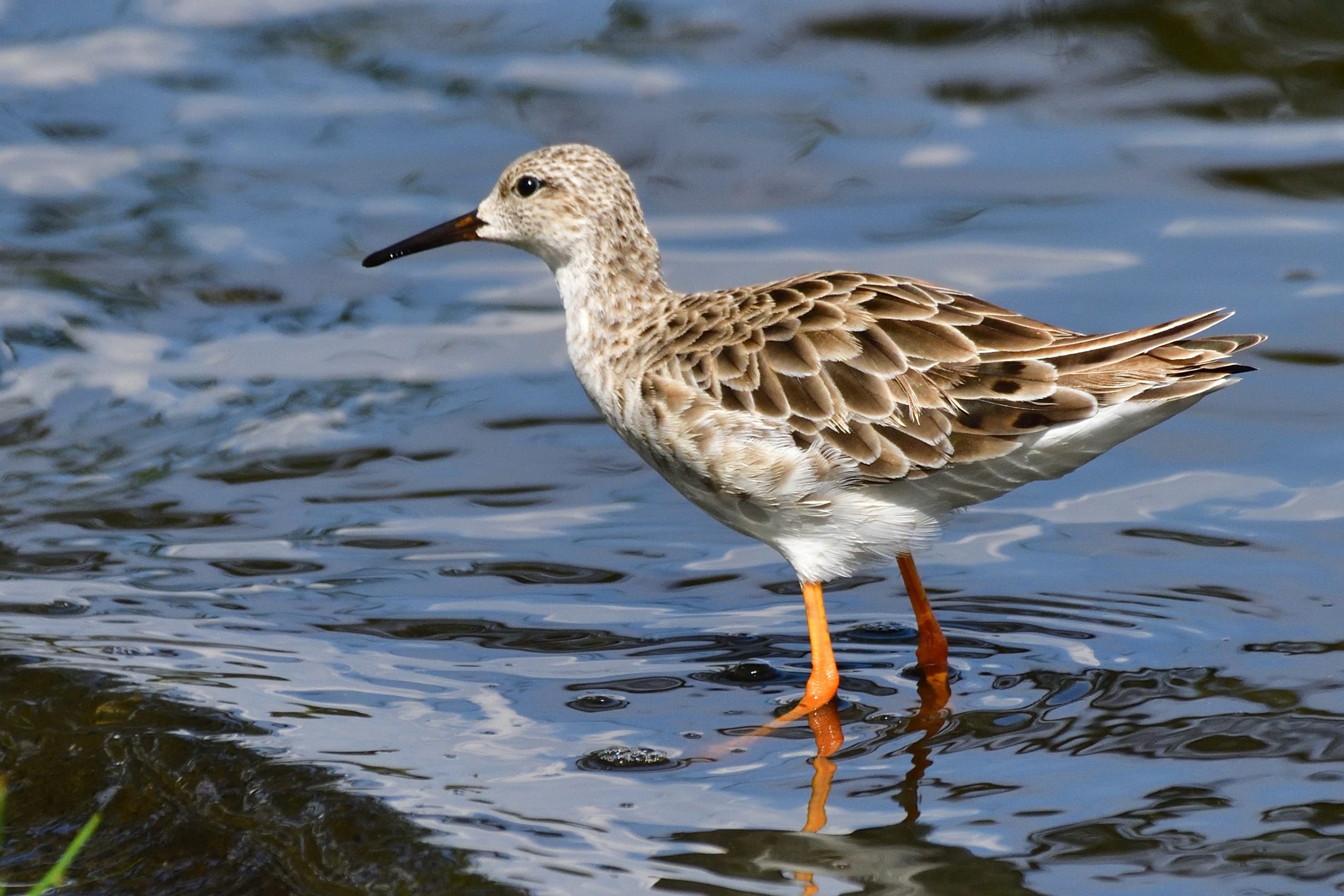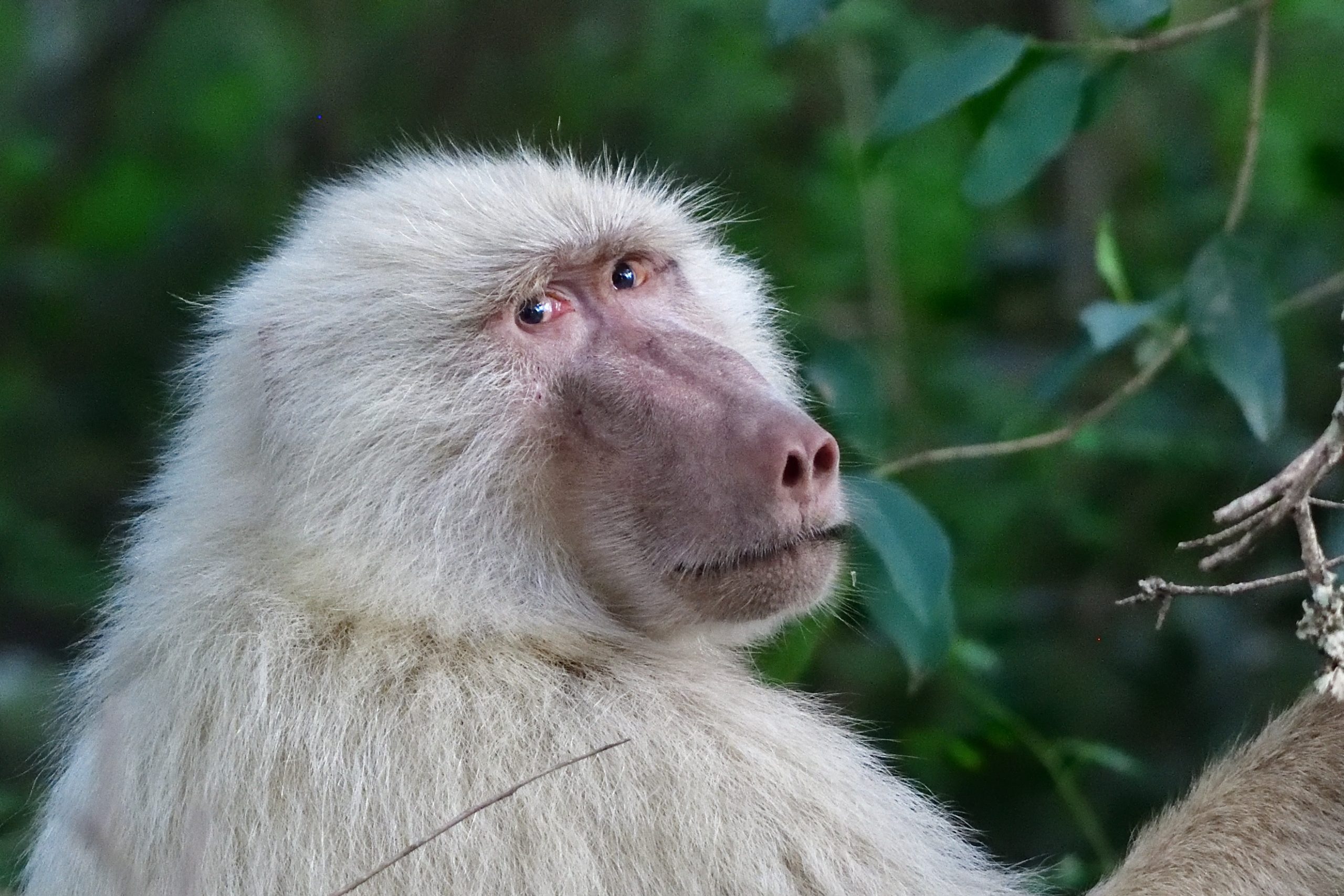 Day 13, Friday January 15 – Kiligolf – Kalinga Forest – Usa River – Kiligolf – Airport.
Pauls last day. We had decided to bird local forests this day. We might still have a surprise for Paul in hand. Our destination was Kalinga Forest only 11 km from my house. Abdul had discovered this forest only a short while ago. I had been with Abdul there a couple of times, but we had never really explored the forest. We were at the forest entrance by 08.30 and started recording species: Green Malkoha, Eastern Bronze-naped Pigeon, Little Greenbul, Rüppel´s Robin-Chat, Tambourine Dove, Trilling Cisticola, African Emerald Cuckoo, Harlaub´s Turaco, African Wood-Owl, Silvery-cheeked Hornbill and European Bee-eater before we came to a special spot. We hid away from the path and waited for a long time. I told Paul to have his camera ready and then after about 30 minutes of waiting, two Buff-spotted Flufftails crossed the path. I had put Paul in the prime position, so hopefully his pictures are better than mine. This was indeed a bonus bird for Paul. After that we recorded Narina Trogon, Black-headed Mountain Greenbul, Black-headed Apalis, Golden-tailed Woodpecker and Placid Greenbul. The forest is quite dense, so most of the birds we only heared. We exited the forest one hour after entering and Abdul had one more ace up his sleeve. He had a breeding colony for Speke´s Weaver which was also a target bird for Paul. The Weavers had built a breeding colony in an electricity pole and the wires around the pole in the middle of a small village. Very easy to find. After bagging the Speke´s, we returned back to my house. We enjoyed lunch at my patio and the birds in my garden that afternoon before Selvine drove Paul to the airport. 
Some pictures from day 13: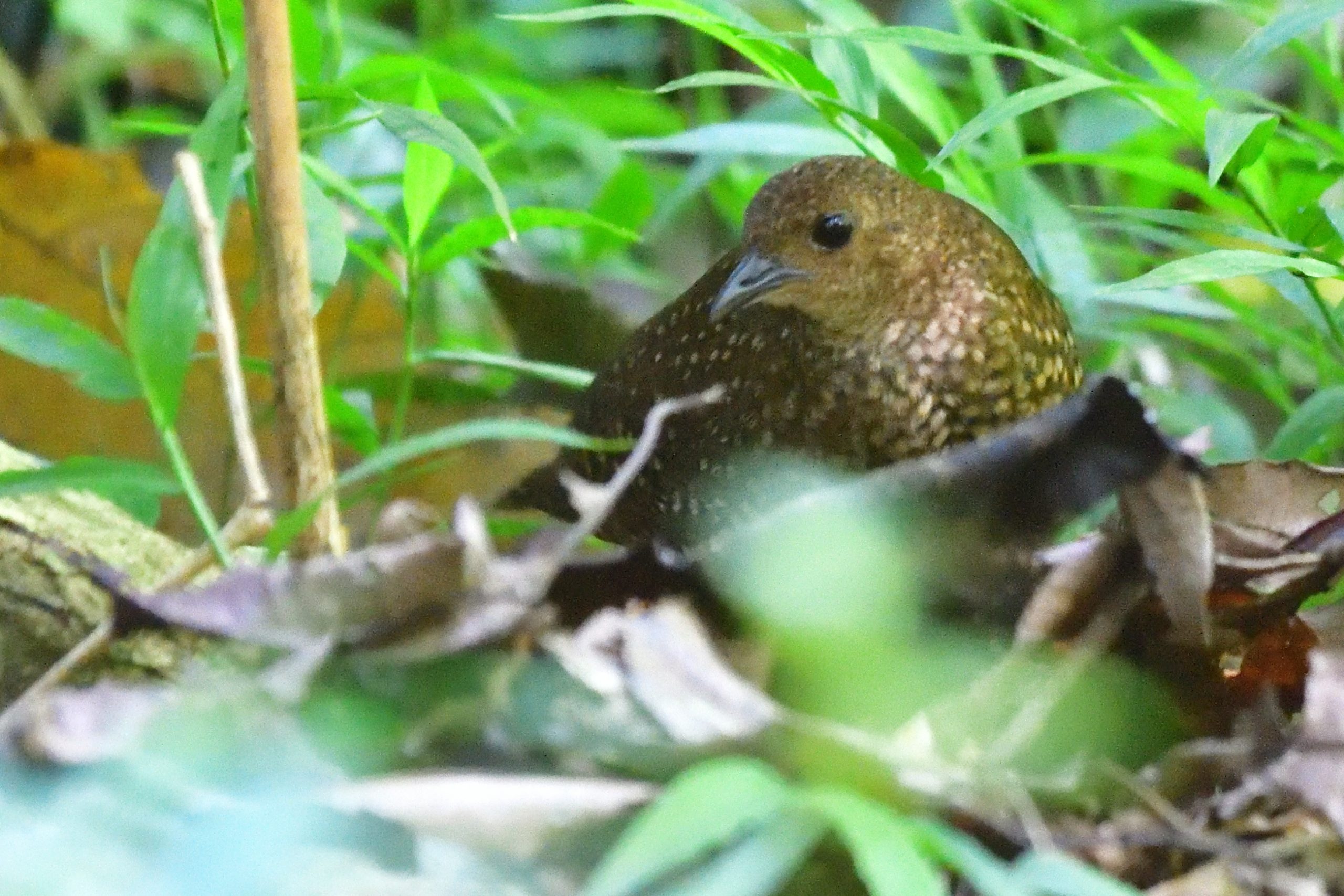 Buff-spotted Flufftail (Female), Sarothrura elegans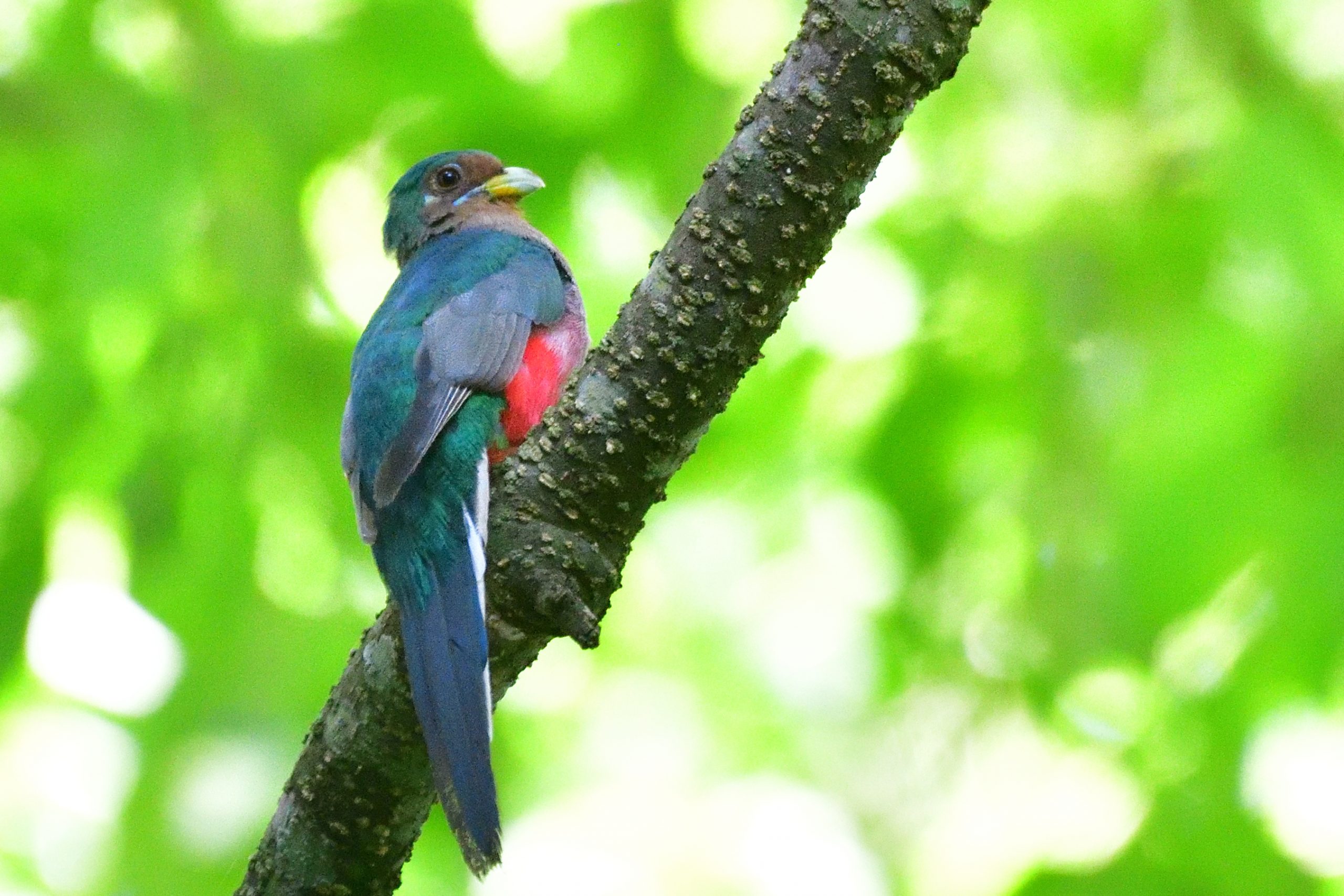 Narina Trogon, Apoloderma narina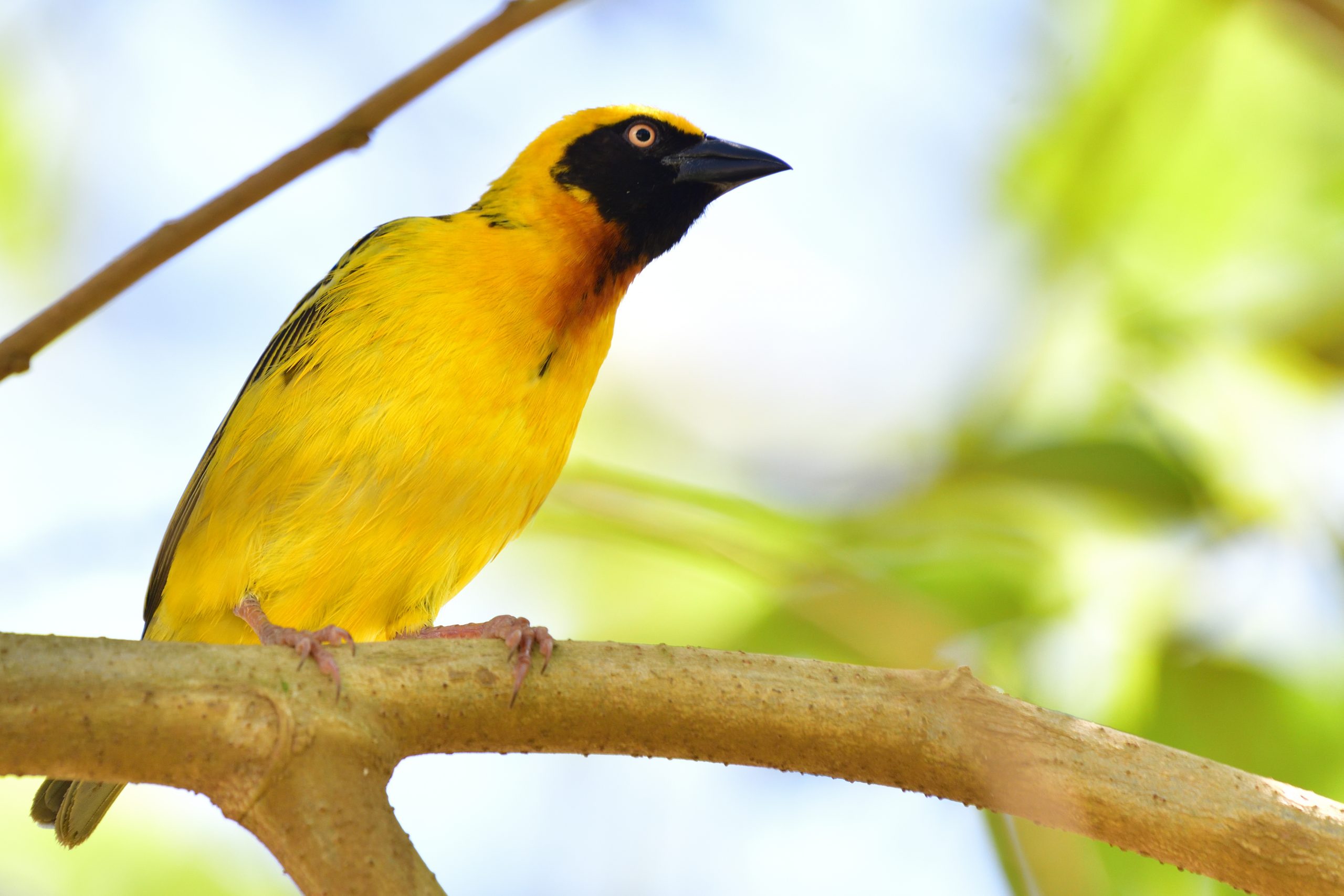 Speke´s Weaver, Ploceus spekei – Endemic to NE Africa
I totally enjoyed my time with Paul. He was like me a bird photographer and during the entire trip we had a slow phased birding style. We could spend quite some time with each bird in order to get the right picture. Abdul keeps the lists of my trips and according to him we recorded 397 species on this trip. Paul and I have planned a few more East African trips together, but due to the pandemic situation in Europe, Paul is like any other person living in Europe severely restricted in his travel. Paul, I hope to see you soon whether it will be Uganda, Rwanda or the Southern highlands of Tanzania.