I had this time friends from Canada visiting Darrell Parson and his wife + David Beadle an Englishman having lived in Canada for many many years. David and Darrell had been birding the world at many destinations together so I knew they were a good team. They were both also bird photographers which is my preferred friends  to come and visit. Polin was not that interested in birds, but she had never been to Africa and of course wanted to come with us to Arusha NP and Tarangire NP to see some mammals. They all flew in late with KLM on October 27th, I picked them up and took them to our house. After a couple of beers and a hand out of all the special purchases that Darrell and Polin  so kindly had done for us in Canada, we all retired to bed.
Day 1, Thursday, October 1 – Kiligolf + Sakila Wetlands
Since my friends had been flying alll the way from Toronto, Canada and they flew in late the day before, we decided to bird Kiligolf this day. We started with morning coffee at my veranda and started ticking birds: Chestnut and Vitelline Masked Weavers, Scarlet-chested and Variable Sunbird,  Tropical Boubou, White-browed Coucal, Chinspot batis, Buff-bellied Warbler, Sombre Greenbul, Some overflying Western Cattle Egrets and an African Grey Flycatcher. We then started the walk and immediately got into birds: African Firefinch, Variable Sunbird, Red-faced Crombec, Red-cheeked Cordonbleu, Little Sparrowhawk, Black-faced Waxbill, Green-winged Pytilia, Superb Starling, Long-tailed Fiscal, White-bellied Go-away-bird, Red-billed Firefinch, Wire-tailed Swallow, Rattling Cisticola, Hamerkop, Spotted Palm Thrush, Bare-eyed Thrush. Alpine Swift, Orange-breasted Bushshrike, African Paradise Flycatcher, Purple Grenadier, African (Dark-capped) Yellow Warbler!, Lesser Honeyguide, Brown-crowned Tchagra, Pale White-eye and Southern Citril. Now we had reached our spot for the resident pair of Pallid Honeyguide. As David so eloquently put it, we give it a little tickle and sure enough both birds came out and displayed nicely for us. We continued and added Brown-hooded Kingfisher, Black Cuckooshrike, African Fish Eagle, Mourning Collared Dove, Black-backed Puffback, Spectacled Weaver, Brubru, African Pied Wagtail, Reed Cormorant, Giant Kingfisher, Great Egret, a soaring African Hawk-Eagle, Northern Brownbul, Yellow-Bishop, Nubian Woodpecker, Northern Grey-headed Sparrow and Blue-naped Mousebird. In total 70 species on Kiligolf before breakfast. Neema, our maid, and Selvine had prepared a delicious breakfast for us when we returned to our house at around 10 AM. Midday is usually quite dull here, but we have a nice wetland only about half an hour drive from our house, so we decided to make a dash for that after having relaxed for about an hour. It had been and still was extremely dry here so I was not surprised to see very little water in the wetland. Of course that effected the number of species. However, we still managed to rack up  amongst others: Red-headed Weaver, Reichenow´s Seed-eater, White-faced Whistling Duck, Intermediate Egret, Yellow-billed Stork, Three-banded Plover, Knob-billed Duck, Isabelline Wheatear, Pale Flycatcher and Baglafecht Weaver. We returned to our house in time for lunch, then had an hour of relaxing before we again went birding on Kiligolf. We did the bottom 9 holes in the morning and were doing the top nine in the afternoon. New birds encountered were Beautiful Sunbird, Greater painted Snipe, Yellow-collared Lovebird (probably the resident birds here are hybrids), Green Sandpiper, Wahlberg´s Eagle, Magpie Shrike, Red-rumped Swallow, Mottled Swift, Spot-flanked Barbet, Grey-headed Kingfisher, Winding Cisticola and Crimson-rumped Waxbill. We returned to our house at around 6:30 PM, freshened up and had a lovely dinner prepared by Selvine and Neema. A couple of beers and then straight to bed. a good first day with almost 130 species recorded.
Some pictures from day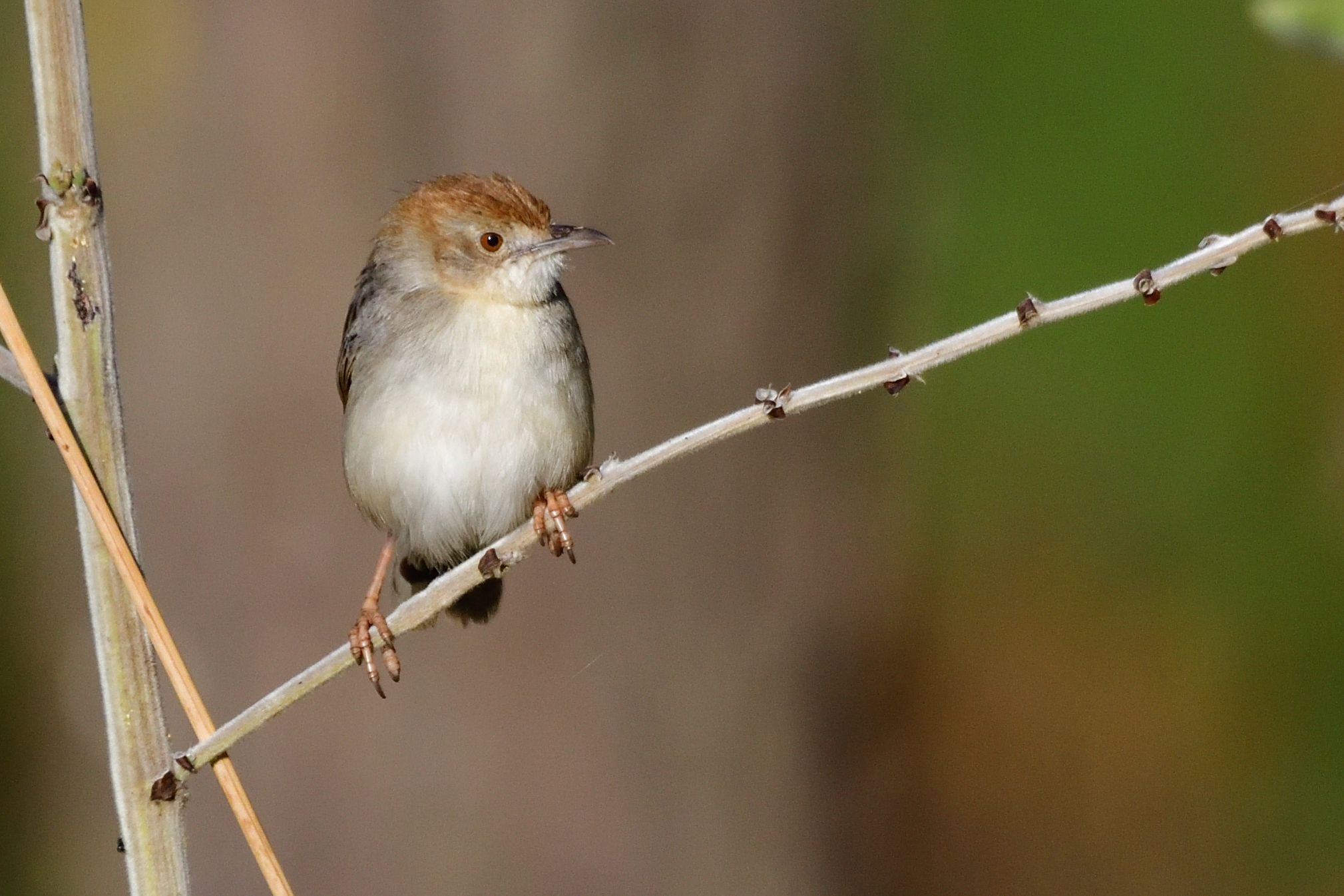 Rattling Cisticola, Cisticola chiniana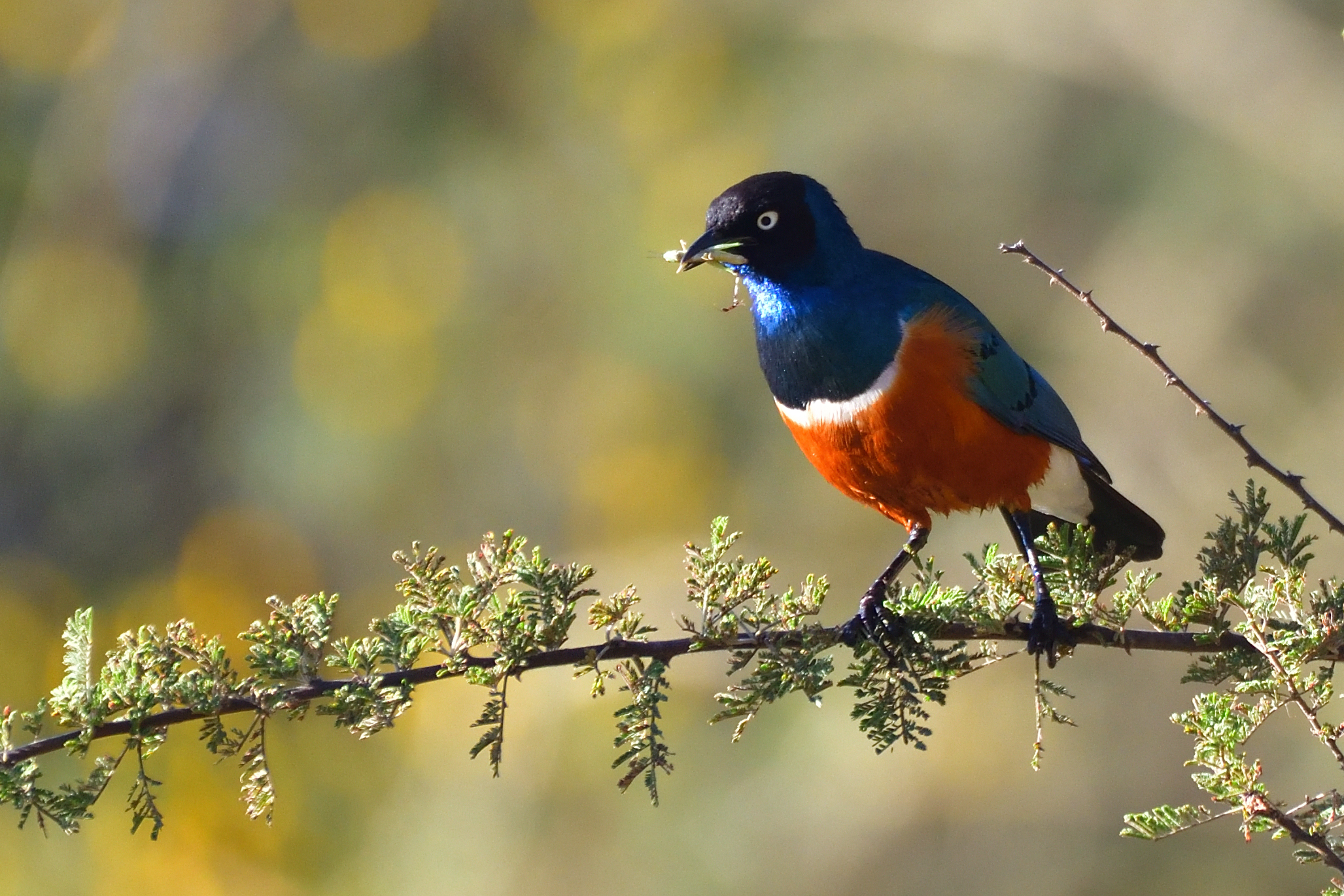 Superb Starling, Lamprotornis superbus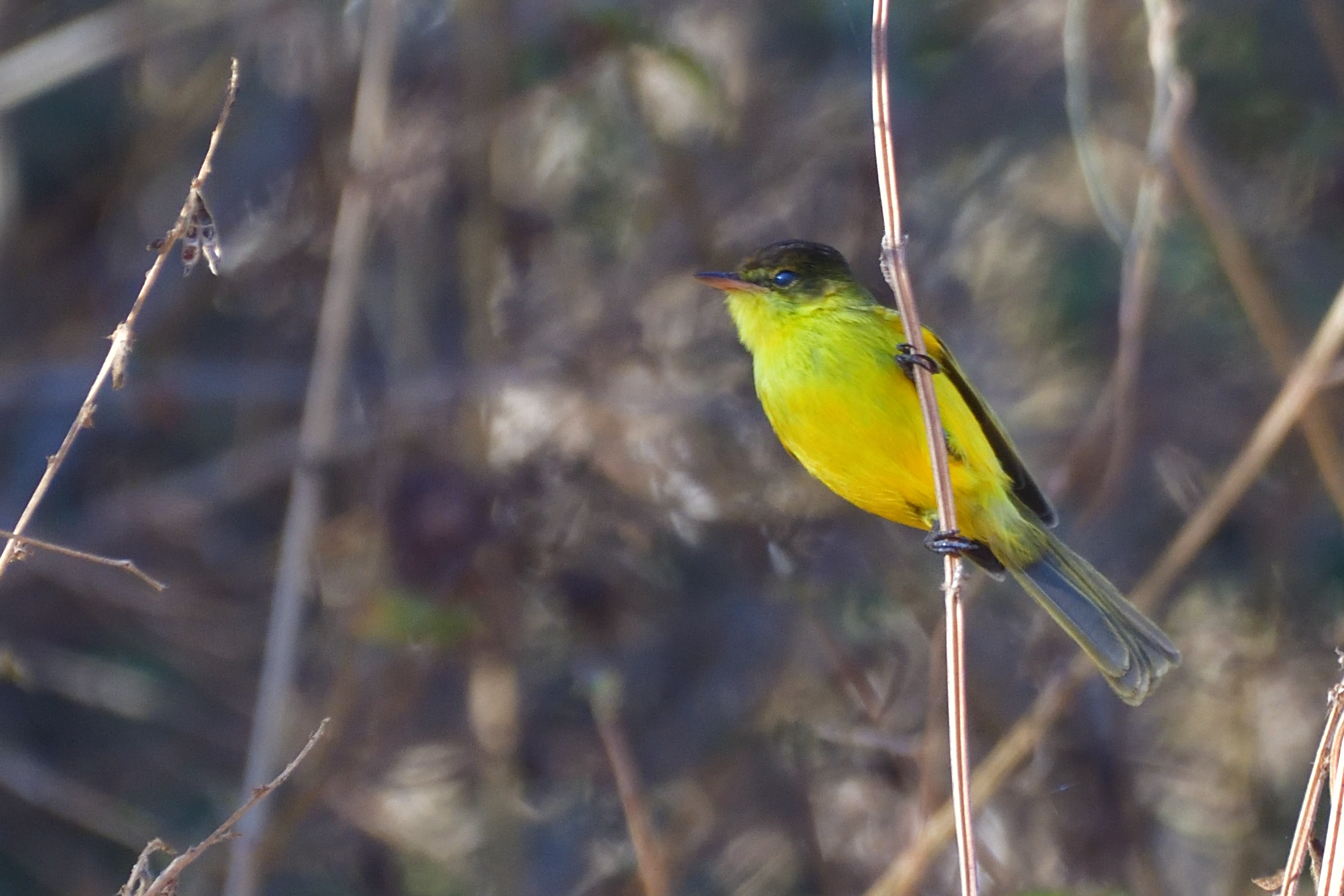 African (Dark-capped) Yelow Warbler, Iduna natalensis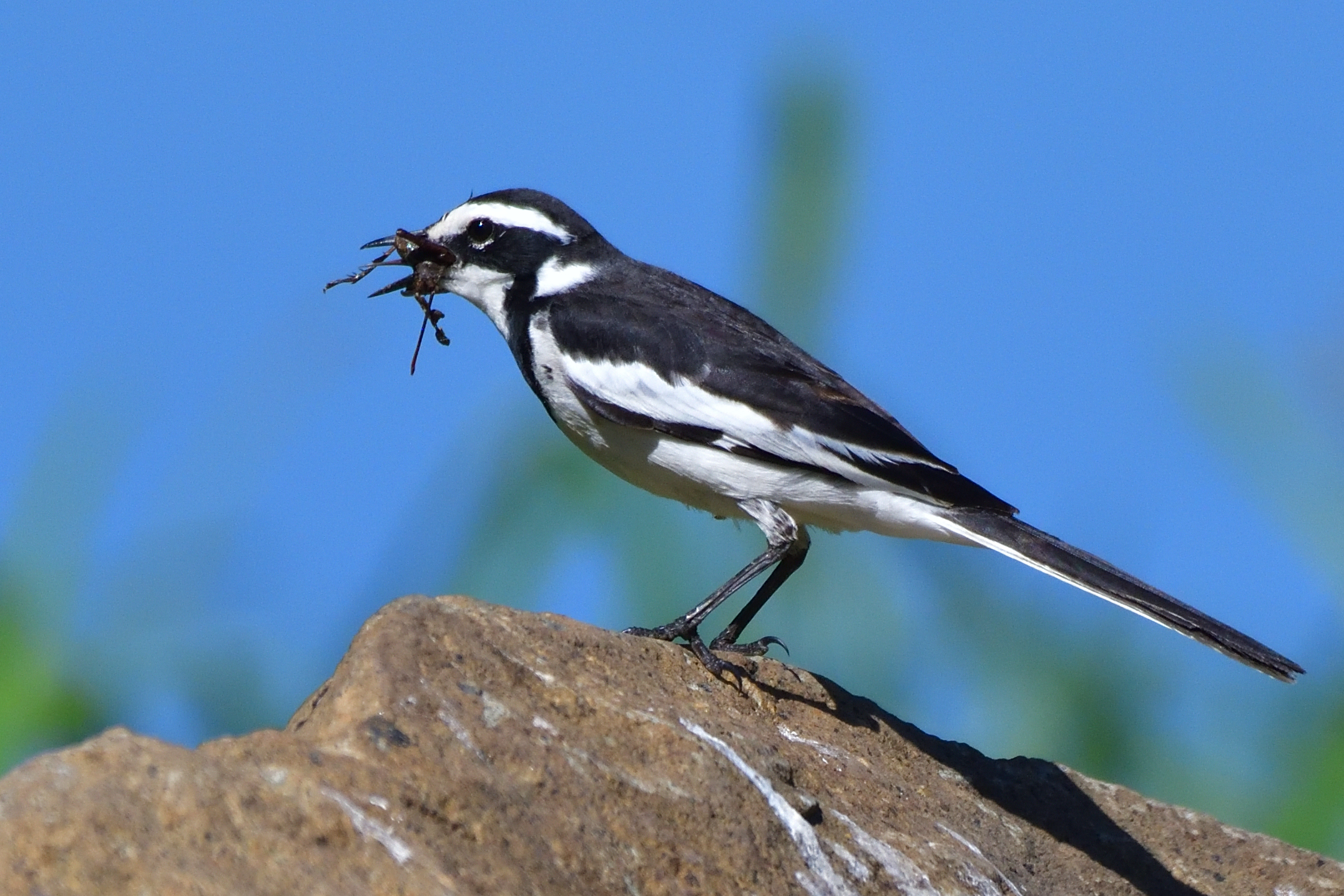 African Pied Wagtail, Motacilla aguimp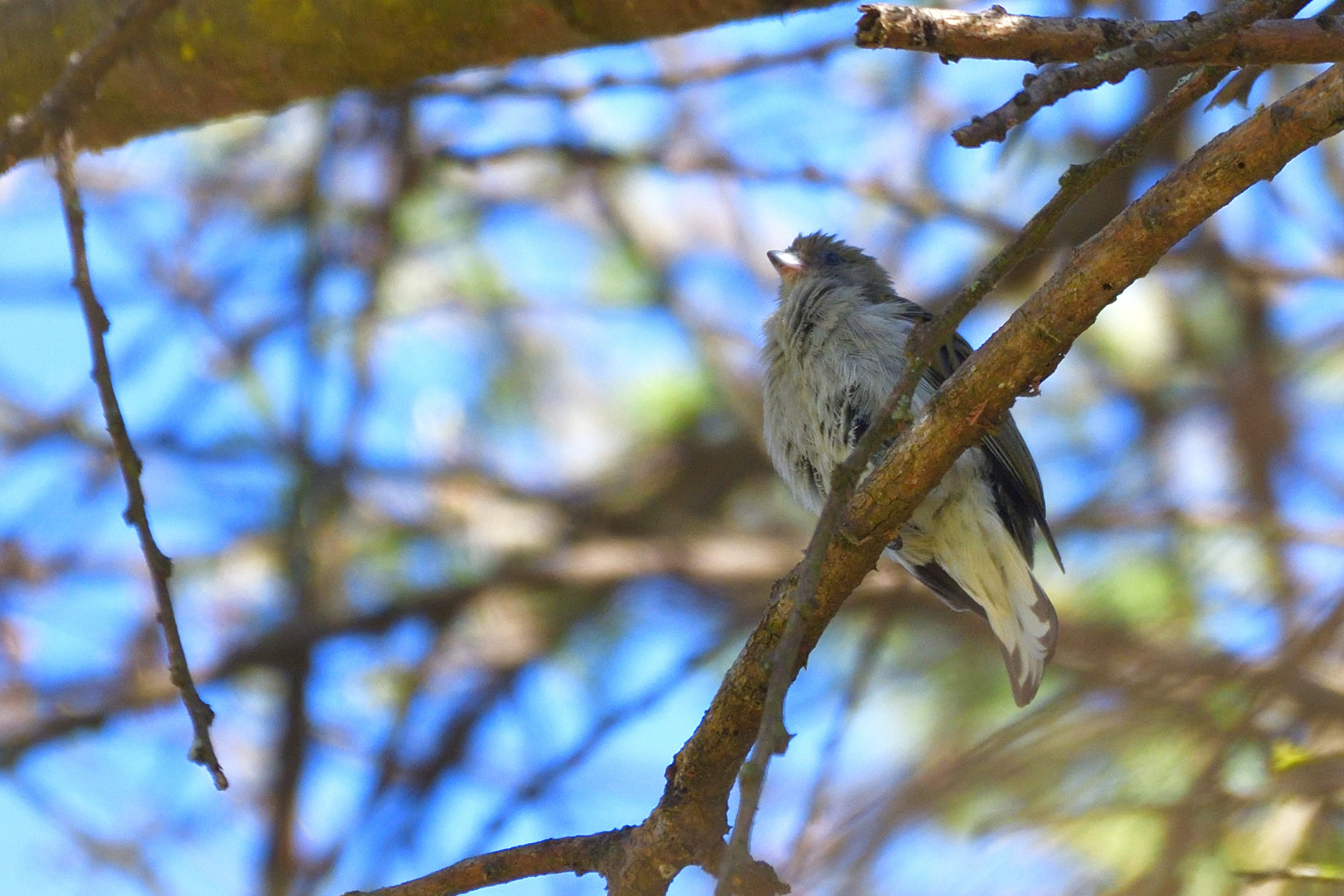 Pallid Honeyguide, Indicator meliphilus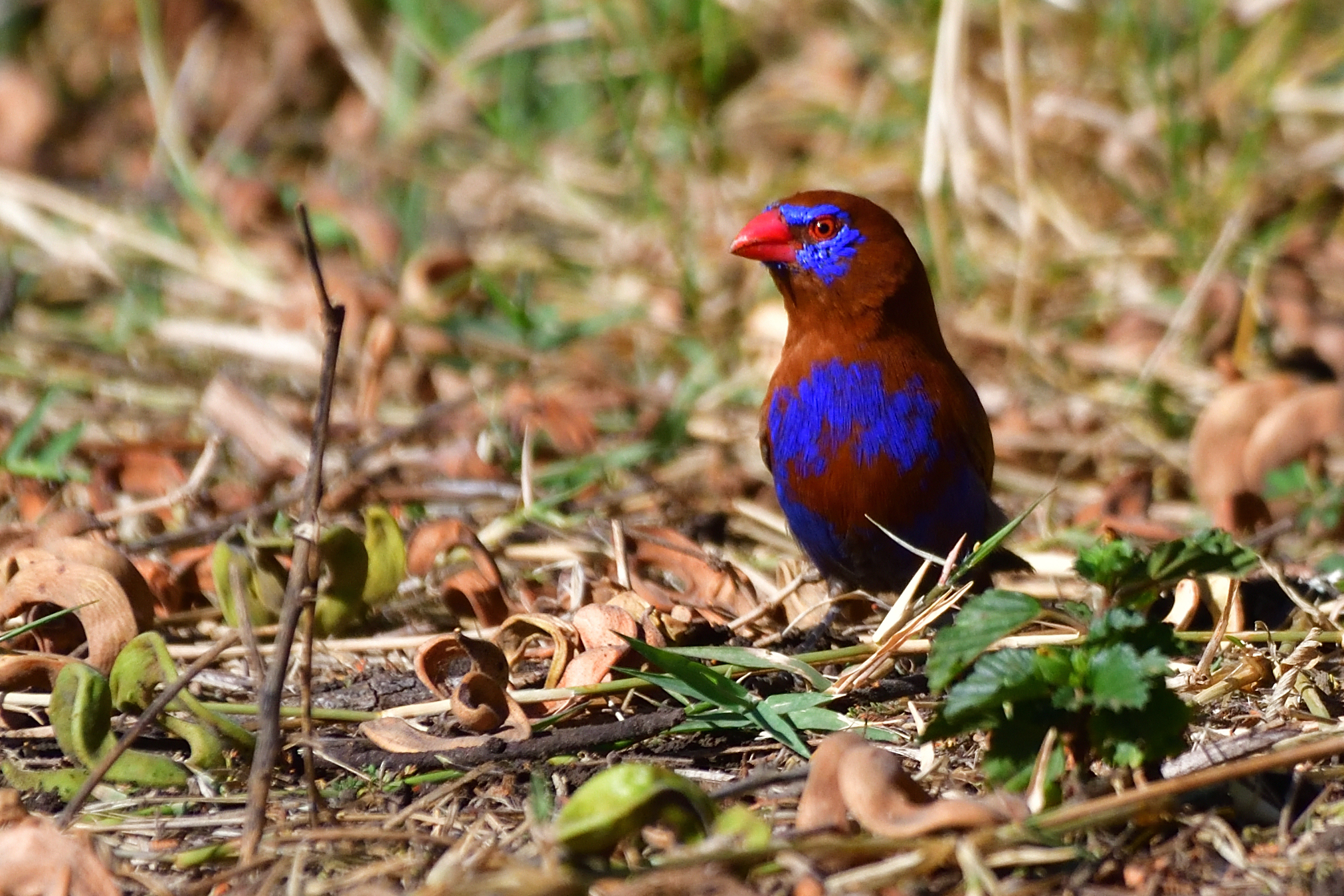 Purple Grenadier, Granatina ianthinogaster – Endemic to NE Africa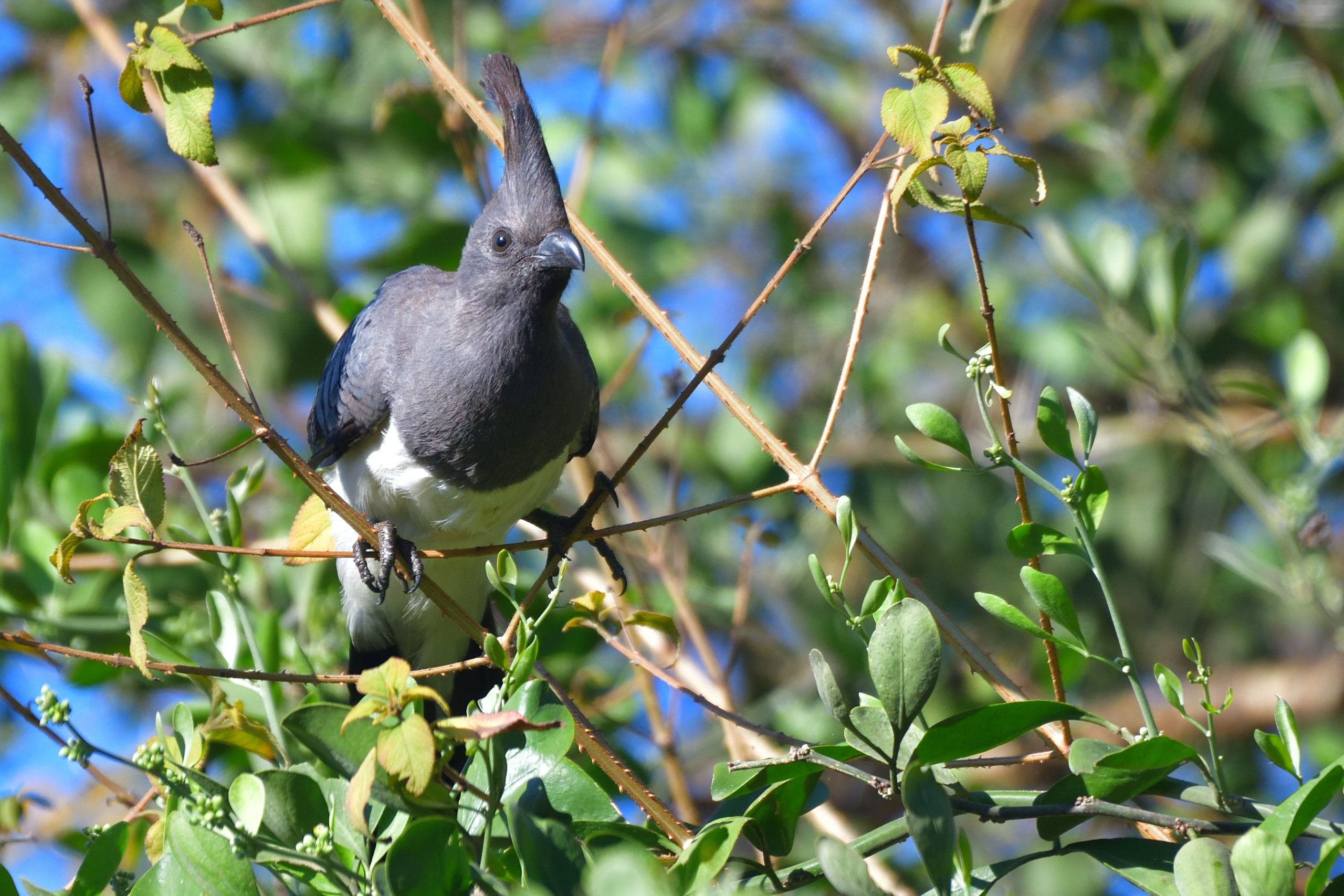 White-bellied Go-away-bird, Corythaixoides leucogaster – Endemic to NE Africa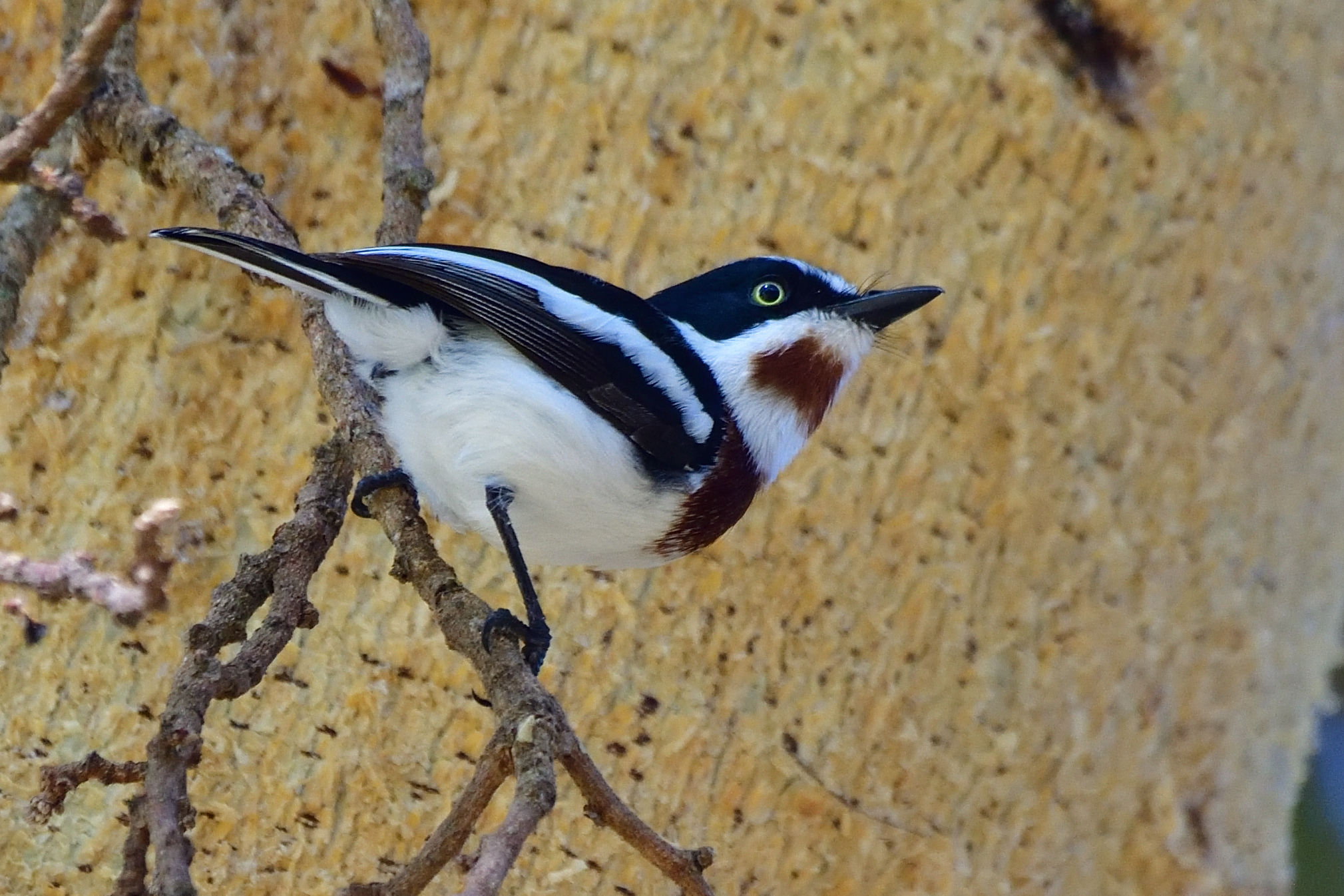 Chinspot Batis, Batis molitor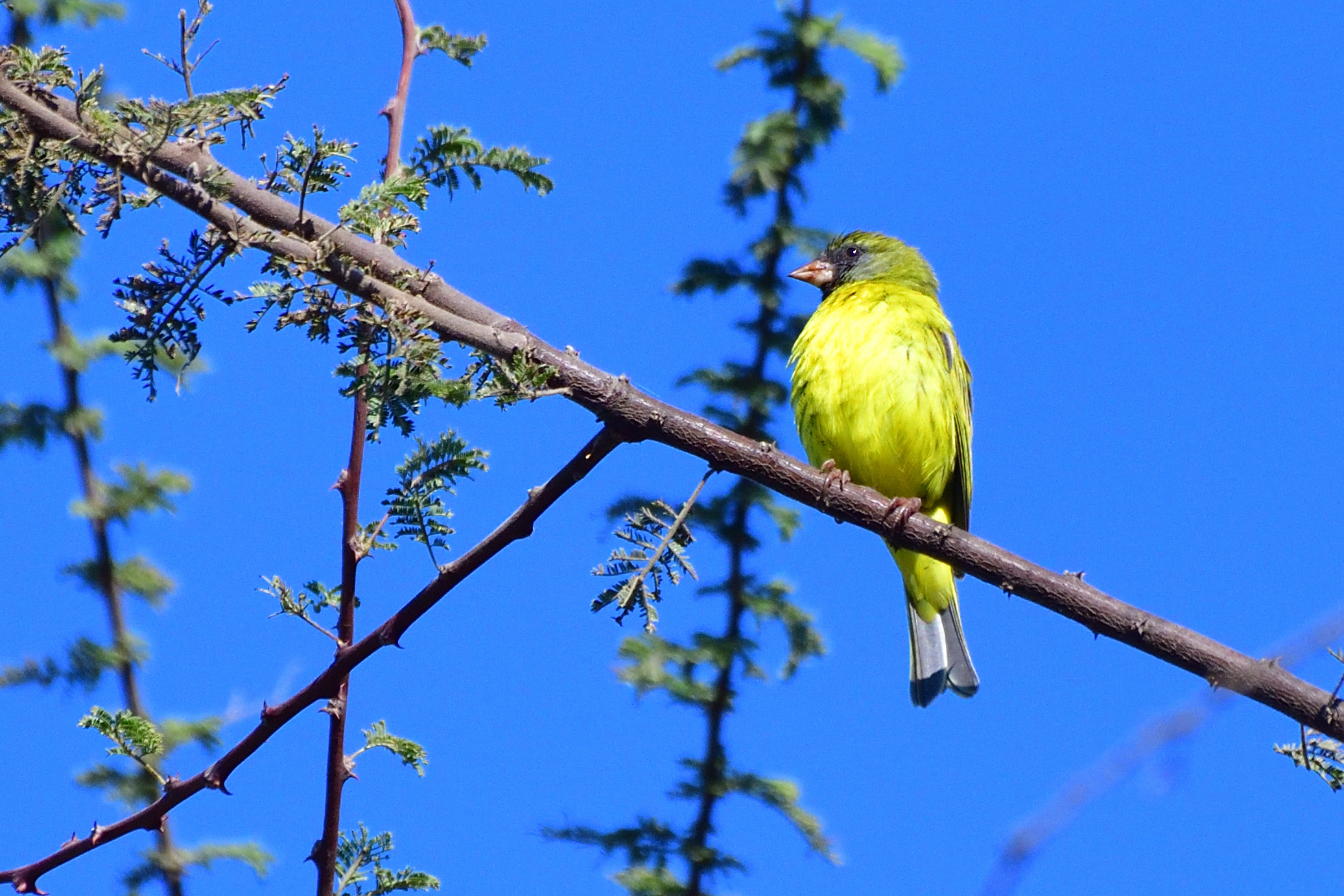 Southern Citril, Chrithagra hyposticta – Endemic to NE Africa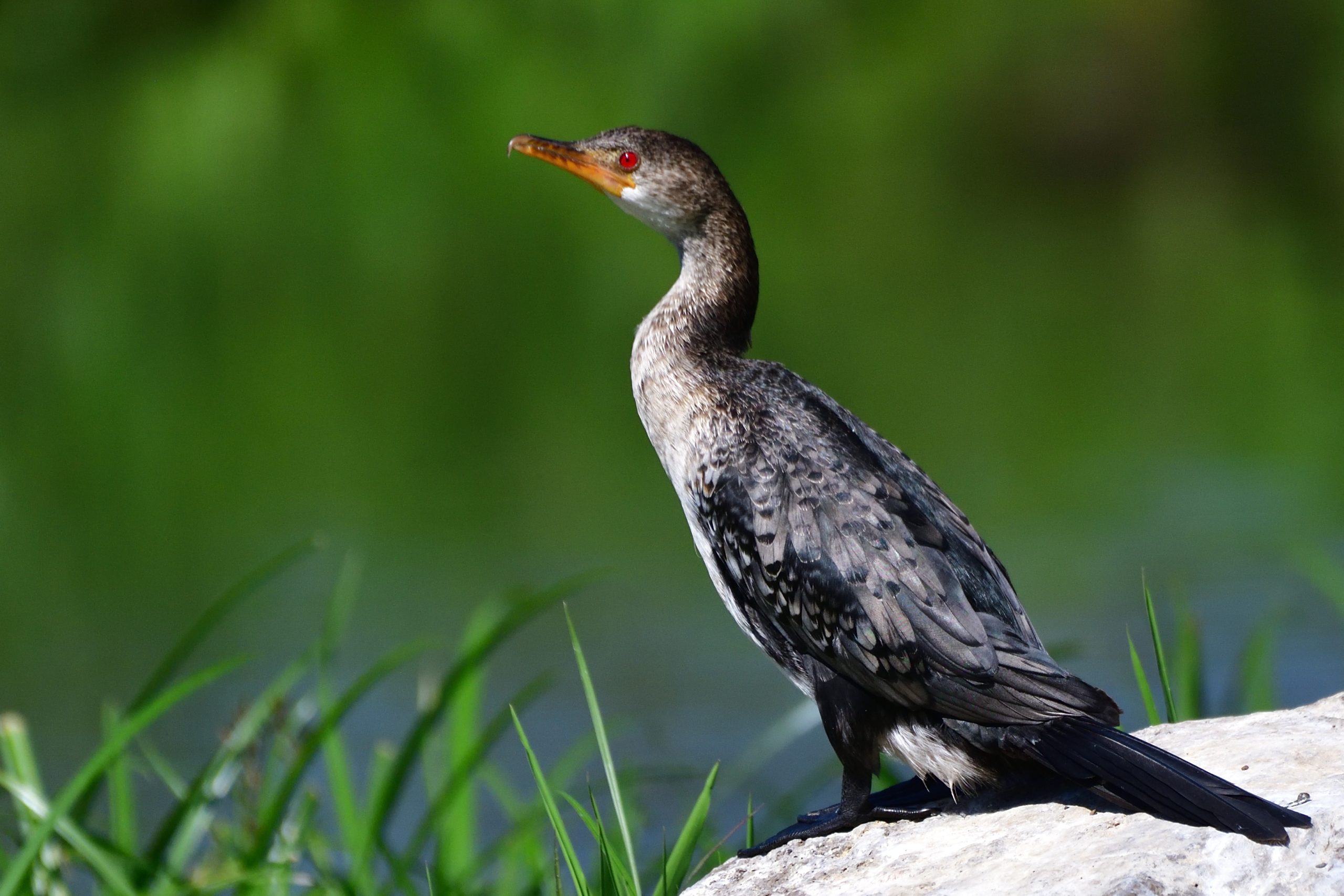 Reed Cormorant, Microcarbo africanus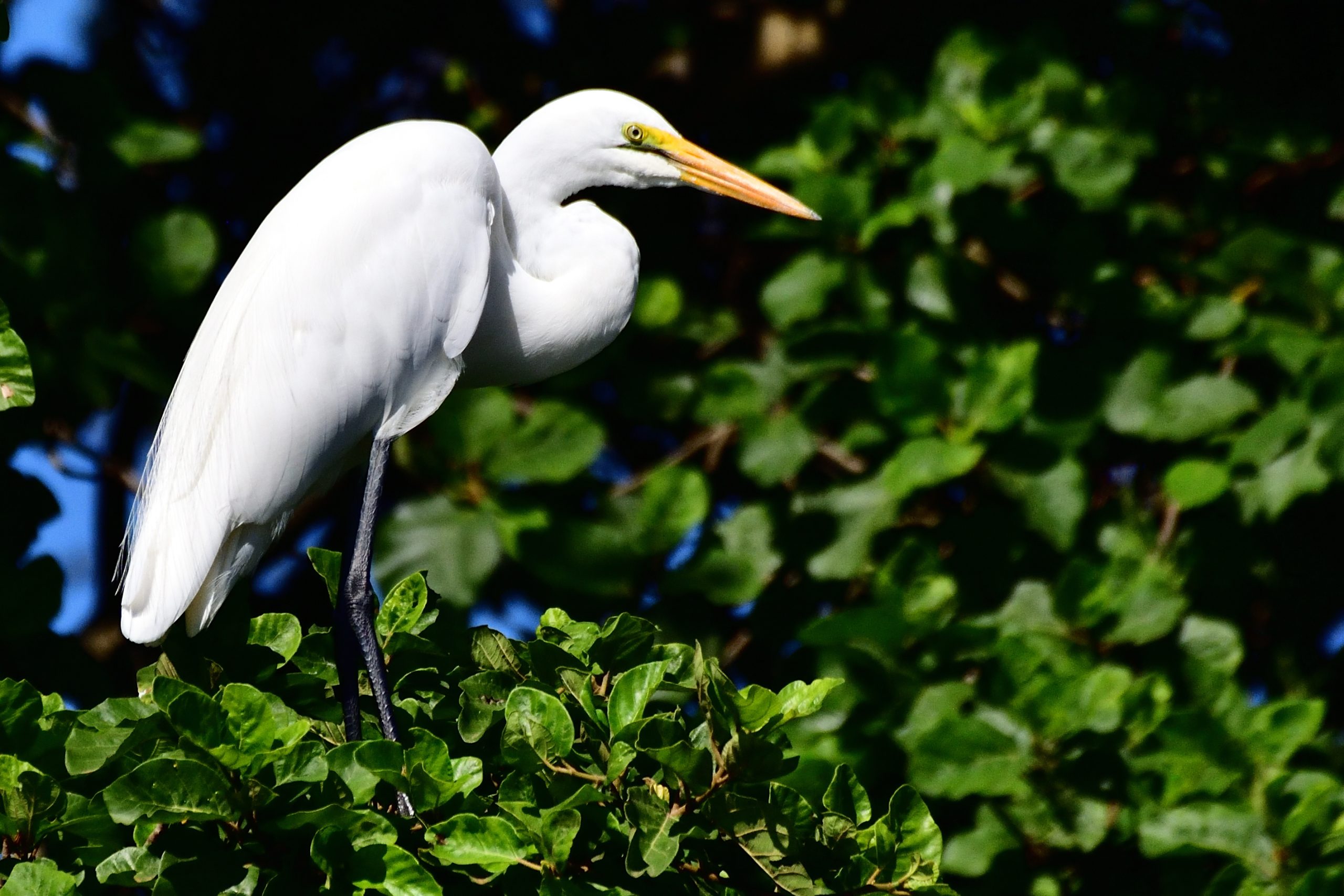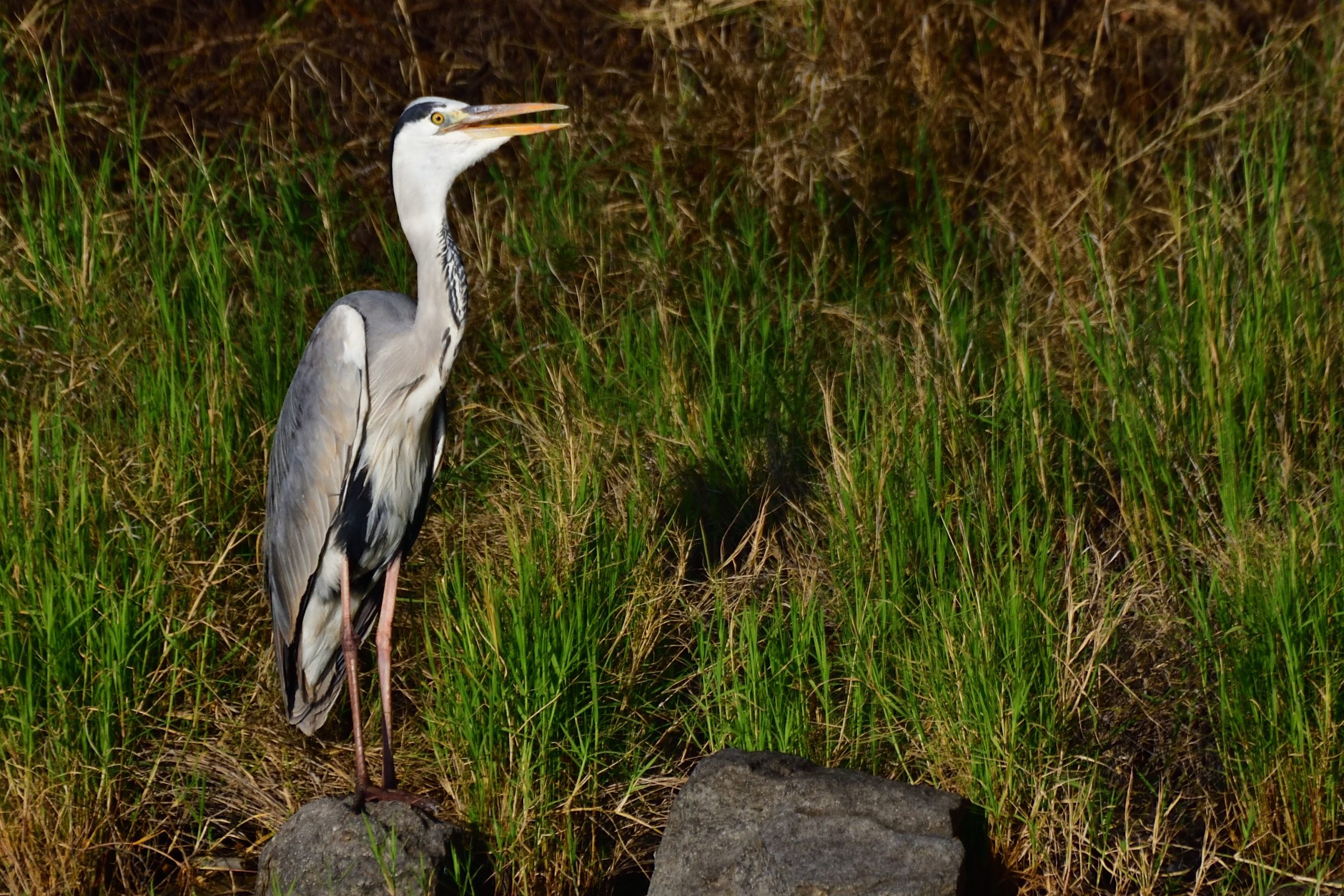 Grey Heron, Ardea cinerea
Day 2, Friday October 29 – Kiligolf – Lark Plains – Oldonyo Sambu – Lake Duluti
We set out early for the Lark plains that morning. It is about 1 1/2 hour drive from our house. When we take off from the main road, we lift up the roof off my old Landy Maggie T in order for everyone except me, the driver to have good views. On the way to where we met the Masai guide, Saruni, we added the following species: Taita Fiscal, Foxy Lark, Capped Wheatear and Short-tailed Lark. We parked the car and walked out to Saruni who had already found our prime target the Beesley´s Lark for us. With the Lark in the box, we walked back to the car where we added Northern Wheatear, Red-fronted Prinia (Warbler), Banded Parisoma and Chestnut-bellied Sandgrouse to our list. We started driving slowly towards Saruni´s Boma and found amongst other birds Eastern Chanting Goshawk, Fischer´s Starling, Pied Wheatear and Hildebrandt´s Starling. Once at Saruni´s Boma, we parked the car and started birding the fabulous dry country Acacia forest there. With Abdul in the lead, we racked up quite a few of our targets: Red-throated Tit, Abyssinian Scimitarbill, Red-fronted Barbet, White-bellied Canary, Mouse-coloured Penduline Tit, Kenya Sparrow, Pygmy Falcon, Grey-capped Social Weaver, Yellow-spotted Bush Sparrow (Petronia), Rosy-patched Bushshrike, Speckle-fronted Weaver, Northern Red-billed Hornbill, Pygmy Batis, Southern Grosbeak Canary and on the way out, Tiny Cisticola. Our next stop was Oldonyo Sambu.  The main target here is Lyne´s Cisticola that we unfortunately dipped on, but we still got some good birds: Little Rock Thrush, Schalow´s (Abyssinian) Wheatear, Fischer´s Lovebird, Streaky Seed-eater, Red-and-yellow Barbet, Long-billed Pipit, Slate-coloured Boubou, White-fronted Bee-eater, Blue-capped Cordonbleu and African Grey Woodpecker. We mov ed on towards Lake Duluti. The two targets there were Grey Olive Greenbul and Taveta Weaver. The Greenbul responded, but did not show and the reed beds on Lake Duluti where the Taveta Weavers normally nest were all gone. Abdul always have an ace in his sleeve and he said he had another spot for the Weaver. We went to a tiny wetland close to my house and sure enough a small breeding colony of Taveta Weavers were present. In a tree nearby we observed a Lizard Buzzard with a Chameleon catch. We added Brown-breasted barbet, Black-bellied Bustard and Verreaux´s Eagle-Owl on our way home. After dinner we took a drive on Kiligolf in the dark to look for Slender-tailed Nightjar. We had extremely good views of one.
Some pictures from day 2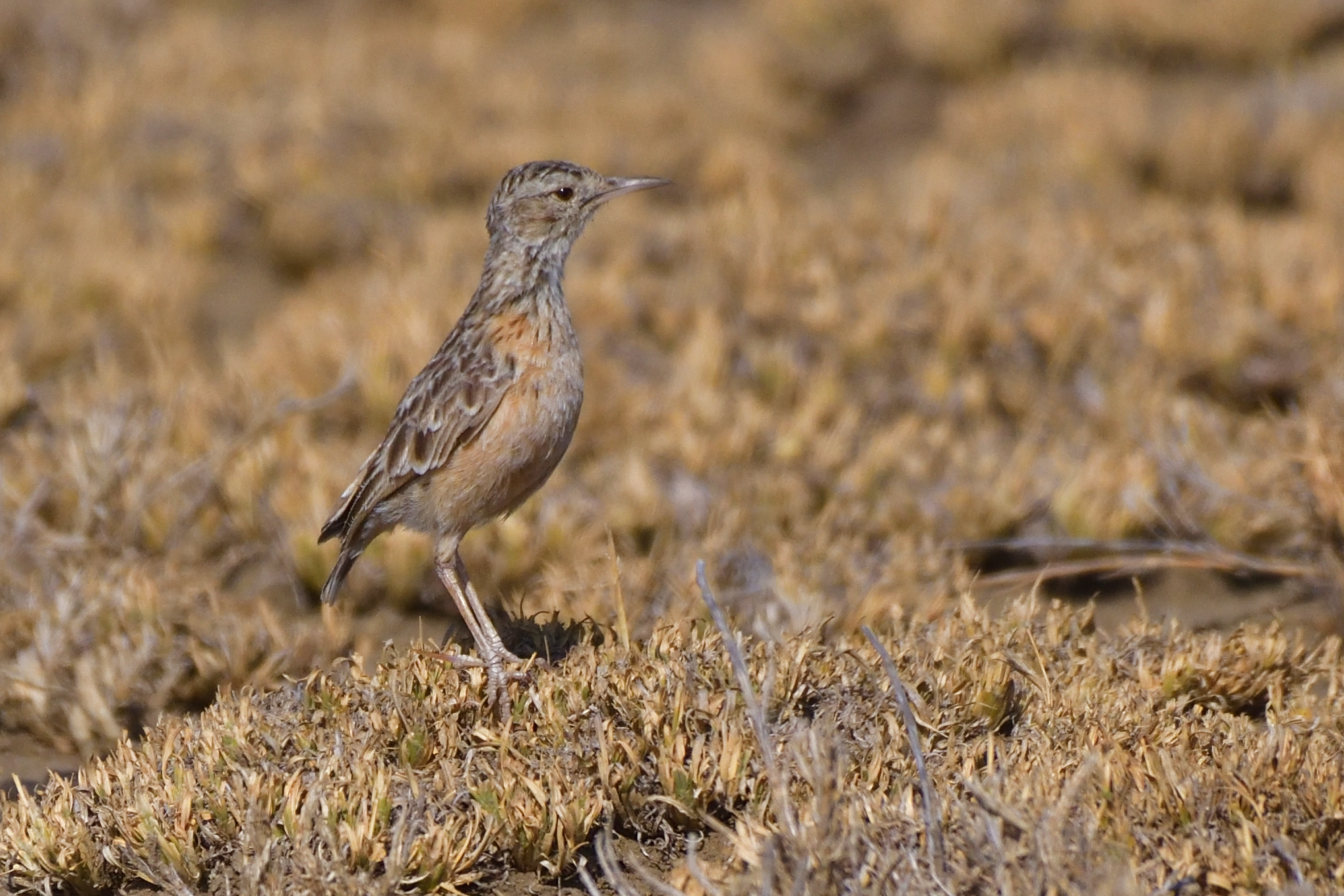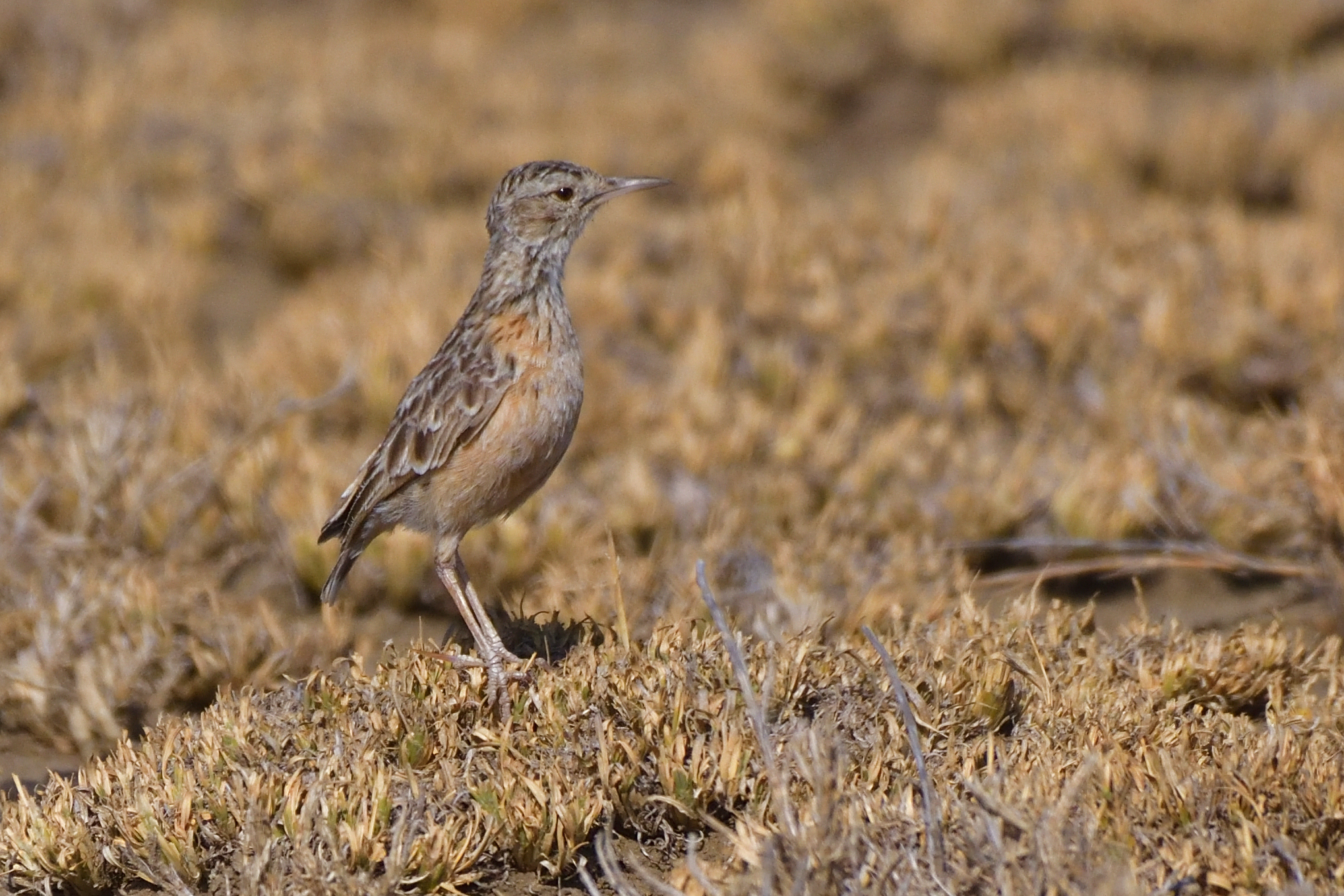 Beesley´s Lark, Chersomanes beesleyi – Endemic to Engikaret, north of Arusha, Tanzania
Short-tailed Lark, Pseudalaemon freemantii – Endemic to NE Africa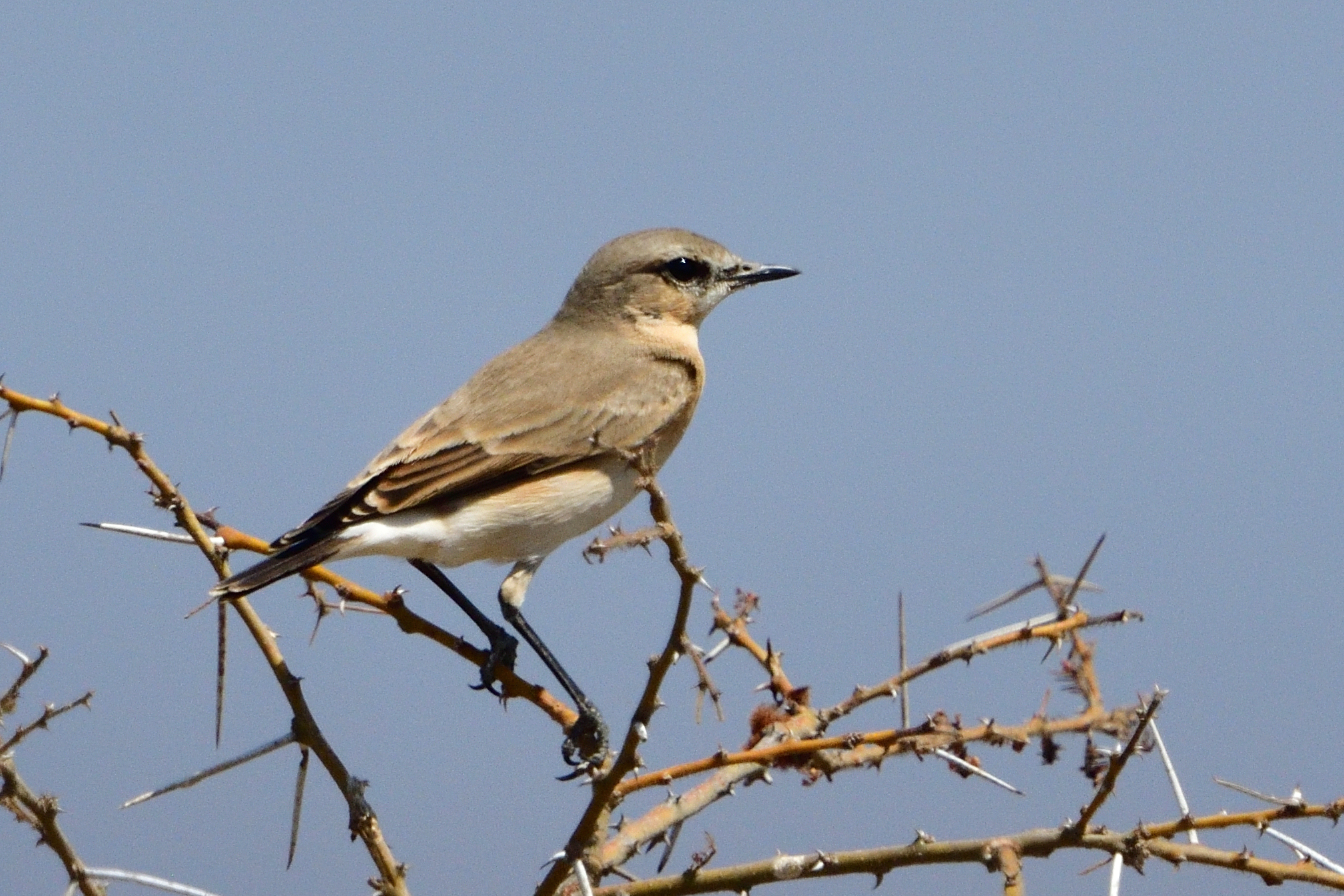 Isabelline Wheatear, Oenanthe isabellina
Northern Wheatear, Oenanthe oenanthe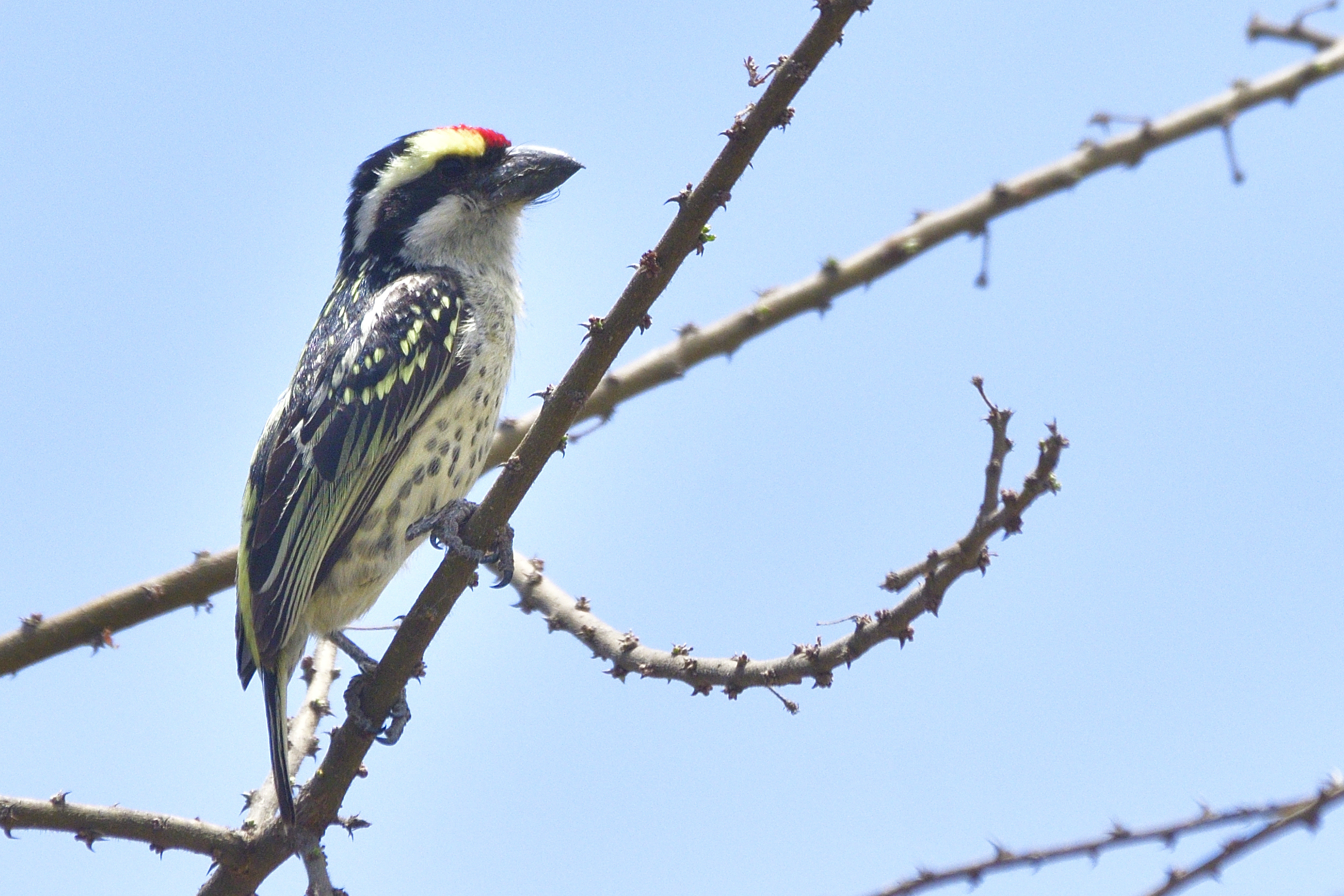 Red-fronted Barbet, Tricholaeme diademata – Endemic to NE Africa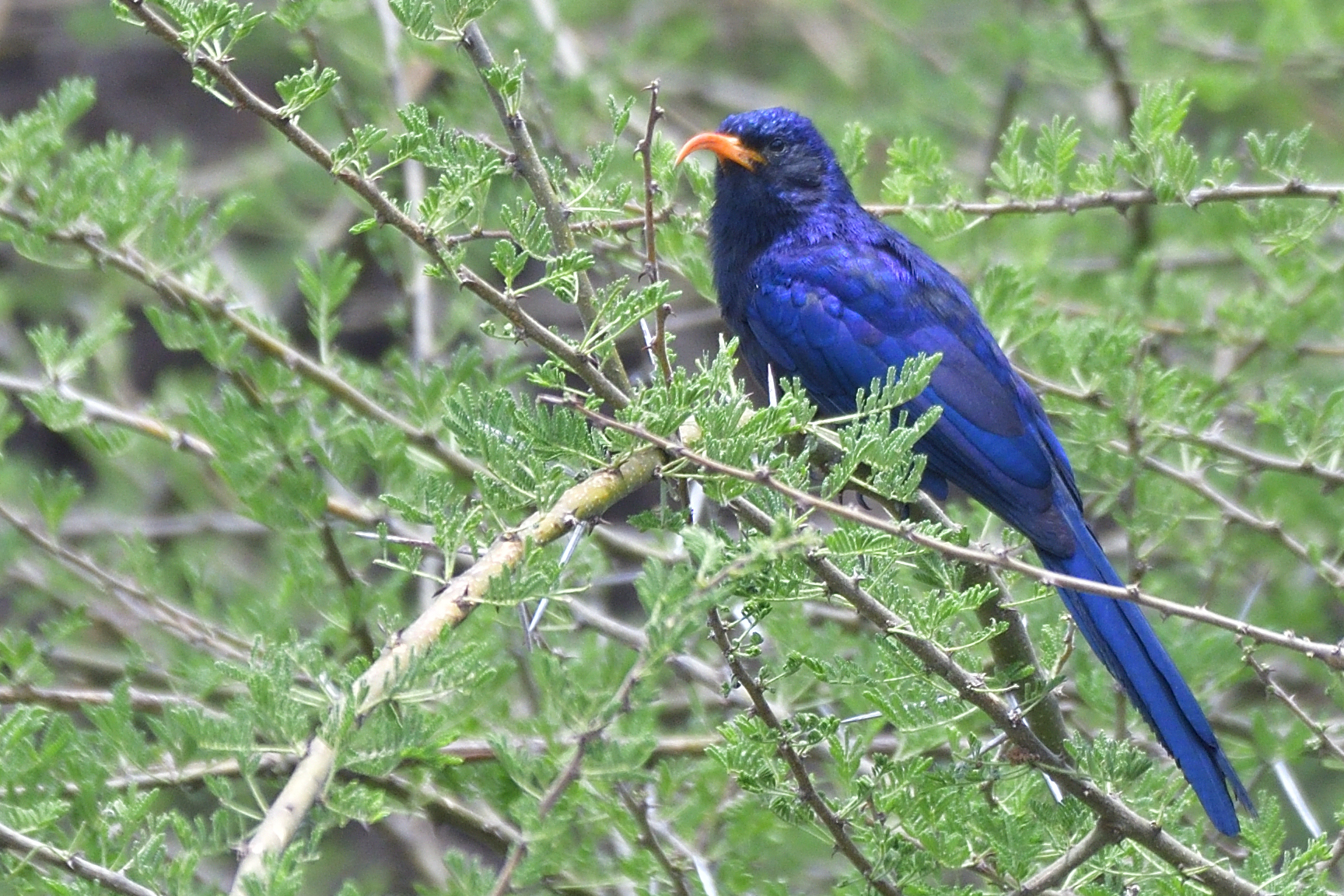 Abyssinian Scimitarbill, Rhinopomastus minor – Endemic to NE Africa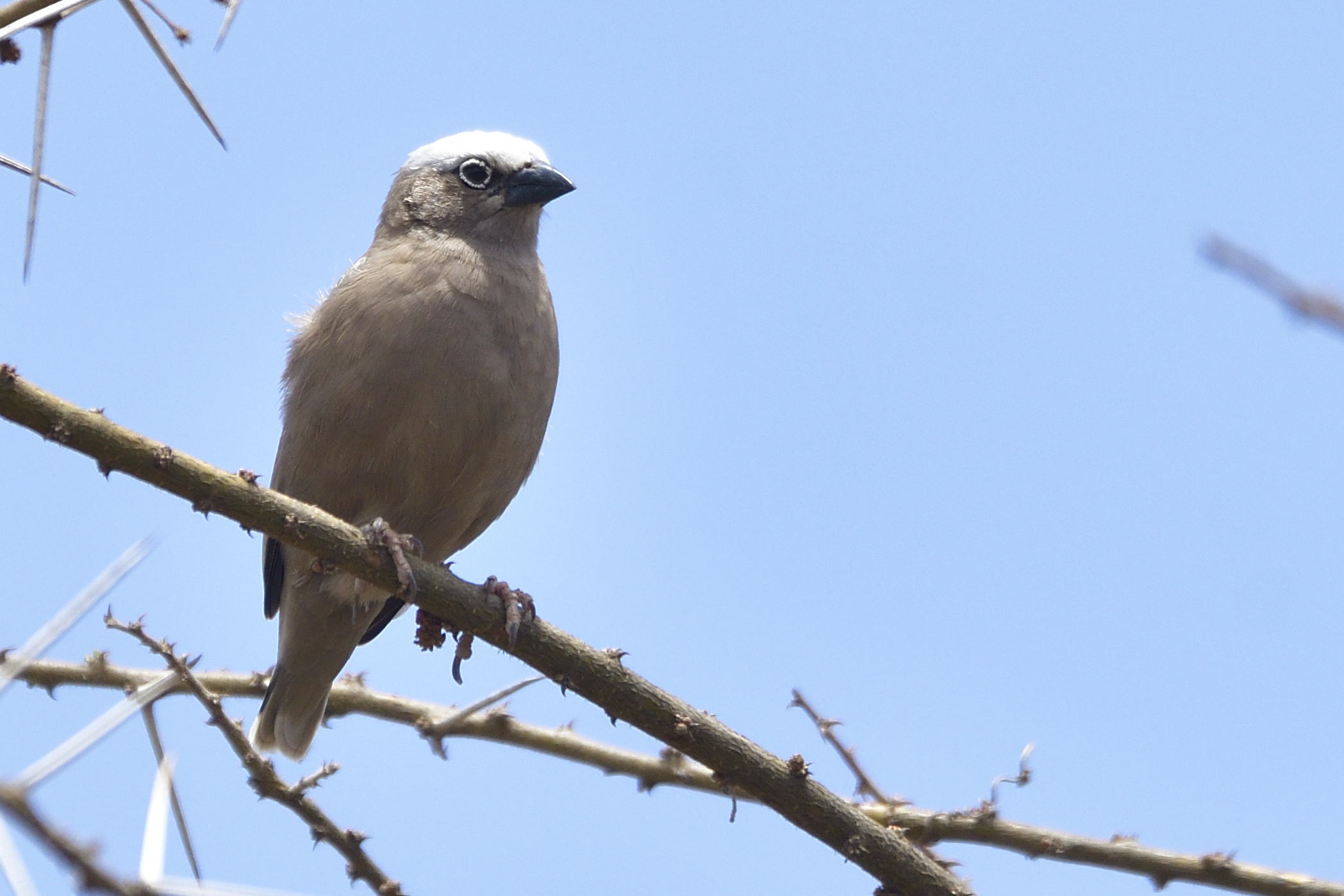 Grey-capped Social Weaver, Pseudonigrita arnaudi – Endemic to NE Africa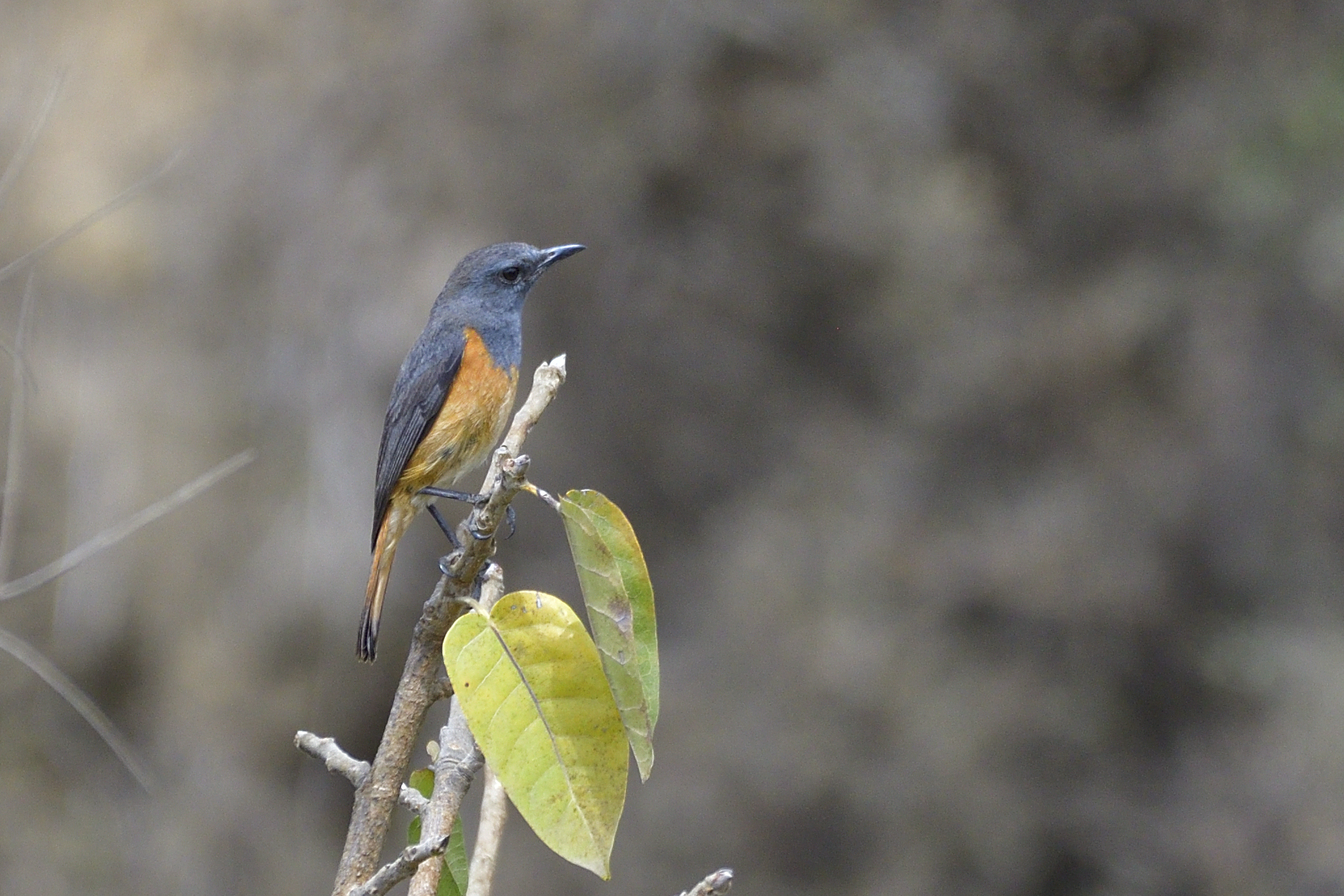 Little Rock Thrush, Monticola rufocinereus – Endemic to NE Africa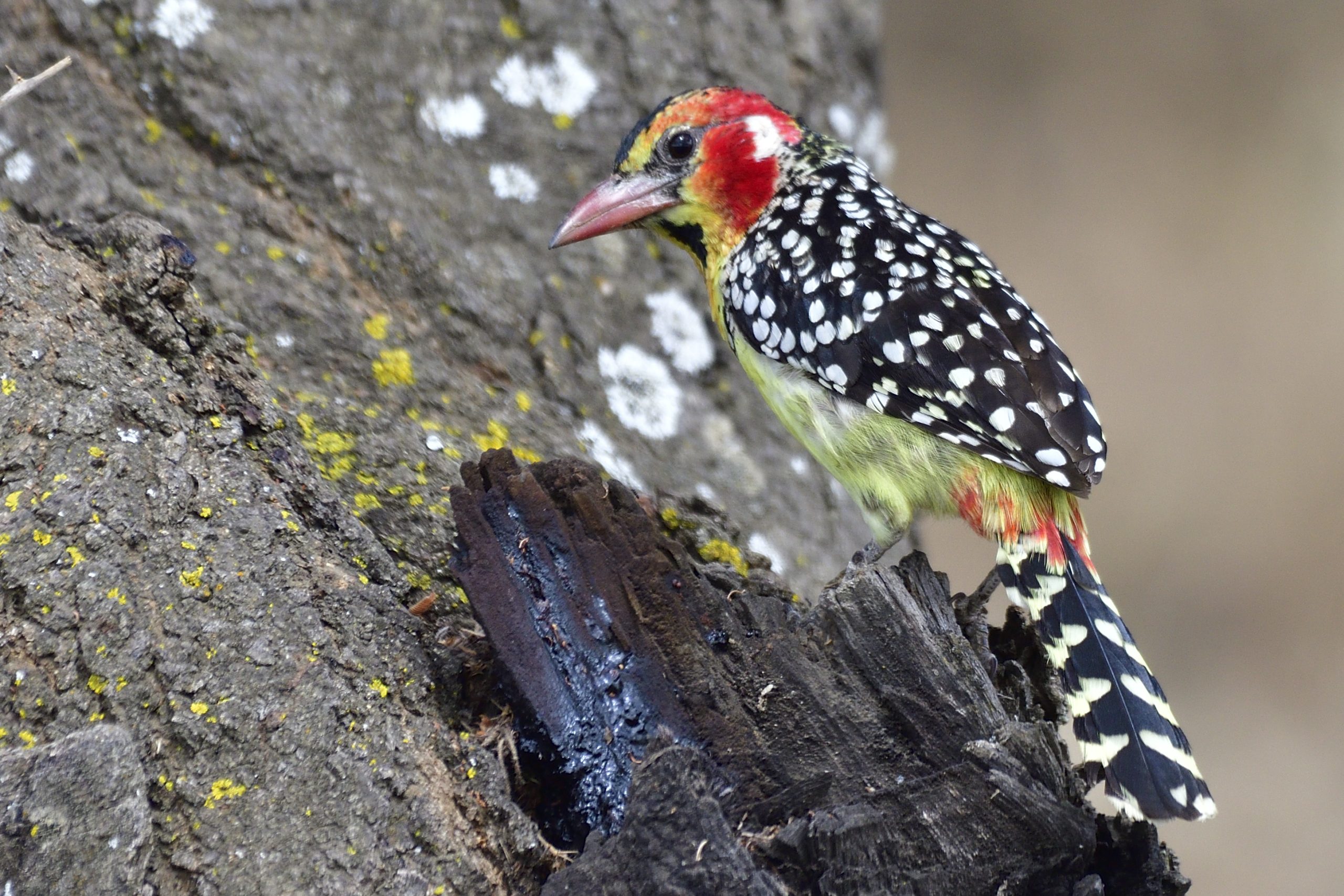 Red-and-yellow Barbet, Trachyphonus erythrocephalus – Endemic to NE Africa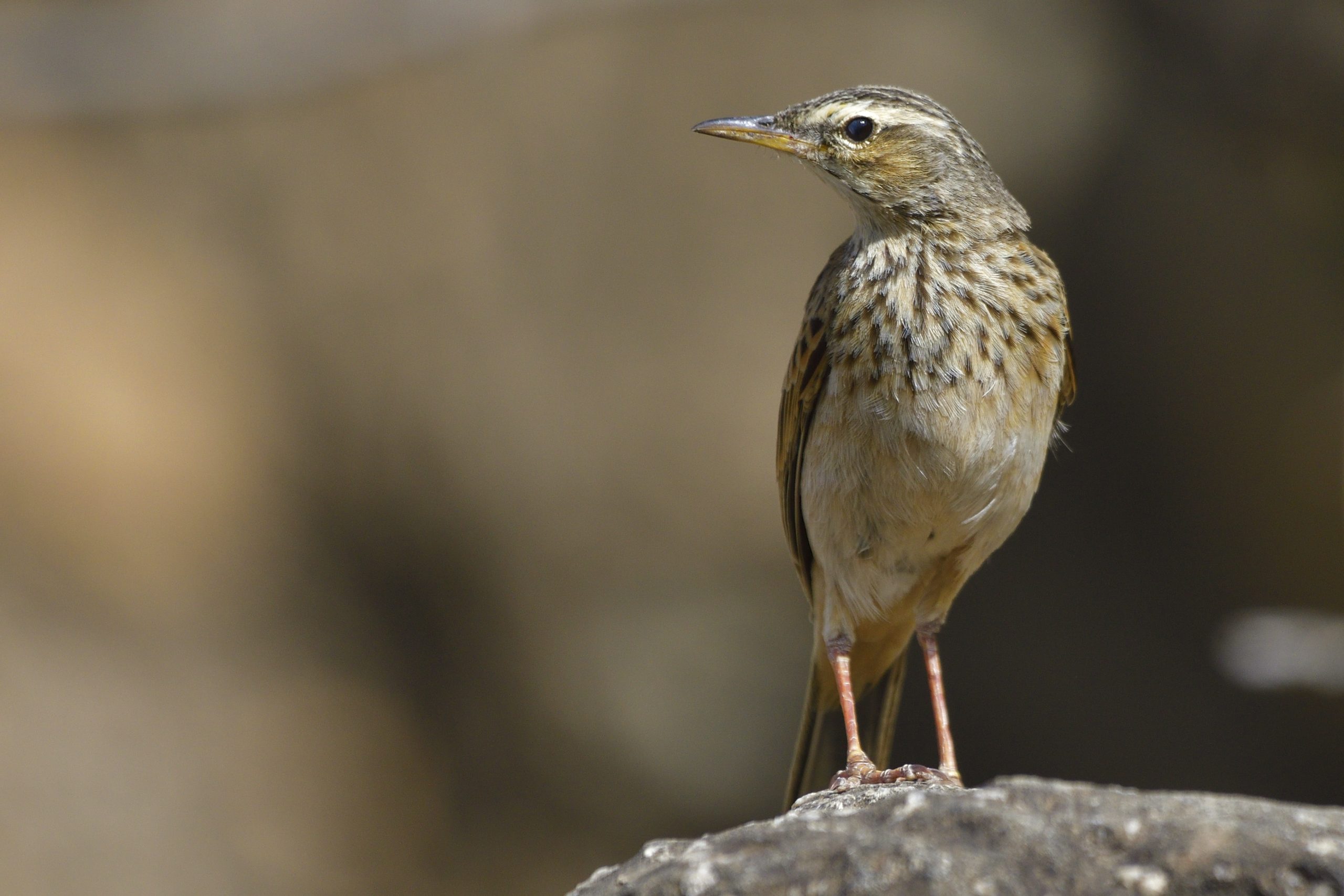 Long-billed Pipit, Anthus similis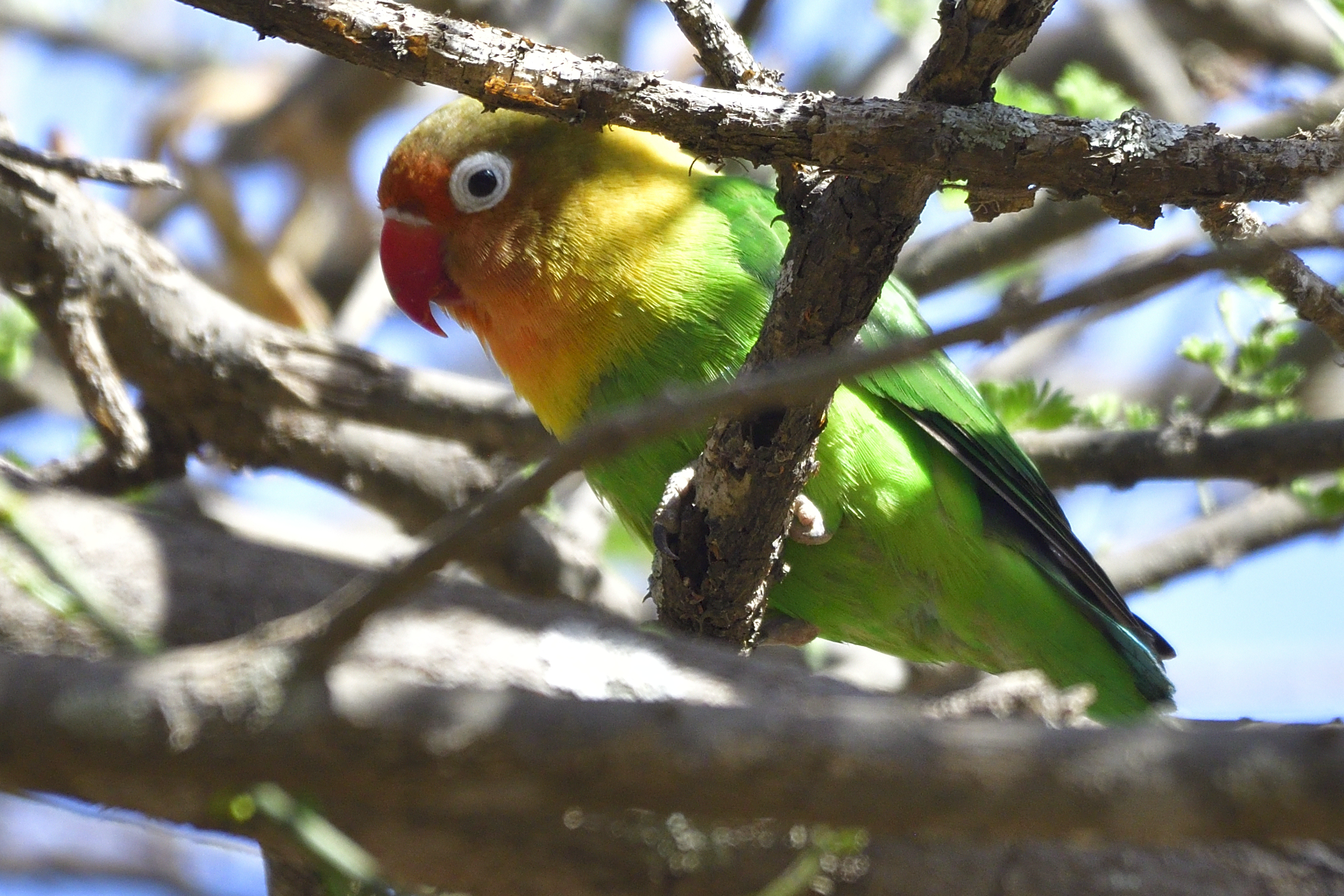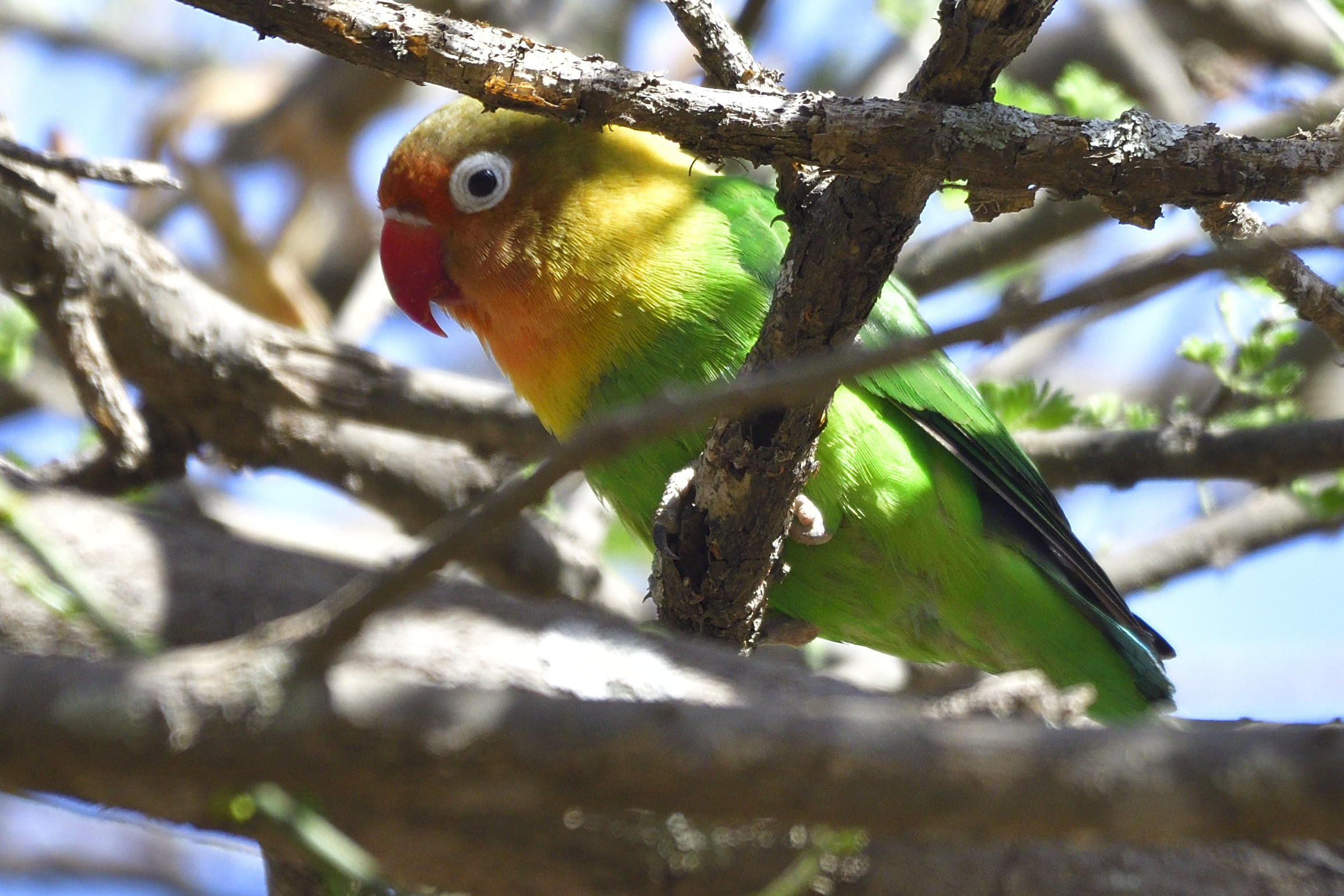 Fischer´s Lovebird, Agapornis fischeri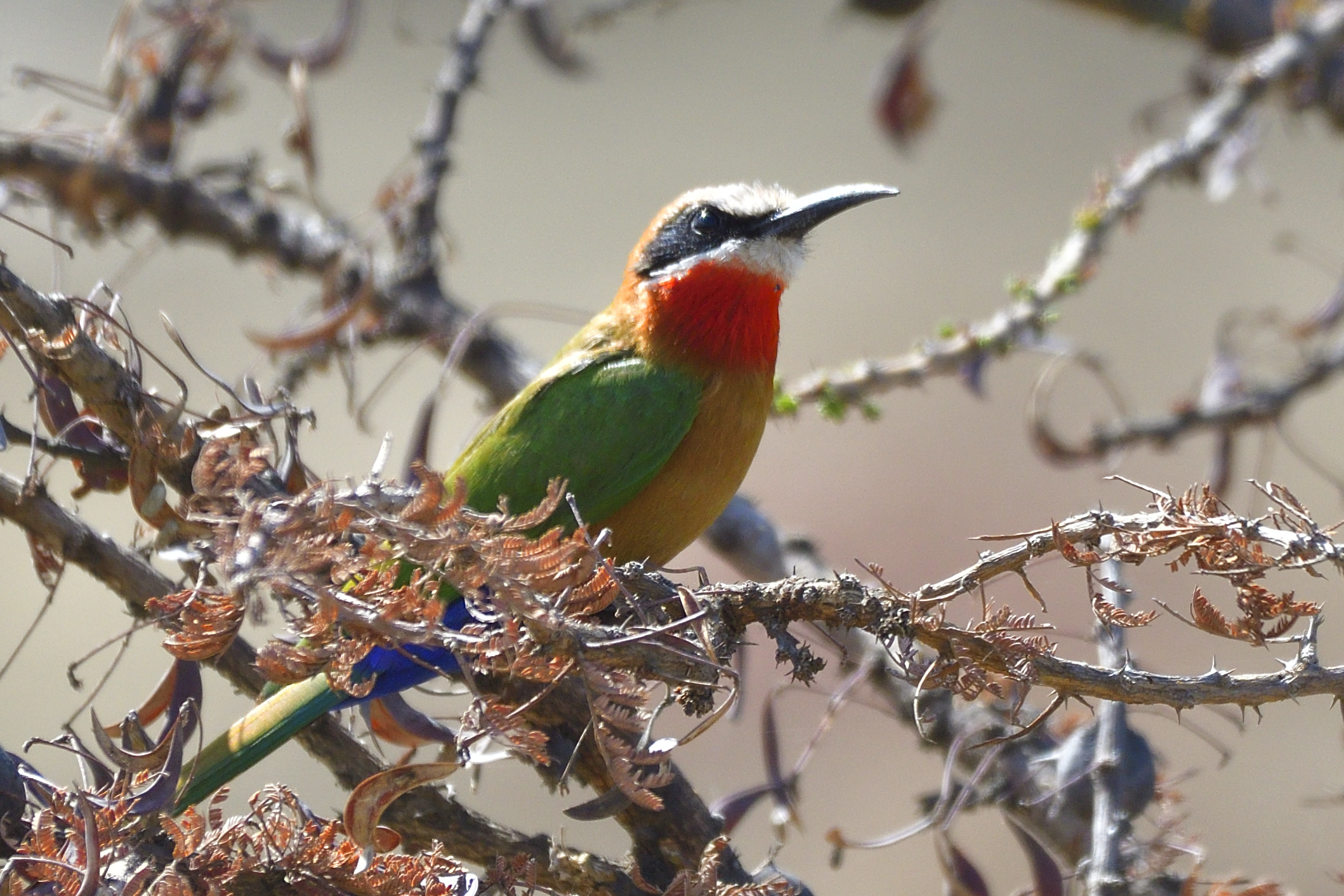 White-fronted Bee-eater, Merops bullockoides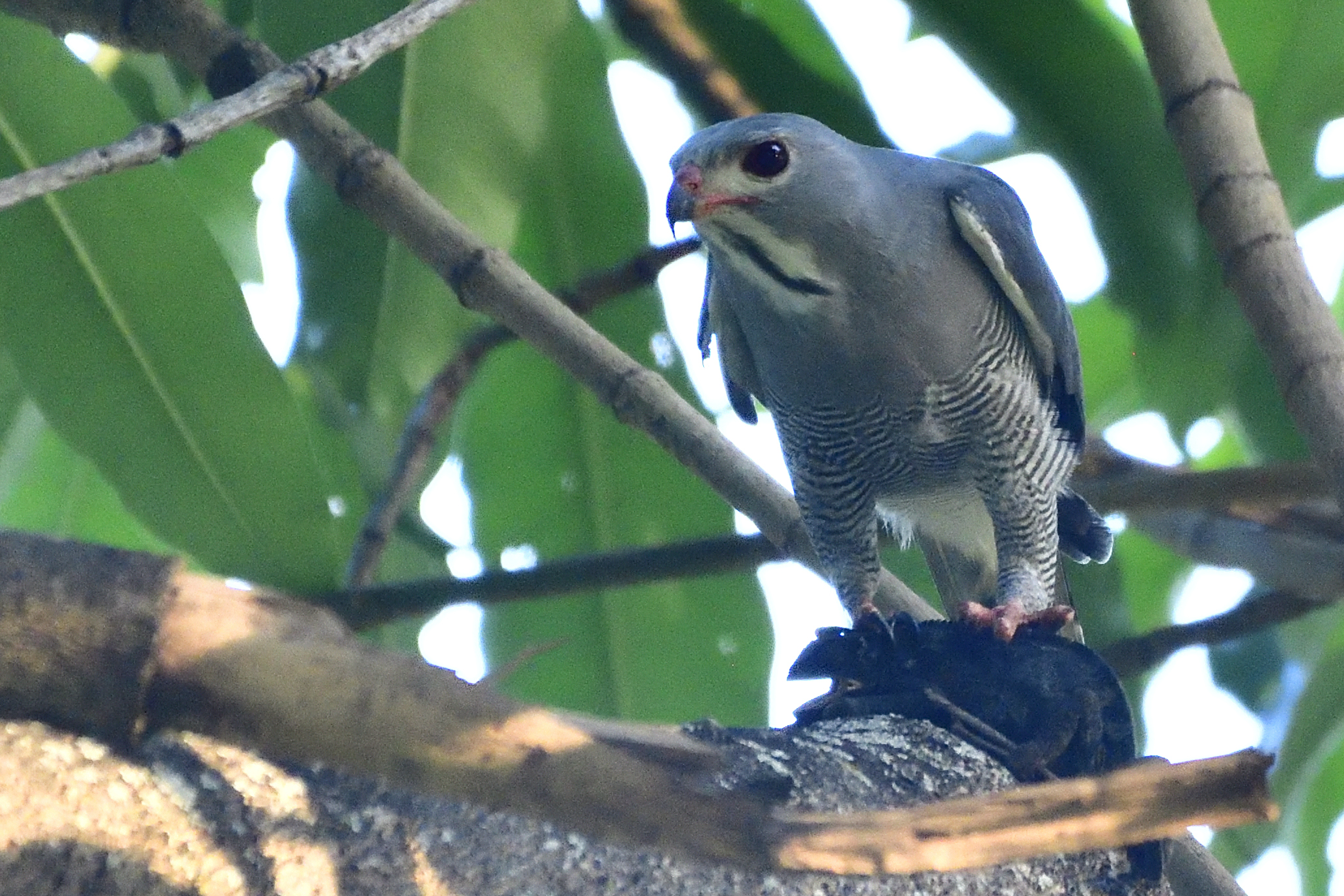 Lizard Buzzard, Kaupifalco monogrammicus
Day 3, Saturday, October 30 – Kiligolf – Tarangire National Park
We again had an early start and headed for Tarangire National Park. It is about an 2 hour drive from our home to the entrance gate. Normally there is a breeding colony of Rufous-tailed Weavers before the entrance gate, but no activity this time. As a custom, I do the necessary registration and payment at the gate (Can take a while) whilst Abdul takes my friends birding around the entrance gate. When I had finished the registration, I called them over and they all had big smiles on their faces: Red-billed Buffalo Weaver, Northern White-crowned Shrike, Swahili Sparrow, Yellow-collared Lovebird and a relief for me, Northern Pied Babbler. The latter is always a bird we have to struggle for and it was good to have that under our belt before we actually started driving. Once inside the park we registered Striped Kingfisher, Spotted Thick-knee, Common Ostrich, Martial Eagle, Long-crested Eagle, Red-bellied Parrot, Water Thick-knee, Namaqua Dove, African Cuckoo, Red-necked Spurfowl, African Spoonbill, Ashy Starling and to my surprise two Rufous-bellied Herons before we reached our breakfast spot at the public campsite. After breakfast we continued our normal route and added Bateleur, Southern Ground Hornbill, Bare-faced Go-away-bird, Von der Decken´s Hornbill, Marsh and Green Sandpiper, Double-banded Courser, Wahlberg´s Eagle, Secretarybird, Black-faced Sandgrouse, Rufous-tailed Weaver, African Hoopoe and Common Buzzard before we reached our Lunch spot. After lunch we drove through the little Serengeti: White-tailed Lark (Lifer), Singing Bush Lark, Fischer´s Sparrow Lark, Coqui Francolin, Yellow-throated Sandgrouse, Buff-crested and White-bellied  Bustards, Yellow-necked Spurfowl, Cut-throat Finch, Desert Cisticola and Yellow-billed Oxpecker. Time was running out so we headed for the gate. It was not the best day we had in Tarangire, but we hit all our target species.
Some pictures from Day 3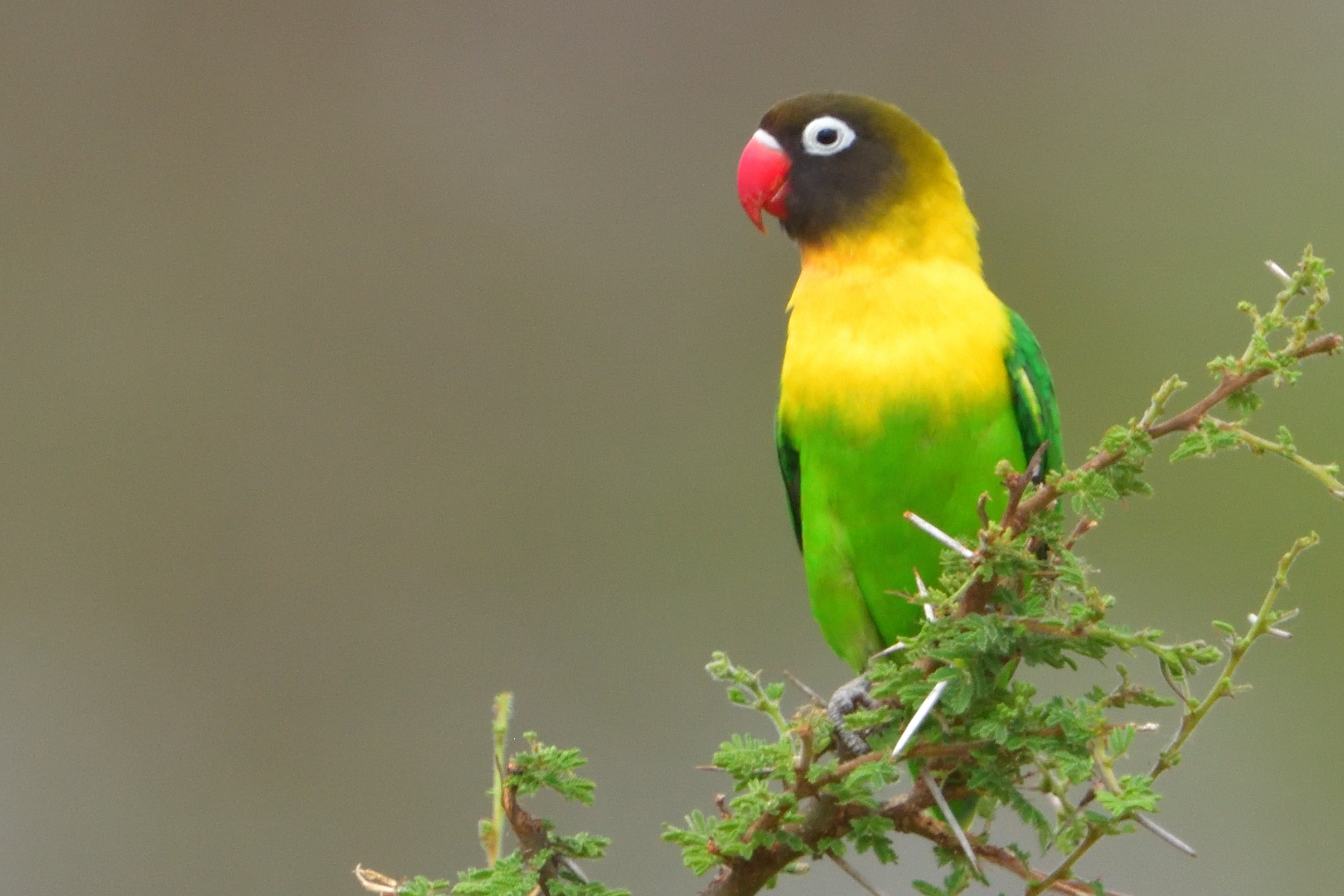 Yellow-collared Lovebird, Agapornis personatus – Endemic to E Africa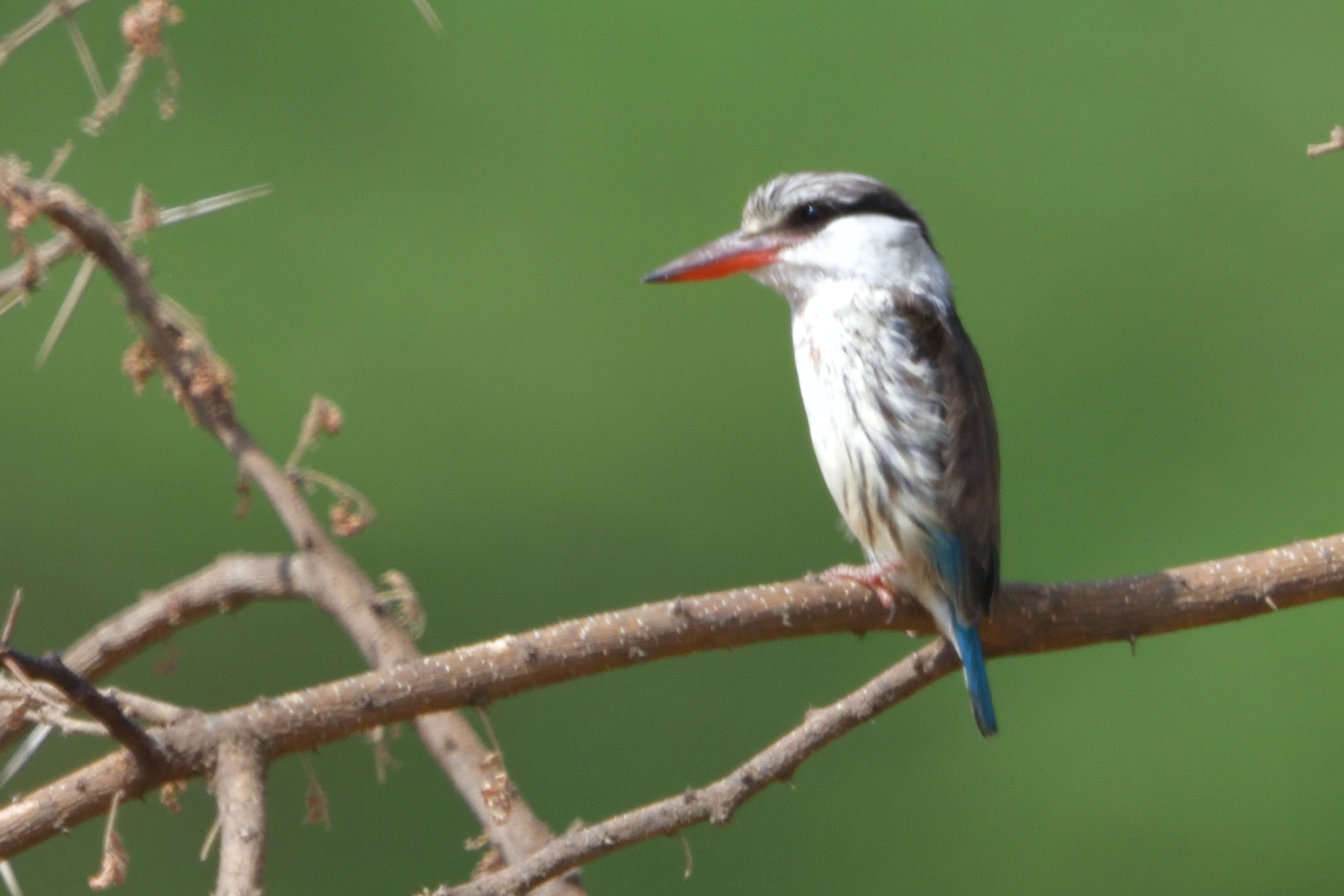 Striped Kingfisher, Halcyon chelicuti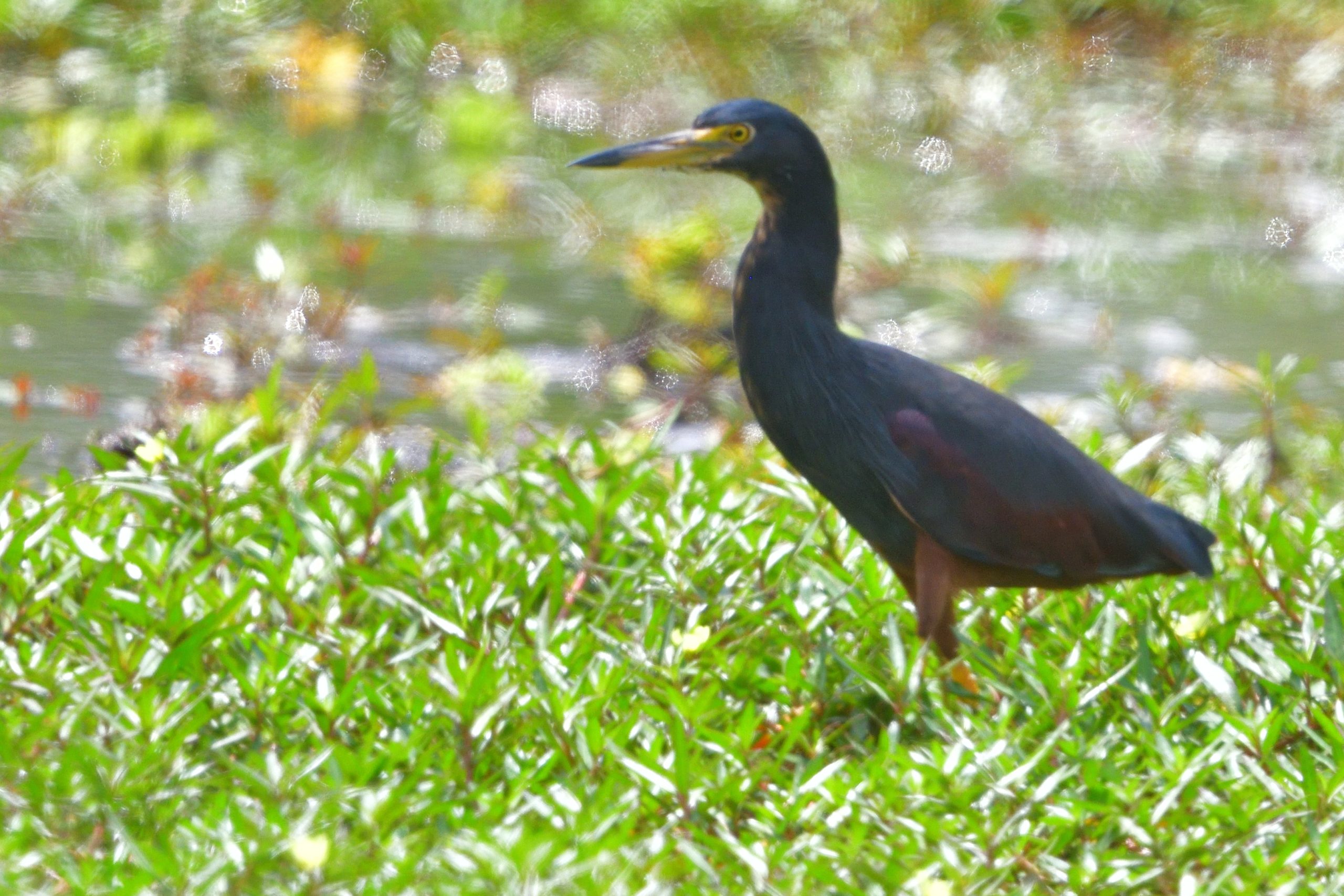 Rufous-bellied Heron, Ardeola rufiventris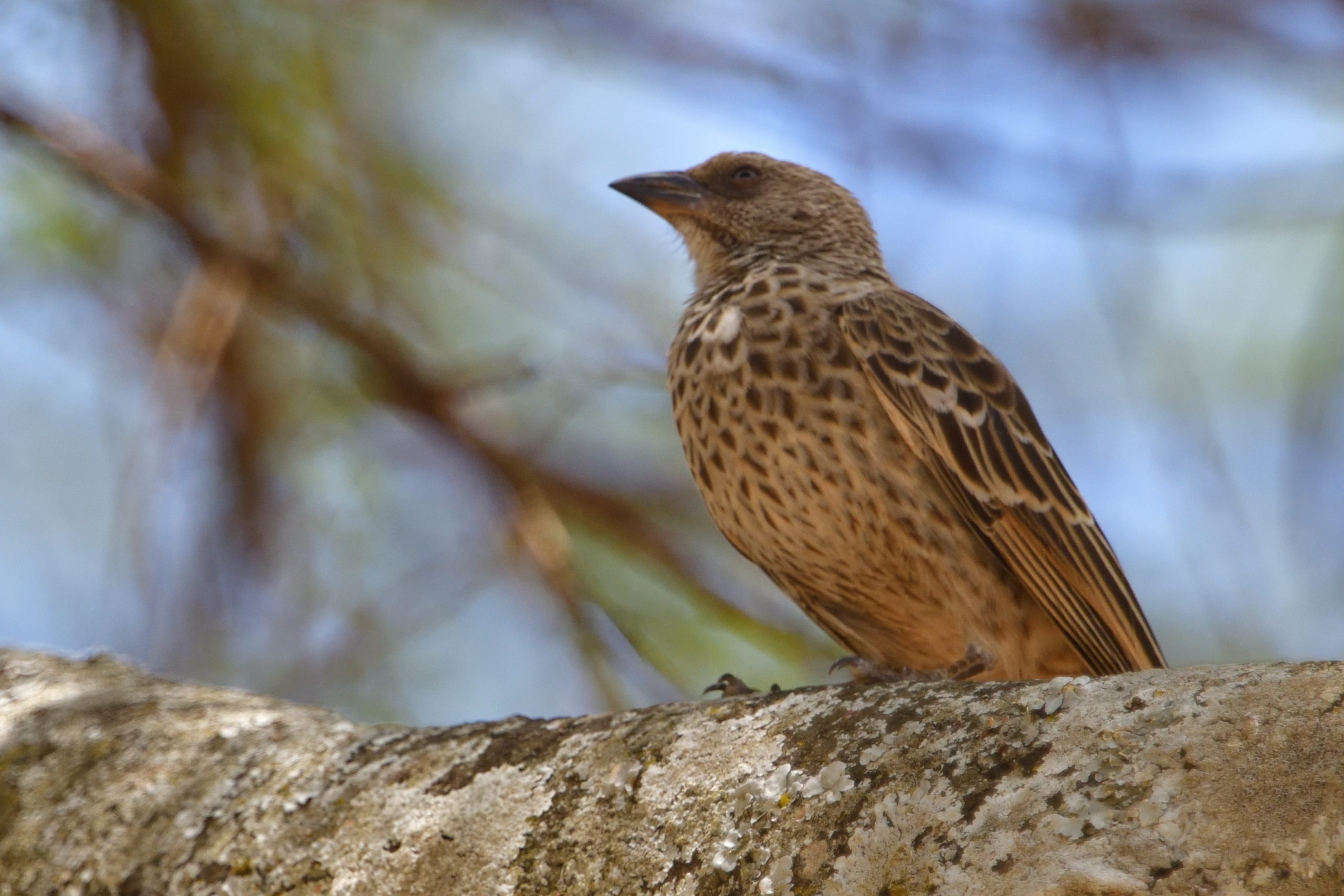 Rufous-tailed Weaver, Histurgops ruficauda – Endemic to N Tanzania and S Kenya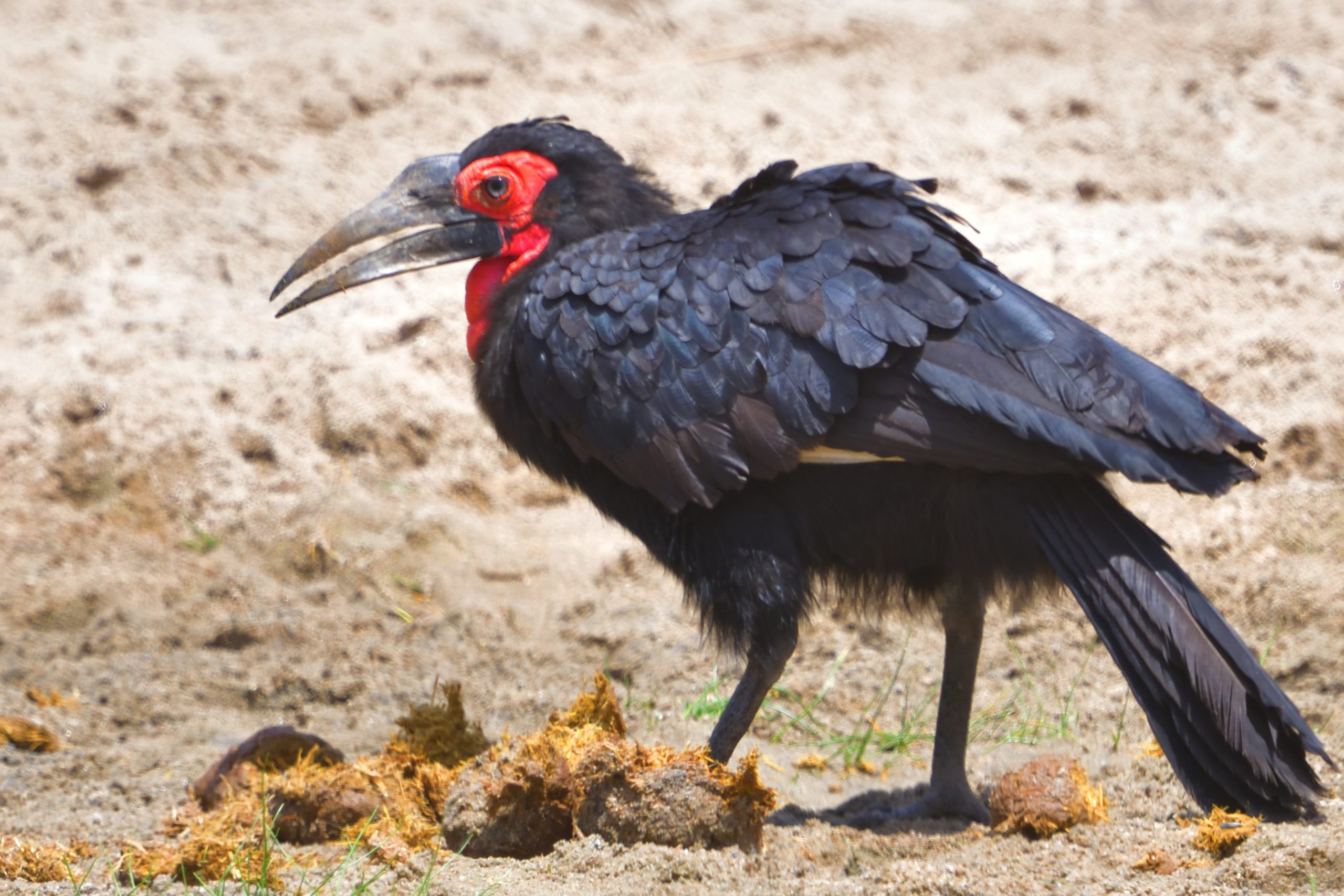 Southern Ground Hornbill, Bucorvis leadbeateri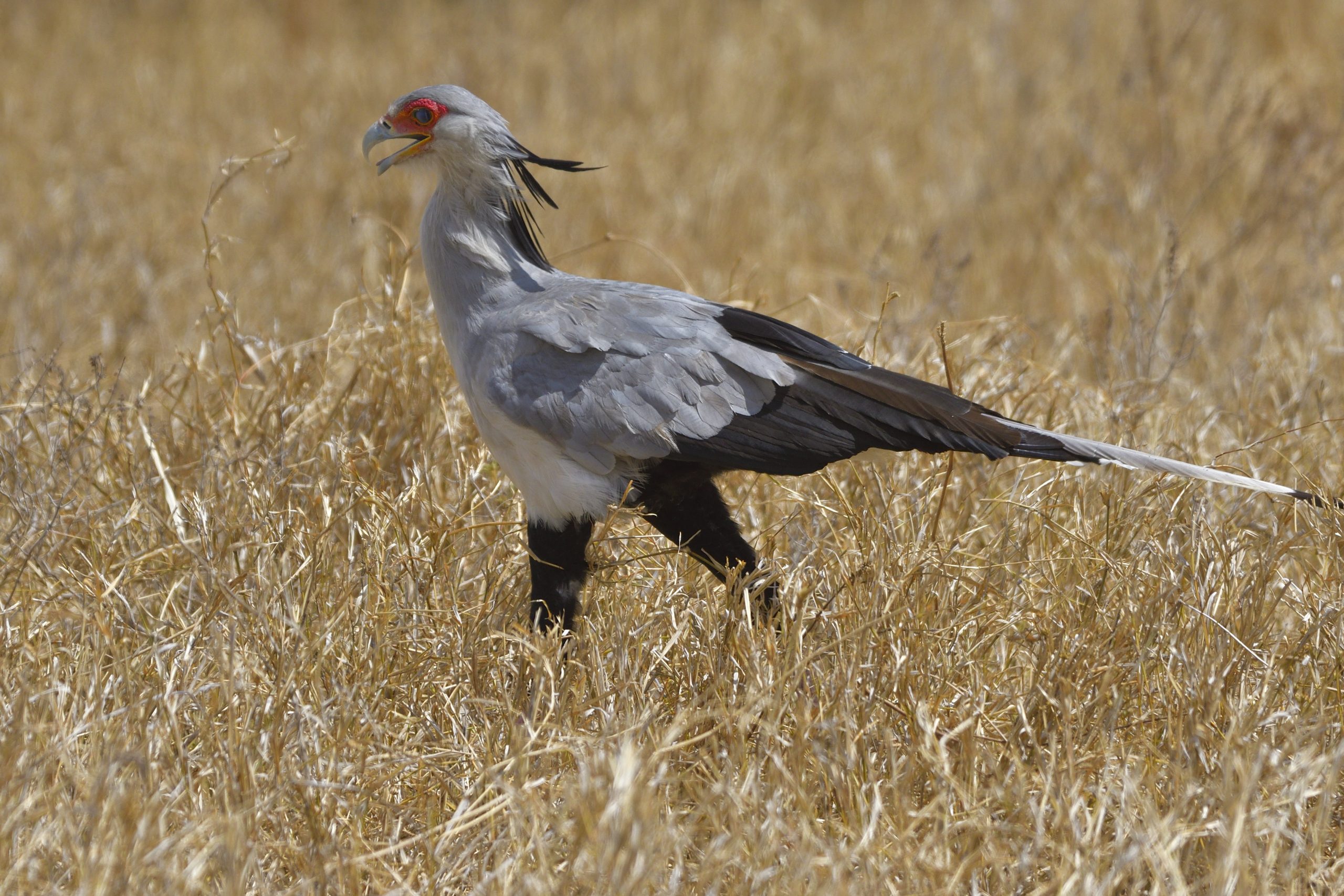 Secretarybird, Sagittarius serpentarius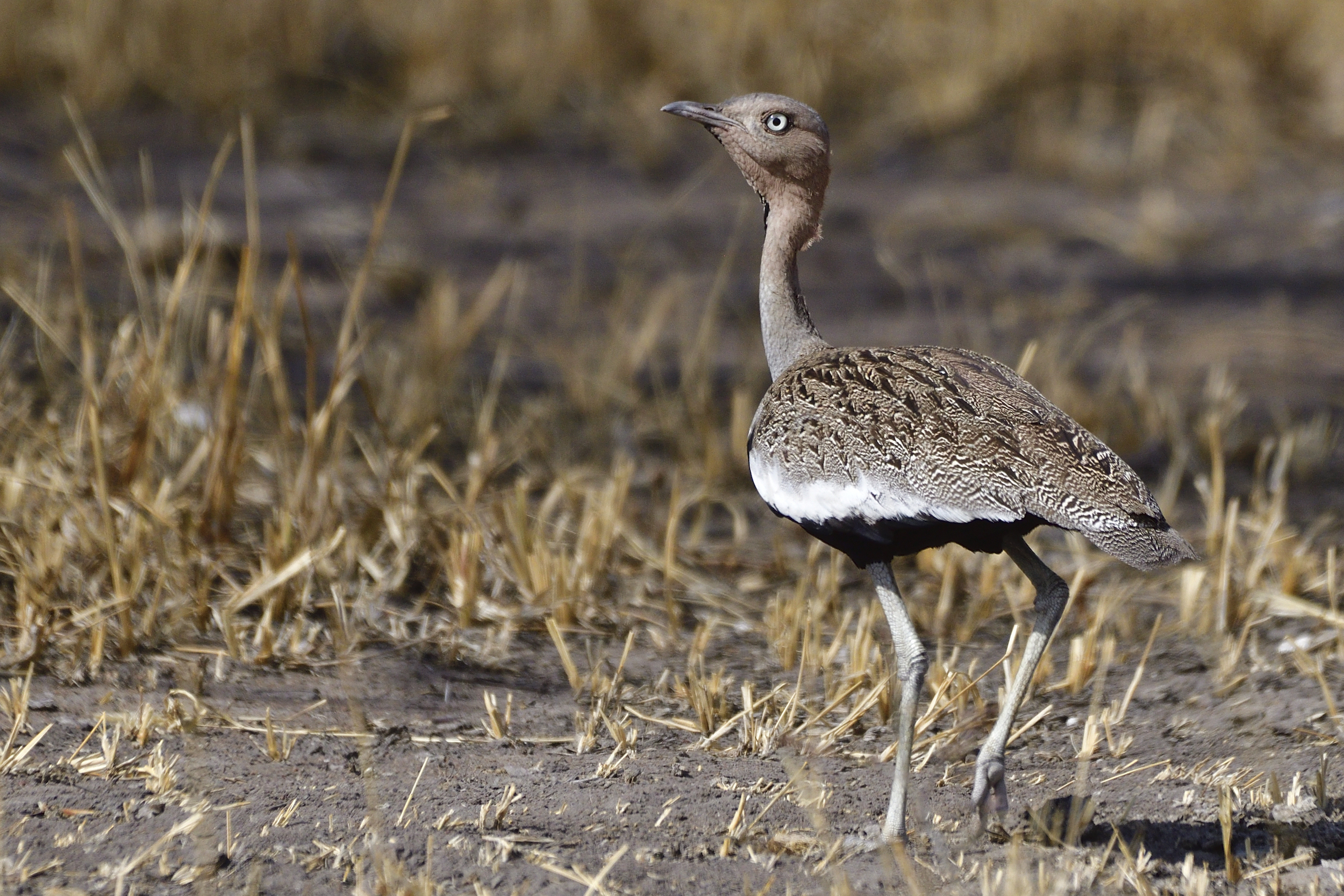 Buff-crested Bustard, Laphotis gindiana -Endemic to NE Africa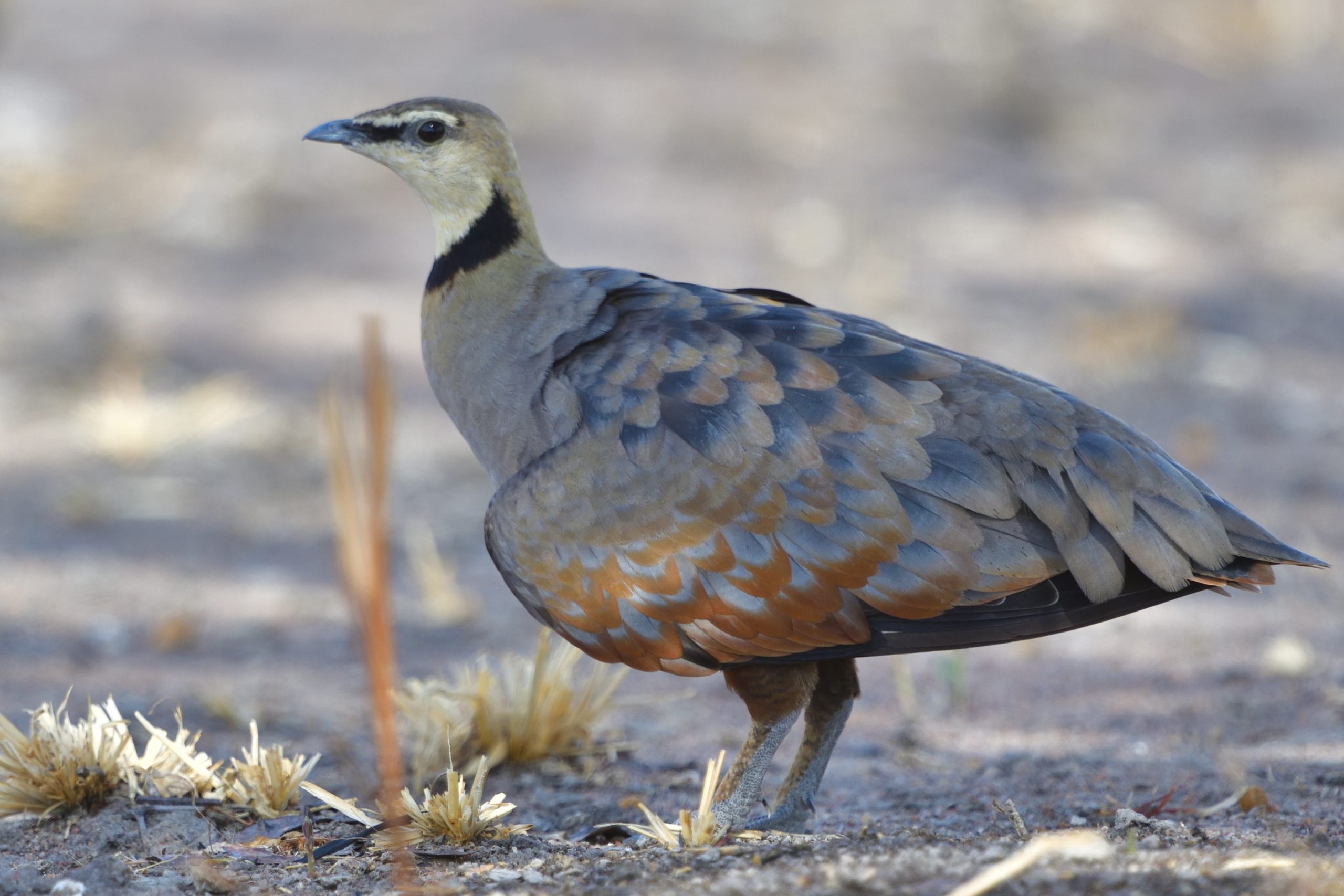 Yellow-throated Sandgrouse (male), Pterocles gutturalis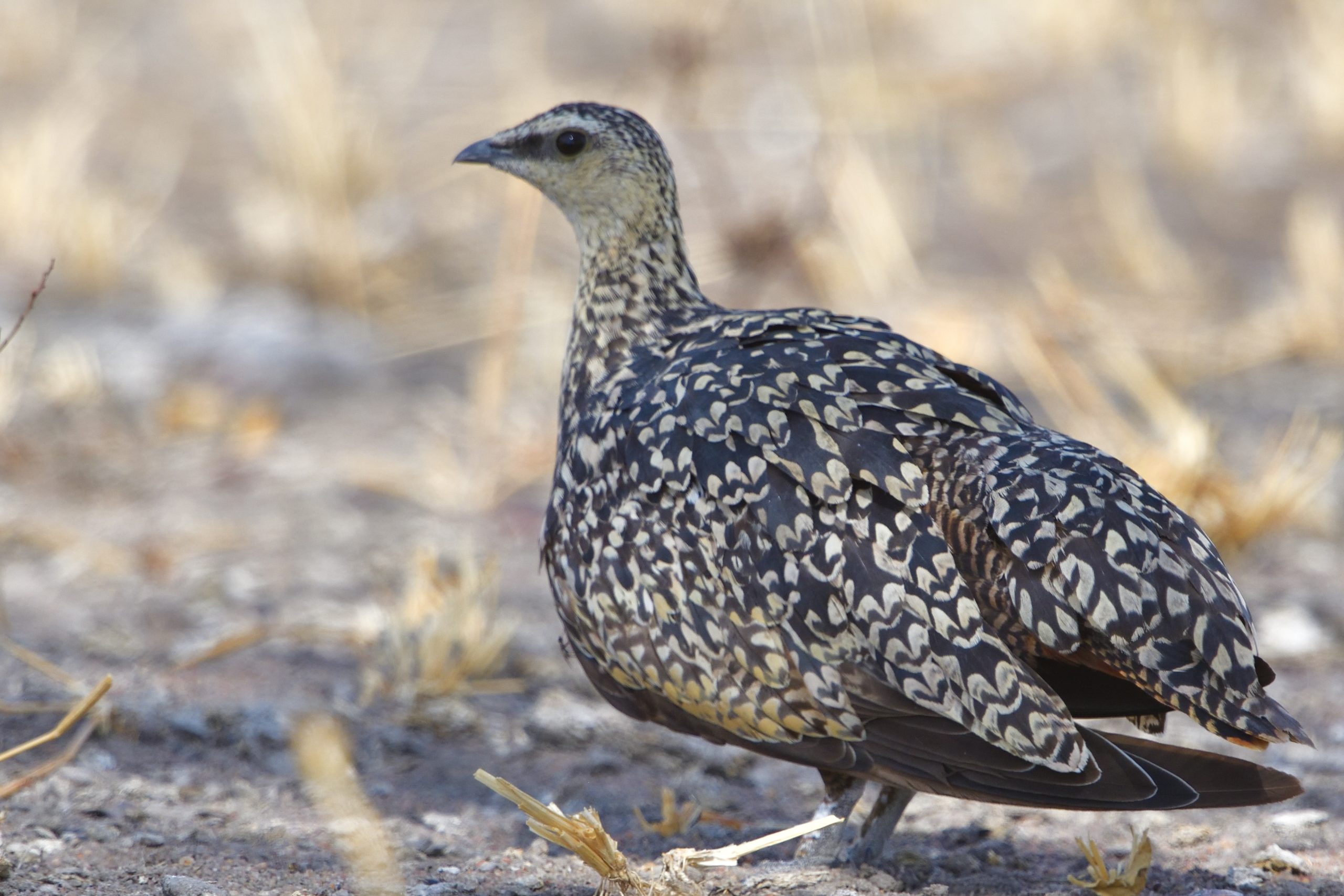 Yellow-throated Sandgrouse (female), Pterocles gutturalis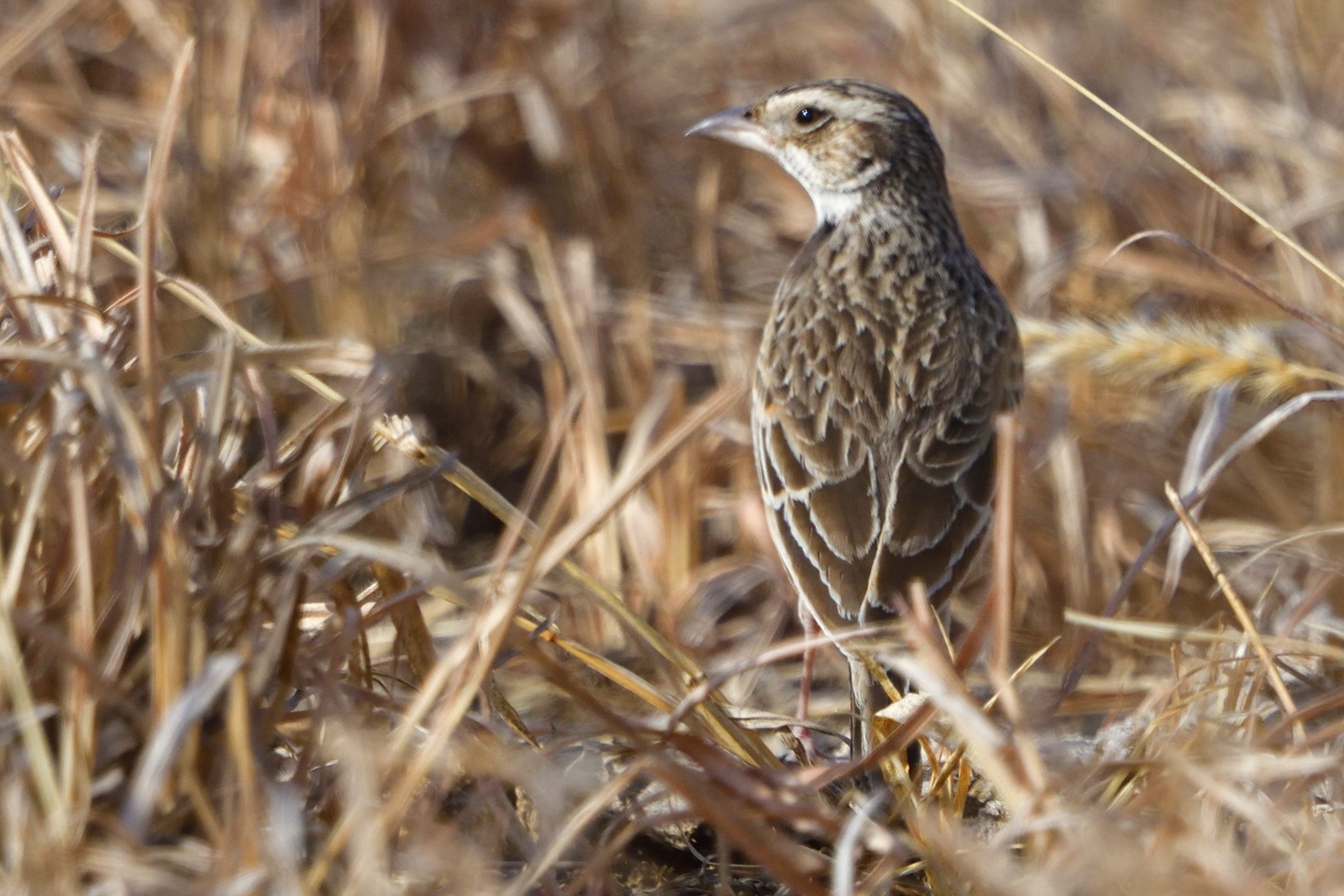 Singing Bush Lark, Mirafra cantillans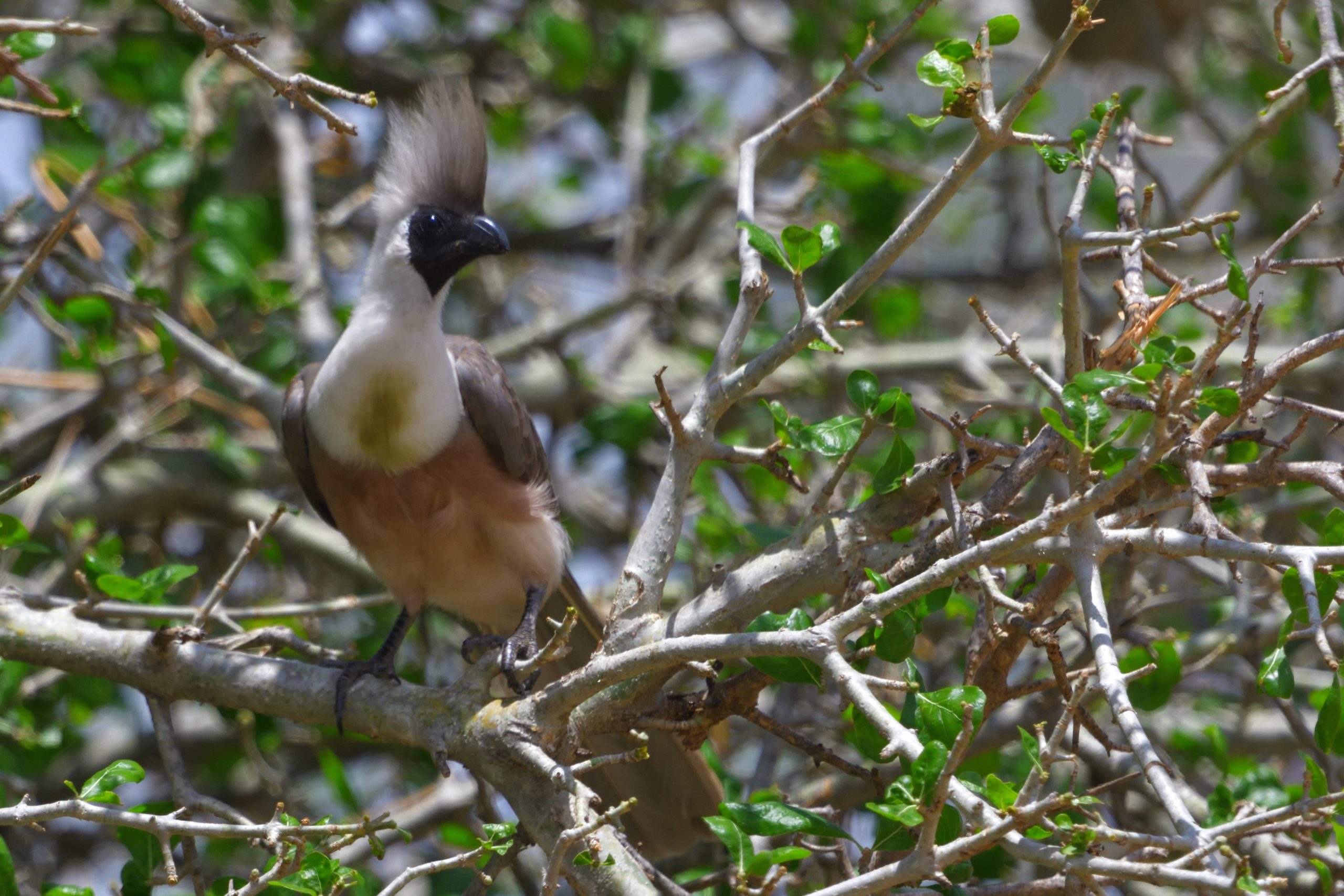 Bare-faced Go-away-bird, Corythaixoides personatus – Endemic to NE Tanzania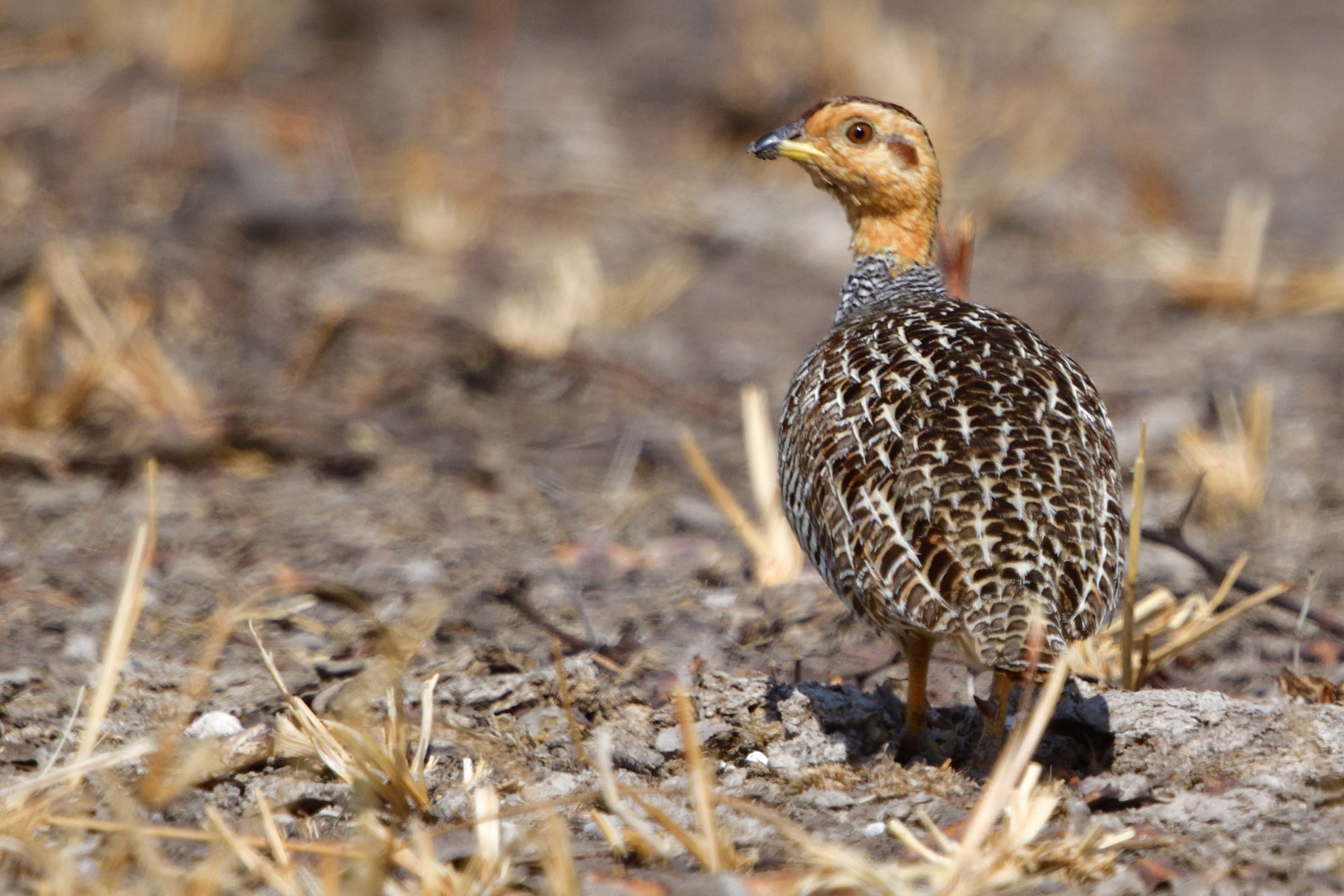 Coqui Francolin, Peliperdix coqui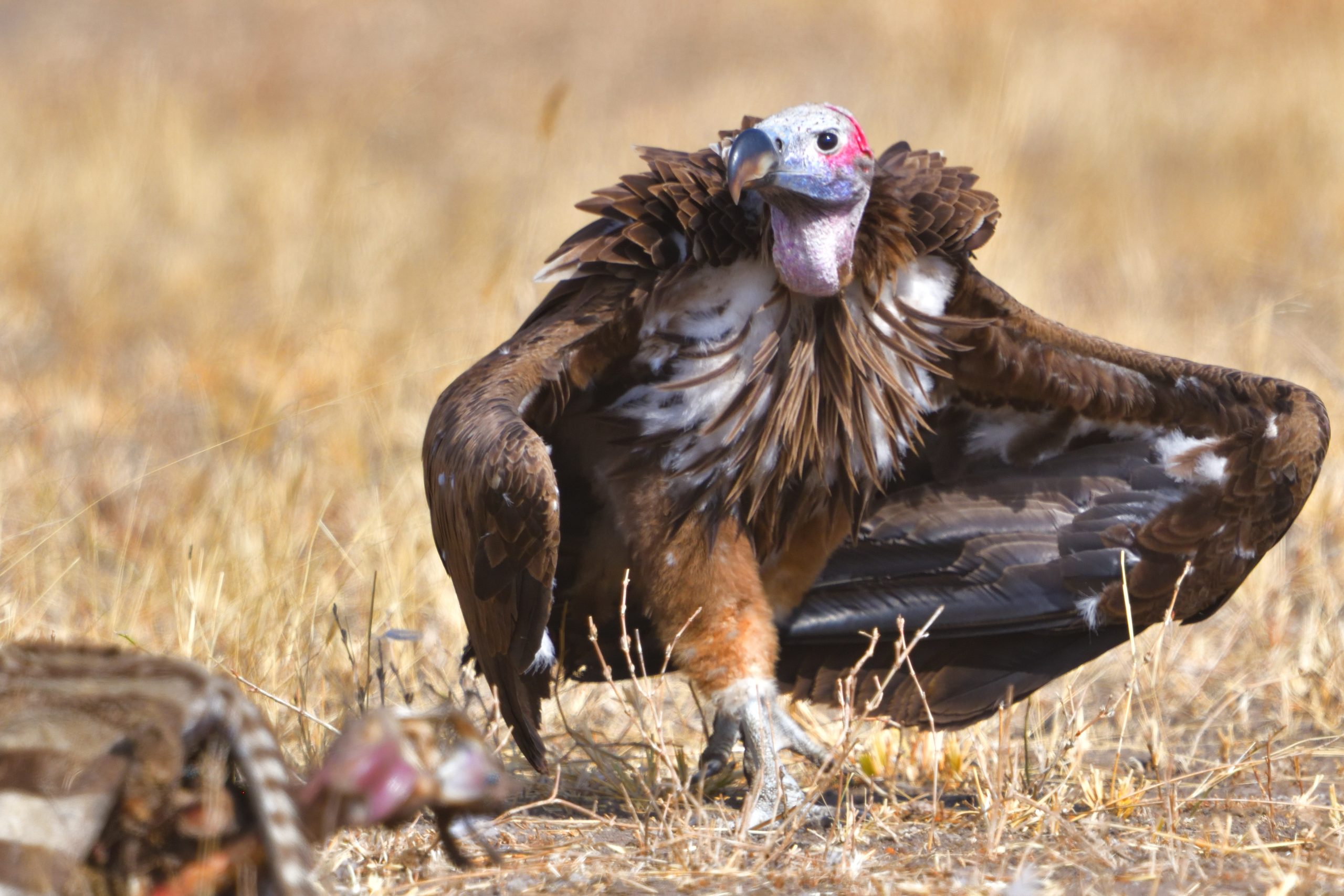 Lappet-faced Vulture, Torgos tracheliotos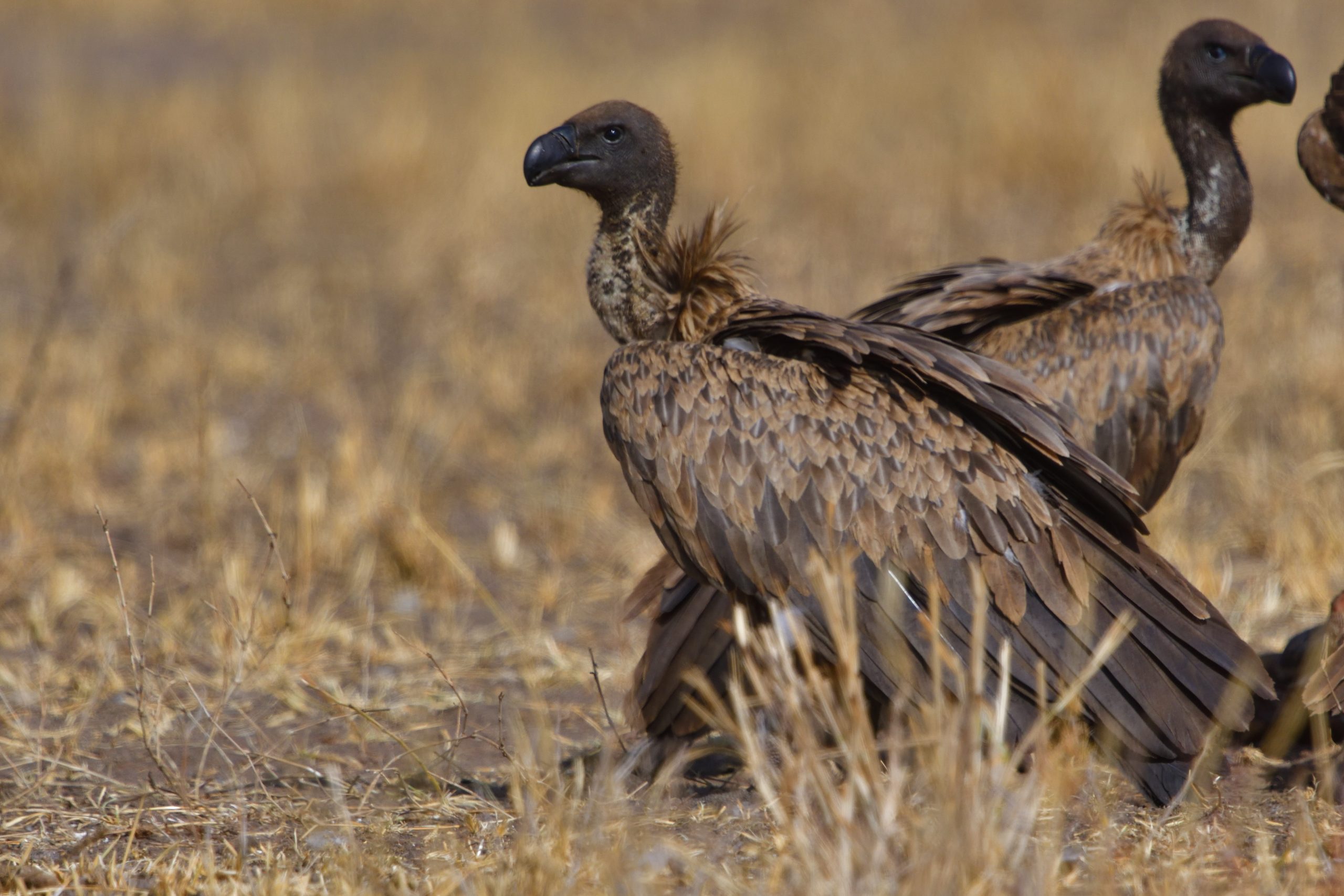 White-backed Vulture, Gyps africanus
Day 4, Sunday, October 31 – Kiligolf – Mererani and the road to the Masai Steppes
Again an early morning heading for Mererani. This is an area that Abdul and I discovered not so long ago and the area has a lot of dry country birds that we normally do not find in the Acacia forest at Lark Plains. The birdlife more assembles what we normally find at Nyumba Ya Mungu Dam much further south. Having birding areas accessible from our house is of course an advantage. We started out very promising racking up new species: White-headed Mousebird, Pink-breasted Lark, Von der Decken´s Hornbill, Lesser Masked Weaver, Grey Wren-Warbler, Tsavo and Hunter´s Sunbird, Gabar Goshawk, Black-throated Barbet, Western Osprey, Scaly Chatterer and at the turning point the normal breeding colony of Black-capped Social Weavers. On the way back as usual we stopped at the Shambari Dam. The water level was quite low, but we had some very nice birds there including Garganey (African Lifer for me), African Snipe (EA Photo Lifer), Collared Pratincole, Spur-winged Lapwing, Western Yellow Wagtail, Three-banded Plover, Pink-backed Pelican, African Openbill, Knob-billed Duck, Black Heron, Black Crake, Greater Painted Snipe, Parrot-billed Sparrow, Common Cuckoo, Blue-billed (Hottentot) Teal and stunning views of Golden-breasted Starling. We finished birding at around 5 and was home before it got dark.
Some pictures from Day 4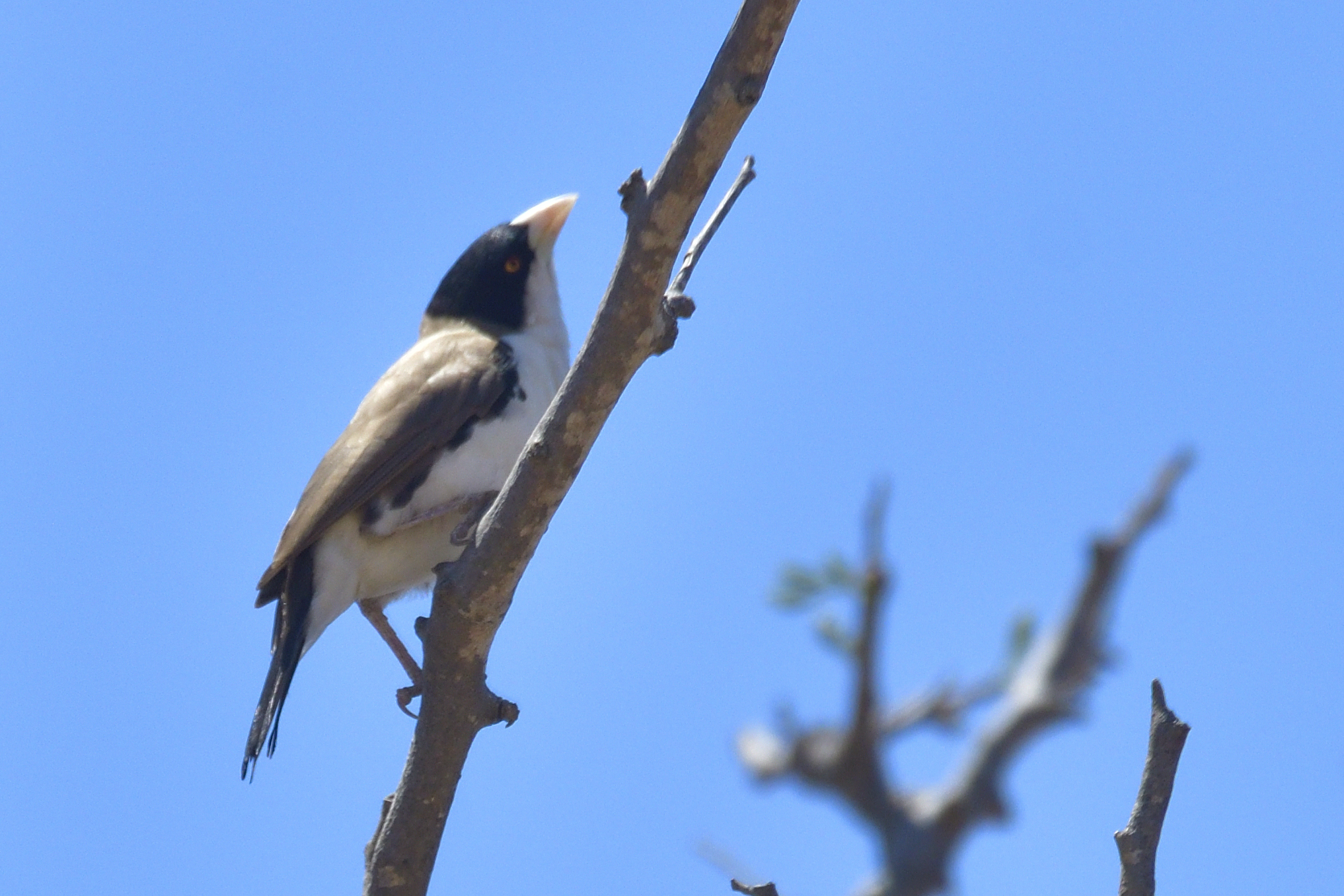 Black-capped Social Weaver, Pseudonigrita cabanisi – Endemic to NE Africa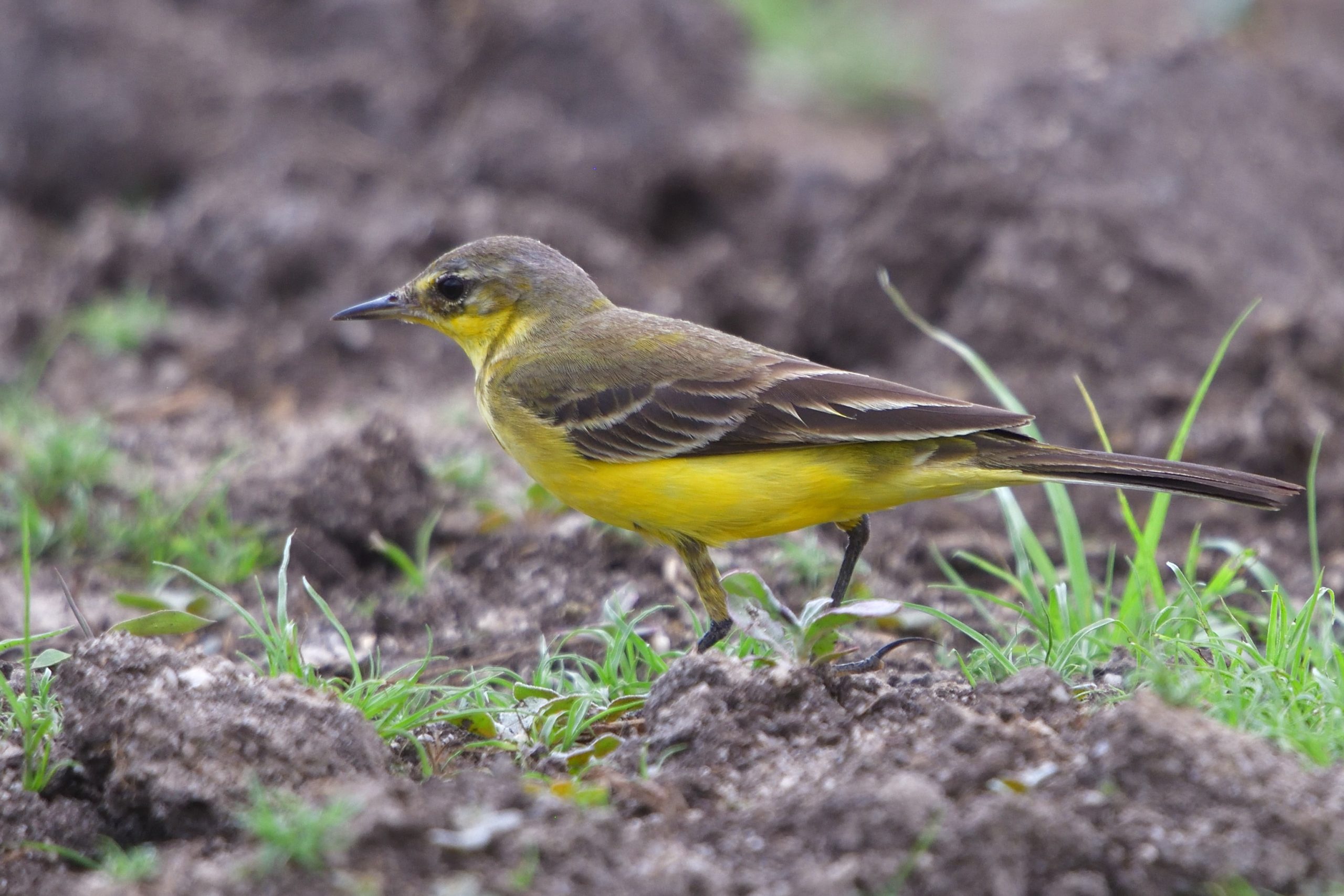 Western Yellow Wagtail, Motacilla flava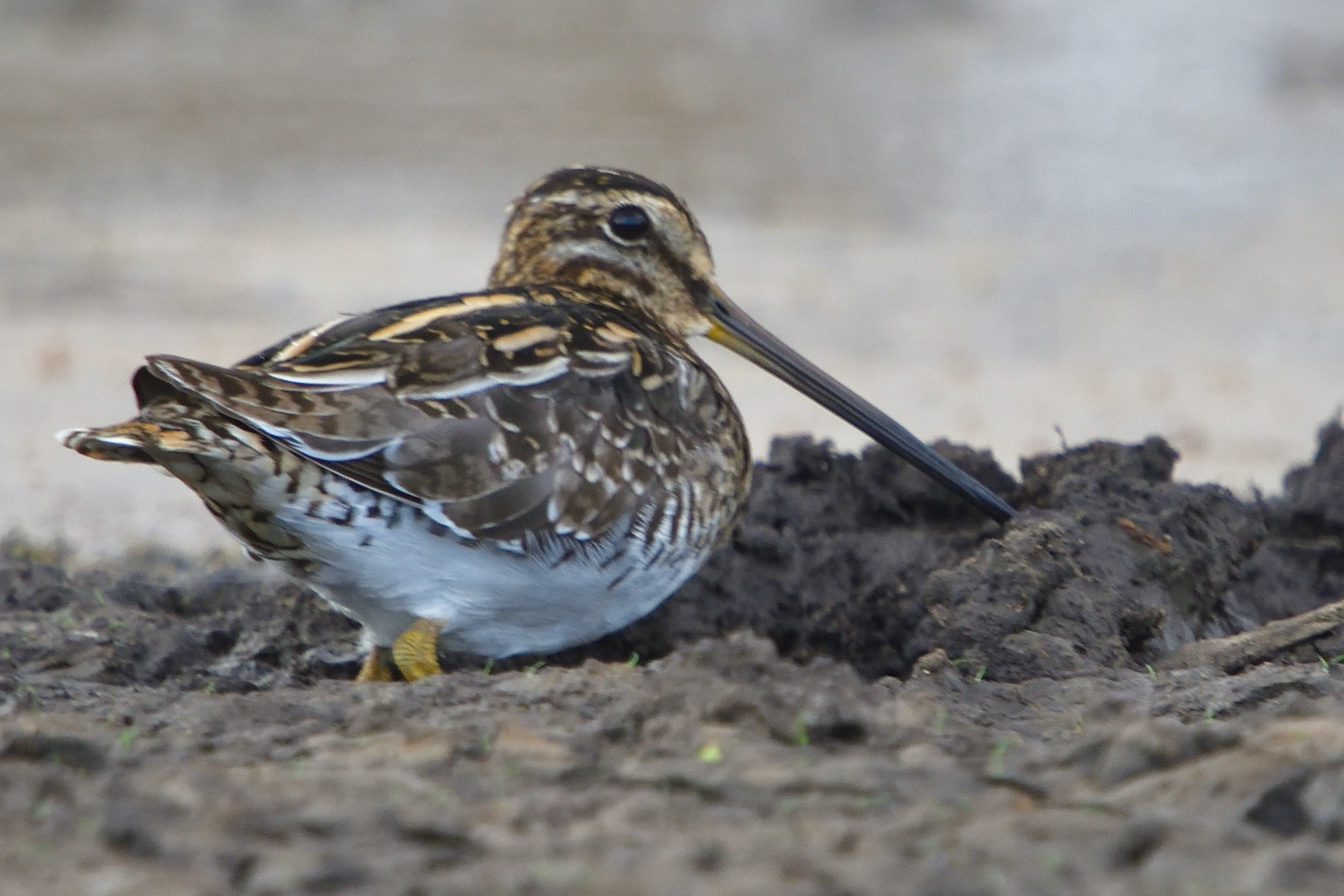 African Snipe, Gallinago gallinago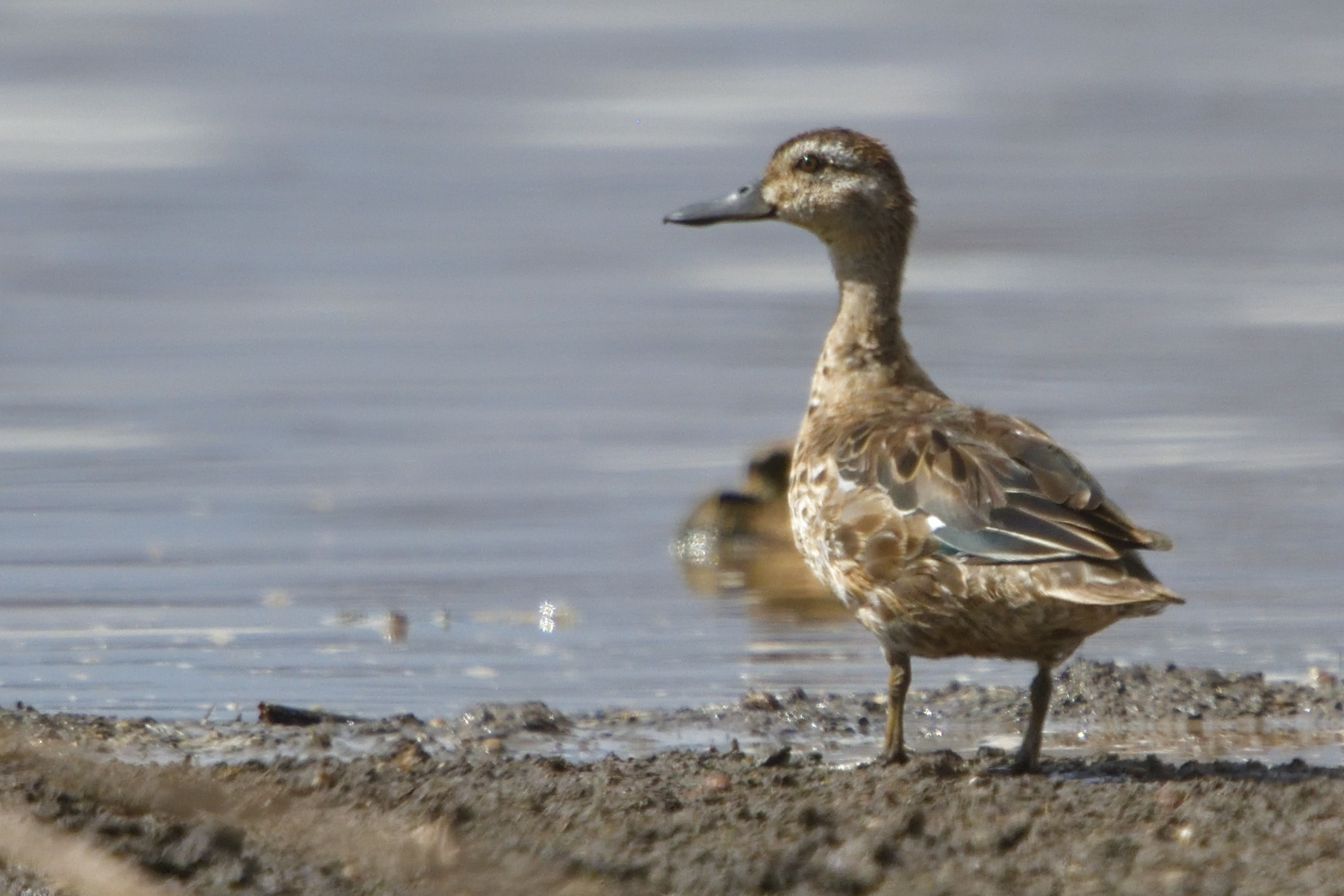 Garganey, Anas querquedula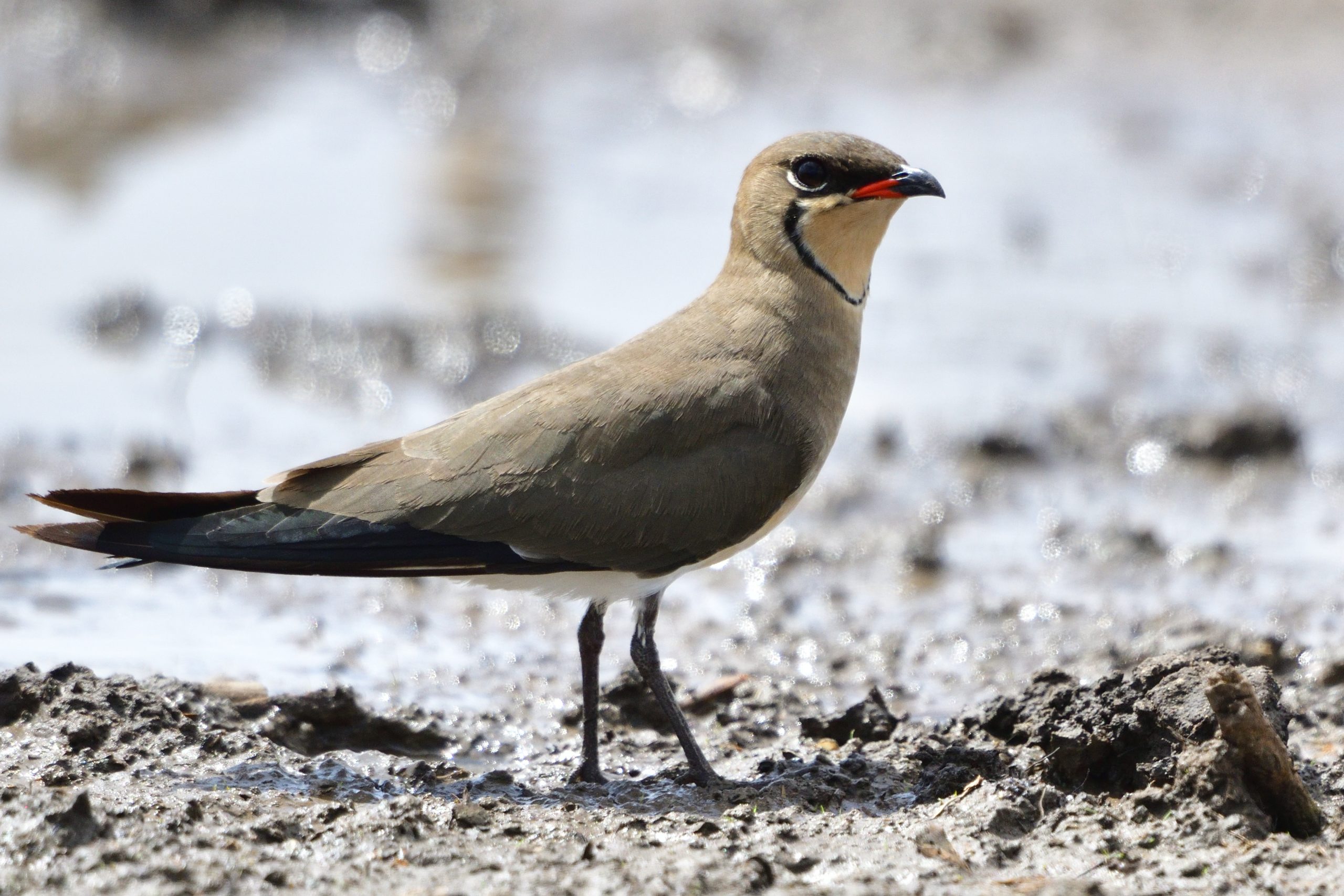 Collared Pratincole, Glareola pratincola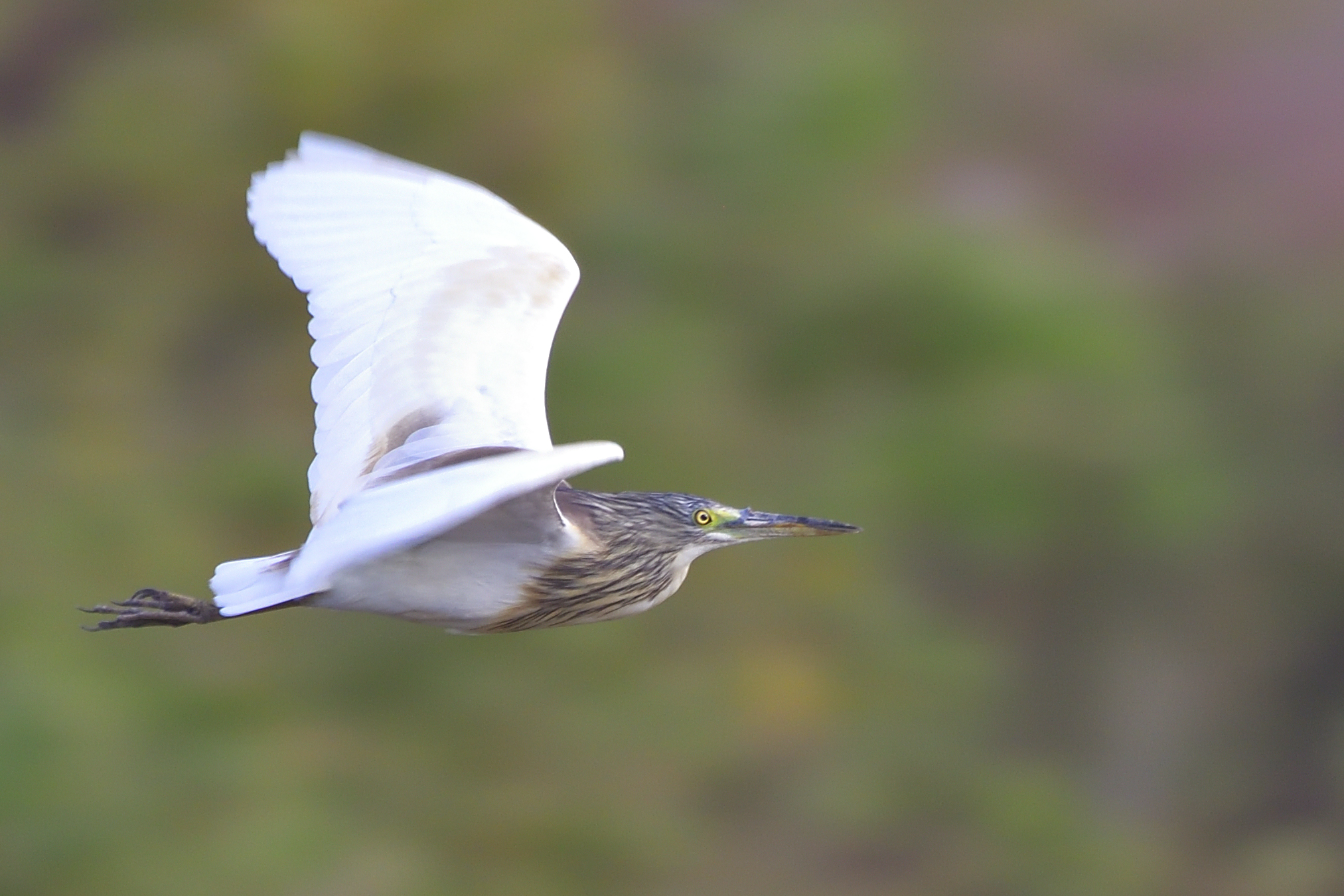 Squacco Heron, Ardeola ralloides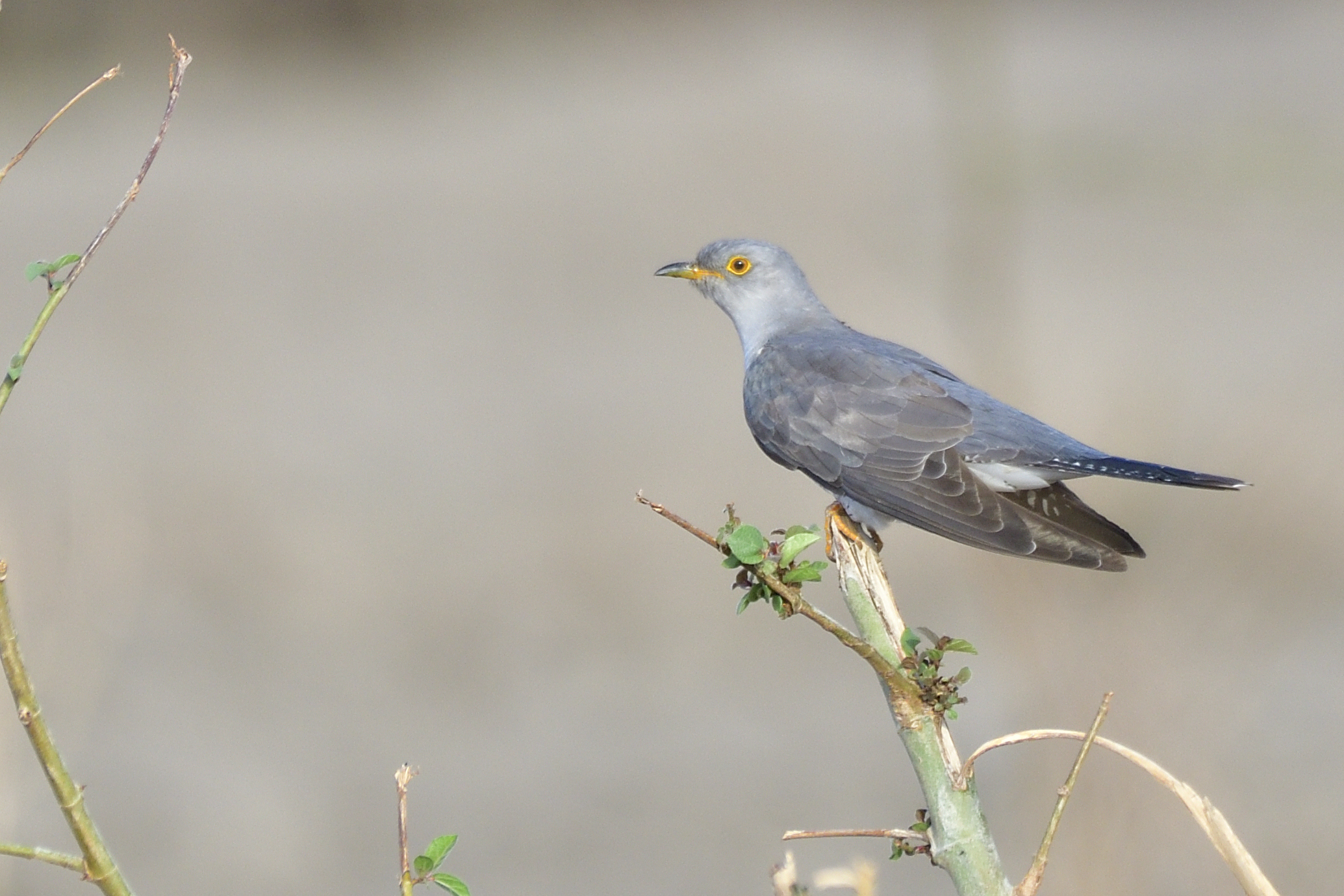 Common Cuckoo, Cuculus canonus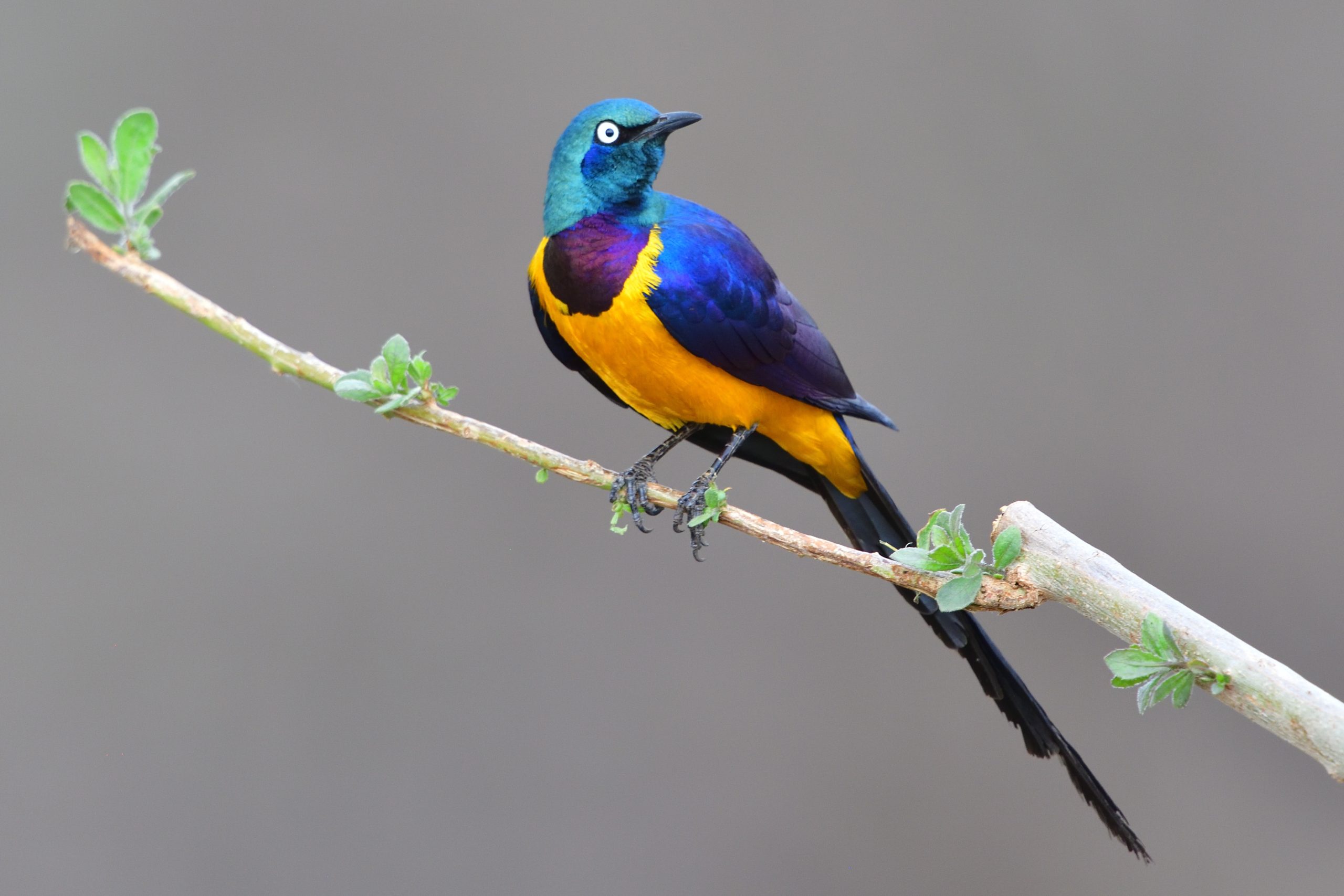 Golden-breasted Starling, Lamprotornis regius – Endemic to NE Africa
Day 5, Monday, November 1 – Kiligolf – Meru Forest – Kalinga Forest.
Abdul had often spoken warmly to me about this forest very close to my home. I have heard mixed stories about how steep the gradient here are, but an active Abbott´s Starling nest got me convinced to try it out. On the way up to the forest we passed an active breeding colony of Speke´s Weaver. We met the guide in the village and he told me to park the car there. I asked how far to the forest, he pointed and I asked what is wrong with driving up there. Being me of course we drove as far as I could drive. which was all the way to the forest edge. We quickly found Hunter´s Cisticola and Tacazze Sunbird where we parked the car and further up Evergreen Forest warbler, Black-headed Mountain Greenbul, Brown Woodland Warbler, Placid Greenbul, Cinnamon-chested Bee-eater, Black-fronted Bushshrike, Broad-ringed White-eye, Hartlaub´s Turaco and only halfway to the nest Abbott´s Starling!  We had walked slowly and birded for 1 1/2 hour before we found the Starling. It was only 09:15, so we decided to continue to see what else we could find: Stripe-faced Greenbul, Bar-tailed Trogon, Abyssinian Thrush, Silvery-cheeked Hornbill, Rüppel´s Robin-Chat and Mountain Yellow Warbler. It was now 10:15 and I asked the local guide and he said we were about halfway to the Starling nest. I spoke with my friends and we decided to bird our way back to the car. On the way down we added Mountain Buzzard, Grey-headed Nigrita, White-eyed Slaty Flycatcher and Green-backed Honeybird to our list. We drove down and stopped for pictures of the Speke´s Weaver, had lunch in Usa River and headed for Kalinga Forest. Kalinga Forest is at a lower altitude than Meru Forest and Bar-tailed Trogon is there replaced by Narina Trogon. We have also seen and photographed Buff-spotted Flufftail there. We parked the car and went straight to the Flufftail spot, but no response. Then we got an unwelcome visit from the local authorities who was wondering what 3 Wazungus (white men) was doing in the forest. They refused to speak any English so poor Abdul had to negotiate to no avail. I tried to get Abdul to explain that this is a public Forest and no entrance fee was necessary and if they could produce a document I would off course pay. We were literally kicked out of the forest. My friends and Abdul waited for me when I went to pick up the car. Suddenly they spoke fluent English. I just ignored them and drove off. Obviously as so many other places in this country they were looking for money. We started on our short drive home and I convinced Abdul to stop at a certain bridge at the entrance to Dolly estate and try for a certain Grey Olive Greenbul which Abdul masterly gave my friends a good view of. No other back up plans for the day so we returned home early and had some relaxing time. Abdul had some sad news from his family so he had to excuse himself so the day after I were to take my friends to Arusha National Park myself.
Some pictures from day 5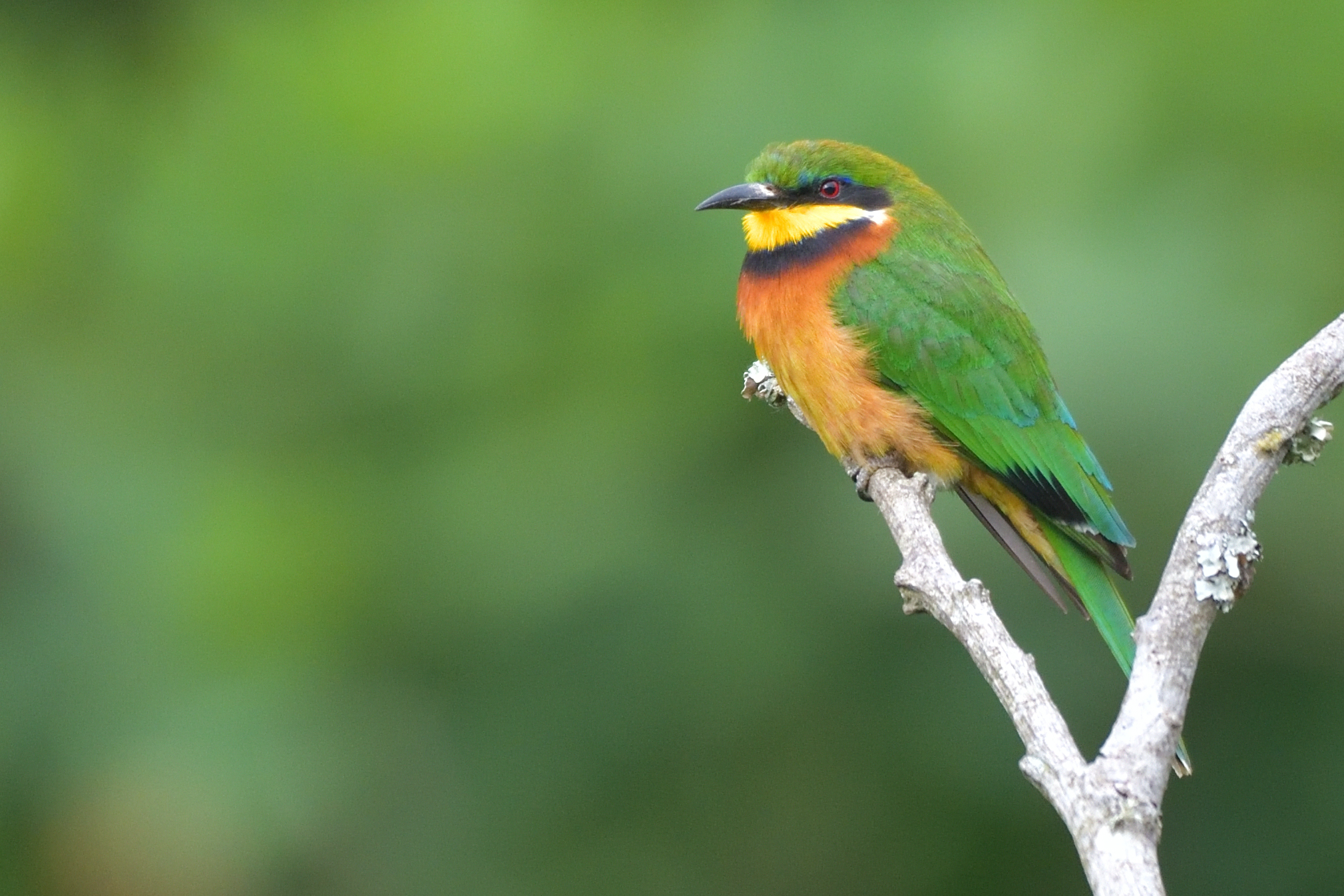 Cinnamon-chested Bee-eater, Merops oreobates – Endemic to E Africa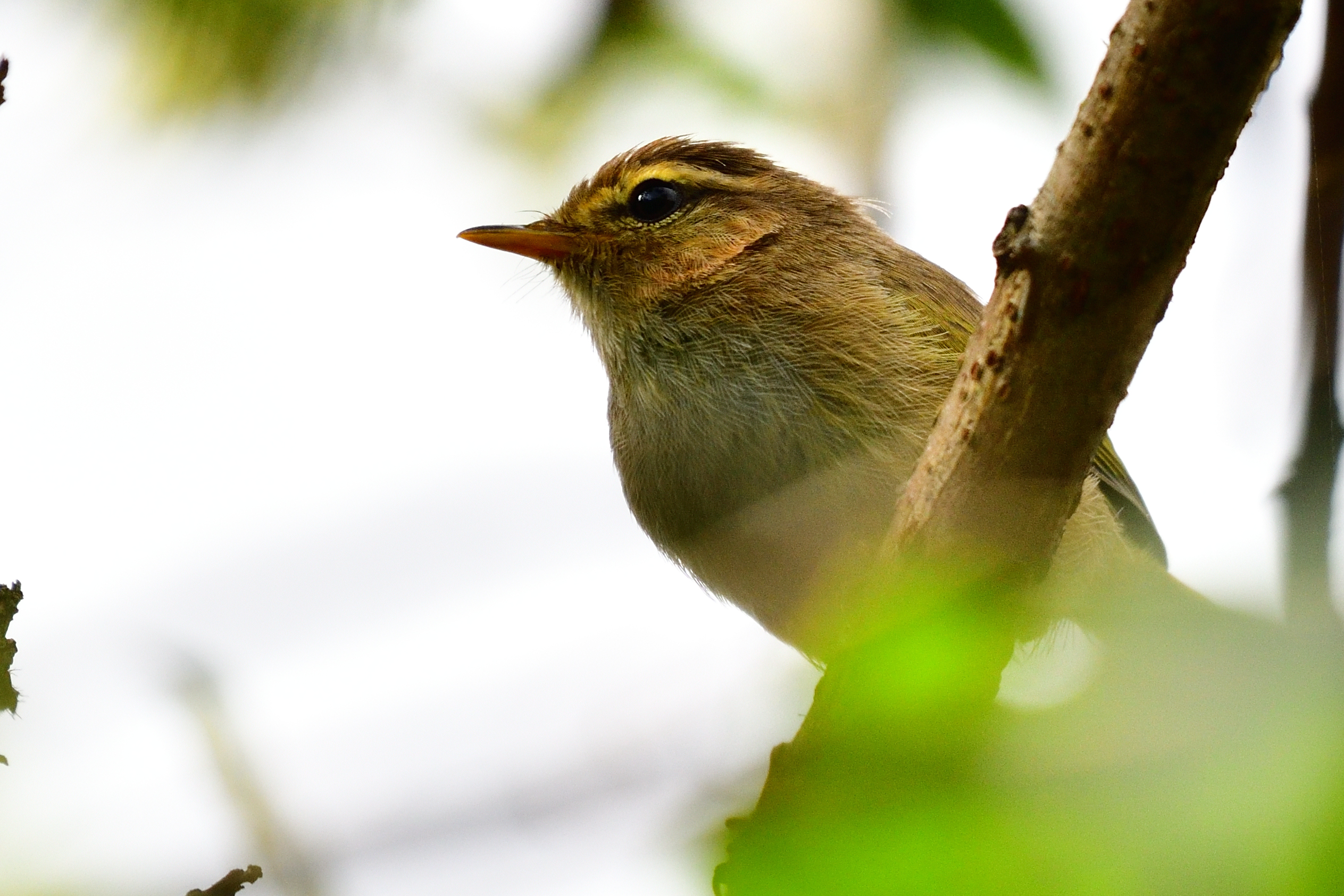 Brown Woodland Warbler, Phylloscopus umbrovirens – Endemic to NE Africa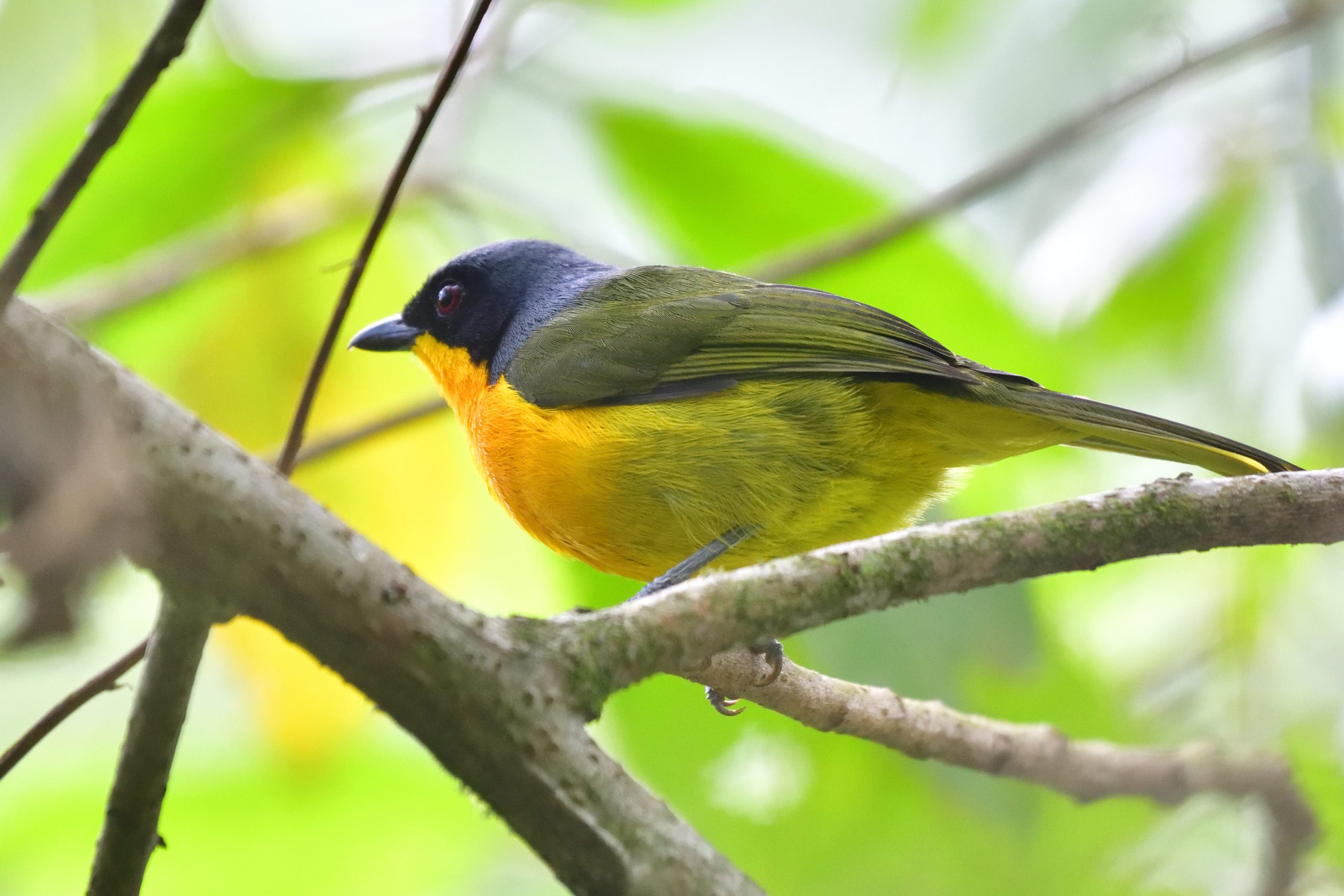 Black-fronted Bushshrike, Chlorophoneus nigrifrons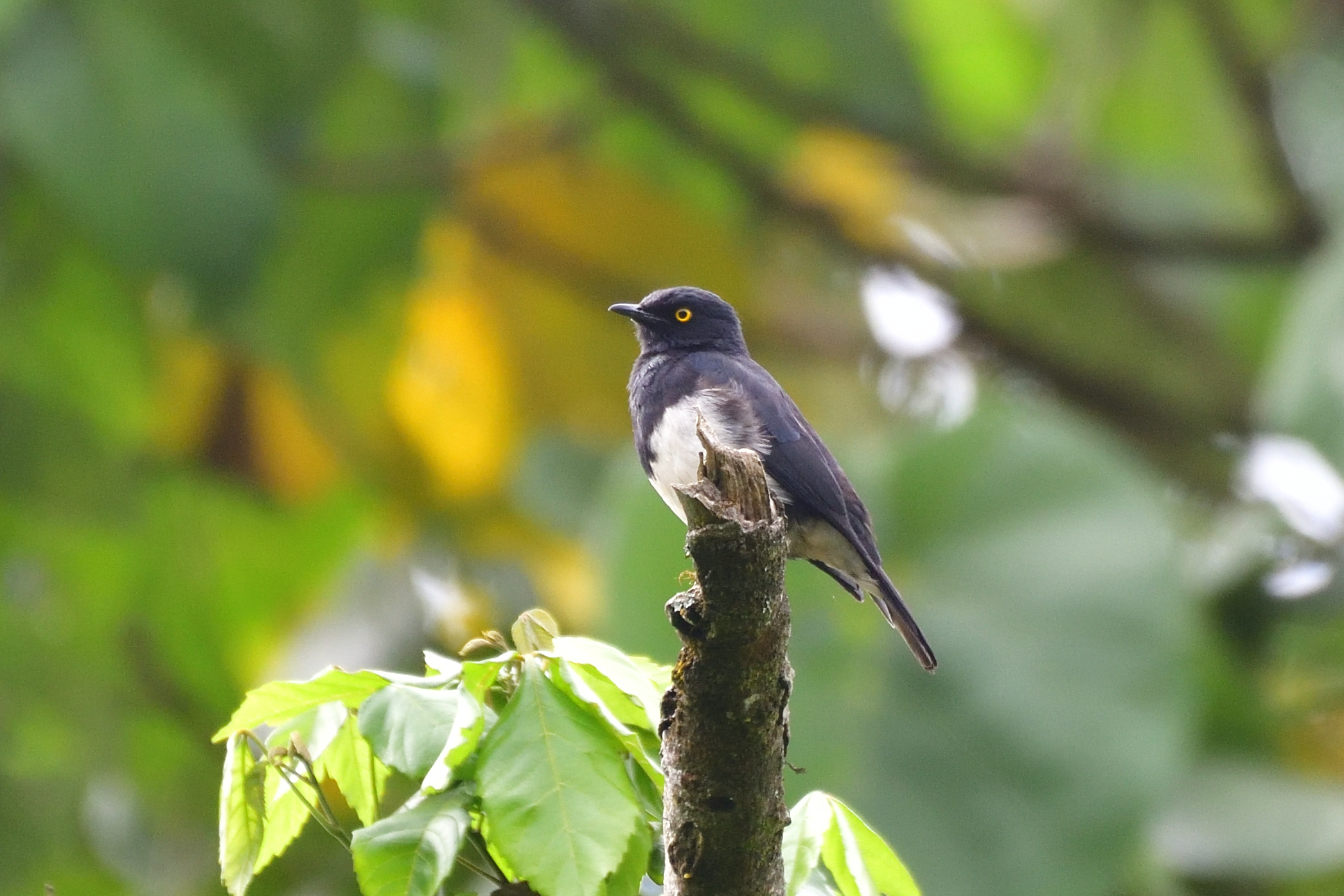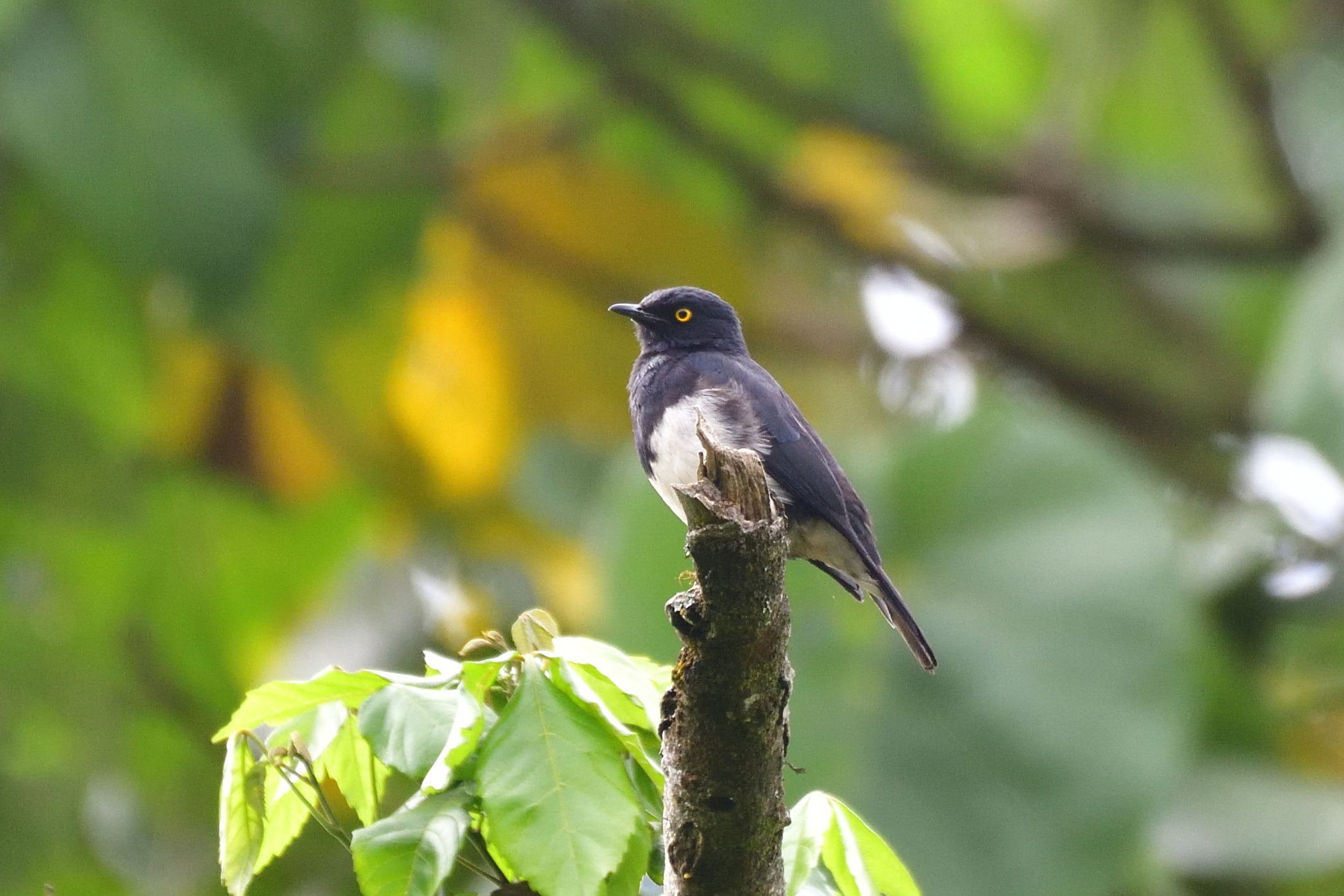 Abbott´s Starling, Pholia femoralis – Endemic to E Africa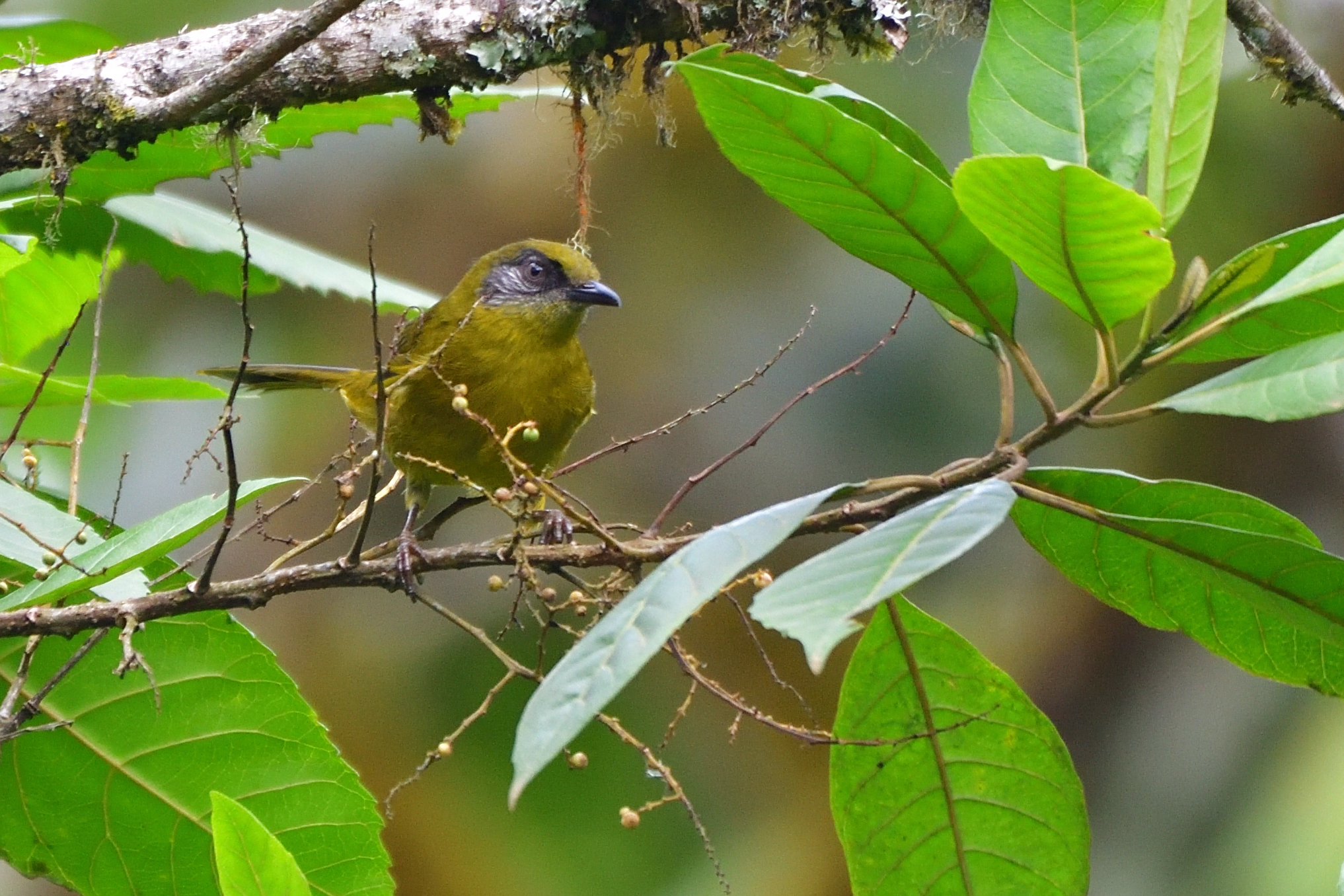 Stripe-faced Greenbul, Arizelocichla striifacies – Endemic to S. Kenya and Tanzania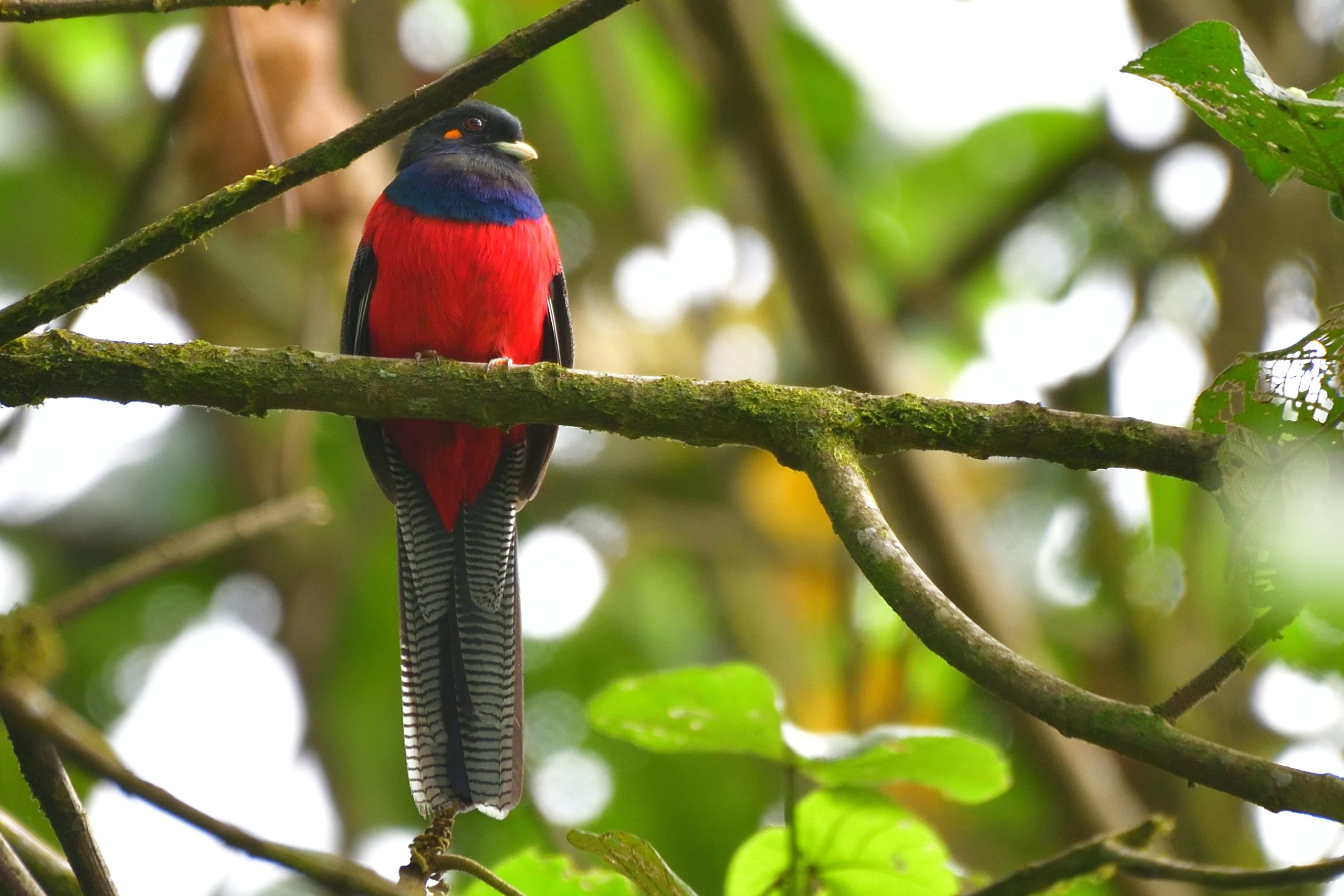 Bar-tailed Trogon, Apaloderma vittatum
Day 6, Tuesday, November 2 – Kiligolf – Arusha National Park
With Abdul not being able to join us, I took my friends to the park myself. I have been there countless of times so I know very well where to find the birds myself. We took our normal route starting at the gate and going towards the museum. We found Trilling Cisticola and Moustched Grass Warbler at the normal spots. We stopped at the museum, but it was very quiet. We drove up Ngurduto crater and took the right turn up to our normal breakfast spot. We did not encounter many birds. However we heard Abyssinian Crimsonwing. We returned down the crater and took the other route up. Again, very quiet, not even a single Scaly Francolin. We headed towards the Momela Lakes, stopped at a tiny wetland and recorded amongst others White-backed Duck, African Swamphen and Spur-winged Goose. We continued onwards to the lakes. On the way we saw Rufous naped Lark and Pangani Longclaw. We found the normal suspects like Lesser and Greater Flamingos, Southern Pochard, Little Grebe, Red-billed Teal, Cape Teal, Red-knobbed Coot, Pied Avocet and a surprise Maccoa Duck. We continued towards Mount Meru, stopped at several places picked up the odd bird here and there drove up to the top for our target bird Eastern Double-collared Sunbird. Before we parked, I could hear it calling so it was quite easy to locate it. We drove down and stopped at the waterfall. We had a couple of Red-fronted Parrots flying over. We continued down and drove home. Sometimes Arusha NP, can be very rewarding, but this day had been fairly slow.
Some pictures from Day 6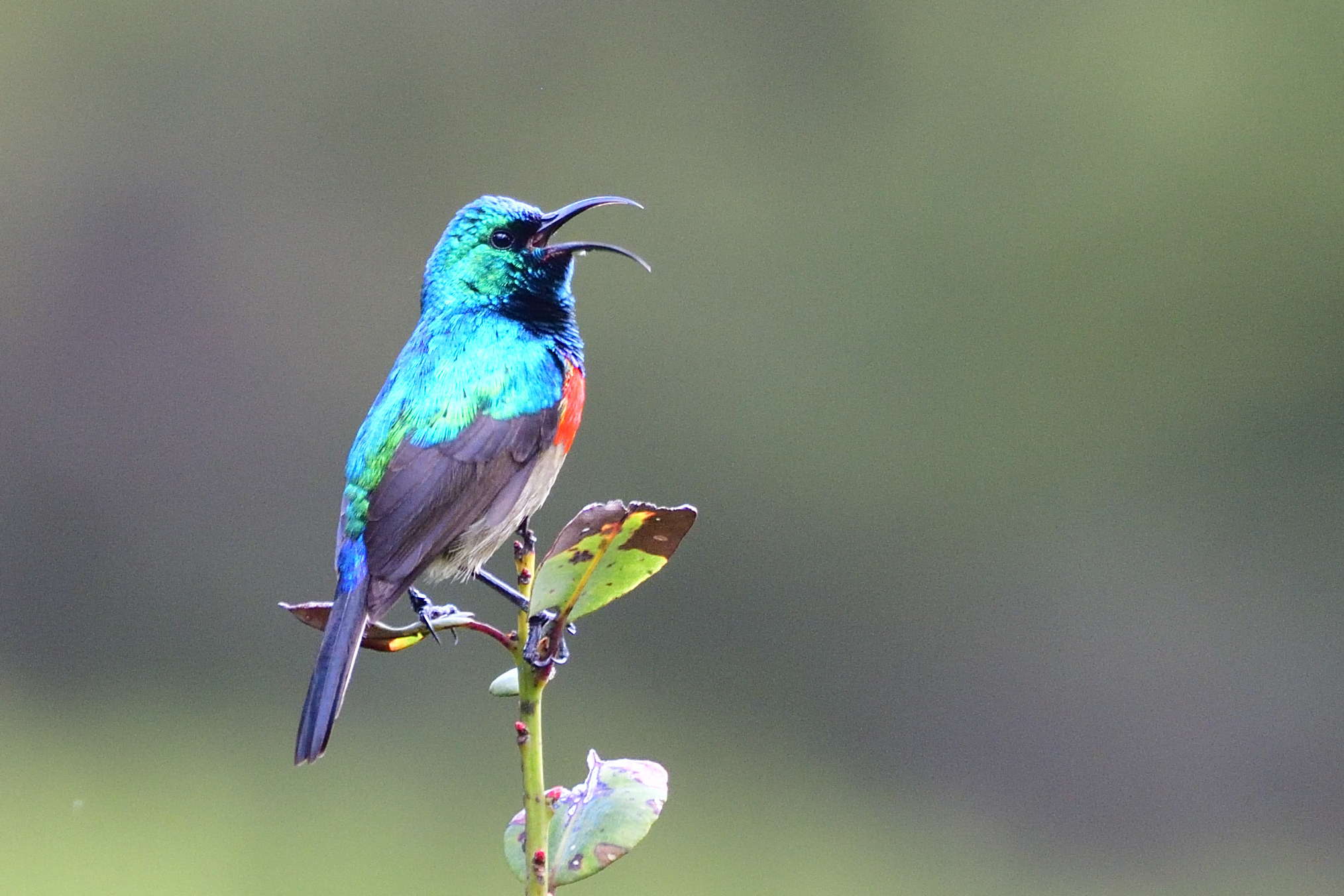 Eastern Double-collared Sunbird, Cinnyris mediocris – Endemic to E Africa
Day 7, Wednesday, November 3 – Kiligolf- Same South Pare Mountains – Same
Let the safari begin. Abdul was back, the car was packed and we were on our way. The first leg to Same is about 3 hours. We stopped at a place near Same. It was about 10:30 when we reached the spot, but still manage to get some good birds: D´Arnaud´s Barbet, Spot-flanked Barbet, Black-bellied Sunbird, Grey-headed Bushshrike, Red-fronted Prinia (Warbler) and Common Buzzard.  We then went to Elephant Motel in Same to check in and have some lunch and relax. About 3:30 we started heading up towards South Pare Mountains. We were struggling to find the South Pare White-eye, but in the end we saw a huge flock of them. We also found the Moustached Tinkerbird for the first time on our trip.
Here´s some pictures from Day 7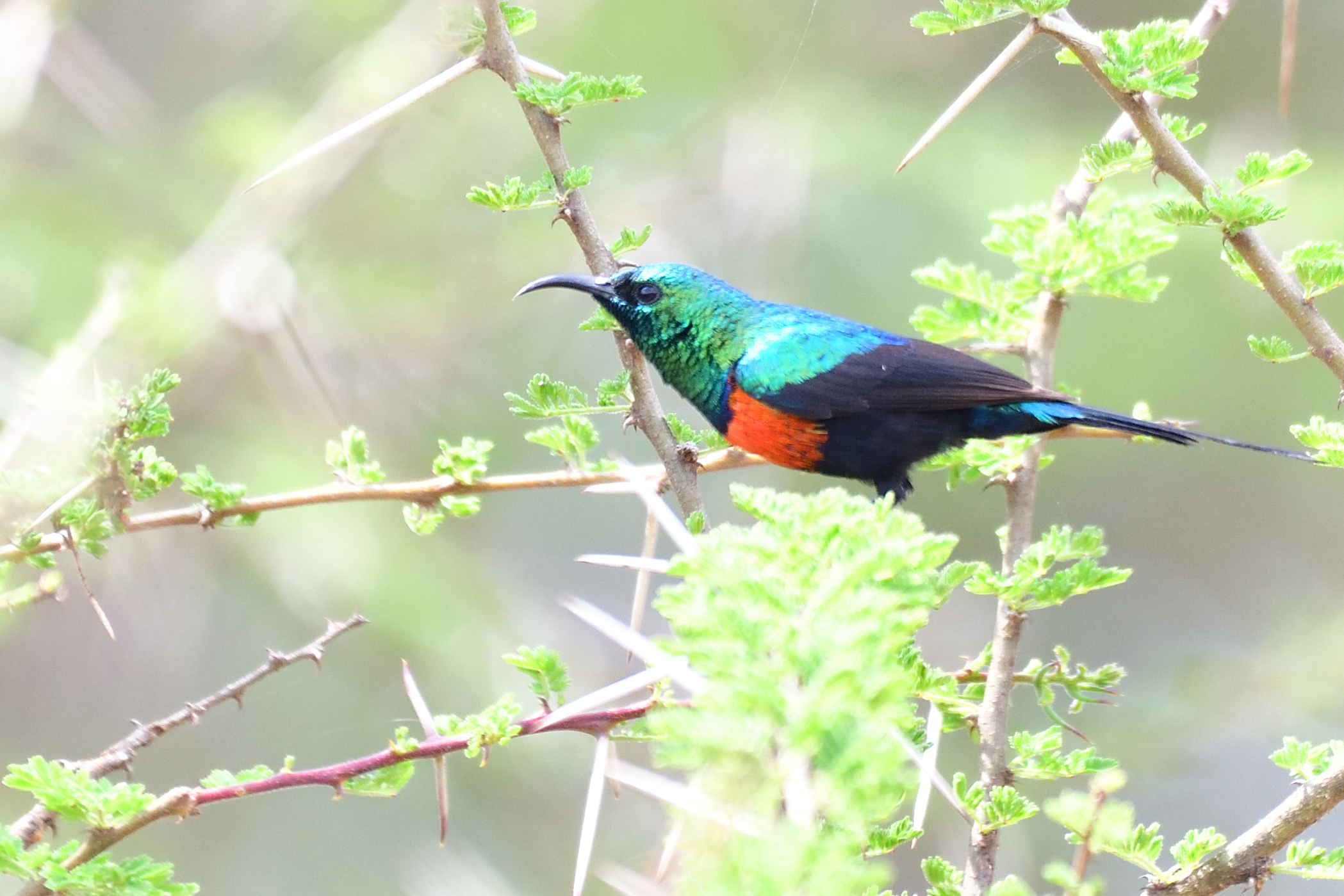 Black-bellied Sunbird, Cinnyris nectarinioides – Endemic to NE Africa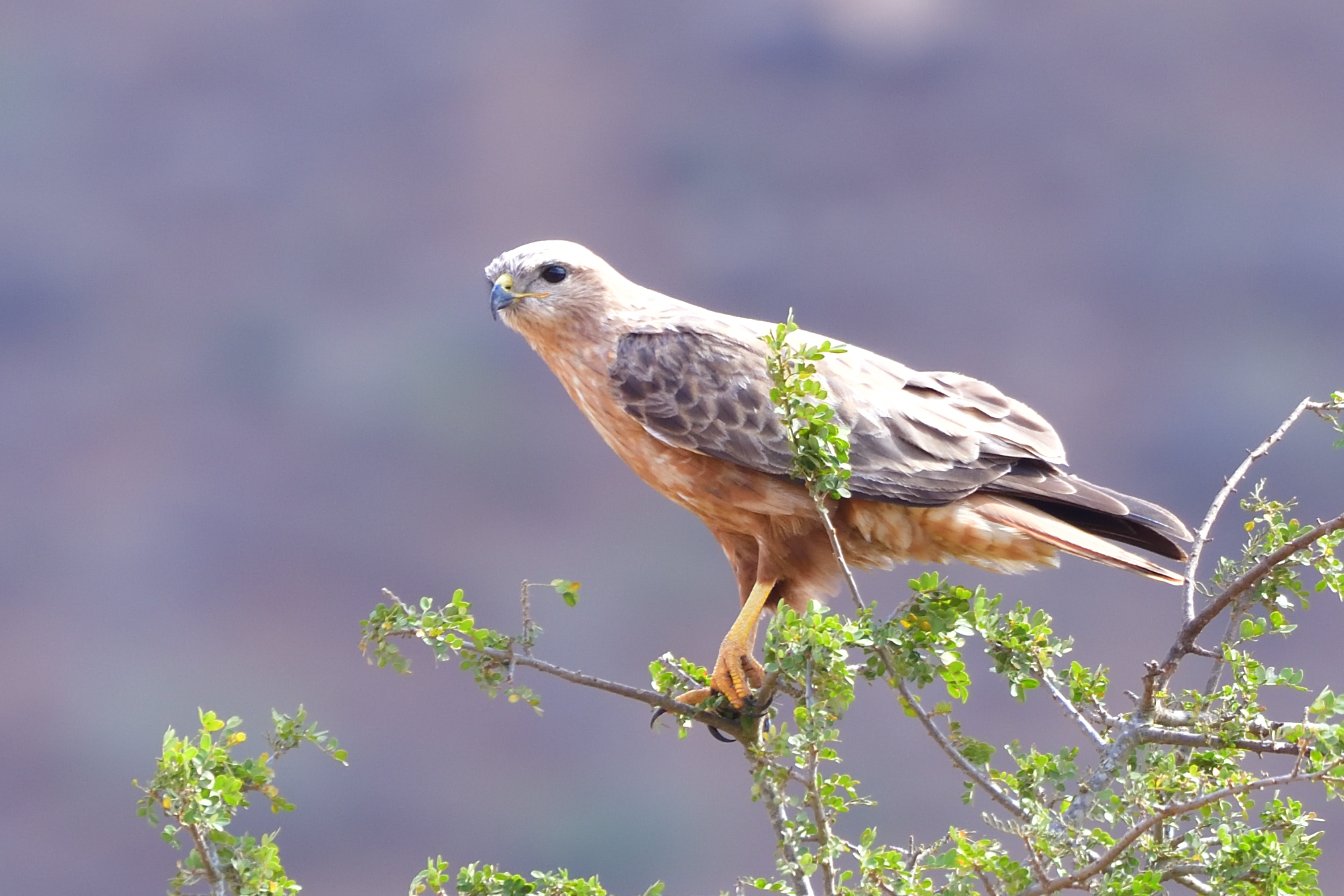 Common Buzzard, Buteo buteo
Day 8, Thursday, November 4 – Same – Magamba Forest. 
My normal Itinerary dictates that we go back to the spot in Same just outside the Mkomazi NP. Red-fronted Tinkerbird, Eastern Black-headed Batis, Red-fronted, Black-throated and Red-and-yellow Barbet were some of the new birds added from that spot. We went back to the hotel ordered breakfast, packed and were soon on our way to Magamba Forest. We spotted a Northern Carmine Bee-eater on the way. I had never seen it in that location before. Soon (120km from Same) we reached Mombo and started the climb up to Lushoto, with a pit stop for vegetables in Sono. Magamba is above Lushoto and we could park my old trusty Land Rover around 2PM at our normal camping spot. People question me about camping up there in the forest. The ranger manager there, Gertruda have now built fantastic facilities for me including modern toilets, hot water in the shower (Donkey). On the last trip she had even installed Solar panels so there was light in the camp. I call this luxury camping and nothing like we endure on my Southern Highland trips. The tents are even placed under a roof. We quickly set up camp and started walking. First bird: Usambara Thrush right next to camp. Then Spot-throat and Eastern Bronze-naped Pigeon. Usambara Double-collared Sunbird and Red-capped Forest Warbler are easy birds, but we could not find Usambara Weaver and Usambara Akalat the first afternoon. I returned to camp  early to start preparing my famous Coko (Chicken) stew. The other join me soon and we had a nice night by the bonfire before we retired early to our tents.
Some pictures from day 8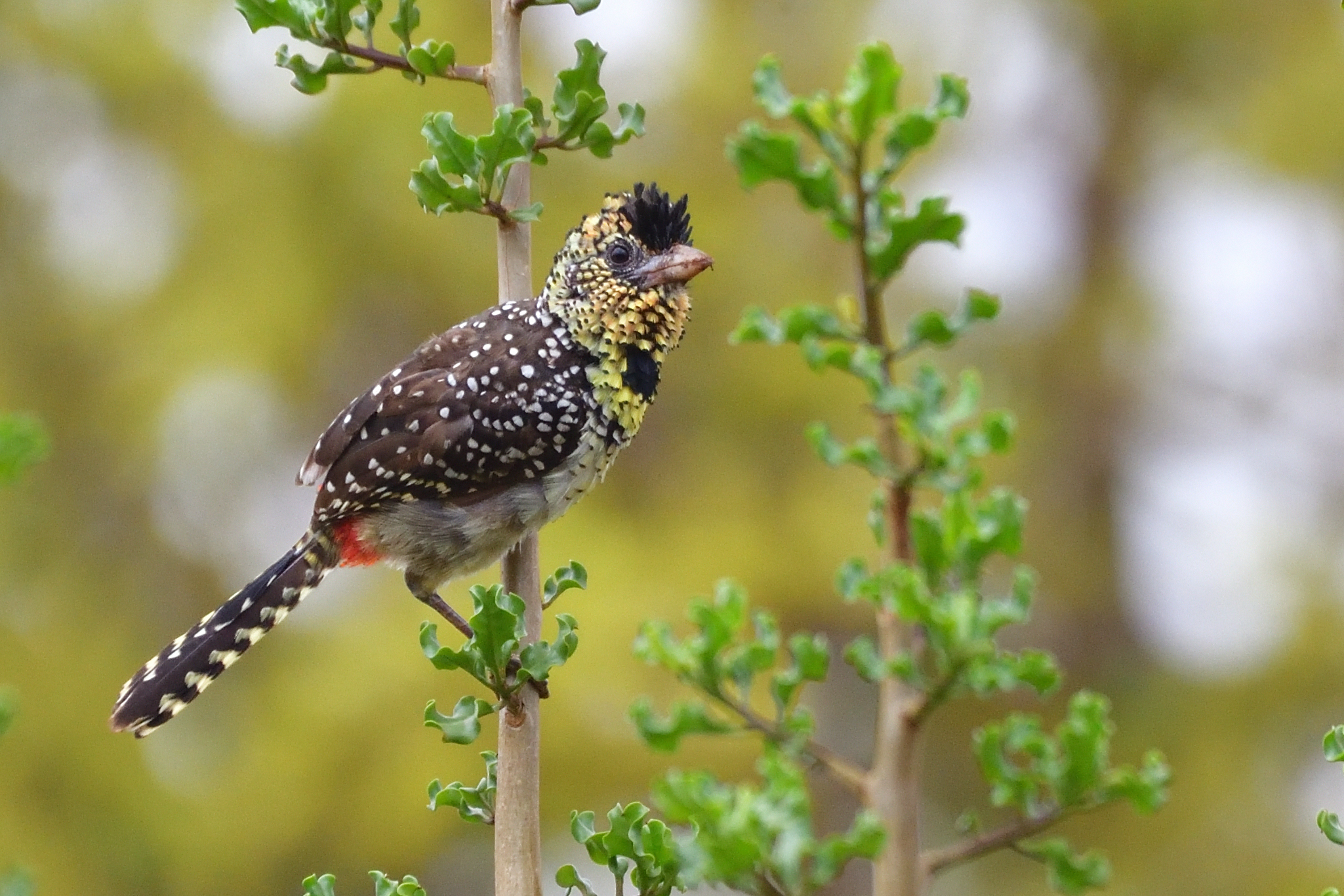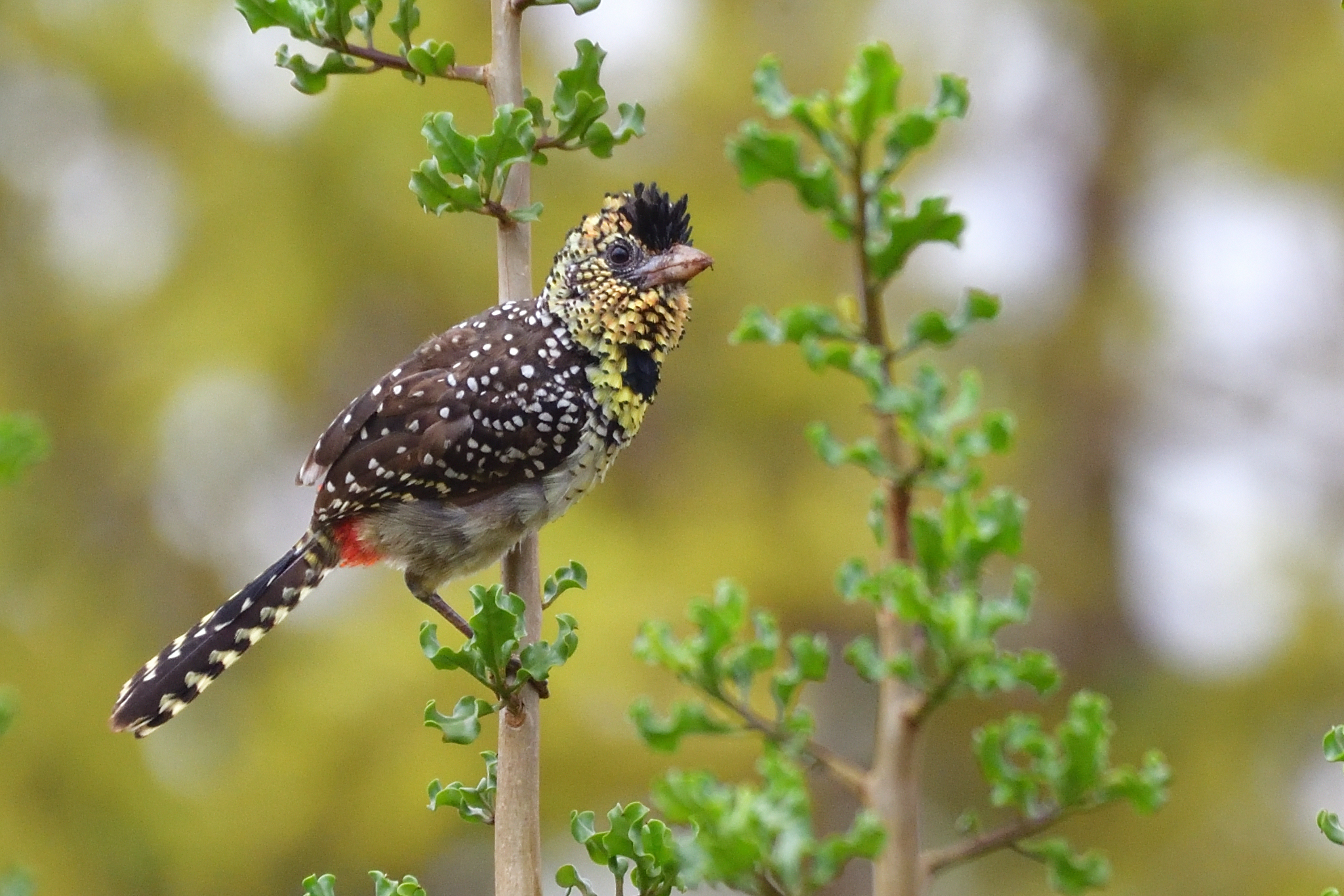 D´Arnaud´s Barbet, Trachyphonus darnaudii – Endemic to NE Africa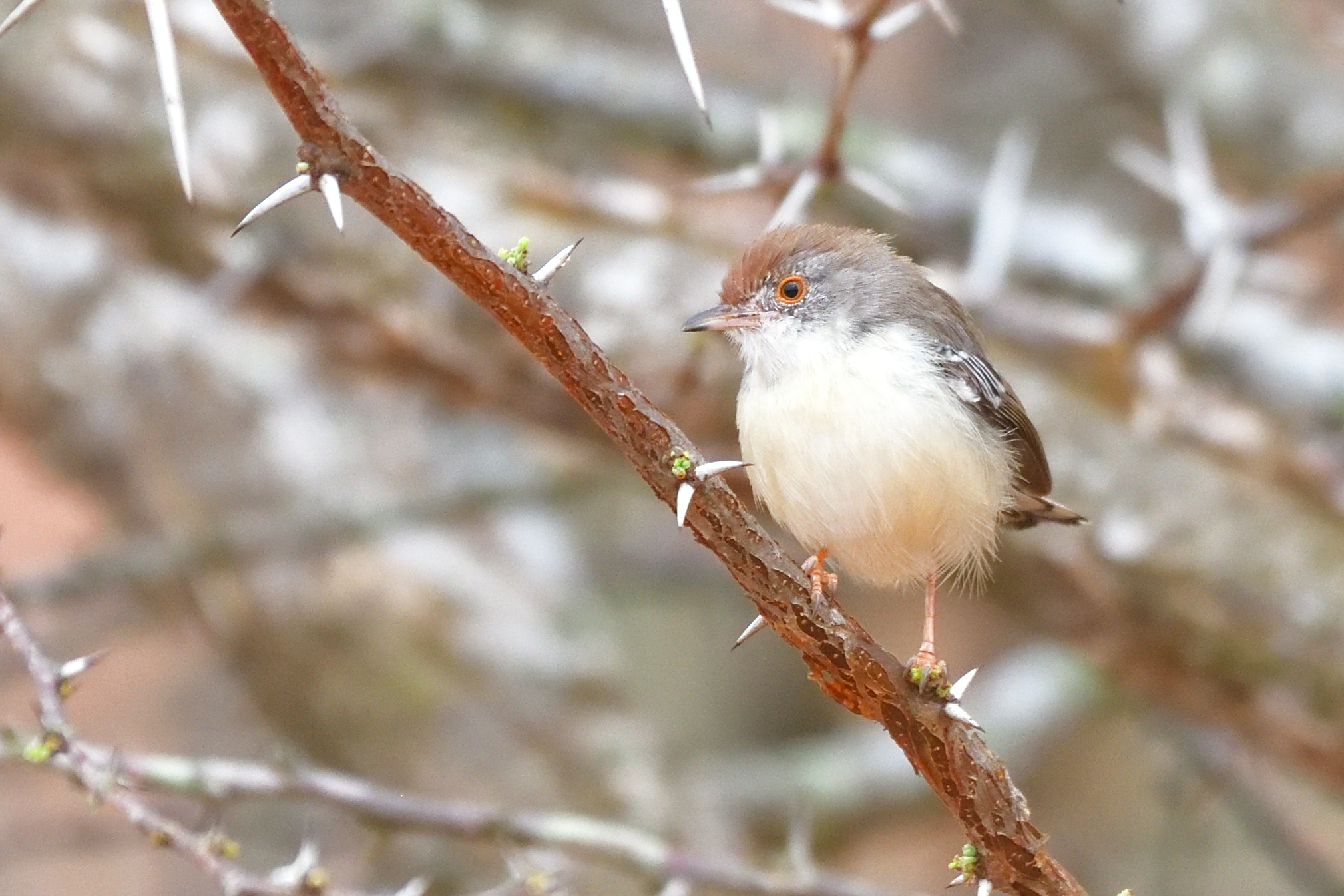 Red-fronted Prinia (Warbler) – Urorhipis rufifrons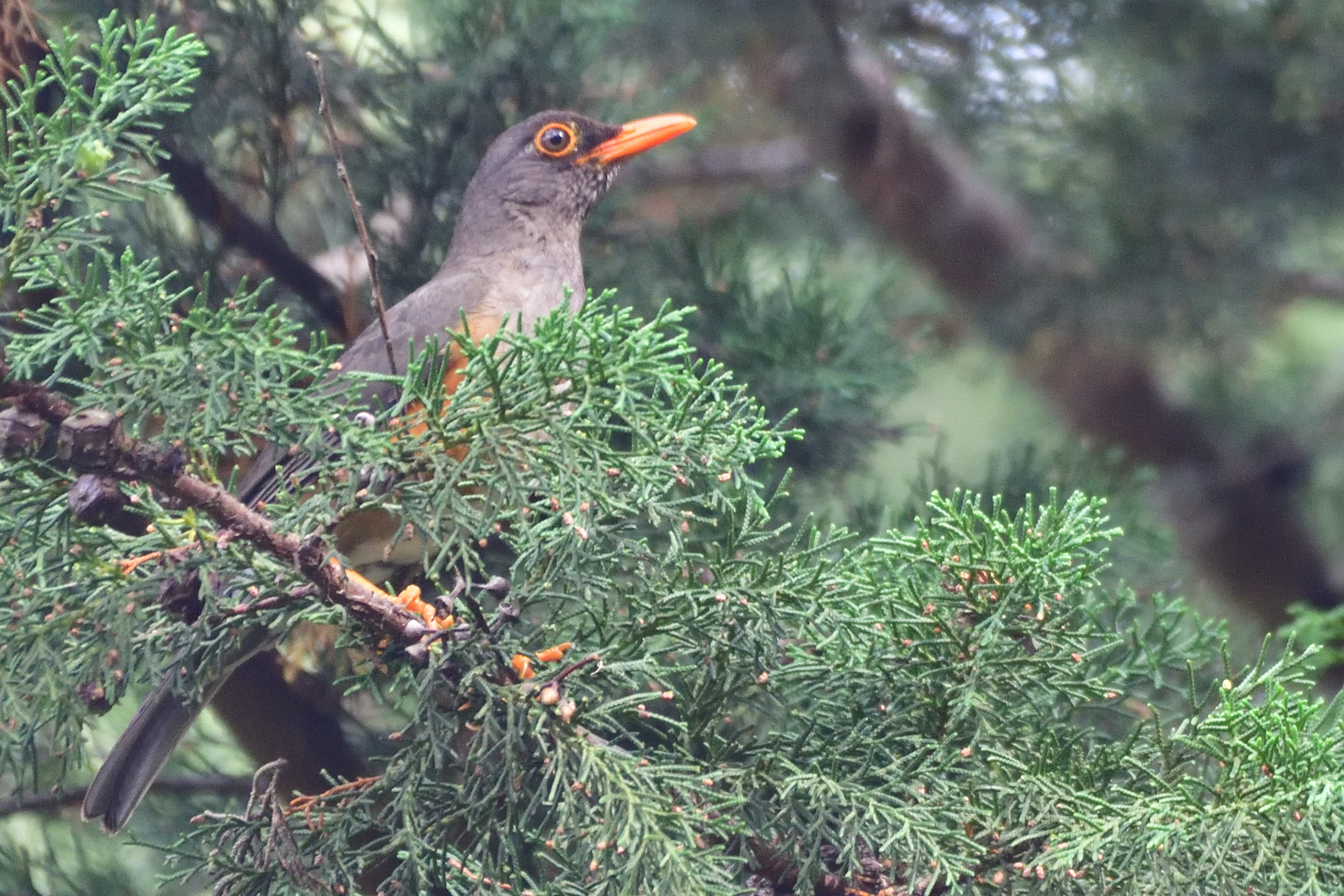 Usambara Thrush, Turdus roehli – Endemic to Usambara and Pare Mts of Tanzania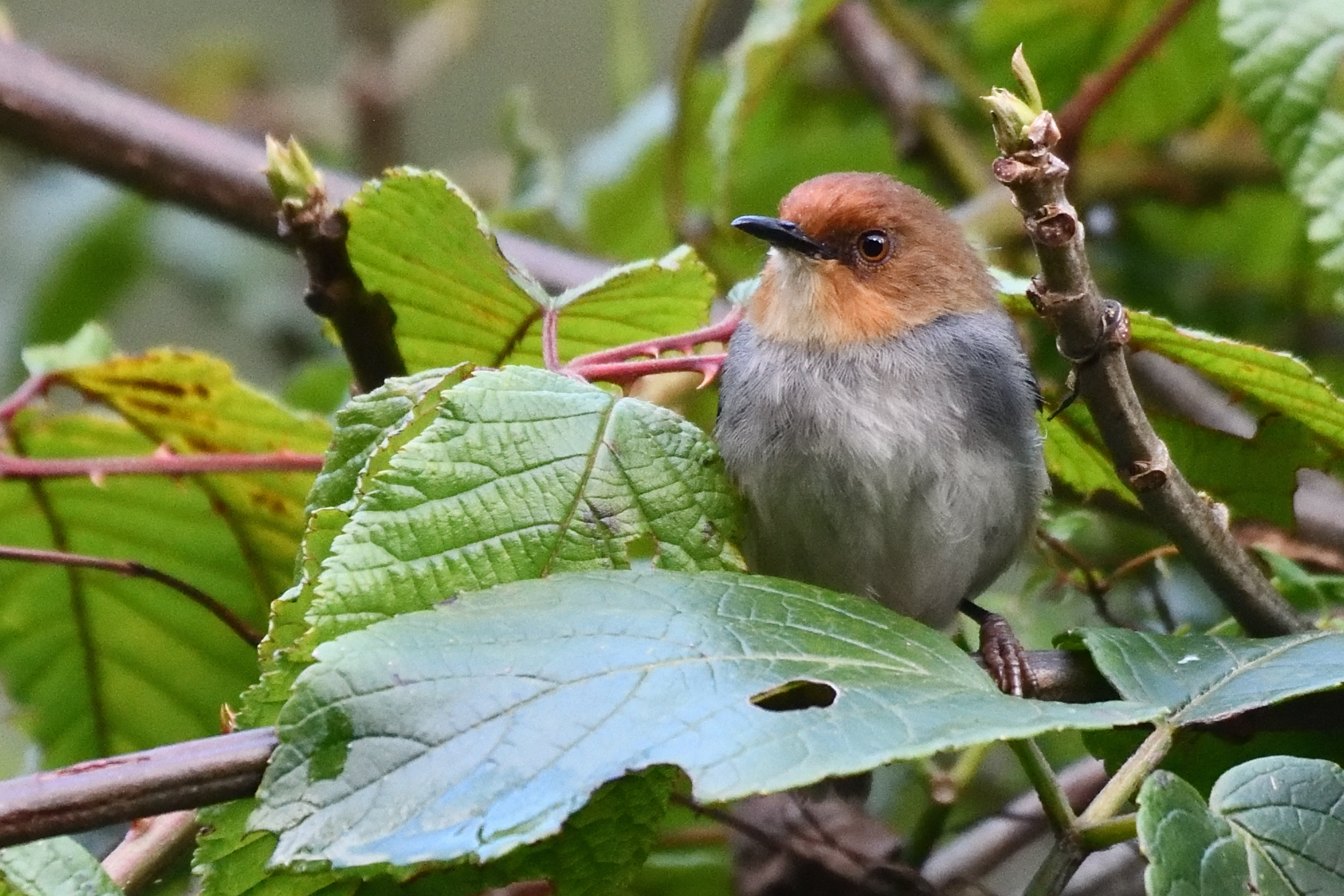 Red-capped Forest Warbler, Artisornis metopias – Endemic to Eastern Arc Mts of Tanzania and N Mozambique
Day 9, Friday, November 5 – Full Day Magamba Forest
We again went out for our 2 missing birds and this time we got fairly good views of the Usambara Weaver, but still no sign of the Akalat. We went down for breakfast. Close to the camp I have another spot for the Usambara Akalat that Abdul was not aware off and yes we found it there. We could lower our shoulder having most of the Magamba specials under our belt. The afternoon we finally decided to go downhill from camp. Good birds encountered: Olive Woodpecker, Forest Batis, Waller´s and Sharpe´s Starling Moustached Tinkerbird, Grey Cuckooshrike to name a few
Some pictures from day 9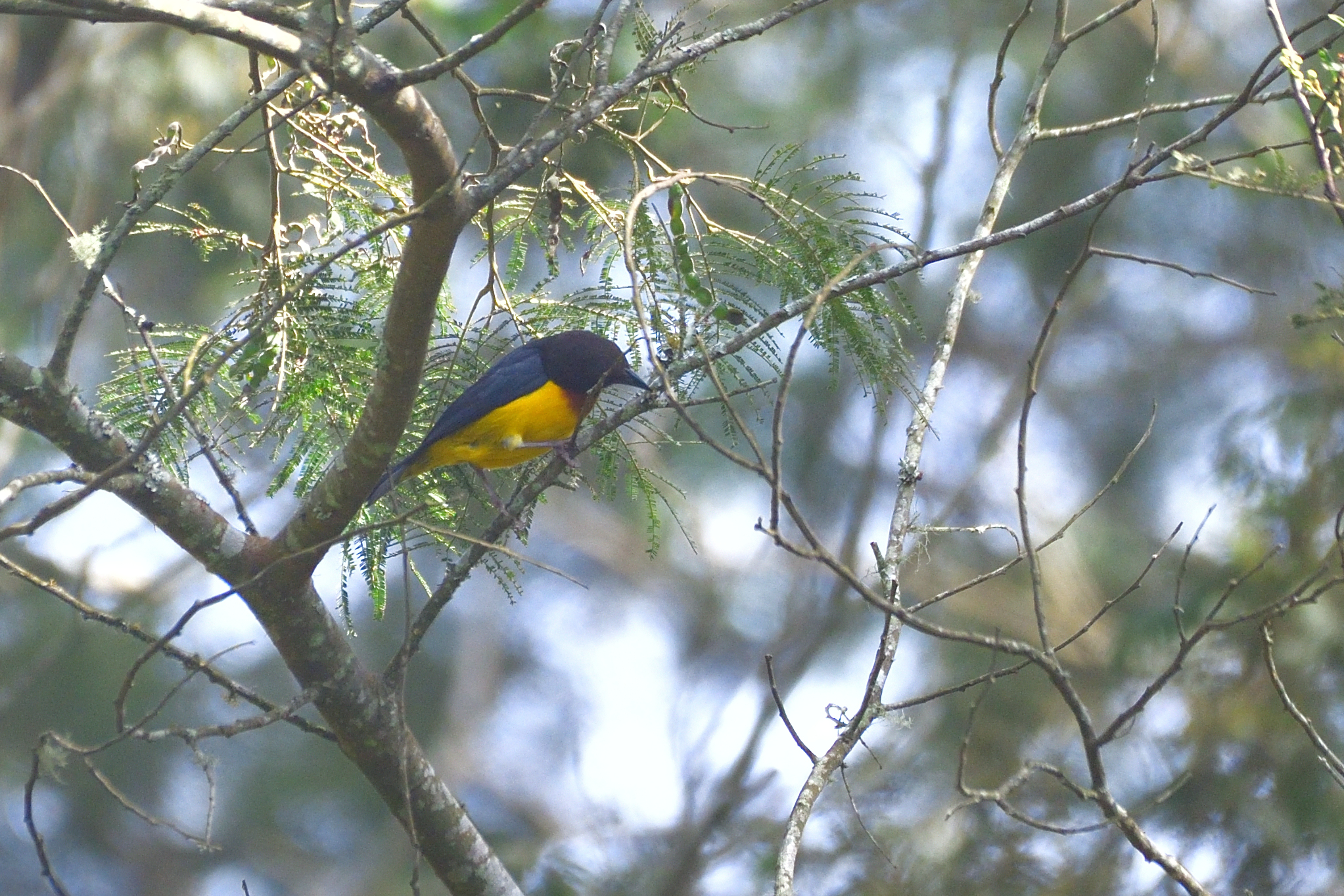 Usambara Weaver, Ploceus nicolli – Endemic to Eastern Arc Mts of Tanzania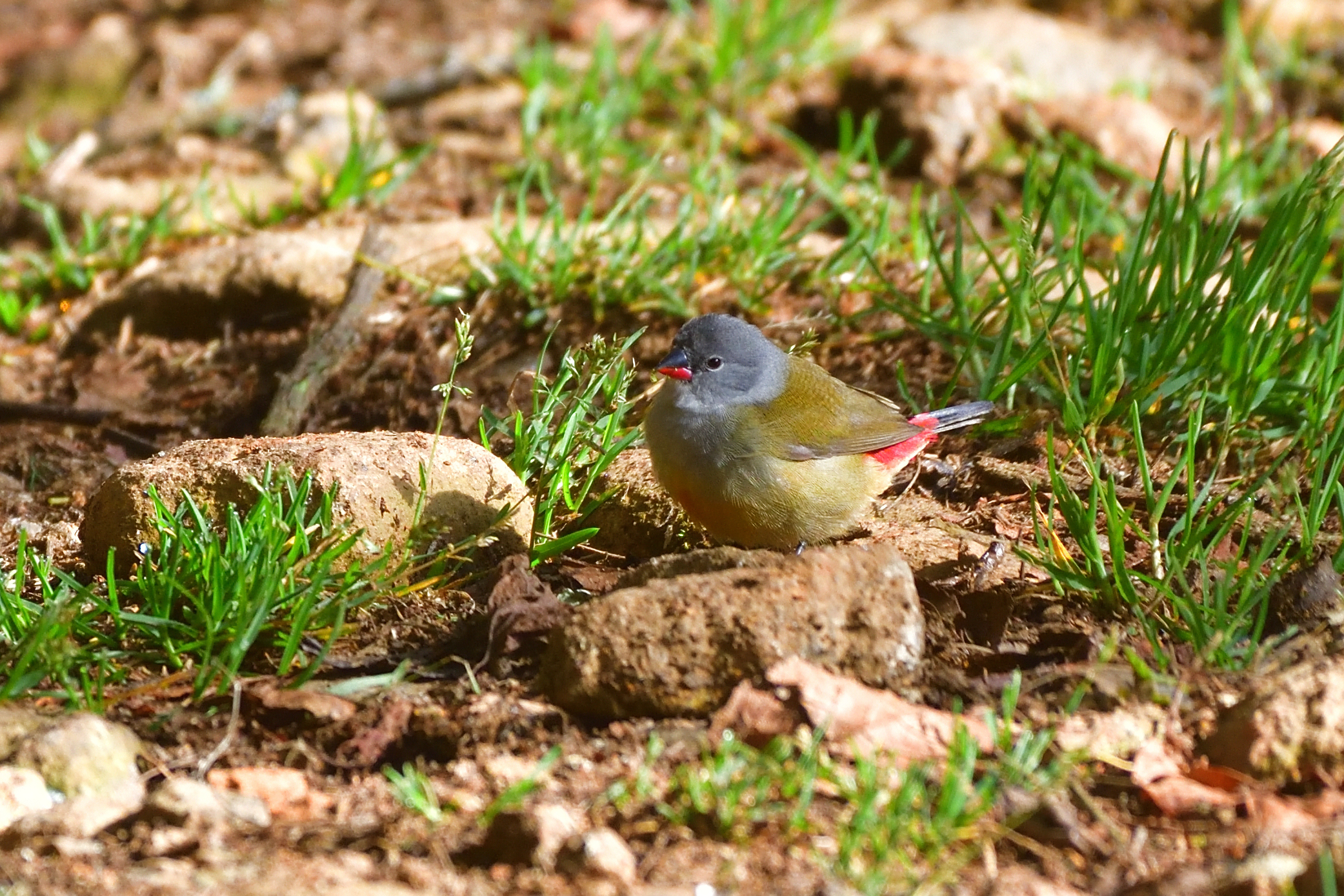 Yellow-bellied Waxbill, Coccopygia quartinia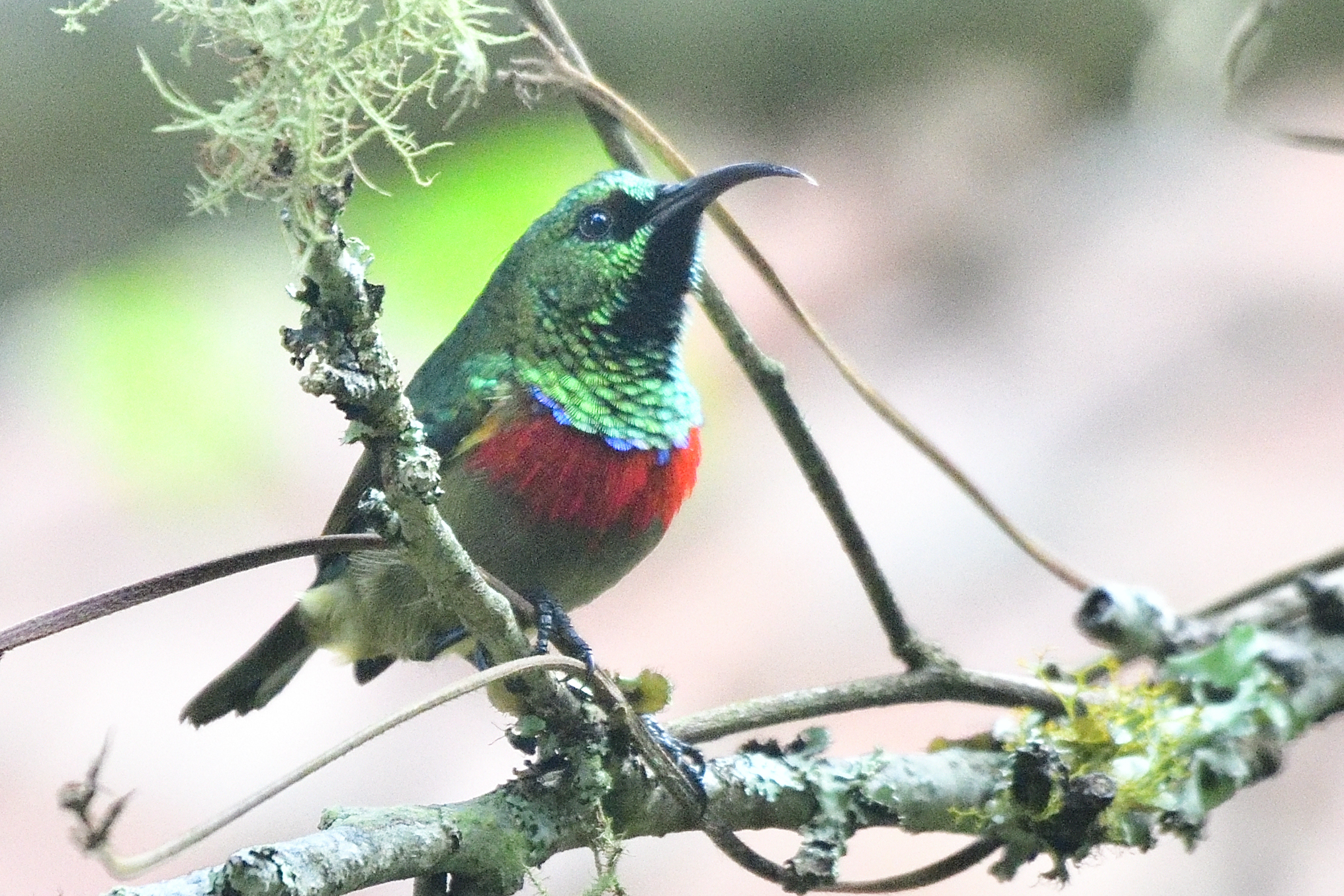 Usambara Double-collared Sunbird, Cinnyris usambaricus – Endemic to S Pare and Usambara mts in TZ, a few records from  KE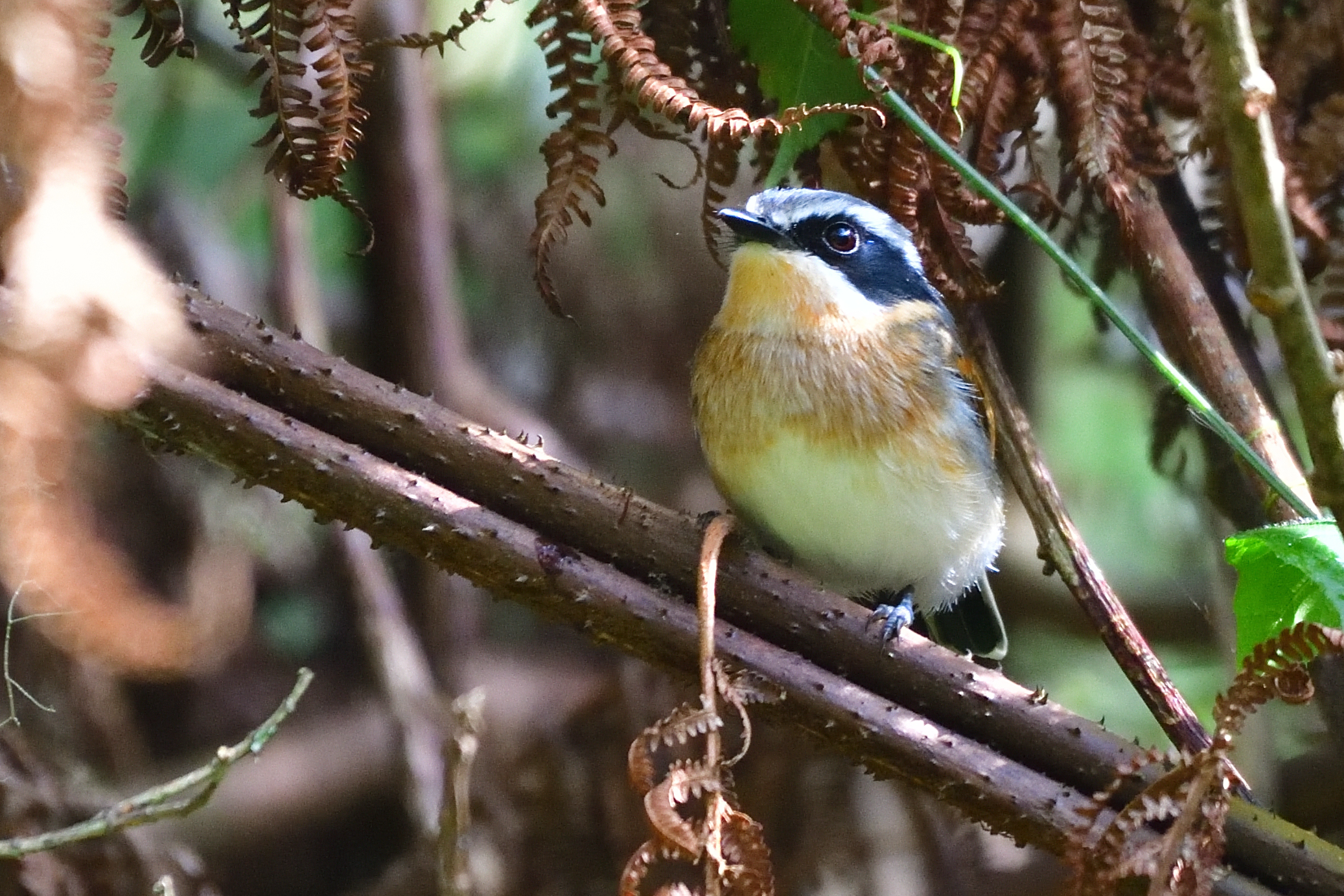 Dark Batis (Female), Batis crypta – Endemic to Eastern Arc Mountains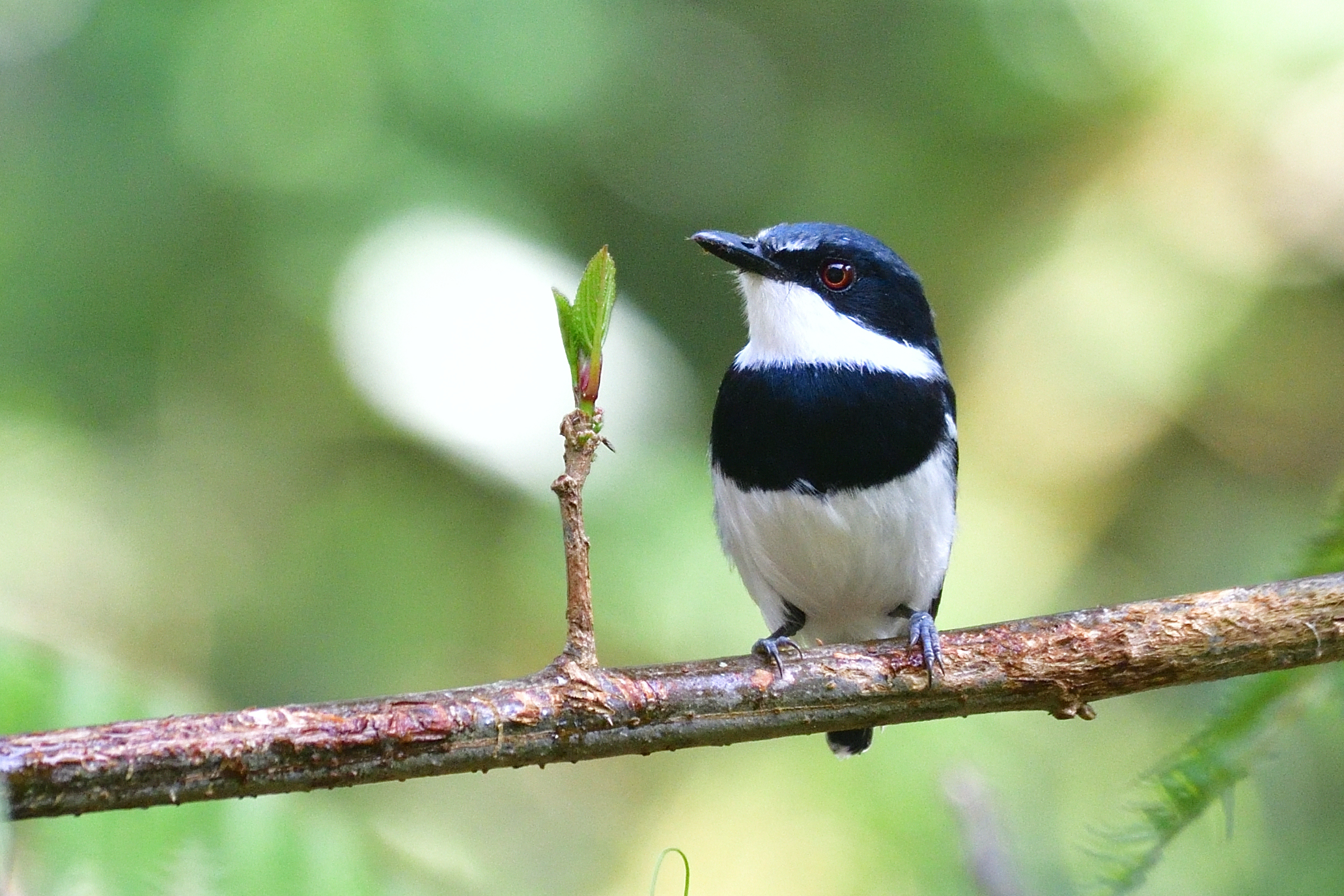 Dark Batis (Male), Batis crypta – Endemic to Eastern Arc Mountains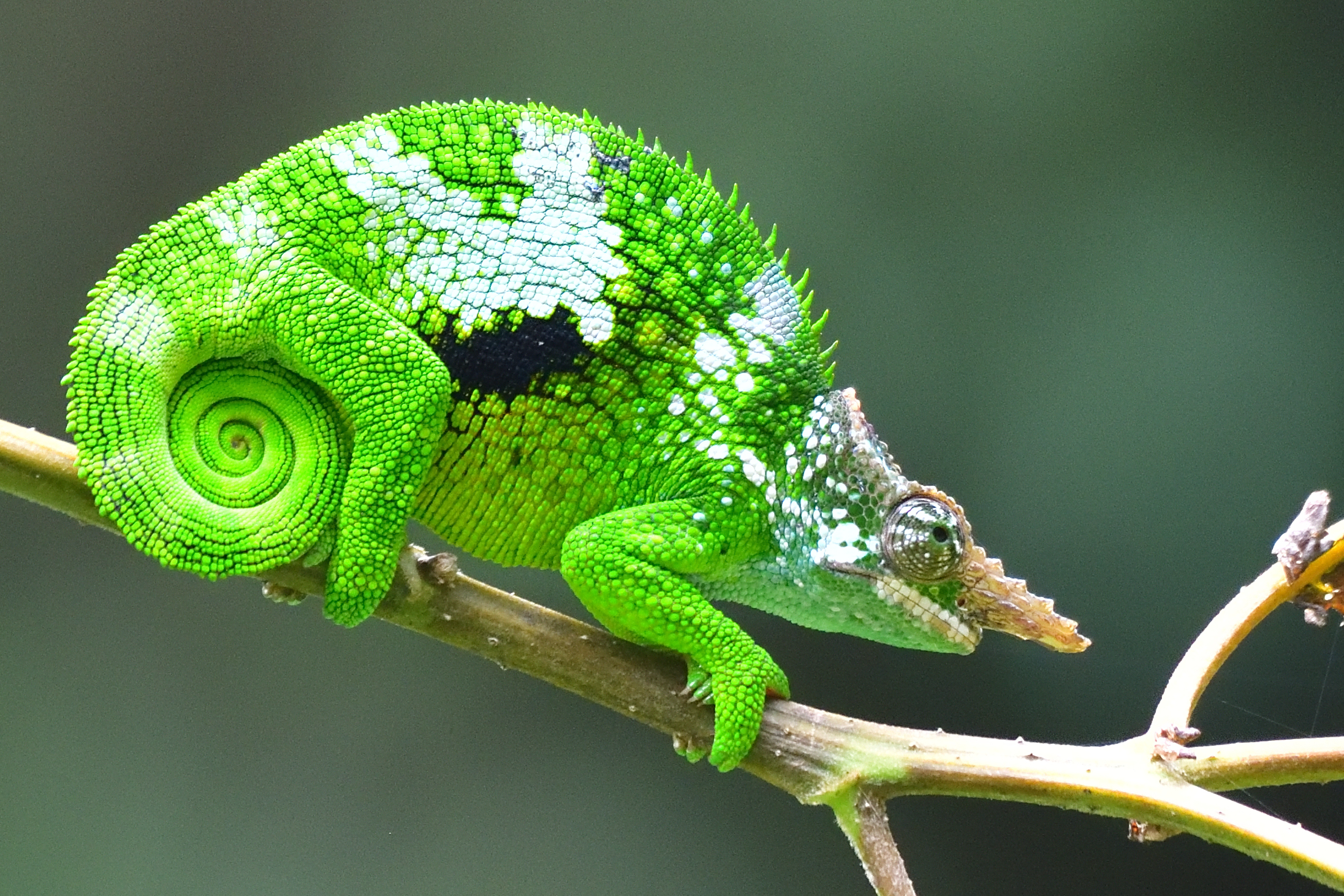 West Usambara two horned Chameleon – Endemic to West Usambara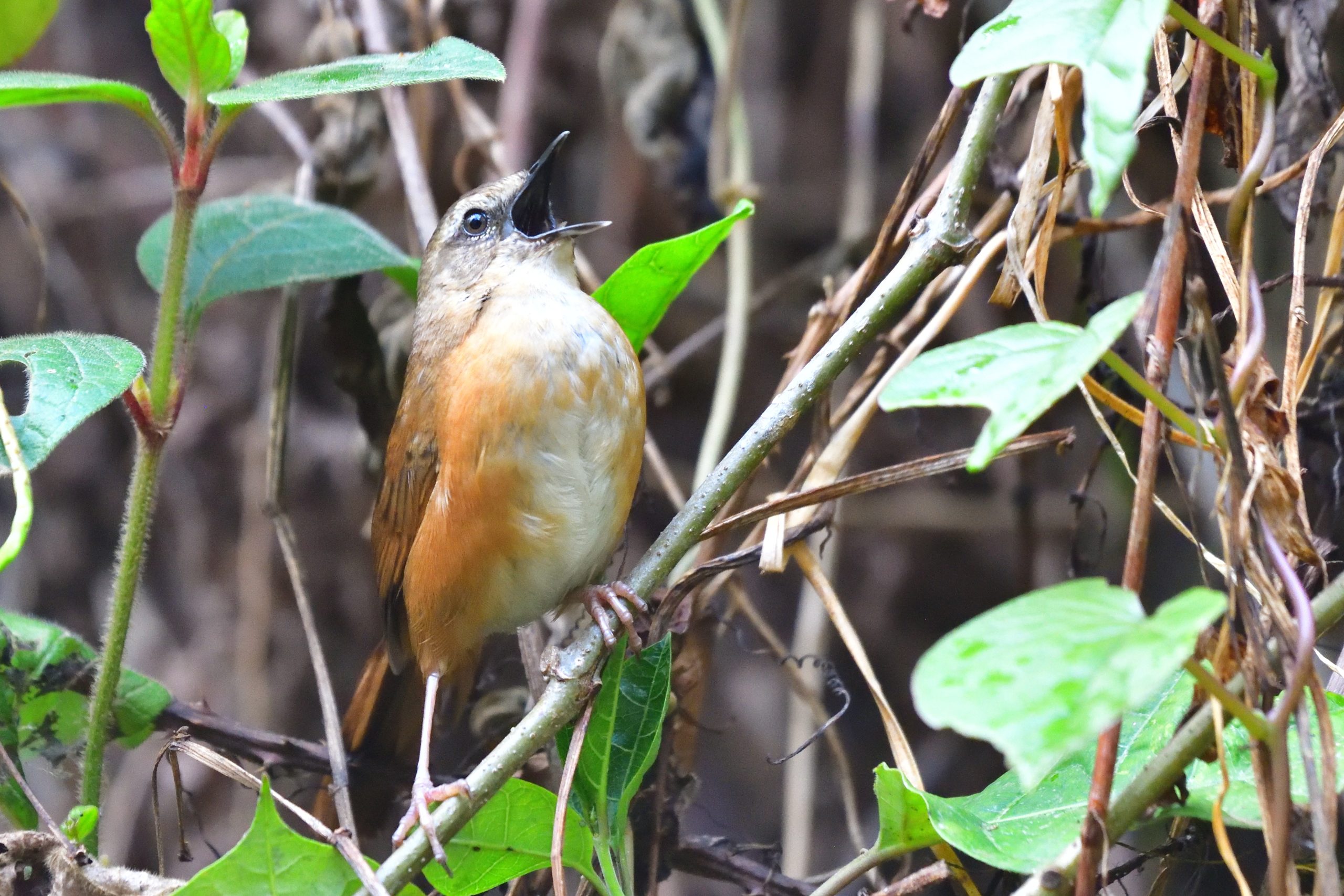 Cinnamon Bracken Warbler, Bradypterus cinnamomomeus
Day 10, Saturday, November 6 – Magamba Forest West Usambara to Amani Forest East Usambara.
We did a morning walk before we packed up camp. We walked downhill again and one of my targets was to get a picture of the ever elusive Montane Tiny (Usambara) Greenbul, but no such luck on this trip either. Another bogey bird that we always hear, rarely see, but can never photograph, the Evergreen Forest Warbler was suddenly out for a blink of a second, but long enough for me to get a picture! Very happy I walked back to camp and started preparing breakfast. Soon I was joined by the others and we packed the car and was on our way to the next destination Amani Forest. It was a long drive with a pit stop in Muheza. We have a stop on the way for the Coastal Cisticola and Eastern Golden Weaver. A surprise bird on that spot was a Blue-spotted Wood-Dove. A bird I have only found a few times in the Amani area. We continued and stopped at the lower reached of Amani Forest. We reached camp in time to take a small walk. The surprise bird was a European Nightjar. 
Some pictures from day 10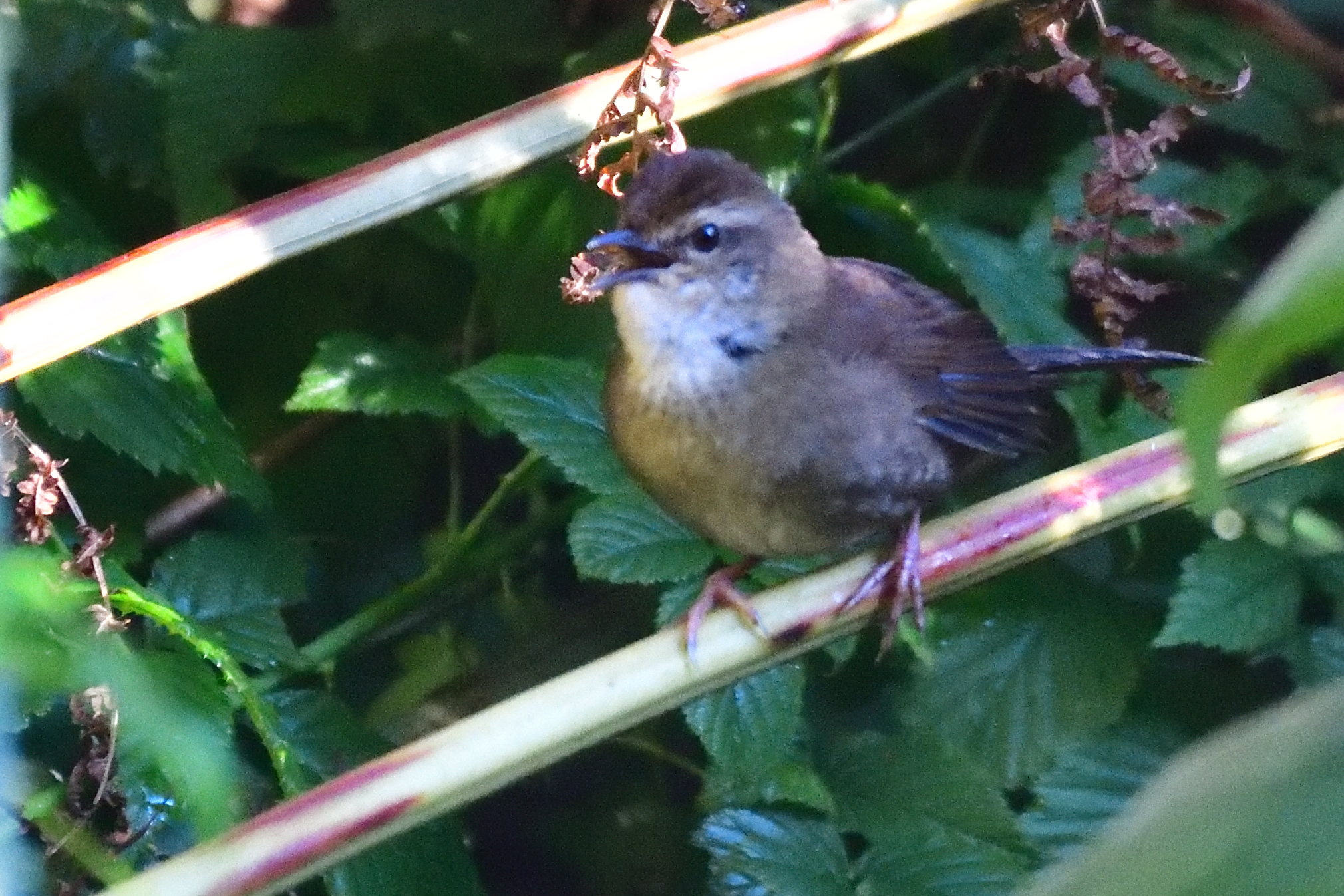 Evergreen Forest Warbler, Bradypterus lopezi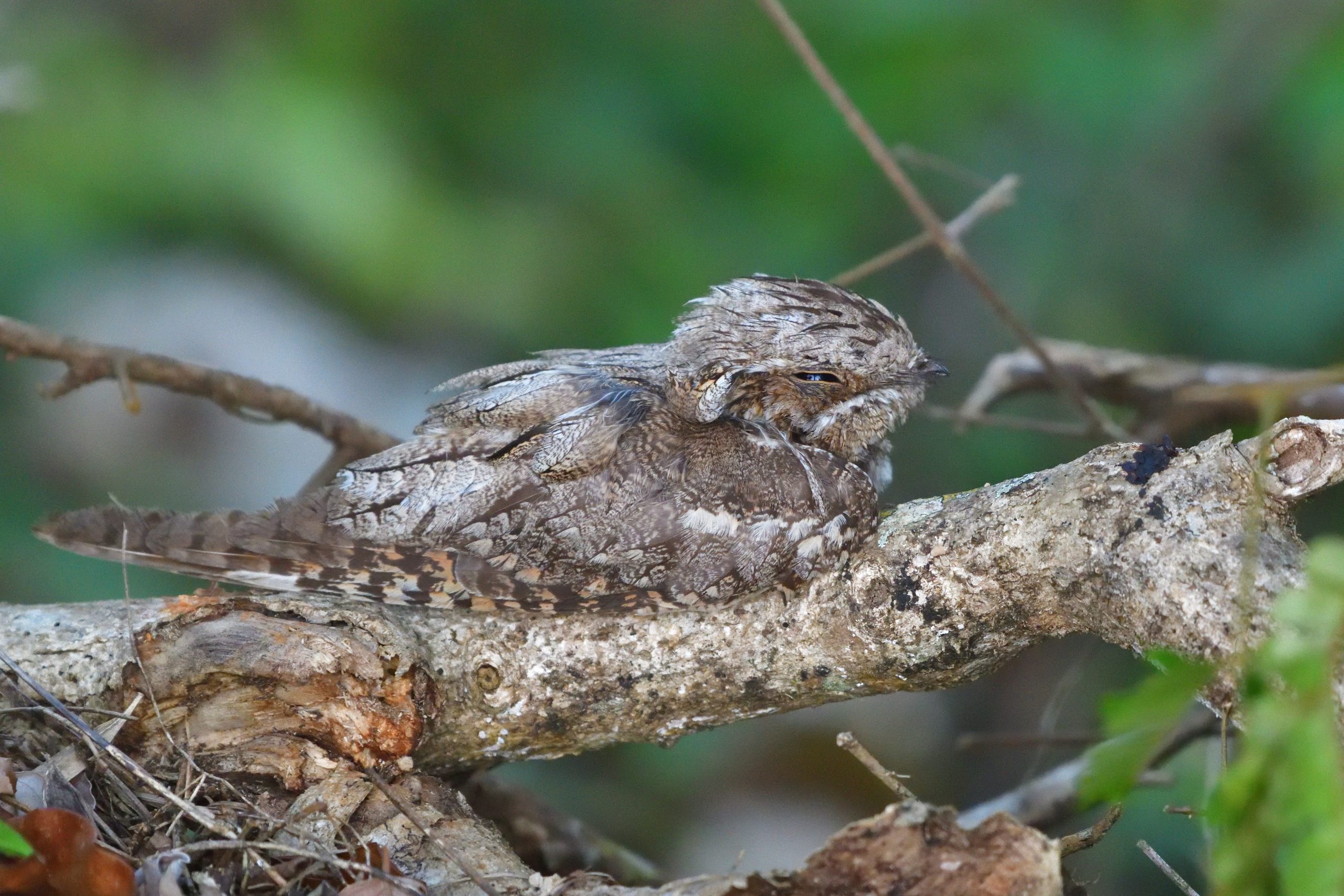 European Nightjar, Caprimulgus europaeus
Day 11, Sunday, November 7 – Amani Forest Full day
3 Big targets today: Long-billed Forest Warbler, Kretchmer´s Longbill and Sharpe´s Akalat. We needed to go to two different locations to find these birds. Abdul and I know these locations. The 2 first were found where they should be + a bonus bird in form of a Fischer´s Greenbul. We moved to the second location and managed with some work to find the Sharpe´s Akalat. Back to Camp for lunch. An afternoon walk around camp produced Amani, Banded Green, Uluguru-violet backed and Purple-banded Sunbird + several other targets including Green Barbet, Green-headed Oriole and Kenrick´s Starling.
Day 12, Monday, November 8 – Amani Forest Full day
On this day, we did something I normally do not do on my trips. We decided to go down to the lower part of the forest to see if we could catch up with some of the specials there. It is quite a drive and I am normally reluctant, but I decided to give it a try: Plain-backed Sunbird, Mombasa Woodpecker, Chestnut-fronted Helmetshrike, Little Yellow Flycatcher, Usambara Hyliota, Lowland Tiny Greenbul, Red-tailed Ant Thrush and Red-throated Twinspot were some of the birds that were recorded. We went back to camp for lunch. After lunch we decided to go to a spot for some other targets and it did not take us long to find the Cabanis Bunting and the Fischer´s Turaco.
Day 13, Tuesday, November 9 – Amani Forest – Fish Eagle Point Lodge, Tanga
We packed early this morning. Stopped at the lower part of the forest on the way down. We walked all the way to the bottom without finding any new species to add to our list. We drove to Muheza. I needed some small repair on my Land Rover and the boys went in search of a Green Tinkerbird. In the mean time the ladies had driven the car to Muheza. Normally my trip ends here with return to my home (long drive), but Dave and Darrell wanted to do an extension to Fish Eagle Point Lodge (FEP). The ladies came in my Nissan and Abdul were to take that car with all my camping gear back to my house. We were soon on our way to FEP and arrived there just in time for lunch. It was extremely hot, so we waited until late afternoon before we took a bird walk. While walking I saw some birds far out on the flats. I recognised immediately what they were and asked my friends to put their binos on them. Sure enough Crab Plovers. I asked Steve Attwell the owner of FEP during lunch if he had seen any Crab Plovers at all this year. He said no. I guess, we were lucky and found the first ones. The next target I knew where to find. We walked to my spot and there it was: Mangrove Kingfisher. We returned to the lodge refreshed ourselves and had a nice meal before we retired early to bed.
Day 14, Wednesday, November 10 – Fish Eagle Point – Pemba Channel
I had spoken with Steve about taking a Pelagic trip just to see if we could find anything interesting in the Pemba Channel. My plan was to do that after my friends had left. They also got very interested and decided to join me. I asked Steve for the best tides and he suggested that we left just after breakfast. That gave us an opportunity to do an early morning bird walk. We found Grey and Purple-banded Sunbird. Heard, but could not see Red-capped Robin-Chat , Green-backed Camaroptera and Bearded Scrub-Robin Robin, but did see Northern Brownbuls and quite a few other species before we got back to breakfast. After breakfast, we loaded up Steve´s both and he set a course straight towards Pemba Island. There were not many birds roosting on the water, mainly Lesser Noddys and Common Terns. My idea was to go as far out as possible and then chum and see if we could attract something. Unfortunately Steve had forgotten the chum. At any rate we eventually turned and headed towards shore again when David (good man) shouted Bridled Tern. Steve swung the boat around and I managed to get a lifer. The tide was right and we approached our normal sandbank Then David spotted a Caspian Tern. There were quite a few birds on the sandbank. We scanned and found Lesser Noddy, Sooty Gull, Saunders, Common, Roseate, Lesser Crested, Greater Crested and a possible White-cheeked Tern. We managed to get some reasonable pictures. We returned back to the lodge just in time for lunch. I think my friends were quite happy with the outing. I agreed with David that we should spend the afternoon on the flats to see if we could find the odd Wader (or shorebird as David preferred to call them 🙂 ). When the tide is out and we have the sun in our back you can have some fantastic photo opportunities at FEP. So we did as agreed. Quite a few herons including Dimorphic and Striated, the normal Waders including Common Whimbrel, Terek Sandpiper, Common Ringed and Grey Plover, Ruddy Turnstone, Greater Sandplover, Curlew Sandpiper also a pretty large flock of Crab Plovers (newly arrived). On our way back some very Photogenic Woolly-necked Storks. All in all a very nice day.
Some pictures from Day 14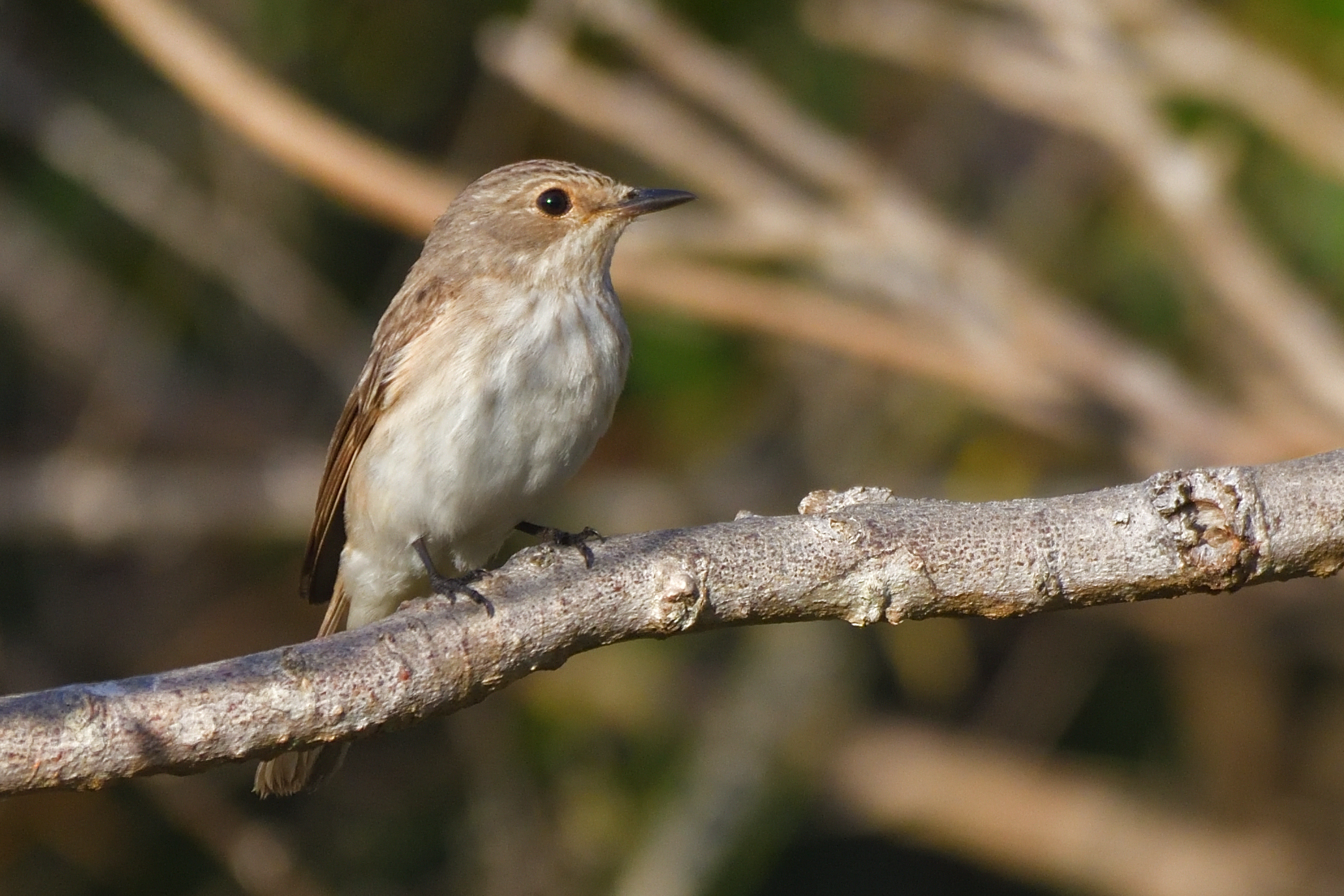 Spotted Flycatcher, Muscicapa striata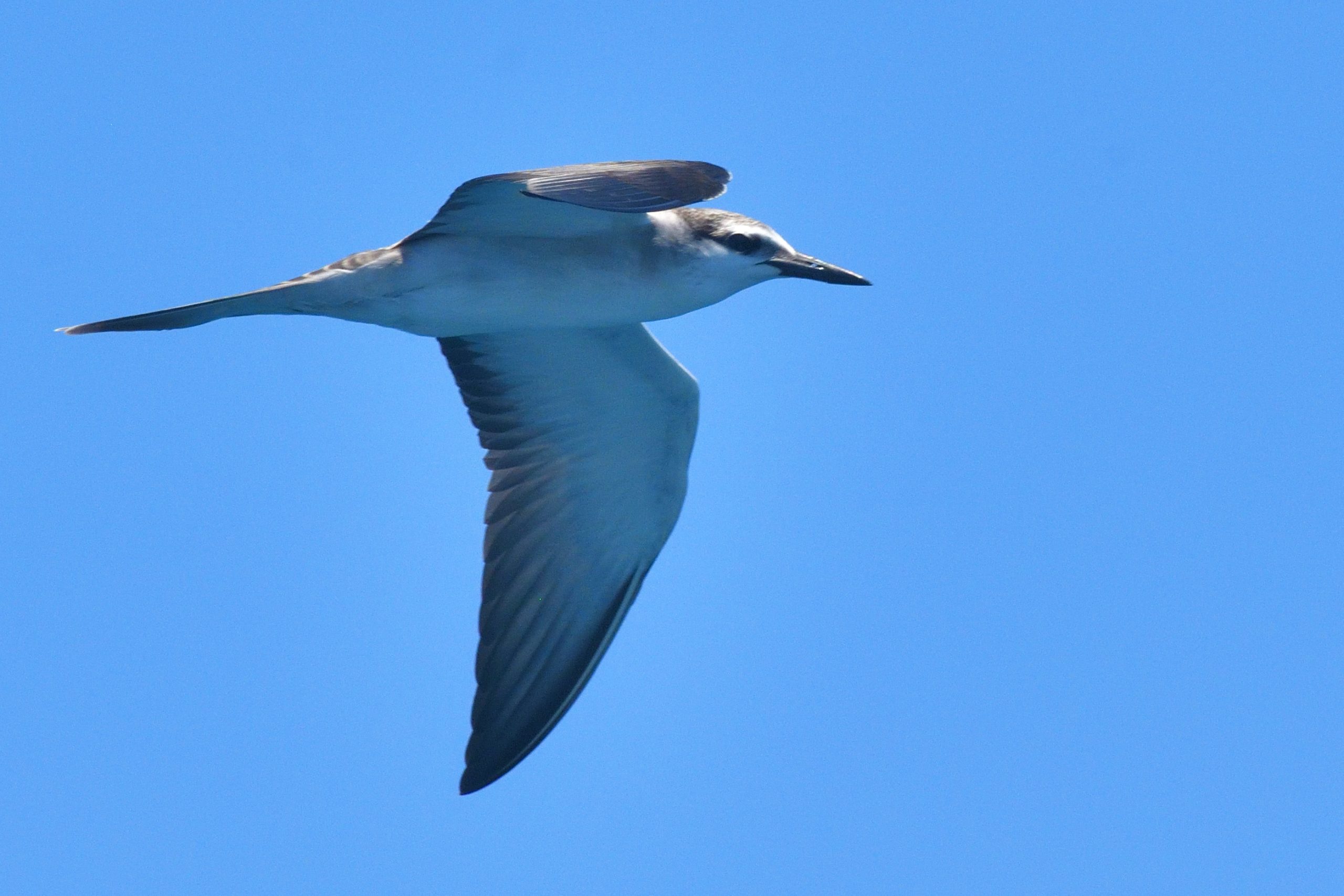 Bridled Tern, Onychoprion anaethetus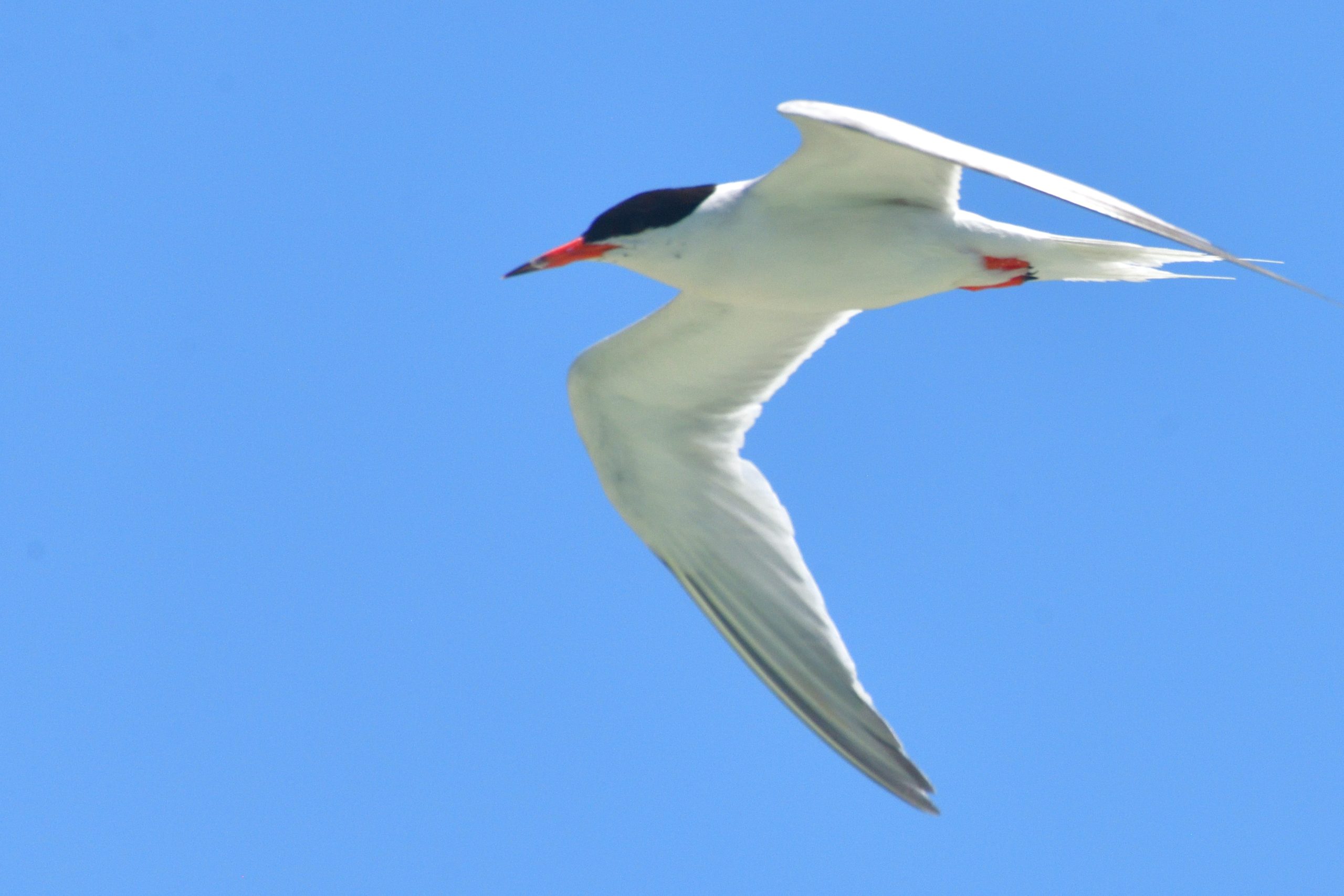 Roseate Tern, Sterna dougallii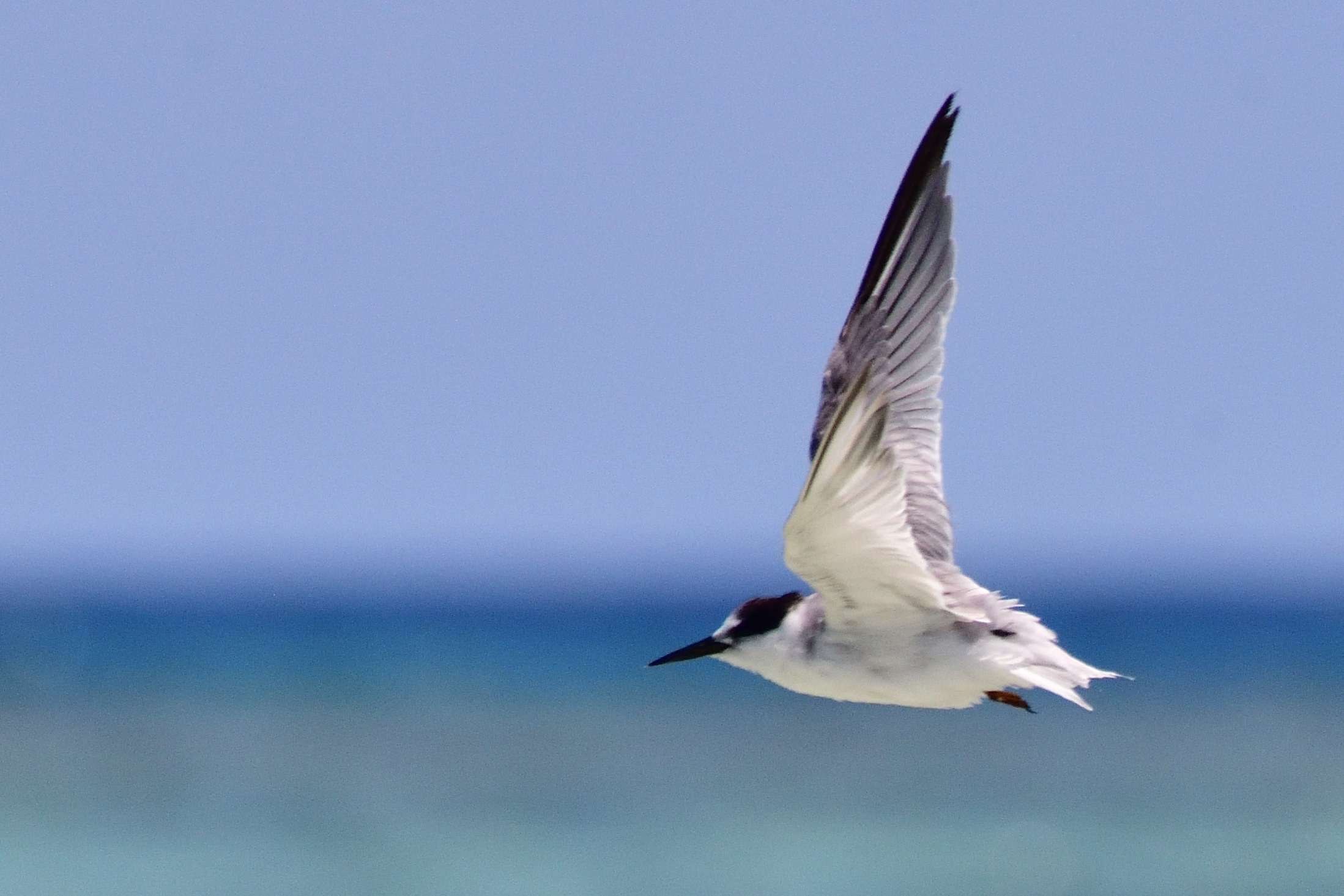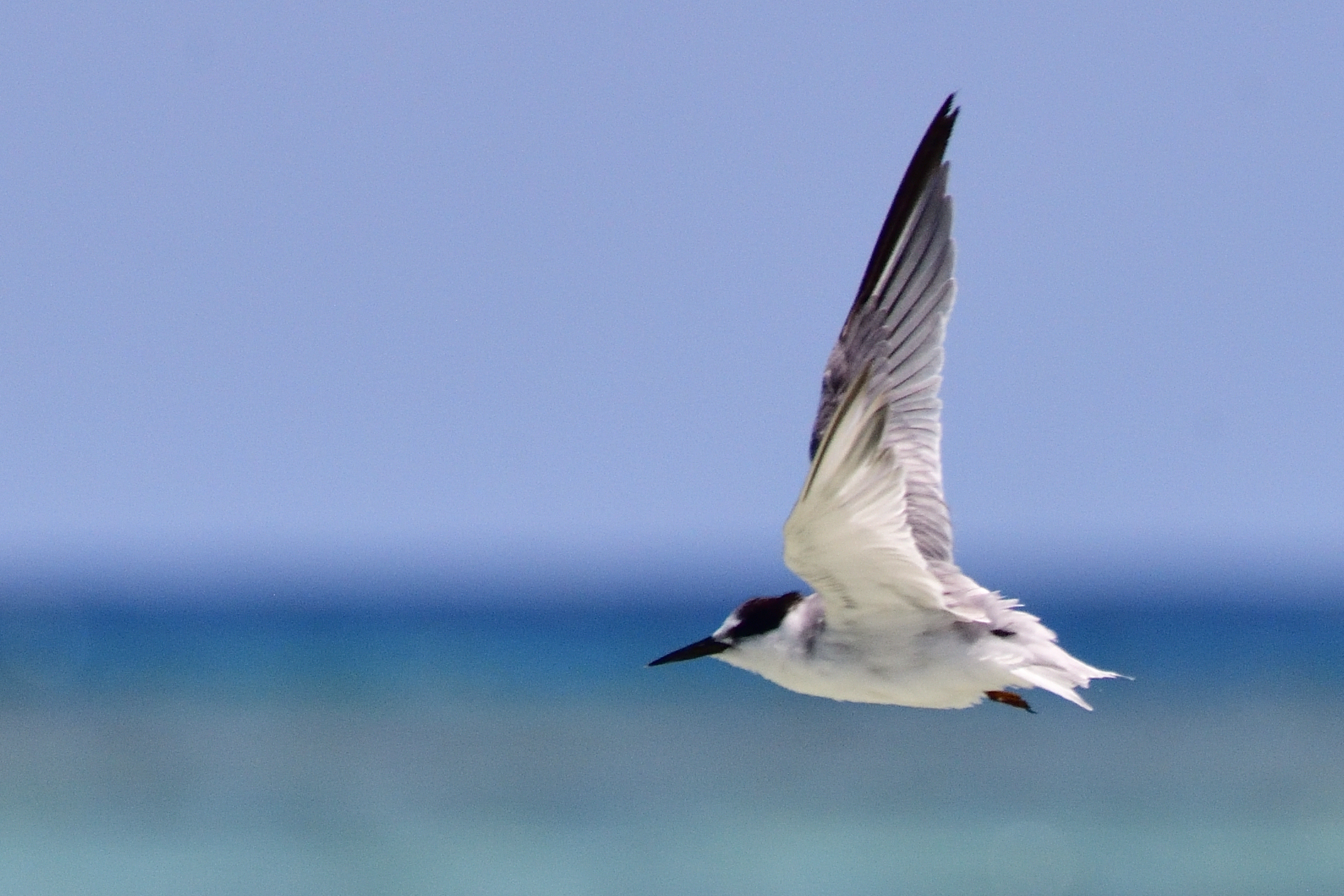 Saunders´s Tern, Sternula saundersi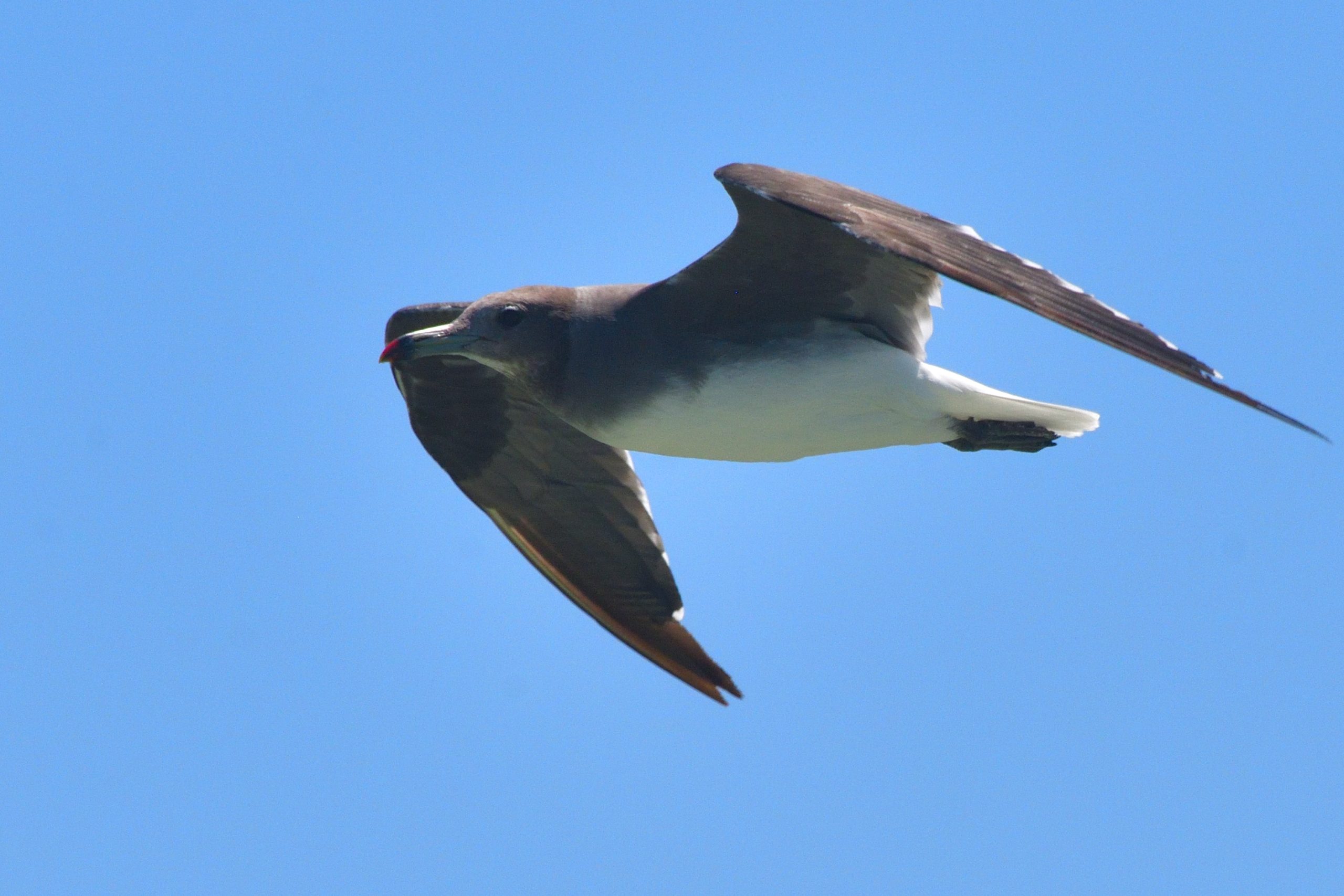 Sooty Gull, Ichthyateus hemprichii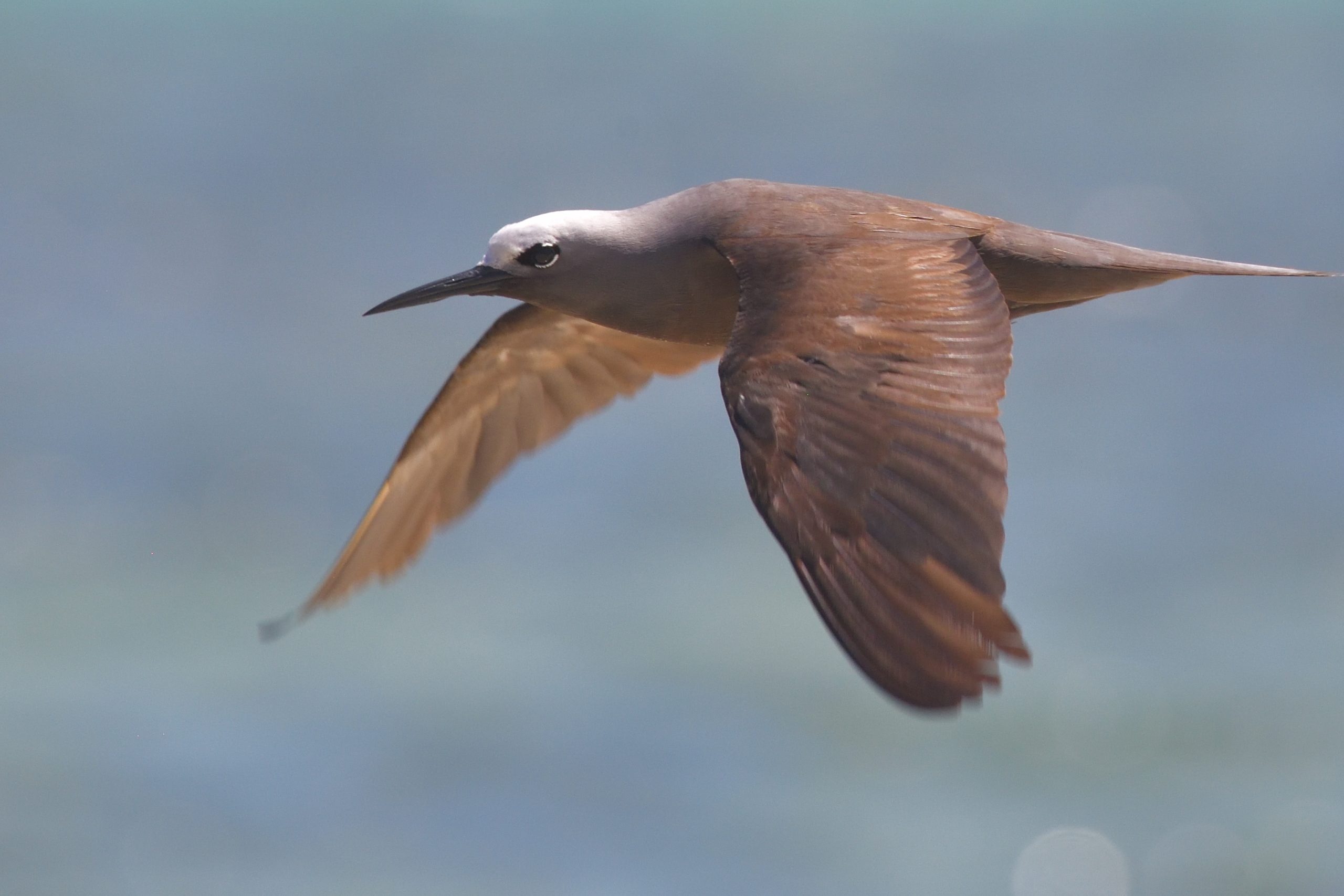 Lesser Noddy, Anous tenuirostris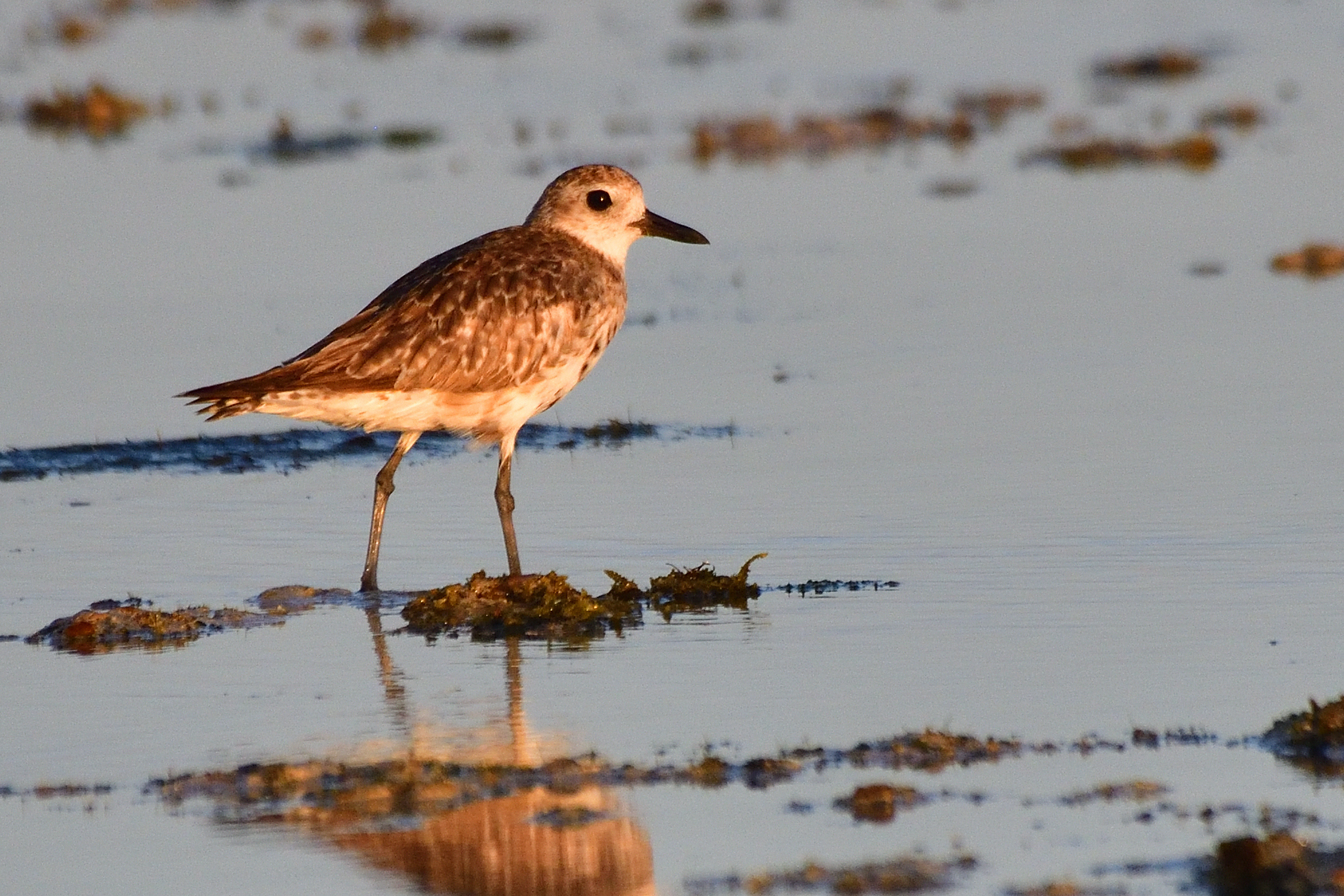 Grey Plover, Pluvialis squatarola
Curlew Sandpiper, Calidris ferruginea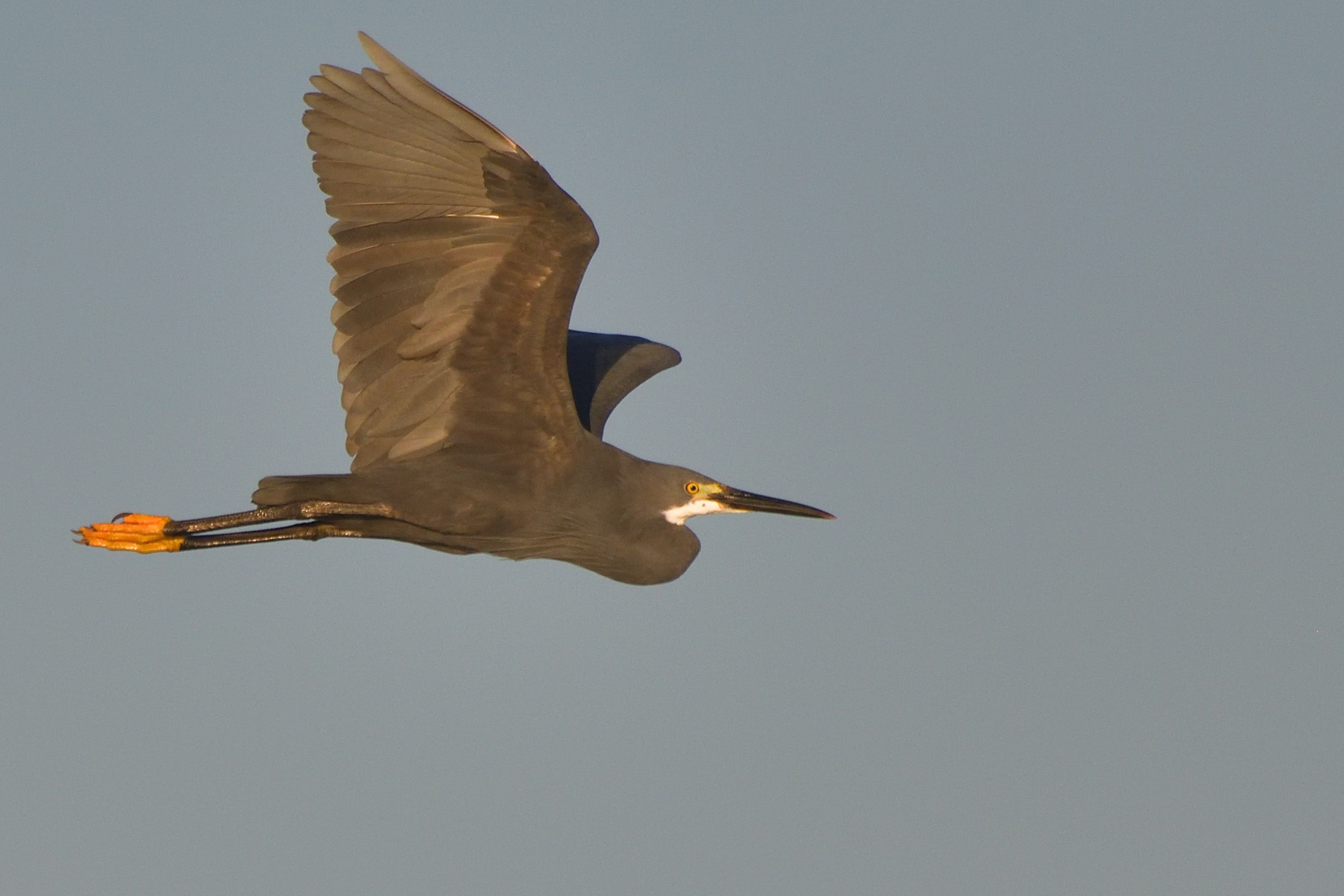 Dimorphic Egret, Egretta dimorpha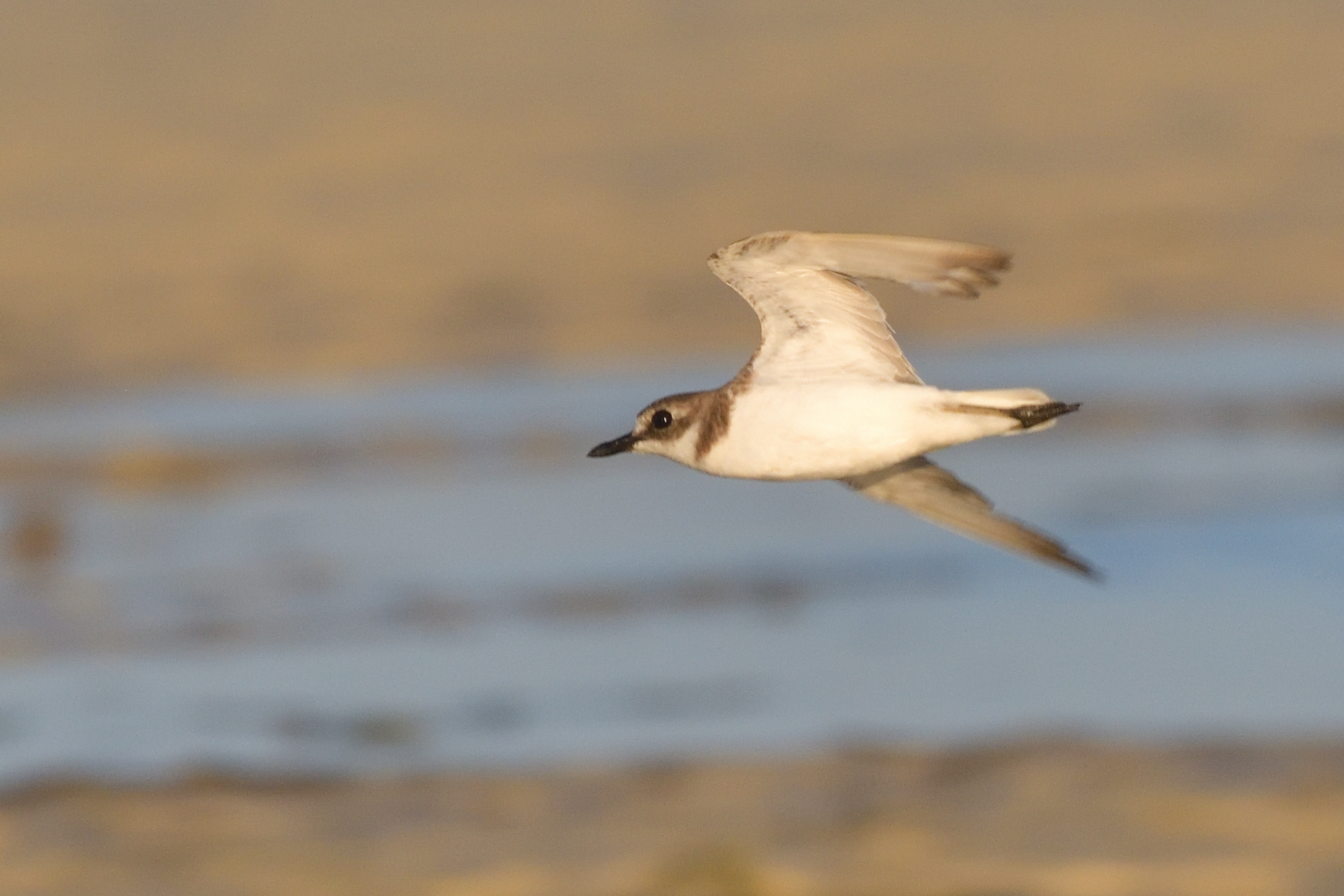 Greater Sandplover, Charadrius lescenaultii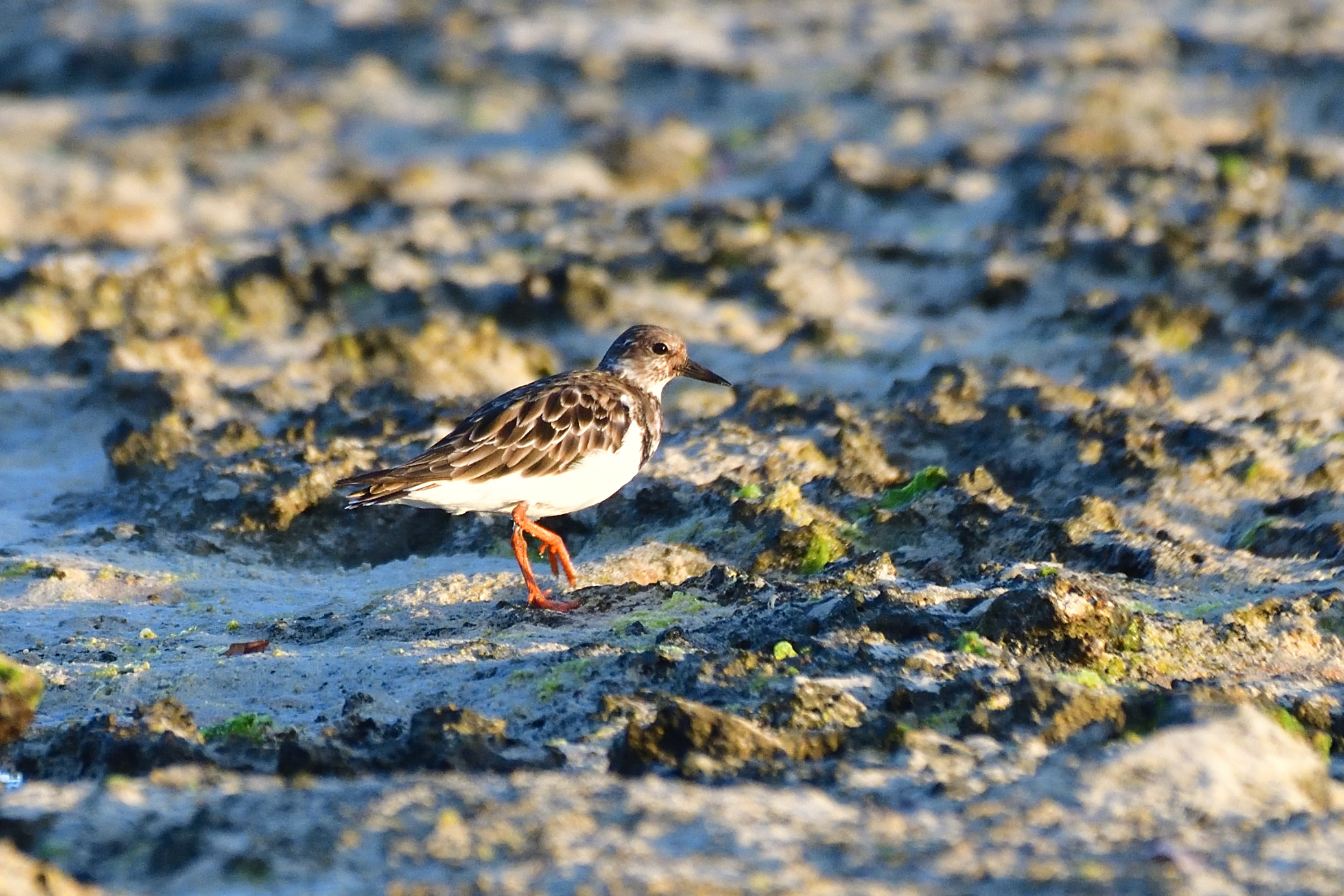 Ruddy Turnstone, Arenaria interpres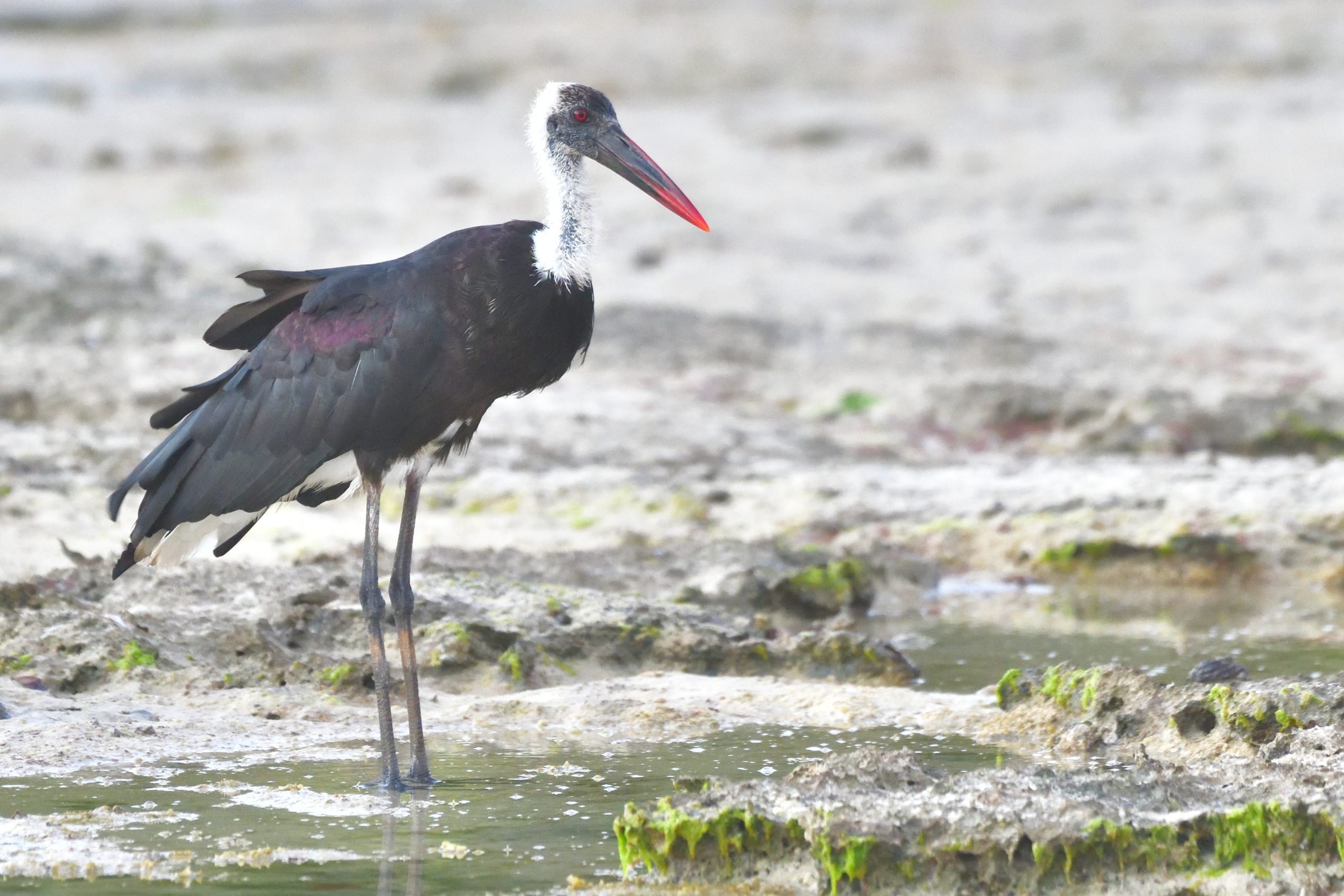 Woolly-necked Stork, Ciconia episcopus
Day 15, Thursday, November 11 – Fish Eagle Point
We took a morning walk again. The boys knew were to go now, so I only followed them for a little while. Even the morning heat was getting to me so I returned early. We had a very confiding Emerald-spotted Wood-Dove on the path, when I returned I decided to go on and check on my friend the Mangrove Kingfisher to try to get some better pictures, but the light was not good. After breakfast, the tide was almost under our balcony and all the waders waited there until the tide went out. The light was not good, but after a while I got a picture to illustrate why a Crab Plover is called a Crab Plover. Also a White-throated Bee-eater decided to roost close to our Bungalow. Another long siesta after lunch before I again went to the flats. Could not improve on any pictures from the day before except a Whimbrel in flight.  
Some picture from day 15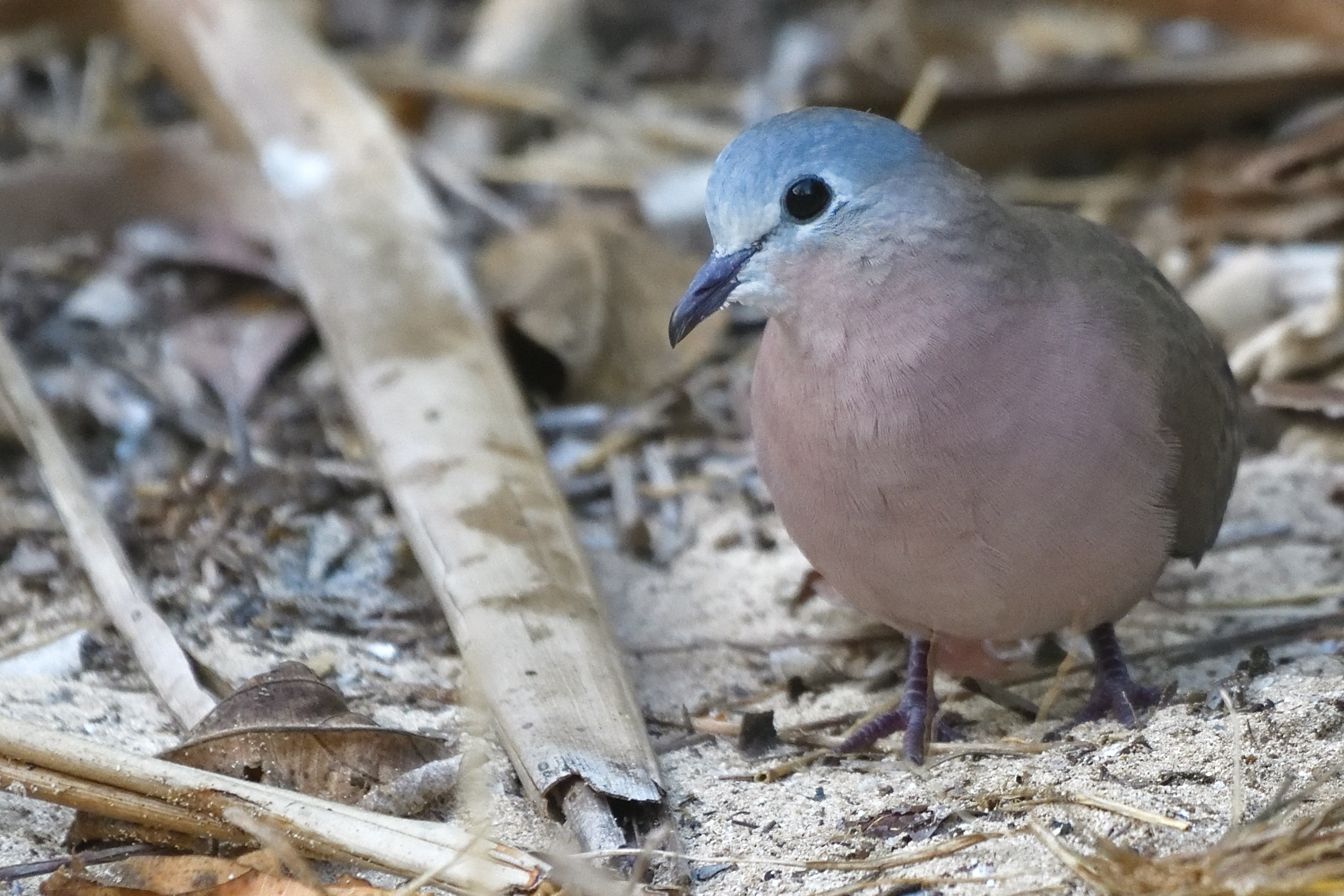 Emerald-spotted Wood-Dove, Turtur chalcospilos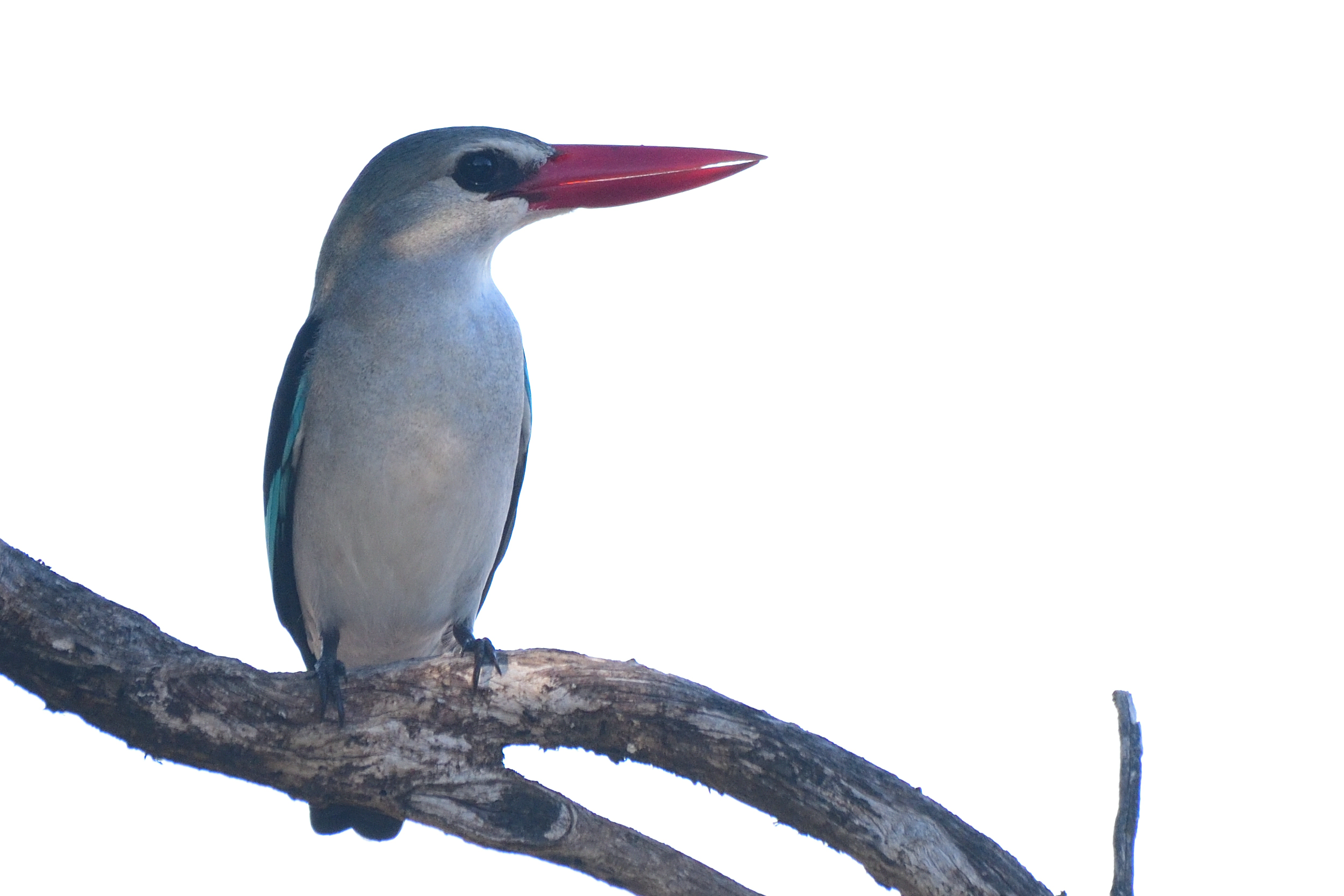 Mangrove Kingfisher, Halcyon senegaloides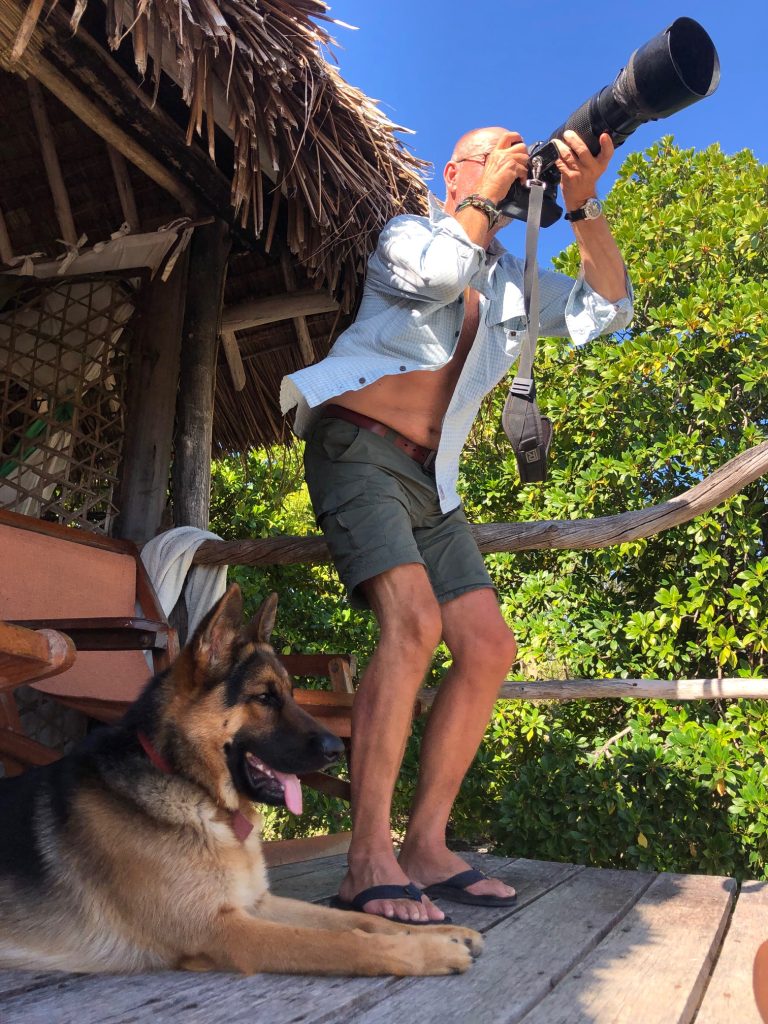 Odin watches as I photograph some birds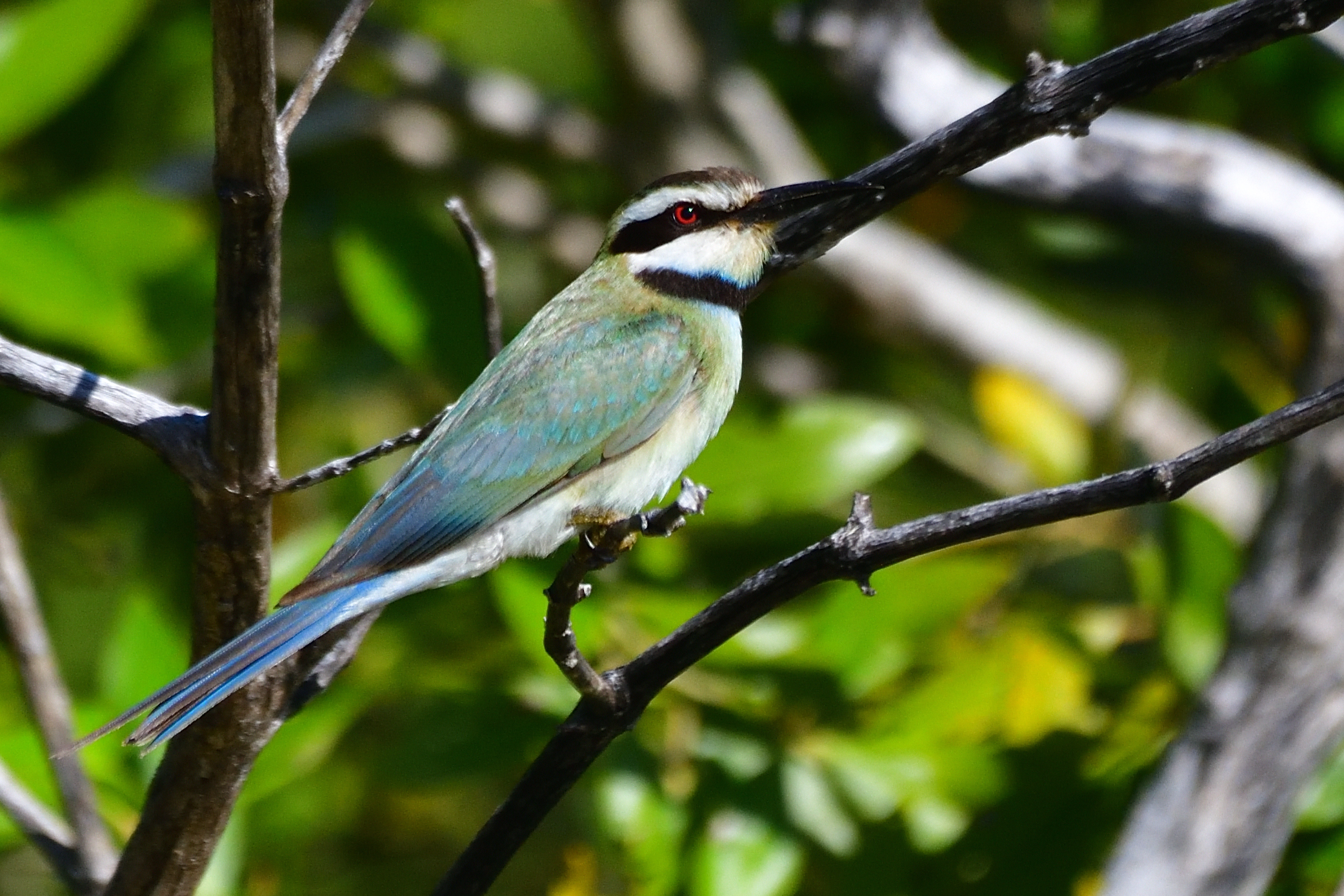 White-throated Bee-eater, Merops albicollis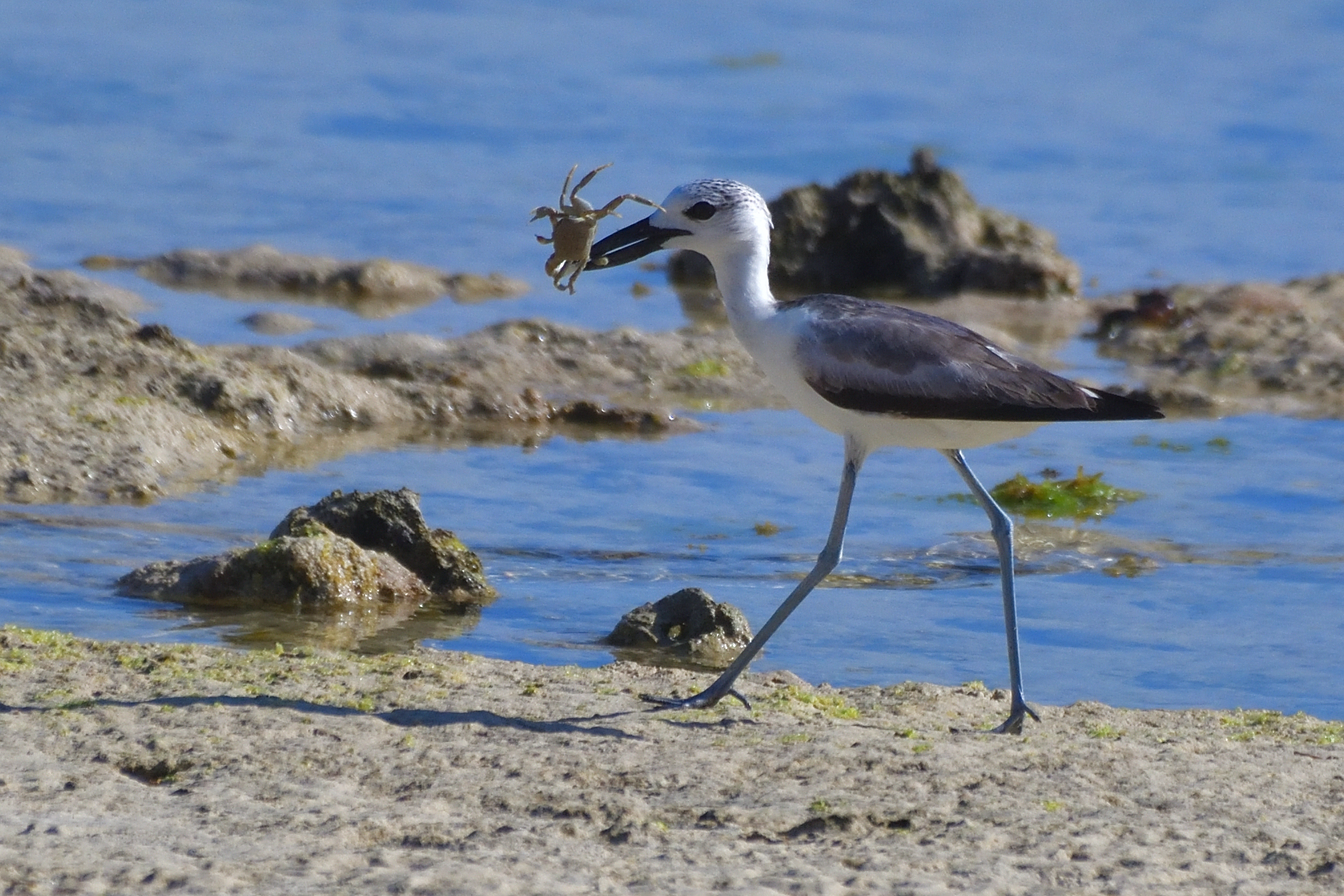 Crab Plover, Dromas ardeola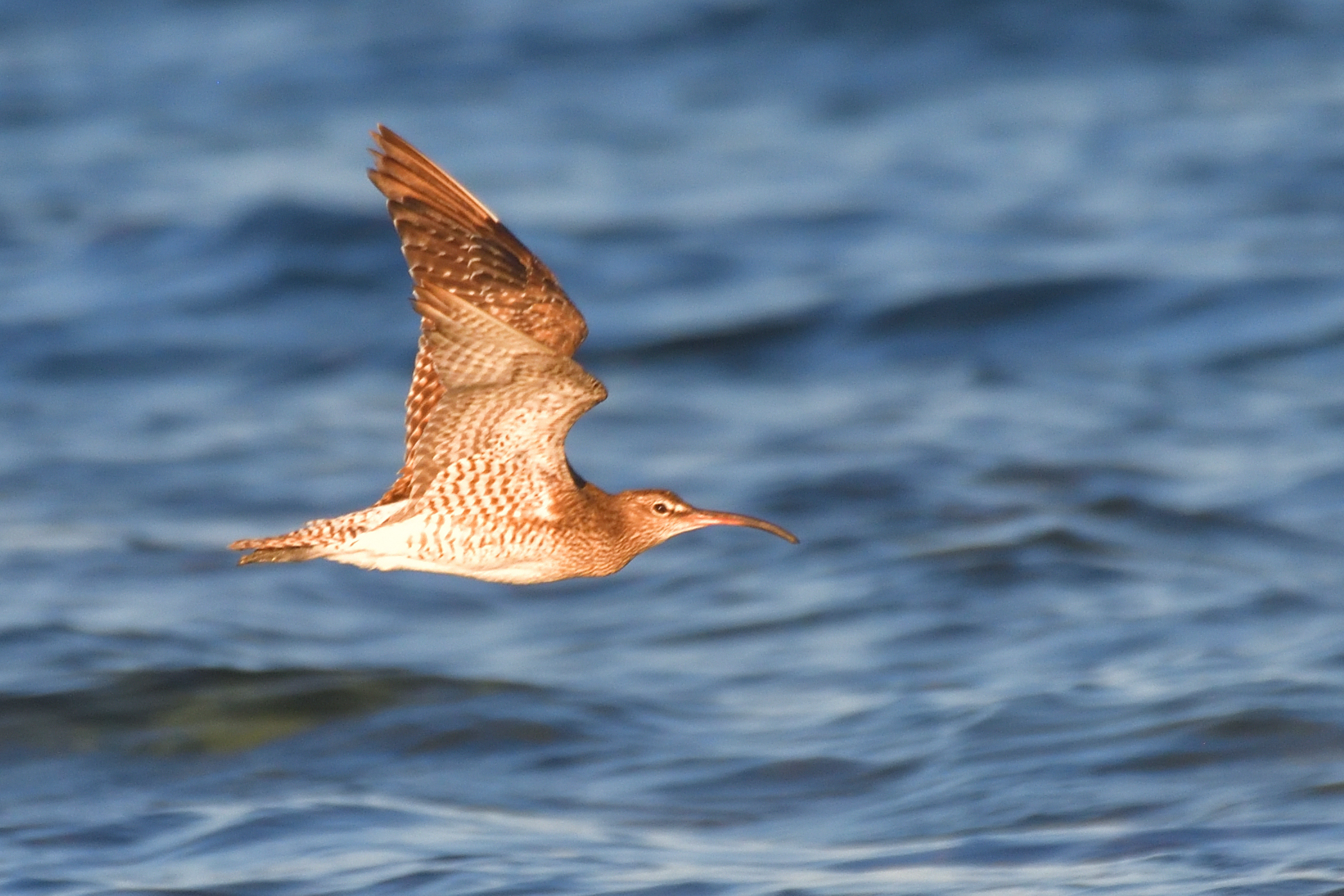 Whimbrel, Numenius phaeopus
Day 16, Friday, November 12 – Fish Eagle Point via Tanga Airport to Kiligolf
This was the last day with my friends. They were to fly off to Pemba Island this day. We still had time for a short morning walk. Again the heat got to me. When I got close to camp I heard some scratching on the ground and upon further inspection found a Red-capped Robin-Chat. In my experience these East African birds is much shyer than their cousins in KwaZulu Natal in South Africa, but I managed to get a "habitat" picture. We had breakfast and drove to and dropped off our friends and Tanga airport. Then Selvine and I had a very long drive home. We reached, as planned, home just before nightfall.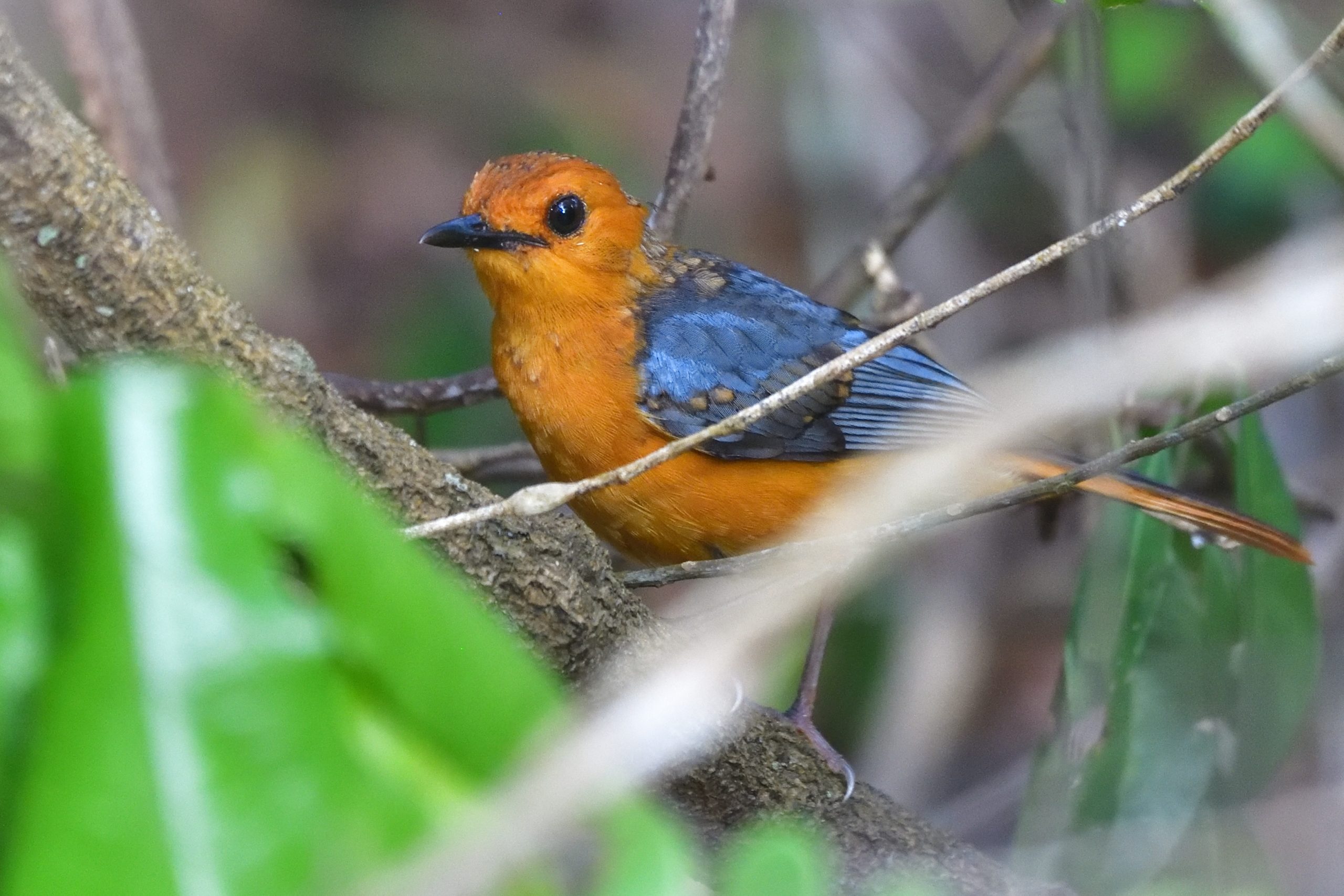 Red-capped Robin-Chat, Cossypha natalensis
All in all, I believe it was a good trip. We saw I believe 436 species on my normal Usambara trip and added another 30 or so species on the coast. I am not quite sure how many lifers David and Darrell managed to get, but I believe they were happy. I managed some good birds myself. At the end of December I finished a Southern highland trip. Stay tuned for a trip report. On Jan 15, I have 3 friends from Norway coming here to do my Usambara trip provided Covid 19 do not prevent them from coming